Increase or decrease font size for easier reading : A+ A-
Year 1973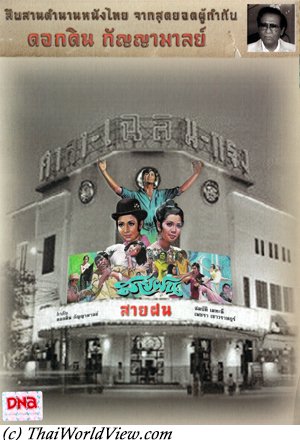 Year

: 1973



Thai title

:

สายฝน




English title

:



Rating

: 4/5


Director

: Dokdin Kanyaman



Main actor

: Sombat Methanee,Man Teeraphol,Dokdin Kanyaman,Choomporn Theppitak,Prachuap Ruekyamdee,Sawin Sawangrat


Main actress

: Petchara Chaowarat,Suthisa Putnuch,Orasa Isarangkul,Donnapha Sophee,Chadaporn Wachirapranee,Somjit Sapsamruey



Buy now

:

Thai movie สายฝน was released in year 1973 and last 2h33mn. It was released under DVD format by company Happy Home Entertainment. The picture is sharp and colorful. Three songs are featured in the movie. Sathit (Sombat Methanee) is a former football player, who failed to have success. Sathit gives back his room keys to his landlord Chadaporn Wachirapranee, quits university and is going back home to Sukhothai. Sathit has to go back urgently (เรื่องยุ่งๆ). Young lady Kaewta (Suthisa Putnuch) is disappointed as she believes there is a love story behind his sudden return. Sathit meets Saipin (Petchara Chaowarat), student coming back from USA, in the train. Likay (Orasa Isarangkul) and Cheunchai (Man Teeraphol) welcome Saipin in Phitsanulok. Uncle Jing (Dokdin Kanyaman) is a teacher and Deuan (Donnapha Sophee) is his daughter. Saming (Choomporn Theppitak) and Sataya (จีรศักดิ์ ปิ่นสุวรรณ) have arguments with Sathit and Jing. Saipin is uncle Saeng's daughter (Prachuap Ruekyamdee). Saeng owns the land where Jing's school is located, and all local villagers are indebted to him. Sathit's mother is played by Somjit Sapsamruey (ลูกไม่รักดี), being almost blind. Half of his land was sold to Saeng to pay for Sathit's studies, so she is upset that he stops studying. Kaewta is a new teacher arriving in Jing's school. She wishes to be close to Sathit. Sataya wishes to marry with Deuan. Love triangle occurs between Sathit, Kaewta and Saipin. Saming and Cheunchai manage an illegal game den (บอล) where villagers get poorer. One villager hangs herself due to debts. Sathit decides to get rid of this underground den. Deuan is pregnant with Sattaya but he refuses to recognize his paternity. Sathit calls the police to have the den closed. Upset, Saming decides to get rid of Sathit. Sathit organizes a rebellion to increase the salary of the farmers paid by Saeng. Sawin Sawangrat is part of the rebellion. Saipin helps the villagers by buying food for them (แจก) but villagers are reluctant to accept. Saipin gives secretly money to the mother to pay back her debt. The ruffians burn Sathit's fields to prevent him selling goods to help villagers. Sathit wishes to get revenge but Kaewta calms him down. Sathit loves Kaewta like a sister (น้องสาว). Sad, she wishes to go back to Bangkok, but she finally stays because of poor children needing her. Due to money conflict, Saming kills Cheunchai. Rats eat the supply so even Sawin dies due to disease. Saipin lets the farmers take the rice inside Saeng's barns. Upset, Saeng chases Sathit. Saming is also shot by Saeng. About to shoot Sathit and Jing, Saeng understands that Saming was the one being dishonest with farmers by using the den to make them poor and buying their land at low price. The movie ends up with Thai King Rama IX car convoy passing by and rain falling through a cloud having the Royalty symbol shape.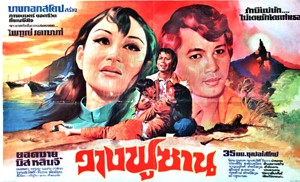 Year

: 1973



Thai title

:

วางฟูซาน




English title

:



Rating

: 3/5


Director

:



Main actor

: Yodchai Meksuwan,Sukon Koewliam,Lor Tok,Pipop Pupinyo,Thep Thienchai,Man Teeraphol,Joomjim Khemlek


Main actress

: Ling Yin,Metta Roongrat,Sisala Thongtara,Wassana Chalakorn
Thai movie วางฟูซาน was released in year 1973. The movie is lost in Thailand but a sequence of 19 minutes remains to be seen. Main actor is Yodchai Meksuwan and main actress is a Hong Kong actress named Miss Ling Yin (มิส หลินจี). Other actors and actresses include Sukon Koewliam, Metta Roongrat, Joomjim Khemlek, Sisala Thongtara, พนม นพพร, Man Teeraphol, Wassana Chalakorn, พูนสวัสดิ์ ธีมากร, Pipop Pupinyo, Lor Tok, สีเผือก, ศรีสุริยา, Thep Thienchai. Men (Yodchai Meksuwan) comes to Hong Kong to perform Thai boxing fighting matches. He is also a gambler. Men is not allowed to enter a casino anymore as he is responsible of the pregnancy of the owner's daughter called Lin. So he has to go back to Thailand. Meanwhile Lin is waiting for him. Later on Men meets Lin again in a Bangkok bar where she is a singer. Seeing she is pregnant, Men brings her in a rented house for her to deliver the baby. He uses Lin's money to indulge other women. Men is seen with Sisala Thongtara and is carrying her packets. Lin is the one supporting financially Men. As the money is running out, Lin is expelled from the house. She ends up in Phetburi and gives birth to a little girl called Liu. Many years later Liu, now a young girl, finds Men full of blood as he has been beaten by local ruffians. She brings Men to her mother Lin. Lin finally forgives Men. Men becomes finally a good guy. One day while he goes to the market, he finds Thai police in his home arresting Lin as her visa is over. Back to Hong Kong, Lin goes back to the place called Wang Fu San. Seeing no hope in her future, no hope to see again Men and her daughter, she decides to jump from a cliff. Hopefully Men and Liu arrive just in time to stop her.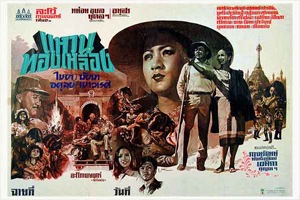 Year

: 1973



Thai title

:

แหวนทองเหลือง




English title

:



Rating

: 4/5


Director

: พระเจ้าวรวงศ์เธอ พระองค์เจ้าอนุสรมงคลการ



Main actor

: Chaiya Suriyun,Adul Dulyarat,Chao Klaewklong,Sukon Koewliam,Sompol Kongsuwan


Main actress

: Naiyana Shewanan,Yaowaret Nisakorn,Marasri Isarangkul,Juree Osiri,Chosri Misommon,Chadaporn Wachirapranee
Thai movie แหวนทองเหลือง was released in year 1973 and lasts 2h56mn. The movie was never released on VCD / DVD formats but was shown on Thai TV cable. Director is Thai prince พระเจ้าวรวงศ์เธอ พระองค์เจ้าอนุสรมงคลการ. The production of this movie last almost 2 years. Many actors and actresses are featured in this movie, i.e. Chaiya Suriyun, Naiyana Shewanan, Adul Dulyarat, Yaowaret Nisakorn, Chao Klaewklong, Marasri Isarangkul, Juree Osiri, Sukon Koewliam, เมืองเริง ปัทมินทร์, Sompol Kongsuwan, เสถียร ธรรมเจริญ, Chosri Misommon, ภาณุวัฒน์ มังคลารัตน์, เขมิกา กุญชร ณ อยุธยา, Chadaporn Wachirapranee. In North of Thailand, Sai Kam (Chosri Misommon) and her young sister Duang Jai (Naiyana Shewanan) are domestic helpers in a beautiful mansion. Krissada (Chaiya Suriyun) (คุณผู้ชาย) is the owner. The subdistrict headman Prem (Chao Klaewklong) is Duang's father. Uuan (Juree Osiri) and Noi (Marasri Isarangkul) dream to marry Krissada. Krissada is gone to visit waterfalls with Duang. A snake bites Krissada and Duang Jai saves him. A romance starts, and a wedding promise happens. Krissada gives a ring to Duang Jai. Krissada has to leave urgently to Bangkok after receiving a telegraph. Sukon Koewliam loses Krissada's letter he was supposed to give to Duang Jai. Duang Jai stays in a relative home to hide her pregnancy. Finally, Prem discovers that his daughter Duang Jai is pregnant. To hide his shame, the father plans to marry Duang as soon as possible. Prem wants to hide that Krissada is the father as he doesn't believe Duang Jai is telling the truth. As he owns a lot to Krissada's father, he nevertheless refuses to damage Krissada's honor. Sai Kam and Duang are enchained but Duang succeeds to flee. She tries to go to Bangkok but has no money, so she walks by following the railway tracks to Bangkok! Railway workers and doctor Metta (Adul Dulyarat) find her. She is about to deliver. A daughter is born. It is war time, so Bangkok is not a good place to stay. Doctor Metta proposes to send her. During two years, Duang Jai is looking for Krissada's house in Bangkok. She finally finds it. Sukon tells her Krissada's story. Krissada has disappeared. Metta asks her to decide about her future but Duang Jai refuses to marry him per her promise to Krissada. Chadaporn Wachirapranee is playing a brothel owner. Duangjai is working there as she needs money to survive. Bombs destroy the brothel house and her friends are killed. A Japanese officer helps her. As she has nowhere to go, being a ผู้หญิงชัว, he proposes her to be his domestic helper and wife (เมีย). The war is going to be finished soon. The Japanese officer promises to keep sending money to her. He dies on the way to Japan. Duangjai needs to resume being a prostitute (โสเภณี). The house owner wishes to expel Duang Jai and Taew as they cannot pay the rent anymore. The Japanese officer helped the owner during war, but gratitude is useless according to the house owner! Duang Jai and Taew find gold hidden under the carpet. Many years passed. Taew (Yaowaret Nisakorn) and Duangjai have set up their own company. Duangjai has a new name, i.e. เศรษฐีโสเภณี. Taew recommends her to look for her lost daughter and to look for happiness. Duang Jai meets Krissada again as her car hits a passerby. He has become a beggar. His father had many debts. Krissada was part of Seri Thai (resistance to Japanese invaders) but had chosen the wrong boss so had to flee to Laos. Duangjai proposes to help. She doesn't dare to tell who she is. Thai newspapers start to give bad rumours about her previous status as prostitute (ปากเสีย). Nattaya, one of the employees, is a drug addict (ติดยา). Krissada proposes to help. Nattaya has difficulties to get rid of drugs. She succeeds to flee from Krissada's home. She is then kidnapped as ruffians want to get money from Duang Jai and Taew. Krissada helps. During fightings with ruffians, Phi Taew is shot and wishes Duang Jai to disclose the truth but Duang Jai still has concerns about her past (ชีวิตโสเภณีมีค่าเพราะว่าเงิน). Nattaya announces to Duangjai that she is going to marry with Krissada. Duangjai tries to break the relationship but Nattaya refuses. Finally, Duangjai asks to be with Krissada a few hours. She wears Northern clothes again. Krissada is not able to link Duang Jai and Aitit, Duang Jai new name. Duangjai leaves and gives a gift for the wedding. The gift is the ring given twenty years ago. Finally doctor Metta is able to explain that Nattaya is Duangjai's daughter and so Krissada's daughter so a wedding cannot happen. Now it is Krissada turn to look for Duang Jai...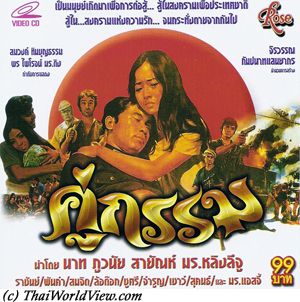 Year

: 1973



Thai title

:

คู่กรรม




English title

:



Rating

: 3/5


Director

:



Main actor

: Nard Poowanai,Lor Tok,Sayan Chantaraviboon,Sukon Koewliam,Jamroon Nuatjim,Chao Klaewklong


Main actress

: Somjit Sapsamruey,Chosri Misommon
This movie is about the tragic love during World War II between a Japanese officer and a Thai lady.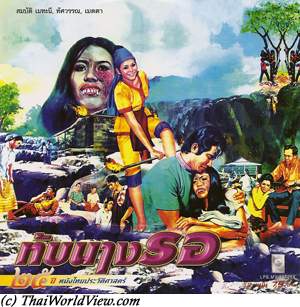 Year

: 1973



Thai title

:

ทับนางรอ




English title

:



Rating

: 3/5


Director

: Chutima Suwannarat



Main actor

: Sombat Methanee,Kamthorn Suwanpiyasiri,Jamroon Nuatjim,Tat Ekathat,Rong Kaomulkadee,Pan Borapet


Main actress

: Tasawan Saneewong,Boosara Narumit,Metta Roongrat,Malee Wetpraseri
Thai movie ทับนางรอ was released in year 1973 and lasts 1h43mn. It was released under VCD format by Lepso Company. Sombat Methanee, Kamthorn Suwanpiyasiri, Pan Borapet, Jamroon Nuatjim, Tasawan Saneewong, Boosara Narumit, Tat Ekathat, Metta Roongrat, Malee Wetpraseri, Rong Kaomulkadee are the main actors and actresses featured in this movie. Movie director is ชุติมา สุวรรณรัต. A baby girl is abandoned in the forest as she has a deformed face (ลูกผี). She is rescued by Tat Ekathat and is named Sopi. At school, she is rejected by other children. Being an adult, her face becomes normal but a awful decease endangers her (อย่าพบความรัก). If she gives life to a baby, she shall die. Her parents (played by Boosara Narumit and Kamthorn Suwanpiyasiri) prevent her from seeing any boy. Chakapan (Sombat Methanee), a Bangkok young man, falls in love with her and asks for her hand but Sopi's parents refuse (เรื่องหัวใจ). Pim (Metta Roongrat) and Rong Kaomulkadee are having a romance. They keep helping Chakapan and Sopi. Sopi is aggressed by two ruffians, including Pan Borapet, working for the village leader. She flees but falls from a cliff. Chakapan saves Sopi's life so her parents finally accept the wedding but knowing that she shall die following a pregnancy. Sopi is now pregnant. Following delivery, Sopi's deformed face is back, so she flees from home with her child. She ends up dying in Chakapan's arms per the doomed prediction.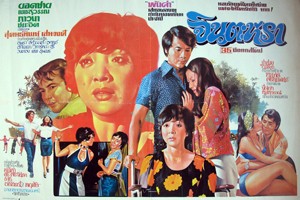 Year

: 1973



Thai title

:

จินตะหรา




English title

:



Rating

: 4/5


Director

: Phan Kam



Main actor

: Yodchai Meksuwan,Choomporn Theppitak,Adul Dulyarat,Preuhat Boonlong


Main actress

: Pawana Chanajit,Amara Asavananda,Marasri Bangchang,Juree Osiri
Thai movie จินตะหรา was released in year 1973 and lasts 1h50mn. It was released under VHS format. Movie director is Phan Kam. It is a romance drama (หนังชีวิตรัก). Montree (Yodchai Meksuwan) is a famous sport student in the university. Kesa (Choomporn Theppitak) introduces him to sexy lady Kha (อภิญญา วีระขจร). Basaba (สุคนธ์ทิพย์ เสนะวงศ์) and Jintara (Pawana Chanajit) are close friends and are joking about Montree. Kha makes Montree drinks a lot. Montree flees before sleeping with her making her very upset. Busaba's father and Jintara's mother have decided to marry. This is a new wedding for the parents (Amara Asavananda and Adul Dulyarat). The grandfather (Preuhat Boonlong) hopes to have a grandson (หลาน) so that his son's life is useful (เสียชาติเกิด)! Busaba and Jintara become half-sisters but from different father and mother! Jealousy often occurs between the two sisters as Jintara likes to have or to use everything that Busaba has. Busaba has interests in Montree. Jintara hides to read playboy. Jintara starts to be jealous to see Busaba and Montree together. Jintara tries to take Montree away from Busaba. Montree is confused. The grandfather wants a son to keep the family lineage. He pushes his son to take a minor wife as the new wife is still not pregnant. Jintara is blamed by her mother as she keeps having bad behavior, i.e. เอาแต่ใจตัวเอง. Jintara collapses (เป็นลม) due to big headache. A doctor finds she has a brain cancer. She has only six months to live. She changes her behavior and becomes a nice person (ความหวังดี). She tries to reunite Montree and Busaba but it fails. In order to push back Montree to Busaba, she stops showing interest to Montree and simulates to be interested in another student called Asawin. Fighting occurs between Asawin and Montree. Montree is injured. Montree's mother, Juree Osiri, complains that Jintara brings troubles to her son (ลูกไม่รักดี). Jintara's mother is finally pregnant. Montree wishes to know the truth behind Jintara's behavior change. Jintara's health is getting worse. Her mother is about to deliver and Jintara has still to perform the school theater performance for orphelin children. Her theater performance becomes similar to her real life as she collapses during the last scene (ฉากสุดท้าย). The new child is a daughter and is named Jintara as the first Jintara is leaving this world… Jintara makes Montree and Busaba promise to love each other.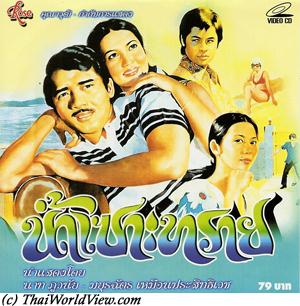 Year

: 1973



Thai title

:

น้ำเซาะทราย




English title

:



Rating

: 5/5


Director

: Wichit Khunawut



Main actor

: Nard Poowanai,Sayan Chantaraviboon


Main actress

: Mayurachath Muarnprasitivej,Wandee Sritrang,Marasri Bangchang



Buy now

:

This movie about two couples interaction. Pim (ภีม), a white-collar, and Wan (วรรณรี), a teacher, are married. Pukrong (พุดกรอง) is a rich and lonely widow (ว้าเหว่). Pong (พงษ์), a bachelor, tries to be Pukrong's sweet heart boyfriend but he is a butterfly. Pim often argues with his wife and Wan feels neglected (น้อยใจ) with Pim. Pim and Pukrong love each other secretly (รักกัน). Wan is too well-mannered (เรียบร้อย) and strict (เคร่งครัด) so Pim is fed up despite she gave her two beautiful children and takes well care of the home. They still use the polite word "ค่ะ" at the end of each sentence. Life is scheduled as a clock with Wan so Pim is fed up. Pim is a frustrated husband and arguments occur with Wan. Pim and Pukrong continue to see each other secretly in Bangkok. Pim needs to lie to Wan (ของขโมยอร่อยกว่า). As Pong continues to be her faithful admirer, he becomes annoying as Pukrong doesn't have full freedom to see Pim. Pukrong has to involve her well-off friend (ผู้ดี - คุณผู้หญิง). It highlights that Thai high society people also plays cards and have same sins. Her friend has to be involved in the lies. Pim rents a house for them to see each other freely (ความสุขของเรา) in order to avoid busy hotels and frequented restaurants. Pukrong spends a lot of money to decorate the house as she wishes a forever love. Pong knows that Pukrong flees behind the house. Pukrong wishes to see Pim every day. Wan knows her husband went out as his clothes smell perfume. Wan and Pong starts to notice. Pong is informed about the truth through a friend who saw them in a bar (เล่นรัก). Wan refuses to believe that her best friend (สุภาพบุรุษ) steal her husband love. Pukrong doesn't want a hidden love. Wan fights back to keep her husband. Can money buy everything including love? There is insinuation (พูดประโชด) between the two women and then a real verbal fight (บาปตื่นเต่น). Wan knows the truth now (ใจเป็นทรายศ). Pukrong is the bad rich high society girl versus Wan, the good teacher worried about position girl and strict mother / wife. Pukrong tells the truth to Wan. Pim has to go back to Wan due to the children. Pakrong feels left over. But it is not as easy. Wan wishes to divorce with Pim and chases him away. Finally Pim goes back to Pakrong. It is now the main wife versus the minor wife (เมียน้อย / เมียหลวง). Pong pushes Wan to fight (สู่). Pong tries to break the relationship as Pim is fed by Pukrong. Wan refuses to see a shaman (หมอผี) to help her to have Pim back. Meanwhile Pim and Pakrong are enjoying their romance. Pukrong is pregnant. Pong presents a military officer Neephon to Wan. If Pim can have a new love, why Wan cannot have one? It creates jealously on Pim's side as he doesn't want his kids to have a new father. This time Pim refuses to divorce. Pukrong has another child in America from a previous relation. She understands Pim's feelings towards his previous family and also understands he will never be able to choose so leaving things unsettled forever so Pukrong decides to go to America with her new born baby. Pim tries to resume relationship with Wan but it is too late. Wan refuses. Pim ends up alone. It is a long movie as it lasts 2h37 with a dubbed soundtrack. This movie highlights Thai society hypocrisy, i.e. Thai men can have a minor wife but the main wife cannot do anything except to complain in silence. Classical music is used in tragic moments. The scenario is inspired from a book written by author Krisna Asokesin (กฤษณา อโศกสิน), who has won the SEAWRITE prize for literature. Another movie remake was done in 1986. It was adapted as Thai TV serie many times also.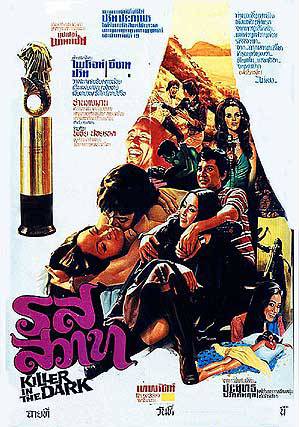 Year

: 1973



Thai title

:

รสสวาท




English title

: Killer in the dark



Rating

: 3/5


Director

:



Main actor

: Phairoj Jaising


Main actress

: Prim Praphaporn,Christine Hui Saan
Thai movie รสสวาท / Killer in the dark / 奪命客 was released in year 1973. It lasts 1h35mn. The film is still available in German language but it was originally a Thai / Hong Kong co production. A lady called Jenny (Prim Praphaporn) invites a man in her flat to make love. The movie includes very sexy daring scenes that really differ from Thai movies in the 1960s. As those scenes are played by substitutes (heads are never seen), it is probable that the Thai version never included those daring scenes. Jenny has to go back urgently to Thailand as her father just died. Van (Phairoj Jaising), Mr Lee and Linda (มิสซีซาน / Christine Hui Saan) support Jenny during this difficult time. A man kills a prostitute at nighttime with a razor after having made love to her. His face is not seen. Linda is a press reporter so she investigates. While waiting for Linda, Van sees a strange strong man with a chopping knife so he follows him. It seems to be a crazy man and a fighting erupts. Jenny finally accepts the advances of Mr Lee but another man is always peeping at her. Once Mr Lee is gone, Jenny is also killed with a razor blade. Finally police captures the strange strong man but Van doubts he is the killer. Van finds a shirt button in Jenny's room so he believes Mr Lee is the murderer as he finds a shirt with a missing button belonging to Mr Lee. Mr Lee has an alibi. Another woman is killed. Mr Lee goes again with a prostitute and she is found dead again. A button belonging to Mr Lee is again found near the dead body. Mr Lee is arrested this time. While Van is away, the killer tries to get rid of Linda. The killer chases Linda through car and her mini falls in the water. Mr Lee is then released. Police keeps Van's passport as they believe he could be involved also... Van identifies the murderer (Fong Yau) on a photo developed by Linda. The murderer gets the film roll back but kidnaps Linda to exchange her with the photo kept by Van. Chase happens between the murderer, Van, Mr Lee and the police. The final scenes are taking place in Hong Kong in an old World War 2 fort. Van finally saves Linda from the murderer. Worth to note that Phairoj Jaising's Chinese name is Poon Lok!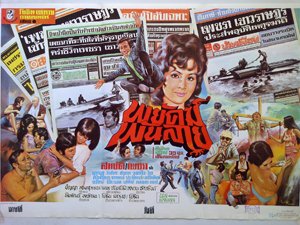 Year

: 1973



Thai title

:

พยัคฆ์พันลาย




English title

: Tiger Fighting / MAGNUM KILLERS



Rating

: 3/5


Director

:



Main actor

: Sombat Methanee,Lor Tok,Dam Datsakorn,Choomporn Theppitak,Adinan Singhiran,Tawan Siriwat,Phirapon Piyawan


Main actress

: Petchara Chaowarat,Wassana Chalakorn
พยัคฆ์พันลาย or Tiger Fighting / MAGNUM KILLERS is a 1973 Thai movie. Pan (Sombat Methanee) has a fight in an illegal casino as his brother was cheated of 500 usd. The casino owner, MengYu, offers him a deal, i.e. accept to go to prison for 10 000 USD in order to contact one of his teammates jailed for life. Only this inmate knows where Wang Piu, nicknamed as King Cobra, is. Veteran actor Lor Tok is playing the jail keeper. The inmate is killed just after telling to Pan that King Cobra is located in Pu Geng area and after giving a letter of introduction. Pan teams up with Lor Tok. They are both threatened by ruffians also looking for King Cobra. Pan asks his friend Chumporn to look after his home and his brother while he is away looking for King Cobra. Around Pu Geng area, Pan meets the local owner (Adinan Singhiran) of a mine. He is hired as a tough man after showing up his skills to knock out four guys and even helps the mine owner's daughter who was kidnapped. Meanwhile Pan's brother is kidnapped by a team of ruffians led by a fierce young lady called KenYouSee (Wassana Chalakorn). To get his brother back, Pan needs to bring Wang Piu to the young lady. She has a revenge to take as Wang Piu caused her parents to die 10 years ago. Pan locates the King Cobra or Wang Piu thanks to the letter of introduction but the young lady KenYouSee is following just behind them. Pan finally meets a noble man looking for his lost princess daughter. Meanwhile KenYouSee captures King Cobra and tortures him as revenge. MengYu, the casino owner, KenYouSee and other thugs were all looking for King Cobra. MengYu double crosses Pan. The princess is in fact Peng, KenYouSee's sister. Everybody is looking for her jewels box as it includes a list of political insurgents. The list is for sale. Finally the princess is kidnapped by MengYu while storming KenYouSee's camp to try getting King Cobra. Through a daring operation, Pan and his friends release the princess. During the movie shooting, long trail boats run over each other and actress Petchara Chaowarat falls in the river. MengYu's team and the thugs willing to buy the list kill each other believing the other party breaks the deal. It is a full packed action movie. Unfortunately the Thai movie is cut into an international version lasting only 1h33mm instead of two hours so those cuts make the movie directing and scenario sometimes weird. It is a IFD movie and luckily it is not merged with Ninja sequences as the original Thai movie is lost in Thailand. During year 1976, this movie was famous as famous veteran actress Petchara Chaowarat falls in the water following a dangerous action scene between two long trail boats. It appears on all Thai newspapers and those newspapers are even featured on the movie poster! The other event was related to sexy actress (ดาวยั่วเซ็กซี) Wassana Chalakorn who dares playing naked in a shower scene. The IFD movie has been redubbed in Thai language in Thailand recently.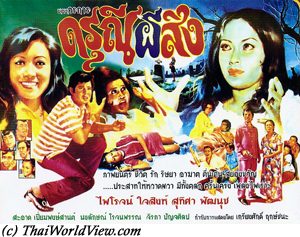 Year

: 1973



Thai title

:

ดรุณีผีสิง




English title

:



Rating

: 3/5


Director

:



Main actor

: Phairoj Jaising


Main actress

: Suthisa Putnuch



Buy now

:

An aunt is pushing her own daughter towards a rich bachelor. She denigrates Darunee, a young lady, in love with the rich bachelor. Following a fatal love triangle misunderstanding, she kills herself but her ghost is back to get revenge from the aunt...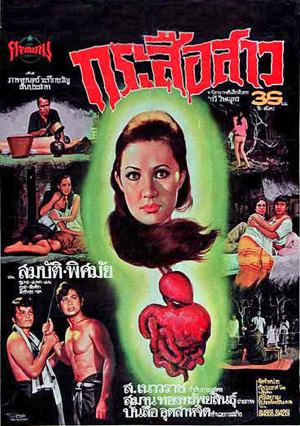 Year

: 1973



Thai title

:

กระสือสาว




English title

: will-o'-the-wisp



Rating

: 4/5


Director

: ส.เนาวราช



Main actor

: Sombat Methanee,Choomporn Theppitak,Sawin Sawangrat,Lor Tok,Songthong,Man Teeraphol,Tat Ekathat,Chao Klaewklong


Main actress

: Pissamai Wilaisak,Metta Roongrat,Sulaleewan Suwanthat,Orasa Isarangkul
Thai movie กระสือสาว / "will-o'-the-wisp" was released in year 1973 and lasts 1h43mn. The movie was never released under VHS/VCD/DVD format in Thailand. Thai movie กระสือสาว was released in 35mm film format and brought new Fx effects in 1973 such as double impression to show the spirit quitting the dead body. It took 3 to 4 months to be shot in the jungle. Thai Film Archives has still a 16mm copy as, in 1973, 16mm projectors were still popular in provinces. Thai Film Archives got it from a donation from a company showing outdoor movies in villages (หนังขายยา). The movie is a bit like the "Nang Nak" movie scenario. It was released under VHS format in Sweden with the original picture, Thai sound and with Swedish subtitles, under the name "Ghost of Guts Eater". The original movie is probably a bit longer as some still pictures show sequences are not present in the Swedish VHS. In the 1970s, a few Thai movie rights were sold in Scandinavia. This movie shows interesting traditional behaviors and patterns such as traditional baby delivery, staying above a hot pot after delivery (การอยู่ไฟ), 100 days ceremony after a relative death, vision of people without head indicating forthcoming death, hidden treasures kept by deity and signalled by an ignis fatuus, Kraseu ghost belief, love filters. Thai movie กระสือสาว is about a traditional folklore ghost called Kraseu (กระสือ). It is a filth-eating floating ghost with a head, a trailing heart and intestines. This ghost loves to eat cordon umbilical and placenta from newborn babies (ผีกระสือจะมากินรกเด็ก). Thai movie กระสือสาว scenario was written by ทวี วิษณุกร and released in two cartoon books in year 1968. Villagers found many dead chickens in their farm. They were eaten by a Kraseu ghost. Villagers followed the floating ghost and hit it critically. A grandmother (Sulaleewan Suwanthat) was in fact possessed by the ghost. Before dying, she gives a ring to her granddaughter, Bua Klee (บัวคลี่)(Pissamai Wilaisak), and asks her not to burn her corpse (so opposite of Thai tradition เผาศพ). Bua Klee then becomes possessed by the Kraseu ghost (ถูกวิญญาญกระสือ). Boon Muang (บุญเมือง)(Sombat Methanee) is her husband. Chat (ฉัตร)(Man Teeraphol), a local thug, still tries to seduce her. Phi Chood (จู๊ด)(Choomporn Theppitak), Boon Muang's closest friend, and Boon Muang chase Chat away. Bua Klee is now pregnant. The Kraseu spirit is inside the ring and is hungry (ไปหากิน). Bua Klee goes outside to look for filthy food and is identified by a villager. She is named as Krasao Sao (กระสือสาว) as the ghost has a young and pretty face! A fight erupts between Chat and Boon Muang as all villagers claim she is a ghost (ผีกระสือ). Boon Muang refuses (ไม่เชื่อ) such allegations but the villagers push him to verify if his wife is a ghost. So he hits her with a stick to chase the ghost but nothing is happening except tears from Bua Klee. A local shaman (หมอผี) Pradit (Tat Ekathat) invokes a dead spirit (ผีโขมดพราย) to take revenge on Boon Muang and Bua Klee. Yomatut, the hell guardian, comes to get his life as he is a nasty man (ลงนรก). Boon Muang decides to leave the village. They take refuge in a relative home, i.e. uncle Chaeng (Sawin Sawangrat). Bua Klee meets another Kraseu old ghost in the village. Bua Klee is delivering her baby in traditional Thai way by holding a rope attached to the ceiling. The Kraseu old ghost and its husband try to steal the baby. Boon Muang fends them off and hits back. The husband (ผีกะหังและกระสือแก่) dies and the Kraseu old ghost dies in the early sunshine. Boon Muang visits the sub district headman of Dong Dok Kaew area (Chao Klaewklong) to bring him some gifts from uncle Chaeng. Madeua (Metta Roongrat) is the daughter of the sub district headman and is fond of Boon Muang. While accompanied by Madeua, Boon Muang is shot in the arm by Chat. Madeua is disappointed to learn that Boon Muang is already married. She used love potions trick to make him forget his wife and son (เสน่ห์ยาแฝด). Meanwhile Bua Klee wishes to get a treasure (สมบัติ) by seeing an ignis fatuus. When a flame is coming from the ground, it is a spirit haven according to traditional belief. She can get the treasure by showing her nudity! But finally, she needs to give the treasure back to the guardian as she still needs to pay for karma (กรรม). Boon Muang and Madeua marry. Following Bua Klee's request, Uncle Chaeng goes to the subdistrict headman home. The son Chiep is also coming with a sacred thread to recover his father. On the way Chaeng and Chiep see each other without a head! This is a bad omen indicating a forthcoming death! Uncle Chaeng has to shoot Madeua to protect Chiep. The sub district headman wishes to avenge his daughter. Uncle Chaeng and Chiep are shot dead during the fight. Chood is beaten by Chat. Bua Klee finds uncle Chaeng and Chiep dead bodies. Both Chood and Boon Muang are captured by Chat and the sub district headman. Bua Klee interferes as a Kraseu ghost and causes the sub district headman and Chat to shoot each other. Boon Muang refuses to go back with Bua Klee as she is a Kraseu ghost. Following advice from a hermit, finally the body of the grandmother is burnt, and Bua Klee becomes a normal human being again.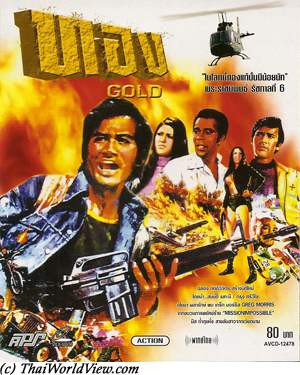 Year

: 1973



Thai title

:

ทอง




English title

: Gold



Rating

: 3/5


Director

: Chalong Pukdeewichit



Main actor

: Sombat Methanee,Krung Srivilai,Greg Morris,Pipop Pupinyo,Dam Datsakorn,Somsak Chaisongkram


Main actress

: Tham Thuy Hang,Donnapha Sophee



Buy now

:

A huge quantity of Thai gold is stolen. An American agent recruits some Thai mercenaries to build a tough team of experts. The team is responsible to get the gold back in Thailand. The gold is currently in Communist Vietnam. The team is parachuted there. A young woman is waiting for them to guide them into the jungle. On their way they met two other women that are trying to free their father imprisonned in the jungle by Vietnamese soldiers. It seems that one of the three ladies is a spy. Many difficulties happen before being able to retrieve the gold and not all of them can go back alive to Thailand... The movie "Gold" was the first big success of Chalong Pukdeewichit. The film was a phenomenal success locally and made a profit internationally. It became the first Thai film to be widely sold to international markets. Later on "Gold 2" (Gold Raiders - 1983), "Gold 3" (The Lost Idol - 1990) and "Gold 4" (In Gold We Trust - 1992) were even released. Chalong Pukdeewichit put in place an effective marketing strategy, i.e. a large budget, sex, violence and involvement of a famous internationally known actor to attract buyers. In movie Gold, American actor Greg Morris from the Mission Impossible TV series played alongside with Thai stars Sombat Methanee, Krung Srivilai. Same recipe was applied later to "H-Bomb". The Mission Impossible soundrack is even used a few times during the movie.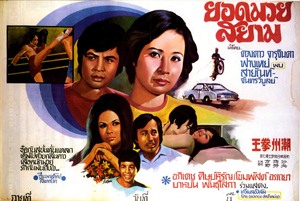 Year

: 1973



Thai title

:

ยอดมวยสยาม




English title

: The greatest Thai boxing



Rating

: 3/5


Director

:



Main actor

: Sayan Chantaraviboon


Main actress

: Duangdao Jarujinda,Khomapat Attaya
Thai movie ยอดมวยสยาม or "The greatest Thai boxing" was released in year 1973. It is a Taiwan | Hong Kong production. It is named 潮州拳王 - "The greatest Thai boxing" or "Boxer King of Chaozhow". It lasts 1h29mn09s. The movie is lost in Thailand but can still be seen at the Taiwan National Film Archive Foundation. It features Thai actor Sayan Chantaraviboon and Thai actresses Duangdao Jarujinda, Khomapat Attaya. A summary is available in Chinese.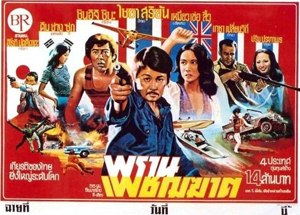 Year

: 1973



Thai title

:

พรานเพชฌฆาต




English title

: TOKYO-SEOUL-BANGKOK



Rating

: 3/5


Director

:



Main actor

: Sonny Chiba,Chaiya Suriyun,Kecha Plianvithee,Pipop Pupinyo


Main actress

: Chosri Misommon
Thai movie พรานเพชฌฆาต (TOKYO-SEOUL-BANGKOK - 東京-ソウル-バンコック_実録 麻薬地帯) was released in year 1973. It lasts 1h42mn. This co production movie is lost in Thailand but still available in Japan. As the movie is in Japanese language only, below summary might not be fully correct. Two cars are chasing and the lady's car is pushed in a ravine. She was Sonny Chiba's girlfriend. In the remainings of the car, a camera is found. It contains a picture of the girlfriend and another younger Korean lady. Ruffians are following Sonny and beat him seriously. He gets help from a detective. The ruffians become the ones chased but their leader succeeds to escape. The movie continues to Hong Kong where the leader does his drug trafficking. The action ends up in Thailand. Pipop Pupinyo is the right hand of the Japanese ruffian in Thailand. Chosri Misommon is playing a domestic helper. The ruffian leader's girlfriend sees Sonny in a market. Sonny meets Chaiya Suriyun but this latter dislikes Japanese people. Finally Chaiya helps Sony when he is overwhelmed by thugs sent by Pipop Pupinyo. Ruffians leader wishes to buy heroin and gets introduced to Kecha Plianvithee by Pipop. Heroin shall be available in north of Thailand. Chase is happening between Sony and the ruffians leader. Kecha through a small airplane tries to kill all of them. Chaiya is also involved in the shootings. The girlfriend is shot. The ruffians leader is killed but Kecha gets also killed. Before dying the Japanese ruffians leader gives important information about the gang location in Japan. Sony accepts to bring Chaiya to Thailand and they destroy their secret laboratory and the leader dies. The Thai poster mentions 4 countries for a budget of 14M Baht. Chaiya Suriyun is put in the centre of the poster despite not being the main actor of the movie.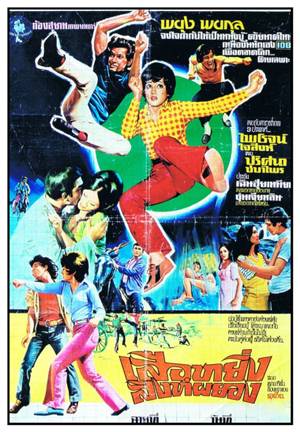 Year

: 1973



Thai title

:

เสือหยิ่งสิงห์ผยอง




English title

: Spirits of Bruce Lee



Rating

: 3/5


Director

:



Main actor

: Phairoj Jaising,Michael Chan Wai-Man,Man Teeraphol,Choomporn Theppitak,Paen Pleumsachai


Main actress

:
Thai HK co production movie เสือหยิ่งสิงห์ผยอง / Spirits of Bruce Lee / 猛蛟閗地蛇龍女 lasts 1h34mn. Such HK movies normally last around 1h30mn (TV format) but the Thai version was often more than 2 hours. This movie is lost in Thailand but as it was a Thai HK co production, it could still be found overseas under VHS format. A Chinese jewel trader is betrayed and killed in Mae Sai area. Later on Yu (Phairoj Jaising known in Chinese as Poon Lok!) is facing local bunch of thugs. Chan (Michael Chan Wai-Man) helps Yu. Chan is looking for his lost brother involved in jade trade. Old rural life scene such as a cart with buffaloes can still be seen. Having learnt that his brother disappeared, Chan looks for him all around the small city of Mae Sai. He meets Mr Wang, owning a tea shop. Paen Pleumsachai is supporting Yu. Chan knows that his brother is now dead so he enquiries on the murderers. Choi Nan, daughter of Mr Wang, supports and helps Chan. They find Sompon, who is wearing the brother's watch. He bought it from Taimoo, who is linked to local powerful kingpin called Min Pan Tim. In his team Man Teeraphol and Choomporn Theppitak can be found. Chan kills Choomporn believing he is Min Pan Tim. Min Pan Tim injures him in the leg but Chan succeeds to flee thanks to Yu. Chan recovers thanks to Choi Nan. Ruffians burn their house but fail to find them. Knowing that Min Pan Tim has given a day off to most of his ruffians, the four friends storm his house. During the fightings, Mr Wang is killed but Min Pan Tim is defeated also. Surrounded by ruffians, Yu, head of police, helps Chan and Choi Nan on time.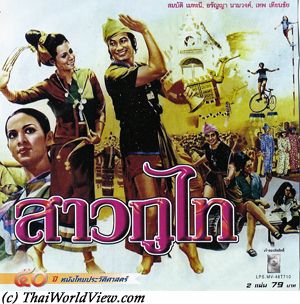 Year

: 1973



Thai title

:

สาวภูไท




English title

:



Rating

: 3/5


Director

:



Main actor

: Sombat Methanee,Kamthorn Suwanpiyasiri


Main actress

: Aranya Namwong,Metta Roongrat
Saendee (Aranya Namwong), young lady, is an university student. Yot (Sombat Methanee), young man, is doing small jobs such as taxi driver in Bangkok to support his mother. Saendee doesn't know that Yot is poor as he is hiding his status by wearing nice suits and renting cars. Saendee gets her diploma. Saendee needs to decide if she continues her studies or start to work. She goes back to Isan to see her father in Nakhon Phanom (เรียนสำเร็จ). Saendee is coming from a local ethnic group called "Phu Tai" (คนภูไท). Her father cannot work since one year so Yot was the one paying for her studies. The father doesn't like Yot as he is not coming from the same ethnic group. There is Bun Bang Fai festival (ประเพณีบุญบั้งไฟ) in Nakhon Phanom. Yot and Saendee become lovers (เป็นของพี่แล้ว) despite the father's disapproval. Saendee is now 6 months pregnant. Yot helps two men involved in a fight. So he is recruited to drive lorries and send goods by them. Unfortunately his new boss is a ruffian. Yot is forced to speed in order to escape police cars. Following a gun fight, the ruffians are shot. Yot is captured by the police and sent to prison. Saendee is not aware. She delivers beautiful twin, two girls, but has to cope alone. She is chased from her home as she cannot pay the rent anymore. Poor Sao Phu Tai (สาวภูไท)... She has to abandon (ฝาก) her children in front of Pa's house. She goes to Bangkok to look for her old university friend, Kamnotchan. Kamnotchan is now a successful business woman as the company boss (ผู้จัดการ) Sarawut likes her a lot. But once Saendee comes to work, the boss changes his focus to her instead of Kamnotchan. Kamnotchan is upset by this situation. A crisis happens and she accuses Saendee of trying to steal the love from the company boss. This is of course wrong as Saendee misses Yot and her children. Saendee leaves Kamnotchan's house. Krot (Metta Roongrat) is a strong female director of a circus. Performers are not good so she needs to find new ones (เด็กฝึกใหม่). The circus teacher thinks to hire the twin girls he recently saw. Pa has no more money to feed all the children she is taking care of. The teacher gives her 10 000 baht to buy and train the two twin girls. The circus director hits them to accelerate their training. So fed up, one of the twin flees. Yot is released from prison. He is looking for his family but to no avail. The little girl is rescued by a rich family. Finally Sarawut finds back Saendee and she accepts to fiance with him. Yot finds a job in the same circus. The circus goes to Bangkok hoping for a better business. The two sisters recognize each other during a performance. The circus director asks for 5 000 baht to give back the child. Sarawut, who loves Saendee, helps her to get back her children. Believing in a children kidnapping Yot follows Sarawut's car. The family is finally reunited happily. It is a good feeling movie even if many unlikelihoods are happening. It highlights the strong and sacrosanct Thai mother. The movie features Isan music in the background. This VCD is a copy of an IBC6 TV program recording but the quality is acceptable.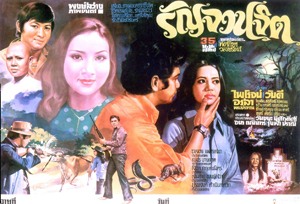 Year

: 1973



Thai title

:

รัญจวนจิต




English title

:



Rating

: 3/5


Director

:



Main actor

: Phairoj Jaising,Surasit Sattayawong,Sawin Sawangrat


Main actress

: Wandee Sritrang,Orasa Isarangkul,Marasri Isarangkul
Thai movie รัญจวนจิต was released in year 1973. The movie is lost in Thailand but a few minutes trailer remains to be seen. Main actor is Phairoj Jaising and main actress is Wandee Sritrang. Other actors are Orasa Isarangkul, Surasit Sattayawong, Sawin Sawangrat, Marasri Isarangkul, สุพรรณ, วันชนะ, อมร, ขวัญฤดี, รุ่งฟ้า. This is a sad drama movie with a bit of action.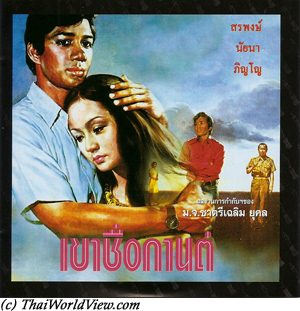 Year

: 1973



Thai title

:

เขาชื่อกานต์




English title

: His name is Karn



Rating

: 5/5


Director

: ChatriChalerm Yukol



Main actor

: Sorapong Chatree


Main actress

: Naiyana Shewanan



Buy now

:

Dr. Kan gets married with a Bangkokian lady called Areutai. They go to countryside in Phitsanulok where Dr. Kan has been assigned. Areutai knows that her husband is poor but appreciates his maturity despite having the same age. Areutai's mother complains that in province Dr Kan will become rich slowly (รวยช้า). How can poor people find money to pay medicine? There is no way to become rich. On the oppositive in Bangkok, he could be rich in one day. Anyway it will be a lesson of life for Areuai (ชีวิตบ้านนอกมันเป็นอย่างไร). They arrive in Amphoe Babadan through oxcart riding. There is no doctor in the district so local people need to go to provincial centre or to contact a local shaman (หมอผี) or someone unaccredited as a doctor (หมอเถื่อน). There is at least a dispensary (สถานีอนามัย). Areutai is a romantic lady and able to do many things by herself but she doesn't want to be poor her whole life. Before Dr Kan, she met Moon, who is a rich man. He wanted to marry Areutai but was too slow to ask. Dr. Kan faces his first serious case when a man is bitten by a snake. It is too late to cure so the patient dies. Some local people complain on modern doctors (หมอสมัยใหม่) believing that any medicine injected can cure. Dr. Kan decided to come to the remote area to help poor people (คนน่าสงสาร). Dr. Kan and Areutai are having happiness (ชีวิตเป็นสุข) the first months but then Areutai wants to work. She is lonely. They don't have enough money to bear a baby. Dr. Kan is very busy (งานยุ่งมาก). Areutai is fed up. She decides to takes a break and goes to Bangkok. Moon still misses her. In Phitsanulok, it is already the rainy season (น้ำท่วม) so there is more work for Dr. Kan. Areutai is hoping for a letter from her husband to go back. Meanwhile she is out (เที่ยวทุกวัน) every day with Moon. She has a car accident with Moon as he doesn't want to let her go back to Phitsanulok. The district officer doesn't like Dr. Kan as he refused to give some free medicine stock for the district officer relatives' personal usage. Dr. Kan discover that a casino (บ่อน) is running at night time. The district officer is using his influence (อิทธิพล) to protect it (คลุม). Police cannot interfere. A fight happens inside the casino. A relative of the district officer is injured. Dr. Kan cannot help (ช่วยก็ไม่ได้) as the patient needs urgent blood transfer in hospital. He is not a god (ไม่ใช้หมอเทวดา). Some local people think that Dr. Kan refuses to help relatives of the district officer. The relative dies. Learning that Areutai is at hospital, Dr. Kan needs to go back urgently to Bangkok. Dr. Kan is confused. He thinks about opening a cabinet doctor in Bangkok. Moon wishes to talk with Dr. Kan. There are harsh words between the two men. Dr. Kan needs to choose between offering happy life to his wife or helping poor people. Moon tries to have Dr. Kan sent abroad. Dr. Kan goes back to Phitsanulok and faces death intimidations threats from the district officer's relatives (หมอกานต์ในบ่อน่ไม่ยอมลงให้กู - คนเก่งอยู่ไม่ได้). As Areutai's memory is back, he decides to go abroad to gain more money to make his wife happier. He goes back to Phitsanulok a last time to wrap up his activities. His police friend can do nothing against the district officer. He drinks alcohol to forget his uselessness (this was a taboo in Thai movies before). The district officer is under investigation and will likely be condemned to jail. Dr. Kan is witness of the district officer's illegal activities. His relatives belief that Dr. Kan is the one who discloses the whole story to authorities during his trips to Bangkok. Dr. Kan is shot dead by them during a storm. He was a good person (เขาเป็นคนดี). ChatriChalerm Yukol criticized the Thai bureaucracy and presented the problems of rural area. The film was successful at box office and received good reviews. As the district officer was a corrupted character, the movie has difficulty passing the film censorship committee. ChatriChalerm Yukol showed the film to Field Marshal Thanom Kittikachorn and then the film passed approval. It is likely that if ChatriChalerm Yukol were not the great-grandson of King Chulalongkorn, the film wouldn't have passed the censorship committee as he couldn't have met the Prime Minister. The movie is based on a novel from Suwannee Sukontha written in 1970. The movie "เขาชื่อกานต์n" actually threw away all the main characters of the Thai classical drama (clown, maid of honor...) so it was an unconventional movie compared to the 1960s Thai movies standards. Main actor Sorapong Chatree got a golden statuette (ตุ๊กตาทองดารานำชาย) for his interpretation as Doctor Kan.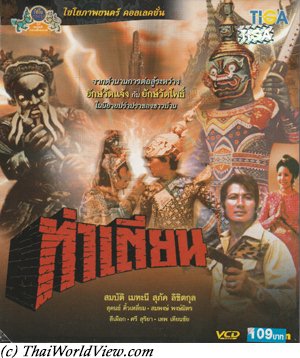 Year

: 1973



Thai title

:

ท่าเตียน




English title

:



Rating

: 4/5


Director

: Sompote Sangduenchai



Main actor

: Sombat Methanee,Sukon Koewliam,Thep Thienchai,Sompong Phonmitr


Main actress

: Prim Praphaporn



Buy now

:

Thai movie ท่าเตียน was released in year 1973 and lasts 1h40mn. It was released under VCD by company Tiga and features a colorful and sharp picture. Movie director is Sompote Sangduenchai. It was his first movie. Producer is Chaiyo Productions. The movie was successful and got 1.4M Baht revenue in Bangkok and 3M Baht in other provinces. Sompote got the movie idea when studying in Japan and seeing movies successes such as Daimajin and Godzilla. This modern movie even features film credit order at the end of the movie. A man is killed by a Yak statue as he was stealing a Buddha statue from a temple. A weird egg falls from space to the earth. The egg is rejected by a snake. It is eaten by a frog, but it causes stomach ache to the frog, so it is also rejected. The egg gets bigger and explodes. Inside the frog, there is a beautiful princess (นางงาม)(สุภัค ลิขิตกุล), named Shaba, wearing Thai traditional dress. The frog takes refuge in an elderly man's (คุณตา) home. Her gods' parents (including Prim Praphaporn) are missing their daughter. The father, Ma Sing, comes to earthen world to find her daughter. Thai comic actor Thep Thienchai appears with a western spaghetti music introduction. Allen (Sombat Methanee) and Sompong Phonmitr are scientists currently staying in a forest camp. The deity Ma Sing helps one worker, called Soda, attacked by a snake. To thank him, Allen promises to help him to find his daughter even if it is hard to believe it is a princess. Funny sequence occurs with Sompong watching two young naked ladies playing with water in a forest pond. A gorilla asks him to borrow his glasses to watch also. On the following morning, they split to look for the princess. Allen and Sompong go together but they are attacked by a rhinoceros and tiger. Ma Sing and Soda go together but they are attacked by small dragons (สัตว์ประหลาด). Soda is killed. The action is probably shot in Nan area as it features weird sand formation. Due to the danger, Ma Sing asks Allen (นาย) to go back. Sudden inondation occurs. Sompong is eaten by a crocodile. The uncle rescues Allen. Allen recovers in uncle's house thanks to the princess Shaba. The uncle tells her to be careful with Bangkokian people (ชาวกรุง, ใจบาป) but she trusts Allen. Allen and Shaba leave for Bangkok and visit Wat Arun. She goes to Wat Po with a Yak. She invites one of the Chinese guardian statues to join them. They arrive in hotel Dusit Thani. The Chinese deity wishes to go to massage (อาบอบนวด)! Misunderstanding occurs between the Yak and Chinese guardian so they start to fight (ยักษ์อาละวาด). The movie ends up by a Karma lesson.
---