Increase or decrease font size for easier reading : A+ A-
Year 1972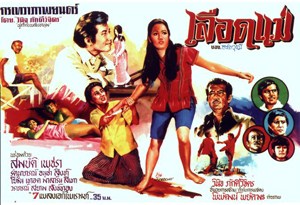 Year

: 1972



Thai title

:

เลือดแม่




English title

:



Rating

: 3/5


Director

:



Main actor

: Sombat Methanee,Choomporn Theppitak,Anucha Ratanaman,Songthong,Sithao Petcharoen


Main actress

: Petchara Chaowarat,Ratanaporn Intarakamhaeng,Malalin Bonnak
This 1972 Thai movie เลือดแม่ lasts 2h20mn. Its full version still exists among a Thai collector but it was never released through any official video format such as VHS, VCD or DVD. A 40mn sequence can be watched online. A Bangkokian man (Anucha Ratanaman) is lying to an upcountry girl (Ratanaporn Intarakamhaeng) about his love. Ratanaporn is then pregnant. Knowing that Anucha will not come back, she flees her home to avoid shame and ends up in a thieves' den. A baby girl is born. Years have passed. The baby girl is Petchara Chaowarat. While being an adult, she gets rescued by Choomporn Theppitak as she was getting threatened by ruffians. As Petchara wishes to know who her father is (she only has a pendant), she flees to Bangkok with Choomporn. Being aggressed by thugs, they get help from Sombat Methanee. Malalin Bonnak (มาลาริน) is Sombat's promised fiancee. As they have no place to go, Sombat helps them to stay at a friend's home. Malalin sees Petchara as a concurrent for Sombat's heart. Love emerges between Sombat and Petchara. Malalin and her mother makes a plan to denigrate Petchara. She is drugged while sleeping and a ruffian simulates leaving her bed while Sombat is just here. Choomporn learning this gives a lesson to Malalin. Her mother being sick, Petchara and Choomporn have to go back to their home town. Malalin's mother orders a ruffian to go also in order to kill Petchara as Sombat refuses to marry her daughter. The shootings go wrong in the village. Choomporn protects Petchara with his own body and dies. The ruffian gets injured by Petchara's stepfather, who also dies. Back to Bangkok as Malalin's mother refuses to pay anything to the ruffian, she also gets shot. Anucha, aware of the whole story, goes to the village with Sombat. Both love stories finally blossom, i.e. Sombat and Petchara, Anucha and Rattaporn. Seven songs are performed including singer Songthong.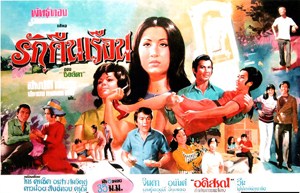 Year

: 1972



Thai title

:

รักคืนเรือน




English title

:



Rating

: 3/5


Director

:



Main actor

: Sombat Methanee,Prachuap Ruekyamdee,Songthong,Krai Kanchit,Daonoi Duangjai


Main actress

: Petchara Chaowarat,Somjit Sapsamruey,Chosri Misommon,Sisala Thongtara,Metta Roongrat,Orasa Isarangkul,Darunee Cheunsakul
Thai movie รักคืนเรือน was released in year 1972. Main actor is Sombat Methanee and main actress is Petchara Chaowarat. The movie is lost in Thailand but a sequence of one hour remains to be seen. The remaining sequence shows a high society party with Petchara singing a song. Petchara is then discussing with Somjit Sapsamruey, her mother. Her mother wants her to marry the son of a friend as they are poor. Veteran actors (Prachuap Ruekyamdee and Songthong), a doctor and a young man (ทม วิศวชาติ) are visiting them. Petchara and the young man appreciate each other. Veteran actress Chosri Misommon is playing a domestic helper. Sombat later on arrives. He is welcomed by Sisala Thongtara and Somjit, then also by Metta Roongrat and Petchara. Petchara is not so happy to meet Sombat. Somjit is feeling unwell and ends up at hospital. Certainly Somjit asks Petchara to really consider Sombat as engagement but Petchara loves already another man. Misunderstanding happens between Petchara and Sombat. A fire in the house happens. This is a romantic drama.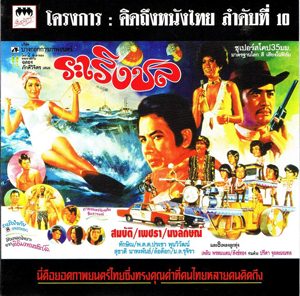 Year

: 1972



Thai title

:

ระเริงชล




English title

: Ra Rueng Chon



Rating

: 5/5


Director

: Chalong Pukdeewichit



Main actor

: Sombat Methanee,Songthong,Rujira Isarangkul,Lor Tok,Pan Borapet,Taksin Jampol,Paen Pleumsachai


Main actress

: Petchara Chaowarat,Somjit Sapsamruey,Marasri Isarangkul,Orasa Isarangkul,Wassana Chalakorn
Thai movie ระเริงชล was released in year 1972 and lasts 2h07mn. It was released under VCD format by XxX company in year 2001. Director is Chalong Pukdeewichit. The movie was found overseas and the picture is sharp and colorful. Unfortunately the first part of the movie (around 20 minutes) was missing. So in order to be able to release the movie, a remaining 35mm film was digitized. As the film reel was almost 30 years old, the colors were gone and scratches could be seen. But at least the first 20 minutes were recovered and VCD was released. Eight songs are featured including the group "Impossible" (วงดิอิมพอสซิเบิ้ล), Songthong and เพลิน พรหมแดน... Petchara wears extraordinary hats in this movie. Pak (Sombat Methanee) is back from overseas. Per his parents' arrangement, he needs to marry a young lady called Rareung (Petchara Chaowarat). His father (Rujira Isarangkul) and his mother (Somjit Sapsamruey) have a debt towards Thon (Lor Tok) and his wife (Marasri Isarangkul), who helped them financially. They must have gratitude (บุญคุณ) towards this family. It is the overseas student versus the upcountry lady (เด็กบ้านนอก). Pak is not willing to marry Rareung and wishes to break the engagement (ถอดหมั้น) as he has a fiancee, called Sopha (นงลักษณ์ โรจนพรรณ), still being overseas. The young lady, Rareung, is behaving like a hippy. If no wedding, Pak's father has to pay back the debt but he doesn't have the money. Pak agrees to work for Thon one year in order to pay back his father's debts. The engagement is maintained. They have to move back to Rayong. Pak met Pleun (เพลิน) as local architect and Sang (Songthon). Plaem (Orasa Isarangkul) is aggressed by ruffians including Pan Borapet. Pleun and Rareung help her on time. Sopha is back from USA and is willing to pay the 1M Baht debt. Pak refuses as he is not a thing that can be purchased. Rareung calls him "golden pimp" (แมงดาปิดทอง)! Pak is authorised by Thon to go to Sopha's birthday. A fight occurs during Sopha's birthday. Bouleu (พ.ต.ต.ประชา พูนวิวัฒน์) hires ruffians to beat Pak as he sees him as a rival. Rareung and his friends help him. Sopha's mother (ประพิศ พราวพรรณ) wishes her daughter to marry Bouleu, a rich businessman. Bouleu has a mistress already (Wassana Chalakorn). Den (ปรีดา จุลละมณฑล) has a car accident with Sopha so he tries to seduce her and comes to her house. Rareung's mother is suddenly dead. Thon has a mistress. Her brother Chu (Taksin Jampol) pushes her to become official wife. Pak refuses that Rareung's breaks her debt contract. Rareung is aggressed by three ruffians but Pak helps her on time. Bouleu hires Chu to recover some drugs fallen in the sea. A party (งานฉลอง) is organised to celebrate new bungalows opening so many families are gathering. Sopha knows she lost to Rareung. Bouleu proposes to help her by damaging the parachute. While Rareung is parasailing, Paen Pleumsachai shoots the parachutes and ruffians kidnap the ladies. They ask for 1M baht ranson to Thon. Bouleu is the mastermind behind. The ransom fails as the police intervenes. Chu is involved but he is doubled. Plaem (sister of policeman Den) and Thon's mistress are also captured. Police is about to storm the island where Bouleu and his team is hiding. Wassana is disappointed that Bouleu still loves Sopha. She warns Pak and the police regarding mines hidden under the beach. Bouleu shoots her. Police led by Den and Pak succeed to storm the HQ and to release the ladies. They have to flee as a time bomb shall destroy the HQ. A final fight occurs between Pak and Bouleu. Wassana harpoons Bouleu. Happy romance can happen between Pak and Rareung, between Den and Sopha, between Pleun and Plaem.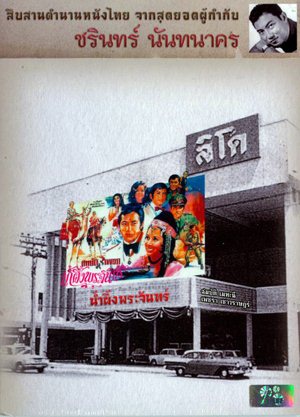 Year

: 1972



Thai title

:

น้ำผึ้งพระจันทร์




English title

:



Rating

: 3/5


Director

: Charin Nantanakorn



Main actor

: Sombat Methanee,Charin Nantanakorn,Sahat Piempongsan,Adul Dulyarat,Lor Tok,Prachuap Ruekyamdee


Main actress

: Petchara Chaowarat



Buy now

:

Movie น้ำผึ้งพระจันทร์ is 2h21mn long. Sae (Sombat Methanee) is a Thai soldier visiting Cairo. He is having a few drinks with Tai (Charin Nantanakorn). While back to his room, there is a Thai lady (Petchara Chaowarat) hiding in his bed. Her name is Honey. She claims to be chased by some Egyptian men as she refuses to marry a rich local man. Honey is in fact princess (เจ้าหญิง) Assama. She has to flee as some influential people want to coerce her father. Many beautiful area of Cairo are shown (Gizeh pyramids, mosques, Sphinx) and also local culture (belly dance, horse dance). She needs to exit Egypt to escape those ruffians. One way to exit Egypt is for Sae to marry Honey (นาทีคนไทยใจดี) ! But he refuses. Following a new kidnapping tentative over Honey, he feels pity over her and her tears. He finally proposes the wedding himself. They finally escape from Egypt and go in Italy through romantic places such as Venezia, Roma Colosseum, Trevi fountain. Love is emerging. They finally back to Thailand. A lady called Wassinee is waiting for Sae at the airport so they get separated abruptly. Sasemg (Sahat Piempongsan) is upset with his young brother's behavior. Sae's sister wants a wedding between Sae and Wassinee. Sae is concerned as he cannot forget Honey (คนที่มีความรักแท่จริงต้องชานะเสมอ). Many years ago Tai chose to flee away with his love as his girlfriend was rejected by his family. Sae's brother, Sasemg, highlights that soldiers have to follow up rules. Duty and love are sometimes on the opposite side. The movie also shows that Thailand has as many beautiful spots as Cairo or Roma. Honey has to do the guide promoting Thailand tourist spots. They are still upset towards each other (ความรักเป็นสิทธิ์หัวใจ). War emerges at the Thai border. Sae and Tai have to go. Tai wishes to prove he can also accomplish duties. Tai dies while washing his honor. Sae is injured but believed to be dead. Finally Honey accepts the wedding proposal of an Arab prince believing Sae is dead. Sae is back but he doesn't want to break the royal woes. The movie finally ends up happily for them as princess Assama surprises Sae at the place they made their love oath. A few songs are featured in the movie.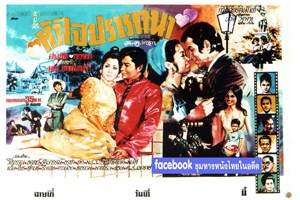 Year

: 1972



Thai title

:

หัวใจปรารถนา




English title

:



Rating

: 3/5


Director

:



Main actor

: Sombat Methanee,Ek Amarin,Adul Dulyarat,Sukon Koewliam,Daonoi Duangjai


Main actress

: Petchara Chaowarat,Wilaiwan Watthanaphanit,Ratanaporn Intarakamhaeng,Orasa Isarangkul
Thai movie หัวใจปรารถนา was released in year 1972. The movie is lost in Thailand but a nine minutes mute sequence remains to be seen. It has a very damaged picture. This movie is a romance movie. Despite being a 1972 movie and labeled as 35mm movie, it is in 16mm format. It was probably shown in Thai provinces where 16mm projectors were still popular. Main actor is Sombat Methanee and main actress is Petchara Chaowarat. It features เอก อัมรินทร์ as a new main actor, Wilaiwan Watthanaphanit, Adul Dulyarat, Ratanaporn Intarakamhaeng, Orasa Isarangkul, Sukon Koewliam, Daonoi Duangjai. The left sequence shows Petchara in the arms of Ek Amarin (เอก อัมรินทร์) and talking together. They are wearing princely clothes. Wilaiwan is talking to Orasa. They are maybe playing jealous ladies roles. Wilaiwan is gorgeous in Hong Kong dress Cheongsam. Sombat Methanee, main actor, is unfortunately not seen in any of the remaining sequences. The movie featured 7 songs.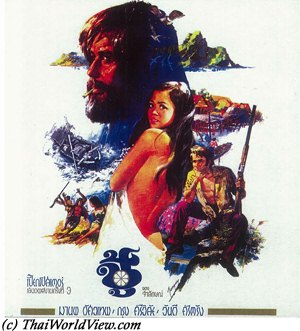 Year

: 1972



Thai title

:

ชู้




English title

: The Adulterer



Rating

: 3/5


Director

: Piak Poster



Main actor

: Krung Srivilai,Manop Aussawathep


Main actress

: Wandee Sritrang



Buy now

:

Thai movie ชู้ / The Adulterer was released in year 1972. It was released under VCD format by company XxX (Triple X). Movie director is Piak Poster. Movie ชู้ is his third movie. Piak Poster used a new unknown main actress called Wandee Sritrang. A boat is caught in a storm. The only survivor is a young lady (Riem) that is stranded on a remote island. A strong but lonely man (Cheung) rescues her. The man, who didn't have contact with any woman for years, forces her to have a relationship with him. They finally become wife and husband. Their first child is a boy. One day, Cheung gets fish poison into the eyes. Riem has to go to nearest fishing village to look for the doctor. The doctor is away but a young man (Thep) is replacing him. Riem and Thep have been lovers before. Thep is a seductive guy and a womaniser. He is aware that beautiful and expensive white pearls can be found in Cheung's island. He manipulates Riem saying that Cheung has many pearls, whose he doesn't want to share with Riem for the good sake of their child's future. He resumes his relationship with Riem. He cures slowly Cheung and drugs him every night to search for his pearls chest with Riem. Forgetting to eat drugs one night, Cheung starts to be aware of the situation. He knows that his wife Riem and her lover Thep want to get his pearl treasure and get rid of him. So lying to them that he needs to dive to get the pearls to share with them, Riem and Thep feed him that so he can recover fast. Simulating blindness, he is aware of everything. He brings them to a remote island where he reveals his secret and perforate the boats preventing any return. Riem has late sorrows, i.e. she was dumped by Thep before getting on the fishing boat caught in the storm and then raped by Cheung, so unlucky she is. Cheung looses his anger and wishes to let them go. He leaves to bring her son to Riem but Thep wishes to take revenge and tries to kill him. Finally while trying to protect Cheung and his son, Riem is shot by Thep. Cheung leaves the island with a dying Riem and Thep is left alone on the remote island where nobody never stops... This movie is about adultery described in a non conventional way with action and stage setting reduce to the minimum on a remote island. It is far from Bangkokian romantic drama with palatial suburban estate house. Krung Srivilai received a Thai award for his performance. This movie was so successful that it was screened again in 1975. The Culture Ministry registers 25 Thai classic films each year at the National Film Heritage Registry. This movie is part of the 25 films heritage list announced on 04 October 2015, which is Thai Movies Conservation Day.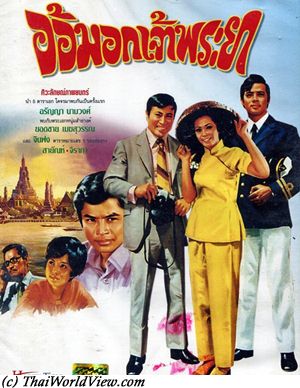 Year

: 1972



Thai title

:

อ้อมอกเจ้าพระยา




English title

:



Rating

: 3/5


Director

:



Main actor

: Yodchai Meksuwan,Sayan Chantaraviboon,Jin Fong


Main actress

: Aranya Namwong



Buy now

:

Thai movie อ้อมอกเจ้าพระยา was released in year 1972 and lasts 2h07mn. It was released under DVD format by company Happy Time Marketing. It features a sharp and colorful image. Saonai is coming from a rich family (ผู้ดี) and living in Hong Kong. Khun Wang (played by Hong Kong number one actor Jin Fong - จินฟง) is her chaperon. It is really nice to see again Hong Kong almost forty years ago with Love Rock scenery, views from the Peak, old cars, absence of high buildings, boat people settlements. Saonai wishes to experience life with poor people so she settles in Mongkok with boat people (ชาวเรือสลัม) community. She pays an old lady to play her mother. Kla is a Thai captain, whose cargo is berthing in Hong Kong a few days. Saonai hits his small pinnace and he falls into the water. Love starts between Saonai and Kla. Khun Wang continues to look for Saonai following her father's orders. Ruffians hit Kla and bring back Saonai to her father. The father wants a good husband (มีนามมีฐานะ) for his daughter and not a sailor. Kla knows the truth about Saonai thanks to the old lady. Saonai is a modern lady believing in love and heart choice. Her father wishes to marry her to Khun Wang (พ่อใจร้ายไม่เห็นใจ). But Khun Wang promises to help Saonai to find Kla. Kla is back to Thailand disappointed by Saonai's lies. In Thailand a young lady, called Porn, loves Kla but Kla indulges in alcohol as he cannot forget Saonai. Saonai arrives in Thailand and looks for captain Kla at the Bangkok port. Kla already resigned from his job. Saonai looks for him in Bang Kapi district. Thanks to an old colleague, Kla is aware that Saonai is looking for him. But they miss each other. Saonai wishes to kill herself. She is helped by Porn. Kla's younger brother, Keng, meets Saonai at Porn's house. She is renamed as Araya. Keng loves her at first sight and promises himself to achieve his goal to build a family. So love feelings are mixed through a few people (Saonai, Kla, Porn, Keng). Saonai fails to meet Kla at Keng's home but understands he is the one she was looking for. Keng is aware of Saonai's love towards Kla. Disappointed by this news, he has a car accident and is almost blind. Anyway he told Kla the good news about Saonai. Meanwhile love emerges between Khun Wang and Porn. Following some last minute misunderstandings (อกหัก), Saonai and Kla are reunited. Three couples have now happiness as Keng falls in love with Khun Wang's younger sister. This old 1973 movie still features beautiful colorful picture and songs. Aranya Namwong is shining. This movie features an homage to the Chao Phraya river, an homage to the Thai King and the Thai Queen during their birthday celebrations with colorful lightings in Bangkok, an homage to the good Chinese Thai relations.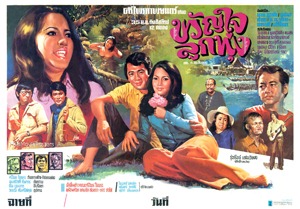 Year

: 1972



Thai title

:

ขวัญใจลูกทุ่ง




English title

: My sweet heart



Rating

: 3/5


Director

: ศรีไพร ใจพระ



Main actor

: Nard Poowanai,Kamthorn Suwanpiyasiri,Sukon Koewliam,Lor Tok,Chaiya Suriyun,Rujira Isarangkul,Op Boonthit,Paen Pleumsachai,Songthong,Sithao Petcharoen


Main actress

: Chosri Misommon
Thai movie ขวัญใจลูกทุ่ง / My sweet heart was released in year 1972 and lasts 2h27mn. Movie director is ศรีไพร ใจพระ. The movie was never released on VHS, VCD, DVD in Thailand. It is only available under 35mm film format, but it was very damaged with colors almost lost. ศรีไพร ใจพระ and บุปผา สายชล were famous singers (นักร้องลูกทุ่ง) since movies ชาติลำชี and มนต์รักลูกทุ่ง shot by รังสี ทัศนพยัคฆ์. They were husband and wife. Movie ขวัญใจลูกทุ่ง was the first movie directed and produced by ศรีไพร and featuring his wife บุปผา as main actress. Chaiya Suriyun was supposed to the main actor in this movie. He started to play in a few sequences, but problems occurred. So, the main actor was changed to Nat Poowanai, who was a new actor who just played in a few movies. Surprisingly Chaiya can still be seen on the movie poster and in a few sequences of the movie. Chot character, played by Chaiya, is killed after a fighting sequence where Chaiya is shot by ruffians. The movie features many actors and actresses such as Kamthorn Suwanpiyasiri, Chosri Misommon, Sukon Koewliam, Lor Tok, Chaiya Suriyun, Nard Puwanai, Rujira Isarangkul, Op Boonthit, Paen Pleumsachai, Songthong, Sithao Petcharoen, วงศ์ทอง ผลานุสนธิ์, พูนสวัสดิ์ ธีมากร, ทานทัต วิภาตะโยธิน,แคหลอ, ชูศรี โรจนประดิษฐ์, ขุนแผน, ถนอม นวลอนันต์, เปี๊ยก, พิม พิไลลักษณ์. 12 songs are featured in this musical movie. Kamthorn Suwanpiyasiri (ลูกกำนัน) wants to seduce Kratin (บุปผา สายชล). Kratin watches boat races with Champi (Chosri Misommon). Sithao Petcharoen is the referee. Uncle Khaem (Rujira Isarangkul) prevents Kratin to meet Yot (Nard Poowanai). He has already a planned engagement with Kamthorn as Yot is a poor man. Kratin is Khaem's granddaughter. Chot (Chaiya Suriyun) and Sri Phrai (ศรีไพร ใจพระ) arrive in the village. Thai boxing match free style is organized and Sri Phrai, despite being a weak opponent, wins. Khaem loses a lot of money. He is upset that Kamthorn makes profit on him. Sri Phrai wishes to marry Kratin. Kamthorn and his ruffians (including Paen Pleumsachai) agress Kratin. Phi Chot and his friends help. Kamthorn gets defeated but one of the ruffians shoots Phi Chot. Op Boonthit plays a Chinese merchant. Hippy Songthong arrives from Bangkok. Uncle Khaem wishes to marry Kratin with Songthong. He is fired as he misbehaves. Next day, a man similar to Songthong with a lady Lin, claiming to be Yot's girlfriend, is having a drink in a cafe. Khaem and his team capture him. The lady flees and meets Kamthorn, who tells her that Yot has already another girlfriend named Kratin. Songthong is covered with flour and chased away. Lin visits Yot and Kratin sees them together so it is causing a misunderstanding. Khaem has to excuse towards Songthong. As a revenge, Songthong is parading the uncle through the city. Following Kratin and Yot pleas, Songthong releases him. The movie ends up happily with uncle Khaem allowing Yot and Kratin to marry, Kamthorn having a romance with Lin.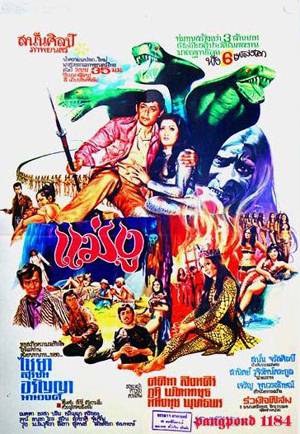 Year

: 1972



Thai title

:

แม่งู




English title

: Snake Queen



Rating

: 3/5


Director

:



Main actor

: Chaiya Suriyun,Ruj Ronnapop,Sithao Petcharoen,Sukon Koewliam,Lor Tok,Sawin Sawangrat,Krai Kanchit


Main actress

: Aranya Namwong,Metta Roongrat,Prim Praphaporn,Sasima Singsiri,Orasa Isarangkul
Booloi and Chom are chased by ruffians. They take refuge in the snake cave (ถ้ำแม่งูสักศีษ). Booloi is pregnant. Ruffians flee as the snake cave has bad reputation. Chom loses trace of his wife. Some snakes transform themselves into young ladies and help Booloi to deliver a baby girl called Haofa. 18 years have passed. Haofa (Aranya Namwong) is now a grown up adult. Haofa still misses her parents. The snake queen selects her as the next queen. This decision makes Haodam (Metta Roongrat) upset. There are fights between ladies during Haofa's crowning. The snake kingdom only includes young ladies and an old sorceress (แม่มด). No men in the cave. In Bangkok, a young man called Tira wishes to ask for young lady Mareudi's hand. Some ruffians, specialized in human trade overseas (รับแขก), keep asking Mareudi to join them for a trip to Japan. She always refuses. Tira's boss called Phanom (Chaiya Suriyun) is playing the matchmaker (เฒ่าแก่) for Pira. Phanom and Pira go to Mae Sai for scientific studies. The ruffians are also going in Mae Sai area to recruit young girls. Ruffians hear about a place near a waterfall with many beautiful girls swimming. So they are hanging around as beautiful girls have been seen bathing. The girls are then attacked by the ruffians but Phanom, being around, is helping and protecting Haofa. They are snakes but Haofa is an human being. A romance is starting between Phanom and Haofa but he cannot go in the cave as it is guarded by snakes. Haodam discloses the incident to the snake queen. According to the snake Queen's rules, nobody is allowed to meet human beings. Chom is accompanying Phanom and is still longing for his lost wife and baby. There is a funny interlude when veteran comic actor, Sithao Petcharoen, is tortured by a fat amazon. Phanom is captured when entering the cave. The Snake Queen condemns him to death but Haofa helps him to flee. Meanwhile snake hunters are back again to attack the hill around the cave. The ruffians are using experts (Lor Tok! Sukon Koewliam!) able to catch snakes (หมองู). Comic sequences happen as they are all useless to charm snakes. The ruffians finally capture the snake girls and the Queen is even shot. The end of the snake kingdom is a disaster. Phanom promises to take care of Haofa and helps to find her father. Haofa wishes to release her other snake sisters. The ruffians try to abuse the snake girls and use them as prostitutes but they transform themselves into venomous snakes. Police finally catches all the ruffians but it is too late as all snakes have been killed. Snakes are really killed and cut in this movie. Only one snake girl, Haodong, survives and she goes back to the snake cave. Haofa is finally reunited with her father. This movie can also be found under Chinese name "蛇國女王'' in China and distributed by Great China Film Co (H.K.). Different character names are used in the Chinese version (Ng Chung for Phanom, Ho Hua for Haofa, Hsiao Hua for Haodam, Chung Shan for Chom, Mei lee for Booloi). The original Thai version of แม่งู lasts 2 hours 50 minutes. The Chinese version has been reduced to 1h30mn only. "Once upon the west" soundtrack is used in the Chinese version. All songs have cut in the Chinese version. Similar to many 1960-1970s Thai movies, it features a long running time and a dozen of songs.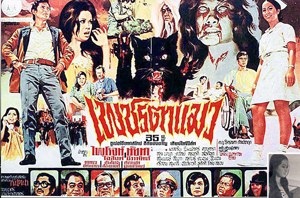 Year

: 1972



Thai title

:

เพชรตาแมว




English title

:



Rating

: 3/5


Director

:



Main actor

: Phairoj Jaising,Manop Aussawathep,Surasit Sattayawong,Tawan Siriwat,Sukon Koewliam,Sompong Phonmitr,Lor Tok


Main actress

: Naiyana Shewanan,Sisala Thongtara,Malalin Bonnak,Khomapat Attaya
Thai movie เพชรตาแมว was released in year 1972. The movie lasts 2h25mn. It seems the movie was never released on DVD or VCD. Only on cable TV so scenes involving alcohol drinking or smoking cigars are blurred. A few songs are featured in the movie similar to all movies beginning of 1970s following huge success of "Mon Rak Luk Tung". Three men are looking in a remote cave for a mystical cat having real diamond eyes. Chat is the one who finds it first but fighting happens with another man. They shoot each other. The third one being a Prince (หม่อม)(Manop Aussawathep), who finally keeps the jewel and doesn't give it back to Chat's daugher. Ten years have passed. The prince is now disabled, lost his wife and child. The jewel brought him bad luck as he is not the real owner. Niphon (Surasit Sattayawong), Tawan Siriwat, Sisala Thongtara, Sukon Koewliam are his domestic helpers. Tawan Siriwat hires a young lady to get the jewel from the Prince. Meanwhile the prince asks Yot (Phairoj Jaising), being a police inspector (สารวัตร), to look for Chat's daughter called Bussayarat. Bussayarat is now a nurse (Naiyana Shewanan). Sompong Phonmitr is her father and wishes to marry her to a local ruffian in order to get money to continue to buy alcohol. Yot helps Bussayarat aggressed by those ruffians. Yot brings Bussayarat to Bangkok in order to meet the Prince believing he found Chat's daughter. As Bussayarat has still a father, the Prince claims she is not the Bussayarat he is looking for but keeps her as a nurse. Niphon introduces to the Prince a fake Bussayarat played by Malalin Bonnak. The Prince asks for 7 days to ensure (สอบถาม) she is the real one. Meanwhile Tawan Siriwat also introduces to the Prince another fake Bussayarat played by Khomapat Attaya. The diamond is sacred (ของศักดิ์สิทธิ์) so it will bring bad luck to malevolent people. Tawan Siriwat, disguised as a ghost (ผี) frightens Malalin to chase her away. Khomapat also faces many black cats in her room and flees. Niphon is married to Nuan (สุพรรณ บูรณะพิมพ์). Nuan is elder sister of Malalin. Niphon is thinking to flee with Malalin when they get the diamond. As Khomapat is in hospital following her shock, Niphon cuts her oxygen approvisionnement to get rid of a competitor. Seeing Yot loving Bussayarat, Malalin is jealous and tries to take Yot away from Bussayarat. Meanwhile Yot is sent by the prince to meet Phra lo (Lor Tok) in order to bring back the diamond. Tawan Siriwat sends some ruffians to steal it but it fails. A ceremony to handover the diamond (มอบเพชร) to Malalin is organised. It ends badly with Tawan Siriwat trying to steal the diamond and injuring Malalin. Yot shots Tawan Siriwat. Being disfigured, Malalin asks Bussayarat to get the diamond for her so that she can have chirurgical operation. Having the diamond, Malalin prepares to flee with Niphon. Khomapat's aunt called Nathalie shots Malalin to get the diamond. Many deaths happen due to the evil power of the diamond (อำนาจของเพชรตาแมว). Nathalie becomes crazy after Niphon steals the diamond from her. Niphon is chased by the police. He shots by mistake Nuan and finally falls from a building. During an official ceremony, the Prince gives back the diamond to Bussayarat.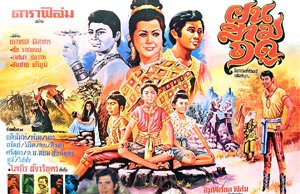 Year

: 1972



Thai title

:

ฝนสามฤดู




English title

:



Rating

: 3/5


Director

:



Main actor

: Adinan Singhiran,Tawan Siriwat,Thuam Thoranong


Main actress

: Yaowaret Nisakorn,Wassana Chalakorn
ฝนสามฤดู is a Thai movie released in year 1972. Only a 1 minute 30 seconds sequence is left. Actors / Actresses playing in this folklore movie are Adinan Singhiran, Yaowaret Nisakorn, Wassana Chalakorn, ชัย ราชพงษ์, สมชาย ศรีภูมิ, Thuam Thoranong (ท้วม ทรนง). It was originally a TV serie. As it was popular, the episodes were shrinked in order to fit into a movie length.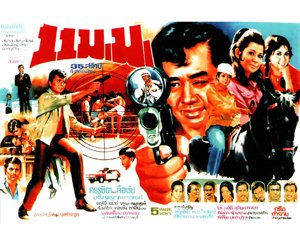 Year

: 1972



Thai title

:

11 ม.ม.




English title

:



Rating

: 3/5


Director

:



Main actor

: Kanchit Kwanpracha,Luechai Natnat,Sompong Phonmitr,Lor Tok


Main actress

: Aranya Namwong,Yaowaret Nisakorn
11 ม.ม. is a Thai movie released in year 1972. It features Kanchit Kwanpracha as main actor and Aranya Namwong as main actress. The movie is lost in Thailand but a 26 minutes sequence is left to be seen. The movie summary is still available through old Thai stars magazine. Et's father is dying. Et (Kanchit Kwanpracha) wishes to get revenge on those who cause his father to die. Sompong Phonmitr and Et go on countryside. They meet Lor Tok, old friend of Sompong. They meet Luechai Natnat, who almost runs over them with his car. A fighting oppose villagers and ruffians led by Luechai. A one to one fight happens between Et and a ruffian. Et wins. While inspecting trees trunks in the forest, Et helps Lek (Aranya Namwong), whose horse gets carried away. Romance happens and they become lovers. Lek is the daughter of Kamnan (เชาว์) and Luechai's sister. So Lek doesn't want this love story to be public. Luechai wishes to kill Et. While Et is going to work by motorbike, he is chased by a car driven by Luechai and his ruffians. They shoot him and Et's motorbike ends up in a pond. The remaining sequence ends here. It was the period where Kanchit Kwanpracha was one the new main actors pushed by the Thai movie industry in order to replace Mitr Chaibancha, who died accidentally in year 1970.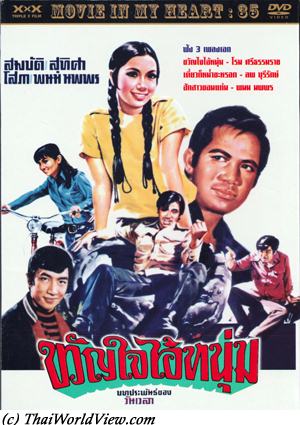 Year

: 1972



Thai title

:

ขวัญใจไอ้หนุ่ม




English title

:



Rating

: 3/5


Director

:



Main actor

: Sombat Methanee,Anucha Ratanaman,Man Teeraphol


Main actress

: Suthisa Putnuch,Sopha Sataporn,Wassana Chalakorn



Buy now

:

Thai movie ขวัญใจไอ้หนุ่ม was released in year 1972 and lasts 1h45mn. It is available under DVD format by famous company XxX owned by Toh Pantamit. Num (Sombat Methanee) is a truck driver (สิบล้อ). He is working for Tia. Raemjai (Suthisa Putnuch) is harassed by ruffians. ปากหวานกับเด็กบ้านนอก. Anucha Ratanaman, driver of minibus (สองแถว), loves Raemjai also so there is jealousy between the two men. The movie features a few songs. Those songs are shot in 35mm format as this format allows image and sound together. The 35mm image is more damaged than the 16mm image as the film is less resistant to time damage. The movie itself is in 16mm format so in the past, dubbers were needed. Such 1970s decade movie include various style to please the whole audience such as action, romance and a bit of spice with a typical waterfall scene where the actress Wassana Chalakorn swims in the water. Head of ruffians (นักเลง) Sakda loves Raemjai also. As Phaen, Raemjai's brother, has debts in Sakda's underground casino, Sakda is pushing him for a wedding with Raemjai. Num punches Sakda's ruffians being irrespectful with Raemjai. Tia's daughter (Sopha Sataporn), called Deuan, doctor student, is back from Bangkok. Ponsak (Man Teeraphol) is Sakda's son. Taking profit that Num is working in Bangkok and the brother Phaen away, Sakda rapes Raemjai at nighttime. Ponsak harasses Deuan so Anucha intervenes. As he is about to be defeated, other minibus drivers help him. Back from Bangkok, Raemjai announces that she is breaking up with Num as she is not suitable anymore. Only Raemjai's brother knows the truth. Shocked, Num leaves very angry. Drinking alcohol, Num is informed by his friends that Raemjai has been kidnapped by Sakda. Num storms Saksa's house with the help of Anucha and minibus drivers. Hopefully Thai Police arrives on time as ruffians have guns. Shootings happen. Phen and Saksa shoot each other. Before dying, Saksa announces that he didn't touch Raemjai that night due to his heart decease (โรคหัวใจ). Num and Raemjai can have happiness. Deuan goes back to Bangkok as she knows she cannot get Num's love.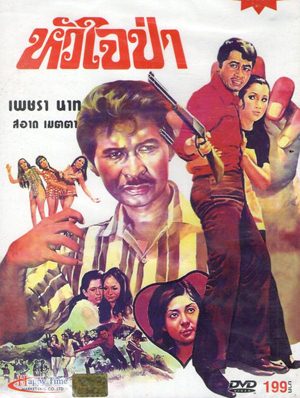 Year

: 1972



Thai title

:

หัวใจป่า




English title

:



Rating

: 3/5


Director

: Wichit Khunawut



Main actor

: Nard Poowanai,Sithao Petcharoen,Sahat Piempongsan


Main actress

: Petchara Chaowarat,Prim Praphaporn,Chosri Misommon,Metta Roongrat



Buy now

:

Thai movie หัวใจป่า was released in year 1972. It features 8 songs. Saeng (Petchara Chaowarat) is working in a nightclub as manager secretary (เลขา). Suda (Prim Praphaporn) is her close friend. The manager (เห็นใจ) tries to abuse her so she has to use a gun to protect herself. The driver accuses her of being a minor wife (เมียเก็บ) and to be responsible to have planned to kill the club manager. As police is looking for Saeng, Suda helps her to leave Bangkok. She goes in a remote area of northeast Thailand. While going to Krating, she meets Wissanoo (Nard Poowanai) with who she sympathizes. A music orchestra including Chosri Misommon joins them. On the way, some thieves including Sithao Petcharoen and led by Sahat Piempongsan stops their truck. Identifying Wissanoo as a doctor, Phi Ann (Sahat Piempongsan) orders him and Saeng, believed to be his wife, to follow them. The three ladies of the orchestra are also kidnapped. Phi Ann's wife (Metta Roongrat) called Yom is sick due to malaria (ไข้ป่า). Wissanoo gives her medicine. Phi Ann is not a bad thief as he stops his guys harassing the three ladies. Finally the three ladies have to choose by themselves their husbands! Police is coming so thieves have to move away. One of the rogue ruffians knowing that Saeng is not Wissanoo's wife harasses her. Wissanoo has to fight against him to protect Saeng. Yom wishes Phi Ann to stop being a thief. At nighttime, the rogue ruffian tries to steal Phi Ann's bounty. Following a deadly shooting, Phi Ann is injured in the leg. As the ruffians go to find food, Wissanoo and Saeng take profit to flee with Yom as Phi Ann is injured. Yot and the three ladies join them. While chased by Phi Ann, Yot is shot. Yom decides to go back to Phi Ann to ensure her child can get a father. Getting back Yom, Phi Ann stops chasing the doctor. Finally Wissanoo dismisses in order to join Saeng in Bangkok. This movie is a remake of มือโจร by director Wichit Khunawut in year 1961. The 1972 version lasts 2h22mn.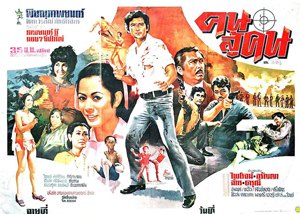 Year

: 1972



Thai title

:

คนสู้คน




English title

:



Rating

: 3/5


Director

:



Main actor

: Phairoj Jaising,Choomporn Theppitak,Chat Mongkolchai,Songthong,Paen Pleumsachai


Main actress

: Aranya Namwong,Marasri Bangchang,Sisala Thongtara,Donnapha Sophee,Darunee Cheunsakul
Thai movie คนสู้คน was released in year 1972. It features Phairoj Jaising as main actors and Aranya Namwong as main actress. It lasts 1h36mn. Two songs are featured in this movie. This is the first movie featuring Phairoj Jaising and Aranya Namwong together. Director is วิจารณ์ ภักดีวิจิตร. Often in 1960 or 1970s Thai movies, music from Italian spaghetti westerns (Ennio Morricone) or James Bond movies was used. Korakot (Phairoj Jaising) arrives in Udon Thani. The introduction sequence even shows old theater โรงหนังเฉลิมวัฒนา. Korakot is back to his village through a bus from Udon Thani. He gets robbed by two ruffians (นักเลงเจ้าถิ่น) including Yuan (Choomporn Theppitak). They steal a jewellery belonging to his mother. Krit (Chat Mongkolchai) rescues him. Some relief characters are played by Songthong and Sisala Thongtara (ศรีสละ ทองธารา). Krit's sister is played by "bad girl" Donnapha Sophee. Knowing his friend's problems, krit chases after the ruffians. Two are killed but Yuan succeeds to flee. Korakot is not able to hold a weapon or fight back (ใจต้องสู้). Khun Phiset is upset with Krit as two of his men were killed. Korakot shall go to Khun Phiset's home to get back his jewellery. On the way, he meets Plienjai, Khun Phiset's daughter (Aranya Namwong), expert in shooting with Daojai (Darunee Cheunsakul). Yuan claims he doesn't have it. Plienjai likes Korakot. Daojai and Krit (สุภาพบุรุษนักสู้) love each other. Yuan loves Plienjai also but it is not reciprocal so he tries to force her. Khun Phiset chases him away. Korakot gets a training from Krit (คนสู้คน). Yuan forges an alliance with another ruffian leader called Seua Sing (Paen Pleumsachai) to get revenge and plans to kidnap Plienjai. As they get pushed back by Krit and Korakot, Seua Sing prepares more men to join. Enticed to get back his mother's jewellery, Korakot is tortured by Sing and Yuan by being attached to a cross and forced to walk under harsh sun. Meanwhile Songthong is killed through an embuscade. Krit helps Korakot before a full dehydration. Korakot's mother is played by Marasri Bangchang. A double wedding happens, i.e. Korakot with Plienjai and Krit with Daojai. Yuan, Sing and their ruffians bring troubles to the party by kidnapping the ladies including Krit's sister. Korakot and Krit chase after the ruffians. Seua Sing rapes Krit's sister. As a bait, Korakot defies Yuan and defeats him while Krit releases the ladies. Through a final shooting, Seua Sing is shot by Krit's sister but she also dies. Newly-wed couples can now find happiness with the ruffians being neutralised.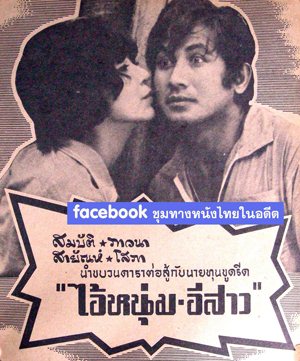 Year

: 1972



Thai title

:

ไอ้หนุ่ม-อีสาว




English title

:



Rating

: 3/5


Director

:



Main actor

: Sombat Methanee,Sayan Chantaraviboon,Choomporn Theppitak,Sawin Sawangrat


Main actress

: Pawana Chanajit,Sopha Sataporn,Metta Roongrat
Thai movie ไอ้หนุ่ม-อีสาว was released in year 1972. Main actors and actresses include Sombat Methanee, Pawana Chanajit, Sayan Chantaraviboon, Sopha Sataporn, Metta Roongrat, Choomporn Theppitak. The film was never released on VHS / VCD / DVD format but a sequence in 16mm format can still be seen in Thailand as one reel is left. It lasts only 14 minutes and is mute. The image quality is very damaged due to humidity on the film. The official movie poster is also lost. During the remaining reel, various sequences can be seen such as a lady talking to a ruffian, ruffians (including Sayan Chantaraviboon) harassing a kid. Pawana Chanajit stops them. Sawin Sawangrat arrives in order to calm down everybody. A lady is talking to two men. Sopha and Pawana are talking to the child (it is maybe a younger brother). Ruffians are back. Pawana pushes back advances from ruffians. Choomporn, Sombat and Metta are talking together. Another man is trying to seduce Pawana through a song.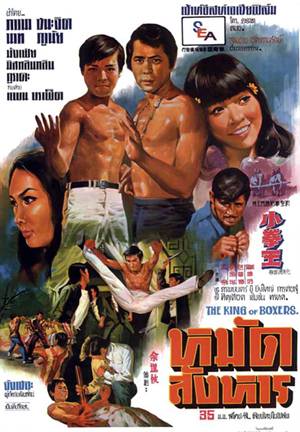 Year

: 1972



Thai title

:

หมัดสังหาร




English title

: The King Boxers



Rating

: 3/5


Director

:



Main actor

: Nard Poowanai


Main actress

: Pawana Chanajit
Movie The King Boxers - หมัดสังหาร - 小拳王 is a Hong Kong Thai co production released in 1972. Main Thai actors present are Pawana Chanajit and Nard Poowanai. Japanese main actor is Yasuka Kurata (Japan's No 1 top actor according to VHS cover). During Surin elephant festival, an overseas Chinese visitor called Yen, interested in Karate, enjoys the festival with his Thai friend Sha (Pawana Chanajit). She shows him Thailand even if there is inaccuracy with a sudden change location from Surin to Chiang Mai (Doi Suthep). At Nakornping stadium, they meet Thai boxer Chow (Nard Poowanai). Local ruffian tries to influence the match result by offering gold but the boxer refuses. Chow wins his match. The ruffians decide to take revenge as they lost a lot of money in betting due to him. Chow defeats the small ruffians but their leader is too strong for him. Hopefully Yen, thanks to his Kung Fu skills, defeats the ruffians leader. Chow asked to be trained by Yen. They visit together famous temples such as Nakhon Pathom chedi. Yen sends a letter to his sister in Hong Kong saying he will stay longer in Thailand. Yen is the leader of a Kung Fu school in Hong Kong. A Japanese school is rival of his school. Their leader Tu Pien comes to the school to defy them but Yen is overseas in Thailand. So he breaks their school board as a sign of defiance. Yen is finally back from Thailand. The fight can happen between both leaders. Yen defeats the Japanese leader but this latter starts to build his revenge. He invites Yen to a Chinese restaurant to celebrate peace but it is a trap. Yen is injured during the meal with a violin and then attacked by dozens of men. He is overwhelmed and finally killed. Ruffians prevent anybody to join the mourning. Yen's two Thai friends just arrive in Hong Kong in order to bring to Yen the tusk he ordered from Thailand. They discover he is dead. Chow and Sha are invited by Yen's sister during the mourning. Fight erupts between the two Kung Fu schools. Chow uses a mix of Thai boxing and Chinese Kung Fu taught by Yen. Tu Pien is about to win thanks to nunchaku usage but hopefully Chow reminds of Yen 's secret weapon and defeats Tu Pien. Most of the part in Thailand is filmed outdoor but the part in Hong Kong is played indoor. It is one of the five movies that Pawana Chanajit, the pearl of Asia, played in Hong Kong movie productions.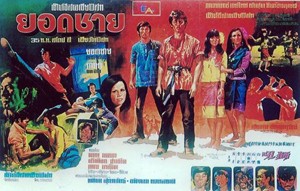 Year

: 1972



Thai title

:

ยอดชาย




English title

: The Roaring Lion



Rating

: 3/5


Director

:



Main actor

: Yodchai Meksuwan


Main actress

: Pawana Chanajit
Thai movie ยอดชาย / The Roaring Lion was released in year 1972. It is a Hong Kong / Thai coproduction. The movie is lost in Thailand. Hopefully it is still available in Hong Kong under the name 獅吼. It lasts 1h45mn. A small trailer, lasting one minute, remains to be seen in Thailand. It features Thai dance and some fighting. Thai actors Pawana Chanajit and Yodchai Meksuwan have participated to a few Hong Kong movies during 1970s decade. Pawana Chanajit, called Pearl of Asia, has acted in five Hong Kong movies. A group of friends are workers in a sawmill. As the foreign boss badly treats his workers, a rebellion happens. The friends, including JeuEr and Chiaouza, have to quit their job. It makes JeuEr's mother very upset and she asks him to stop fighting. Chased by ruffians, they have to flee their village by boat. They are now working in an outdoor mine in Thailand. Workers are over exploited until exhaustion. Pawana gives them information on the ruffians. In Nakhon Pathom pagoda, one of the friends recognizes his sister. She flees but he follows her and finds she is now working in an entertainment place for adults. He tries to release her but fighting erupts. They get defeated by the head of the ruffians who is a strong opponent. To avoid the sister being harmed, they have to accept being defeated in some fighting tournaments. As Chiaouza refuses to lose during the fight, he is finally killed after a tournament overwhelmed by ruffians. JeuEr upset joins the tournament but gets defeated through a bad trick. Looking for JeuEr, ruffians storm his kung fu school. Upset he becomes the roaring lion and defeats a dangerous fighter using whip. Back to the entertainment club, JeuEr through his kung fu skills defeats a dozen opponents and affronts successfully their leaders.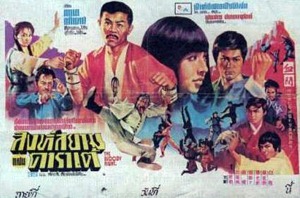 Year

: 1972



Thai title

:

สิงห์สยามถล่มคาราเต้




English title

: Bloody Fight



Rating

: 3/5


Director

:



Main actor

:


Main actress

: Pawana Chanajit
Thai HK movie สิงห์สยามถล่มคาราเต้ - 拳門 - "Bloody Fight" was released in year 1972 and it lasts 1h32mn. Thai actress Pawana Chanajit, called the Asian Pearl, played in five Thai HK movies (สิงห์สยามถล่มคาราเต้ - Bloody Fight, พี่น้องตระกูลอึด - Duel of Fists, หมัดสังหาร - The King Boxers, ยอดชาย - The Roaring Lion). A Japanese boxer called Cheng Chung defies many Chinese teachers. He is organising fights up to the death. He defeats one Chinese teacher. Before dying, he sends his daughter Ching Mei to stay with his brother Chen. As the brother Chen is also a Chinese Kung Fu teacher, the Japanese fighter defies and injures him. His son Chi Chu doesn't succeed to defeat the Japanese man. Other fighters such as Tien Wa defies the Japanese fighter Cheng Chung but they are all defeated. Chen wishes to get the pride back from the Japanese men with new skills. Chen unifies the best of three Kung Fu styles. Ching Mei is reunited with her lost brother Tin Wa as her father chased him many years ago. Chen trains four fighters very hard (Ching Mei, Tin Wa, Chi Chu, Pawana). Pawana Chanajit performs a Thai dance as fighters are ready to defy Japanese boxer Cheng Chung. The two ladies, Ching Mei and Pawana, take care of the numerous small fighters while Tin Wa and Chi Chu focus on Cheng Chung. Even Thai actress Pawana Chanajit is doing very well in Kung Fu fightings! Cheng Chung is finally defeated.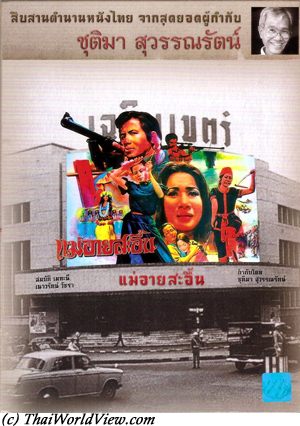 Year

: 1972



Thai title

:

แม่อายสะอื้น




English title

:



Rating

: 5/5


Director

: Chutima Suwannarat



Main actor

: Sombat Methanee,Kamthorn Suwanpiyasiri,Sahat Piempongsan,Jamroon Nuatjim


Main actress

: Naowarat Watchara,Tasawan Saneewong,Metta Roongrat,Viphavadi Triyakul,Malee Wetpraseri



Buy now

:

A subdistrict headman is almost blind but still performs traditional arts. His daughter Dao Lin (Naowarat Watchara) can do traditional spade dance. They are living in a Northern village specialised in making traditional colorful umbrellas. Mem (Malee Wetpraseri) recommends Dao Lin to a Bangkokian lady for a job in Bangkok (เสริมสวย). Dao Lin accepts as she needs money to cure her father's eyes. The second daughter is played by Tasawan Saneewong, who is acting for the first time. No further study for her as they are too poor. In Bangkok, Dao Lin realises the job is in fact acting as a prostitute (โสเภณี / ฉันไม่ใช่สินค้า). Dao Lin cannot send news. She ends up in pregnancy and succeeds to flee the brothel (กลุ่มนรก). She delivers a baby, who is unfortunately disabled. The hospital doctor (Kamthorn Suwanpiyasiri) finds her a job as a model (นางแบบ) but she needs to hide her baby (สังคมทุกวันนี้จำเป็นต้องสวมหน้ากากเข้าหากัน). She gives her baby to her sister lying it is a friend's baby. Dao Lin meets Songpon (Sombat Methanee) in Penang. They finally get engaged (หมัน). Dao Lin discovers that the doctor is Sombat's brother but he promises to disclose nothing. She forgets her family so her father decides to come to Bangkok with her sister Chaeung and disabled son to find Dao Lin. Ten (Metta Roongrat) becomes Chaeung's friend in Bangkok. Chaeung recognises her sister on TV. When meeting together, Dao Lin is ashamed (ลืมตัว) as she doesn't want anybody to know her poor background so she chases away her younger sister. Disappointed, Chaeung runs away and is hit by a car. She is cured by the same doctor, who cured her elder sister. Having pity on her, the doctor recruits her as domestic helper. Dao Lin is surprised to see Chaeung in the doctor's house and asks her not to reveal their family links until she is married with Songpon. Pi (Sahat Piempongsan) is having an affair with Songpon's mother. He always asks for money. They all go to Southern island to help poor children. Songpon's brother called Songyut lives there and takes care of the family domain. Songyut falls in love with Chaeung. Songpon also loves Chaeung but just got engaged with her sister... The mother asks Songyut to stop seeing her as she is a poor girl. Chaeung is kidnapped per the mother's orders. Ten asks Songyut for help. A boat chase is happening in Phuket near the James Bond island. Pi, wishing to get the family domain, shots Songyut through a long range gun but falls from the cliff and dies. The mother is horrified and crossed against Chaeung (เด็กเวร) but she is indirectly responsible of her lover's acts. Meanwhile Dao Lin warns Songpon who finally rescues Chaeung after an impressive car chase. Songyut's mother asks Dao Lin to get rid of Chaeung as she takes her as responsible of her son's death. Dao Lin accepts. Chaeung hears this conversion and arguments happen between the two sisters. Dao Lin's father hears his two daughters arguing and now is aware that Chaeung hides the reality about Dao Lin forgetting her own family. Chaeung, the father and the disabled son leave for Mae Sai. Da Lin follows them there but her father is already dead. He got suicide because of disappointment with his daughter. Songpon is here also blaming Dao Lin not to have told him the truth about her background as he is comprehensive and it would have saved her father's life. Nobody in the village wishes to talk to Dao Lin. To pay respect to her father a last time, she performs the traditional spade dance and finally cuts her throat during the dance. She entrusts Chaeung and her son to Songpon. It is a sad family drama with a rich mother causing her son's death and a poor daughter causing her father's death. The DVD แม่อายสะอื้น (1972) lasts 1h55mn but some parts are missing as it is a copy from U-matic tapes.. Famous director is Chutima Suwannarat (ชุติมา สุวรรณรัตน์) well known for sad movies.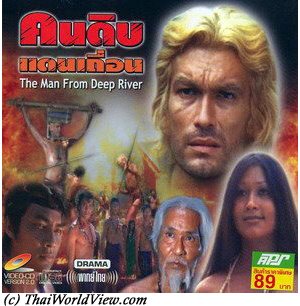 Year

: 1972



Thai title

:

คนดิบแดนเถื่อน




English title

: The man from Deep River



Rating

: 3/5


Director

: Umberto Lenzi



Main actor

: Pipop Pupinyo,Paen Pleumsachai


Main actress

: Me Me Lay
The man from Deep River is an Italian movie shot in Thailand. A young man called Bradley comes to Thailand and visits famous places in Bangkok such as river canals (คลอง), market, Wat Po, Wat Indrawihan. He is interested by primitive tribes living along Thai Burma borders with no contact with outside world. Following arguments during a Thai boxing match, Bradley stabs a Thai man and has to flee. He takes refuge in a village near the River Kwai in western Thailand. He arrives in the village with diving equipment. He is doing everyday trips on the river and taking photographs. One day after having a nap, Bradley wakes up to find his assistant Chan killed. Bradley is then captured by an unknown tribe. This violent tribe is cutting prisoners' tongue. Maria is the beautiful daughter of the local village headman. Bradley is seen as strange white fish by the villagers (เป็นมนุษย์). They use him to catch fishes and turtles as he knows how to swim. Maria likes him a lot and this causes jealousy from other tribe members who prepare some poisoned arrows. He tries to escape but to no avail. Bradley kills his major opponent in a fierce duel. Animal atrocities, such as fight between mongoose and snake, monkey decapitated and his brain eaten raw, snake cut in half, crocodile killed alive, goat throat slipped, are performed. Bradley is finally accepted as full villager member. He gets a new enemy as he cures a young child that the local shaman couldn't save (ผีเข้า). He finally marries Maria. Some strangers to the village kill one villager and perform cannibal acts. Maria and Bradley escape at nighttime thanks to the grandma They are captured again by the shaman. The grandma is severely punished. Maria pregnancy is painful. As the village is attacked by outsiders they all have to flee. Maria delivers a baby in the jungle but dies just after. Bradley finally stays to reconstruct the village despite having opportunity to leave. The movie is in Italian dubbing but the tribe is speaking Thai in the movie. Maria is not a Thai woman as her Thai pronouncing is not accurate. She is famous Burmese English actress Me Me Lay from decade 1970s. A few known Thai actors are performing such as Sulallewan Suxantat and Pipop Pupinyo. This movie is the first opus of other cannibal movies in 1970s-1980s. This movie is first entry in Italian Cannibal horror film.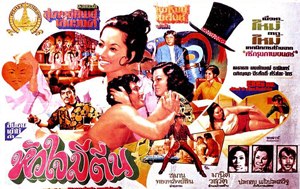 Year

: 1972



Thai title

:

หัวใจมีตีน




English title

:



Rating

: 3/5


Director

:



Main actor

: Phairoj Jaising,Krai Kanchit,Jamroon Nuatjim


Main actress

: Metta Roongrat,Wilaiwan Watthanaphanit,Sukhonthip Saneewong
Thai movie หัวใจมีตีน was released in year 1972. It features Phairoj Jaising as main actor and as Sukhonthip Saneewong (สุคนธ์ทิพย์ เสนะวงศ์) as main actress. The movie is lost in Thailand but a sequence of 6 minutes 30 seconds remains to be seen. Other actors and actresses are Metta Roongrat, นงลักษณ์, Wilaiwan Watthanaphanit, Krai Kanchit, จีระศักดิ์, ธานินทร์, อภิญญา, จำรูญ. Sukhonthip Saneewong is introduced as a new actress in this movie. She was born in 1952. This movie is about a musician but due to back luck, he ends up being a male prostitute (ผู้ชายขายตัวหรือผัวเช่า). The main actress is a bar singer trying to push the musician to write songs for her in order that he quits his current job. หัวใจมีตีน is the first song written by the musician and it becomes famous.
---