Increase or decrease font size for easier reading : A+ A-
Year 1971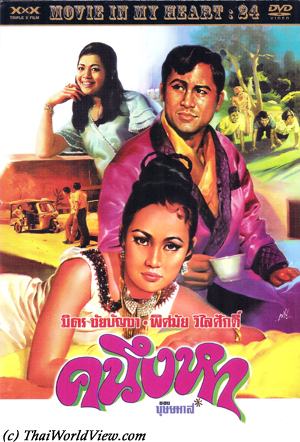 Year

: 1971



Thai title

:

คนึงหา




English title

:



Rating

: 4/5


Director

:



Main actor

: Mitr Chaibancha,Prachuap Ruekyamdee,Daonoi Duangjai,Choomporn Theppitak


Main actress

: Pissamai Wilaisak,Khomapat Attaya,Prim Praphaporn,Metta Roongrat



Buy now

:

Pum (Mitr Chaibancha) loves Deuan Chai but his parents want him to marry Prakai Fa (Khomapat Attaya), a young lady he doesn't love. Mitr consults his lawyer Pattai (Prachuap Ruekyamdee) and they set up a plan. As Deuan Chan is still studying in Japan for 8 months, they need to find a fake lady to convince the aunt (คุณหญิง) that Pum is already married to Deuan Chai and to cancel engagement with Prakai Fa. A job advertising is posted. Yai (Pissamai Wilaisak)(นางหนู), old style young lady, answers to it. Daonoi Duangjai is playing funny character as usual. The aunt is very direct (ปากร้ายใจดี). As wife and husband, Pum and Yai need to share the same room so it causes some issues. Pum's mother doesn't like Yai and wishes to cancel Pum and Deuan Chan's marriage. The mother tries to add jealousy between Pum and Yai by pretending Yai and Pattai are close together. Sathi (Metta Roongrat), close friend with Pum, has a fiance called Pirapee. Prakai Fa arrives and is shocked to discover Deuan Chan as she is supposed to get engaged with Pum. Pum is very jealous regarding Yai. It seems Yai has also a fiance (กุมาร) called Prasan (Choomporn Theppitak). In fact Yai, real name Ranaree, is coming from Songkhla and is also coming from a rich family. Her brother is Pirapee. She has to follow her parents' decision (ต้องทำตามคำสั่งของพ่อ). This movie features the last sequence in Mitr Chaibancha's life. Real Deuan Chan (Prim Praphaporn) is back so Yai prefers to leave. Pum has to disclose the truth to his aunt. The last sequence of the movie is using a replacement of the main actor as Mitr Chaibancha was already dead. Finally the movie ends happily with Pum and Yai staying together.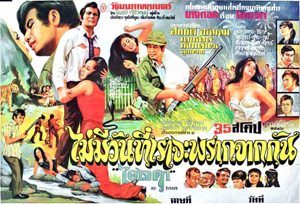 Year

: 1971



Thai title

:

วันที่เราจะพรากจากกัน




English title

:



Rating

: 4/5


Director

:



Main actor

: Sombat Methanee,Prachuap Ruekyamdee,Sithao Petcharoen,Songthong,Sawin Sawangrat,Sukon Koewliam,Chana Sriubon,Ruj Ronnapop


Main actress

: Aranya Namwong,Naowarat Watchara,Sopha Sataporn,Ratanaporn Intarakamhaeng
ไม่มีวันที่เราจะพรากจากกัน (There is no day we will split) was released in year 1971. The full movie lasts 2h27mn. The remaining film is in a poor condition. The image has no more color and is only tinted. Unfortunately the sound is distorted and barely hearable. A full movie summary is still available as some old Thai movie stars magazines can still be found nowadays. The movie remains famous for its 9 to 10 songs. A few songs are sung by Sithao Petcharoen and Songthong. One of the famous singer in this movie is กังวานไพร ลูกเพชร, a countryside singer (นักร้องลูกทุ่ง). He is acting as a couple with Naowarat Watchara in this movie. Main actors in this romantic movie are Aranya Namwong and Sombat Methanee. Interesting to see that Aranya Namwong is wearing big sunglasses that are back to fashion in decade 2010s. Other actors include Prachuap Ruekyamdee, comic actor Sukon Koewliam, Naowarat Watchara, Chana Sriubon, Sopha Sataporn, Ratanaporn Intarakamhaeng, Ruj Ronnapop. Kampee (Sombat Methanee) is orphan but gets patronized by his older sister Rampoei, who is married to rich merchant Vivat. Kampee (คัมภีร์) is engaged with Rewadee (Naowarat Watchara). He goes to study abroad. When he comes back, his fiancee Rewadee is going to marry Pinjo, who was a former friend. Kampee, disappointed, causes big arguments during the wedding, gets beaten and thrown away in the water. When he wakes up, he meets for first time a young woman called Ailada (Aranya Namwong), riding a bicycle and going to help him. Surprised, he leaves rashly by taxi (คนบ้า). Kampee leaves his home as Pinjo's father forces him to go to Sukhothai province. Rampoei wants Kampee to marry Walli, younger sister of Vivat. Kampee meets Ailada again in Phitsanulok train station and they argue again. Kampee shall be the head of forest guards in district Huay Krai. Kampee is welcomed by Plang (Prachuap Ruekyamdee), his assistant. Ailada is Plang's daughter! Kamnan Preuang (Sawin Sawangrat) is doing illegal business in the forest by cutting trees. Plaew, son of Kamnan Preuang, loves Ailada since they are kids. Plang and Kampee have a plan to stop those illegal activities. Having learnt this, Ailada informs Preuang. So Kampee's plan fails. Aware that Ailada is the one who disclosed the plan, Kampee has arguments with her but Ailada finally understands and recognises her mistake. Love starts to emerge. Walli is coming to visit Kampee. To get rid of Walli, Kampee claims he is already engaged with Ailada so she has mischievous behavior with Kampee! Kamnan Preuang and Plaew get agreement with Pinjo to use Rewadee to ease Kampee. Pinjo wishes to kill Kampee as he cannot stand to have Rewadee close to Kampee. It is discovered that Plaew is the real son of Plang and not Preuang. Plaew and Ailanda are then brother and sister! Plaew and Ailanda are looking for Kampee knowing he is endangered by Pinjo's plans to kill him. A thunderstorm happens. Kampee and Ailanda take refuge in a cave. A snake is threatening them. Plaew and Rewadee take refuge in a cave also. Pinjo misunderstands Plaew's intention to help Rewadee. He finally falls in the river and dies. Back from the forest, learning that Kampee and Ailanda plan to marry, Rewadee still tries to get back Kampee and simulates to have spent the night with him. It causes Ailanda's ire, who then flees away. Rewadee apologizes but it is too late. Ailanda is gone and Kampee is back to Bangkok. Kampee indulges in alcohol and finally accept his sister's proposal to marry Walli. Rewadee is pregnant with Plaew. As Ailanda is back to district Huay Krai, Plaew decides to stop Kampee's wedding with Walli to ensure Kampee can marry Ailanda! Plaew lies that Kampee made a young lady pregnant in district Huay Krai so he needs to assume. Finally Kampee and Ailanda are reunited.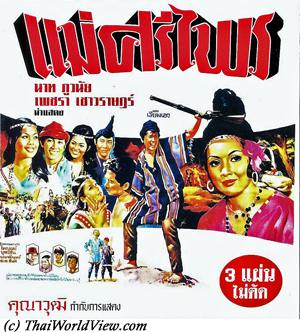 Year

: 1971



Thai title

:

แม่ศรีไพร




English title

:



Rating

: 4/5


Director

: Wichit Khunawut



Main actor

: Nard Poowanai,Sahat Piempongsan,Songthong,Sithao Petcharoen


Main actress

: Petchara Chaowarat,Metta Roongrat



Buy now

:

Celebration of the wedding day between Chan (Sahat Piempongsan), District Chief Officer (นายอำเภอ), and Konthong (Petchara Chaowarat) is ongoing but on nuptial night, the husband is drunk. Konthong is then kidnapped and transported on an elephant into the mountains. She is no idea why she has been kidnapped as her abductor refuses to disclose the truth (แล้วก็รู้เอง). The abductor is called Inton (Nard Poowanai). Aratae (Metta Roongrat) is taking care of Konthong (ผู้หญิงไทยดื้อ). Hillside villagers (คนดง, คนป่า) are very cheerful to Konthong. Inton is called father (พ่อ) as he takes care of the village. Chan is on the way to get back his wife using jeep to go through the mountains and being accompanied with a bunch of ruffians. The kidnapping is in fact Inton's revenge over Chan. Inton, Chan and Taptim were children who shared friendship during childhood. On Inton and Taptim's wedding day, Chan takes advantage that Inton is drunk to rape Taptim as he was jealous Taptim didn't marry him. Willing to kill Chan with a gun, Inton argues with Taptim and a lost bullet kills Taptim. Inton has to flee in the mountains. Inton finally doesn't rape Konthong (เห็นกับตาของจะเสียได้อย่างไร) as he has pity on her and proposes to send her back. How can Konthong go back? Who will believe she is still pure? She acknowledges she doesn't love Chan. So a romance starts between Inton and Konthong. One of the villagers, Tasuey, is chased by Inton from the village following a rape on a girl refusing to love him and her fiance's murder. The stranded villager meets Chan and his ruffians. He decides to lead them to the village to take his revenge on Inton. The movie features alternate sequences of fun, romance and sequences of the ruffians approaching the mountain village. It is a very long movie 2h54 released by company Phanmitr, who used the latest film reels available. The image is very damaged, red and green color with many vertical lines (เส้นฝนตกมาก) but still a pleasure to watch Petchara Chaowarat. To avoid endangering the villagers, Inton decides to flee temporary before Chan and his ruffians led by Tasuey reach the village. Konthong is following up. Aratae loves secretly Inton. Villagers refuse to disclose where Inton and Konthong are hiding. Chan uses persuasion to convince Aratae to tell the truth. If Chan gets back Konthong, his wife, then Aratae can get Inton, her secret love, back. Chan gets Aratae's virginity (ความสาว) as Inton gets his wife also. The ruffians chase Inton and Konthong inside the deep forest (ป่าลึก). As Konthong catches malaria and they run out of food, Inton has no other choice but surrender to Chan. Chan thinks of shooting Inton like a dog but finally changes his mind reminding their former friendship. He even forgives him (ให้อภัย) but Konthong shall stay with him. While Inton is going to the village with the mountain villagers, Konthong lies she is already pregnant so asks Chan to release her so her child can stay with her real father. While Inton and Konthong can have happiness together, Aratae has no choice but to stay with Chan (คนที่แพ้ต้องอยู่ด้วยกัน). A dozen of songs are performed including by famous singer Songthong, singers สมัย อ่อนวงศ์ and กิ่งดาว จันทร์สวัสดิ์. A funny comic encounter happens between comic actors Songthong and Sithao Petcharoen. Movie แม่ศรีไพร by famous director Wichit Khunawut was released in year 1971. It was adapted as Thai TV serie in 2010. It is the first played by Nard Poowanai. Mitr Chaibancha should have been the main actor but his accidental death prevented this.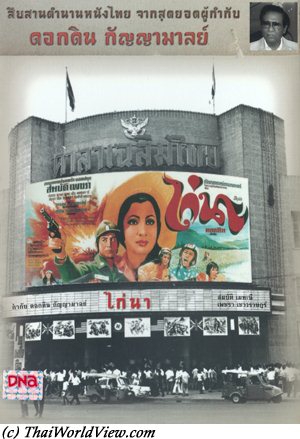 Year

: 1971



Thai title

:

ไก่นา




English title

:



Rating

: 3/5


Director

: Dokdin Kanyaman



Main actor

: Sombat Methanee,Sawin Sawangrat,Prachuap Ruekyamdee,Choomporn Theppitak,Dokdin Kanyaman


Main actress

: Petchara Chaowarat,Orasa Isarangkul,Juree Osiri,Khomapat Attaya,Chadaporn Wachirapranee
Thai movie ไก่นา was released in year 1971 and lasts 2h15mn. The movie was released under DVD format by company Happy Home Entertainment. The DVD features a red picture as the film found was very old. The movie is directed by Dokdin Kanyaman. Jae (Dokdin Kanyaman) and Kai Na (Petchara Chaowarat) sell goods but have issues with policeman Tawan (Sombat Methanee) currently chasing ruffians. Kai Na is a former nurse. She helps an injured man called Chat (Sawin Sawangrat), who claims he was chased by ruffians. After recovery, he flees away and leaves a letter behind. Kai Na brings the letter to the recipient in Bangkok. She meets Mae Nuan (Juree Osiri) and her domestic helper Orasa Isarangkul. The husband Prachuap Ruekyamdee wishes to know where Chat is located now. Prachuap is Chat's old friend. Mae Praem has 20 000 baht debt with Chadaporn Wachirapranee. Her daughter Pan is played by Khomapat Attaya and her bodyguard is Choomporn Theppitak. Prachuap helps Mae Praem with her debt. Prachuap wishes Kai Na to marry his son per Chat's request. Prachupap's son is Tawan! Kai Na accepts as she feels indebted to Prachuap's kindness. As Tawan refuses to marry an unknown lady, he convinces his brother Teewa (จีระศักดิ์ ปิ่นสุวรรณ) to marry her. He secretly loves Kai Na. During the wedding ceremony, Tawan realises that the bride is Kai Na herself! He keeps drinking alcohol to forget his mistake. Teewa was promised to Pan already so her family brings a mess during the wedding party. Pan is already pregnant with Teewa. Teewa announces the news to Kai Na and cancels the wedding. Tawan meets finally Chat, who had been chased by weapons traffickers. Tawan has to go at the Thai border in the North of Thailand. Government official announced that Tawan has disappeared in the forest. To forget her pain, Kai Na and others decide to go helping hill tribes. They give medicine, food and also King / Queen images to them. Teewa is hiding in the mountains as a hill tribe villager as he is chasing some weapons traffickers. Two small parts of the movie are in damaged state and are in fact former songs filmed in 35mm format. In 1960s, movies were shot in 16mm format and had to be dubbed. Songs were shot in 35mm format to have image and sound together. The original movie included 7 songs but only 2 are left. The traffickers storm the hospital where Kai Na is working. The movie ends up happily as Tawan defeats the ruffians. Choomporn is shot. While being in the mountain, Tawan got another wife (a sexy actress - ดาวยั่ว - as usual in Dokdin's movies). Other actors and actresses are พงษ์ลดา พิมลพรรณ, ธัญญา ธัญญรักษ์, สิงห์ มิลินทราศัย, ดลนภา โสภี. Dokdin Kanyaman's movies always include many different tastes (action, romance, comic, a bit of light erotism) in order to please the whole family.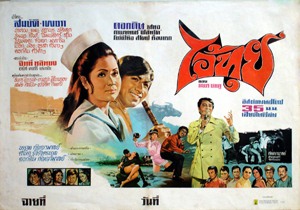 Year

: 1971



Thai title

:

ไอ้ทุย




English title

: Ai Tui



Rating

: 4/5


Director

: Dokdin Kanyaman



Main actor

: Sombat Methanee,Sawin Sawangrat,Prachuap Ruekyamdee,Choomporn Theppitak,Dokdin Kanyaman,Man Teeraphol


Main actress

: Petchara Chaowarat,Orasa Isarangkul,Khomapat Attaya,Chadaporn Wachirapranee,Phong Lada Pimolpan,Malalin Bonnak
Thai movie ไอ้ทุย / Ai Tui was released in year 1971 and lasts 2h25mn. Movie director is Dokdin Kanyaman. Thai movie ไอ้ทุย / Ai Tui is Dokdin Kanyaman's first movie in 35mm format. His previous movies were in 16mm format, so they needed to be dubbed during each projection. A remastered version was released by Thai Film Archives on YouTube in year 2020. Multiple songs are featured in this movie. The Culture Ministry registers a few Thai classic films each year at the National Film Heritage Registry. This movie is part of the film heritage list announced on 04 October 2018, which is Thai Movies Conservation Day. Sub district headman Chin (Prachuap Ruekyamdee) and สิงห์ มิลินทราศัย prepare a big party as an important guest will visit the village. Khun Charoon was a formal village resident and gave 100 rai to the local community. He passed away recently, so his daughter, Mae Priaw, will soon visit the village. Ai Tui is Sombat Methanee, son of sub district headman Chin. Misunderstanding happens as the villagers expect Mae Priaw to be an old lady. She is a young lady played by Petchara Chaowarat. Phong Lada Pimolpan accompanies Mae Priaw. Mae Priaw writes a song for Tui as his popular song has no lyrics except his name mentioned in loop. Ruffians storm the village trying to kidnap Mae Priaw, but Tui and villagers push them back. Bon (Orasa Isarangkul) and Bua (Khomapat Attaya) love Tui, who is very popular in the village. Finally, Khun Priaw has to go back to Bangkok. Tui promises to help if she needs anything. Khun Pliaw (Man Teeraphol) is heritage asset manager, but he is bringing trouble to Khun Priaw. Priaw is introduced to a man coming back from overseas through a singer friend (จิมมี่ หลินชง) called Wara. His face is similar to Tui despite wearing big sunglasses. He helps Khun Priaw to avoid a car accident. As Khun Priaw is not interested in Khun Pliaw, it is suspected that Khun Pliaw is behind the kidnapping or murder tentative faced by Khun Priaw. Lady Pring is back with her right-hand Tuan (Choomporn Theppitak) and her daughter Prae (Malalin Bonnak). Pring (Chadaporn Wachirapranee), just released from prison, is Khun Charoon's sister and would like Pliaw to get rid of Priaw so that she can enjoy the heritage also. The ladies Priaw, Bua and Phong Lada agree to ask Tui to help them. In other to avoid raising Pliaw's suspicion, Tui shall pretend answering to a gardener job. While applying to the job, Tui had arguments with Tuan and Pliaw. Pring plans to get back the heritage and asks Tuan to find somebody able to forge fake signatures. Meanwhile Prae simulates friendship with Priaw. On the beach, Tui declares his love indirectly to Mae Priaw. Prae claims that Khun Priaw is waiting for Tui on a remote island. This is a trick to be alone with Tui. She drugs him to seduce him. Pliaw brings Priaw to see the scene, so that she loses faith in Tui. It is also uncovered that Tui gets a university diploma. Priaw believes Tui is a liar. Tuan puts pressure on lawyer Udom (Sawin Sawangrat). Later on, Pring requests a meeting with Khun Priaw and Udom. Udom has found a new letter from Khun Charoon. It is a new will favoring Pring and canceling the previous one favoring Priaw. Khun Priaw leaves the house. Tuan and his ruffians take the land back given by Mae Priaw to villagers. Villagers are in a bad situation. Tui convinces Khun Priaw to fight back and go to court. Tui brings Udom to testify it is a forged letter. Pring ends up in jail again, but Tuan succeeds to flee. He plans to kidnap Khun Priaw in order to get money to release Pring. Tuan and his men storm the village. Tui, his father and Wara fight with the ruffians, but Tuan succeeds in kidnap Khun Priaw. Tui chases Tuan by speed boat and succeeds in neutralizing Tuan. Priaw and Tui are reunited again.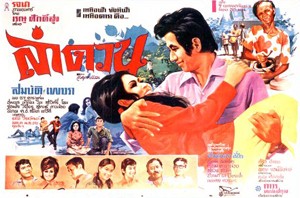 Year

: 1971



Thai title

:

ลำดวน




English title

:



Rating

: 3/5


Director

:



Main actor

: Sombat Methanee,Songthong,Pipop Pupinyo,Choomporn Theppitak,Sukon Koewliam


Main actress

: Petchara Chaowarat,Namgneun Boonnak
ลำดวน is a Thai movie released in year 1971 with Sombat Methanee and Petchara Chaowarat. The whole movie is 2h30mn long and features 7 songs. A 41mn sequence is still available online. This movie was lost in Thailand but a final copy was finally discovered in year 2013 in the house of a former outdoor projectionist. The below summary is based on the 41mn sequence. It is in 16mm format so there is no sound as such format requires live dubbing. Songthong is a temple boy. He is going to Bangkok to find a work and to sell newspapers on the street. Pipop Pupinyo is playing the father (he hasn't yet a shaved head, which will be his recognizable trademark in following movies). The mother is played by Namgneun Boonnak. First one hour is about the parents life. Namgneun Boonnak is sick and Sukon Koewliam takes care of her. Twenty years have passed. Lamduan (Petchara Chaowarat) and Thongdee (Sombat Methanee) meet in a garden. Thongdee is a temple boy also. Thongdee is singing to declare his love to Lamduan. Lamduan is seeing ghosts, i.e. her mother (วิญญาณแม่) and then herself. Thongdee is punching Choomporn Theppitak as he is harassing young ladies. Finally Lamduan is sent to a Buddhist temple to expel ghosts. After discussion with the abbot, she leaves the area and goes with Thongdee in order to start a new life.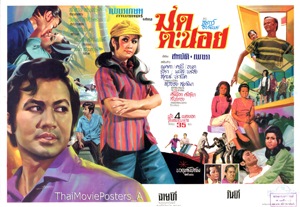 Year

: 1971



Thai title

:

มดตะนอย




English title

:



Rating

: 3/5


Director

: วิจารณ์ ภักดีวิจิตร



Main actor

: Sombat Methanee,Anucha Ratanaman,Rujira Isarangkul,Sukon Koewliam,Songthong


Main actress

: Petchara Chaowarat,Metta Roongrat,Darunee Cheunsakul,Manat Boonkiet



Buy now

:

Thai movie มดตะนอย was released in year 1971 and lasts 1h54mn. The movie was released under VCD format by company TripleX. The picture is quite damaged but still a bit colorful. This is the last found copy of the movie. Movie director is วิจารณ์ ภักดีวิจิตร. Thai actors and actresses featured in this movie are Sombat Methanee, Petchara Chaowarat, Metta Roongrat, ดรุณี ชื่นสกุล - Darunee Cheunsakul, Anucha Ratanaman, Rujira Isarangkul, Manat Boonkiet, พรชัย, Sukon Koewliam, ปราณีต คุ้มเดช, สุวัจชัย สุทธิมา, สีเผือก, ศรีสุริยา, Songthong. It even includes a few songs in 35mm format. Arriving in a beautiful mansion, young lady Motanoi (Petchara Chaowarat) wishes to meet the house owner Nai (Manat Boonkiet). She meets the daughter Kate (Metta Roongrat), who looks down on her. Chakeen (Anucha Ratanaman) is the son having a positive attitude towards Motanoi. Sukon Koewliam is the domestic helper. Motanoi is the recipient of the Apinat family's grandfather's heritage. Maen (Rujira Isarangkul), a lawyer, arrives to check the proof. Motanoi's father is Nikon Apinat. Whenever she marries, then the heritage becomes hers. She meets doctor Cheewan (Sombat Methanee), being her neighbour as she wishes to see his car. The mother wishes her daughter Kate to marry doctor Cheewan. The doctor complains to the mother about Motanoi. Motanoi has a strong character (เด็กกะโปโล) and is unruly (เกเร). It is Kate's birthday (บ้านผู้ดี). The son befriends Motanoi. Motanoi invites herself to Kate's birthday and performs a song at the party. The mother accuses Motanoi to ruin Kate's birthday party. Motanoi is back to her village and meets her old friends Songthong, Saeng Dao (ดรุณี ชื่นสกุล) and Sandon. His friends check if she has changed or not. Villager Sandon still loves Motanoi and refuses to let her belong to somebody else. Sandon performs a heart broken song. Fed up with her friends trying to catch her, she leaves the village with Chakeen. Cheewan meets Sandon as he hits him with his car. Sandon and Saeng Dao finally stay with the doctor. Motanoi leaves for overseas to study. Five years have passed. Young lady Nantaporn is back in Thailand. Maen's car is damaged so doctor Cheewan goes to pick her up but he is not aware that Nantaporn and Motanoi are the same person. The family's fortune is lost as the mother Nai is gambling. As Motanoi has a good heart, she allows them to stay in her house, but they still behave as high-so. Aware of the truth, Cheewan doesn't know how to apologize to Motanoi. Kate gives a love philter to Sandon, but it is acidic. Her plan fails as she is the one , who receives the acid in the face and not Motanoi. Saeng Dao tries to kill Motanoi as she is upset that Chee Wan is always sad because of Motanoi and keeps drinking. The mother has a lover, ruffian Nit. They plan to kill Motanoi to ensure heritage stays with them. Finally, the mother asks for money from the lawyer Maen. Nit and his men try to kidnap Motanoi. Fighting occurs and Cheewan is injured. Police arrive on time as the lawyer Maen alerts them. Motanoi takes care of Cheewan during his recovery. Love emerges while Kate, her mother and ruffians end up in jail. A remake, featuring Toon Hiransap and Apiradee Pawaputanon, was released in 1985.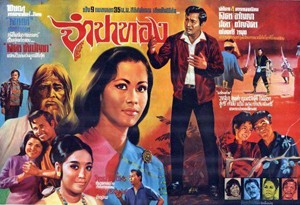 Year

: 1971



Thai title

:

จำปาทอง




English title

:



Rating

: 4/5


Director

:



Main actor

: Mitr Chaibancha,Chat Mongkolchai


Main actress

: Aranya Namwong,Wassana Chalakorn
A mother talks to her son Virathep (วีระเทพ) (Mitr Chaibancha). She tries to convince him to marry a young woman called Soraya (โสรยา) (Wassana Chalakorn) coming from a rich family also. Virathep is reluctant and flees from the house. Virathep is a former art student graduated in painting. Having a sip in a bar with a friend, Virathep helps a man (Chat Mongkolchai) beaten by a few ruffians as he was protecting a mother and his daughter. Virathep is welcomed in the mother's house. Virathep's mother is upset that he left the house. Around the forest near the house some tree nymphs (น้างไม้) wearing traditional Thai dresses and living in trees. While painting, Virathep hears Aranya (จำปาทอง) singing so he asks to do her portrait. Virathep's mother is still pushing him to marry. The original film is mute as it is in 16mm format but some songs can still be heard a bit as those parts were recorded in 35mm format. Virathep goes back to Bangkok and misses Aranya. They pray and go back to the past during Ayuthaya period. They loved each other but Virathep was killed during a fight with Burmese soldiers. Learning Virathep's death, Aranya died on the spot and her spirit (วิญญาณ) became a tree nymph. Will their love be successful this time? The mother and the girl fiancee to Virathep meet Aranya. Issues happens between them. The fiancee follows Aranya up to the forest but Aranya chases her away by making her clothes fly away. The fiancee realizes she is a ghost. As usual there are second comic relief roles in Mitr Chaibancha's 1960 movies. The mother and fiancee hire an expert (อาจารย์) to chase Aranya away. They put some magic cloth (ยันต์) on her tree to prevent her to enter it again. Aranya becomes invisible and plays tricks to the mother and fiancee. Afraid, the mother orders to cut all trees near Aranya's refuge. Meanwhile Virathep gets from another magic expert a potion. A fight erupts as Virathep tries to prevent ruffians to cut trees. Invisible tree nymphs help him as ruffians are numerous. After pouring the sacred water on Aranya, she becomes visible again. Aranya is now a human being also. First the mother rejects this union as she has a promise to fulfill with the fiancee's mother. But finally their love will win. The movie is 1h32mn left only as the last movie reel is missing. When Mitr Chaibancha came back from Hong Kong on 05 Oct 1970, a few sequences (when wearing old Ayuthaya soldier clothes) for this movie were filmed on the 06 October. Mitr Chaibancha died during an accident on 07 Oct during movie Insee Thong shooting.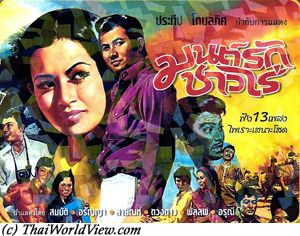 Year

: 1971



Thai title

:

มนต์รักชาวไร่




English title

:



Rating

: 3/5


Director

:



Main actor

: Sombat Methanee,Sayan Chantaraviboon,Phirapon Piyawan


Main actress

: Aranya Namwong
This folk-music movie is similar to "mon rak luuk thung". It features 13 folk or "LUUK THUNG" songs. It is about love stories between feminine villagers and men working from outside the village. Some villager men don't agree that outsiders take interest into local ladies.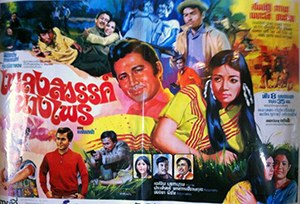 Year

: 1971



Thai title

:

เพลงสวรรค์นางไพร




English title

:



Rating

: 3/5


Director

:



Main actor

: Sombat Methanee,Sawin Sawangrat,Choomporn Theppitak,Anucha Ratanaman,Krai Kanchit,Noppadol Duangporn,Sompong Phonmitr


Main actress

: Pawana Chanajit,Khomapat Attaya
Following huge success of movie "Mon Rak Luk Tung" (มนต์รักลูกทุ่ง) in 1970, many song movies were released to catch up with this trend. Such movies include songs, a bit of action, romance and humor. Thai movie เพลงสวรรค์นางไพร is one of them and was released in year 1971. It features nine songs. Director is พิชิต มีชัย. This movie was a lost movie in Thailand. In year 2013, a last copy was found in a Thai temple in the North of Thailand. Only three reels of the movie are left, so around 1h30mn. Unfortunately the film reels were in bad condition due to water soaking, so only 18mn are usable. It is in 16mm format so there is no sound as such format requires dubbing. No songs are left. No movie poster is left. A movie partial summary is still available. Sombat Methanee is Waiwai, working as forest guard. Pawana Chanajit is SaenGneun. Others actors include Sawin Sawangrat, Choomporn Theppitak, Anucha Ratanaman, Krai Kanchit, Khomapat Attaya, countryside folk singers (นักร้องลูกทุ่ง) such as Noppadol Duangporn. Action takes place in a village. Ruffians are terrorizing and aggressing local ladies. A spirits doctor is coming to the village. A ghost appears to the villagers during an assembly. Romance is happening between Waiwai and SaenGneun. A small sequence shows Sombat Methanee punching ruffians. The remaining sequences are not enough to understand the movie.



Year

: 1971



Thai title

:

น้องนางบ้านนา




English title

:



Rating

: 3/5


Director

:



Main actor

: Chaiya Suriyun,Chat Mongkolchai,Choomporn Theppitak,Op Boonthit,Anucha Ratanaman,Sawin Sawangrat,Sompong Phonmitr


Main actress

: Aranya Namwong,Wassana Chalakorn,Chosri Misommon,Khomapat Attaya
Thai movie น้องนางบ้านนา is a Thai movie released in year 1971. It features Chaiya Suriyun as main actor and Aranya Namwong as main actress. The movie was started with Mitr Chaibancha but it was incomplete due to his premature death. So the main actor was replaced by Chaiya Suriyun. The movie features nine songs but none are left. Many famous singers from beginning of 1970s decade are acting in this movie. No movie summary is available anymore. The movie is lost in Thailand but luckily an extract of 56 minutes is still left. Other actors are Chat Mongkolchai, Choomporn Theppitak, Wassana Chalakorn, Khomapat Attaya, Anucha Ratanaman, Sawin Sawangrat, Marasee (มารศรี), Sompong Phonmitr, Chosri Misommon, Op Boonthit. Without a summary and the movie being in mute state as it is in 16mm format, the story is difficult to understand. Aranya Namwong receives a letter from her fiance studying at university. Wassana Chalakorn is jealous and steals the photograph. Op Boonthit and his daughter Chosri Misommon are bar owners. Sompong is their regular customer. Choomporn Theppitak is agressed by a ruffian, who is finally an old friend. Sawin Sawangrat and Rujira (ม.ล. รุจิรา) seem to have bad plans but are spied by Choomporn and Anucha. Chaiya is back from his studies. Chaiya and Wassana Chalakorn are in a rice field having romantic talk. Khomapat Attaya is with them. Wassana Chalakorn tries to prevent Chaiya to meet Aranya. Anucha is trying to abuse Wassana Chalakorn. Heated arguments happen during a wedding colorful procession. This movie reminds of famous movie "Mon Rak Luk Thung" (มนต์รักลูกทุ่ง - 1970) as it features many songs and various couples involving romance and jealousy. Following movie "Mon Rak Luk Thung" success, many romantic song movies (หนังเพลง) were released in the following months and years trying to surf on a similar popular wave.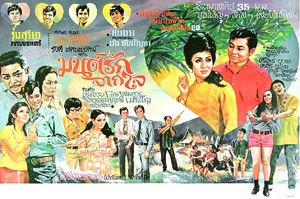 Year

: 1971



Thai title

:

มนต์รักจากใจ




English title

:



Rating

: 3/5


Director

: Rangsee Thatsanaphayak



Main actor

: Chat Chaibancha,Somkuan Krajangsat,Prachuap Ruekyamdee,Krai Kanchit,Lor Tok


Main actress

: Petchara Chaowarat,Wilaiwan Watthanaphanit
Thai movie มนต์รักจากใจ was released in year 1971. It features Chat (ชัช) Chaibancha and Petchara Chaowarat as main actress. The movie is lost in Thailand but a five seconds sequence remains to be seen. Actors featured are Lor Tok, Prachuap Ruekyamdee, Krai Kanchit, Somkuan Krajangsat, Wilaiwan Watthanaphanit and many country folk singers ศรีไพร, บุปผา, ศรคีรี, บรรจบ, ไพรวัลย์, พรไพร, รุ่งระวี, วิภารัตน์. Rangsee Thatsanaphayak (รังสี ทัศนพยัคฆ์) was the director and producer. Rangsi wanted to do a new movie similar to Mon Rak Luuk Thung and with same actors. As Mitr Chaibancha died earlier so he hired one relative of Mitr! 20 songs are featured! The movie was not successful as people compared with the version with Mitr Chaibancha.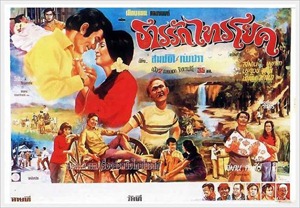 Year

: 1971



Thai title

:

ธารรักไทรโยค




English title

:



Rating

: 3/5


Director

:



Main actor

: Sombat Methanee,Prachuap Ruekyamdee,Paen Pleumsachai,Sawin Sawangrat,Pan Borapet,Songthong,Tat Ekathat


Main actress

: Petchara Chaowarat,Metta Roongrat,Wassana Chalakorn
Thai movie ธารรักไทรโยค was released in year 1971. Main actors and actresses are Sombat Methanee, Petchara Chaowarat, Prachuap Ruekyamdee, Paen Pleumsachai, Sawin Sawangrat, Metta Roongrat, Wassana Chalakorn, Pan Borapet, singer Songthong, Tat Ekathat. The movie is lost in Thailand but a dubbed sequence in 16mm format lasting 1h30mn was shown in Thai Film Archives. The movie takes place in Saiyok area, Kanchanaburi province. Multiple songs are featured. Trailer sequences show various action and romance scenes. The remaining film is in 16mm format but songs are in 35mm format so songs sequences have poor quality as 35mm film degrades faster in time. Prachuap is trying to seduce Metta. Petchara's father, Sawin, doesn't like people from Bangkok. Sombat and Prachuap are accused to be robbers.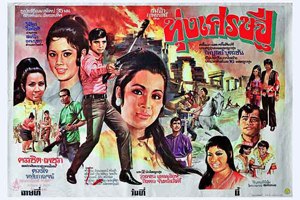 Year

: 1971



Thai title

:

ทุ่งเศรษฐี




English title

:



Rating

: 4/5


Director

:



Main actor

: Kanchit Kwanpracha,Taksin Jampol,Phan Kam,Rujira Isarangkul,Tat Ekathat,Pan Borapet,Adinan Singhiran,Pramin Jarujareet


Main actress

: Petchara Chaowarat,Ratanaporn Intarakamhaeng,Sisala Thongtara,Jomchai Jarintorn
Thai movie ทุ่งเศรษฐี was released in year 1971 and lasts 2h46mn. It was never released under VHS, VCD or DVD but an unofficial version can be found as a collector made a copy of the film, found in 16mm format with soundtrack. This unofficial VHS version features a very damaged black and white image with many vertical lines and distorted sound as the remaining film was projected very often. It is even more damaged than Thai movie มนต์รักลูกทุ่ง. Main actors and actresses are Kanchit Kwanpracha, Petchara Chaowarat, singer รุ่งเพชร แหลมสิงห์, singer กิ่งดาว จันทร์สวัสดิ์, Taksin Jampol, Ratanaporn Intarakamhaeng, Phan Kam, Rujira Isarangkul, สีเผือก, ศรีสุริยา, เทิ่ง สติเฟื่อง, Tat Ekathat, Pan Borapet, Adinan Singhiran, Pramin Jarujareet. 16 songs are featured. Thai movie ทุ่งเศรษฐี is a musical movie (หนังเพลง). The most famous song is ขนมจีนน้ำยา. Subdistrict headman and ruffians' leader Pongdin (Tat Ekathat) is asking lady Molee's hand. She is the village leader Chiaw's (Rujira Isarangkul) daughter. Cherm (Taksin Jampol), armed with swords, pushes back the wedding procession led by Pongdin. Molee (Ratanaporn Intarakamhaeng) succeeds to escape with her boyfriend Pong (Phan Kam). Cherm jumps on a horse and flees also before being overwhelmed. Molee lives with Pong and their child but remains concerned that Pongdin will find them one day. Adinan Singhiran and Pramin Jarujareet succeed to find them but Pong refuses to flee in front of Pongdin again. He is finally killed. Pong's house is burnt. Molee and her child Prai have to flee to Bangkok. Cherm decides to stay in a Buddhist temple. Twenty years have passed. Prai (Kanchit Kwanpracha) and Rung Phet are selling vinyl records during temple fairs. Kwan Dao (Petchara Chaowarat) is visiting the fair also. Prai falls in love with Kwan Dao. He sings romantic song for her. Prai and his friends get beaten by ruffians (including Pan Borapet) because they talked to the daughters of ruffians' leader Pongdin. Pongdin has a wedding plan for his daughter even she doesn't know or love her future husband. Kwan Dao doesn't want to marry a ruffian (นักเลง). Prai with Rung Phet's help are looking for Cherm and Chiaw. While paying respect to an old pagoda, Prai and his friends visit a small wooden house. They are attacked by Borapet and his ruffians. Ruffians are pushed back. They discover that the man meditating in the house is uncle Cherm! Cherm brings them to meet former village leader Chiaw's (Rujira Isarangkul), who is Prai's grandfather! He is now subdistrict headman (กำนัน). Prai is still looking for his father. He doesn't know if his father is still alive or not. Thai boxing matches are organised in the village for the annual festival. It starts with a dwarf match. Next match features Adinan versus Prai. Kwan Dao needs to give the winning reward. Prai defeats Pongdin's champion. It ends up by a lady match. Pongdin accepts them as 'children'. Romance songs occur between Prai and Kwan Dao, male singer (รุ่งเพชร แหลมสิงห์) and female singer (กิ่งดาว จันทร์สวัสดิ์). Face to face occurs between Pongdin, uncle Cherm and Prai. Prai is still looking who killed his father. Both of them are beaten and captured by Pongdin's ruffians. Friends ask for subdistrict headman Chiaw's help. Kwan Dao tries to release Prai and succeeds. Prai knows Pongdon killed his father so he needs to take revenge. Prai captures Pongdin and wishes to torture him on a pyre like he tortured his father (รับกรรม). Molee and Cherm tries to convince him not to kill Pongdin. No more sins shall happen. Seeing his mother collapsing makes Prai realises that he was wrong. Pongdin changes and recognizes his mistakes. Thung Sethi (ทุ่งเศรษฐี) area will have happiness.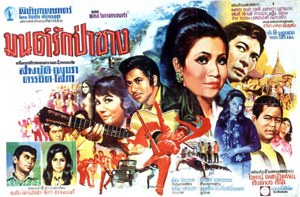 Year

: 1971



Thai title

:

มนต์รักป่าซาง




English title

:



Rating

: 3/5


Director

: Pichai Noylod



Main actor

: Sombat Methanee,Kanchit Kwanpracha,Anucha Ratanaman,Daonoi Duangjai


Main actress

: Petchara Chaowarat,Sopha Sataporn,Metta Roongrat
Thai movie มนต์รักป่าซาง was released in 1971. Main actors and actresses include Sombat Methanee, Petchara Chaowarat, Kanchit Kwanpracha, ถนอม นวลอนันต์, ฤทธี นฤบาล, ธงชัย มิตรประชา, Anucha Ratanaman, เนตรดาว, เสถียร ธรรมเจริญ, เสน่ห์ โกมารชุน, Sopha Sataporn, Daonoi Duangjai, Metta Roongrat, ธิดา, เมืองเริง ปัทมินทร์. Movie director is พิชัย น้อยรอด (Pichai Noylod). The film was never released on VHS / VCD / DVD format but a sequence in 16mm format can still be seen in Thailand as one reel is left. As it is a musical movie, so when projecting the movie, the dubber had to use a record to play the songs. One song, i.e. a molam song, is available online. Before the title sequence, a song is featured as the movie opening with ไวพจน์ เพชรสุพรรณ as musician playing reed-mouth organs (แคน). It introduces a new main actor called ธงชัย มิตรประชา. A movie summary is still available. Nakrop (Sombat Methanee), Samong Thong (Kanchit Kwanpracha), Ket (ถนอม นวลอนันต์), Santi (ธงชัย มิตร ประชา), Kong Jak (ฤทธี นฤบาล) are all civil servants and have to go to Pa Chang district. On the way to Pa Chang, Nakrop sees an ordination parade where beautiful teacher Palap Pleung (Petchara Chaowarat) is dancing. Nakrop falls in love with her. Meanwhile Ong At (Anucha Ratanaman), a rich and influential ruffian in Doi Mae Rang, also notices teacher Palap Pleung. Loving the teacher for a long time, he tries to kidnap her during the ordination parade. Hopefully Nakrop intervenes and stops Ong At. Nakrop promises to visit teacher Palap Pleung soon again. Nakrop goes to Lam Duan hill and have lunch in a restaurant owned by เสน่ห์ โกมารชุน. At the same time, ruffians leader Kam Maen (เสถียร ธรรมเจริญ) is having lunch with his daughter Malika (เนตรดาว) and Ong At. Malika has arguments with Neua Hom (Daonoi Duangjai), who gets beaten by Kam Maen. Nakrop intervenes but Sarapee (Sopha Sataporn), daughter of the restaurant owner, uses a rifle to stop any fighting. Unhappy, Kam Maen and Ong At have to leave. Kong Jak and Samong Thong also travel to Lam Duan hill. Having car issues, they get help from lady Dok Kaew (Metta Roongrat). Kong Jak falls in love with Dok Kaew. Meanwhile Sarapee is captured by Kam Maen's men as revenge. Dok Kaew, aware of the kidnapping, suspects Kam Maen's men. Samong Thong and Kong Jak help to release Sarapee. Sarapee doesn't dare to stay in her father's restaurant anymore and takes refuge in teacher Palap Pleung's home. Santi is the last one to travel. He visits Orasa (ธิดา) and disguises himself as a singer. That night, Ong At has a meeting with Chaiyan (เมืองเริง ปัทมินทร์) regarding contraband weapons. Ong At wants Orasa to sit at his table but she refuses. As he forces her, Santi intervenes. Both Santi and Orasa flee and meet their friends at Pa Chang. In Pak Chang, all couples can enjoy romance, but Santi and Samong Thong are kidnapped by ruffians. Nakrop helps to release them but Kam Maen's men kidnap the three ladies. Nakrop kidnaps Malika in order to be able to bargain with Kam Maen. Following fighting, the three ladies are able to flee. Knowing that a weapon deal will happen soon, Nakrop asks Thai police's help. Ong AT dies following a gun duel with Nakrop. Romances can blossom.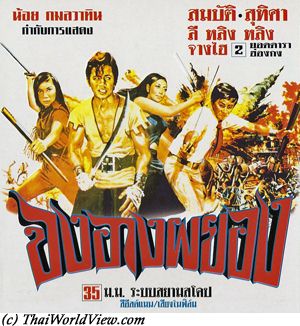 Year

: 1971



Thai title

:

จงอางผยอง




English title

:



Rating

: 4/5


Director

:



Main actor

: Sombat Methanee,Prachuap Ruekyamdee,Songthong


Main actress

: Suthisa Putnuch,Juree Osiri



Buy now

:

A Thai Chinese community is celebrating Chinese New Year (ตรุษจีน) though dances (รำ) and songs. Even Songthong is singing a few songs before being killed as suddenly the village is attacked. Hin is the leader of the pirates (โจร) who attack the village. Many villagers are captured or killed. Four children, two boys (Phet, Chiang Ho) and two girls (Kae, Lilin), promise to revenge their parents and punish Hin. The kids get separated. Fifteen years have passed. Seua and Kae love each other but their love is endangered as it is discovered Seua is Koeb's son. Koeb has cut Kae's mother arm during the village attack fifteen years ago. Their love becomes impossible. Back home Kae finds her mother dead. Chiang Ho and Lilin are back from China and ready for revenge. They meet Kae and look for Phet, the last friend. Phet has been raised by Hin and is called Praew. Hin, following the fall of Ayutthaya, has become lord of the province. The three friends attack directly Hin's fort but are defeated as Phet supports Hin, the pirate leader, and is now a traitor (ทรยศ). The two girls are captured as Seua also betrays Kae. Seua is the one who killed Kae's mother. Phet had to lie and simulates as he is an Ayuthaya soldier (งานของแผ่นดิน). He loves the king and the kingdom. Hin is making an alliance with Burma to sell canons (โจรขายชาติ). Phet's double game is disclosed. He is captured by Hin and his fingers are broken to prevent any fighting. Hopefully Chiang Ho can help and they flee from the fort. Lin takes care (รักษาพยาบาล) of Phet. They ask support from their old teacher but he refuses to believe that Hin is a traitor. Finally faced to the truth he decides to help. Surpassing the pain, Phet fights for the kingdom (ช่วยแผ่นดิน). Elephants are used to defeat Hin's soldiers. Despite being outnumbered, the fierce Siamese soldiers succeed to defeat the traitors and Burmese soldiers in order to save the King. Many sword fights and kung fu / Thai boxing fights typical from 1970s Hong Kong movies are featured. The King's face cannot be seen but Thai royal music is played to indicate his presence. This movie is really typical from years 1970s when patriotic movies were shot due to the communist threats at the Thai borders. The movie features two Hong Kong movies stars. It takes two years to shoot the complete movie. It was an expensive movie to make as real soldiers were used, a fort has to be built along a mountain and then destroyed by explosives.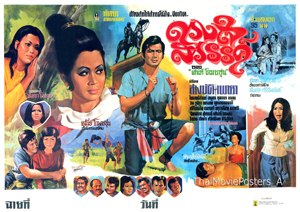 Year

: 1971



Thai title

:

ดวงใจสวรรค์




English title

:



Rating

: 3/5


Director

:



Main actor

: Sombat Methanee,Sukon Koewliam,Anucha Ratanaman,Choomporn Theppitak,Man Teeraphol,Daonoi Duangjai,Sithao Petcharoen,Krong Kangkengdaeng


Main actress

: Petchara Chaowarat,Khomapat Attaya,Marasri Isarangkul
Thai movie ดวงใจสวรรค์ was released in year 1971. The movie is lost in Thailand. Only a short left colorful sequence lasts 6 minutes and the image is quite damaged. The remaining sequence is in mute state as the reel is in 16mm format. Main actor is Sombat Methanee and main actress is Petchara Chaowarat. Other actresses and actors are Man Teeraphol, Khomapat Attaya, วิน วิษณุรักษ์, รุจิรา อิศรางกูร,เทอด ดาวไท, พุทธพงศ์, เตือนใจ บุญพระรักษา, ณรงค์, Daonoi Duangjai, Marasri Isarangkul, จิตตรา, Sukon Koewliam, เสน่ห์ โกมารชุน, ถนอม นวลอนันต์, Krong Kangkengdaeng, Sithao Petcharoen, สีเผือก, ศรีสุริยา. It is probably an historical romantic movie as people wear old style clothes. Various sequences are left but main actor and main actress cannot be seen. A rampage seems to have happened in a house. A man helps an unconscious man on the floor. He then dies. A young lady finds her mother dead on the floor also. A reddish sequence shows Anucha Ratanaman in a bar talking to barman. Anucha Ratanaman is upset by two other men and leaves the bar. Another sequence shows three armed men led by Choomporn Theppitak. Three comic men including Sukon Koewliam, Krong Kangkengdaeng are running and are tired. A beautiful woman (Khomapat Attaya) is walking near them. She is a ghost! The movie features 9 songs according to the movie poster.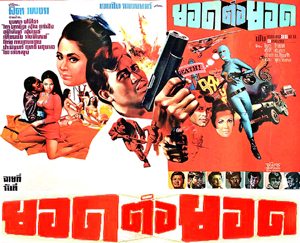 Year

: 1971



Thai title

:

ยอดต่อยอด




English title

:



Rating

: 3/5


Director

:



Main actor

: Mitr Chaibancha,Choomporn Theppitak,Sawin Sawangrat,Sukon Koewliam,Krai Kanchit


Main actress

: Petchara Chaowarat,Kaenjai Meenakanit
Thai movie ยอดต่อยอด was released in year 1971. This movie was released after Mitr Chaibancha's death. It is a lost movie and only a long trailer, i.e 10mn30s, is left to see. It is in fact a trailer made of remaining parts of the movie 16mm reels. It shows some highlights of the movie. It is one of the last movie released with Mitr Chaibancha and Petchara Chaowarat. The last one was กังหันสวาท in 1974. It features other famous Thai actors / Thai actresses as second roles such as Choomporn Theppitak, Sawin Sawangrat, Kaenjai Meenakanit, Sukon Koewliam, Krai Kanchit. It is difficult to understand the movie as the remaining trailer is a patch of sequences. A masked justiciary is a woman. It looks like Mitr Chaibancha is a cop. Many fist fights, grenade explosions, gun shootings, sexy ladies are featured. The movie includes 3 songs in 35mm as only 35mm format allows having synchronisation of image and sound.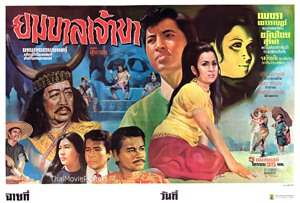 Year

: 1971



Thai title

:

ยมบาลเจ้าขา




English title

:



Rating

: 2/5


Director

:



Main actor

: Sawin Sawangrat,Lor Tok,Sithao Petcharoen,Kwanchai Suriya,Daonoi Duangjai


Main actress

: Petchara Chaowarat,Malalin Bonnak,Charuwan Sawirayong
ยมบาลเจ้าขา (1971) is a Thai movie, which was never released in any format (VHS, VCD, DVD). An extract of 54mn can still be seen despite the whole remaining footage is around 1h40mn. It is a 16mm movie so no original sound is available as such movies were dubbed. There is no more poster available. ยมบาลเจ้าขา is a horror movie with a comic twist. Most former Thai horror movies have more comedy than real horror (หนังผีตลก). While her husband is away, Petchara Chaowarat is aggressed and raped by Sawin Sawangrat so she gets suicide. Daonoi (ดาวน้อย ดวงใหญ่), Sithao, Lor Tok are playing comic characters. They are aware Petchara is dead. Two other veteran actresses are involved in this movie, i.e. Malalin Bonnak (มาลาริน บุนนาค) and Charuwan Sawirayong (จารุวรรณ สวีรวงศ์), spouse of Mitr Chaibancha. It was her first movie. Charuwan Sawirayong was married to Mitr Chaibancha from 1959 to 1963. The movie scenario is a bit similar to Mae Nak story. All know Petchara has died except her own husband Kwanchai Suriya. Kwanchai Suriya (ขวัญชัย สุริยา) is a new actor and part of the numerous tentatives to find a proper candidate to replace superstar Mitr Chaibancha, who unfortunately died in year 1970. Kwanchai Suriya was quite shy when acting so he only played 2 movies as main actor and then only secondary roles. When Kwanchai realizes his wife is now a ghost (รู้เป็นผี) so he flees from his home but Petchara is still looking for him. Sawin is back from Bangkok with a man and they do visit a cemetery with a spirit doctor (หมอผี). It is a fiasco. Meanwhile Kwanchai and his friends also hire a spirit doctor. As Petchara ghost refuses to be born again, it is imprisoned in an earth clay pot. Many spirit doctors (หมอผีแขก, หมอผีจีน, หมอผีไทย) intervene but fail to control the ghost. Following all the deaths, Kwanchai agrees to go with Petchara ghost to stop the killings. He gets estranged and both go to hell judgment. The hell king refuses to accept Kwanchai as it is not his time to die yet. Before leaving, the Hell King shows him around. It features two songs in the Hell Kingdom. Through a touching song, Petchara tries to convince the Hell guardian but to no avail. Finally Kwanchai is sent back to earth but all his friends believe he is a ghost too! The movie ends with Kwanchai convincing them that he is still alive. The movie features a total of three songs.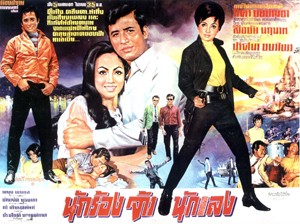 Year

: 1971



Thai title

:

นักร้องจ้าวนักเลง




English title

:



Rating

: 3/5


Director

: Payoong Payakul



Main actor

: Mitr Chaibancha,Luechai Natnat


Main actress

: Prissana Chabaprai
Thai movie นักร้องจ้าวนักเลง was released in year 1971. Main actors and actresses are Mitr Chaibancha, Luechai Natnat, Prissana Chabaprai. The movie is lost in Thailand but a sequence in 16mm format lasting 34s can still be seen. It is a song extract in 35mm format. Movie director is Payoong Payakul. The movie featuring Mitr Chaibancha was shown one year after Mitr died. The cinematographic atmosphere was not good at that time as Mitr Chaibancha just died so only one copy of this movie was released. This movie couldn't be shown in Thai provinces and it was not auspicious to project a movie with an already dead actor. The movie features five songs.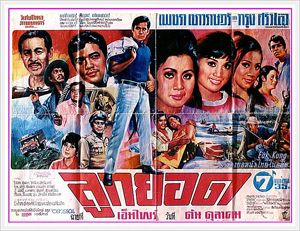 Year

: 1971



Thai title

:

ลูกยอด




English title

:



Rating

: 3/5


Director

:



Main actor

: Krung Srivilai,Sithao Petcharoen,Choomporn Theppitak,Boo Wibunnan,Pisarn Akraseranee,Preuhat Boonlong,Sukon Koewliam,Krai Kanchit


Main actress

: Petchara Chaowarat,Wassana Chalakorn,Sopha Sataporn
Thai movie 'Luk Yot' (ลูกยอด) was released in year 1971 and features Thai film superstars Krung Srivilai and Petchara Chaowara. It was Krung Srivilai's first movie. Krung was 4 years younger than Petchara so from being the younger sister (น้อง) with Mitr, Petchara becomes the older sister (พี่)! After Mitr Chaibancha's tragic death in year 1970, the Thai cinema needed new faces, new main actors to replace the void caused by Mitr's premature death. Only a two minutes trailer is remaining as the movie is lost in Thailand. A full movie summary is still available as some old Thai movie stars magazines can still be found nowadays. Various sequences can be seen during those two late minutes : Sithao Petcharoen paddling a small boat on a river and watching young ladies, shootings. Other actors / actresses include Pisarn Akraseranee, Choomporn Theppitak, Boo Wibunnan, Wassana Chalakorn, Sopha Sataporn, Preuhat Boonlong,Sukon Koewliam. 7 songs are featured in 35mm format.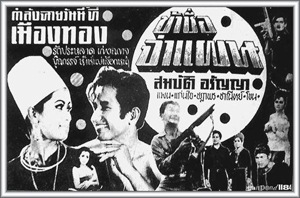 Year

: 1971



Thai title

:

ข้าชื่อจ่าแผน




English title

:



Rating

: 3/5


Director

:



Main actor

: Sombat Methanee,Chanee Yotchai,Sor Asanajinda,Krai Kanchit,Man Teeraphol


Main actress

: Aranya Namwong,Chadaporn Wachirapranee,Kaenjai Meenakanit
Thai movie ข้าชื่อจ่าแผน was released in year 1971. First the movie was called วีรกรรมภูขี้เถ้า and started to be advertised / promoted in August 1970. When it was finally released on the market in August 1971, the name was changed to ข้าชื่อจ่าแผน. Two posters are available. It features Sombat Methanee as main actor and Aranya Namwong as main actress. It is a movie in 16mm format so it is in mute state as such format requests live dubbing. The movie is lost in Thailand but a remaining sequence of 1h35mn is still available. Hill tribe Chanee Yotchai is holding a machine gun. Chadaporn Wachirapranee is found kissing Chanee by Sombat so Chanee gets punched and Chadaporn gets scolded. Sor Asanajinda stops them. Hill tribe Krai Kanchit sets side with Chanee. Chadaporn tries to seduce Sor but to no avail. Chanee promises to revenge over Sombat. Aranya is a hill tribe young lady. Chanee and his men embuscade Sombat and Sor but they are pushed back. Chanee becomes the new village leader following a putsch. An army helicopter lands and heavy fighting happens with Chanee's men. Sombat and two friends are kidnapped by a group of village women led by Aranya, who use them as their "toys". General actor Man Teeraphol is leading the soldiers. As the ladies throw their clothes away, the three men have to wear Tarzan clothes. The ladies end up in bikini also. Fighting happens with ruffians. They try to release the village leader but without success. One of Sombat's friends loses his girlfriend, being raped and killed by ruffians. Kaenjai Meenakanit is the real leader of the ruffians. She likes Sombat. Sombat has to be very careful as Chanee knows who he is. One of Sombat's friend disguises himself into a weird Chinese master. Aranya and her girls are captured while trying to meet Sombat. Krai changes side. Final heavy fightings happen. Krai and Chanee shot each other. Chadaporn, who holds a timer bomb, throws herself on Kaenjai as she understands she has been dumped by Chanee and Kaenjai.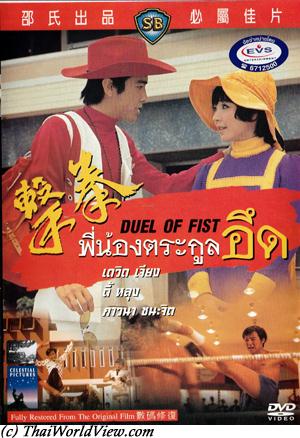 Year

: 1971



Thai title

:

พี่น้องตระกูลอึด




English title

: Duel of Fists



Rating

: 3/5


Director

:



Main actor

: David Chiang,Ti Lung


Main actress

: Pawana Chanajit



Buy now

:

Thai movie พี่น้องตระกูลอึด was released in year 1971 and lasts 1h42mn. It is a Shaw Brothers movie. Duel of Fists / 拳擊 movie, a Thai HK co production involving the Pearl of Asia, i.e. Pawana Chanajit. In Hong Kong, Fan Ko's father dies. Before dying, he asks his son to go to Thailand to find his half lost brother Boonlot. He should have a special tattoo on the shoulder and be a Thai boxing fighter. Fan Ko (David Chiang) meets young Thai lady Pawana Chanajit during Songkran festival in Bangkok and she helps him to search after his lost brother. Boonlot (Ti Lung) is a strong fighter but he refuses to join ruffians to play fake matches (ไม่ใช่นักพนัน). Fan Ko assists to a boxing match, where strong fighter Djung Pao kills his opponent with bare hands. Two fighters have died before. Fan Ko intervenes believing the dead fighter is his brother. He then meets Boonlot, who appreciate his skills (ฝีมือไม่เบา). Once again Boonlot refuses to bend to the ruffians. His next match is against Djung Pao. Boonlot bets all his money on his win as he needs to cure his mother (ผ่าตัด). Some sequences in Bangkok allows seeing Wat Po, Wat Benchamabophit. Boonlot's girlfriend is worried that he will die. Fan Ko meets the ruffians as he is still looking for a fighter with a tattoo. The ruffians understand Boonlot and Fan Ko are brothers. Following a very difficult match, Boonlot finally defeats Djung Pao. The two brothers are reunited. Meanwhile a relative of a former Thai boxer killed by Djung Pao, strangles him. The ruffians' leader kills the relative and wants to force Boonlot to replace Djung Pao. As he refuses, Kung Fu fightings happen between Boonlot, Fan Ko and the ruffians. Their leader is much stronger than Djung Pao...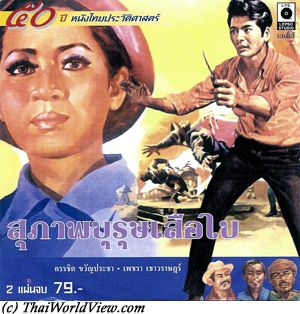 Year

: 1971



Thai title

:

สุภาพบุรุษเสือใบ




English title

:



Rating

: 3/5


Director

:



Main actor

: Kanchit Kwanpracha,Prachuap Ruekyamdee,Sithao Petcharoen,Pipop Pupinyo


Main actress

: Petchara Chaowarat,Metta Roongrat
Wan is going to study to Bangkok. Nui and Yot are his friends. The war with Japan happens. A group, led by a Japanese sergeant, opens a torture camp to interrogate pretended traitors and weapons robbers. Some innocent villagers are arrested including Wan's father. Wan is back and is now a soldier. Wan meets Tawisak, a Thai working for Japanese soldiers and delivering water to them. He is seen as a traitor by Wan and Yot. Wan has issues with a Japanese soldier as he is arrogant so he needs to flee. Wan meets teacher Raiwan (Petchara Chaowarat), who is teaching adults in order for them to know how to read. They all agree to do resist to Japanese occupants. How to help those captured by the Japanese soldiers? Wan joins a group of workers building the railway to Burma. He has issues with the Thai guards, led by Sing, working for the Japanese soldiers (คนไทยทรยศ). He is imprisoned with his father. Meanwhile his friends are acting to free them while Japanese soldiers and Thai traitors are having food and alcohol. Tawisak is playing double game. They flee successfully. Wan decides to become Seua Bai (โจร), a ruffian, in order to fight again the Japanese invaders and the Thai traitors. They steal weapons from Japanese army and start resistance. Nong and her brother miss their father so quit the group. They are captured by another group of ruffians. Wan defeats their leader in one to one fight. Wan misses the teacher Raiwan. He is upset as living as a ruffian he cannot have a real love story with the teacher Raiwan but he does it for the country (เสรีไทย). They plan to disrupt the railway to Burma. Teacher Raiwan and Tawisak participate but are uncovered by a Japanese group led by Sing. Through an ambush, Tawisak is freed but Wan's father dies while protecting his son. Wan's team attacks the Japanese camp and releases Raiwan. As promised to his father, Wan stops to be a robber and surrenders to police (มอบตัว). Teacher Raiwan will be his guarantee. It is a typical action movie from 1960s-1970s with some nationalist and patriotic savor. It is a 2h15mn movie and the image quality is quite red tinted color and damaged. This movie is based on the life of Mr. Bai Sa-ad-dee (นายใบ สะอาดดี), who was one of the most famous Thai robbers in 1940s. His name was Seua Bai (เสือใบ). Other movie remakes on Seua Bai were done in 1984 and in 1998.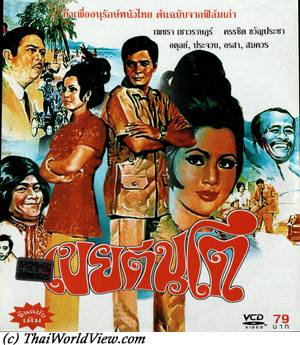 Year

: 1971



Thai title

:

เขยตีนโต




English title

:



Rating

: 3/5


Director

: Adul Dulyarat



Main actor

: Kanchit Kwanpracha,Prachuap Ruekyamdee,Lor Tok,Somkuan Krajangsat,Sukon Koewliam,Adul Dulyarat,Somchai Samipak


Main actress

: Petchara Chaowarat,Orasa Isarangkul,Prim Praphaporn,Metta Roongrat,Juree Osiri,Srisala Thongtara



Buy now

:

Kamnan Noon (Kanchit Kwanpracha) and Krok (Prachuap Ruekyamdee) (พี่ชายต่างประเทศ) are visiting a rich people house. They are welcomed by Lomjai (Petchara Chaowarat) and Iten (Orasa Isarangkul) as domestic helper. Krok comes back after 20 years in his family. He is a lost uncle's son. The uncle has disappeared 20 years ago. Despite having a letter to prove his identity, Krok is not accepted in Thao Thong lineage (ตระกูล) by the father Lom (Somkuan Krajangsat) as Krok doesn't have big feet seen as a family sign. Other family members are Srisala Thongtara (ศรีสละ ทองธารา), Juree Osiri, Prim Praphaporn. Lomjai flees and brings Krok and Noon to meet another family member who is policeman in Chumphon province. Noon and Krok get arrested and accused of kidnapping Lomjai. Noon's father gives guarantee to have them released from jail. Lomjai proposes to marry Noon to avoid him being sued by his father Lom. Neng, Sister of Noon, is played by Metta Roongrat. Noon helps Lomjai's father aggressed by ruffians. A parallel romance is starting between Neng and Lomjai's brother. Lom asks for proper traditions but once Lomjai is back to Bangkok, the wedding is cancelled. Lomjai cannot exit from home. Iten tries to help her to flee but to no avail. Krok becomes India airlines manager (ผู้จัดการ) thanks to his uncle to show to Lom his worthiness. Lom rejected Krok as he didn't want to share heritage with additional family members. Utit (Adul Dulyarat), Lom's brother, is back after recovering his memory. Lom tried to get rid of him twenty years ago. Lom's father (Lor Tok) asks him to surrender to police. Cornered, Lom kidnaps his own father and Lomjai. He finally gets arrested by the police. The movie ends up happily. This romantic drama comedy is based on family rivalry regarding heritage.The movie เขยตีนโต was released in year 1971 but it only lasts 1h23mn as some parts of the movie are missing so the story sometimes suddenly jumps from one sequence to another. The image is of bad quality and is not sharp but the movie has historical value as one of the first movies with Kanchit Kwanpracha replacing Mitr Chaibancha as main actor following Mitr premature tragic death. The poster mentions 7 songs (unfortunately cut and not available on the VCD) and 22 stars present in this movie.



Year

: 1971



Thai title

:

มันมากับความมืด




English title

: Out of the Darkness



Rating

: 3/5


Director

: ChatriChalerm Yukol



Main actor

: Sorapong Chatree,Kom Akadej,Rujira Isarangkul,Dam Datsakorn,Surasit Sattayawong,Tawan Siriwat


Main actress

: Naiyana Shewanan,Chosri Misommon,Marasri Isarangkul
A mysterious object fall in the sea. Two scientifists from Bangkok come to the South of Thailand looking for the mysterious object. The local villagers worship what they believe to be a god. But a mysterious creature start to kill villagers at night time. The scientifists have to help the villagers to get rid of this mysterious objet. It was the first Thai science-fiction movie but it was not successful at the box office. In his first film, ChatriChalerm Yukol used new actors, whereas other filmmakers used established superstars.
---