Increase or decrease font size for easier reading : A+ A-
Year 1966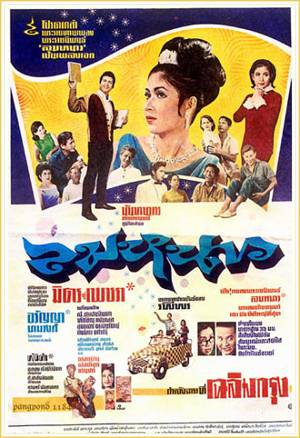 Year

: 1966



Thai title

:

ลมหนาว




English title

:



Rating

: 3/5


Director

: Phan Kam



Main actor

: Mitr Chaibancha,Sor Asanajinda,Taksin Jampol,Adul Dulyarat,Dokdin Kanyaman,Lor Tok,Charin Nantanakorn,Anucha Ratanaman


Main actress

: Petchara Chaowarat,Aranya Namwong,Preeya Roongrueng,Kingdao Daranee,Sarinthip Siriwan
Lom Nao - ลมหนาว (1966) is a lost movie. Only the poster and the movie song are left. Luckily there are still 13 minutes 'behind the scene' sequences in black and white to be seen. Movie director is Phan Kam. It is a movie in which many famous Thai actors and actresses played, i.e. Mitr Chaibancha, Petchara Chaowarat, Aranya Namwong, Sor Asanajinda, Taksin Jampol, Adul Dulyarat, Dokdin Kanyaman, Lor Tok, Preeya Roongrueng, Kingdao Daranee. It was Aranya Namwong's first movie. She was just awarded during a recent Miss Thailand beauty contest. An orchestra was used for the movie theme sung by Aranya Namwong. 16mm movies used a single camera for the shooting. Various sequences can be seen, i.e. Charin and Lor Tok helping Mitr Chaibancha and Taksin Jampol engaged in a fight with ruffians. Another sequence is involving Petchara Chaowarat wearing a beautiful dress and featuring the movie theme song. It is the dress that can be seen on the movie poster. A sequence of Charin and Aranya Namwong can be seen. Those sequences were recorded in 35mm format so that the original song was together with the movie reel. Other sequences are recorded in 16mm format so requesting a live dubbing. Other sequences feature Mitr Chaibancha and Petchara Chaowarat together on a small boat. A funny sequence with Dokdin Kanyaman singing can also be seen. Worth to notice that in real life Mitr Chaibancha and Kingdao Daranee were married. Petchara Chaowarat and Charin Nantanakorn married later in year 1975.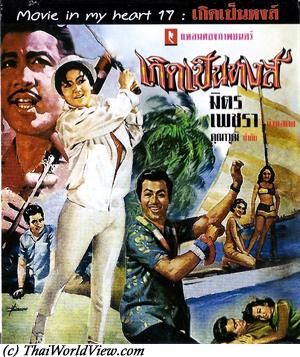 Year

: 1966



Thai title

:

เกิดเป็นหงส์




English title

:



Rating

: 4/5


Director

: Wichit Khunawut



Main actor

: Mitr Chaibancha,Prachuap Ruekyamdee,Adul Dulyarat


Main actress

: Petchara Chaowarat,Prim Praphaporn,Uamdeuan Uttsada



Buy now

:

Thiyu, a gruff cowboy, falls from his horse as it is frightened by Thula's car klaxon. So Thiyu meets with Kramon (กระหม่อม) Thula, member of Thai aristocracy. Thiyu also meets Saengson, who is Thula's faithful admirer. Thula's mother pushes her to meet rich bachelor Saengson as she has debt 2 millions baht due a failed automotive business. Thiyu's mother is dead. Pathet, his half brother, has already three wives, i.e. Kwanta, Pom and Puang. Kwanta is having an affair with Viwat, house attendant. Thiyu and Kwanta are former sweethearts (แฟน) but he broke up with her as she is only interested in money and has bad behavior (หัวใจชั่ว). Pathet saw a beautiful high society lady in Bangkok and wishes her to become another of his wives (เมียใหม่). This lady is Thula... The minor wives decide to help each other (ร่วมมือ). A friendship starts between Thiyu and Thula. Saengson wishes to marry Thula but Thula chases him away and reminds him to verify with his mum first! Rumors spread by Saengson's mother mention that Thula is bankrupted. Kwanta is pregnant and wishes to flee with Viwat. Viwat doesn't want to be responsible of this kid. Viwat resigns from his job (ลาออก). Pathet is infertile (เป็นหมัน) so others know Viwat is the father. There is an heritage issue as Thiyu never got anything when his father died. He now wishes to fight back for this heritage. Pathet offers a high salary to Thula and also offers to buy back the mother's debt. As Thula's father dies in a plane crash in Hong Kong, she accepts Pathet's offer believing it is a job offer only. Pathet believes his money will help him to get Thula's love. So the new member in Pathet's house is Thula! Thiyu is so surprised. Kwanta's parents complain to Pathet about her pregnancy. Kwanta claims Thiyu is the father! Thiyu has to accept to be the father. Both are upset. Pathet believes in money power (บูชาเงิน). There is a severe misunderstanding between Thula and Thiyu. Thula is upset Thiyu has hidden to her he has a pregnant wife already. Thiyu is upset Thula accepted to be Pathet's fourth wife. Pathet took his heritage now his love. It is more than he can endure. To make Pathet jealous, Pom and Puang claims that Thiyu and Thula love each other behind his back. His money cannot buy Thula's love and he starts to be violent with Kwanta and Puang. The house becomes a hell (เป็นนรก). Fed up being Pathet's slave, Thiyu forces Thula to flee with her. Thula is upset as it is not a situation matching her position (ฐานะหญิง). Pathet chases after them. Finally all misunderstandings are cleared between Thiyu and Thula. Pathet knows he cannot get Thula's love. Through a final gun duel with Thiyu, Pathet is shot by Puang. Pathet has paid for all the bad deeds he caused to others. It is a beautifully colorful remastered 2h22 movie.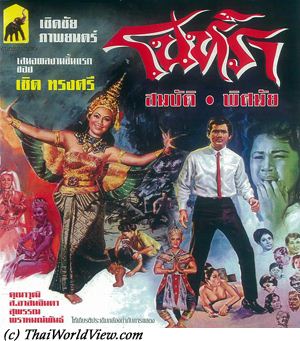 Year

: 1966



Thai title

:

โนห์รา




English title

:



Rating

: 4/5


Director

: Cherd Songsri,Wichit Khunawut,Sor Asanajinda



Main actor

: Sombat Methanee,Lor Tok


Main actress

: Pissamai Wilaisak,Preeya Roongrueng,Ratanaporn Intarakamhaeng
Tiew is a young man performing Nora (รำโนราห์ใต้) dance in Nakhon Sri Thammarat. The Nora is a traditional dance of South Thailand. In South Thai language it is called the "Chatri" (ชาตรี). Tiew is in love with a lady called Pimpa (Ratanaporn Intarakamhaeng). Pimpa is pregnant with him but her grandmother refuses this love. She drugs Pimpa with a sleep potion in order that a Bangkok lawyer becomes her husband instead of a Nora dance performer. Pimpa wishes to get suicide but her aunt convinces her to tell the truth to Tiew. She doesn't dare and Tiew rejects Pimpa. Pimpa decides to keep the child and gives her child the name "Nora". 18 years passed. Pimpa is only a minor wife (เมียน้อย) and works as a domestic helper to pay for Nora studies. The lawyer's daughter, called Kaekae (Preeya Roongrueng), dislikes Nora (Pissamai Wilaisak) and likes to spread rumours that Nora's mother works as prostitute. Other students mock Nora. Nora and her real father miss each other. Nora sells sweets in school to help her mother. Kanchit (Sombat Methanee) is Kaekae's boyfriend. Kanchit is seeing many girls as he is rich, single and handsome. Nora learns to perform Nora dance. Kanchit gets interest in Nora despite Nora has already a boyfriend called Sompop. Kanchit is fed up with hi-so girls (ร่างกายสวยแต่ใจไม่สวย). Kaekae's mother hires a ruffian to hurt Nora after a performance. He throws some acid on her face. Sompop is not willing to visit Nora anymore due to her ghost (ผี) face. Hopefully Nora succeeds to recover. Kanchit plans to marry Nora. Following Kaekae's mother orders, Nora is kidnaped. Kanchit follows up the kidnapers and the Thai police is giving a hand. Kaekae got punished as being raped instead of Nora and she becomes crazy. The mother is jailed. Tiew still performs Nora but gets no more interest from the public (โนราห์สมัยเก่า - โนราห์สมัยใหม่). Tiew dies on the stage following a lost bullet. Art (ศิลป์) needs to be kept. Nora needs to perform to honour her father's memory. There is a conflict with Nora and Kanchit wedding day. Kanchit cannot change the date and threaten to cancel the wedding. Nora chooses to go to Nakhon Sri Thammarat. The movie highlights cultural aspects, arts protection and conservation. It is a cherished theme by director Cherd Songsri. This movie is Cherd Songsri's first movie and has still an excellent color conservation. As often, Preeya Roongrueng plays the bad girlfriend. It is a typical 1960s movie with leading actor (พระเอก) coming from rich background, leading actress (นางเอก) coming from a poor background, villains (ตัวกง) wishing to hurt Nora, funny comedians supporting the leading actor (ตัวตลก - Lor Tok as Kanchit's driver), bad girls (นางอิจฉา) played by Kaekae and her mother. It mixes action, love, comedy and drama. It was the most successful Thai movie in 1966. This movie has also been adapted as a Thai TV serie (ละคร).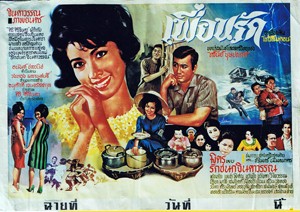 Year

: 1966



Thai title

:

เพื่อนรัก




English title

:



Rating

: 2/5


Director

: ศิริ ศิริจินดา



Main actor

: Mitr Chaibancha,Sawin Sawangrat,Lor Tok,Sompong Phonmitr,Sukon Koewliam,Daonoi Duangjai,Kokheng


Main actress

: Preeya Roongrueng,Somjit Sapsamruey,Malee Wetpraseri,Wilaiwan Watthanaphanit,Sarinthip Siriwan



Buy now

:

Thai movie เพื่อนรัก was released in year 1966 and lasts 2h23mn. It was released under VCD format by Lepso company. The image is still colorful. Movie director is ศิริ ศิริจินดา. It was first movie for Thai actress รักชนก จินดาวรรณ. Thai actors and actresses featured in this movie are Mitr Chaibancha, รักชนก จินดาวรรณ, เพชร พิศณุ, ขวัญใจ สะอาดรักษ์, ขวัญตา บัวเปลี่ยนสี, Preeya Roongrueng, Somjit Sapsamruey, Sawin Sawangrat, Malee Wetpraseri, Wilaiwan Watthanaphanit, เมืองเริง ปัทมินทร์, ไฉน, วงทอง ผลานุสนธิ์, วนิดา, Sarinthip Siriwan, ทรงวุฒิ, Lor Tok, Sompong Phonmitr, Sukon Koewliam, แอ๋, ทองฮะ, แป๊ะอ้วน, Daonoi Duangjai, ชื้นแฉะ, ยรรยงค์, ประสาน, ชาย, Kokheng. Young lady Kaew (รักชนก จินดาวรรณ) is selling noodle soup on the market. She is exploited by her mother in law, Mae Wanta, who takes all her earnings. Kaew is like Cinderella. Meuang Den (Mitr Chaibancha) and Pong (Sompong Phonmitr) stop at Kaew's shop to eat. Meuang Den has arguments with one local ruffian. He promises to come again. Pot, a rich man renting land to Mae Wanta, asks her to arrange for Kaew to stay at his home in Bangkok. He wants her as a minor wife. Kaew helps Meuang Den being injured by a ruffian. Priya (Preeya Roongrueng), wishing to trick her half-sister, sends her to Ming, a ruffian, who tries to abuse her. Hopefully Meuang Den helps her but finally she has to stab Ming as he was strangling Meuang Den. They have to flee. Kaew takes refuge in a family (Lor Tok, Somjit Sapsamruey), living on a boat and selling noodle soup. She meets Meuang Den and Sompong, who are living in a rich house. They have to simulate being gays as their aunt Malee (Malee Wetpraseri) wanted girls. Meuang Den proposes to Kaew's family to stay in a house he is not using. Lor Tok is not willing as he is concerned Meuang Den just wants to seduce Kaew. While leaving, they face a storm. Lor Tok and his wife fall in the water and drown. Meuang Den / Khun Num rescues Kaew on time. Khun Num asks Kaew to stay as domestic helper with a family he knows well, i.e. Kham Thong, Kham Ngeun and her boyfriend Peter. Khun Num doesn't want to disclose his relationship with Kaew to his aunt Malee. The family leaves for Penang. Kaew stays behind to look after the house. In another house, domestic helpers Sukhon and Thongha look after a young lady called Chao Nok. Kaew and Chao Nok meet. They have the same face. They exchange roles to meet Khun Num as Chao Nok wishes to see Bangkok before leaving for Chiang Mai. Nareng (Sawin Sawangrat) shall bring Chao Nok to meet her disabled mother in Chiang Mai. Nareng plans to transfer the will to him. Nareng kidnaps Kaew as he is unaware that Kaew and Chao Nok exchanged roles. Young man Dio tries to help her but to no avail. The rich family is back from Penang. Chao Nok, upset at being treated as a low domestic helper, makes a big fuss with the family and flees to Khun Num's aunt. The two ladies, Chao Nok and Kaew, are lost twins per the will. Aware that Kaew was kidnapped, Khun Num has to go to Chiang Mai to help her. Nareng threatens Kaew to provide the will and to sign it but Kaew cannot as she is not Chao Nok. It makes Nareng very upset. Nareng abused the mother (Wilaiwan Watthanaphanit) by lying to her. The mother and her daughter Kaew are reunited. Khun Num and Dio storm the house, where the mother and Kaew are held captive. The mother interposes while Nareng tries to stab Kaew. She gets stabbed instead. Before dying, she stabs Nareng. The two sisters are reunited. Two couples are formed. Khun Num and Kaew, Dio and Chao Nok.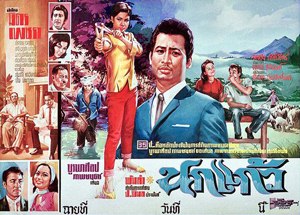 Year

: 1966



Thai title

:

นกแก้ว




English title

:



Rating

: 3/5


Director

: Phan Kam



Main actor

: Mitr Chaibancha,Adul Dulyarat,Prachuap Ruekyamdee,Lor Tok,Sukon Koewliam,Anucha Ratanaman


Main actress

: Petchara Chaowarat,Kaenjai Meenakanit,Prim Praphaporn,Sarinthip Siriwan,Manat Boonkiet
นกแก้ว is a 1969 Thai movie in 16mm format with no sound. It was directed by Phan Kam, who directed more than 60 movies in his whole career. Only 1h10mn is left. Only the first and last film reels are left. So it is difficult to understand accurately the whole story. Prachuap Ruekyamdee is Petchara's close friend. In a village on the countryside, Petchara Chaowarat catches Lor Tok trying to get fishes in their field. Sukon Koewliam is also having another comic role in the village. A grandfather in a wheel chair is talking to his son in Bangkok. As he is going old, he needs to prepare his succession. Petchara is his hidden granddaughter with another woman. The rich family siblings doesn't want her to receive anything. Anucha Rattanamarn is fiance with Kaenjai Meenakanit. They prepare a plan to disinherit Petchara. Mitr Chaibancha, the grandson, is offering flowers to the grandfather. There is a carnival in the village. Adul Dulyarat, a mysterious rich man, meets with Petchara. Petchara and Kaenchai meet also. She gives her a letter. What is inside the letter? Certainly a letter in which Petchara shall reject her rights to the heritage. Later on, Adul wants Petchara to sign a letter but she refuses so he slaps her. Adul threatens her mother to force Petchara to sign the letter. Meanwhile Mitr and Ruekyamdee enter secretly in the house where Petchara is held prisoner in order to help her. Shootings happen with ruffians but Thai police arrive on time to catch Adul. There is an important meeting to open heritage documents at the same time. Petchara arrives on time before the final signature! The grandfather was kept in the dark regarding Petchara by his own family but they all got arrested by police for forgery. Many movies names with Mitr and Petchara started with นก (bird) such as นกยูง (1969), นกแก้ว (1969), นกขมิ้น (1965) or นกน้อย (1964).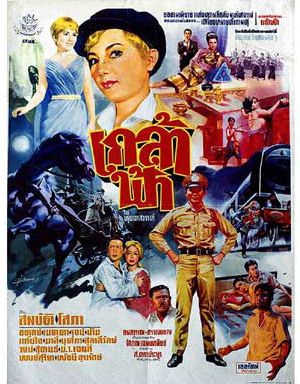 Year

: 1966



Thai title

:

เกล้าฟ้า




English title

:



Rating

: 1/5


Director

:



Main actor

: Sombat Methanee,Ruj Ronnapop,Adul Dulyarat


Main actress

: Sopha Sataporn,Prim Praphaporn,Metta Roongrat
Suey is a young man living in a remote place with a teen, an old blind grand mother and horses. He is a cart driver in Lampang. Roi (Sombat Methanee) is a policeman enquiring on local murders. Khun Kier is a doctor. The doctor wishes to know more about Suey. He finds a passage in his house that leads to a mysterious palace. Mixing reality and dream, the doctor seems to have been a king in previous life and has many women in his harem. Waen Fa was his official wife but he seduces Kae Son, a beautiful musician. Waen Fa has a son called Rom Fa. She is too excessive and wants her son's love only for her with no share with his wife Maria. Klao Fa is the daughter of Maria and Rom Fa. Maria is not able to support the pressure from Waen Fa and leaves the palace. She marries a doctor. Klao Fa has a personality problem as her parents have divorced and make their new life without her. Suey and Klao Fa are the same person. Finally Roi and Klao Fa marry together. This movie has old picture without much color. Soundtrack is new and there is no more Sombat Methanee's voice.



Year

: 1966



Thai title

:

ศึกบางระจัน




English title

: The Battle of Bang Rajan



Rating

: 4/5


Director

:



Main actor

: Sombat Methanee,Taksin Jampol,Ruj Ronnapop,Adul Dulyarat,Sawin Sawangrat,Preuhat Boonlong,Anucha Ratanaman


Main actress

: Pissamai Wilaisak,Preeya Roongrueng



Buy now

:

This movie is about Bang Rajan village. This village is located north of Ayutthaya, the old capital of Siam, predecessor state to modern Thailand. The village played a famous role related to its resistance against the Burmese in the war that saw the destruction of Ayutthaya city in 1767. Tap is a Siamese soldier leader. Siamese people have internal conflicts while they are also fighting with Burma (พม่า). Siamese soldiers kidnap two ladies, who are Tap's sister and Tap's fiancee. They are raped. Tap has the difficult task to choose between rescuing his sister and fiancee or leading the villagers far from Burmese soliders. They take refuge inside Bang rajan village. They help and support each other. Siamese from various villages lure a group of Burmese soldiers with the promise of young women and then turn upon them and kill the whole group. This event leads the whole Burmese army to Bang Rajan. Tap, after taking care of the villagers, goes to rescue his sister and fiancee. His fiancee is soiled (ตัวเสีย) so they cannot come back together. Tap forgives to the Siamese men as they promise to take care of the young ladies so they join his group in Bang Rajan. Burmese army starts to assault Bang Rajan. Burmese has guns but Siamese people have only swords. Women are fighting also. It is the duty for men to become soldier and protect the nation. Burmese come with elephants and big guns. Siamese people needs a big gun to fight back Burmese army. Ayutthaya king refuses to give them a big gun as Bang Rajan is a small village only. Ayutthaya people donate utensils for Bang Rajan to mold a big gun but it is fissured during moulding. Siamese are disadvantaged by their lack of firearms. As Burmese do not succeed to enter inside Bang Rajan with their infantry, they build forts surrounding the village. Siamese soldiers cannot destroy the forts built by the Burmese and suffered casualties from infantry assaults upon those forts. One of the Siamese leaders becomes drunk and furious. Upon a water buffalo, he takes a few men and attacked the Burmese. This event remains a forever legend and has been reused on poster of the 2000s Bang Rajan movie. He was killed and his men routed. Tap and his men succeed to neutralize the big gun before it destroys Bang Rajan walls. But they fail when Burmese use weapons similar to Katyusha multiple rocket launchers. Villagers are outnumbered and killed. Bang Rajan villagers and soldiers sacrifice their life for the nation. Tap and his new girlfriend are the only one to survive. They are rescued by future King Taksin, who liberated Siam from Burmese occupation after Ayutthaya fall in 1767. Such movies were very popular during nationalist era of Thailand, i.e. 1960s with communist threat risk and the 2000s folliwing the 1997 Asian Financial Crisis. This movie highlights the sacrifice of villagers not supported by the official administrators. Sombat Methanee got a gold statuette award (รางวัลตุ๊กตาทอง) received from HM the King for his best actor work. In 1966 the government renovated Bang Rachan camp (ค่ายบางระจัน).



Year

: 1966



Thai title

:

ผู้ชนะสิบทิศ ตอน ยอดขุนพล




English title

: The Conqueror of Ten Directions I



Rating

: 4/5


Director

: Neramit



Main actor

: Chaiya Suriyun,Man Teeraphol,Rujira Isarangkul


Main actress

: Pissamai Wilaisak,Metta Roongrat,Kaenjai Meenakanit,Karuna Yuwakorn



Buy now

:

This story takes place during Ayuthaya period around 1530. It is about politics regarding three kingdoms, i.e. Taungoo - ตองอู (Burma), Phrae (Thailand) and Hongsawadee - หงสาวดี (Mon). It relates the fabulous destiny of Sadet (จะเด็ด) (Chaiya Suriyun). One day he will become King Bayinnaung (พระเจ้าบุเรงนอง), Burmese King, known as "The Conqueror of Ten Directions" as his empire extended up to a big part of Southeast Asia including Thailand. When he was a baby, a monk promised to Sadet a bright future. He was brought up by a royal wet nurse in Kingdom of Taungoo. Mingyinyo (พระเจ้าเมงจีโย) was the King of Taungoo from 1486 to 1531. Sadet becomes very close with King Mingyinyo's children, i.e. Mangtra, the son, and Chantra (จันทรา), the daughter. Sadet is brave, has a nice presence, speaks well so all ladies like him and fall in love with him. Sadet needs to be separated from princess Chantra. He is surprised with Chantra in his room. Their different social status doesn't allow such behavior. He leaves for Hongsawadee. Mangtra wants Sadet to speak to princess Thavadee on his behalf. Princess Thavadee loves Sadet also despite Sadet's attempts to tell how good Mangtra is. Sopinya, Princess Thavadee's brother, is angry with Sadet's behavior and would prefer to have Mangtra as brother-in-law. Khairoo, head of Hongsawadee swordmen, prepares a plan. Jewelry is stolen and found in Sadet's room. Sadet has to flee. The monk tells Sadet to take refuse at Thayaki's sword school. Sadet fights with some ruffians in a restaurant. Those are part of Thayaki's sword school. Sadet has chance to meet Thayaki, his son and his daughter Katima (Metta Roongrat), who likes Sadet a lot. Sadet has opportunity to defeat Khairoo, who was treacherous with him in Hongsawadee. In 1531, Mangtra becomes new king of Taungoo and is now called King Tabinshwehti (พระเจ้าตะเบ็งชะเวตี้). As an acquinted childhood friend to the new king, Sadet gains the royal trust and is made the royal brother-in-law. Sadet then goes to Phrae and meets princess Kusuma (กุสุมา)(Pissamai Wilaisak), whom he tries to seduce also. The movie is divided into three parts. ผู้ชนะสิบทิศ ตอน ยอดขุนพล is part 1. It is based on Thai novel "ผู้ชนะสิบทิศ" or "The Conqueror of Ten Directions" from writer Chote Phraepan (pen name "Yacob" - ยาขอบ). There are ten directions as it includes eight compass directions and it also counts heaven and hell. The Thai novel was adapted to a TV serie, a movie serie and a musical comedy. The song of the same name from the movie series, performed by Charintra Nanthanakorn (ชรินทร์ นันทนาคร) remains one of the most recognizable and popular songs in Thailand. This 1960 old movie has still colorful and clean image that allows enjoying the nice costumes. It lasts 2h30. Old Thai and royal language (ราชาศัพท์) is used during the long dialogues. Big part of the movie is shot indoor.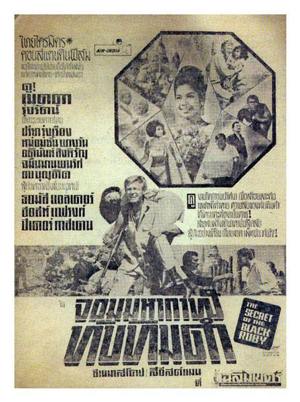 Year

: 1966



Thai title

:

จอมมหากาฬทับทิมดำ




English title

: 13 days to die



Rating

: 3/5


Director

: Tae Prakardwutthisan



Main actor

: Adinan Singhiran,Choomporn Theppitak


Main actress

: Metta Roongrat,Preeya Roongrueng,Mom Chan Phuangwan
Thai movie จอมมหากาฬทับทิมดำ was released in year 1966. This is a Thai German production. On Thai side Tae Prakardwutthisan is the co producer. Other foreign titles used for this movie are "Espionnage à Bangkok pour U-92", "Der Fluch Des Schwarzen Rubin", "The Curse Of The Black Ruby" or "13 days to die". It is a 35mm movie. It seems to be not available in Thailand anymore but luckily still in overseas markets. Choomporn steals a necklace in a museum but gets shot down. Detective Tracy is hired to find back the jewellery by Prince Kula. Prince Kula is continuously blackmailed. The stones are given back to him one by one every day but he needs to pay 3M to avoid death on the last thirteenth day. On the way to museum, Tracy and his assistants (Pongo, Hank) are attacked (Adinan Singhiran). They meet Cheetra (Metta Roongrat), expert in old jewellery. A poisoned butterfly with a microphone is found in the prince room. Preeya, Mr Parkson's girlfriend, is identified as the spy inside Prince Kula's home. Tracy starts to suspect Dr Barrington and Mr Parkson. As it is a 1960s movie, James bond's gadget is used to find car location. The fifth section of the necklace has disappeared since many years. Cheetra brings Tracy to see the Royal Barge procession. This movie offers unique opportunity to see colorful Bangkok fifty years ago as many Thai movies fifty years old are often in bad condition. Old Mrs Mom Chan Phuangwan announces to Tracy that Dr Barrington has been found dead. Cheetra brings Tracy to Surin elephant festival. Prince Kula has to ride an elephant. Mr Parkson kidnaps Cheetra as she is the only to decipher the secret message included in the necklace and leading to an ancient city in the jungle. Mr Parkson is looking for an ancient city (Ayutthaya) where a treasure is supposed to be found. The only treasure is a stock of uranium. Cheetra is in fact the descendant of the prince to whom the necklace belongs to. Following multiple rebondissements Tracy and Cheetra are safe.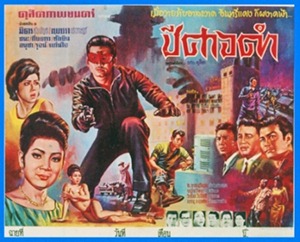 Year

: 1966



Thai title

:

ปีศาจดำ




English title

:



Rating

: 3/5


Director

: Sor Asanajinda



Main actor

: Mitr Chaibancha,Chana Sriubon,Taksin Jampol,Anucha Ratanaman,Ruj Ronnapop,Choomporn Theppitak


Main actress

: Petchara Chaowarat,Kingdao Daranee,Kaenjai Meenakanit
Thai movie ปีศาจดำ was released in year 1966. Main actor is Mitr Chaibancha and main actress is Petchara Chaowarat. The movie is lost in Thailand but a 8 minutes sequence remains to be seen at Thai Film Archives. Other actors are Chana Sriubon, Taksin Jampol, Kingdao Daranee, Anucha Ratanaman, Ruj Ronnapop, Kaenjai Meenakanit, Choomporn Theppitak. The 8 minutes sequence is divided into three small films. Two of the 3 small films still feature nice colors. It is out take sequences so scenes that were rejected in final release. Sequences allow to see Choomporn Theppitak fighting with Taksin Jampol, a Black and White scene of a man wearing black clothes and a mask, Mitr Chaibancha talking to เชาวน์ แคล่วคล่อง, Mitr Chaibancha being captured, Ruj - Taksin - Kingdao are seen. A few still pictures showing some sequences are still available.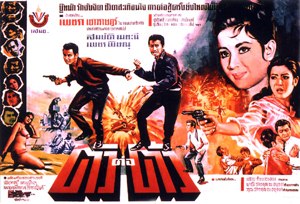 Year

: 1966



Thai title

:

ตัวต่อตัว




English title

:



Rating

: 3/5


Director

:



Main actor

: Sombat Methanee,Surasit Sattayawong,Krai Kanchit,Taksin Jampol,Pramin Jarujareet


Main actress

: Petchara Chaowarat
Thai movie ตัวต่อตัว was released in year 1966. Sombat Methanee is the main actor and Petchara Chaowarat is the main actress. This movie is lost in Thailand but a trailer of 3 minutes remain to be seen. No movie summary is left to be read. Only the poster! Other actors featured in this movie are Krai Kanchit, Taksin Jampol, Surasit Sattayawong, a veteran actress in sexy role, เพชร พิษณุ, Pramin Jarujareet (should play the bad guy as usual), จุ๋มจิ๋ม ศรทอง, ชาญ กัมปนาท, ประภาศรี เทพรักษา, เพลาพิลาศ โยธานันท์. Varun Chatkul At Ayutthaya (วรุณ ฉัตรกุล ณ อยุธยา) is the movie director. The trailer of this action movie shows fist fighting, shootings and spade fighting. As often in Thai action movies from 1960s decade, there is a masked justiciary.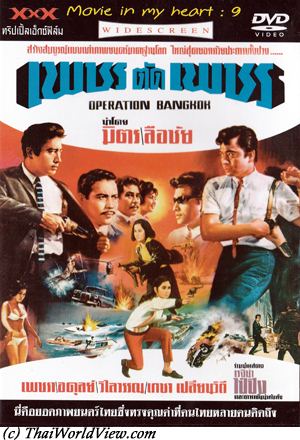 Year

: 1966



Thai title

:

เพชรตัดเพชร




English title

: Operation Bangkok



Rating

: 5/5


Director

: Wichit Khunawut



Main actor

: Mitr Chaibancha,Luechai Natnat,Adinan Singhiran,Choomporn Theppitak,Kecha Plianvithee,Adul Dulyarat,Sompol Kongsuwan,Chao Klaewklong,Lor Tok,Tat Ekathat


Main actress

: Petchara Chaowarat,Regina Pai Ping,Chadaporn Wachirapranee,Wilaiwan Watthanaphanit,Kaenjai Meenakanit,Malee Wetpraseri,Yaowaret Nisakorn



Buy now

:

Movie Operation Bangkok / เพชรตัดเพชร was released in year 1966 and lasts 1h50mn. It is a HK Thai co production managed by three film directors including Wichit Khunawut. Mitr Chaibancha meets Yot (Luechai Natnat). An exchange of suitcases happens over a bridge. Adinan Singhiran is Yot's acolyte. Yot betrays Mitr and tries to keep the two suitcases. Shooting happens and Yot flees. Choomporn Theppitak is part of a gang led by Kecha Plianvithee. Yot belongs to the same gang also. Luechai arrives in Hong Kong. He meets Adul Dulyarat on a boat to exchange drugs against money. The drug is fake and he steals the money by punching Adul. He flees to Bangkok and escapes to Choomporn, who tries to shoot him with a long range rifle. Yot has betrayed (ทรยศ) Kecha. Yot meets singer Pai Lu (Hong Kong actress Regina Pai Ping) in the plane and sympathizes. Mitr disguises himself as Chat, a tough ruffian, to infiltrate Kecha's gang. Chadaporn Wachirapranee is Chat's old wife so he punches Sompol Kongsuwan to show he is back. Chao Klaewklong introduces Chat to Kecha. Kecha is looking for a new right-hand man (แขนขวาคนใหม่) as Yot betrayed him. Kecha wishes Chat to get rid of Yot. Ratsamee (Petchara Chaowarat) loves Yot but Yot also loves Pai Lu, who is in fact an undercover policewoman from Hong Kong. Ratsamee warns Yot that Adul is around looking for him. Pai Lu and Ratsamee escape from Adul but get arrested by policeman Lor Tok, who ignore they are from Interpol Police (ตำรวจสากล). A painting called เพชรตัดเพชร is purchased by Wilaiwan Watthanaphanit bidding against Kecha. Miss Boran (Kaenjai Meenakanit) is the sexy painter. Adul wishes to buy the jewel hidden in the painting but this one is now always worn by Miss Boran. The jewel contains a password (รหัด). Choomporn kills Miss Boran to get the jewel but Yot and his team steal it from him also. Pai Lu is surnamed HK 16. Mitr is surnamed BKK 38 (ตำรวจไทยเจ้าชู้อย่างนี้ทุกคนหรือค่ะ?). Mitr helps Pai Lu chased by two ruffians including Choomporn. Chat brings Pai Lu himself to Kecha. Understanding that she is an enemy (ศัตรู), she is condemned to be shot by Choomporn but Chat succeeds to charge the gun with blank bullets. Yot falls in a trap prepared by Adul to steal the diamond but it fails and Adul dies. Yot wishes to make peace with Kecha. Kecha wants only one right-arm man so both Chat and Yot have to fight against each other. Pai Lu and Petchara ask them to stop fighting. They are all captured by Kecha. Part of the movie is then lost here. Wilaiwan shots Ratsamee. Hopefully Pai Lu shots Wilaiwan and can help Ratsamee on time. Thai police attack the ruffians. All are killed or captured but Kecha succeeds to flee. Kecha refuses to surrender to the Thai police and prefers to explode his boat. The movie ends up on a sad note as Pai Lu has to leave Chat to go back back to Hong Kong, Ratsamee is separated from Yot as he has to go to jail. This movie is still available in Hong Kong under title 諜海蛟龍 and was shown on cable TV. The famous song of this movie is ดวงใจ by singer สวลี ผกาพันธุ์. This movie is one of the best confrontations between Thai superstars Mitr Chaibancha and Luechai Natnat. As it is a HK Thai co production, it is interesting to find that the Chinese version poster features Chinese actress Regina Pai Ping's head in big size. Mitr Chaibancha and Petchara Chaowarat are displayed in small size. But the Thai poster displays more prominently Mitr Chaibancha and Petchara Chaowarat. In the Chinese synopsis, Mitr Chaibancha is written as mi-tsai- wan-chai (Thai detective No 78) and called as Ah Tsai in the movie. Regina Pai Ping (Hong Kong agent No 113) is called as Pai Lu in the movie. Petchara Chaowarat is written as Pi-chai-la and called as Sha Mei in the movie. The movie was so famous that it was released once in year 1966 and then reshown again in year 1975. The original version lasts 2h20mn but the 1975 version was reduced to less than 2 hours as both movies เพชรตัดเพชร and คนเหนือคน were shown together. The DVD released by company Pantamit is based on the 1975 version. It took five years for company Pantamit to convince the film owner to lend it in order to make a digital copy. Another film copy remains in the Thai Film archives.



Year

: 1966



Thai title

:

งูผี




English title

:



Rating

: 2/5


Director

:



Main actor

: Mitr Chaibancha


Main actress

: Petchara Chaowarat,Prim Praphaporn
A couple is catching and selling snakes in Chiang Sen. The husband wants to catch a huge white snake (งูขาว) living in a cavern. Local people don't want to help as this snake is supposed to be a local spirit (งูเจ้าแม่). This causes his death and his wife's death. Only the young baby survives. The young baby is saved by local villagers and called Boonleua. She is educated with a younger sister called Waen Fa (Petchara Chaowarat). The movie takes place in 2453. Many young people died mysteriously. Phrakit (Mitr Chaibancha) is sent by Bangkok centralized Thai administration to enquiry on the deaths. During Songkran festival, he met with Waen Fa. Boonleua likes Phrakit also a lot and asks Waen Fa to help her. Phrakit inquiried on the deceased corpses but in coffins, bodies have disappeared and be replaced by a snake. A ghost appears to challenge Phrakit. A necromancer announces that the snake spirit was supposed to stay in the cavern. As he is now roaming outside, the spirit is killing young people. The necromancer doesn't know in which body the spirit is hiding. It is in fact in Boonleua body. Boonleua hypnotizes her sister Waen Fa to catch a young girl. Villagers believe the spirit is hiding in Waen Fa's body and try to burn her. Phrakit tries to help but he is overcome by the villagers. Boonleua, possessed by the snake spirit, kills her father who tried to save Waen Fa. Only a monk can save them by confirming that Waen Fa is not possessed by the spirit. The monk confirms that Boonleua is the one to be possessed and asks Waen Fa to put a magic necklace around her neck to neutralize the spirit. Waen Fa has pity on her sister and asks her to promise stop killing people. She does promise but fails to do so. She seduces Phrakit same as Demon Mara tactics, hypnotizes Phrakit and brings him in her cave to stay as her husband. The second part of the movie is less interesting and is mainly a forward and backward chase between the snake spirit, Waen Fa and Prakit. This old movie has a new soundtrack but a damaged image. Colors are partially gone.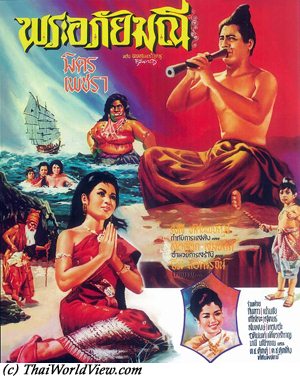 Year

: 1966



Thai title

:

พระอภัยมณี




English title

: Phra Apai Mani



Rating

: 3/5


Director

: Rangsee Thatsanaphayak



Main actor

: Mitr Chaibancha,Lor Tok,Sukon Koewliam,Adinan Singhiran


Main actress

: Petchara Chaowarat,Manee Maneewan,Kingdao Daranee,Sisala Thongtara
Thai movie พระอภัยมณี was released in year 1966 and lasts 1h50mn. Movie director is ครูรังสี ทัศนพยัคฆ์. It was released on VCD and DVD formats by company XxX (Triple X), owned by Khun Toh Pantamit. In year 1999, Toh Pantamit bought the 16mm film. In year 2000, the movie was digitized (15,000 THB per hour!). Then there is still a need to dub, add background music, find piphat original traditional music (ปี่). So it is very costly to release again old movies. The movie was shown in year 2001 in Sala Chalermkrung Theater for Mitr Chaibancha annual commemoration day. It was finally released under VCD and DVD in year 2002. This film is based on a story from Phra Aphai Mani, an epic poem by poet Sunthorn Phu. Actors and actresses include Mitr Chaibancha, Lor Tok, Sukon Koewliam, Adinan Singhiran, Petchara Chaowarat, Manee Maneewan (playing the mermaid), Kingdao Daranee, Sisala Thongtara, เปรมชัย ประภากร. Phra Aphai Manee (Kramon) and his brother Srisuwan come back to their hometown but their boat strands on a remote island. They come back from studying abroad. A lady giant ("YAK" - ยักษ์) abducts Kramon because he plays music so well that she loves him immediately. Kramon becomes her husband. The lady giant changes her shape into a beautiful lady and finally gets pregnant. A boy is born and is called Sinsamut. Kramon is missing his family and never gets full confidence from his giant wife who always closes the heavy stone door when going out of the cave to look for food. His son is human but with the strength of a giant. Following a scary nightmare, the lady giant goes to pray during three days in order to ease the gods. Meanwhile the son opens the door and both escape from the cavern. A beautiful mermaid and her parents bring them to a far island but the lady giant, after three days, chases after them. A local yogi helps them to chase the lady giant but she takes revenge by killing the mermaid's parents. A love story starts with the mermaid. She becomes pregnant also (she will have later a son called Sudsakorn but it is another story. Kramon becomes a monk to pay for his bad deeds. It is impossible to quit the island. One day, a boat is coming with a King and his daughter. Kramon decides to leave the island and brings his son to the kingdom. He promises to come back for the mermaid. On the way back, the lady giant sinks the boat. Kramon believes Sinsamut has drowned and he refuses to go back with his former wife despite her tears and longing requests as giants and humans cannot live together. She prefers to die instead of leaving him. Her heart breaks following sad music played by Kramon. He promises to live with her during next life when she will be reincarnated as a human. The son cannot prevent his mother's death in time.



Year

: 1966



Thai title

:

โสนน้อยเรือนงาม




English title

:



Rating

: 3/5


Director

:



Main actor

: Chaiya Suriyun,Sor Asanajinda


Main actress

: Petchara Chaowarat,Chadaporn Wachirapranee
Sadet Phi and Nong Jing have a daughter called Sa No Noi (Petchara Chaowarat). She gets a golden house (เรือนทอง) as a gift. Astrologers predict her a great future. A demon follows the family and wishes to kidnap Sa No Noi. Sa No Noi needs to leave the kingdom. She meets an hermit, who gives a magical medicine (ยาวิเศษให้คนตายฟื้นได้). Sa No Noi is coming from a palace (ชาววัง ) so she is not used to harsh life. She helps a poor girl called Kula, who has been bitten by a snake. They need to steal food to eat. They arrive in a city where the prince (Chaiya Suriyun) is sleeping for 7 years. Sa No Noi helps to prepare the magical medicine to wake him up. As Sa No Noi doesn't feel well while the Prince is awakening, Kula changes her clothes and pretends to be the one who saves the Prince (พระราชบุตร). Sa No Noi is disappointed (น้อยใจ) with Kula as she saved her life before. She becomes Kula's servant. Kula refuses to give back the medicine to Sa No Noi. The Prince wishes to help Sa No Noi. This movie features typical characters from 1960s movies. The leading actress (นางเอก) is a nice polite shy princess coming from a good family lady. The jealous lady (นางอิจฉา) seduces men first, kisses them or is ready to make love immediately without waiting the wedding. She has no education. She is poor, lazy and deceitful. To try to prevent the wedding the family gives difficult tasks for Kula to do (flower composition...). Only a good educated lady can execute such tasks so Kula forces Sa No Noi to do it for her. The prince leaves the palace for a government mission but in fact he wishes to find Sa No Noi's golden house to prove her real identity. He faces a typhoon but finally reaches Sa No Noi's kingdom and brings back the house. Under Sa No Noi's guidance, the golden house become a real house with servants. Sa No Noi's real identity is revealed and she forgives Kula. On the way back to her kingdom with the Prince, their boat is wrecked and they are separated. The prince meets an hermit. Sa No Noi meets again Kula who plays a trick with her despite all of her previous goodness. A noble man called Wilai meets Kula. She lies to him pretending she is a princess. Meanwhile Sa No Noi has been rescued by Wilai's parents. Sa No Noi delivers a baby, whose father is the Prince. Kula kidnaps the baby. The baby is rescued by another hermit. The baby is called Paiwan. Kula is captured by some robbers and become the leader's wife. While Sa No Noi is going back home, her convoy is attacked by the ruffians. The Prince just comes back and helps on time. The whole family is reunited. Kula is punished and transformed as a cow. The story of Sa No Noi is part of Thai folklore. This story is also available through a TV Thai serie (1984) and many cartoons. This old movie last two hours and fifteen minutes. It has a very good and colorful image quality. The last part of the movie is certainly too fast paced as it is difficult to narrate such a long story in only two hours.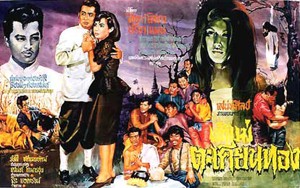 Year

: 1966



Thai title

:

เจ้าแม่ตะเคียนทอง




English title

:



Rating

: 3/5


Director

:



Main actor

: Chaiya Suriyun,Lor Tok


Main actress

: Sopha Sataporn,Preeya Roongrueng
This movie takes place in 1905. Yod is a slave. His girlfriend is called Khun. The master beats Yod because he finds his new wife with Yod. The master's wife, called Nang Neuan, accuses Yod of trying to seduce her but she is the seductress offering sweets (ขนมหวาน). The daughter, called Kalong, tries to protect Yod and asks for forgiveness. Kalong's father wants his daughter to marry a noble man called Bouleut but she doesn't love him. This is the old traditional Thai way, i.e. marry first, be together and then love will come later. The daughter is not willing. Yod and Khun may have bad sins (กรรม) in their previous life as they cannot have happiness together. They have a promise of forever love in front of a Takhian tree. Nang Neuan sends a ruffian to try to rape Khun but Yod protects her. The ruffian is killed so Yod has to flee. Still wishing to hurt Yod, Nang Peuan suggests that Khun becomes the master's mistress (เมียน้อย). Nang Peuan pays mercenaries to catch Yod. They succeed to overcome him. As the next day is end of slavery in Thailand so the master wants to beat him until death today. Khun accepts to become the master's mistress in order to save Yod's life. Later on Yod rejects Khun and breaks up with her accusing her of being unfaithful (หลายใจ). Disappointed and sad over Yod's reaction, Khun hangs up herself at the Takhian tree. Once Yod understands Khun's body sacrifice to save his life, it is unfortunately too late. Kalong puts money in her hands to spend in the death world. She is buried by Yod under the Takhian tree and is not cremated. Some people hear a woman crying near the Takhian tree. Khun is back as a ghost. Villagers get tricked (โดนผีหลอก) by the ghost. The master decides to cut the Takhian tree but the ghost prevents this to happen. The master decides to use a sorcerer (อาจารย์) to cut the tree. He settles a ceremony to call for the ghost (วิธีเรียกผี) but the ghost chases them away and terrorize the master, who has a serious fever. In almost old Thai horror movies, sorcerers are useless comical characters that always fail to chase ghosts. Kalong decides to call a westerner doctor (หมอฝรั่ง) to cure her father as Thai sorcerers (หมอผี) are useless. Yod works now for the westerner doctor and has been trained to be a doctor also. He cures the master and it is a satisfaction as the slave cures his former master. But the master still hates Yod. Another sorcerer is used but he is a charlatan. He tries to catch a fake spirit (ลงหม้อ). The real ghost chases the fake one. Traditional chase in accelerated motion happens between ghost and humans. This is typical from Thai horror movies from 1960s to 1990s. The master defies Khun but gets strangulated and dies. Nang Peuan decides to kill Kalong to get full heritage but Khun protects Kalong and strangulates Nang Peuan. Bouleut is in fact a bad guy that is already married but wants to marry Kalong because she is coming from a rich family. Love story happens between Kalong and Yod. The ghost Khun is now angry with Kalong accusing her to take away Yod from her. They cannot stay together (คนละโลก). A sorcerer helps to chase the ghost by performing a ceremony (พิธีสะกดวิญญาณ) and neutralizing the tree spirit. This two hours length old movie has a new soundtrack including music from Ennio Morricone. Many 1960s movies were shot in 16mm without synchronised sound. The image is damaged but still fine even if some colors are gone. As many horror movies from 1960s to 1990s, it mixes horror and comedy gags.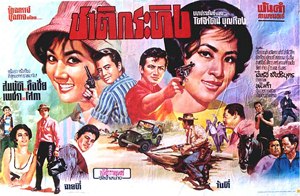 Year

: 1966



Thai title

:

ชาติกระทิง




English title

:



Rating

: 3/5


Director

: Phan Kam



Main actor

: Sombat Methanee,Luechai Natnat,Sukon Koewliam,Joomjim Khemlek,Lor Tok,Boo Wibunnan


Main actress

: Petchara Chaowarat,Sopha Sataporn,Preeya Roongrueng,Kwanta Buapliensri
Chat Krathing (ชาติกระทิง) is a 1966 Thai movie but only 6mn30 are left. Only a trailer is left. The whole movie is lost as it is a 16mm format reel so it was certainly shown until it became unusable. No movie summary is currently available. Only a commercial movie poster is left. This movie features four big stars, i.e. Sombat Methanee, Luechai Natnat, Petchara Chaowarat and Sopha Sataporn. They are together for the first time and for the only time. Some ruffians harass veteran comic Sukon Koewliam. So Petchara Chaowarat protects him by hitting one of the ruffians. On next sequence, the ruffians speed through a village but this time they face Sombat Methanee. Fist fights happen. Romance between two couples Sopha / Luechai and Sombat / Petchara happen. Famous director Phan Kam (พันคำ) is there again. Luechai is part of the fight party. Movies with him are hard to find as his fame period was during 1957-1960, just before Mitr Chaibancha golden period, and then between 1964-1972. Scenario is unknown but certainly good guys (Sombat and Luechai) are fighting against ruffians terrorizing a village. Even veteran actor Chinese Boo Wibunnan can be seen in the short trailer. Actors Joomjim Khemlek, Lor Tok, Preeya Roongrueng, Kwanta Buapliensri are also mentioned in the credits but unfortunately cannot be seen in the short trailer left.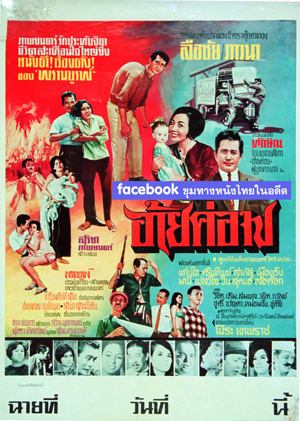 Year

: 1966



Thai title

:

อ้ายค่อม




English title

:



Rating

: 3/5


Director

:



Main actor

: Luechai Natnat,Taksin Jampol,Sukon Koewliam,Lor Tok,Preuhat Boonlong,Tawan Siriwat


Main actress

: Pawana Chanajit,Kaenjai Meenakanit,Sarinthip Siriwan,Chosri Misommon,Mom Chan Phuangwan,Prim Praphaporn
Thai movie อ้ายค่อม was released in year 1966. Main actors and actresses are Luechai Natnat, Pawana Chanajit, Taksin Jampol, Kaenjai Meenakanit, Sukon Koewliam, Lor Tok, Sarinthip Siriwan, Preuhat Boonlong, เมืองเริง, มานี, เปลวใจ, วิน, วิชิต, Prim Praphaporn, Chosri Misommon, Mom Chan Phuangwan, Tawan Siriwat. Movie director is เกรียงศักดิ์ สุริยา. The movie is lost in Thailand but a sequence in 16mm format is left to be seen. It features the movie title sequence and only lasts one minute. The image shows lotus in front of a village. Colors are lost. The movie was released again as a remake in year 1980 with Sorapong Chatree and Jarunee Suksawat.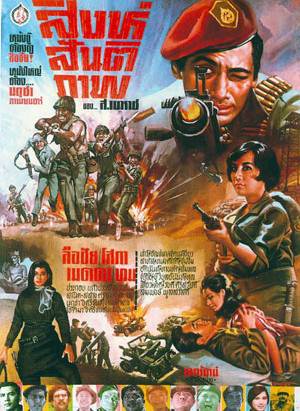 Year

: 1966



Thai title

:

สิงห์สันติภาพ




English title

:



Rating

: 3/5


Director

:



Main actor

: Luechai Natnat,Adinan Singhiran,Boo Wibunnan,Tawan Siriwat


Main actress

: Sopha Sataporn,Metta Roongrat
Thai movie สิงห์สันติภาพ was released in year 1966 and lasts 2h12mn. The movie is only available in mute state as the remaining film was in 16mm format only. Red berets soldiers including Adinan Singhiran, Boo Wibunnan and Luechai Natnat fight against each other in a bar due to a girl. Their boss เช้า asks them to stop. They go for a mission in the jungle. The soldiers team includes one lady played by Sopha Sataporn. While crossing a river, Sopha is dragged away due the strong current but Luechai is helping her. Fightings happen in the jungle. Leader เช้า is killed. Sopha becomes the new leader. Some men refuse to get a female leader so a fighting happens between Luechai and one soldier. Luechai wins. At nighttime another soldier tries to abuse Sopha but thanks to Luechai, she pushes back the attacker. Luechai and a soldier help lady Metta Roongrat being aggressed by blue berets soldiers while bathing in a stream. Metta guides them in the forest and helps them to make a piège to blue berets. Metta helps them also to push back a night assault. Romance starts between Metta and Luechai but it is bringing disappointment to Sopha. One soldier is injured and has difficulties to walk. They get attacked again and some soldiers, getting mad, lose their life by taking inconsiderate risks. Metta gets also killed. Lost, Luechai finally wakes up in a camp led by a lady (อัญชนา วงศ์เกษม). She is disappointed when seeing Luechai walking hand in hand with Sopha. Some red beret soldiers steal gems offered to the local deity worshipped in the village. Luechai gets accused but Sopha helps him as one of the leader (ทม วิศวชาติ), also loving the chief lady, despises Luechai. He is in fact a traitor. A final battle happens between soldiers. They finally reach the blue berets camp led by Tawan Siriwat. A few soldiers sacrifice their life in order to release Luechai. Finally the blue berets camp is destroyed.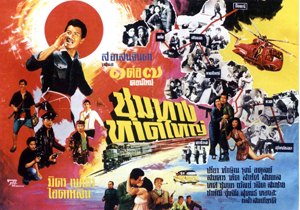 Year

: 1966



Thai title

:

ชุมทางหาดใหญ่




English title

:



Rating

: 4/5


Director

: Sor Asanajinda



Main actor

: Mitr Chaibancha,Sor Asanajinda,Tawan Siriwat,Ruj Ronnapop,Sukon Koewliam,Choomporn Theppitak,Taksin Jampol,Adul Dulyarat,Tat Ekathat,Somkuan Krajangsat,Chanee Yotchai


Main actress

: Petchara Chaowarat,Preeya Roongrueng,Sarinthip Siriwan
Thai movie Chum Hat Jai (ชุมทางหาดใหญ่), directed by Sor Asanajinda in year 1966, is lost in Thailand but luckily a sequence of 1h08mn (three last reels) is still left. It was stored in a museum of a Thai temple in the north of Thailand. Only incomplete summary is available. This movie is a mix of comedy, romance and action. This movie was shot in Songkhla area so showing how this southern city was fifty years ago. As the movie is in 16mm format, it requires live dubbing so the remaining extract is in mute state making it more difficult to understand. Sena Prachan (Mitr Chaibancha) is an army officer. Jing Gang (Petchara Chaowarat) is a fearsome young lady (ไม่กลัวใคร). Sena Prachan is pretending being crazy (อาคารเป็นบ้า) in order to spy Chao Likim's (Tawan Siriwat) activities. Ai Darling (foreign actress) is Chao Likim's daughter. Sena's kisses are able to calm down Ai Darling and also Jing Gang while he is investigating on ruffians. Many other characters are present such as Chanee Yotchai as ruffian, Ruj Ronnapop (Mayong), Sukon Koewliam, Choomporn Theppitak, Taksin Jampol (Bo Bang Rajan), Preeya Roongrueng, Adul Dulyarat (captain). Ai Darling and Jing gang fight over Sena Prachan. Tat (Tat Ekathat) is head of police. Mayong is shot facing seven ruffians. Chao Likim hits his own daughter considered as a traitor (ลูกสาวทรยศ). Sena Prachan helps but is also finally captured. Jing Gang's parents are Somkuan (Somkuan Krajangsat) and Thanyong (Sarinthip Siriwan). Thanyong gets shot while helping Bo Bang Rajan, who is also an undercover military officer. Sor Asanajinda is also playing. A train is chased by a car and an helicopter through Songkhla region landscape. Somkuan, a repent (ผู้ร้ายที่จะกลับใจ), is forced by Chao Likim to be part of a prisoner exchange deal (แลกตัว) but he is carrying a bomb. The movie ends up with multiple shootings between ruffians and the heroes. Somkuan gets shot by Chao Likim but this latter also gets shot by Jing Gang and Sena Prachan.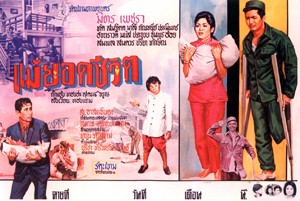 Year

: 1966



Thai title

:

แม่ยอดชีวิต




English title

:



Rating

: 3/5


Director

: Sor Asanajinda



Main actor

: Mitr Chaibancha,Tat Ekathat,Prachuap Ruekyamdee,Choomporn Theppitak,Somkuan Krajangsat,Taksin Jampol


Main actress

: Petchara Chaowarat,Somjit Sapsamruey,Malee Wetpraseri,Preeya Roongrueng
Thai movie "Mae Yot Chiwit" (แม่ยอดชีวิต) was released in year 1966 and features main actors Mitr Chaibancha and Petchara Chaowarat. Only a sequence of 20 seconds is left. Other actors are Tat Ekathat, Somjit Sapsamruey, Malee Wetpraseri, Prachuap Ruekyamdee, Choomporn Theppitak, Preeya Roongrueng,Somkuan Krajangsat,Taksin Jampol. The director is Sor Asanajinda. It is a lost movie in Thailand. Thanks to a group of former dubbers performing with 16mm movies, an old reel with small parts of lost films was found in year 2013. Mitr Chaibancha is playing a disabled soldier. The left sequence is very short but it is possible to see Mitr, Petchara and a few additional actors. The movie summary is still available thanks to old Thai movies magazines. Mitr and Petchara love each other. Petchara gets pregnant. As a soldier, Mitr needs to go to fight in South Korea. No news from him are received anymore. Petchara gives birth to a daughter. She marries again believing Mitr is dead. Mitr is not dead but he is now a poor soldier disabled with part of his leg lost. Malee Wetpraseri, mother of Petchara, believes he is a dirty beggar and chases him away. It is a sad story. The movie entered Thai oscars competition on that year also. The 20 seconds sequence is the scene with Petchara wearing a red dress, Mitr as a beggar and grandmother Malee trying to chase him away.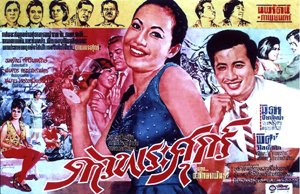 Year

: 1966



Thai title

:

ดาวพระศุกร์




English title

:



Rating

: 3/5


Director

: Somkuan Krajangsat



Main actor

: Mitr Chaibancha,Choomporn Theppitak,Sompong Phonmitr,Sukon Koewliam


Main actress

: Pissamai Wilaisak,Boosara Narumit,Chadaporn Wachirapranee,Chosri Misommon
ดาวพระศุกร์ is a Thai movie released in year 1966 and featuring main actors Mitr Chaibancha and Pissamai Wilaisak. The movie was lost in Thailand but finally a partial reel was found in year 2013 thanks to a teacher and collector of old items in Songkhla area. It is the movie last reel, which is lasting 21 minutes. Dao Prasuk is played by Pissamai. Sasi (Boosara Narumit) is her mum refusing to recognise as her daughter as she has a new husband. Khun Pak (คุณภาคย์) is played by Mitr. Dao Prasuk had a difficult life. Mitr has already a fiancee Rassamee (Chadaporn Wachirapranee) but he loves secretly Dao Prasuk. Uncle At opens a flowers shop for Dao Prasuk and offers an engagement ring without knowing that Dao Prasuk is his own daughter! Knowing that Dao Prasuk has a ring, Mitr gets upset and has a fight with Uncle At despite Choomporn Theppitak trying to interpose. Sasi tells the truth to At and Dao Prasuk is now also aware. Pak learns it also. Pak has an accident and finally reconciles with Dao Prasuk. The last reel is still in quite good condition and colorful. This first version of Dao Prasuk was adapted many times in cinema (Version in 1981 with Sorapong Chatree and Apaporn Kornthip, version 1995) and TV releases (พล and Monrudee Yamaphai in 1981 - this TV serie was also released in a cinematographic version - 1995 and 2003). The summary is as below. Dao Prasuk has been rejected by her mother since youth and abandoned in a hospital. She is adopted but her stepmother is cruel. Dao Prasuk is used as a slave to take care about the home and the other children. She learns that her real mother is called Sasi. One day Dao helps a boy called Kae begging in the street. It is misunderstood by her stepfather believing she has a boyfriend. Dao flees from home. Sasi (ศศิ) has a new husband and a son called Daeng. Sasi misses Dao and gets some news through the beggar called Kae. She knows Dao has fled from home. On the street Dao faces many difficulties, then she meets King Kaew (กิ่งแก้ว) a prostitute and then Arathai (อรทัย), the nurse who gave birth to her. So Dao knows now who her real mother is. Dao is finally bought as maid by Pak (ภาคย์). Pak is a good man so Dao gets education in his home, i.e. English lessons by Sasi who is a relative of Pak and music lessons by Rassamee (รัศมี), Pak's fiancee! Dao doesn't disclose her real identity to Sasi. Dao starts to love Pak. Rassamee, aware of this, tries to get rid of her. It fails and on the opposite, it increases Pak's love over Dao. He takes care of her when she gets sick. Meanwhile older man At (อรรถ) starts to appreciate Dao a lot. He gives 100 000 baht to buy back Dao. It causes Pak's ire. Being disappointed by her real mother, her stepmother, her impossible love with Pak, Dao final accepts At's wedding proposal. In reality, At is Dao's biological father! Disappointed and fed up, Dao flees again. Pak is looking for her and has a car accident. Meanwhile At and Rassamee marry! Sasi's husband divorces as she lied to him regarding the child she had from a previous wedding. Dao settles in Ratchaburi. Pak learns about it and asks for forgiveness. They finally marry.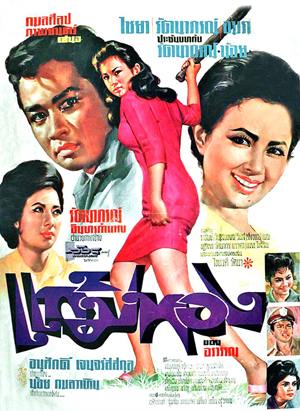 Year

: 1966



Thai title

:

แก้มทอง




English title

:



Rating

: 3/5


Director

: Ratanaporn Intarakamhaeng



Main actor

: Chaiya Suriyun,Sukon Koewliam,Sompong Phonmitr,Adinan Singhiran,Choomporn Theppitak


Main actress

: Ratanaporn Intarakamhaeng,Ratanaporn Noi,Amara Asavananda
Thai movie แก้มทอง was released in year 1966. The movie is lost in Thailand but a sequence of 9mn30s is still available. The movie features Chaiya Suriyun as main actor and Ratanaporn Intarakamhaeng / Ratanaporn Noi (รัตนาภรณ์น้อย). In this movie, Ratanaporn Noi is the main actress. Ratanaporn Intarakamhaeng is playing Ratanaporn Noi's mother. Other actors include Sompong Phonmitr and Sukon Koewliam. Chaiya is not seen in the remaining sequence except in a still picture inside the credits. Ratanaporn Intarakamhaeng was the producer of this movie. Various sequences show two sexy women talking to each other, police raiding a prostitution joint (ซ่องโสเภณี) including comic scenes with Sukon Koewliam and a fat lady. A few comic sequences are still shown including Sompong are still present.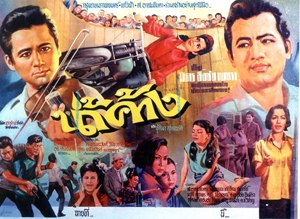 Year

: 1966



Thai title

:

น้ำค้าง




English title

:



Rating

: 3/5


Director

: Sor Asanajinda



Main actor

: Mitr Chaibancha,Luechai Natnat,Sor Asanajinda,Taksin Jampol


Main actress

: Petchara Chaowarat,Wilaiwan Watthanaphanit,Malee Wetpraseri,Chadaporn Wachirapranee
Thai movie น้ำค้าง was released in year 1966. It features Mitr Chaibancha as main actor and Petchara Chaowarat as main actress. It is a lost movie in Thailand but a sequence lasting a few seconds remains to be seen. The sequence is in mute state as such 16mm film requires live dubbing. Main actors and actresses are Mitr Chaibancha, Petchara Chaowarat, Luechai Natnat, Sor Asanajinda, Wilaiwan Watthanaphanit, Taksin Jampol, กันทรีย์, Malee Wetpraseri, Chadaporn Wachirapranee. Movie director is Sor Asanajinda. A short sequence remains. Wilaiwan Watthanaphanit is playing the role as Petchara Chaowarat's mother. Petchara and Wilaiwan can be seen holding each other in a prison cell. The mother has been imprisoned and Petchara visits her.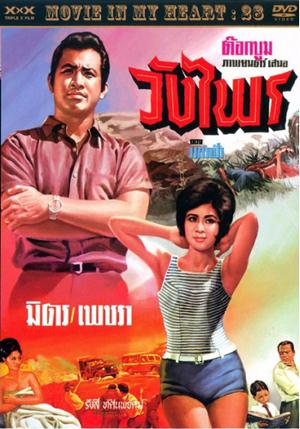 Year

: 1966



Thai title

:

วังไพร




English title

:



Rating

: 4/5


Director

:



Main actor

: Mitr Chaibancha,Adinan Singhiran,Preuhat Boonlong,Tat Ekathat,Lor Tok,Adul Dulyarat,Prachuap Ruekyamdee


Main actress

: Petchara Chaowarat,Kingdao Daranee,Somjit Sapsamruey,Preeya Roongrueng,Manat Boonkiet



Buy now

:

Thai movie วังไพร was released in year 1966 and it lasts 1h45mn. The original movie is certainly longer. It was released under VCD and DVD format by Thai company TripleX owned by former dubber คุณโต๊ะพันธมิตร. Rumours say there is a ghost (ผี) around Wang Prai (วังไพร) domain. Adinan Singhiran tries to prevent hunter Wikrom to go there. Wikrom is bitten by a snake (งูเจ้า) while entering in Wang Prai to find the ghost. Wang Prai is a 2500 rai domain. Kramom (Preuhat Boonlong) and Ekarin (Tat Ekathat) are now enemies (ศัตรูของพ่อ) due to old family stories over the domain possession. Chai (Mitr Chaibancha) is son of Kramom. Lor Tok is Kramon's attendant. Choompu (Kingdao Daranee) is one of Ekarin's daughter. Somjit Sapsamruey is Ekarin's wife. Prapayon (Preeya Roongrueng) wishes to marry Chai but this one has more interest in Koi (Petchara Chaowarat), Ekarin's second daughter. Chai's parents don't like Koi. In fact Chai doesn't approve elders' decision to be enemies. Phi Pong (Adul Dulyarat) is Koi's elder brother but he has disappeared for many years. In fact Pong is hiding in Wang Prai as he is disfigured following a virus caught during war. Chai is helping him and ghosts rumors are only there to frighten anybody to come near Wang Prai. Chai's brother (Prachuap Ruekyamdee), a doctor, comes back to Thailand with a lady called Nathalie and her kid. They are Pong's family. 500 000 baht are needed to cure him. Koi and Chai succeed to find enough money by lying to elders. Pong is finally cured but elders refuse to allow weddings between Chai Phi / Koi and Chai Nong / Choompu. So the youngsters simulate fleeing and hide in Wang Prai. As the grandchild is about to fall from a cliff, the grandfathers help each other and regain friendship. Weddings are authorised. Other actors / actresses are วิน, เปรมชัย, มนัส.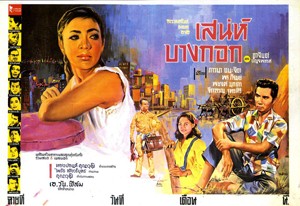 Year

: 1966



Thai title

:

เสน่ห์บางกอก




English title

:



Rating

: 5/5


Director

: Wichit Khunawut



Main actor

:


Main actress

: Pawana Chanajit
เสน่ห์บางกอก (Charm of Bangkok) is a Thai movie released in year 1966. It has still a colorful image. It was never released officially in any video format such as VHS, VCD or DVD. So luckily in year 2013, it was released on Thai TV CH7 during the program อมตะหนังไทย. It lasts 1h35mn. Originally the movie lasts 2h20mn. It remains famous as one of the first song movies (หนังเพลง) in Thailand. It featured 8 songs. It received three golden statuettes during Thai cinema awards. The main actor is a real Thai singer (นักร้องลูกทุ่ง พร ภิรมย์). A Thai collector still has the full length movie but in mute mode as it is a 16mm movie so it needs to get dubbed. He shared an additional 19 minutes extract with songs on Internet. Too sad that the movie from director Wichit Khunawut (วิจิตร คุณาวุฒิ) cannot be seen in its original state. Sabai (สไบ) (Pawana Chanajit) is riding bicycle and gets hit by Plae's (แพร) car. Animosity happens immediately between them (เครียดกัน). Sabai is friend with Tong, Plae's sister. Plae wishes to continue his studies but his father Kamnan wants him to ordain as a monk and then to marry Sabai! Dance (รำวง) happens in the village. The dancing ends up in a fighting between Plae and a ruffian trying to seduce Sabai. Plae is bitten by a snake. While he is recovering, his father already asked Sabai's parents for her hand through a procession ceremony (พิธีแห่ขันหมาก). Sabai claims she doesn't love him (แต่งแล้วจะรักกันเอง). Later on they even argue strongly (คนผีทะเล). Ordination ceremony happens. Plae's father intends to have a lakorn to entertain guests. Some guests from Bangkok are coming. Khun Luang and a star (ดาราละคร) are coming. Plae falls under the charm of the actress. Khun Luang wishes to rent the Buddha image (พระองค์งาม) but Kamnan refuses as it protects the family happiness. Still under the charm, Plae hits his own brother to steal the Buddha and flees to Bangkok (หนีบวจ) hoping to become rich (ความเจริญในเมืองบางกอก). Losing face, the father decides to look for his son in Bangkok. Many comic situations happen as Kamnan has never been in big city like Bangkok (บ้านนอก). There are amazing sequences showing Bangkok and its famous tourist spots 50 years ago. Plae goes to Khun Luang and the actress house. He meets Sabai there as she knew he will come here! The actress already forgot him. Disappointed, he leaves. Khun Luang (หัวหน้าร้าย) sends thugs to find Plae. Meanwhile Plae befriends with a Thai boxing ring owner and leaves the Buddha statue at his home. Plae gets kidnapped by the thugs. Kamnan needs to give the Buddha statue in exchange. Finally Kamnan, the Thai boxing ring owner and the police neutralise the ruffians. Through a thrilling Thai boxing match, Plae beats his opponent and wins enough money to bring everybody back to the village. He will fulfill his promise to ordain and then marry Sabai. Many Thai movies are about the theme of the up country guy coming to Bangkok and hoping to become rich but only facing disillusion. This story has been readapted a few times, i.e. in years 2011 and 1996 for Thai TV series and in year 1981 for a Thai movie with Sorapong Chatree and Naowarat Yooktanun.
---