Increase or decrease font size for easier reading : A+ A-
Year 1964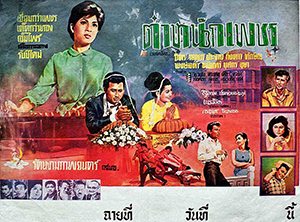 Year

: 1964



Thai title

:

ตำหนักเพชร




English title

:



Rating

: 3/5


Director

:



Main actor

: Mitr Chaibancha,Sukon Koewliam,Prachuap Ruekyamdee,Taksin Jampol,Lor Tok


Main actress

: Petchara Chaowarat,Mom Chan Phuangwan,Kingdao Daranee
Thai movie ตำหนักเพชร was released in year 1964. This movie features Mitr Chaibancha as main actor and Petchara Chaowarat as main actress. The movie is lost in Thailand but a sequence of 20 minutes available but is quite damaged as the movie was soaked with water. Other actors and actresses are Mom Chan Phuangwan, Sukon Koewliam, Kingdao Daranee, Prachuap Ruekyamdee, Taksin Jampol, Lor Tok. During an online sequence of 1mn19s, it is possible to see Mitr Chaibancha and an actress having arguments with a group including Prachuap Ruekyamdee and then discussing altogether. Petchara Chaowarat is having short hair.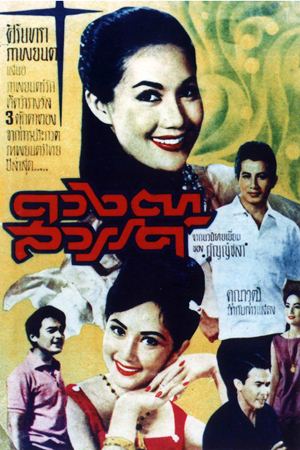 Year

: 1964



Thai title

:

ดวงตาสวรรค์




English title

:



Rating

: 4/5


Director

: Wichit Khunawut



Main actor

: Sombat Methanee,Adul Dulyarat,Prachuap Ruekyamdee,Preuhat Boonlong,Sukon Koewliam,Daonoi Duangjai


Main actress

: Pissamai Wilaisak,Sopha Sataporn,Sarinthip Siriwan
Thai movie ดวงตาสวรรค์ was released in year 1964. Director is Wichit Khunawut. Main actor is Sombat Methanee and main actresses are Pissamai Wilaisak and Sopha Sataporn. Other actors / actresses include Adul Dulyarat, Prachuap Ruekyamdee, Preuhat Boonlong, เชาว์ , Sarinthip Siriwan. Sukon Koewliam and Daonoi Duangjai are playing as domestic helpers roles. Pissamai Wilaisak got a Thai cinema award (ตุ๊กตาทอง) for this movie. Wichit Awut also got a Thai cinema award for his directing skills for this movie. This is the first movie played by Sopha Sataporn. This movie is lost in Thailand and only a sequence of 23 minutes is left to be seen. Pissamai is coming from countryside but changed her name ("อีแพน") as she wants to increase her status in Bangkok society ( สาวสังคม / นักเที่ยว). She is now a cinema star (ดารา). She likes Rawin (Sombat Methanee) but he is already engaged with Sopha. Teun (Prachuap Ruekyamdee) is disappointed that Pissamai finally married with Chai (Adul), a teacher training painting arts. Pissamai marries with Adul to have opportunity to be closer to Rawin. Teun and Pissamai know each other since they were youngsters in the countryside. They were lovers before. Before the wedding, Rawin congratulates Pissamai but gets slapped as she tells him she doesn't love Chai. Teun keeps drinking alcohol as he is disappointed. Pissamai's father visits her knowing she is now a star and married to a rich man. Pissamai is very bad (ร้าย) as she chases away her father and younger brother by trying to give them money. The left sequence ends here. Another recent version was shot in 1981 and features Sorapong Chatree and Pisarn Akraseranee. Thai TV series were also released.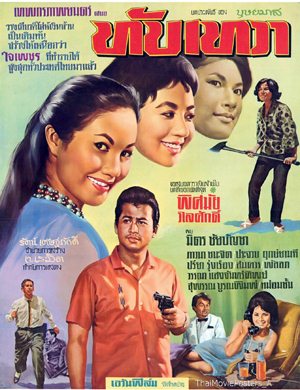 Year

: 1964



Thai title

:

ทับเทวา




English title

:



Rating

: 3/5


Director

: Neramit



Main actor

: Mitr Chaibancha,Prachuap Ruekyamdee,Somkuan Krajangsat


Main actress

: Pissamai Wilaisak,Pawana Chanajit,Preeya Roongrueng,Wanna SaengChanThip,Mom Chan Phuangwan
Thai movie ทับเทวา was released in year 1964. Main actors and actresses include Mitr Chaibancha, Pissamai Wilaisak, Pawana Chanajit, Prachuap Ruekyamdee, Preeya Roongrueng, Somkuan Krajangsat, พัลลภ พรพิษณุ, Wanna SaengChanThip, สุพรรณ บูรณพิมพ์, Mom Chan Phuangwan. The film was never released on VHS / VCD / DVD format but the movie in 16mm format can still be seen in Thailand. It lasts 1h15mn (3 reels in bad state especially reel number 2) and a dubbed version was shown in Thai Film Archives in 2020. It is still colorful. Movie director is Neramit. Visanoo (Mitr Chaibancha) and Chan (Pissamai Wilaisak) have not met for 10 years. Thep (Prachuap) tries to seduce Chan but to no avail. Mitr Chaibancha is playing two roles, i.e. Theva and Visanoo. Visanoo is Chan's fiance. Preeya tries to break this relationship in order to marry Visanoo. Her mother uses Prachuap to force Chan but Theva intervenes and punches Prachuap. A famous sequence is when ruffian สุพรรณ บูรณพิมพ์ is chasing Pissamai with an axe. It was the last movie where Mitr Chaibancha and Pawana Chanajit played together. The legend said that in a romantic scene Mitr has to hug Pawana. Pawana was concerned so she deflected. It makes Mitr upset as he has always been a gentleman with actresses when playing movies. Mitr never played again with Pawana. Pawana then played in movies with Sombat Methanee and Chaiya Suriyun. A movie remake was released in year 1989 with Bin Banleurit, Ekapan Banleurit, ขวัญฤดี กลมกล่อม, Apiradee Pawaputanon. A TV serie was released in year 2003 on CH7 with จอนนี่ แอนโฟเน่ and เอมี่ กลิ่นประทุม.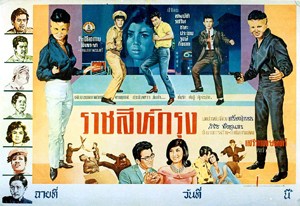 Year

: 1964



Thai title

:

ราชสีห์กรุง




English title

:



Rating

: 3/5


Director

:



Main actor

: Sombat Methanee,Ruj Ronnapop,Chana Sriubon,Sompong Phonmitr,Kokheng,Prachuap Ruekyamdee,Adul Dulyarat,Sukon Koewliam


Main actress

: Malee Wetpraseri, Kingdao Daranee,Preeya Roongrueng
Thai movie ราชสีห์กรุง was released in year 1964. Main actor is Sombat Methanee and main actress is รสลิน วิลาวัลย์. Other actors and actresses are Ruj Ronnapop, Chana Sriubon, Sompong Phonmitr, Kokheng, Prachuap Ruekyamdee, Adul Dulyarat, Malee Wetpraseri, Kingdao Daranee, Preeya Roongrueng, Sukon Koewliam. The movie is lost in Thailand but a 16 minutes sequence remains to be seen (เศษหนัง). As the film is in 16mm format, the sequence is mute as there is no dubbing. Movie director was วิรัช พึ่งสุนทร. Some left sequences show Malee Wetpraseri discussing with Ruj and Kingdao, Sompong Phonmitr wearing a marine suit, Kingdao discussing with her father and mother (Malee). A coin is discovered in a paper. Adul is meeting Ruj for the first time and animosity can be felt. Ruffians are seen on a boat. Ruffians are attacking a house but they get pushed back by inhabitants. Koh heng, Chana Sriubon are having a heated discussion with two other men and a lady in a bar. Misunderstanding and fighting happen. A brawl occurs in the bar. Ruj, Prachuap, Sompong and mariners storm the ruffians' place. Chana is talking to a lady (รสริน วิลาวัลย์) over the phone and then he is picking her up by car. A sequence is showing a house near the sea and people are having fun in a swimming pool. Adul is seen in discussion with another gentleman. Chana is talking with รสริน วิลาวัลย์. Sombat Methanee, main actor, is unfortunately not seen in any of the remaining sequences. The movie is mixing romance and action. The movie poster was drawn by Piak Poster (เปี๊ยกโปสเตอร์).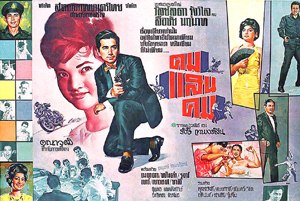 Year

: 1964



Thai title

:

คมแสนคม




English title

:



Rating

: 3/5


Director

: Wichit Khunawut



Main actor

: Luechai Natnat,Adinan Singhiran,Adul Dulyarat,Ruj Ronnapop,Man Teeraphol,Choomporn Theppitak


Main actress

: Metta Roongrat,Yaowaret Nisakorn
Thai action movie คมแสนคม was released in year 1964. It features Luechai Natnat as main actor. The movie is lost in Thailand but a 3mn30s trailer remains to be seen. Wichit Khunawut is one of the most famous Thai director. Songs were written and sung by Charin. Various short sequences are showing new actress Warada Wongwilai (วัลย์ลดา รุ้งวิไล), Adinan Singhiran, Adul Dulyarat as head of the ruffians, Ruj Ronnapop, Man Teeraphol, Metta Roongrat as a singer. A few fights and gun shootings happen. Old views of Bangkok can be seen. Luechai was a famous main actor before the arrival of Mitr Chaibancha and Sombat Methanee.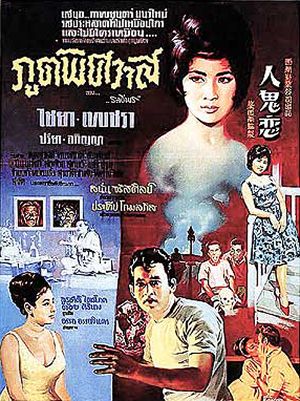 Year

: 1964



Thai title

:

ภูตพิศวาส




English title

:



Rating

: 3/5


Director

:



Main actor

: Chaiya Suriyun,Lor Tok,Sukon Koewliam


Main actress

: Petchara Chaowarat,Preeya Roongrueng,Mom Chan Phuangwan,Malee Wetpraseri
The movie name "ภูตพิศวาส" means "ghost love". Three young men students with suitcases are looking for a place to sleep. One of them is called Marut. They stay in a temple but the temple keeper asks them not to open door or windows at night time or go out if somebody calls them. Marut doesn't listen and sees a beautiful lady. In the morning one of the three students is found dead. There is two holes in the arm as if somebody sucked his blood (ผีดิบ). The next night sounds of a lady crying can be heard. Then in the morning the second friend is found dead also. According to the temple keeper, they die because of lying and unfaithful behavior with ladies. The temple keeper is a sorcerer (หมอผี) also. Marut meets Dao (Petchara Chaowarat), who is a ghost. A love story happens between human and ghost. Marut's mother wants to fiance him with a young lady called Buma (Preeya Roongrueng) coming from a rich family. The fiancee Buma is invasive and strongly encourages Marut to kiss her. Marut presents Dao, the ghost, to her mother, who faints when understanding that Dao is a ghost. Lor Tok plays an exorcist master (อาจารย์) again. The grandmother uses him to chase the ghost. Buma supports the idea. Marut wants to bring Dao back to life (เกิดใหม่) but other ghosts try to prevent this. Marut needs to pray every night one hour during 20 days, eat vegetarian (กินเจ), drop blood drops inside the food offered to Dao. Evil ghosts prevent Marut to free Dao but the temple keeper provides support. 20 days have passed. The temple keeper does a ceremony. Dao is now an human (เป็นคน). Issue with Buma arises. Following the kiss, she complains she is soiled (ตัวเสีย) as she wants to accelerate wedding date. The wedding happens but on the night before the wedding Dao becomes Marut's real wife. Buma wants to secure Marut's love by using magic spells so she contacts again the exorcist master. This one provides love filter (น้ำมันพราย). Buma wants to chase Dao. Marut accepts as Buma uses charm filter (ถูกเสน่ห์). Finally as Dao is pregnant with Marut and being already Marut's wife, Buma has to retreat and is finally arrested by police for colluding against Dao. This old movie has an image damaged but still colorful. It also has a new soundtrack as many 1960s movies were shot in 16mm without synchronised sound. It is a pleasure to watch Thai stars Chaiya Suriyun and legendary Petchara Chaowarat. Chaiya Suriyun received a Thai oscar (รางวัลตุ๊กตาทอง) for his best actor performance.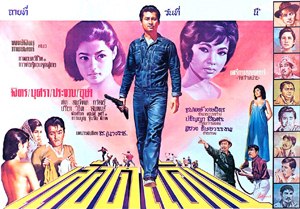 Year

: 1964



Thai title

:

เลือดแค้น




English title

:



Rating

: 3/5


Director

: Sompong Phonmitr



Main actor

: Mitr Chaibancha,Sompong Phonmitr,Prachuap Ruekyamdee,Pipop Pupinyo,Tat Ekathat,Tawan Siriwat


Main actress

: Boosara Narumit,Somjit Sapsamruey,Preeya Roongrueng
เลือดแค้น is a Thai movie released in year 1964 with Mitr Chaibancha and Boosara Narumit. It is directed by Sompong Phonmitr who is also a famous comic actor and national artist. Other actors include Prachuap Ruekyamdee, Pipop Pupinyo (not yet with a shaved head), Somjit Sapsamruey, ดารายั่ว Preeya Roongrueng, leader of the ruffians played by Tawan Siriwat, Tat Ekathat. The movie was lost in Thailand but finally a partial reel was found in year 2013 thanks to a teacher and collector of old items in Songkhla area. A trailer of 2mn40 is left only but many short sequences showing many fist fightings and shootings in this action movie. The trailer is in bad quality but still watchable. The song advertising for the movie is still available.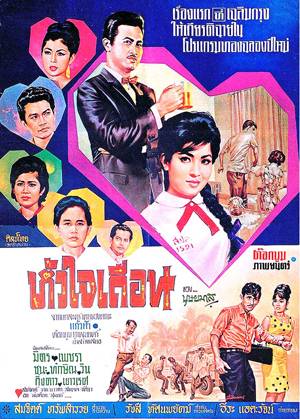 Year

: 1964



Thai title

:

หัวใจเถื่อน




English title

:



Rating

: 3/5


Director

:



Main actor

: Mitr Chaibancha,Taksin Jampol,Lor Tok,Chana Sriubon,Tat Ekathat,Op Boonthit,Sukon Koewliam


Main actress

: Petchara Chaowarat,Kingdao Daranee,Yaowaret Nisakorn,Somjit Sapsamruey,Malee Wetpraseri
Thai movie หัวใจเถื่อน was released in year 1964. It features Mitr Chaibancha as main actor and Petchara Chaowarat as main actress. Other actor includes veteran Taksin Jampol. He tries to kidnap Petchara twice. The movie is lost in Thailand but a 8 minutes sequence is left to be seen. Other numerous performers are Lor Tok, Chana Sriubon, Kingdao Daranee, Yaowaret Nisakorn, Tat Ekathat, Somjit Sapsamruey, Op Boonthit, Sukon Koewliam, Malee Wetpraseri. It looks like an action movie. A few shooting sequences happen involving Mitr, Chana and Taksin. A few brawls happen with ruffians trying to kidnap Petchara. The company producing this movie belonged to Somjit and her husband Lor Tok.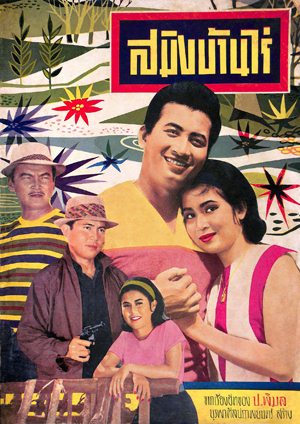 Year

: 1964



Thai title

:

สมิงบ้านไร่




English title

:



Rating

: 4/5


Director

: Phan Kam



Main actor

: Mitr Chaibancha,Prachuap Ruekyamdee,Phan Kam,Chao Klaewklong,Sukon Koewliam,Adul Dulyarat,Chanee Yotchai


Main actress

: Petchara Chaowarat,Wilaiwan Watthanaphanit,Boosara Narumit
Thai movie สมิงบ้านไร่ was released in year 1964 and lasts 2h12mn. It was never released in Thailand. The movie was lost except a last copy of the film saved in Thai Film Archives. The original film is probably much longer as some sequences are missing due to damaged film. It was restored and shown in Thai Film Archives to mark the 50th anniversary of Mitr Chibancha's death. Thai Film Archives screened and dubbed the movie a few times on their premises and uploaded it on YouTube in 2021 during the Covid 19 outbreak in Thailand. Movie director is Phan Kam. Ruffians are hitting an old man refusing their orders. Prachuap Ruekyamdee intervenes but gets outnumbered. Luckily, Saming (Mitr Chaibancha) chases the ruffians away. Nok Kiaw (Petchara Chaowarat), daughter of Mokasat (Phan Kam), and Saming love each other but they cannot marry as her father Mokasat despises Saming, protecting the villagers against ruffians. Mokasat uses his bad influence to get rich and always threatens villagers. Seua (Chao Klaewklong), working for Mokasat, wishes to get rid of Saming as he loves Nok Kiaw also. Saming cannot ask Nok Kiaw's hand as he needs to win for the sake of the villagers. It creates conflicts as Nok Kiaw cannot go against her own father's will. Won (Wilaiwan Watthanaphanit), being stepmother, has difficulty winning Nok Kiaw's heart. Nok Kiaw is upset as Prachuap lacked respect for her while being drunk. Saman (Adul Dulyarat) arrives in the village and ruffians confuse him with Prachuap. Nam Peung (Boosara Narumit) helps with Sukholiem and Bab. Mokasat and Seua try to prevent Saming and Nok Kiaw from meeting, but ruffians are outnumbered. Angry, Mokasat asks his ruffians to destroy crops. Mokasat forbids his daughter Nok Kiaw to meet Saming again. Saming is upset and keeps drinking. Lady Bab asks uncle Sukon Koewliam to deliver a letter from Saming to Nok Kiaw. Sukon Koewliam is captured and tortured by the ruffians. He escapes to death. Saming promises revenge. While going to visit Nok Kiaw, Saming is captured by ruffians. Mokasat decides to send her daughter far away from the village to ensure she cannot meet Saming anymore. Ruffians come to the bar again but face a Thai boxing champion. Mokasat is upset that Saming is raising villagers against him. He asks Seua to find a strong hitman to fight against Saming and his team. Seua hires his friend Seua Tim (Chanee Yotchai). Seua Tim and his men terrorise the villagers. Meanwhile Saming has no news about Nok Kiaw. Won brings Saming to meet Nok Kiaw. Nok Kiaw is pregnant. For the sake of his future child, Saming agrees to stop opposing to Mokasat. Saming and Mokasat cannot reach agreement. Mokasat sees Won with a baby. Nobody dares to tell him it is Nok Kiaw's child. He wrongly believes Won has a lover and chases her. As Won takes refuge in Saming's house, Mokasat believes Saming is the lover and decides to storm his home. Fighting and shooting happen between the two groups. Police arrive. Being outnumbered, ruffians flee. Seua shots Mokasat. Before dying, Mokasat informs Won who shot him. Meanwhile Seua lies to Nok Kiaw in order to convince her to follow him. Seua Tim intervenes and shots Seua. He brings Nok Kiaw in the mountain, but Saming, aware though Won, chases them. Through an epic final fight, Saming gets rid of Seua Tim. Finally, it is revealed that Prachuap, Saman and the Thai boxer are undercover policemen.
---