Increase or decrease font size for easier reading : A+ A-
Year 1963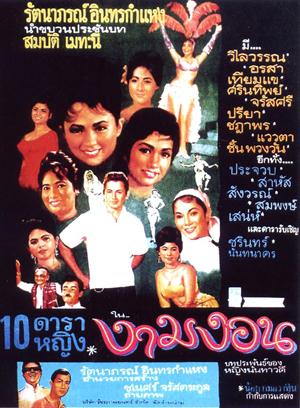 Year

: 1963



Thai title

:

งามงอน




English title

:



Rating

: 3/5


Director

:



Main actor

: Sombat Methanee,Prachuap Ruekyamdee,Charin Nantanakorn,Sompong Phonmitr,Preuhat Boonlong


Main actress

: Ratanaporn Intarakamhaeng,Sarinthip Siriwan,Mom Chan Phuangwan,Wilaiwan Watthanaphanit,Preeya Roongrueng,Orasa Isarangkul,Chadaporn Wachirapranee
Thai movie งามงอน was released in year 1963. It is a romantic comedy movie. It features Sombat Methanee as main actor and Ratanaporn Intarakamhaeng as main actress. The full movie is lost in Thailand but around three film reels are still available (more than 40 minutes). The movie is in 16mm format so it is in mute state as such movie requires live dubbers. No summary is available. This movie was produced by Ratanaporn and directed by her husband. Sombat Methanee's five first movies were produced by Ratanaporn's company (รุ้งเพชร - 1961...). In 1963, Sombat had a similar hairstyle as Mitr Chaibancha. Ratanaporn is playing two roles, i.e. two twin sisters. Sombat Methanee and Prachuap Ruekyamdee wish to seduce the two sisters. An evening party (masquerade ball) is organized. Ratanaporn is disguised as an old sorceress (แม่มด). She gives advices to Preeya Roongrueng. Sombat is getting confused between the two sisters at the masquerade ball. Orasa Isarangkul invites Sombat to dance. Prachuap simulates to have a leg injury to have opportunity to talk to Ratanaporn. He is wearing a fake moustache and works a waiter to be able to join the party. Sombat disguises also himself into a waiter to be close to Ratanaporn. Many Thai stars are playing in this movie, i.e. Sombat Methanee, Prachuap Ruekyamdee, Charin Nantanakorn, Sompong Phonmitr, Preuhat Boonlong, Ratanaporn Intarakamhaeng, Sarinthip Siriwan, Mom Chan Phuangwan, Wilaiwan Watthanaphanit, Preeya Roongrueng, Orasa Isarangkul, Chadaporn Wachirapranee. Chadaporn Wachirapranee is playing the wife of Preuhat Boonlong. 10 Thai feminine stars are present! Finally a romance starts between Sombat and Ratanaporn.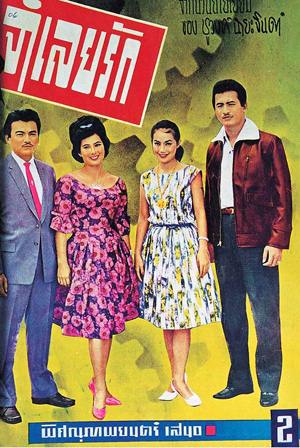 Year

: 1963



Thai title

:

จำเลยรัก




English title

:



Rating

: 5/5


Director

:



Main actor

: Mitr Chaibancha,Prachuap Ruekyamdee,Preuhat Boonlong


Main actress

: Pissamai Wilaisak,Amara Asavananda,Sulaleewan Suwanthat,Manat Boonkiet,Malee Wetpraseri
Thai movie จำเลยรัก was released in year 1963. This movie features Mitr Chaibancha as main actor and Pissamai Wilaisak as main actress. The movie is lost in Thailand but a succession of sequences lasting one hour and 20 minutes is left to be seen. It is remaining out take sequences session (หลุด). The remaining film was dubbed and shown in Thai Film Archives in year 2017. Another version of จำเลยรัก was released in year 1978 through a DVD still available. It features Phairoj Sangwaribut and Naowarat Yooktanun. Two brothers, Narin and Narit (Mitr Chaibancha), are arguing. The youngest brother Narin loves a woman called Satsanee. As the love is not blossoming, he gets suicide. Satsanee (Amara Asavananda) and younger sister So (Pissamai Wilaisak) are part of a rich family. Her parents are played by Preuhat Boonlong and Manat Boonkiet. Her aunt by Malee Wetpraseri. Domestic helper is played by Sulaleewan Suwanthat. Believing So is Satsanee, the elder brother Narit blames So and announces to her that Narin is about to die. It is her last chance for her to see him. She follows Narit without warning her other family members. She understands too late that Narit kidnaps her. Narit wants her to pay for her sins (การใช้บาป). She claims she is not Satsanee but So! He doesn't listen. Satsanee meets Wat (Prachuap Ruekyamdee). Narit doesn't want to release So as he is concerned she would lie to other men again. Ruffians led by Khun Wiset threatens Narit to sell his tin mine but he refuses. On the way to the city, Narit helps Wat, whose car has a flat tire. While having a drink, he learns that Narit just engaged with a young lady called Satsanee! Lady Boonkrai tries to frame So by pushing Bai to rape her. Narit is very upset with So as he believes she keeps seducing men such as his brother Narin, Bai and Wat so he keeps her captive so that she pays her moral debts (ชดใช้). Narit knows the truth as So speaks while having a nightmare. Narit excuses himself about his behavior. So asks him to give pardon (ขออภัย) but Narit refuses as he lost his brother. Love emerges between Narit and So. Ruffians attack the tin mine. Narit defeats their leader and confronts the owner of another mine, khun Wiset, that tried to steal his belongings. So cares for Narit, who was slightly injured during the fightings. Narit offers a pendant to So. So is back to her home. Satsanee wants to know where So has disappeared. Satsanee is engaged with Wat. Nariti finally meets Wat and the real Satsanee. Satsanee borrows So's pendant. Bai realizes that Boonkrai was lying to him. Boonkrai also lies to Satsanee about Wat having an accident. Boonkrai and Hin have a plan. Narit and Wat storm the ruffians' place to release Satsanee. Narit defeats Hin. Satsanee wishes to stay her whole life with Narit. Wat and Narit go back to Bangkok by train. Satsanee breaks up with Wat and gives back her engagement ring (ถอดหมั้น). Narit buys an engagement ring. Narit visits Satsanee's parents and Satsanee believes Narit is asking for her hand. Narit asks for So's hand causing Satsanee's despair! It was a trick for Satsanee to suffer and understand the suffering she caused to others. Narit doesn't want to meet Satsanee anymore and chases her away. Satsanee finally goes to see Wat back at the hospital and they engage again. Narit and So can have happiness. Three songs are featured in the movie.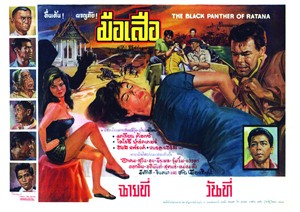 Year

: 1963



Thai title

:

มือเสือ




English title

: The Black Panther of Ratana



Rating

: 3/5


Director

: Tae Prakardwutthisan



Main actor

: Sawin Sawangrat,Sukon Koewliam, Dokdin Kanyaman, Adinan Singhiran,Op Boonthit,Phirapon Piyawan


Main actress

: Mom Chan Phuangwan
LaRoche and two Thai men steal a diamond encrusted in a sacred Buddha statue head. LaRoche betrays the Thai men and leaves them to their fate while keeping the diamond for himself. During the troupe review army day by the King of Thailand, Bradberry, mine expert, is asked to go to South of Thailand. Mr Chang (Op Boonthit), owner of a mine in South Thailand, wishes to retire. Larry Flinch, working in the mine, is a drunkard and is fired by Mr Chang. Very soon, Mr Chang seems to have been attacked by a panther and dies. Roller is the new chief of operations. Monk (Sawin Sawangrat) has arguments with Larry. Monk and Larry shall meet in Silver Moon bar. Larry meets there a sexy lady called Eva and a fight erupts. Monk is found dead being killed by a black panther also. Jack Roller plans to sell the tin mine to go back to Europe so the buyer is sending an inspector, Mr Bradberry. Nicole Anderson is a doctor in a Catholic mission led by Father Antonio. Madeleine is Jack's girlfriend and had introduced him to Mr Chang. A Thai man, the second complice in the burglary is also killed. Father Antonio is also killed. Bradberry and Nicole believe those four murders are linked. Who is the killer? Larry? Roller? After his tests, the mine purity is deemed not so good so Bradberry refuses to sign the buying contract. Veteran actor Thai Akom Mokaranondha is also playing in this movie. Roller kidnaps Nicole to force Bradberry to sign the papers. Roller and LaRoche are in fact the same man. Larry helps them but LaRoche succeeds to flee. Finally LaRoche is arrested by the police led by Eva while trying to pocket the mine selling. The Black Panther of Ratana (มือสือ) is a Thai co production with Germany and was released in year 1963. It was a joint effort between Tae Prakardwutthisan and German Hans Berthel. For the release in Thailand a special scene was added in the movie, i.e. around 16 minutes of songs and featuring a few famous singers and comic actors in Thailand (Sukon Koewliam, Dokdin Kanyaman, Adinan Singhiran, Mom Chan - หม่อมชั้น). Movie is lasting 1h27mn and the additional Thai sequence is 16mn37s. It is a lost movie in Thailand but it can still be purchased overseas.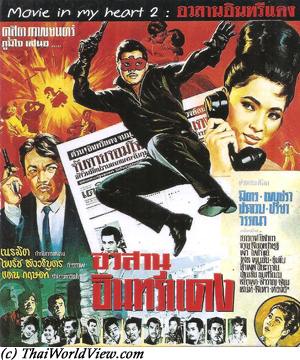 Year

: 1963



Thai title

:

อวสานอินทรีแดง




English title

:



Rating

: 4/5


Director

: Neramit



Main actor

: Mitr Chaibancha,Prachuap Ruekyamdee,Sithao Petcharoen,Phirapon Piyawan


Main actress

: Petchara Chaowarat,Preeya Roongrueng,Yaowaret Nisakorn,Wanna SaengChanThip
Thai movie อวสานอินทรีแดง was released in year 1963. The movie under VCD format lasts 1h38mn. Parts of the movie are missing but it still has a colorful and sharp picture. Insee Daeng (Mitr Chaibancha) always provides useful information to the police inspector (สารวัตร). But one inspector called Chat still wishes to catch him. Tamrong (Prachuap Ruekyamdee) following a stage with Scotland Yard also wishes to capture Insee Daeng (อินทรีแดง). In public life Insee Daeng is Rom (Mitr Chaibancha), a journalist a bit coward and often drunk so that nobody could think both men are the same! Wassana (Petchara Chaowarat) is his journalist girlfriend. Chat is captured by an evil organisation (กลุ่ม Bodam) who tries to bribe him (พวกขายชาติ) but he refuses so gets imprisoned. The main police inspector and Song try to release Chat. Meuan gives the code to enter the house to them through coercion. They get captured also and meet Chomchai (Preeya Roongrueng) imprisoned by Phi Decha. Hopefully Insee Daeng helps them on time. Wassana gives support to Chomchai. Suthee (Yaowaret Nisakorn) is Tamrong's sister. Tamrong fails to catch Insee Daeng. Meuan gets killed by one hitman from the organisation. As the hitman is caught by police inspector, the organisation also shots him to avoid he reveals any information to the police. Veteran comic actor Sithao Petcharoen as a photographer succeeds to take a picture of Insee Daeng without his mask (ชมหน้าอินทรีย์แดง). Insee Daeng fails to take back the film. Rom tries to get it back from the newspapers but Decha steals it first. Chomchai is captured back by Bodam organisation. Rom fails to get the film back from Decha as he is lying mentioning he is part of Bodam. Bodam now thinks Rom could be Insee Daeng as he is putting so much efforts to get back the film. Insee Daeng finally escapes from the ruffians and Daeng meets miss TinYong (Wanna SaengChanThip) from Hong Kong. She tries to persuade him to join Bodam organisation. Finally Insee Daeng steals the film back from Tamrong following a fist fighting. Tamrong suspects Rom could be Insee Daeng as he has many bruises supposed to be due to a fall in the stairs. Rom simulates a love story with TinYong to enter in Bodam organisation's hidden place. Police is warned also. Wassana frees TinYong seen as traitor, Suthee and Chomchai attached to a pile of dynamite. Once again, Insee Daeng helps Tamrong stuck in difficult situations. Once the ruffians are defeated, the corpse of Insee Daeng is found by Tamrong. Of course, it is only a simulacre put in place by Rom to ensure Tamrong stop looking for him.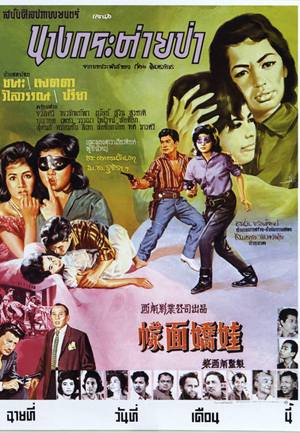 Year

: 1963



Thai title

:

นางกระต่ายป่า




English title

:



Rating

: 3/5


Director

:



Main actor

: Chana Sriubon,Sor Asanajinda,Sawin Sawangrat,Sithao Petcharoen,Lor Tok,Sukon Koewliam,Tawan Siriwat


Main actress

: Metta Roongrat,Wilaiwan Watthanaphanit,Preeya Roongrueng,Mom Chan Phuangwan
Thai movie นางกระต่ายป่า was released in year 1963. The movie is lost in Thailand but a sequence lasting 53 minutes (2 reels) remains to be seen. The image is colorful and sharp. The remaining film is in 16mm format so it is in mute state as such format requires live dubbing. Main actresses and actors featured in this movie are Chana Sriubon, Metta Roongrat, Wilaiwan Watthanaphanit, Preeya Roongrueng, จรัสศรี, Sor Asanajinda, Tawan Siriwat, Sawin Sawangrat, สุรชาติ, วรรณา, Mom Chan Phuangwan, Sithao Petcharoen, Sukon Koewliam, Lor Tok. สนั่น จรัสศิลป์ is the movie director and producer. Metta Roongrat is the main actress in this movie. She didn't play main actress roles in many movies. Later on, she played many supporting roles close to main actress Petchara Chaowarat. This is a Thai western and Metta Roongrat as masked heroine. Various short sequences allow seeing Chana, Preeya, Metta, Lor Tok, Tawan Siriwat, Sukon Koewliam, group of friends coming to Bangkok, Wilaiwan, Sawin, Chana always protecting Metta and preventing her to do impulse things, Metta with tousled hair, Sor Asanajinda.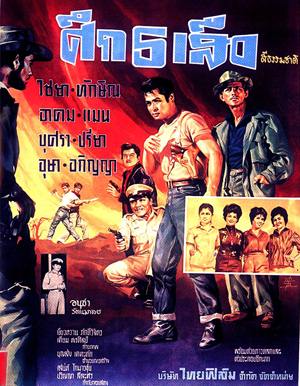 Year

: 1963



Thai title

:

ศึก 5 เสือ




English title

:



Rating

: 3/5


Director

:



Main actor

: Chaiya Suriyun,Taksin Jampol,Sukon Koewliam,Man Teeraphol,Anucha Ratanaman


Main actress

: Preeya Roongrueng,Boosara Narumit,Usa Atcharanimit
Thai movie ศึก 5 เสือ was released in year 1963. It features Chaiya Suriyun as main actor. The movie is lost in Thailand but eleven minutes of various sequences remain to be seen. 4 ladies are featured in this movie, i.e. Preeya Roongrueng, Boosara Narumit, Usa Atcharanimit and อภิญญา วีระขจร. Other actors featuring in this movie are Taksin Jampol, Sukon Koewliam, Man Teeraphol, Anucha Ratanaman as policeman. The movie is in 16mm format so no sound is available as this format requires live dubbing. There is a sequence when Chaiya Suriyun's character is still a kid. Preeya Roongrueng is then the mother. A man is worried in his home despite being protected by police. Taksin Jampol is shot by the police while he was threatening this man (อาคม มกรานนท์) in his house. Chaiya visits Usa Atcharanimit in her room but gets pushed back. He kidnaps two ladies. Shootings with police happen. One of the lady trying to protect him against the shots but dies in his arms. Chaiya finally dies also following a duel with Man Teeraphol. This is mainly a story of police catching thieves but it involves some police-thief couple. In one case, the father is a policeman and the son is a thief. In another case the father is a thief and the son is a policeman! It can only end sadly... Another version of ศึก 5 เสือ was released in year 1977 with Sombat Methanee.
---