Increase or decrease font size for easier reading : A+ A-
Year 1961



Year

: 1961



Thai title

:

ดรรชนีนาง




English title

:



Rating

: 3/5


Director

:



Main actor

: Op Boonthit


Main actress

: Pissamai Wilaisak
Thai movie ดรรชนีนาง was released in year 1961. It features Pissamai Wilaisak as main actress and Saen Surasak (แสน สุรศักดิ์) as main actor. This 16mm film is lost in Thailand but around 1h10mn is still left. The original movie features 7 songs. Two militaries, including an officer called Niran (Saen Surasak) and a veteran comic actor (พูนสวัสดิ์ ธีมากร), spy Danchanee (Pissamai Wilaisak) through binoculars. Pissamai has a gorilla protecting her and able to speak also. Pissamai is crying on the grave of her mother Danchanee Chai Lai and gets comfort from her father. Her mother died just after giving birth to Danchanee. The father warns Danchanee to beware of the soldiers. The father wants to avoid disappointment for Danchanee regarding flirting with a city dweller (หนุ่มกรุงเทพ). He welcomes the soldiers with a gun and forbids them to meet Danchanee. Following a letter given by the monkey, Danchanee meets the officer Niran at night time without waking up her father. She also meets him while her father is away catching fishes. The father is back before and see a scene between both of them (ชีวิตรัก / ลูกเสีย). Niran has to leave but promises to take care of Danchanee. Danchanee is punished (ถูกทำโทษ) by her father. Time passes. Danchanee's father brings her to Bangkok where they meet Op (อบ บุญติด), Niran's father. Danchanee is pregnant. Danchanee and her father find Niran kissing his fiancee in the swimming pool. Niran gives her money but Danchanee throws it back to him. The father gets angry and even he gets faint. They all go back to Songkhla. One day, Niran and his new wife Gnamta (งามตา ศุภพงษ์) find a bad odour in their house. Danchanee cut her small finger and sent it as wedding gift with a letter. Later Niran understands his mistake. Gnamta lets him go and Niran rushes looking for Danchanee. Her father is dead following grief. Danchanee welcomes Niran with a gun and injures him in the arm. He finally asks for forgiveness and receives it.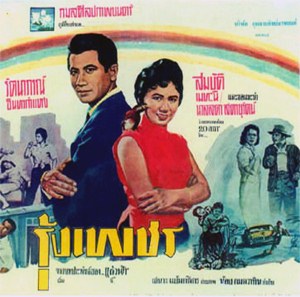 Year

: 1961



Thai title

:

รุ้งเพชร




English title

:



Rating

: 3/5


Director

:



Main actor

: Sombat Methanee,Preuhat Boonlong,Adinan Singhiran


Main actress

: Ratanaporn Intarakamhaeng,Juree Osiri,Sarinthip Siriwan,Mom Chan Phuangwan
This movie รุ้งเพชร was shot in 1961. Main actors are Sombat Methanee and Ratanaporn Intarakamhaeng. It was Sombat Methanee's first movie (พระเอกใหม่). It was first opportunity for Sombat as a handsome young and muscular leading actor. Sombat was 4 to 5 years younger than the leading actress. This 16mm version is partially lost and only 48 minutes are still left to be seen. The film has no sound as all 16mm movies were dubbed. Rung's best close friend is a bird "NOK IENG" (นกเอี้ยง) sitting on her shoulder. As often in old Thai movies, bad female characters are depicted as smoking girls. Another version, a 35mm film, was shot in 1980 with Sorapong Chatree, Sor Asanajinda, Settha Sirachaya as actors and Nanthida Kaewbuasai, Pissamai Wilaisak, Piathip Kumwong, Thitima Sangkapitak, Nantada Ngaokrajang as actresses. A few sequences can be seen in both movies such as fruit throwing on Sombat's head, Sombat as a teacher to a stubborn student, Sombat looking for Rung who has fled from home. A nice old Renault 1960 is driven by Sombat. Some sequences only happen in 1961 version such as a romantic sequence in a cave, Sombat doing unsuccessful iron clothing and cooking food. The 1961 version still has a quite colorful image.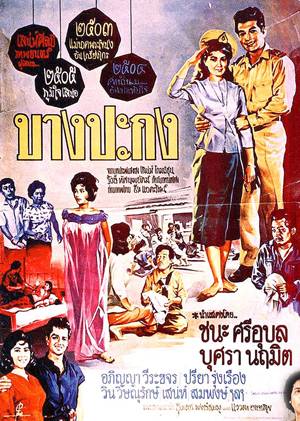 Year

: 1961



Thai title

:

บางปะกง




English title

:



Rating

: 3/5


Director

:



Main actor

: Chana Sriubon,Sompong Phonmitr


Main actress

: Boosara Narumit,Preeya Roongrueng,Malee Wetpraseri
Thai movie บางปะกง was released in year 1961. The movie is lost in Thailand but a sequence of 35 minutes (two reels) remains to be seen. In the first part of the movie Chana Sriubon and Boosara Narumit are having the main roles and then are playing the parents' roles in the second part of the movie. New actors as main actor (ชุมพร พงษ์ชมพู) and main actress (แววตา อาษาสุข) are playing in the second part of the movie. A wedding ceremony involving Chana Sriubon and Preeya Roongrueng happens. Chana is not happy to marry her as he was forced by his mother (Malee Wetpraseri). A child is born with Boosara Narumit, Chana's real love. At nighttime the husband leaves Preeya to find Boosara. Malee Wetpraseri engages a robber to attack Boosara at nighttime but her father (เสน่ห์ โกมารชุน) protects her. But the robber lies so the father and Boosara are finally chased from the home and take refuge in Bang Pakong. Boosara's child is kidnapped per the mother's orders. Boosara has to kill her boss trying to abuse her but ends up in jail. Her father finally dies also. Twenty years have passed. Boosara is released from jail. She is welcome to stay in Win's home. Win (วิน วิษณุรักษ์) is now married to อภิญญา วีระขจร. She finally meets a young lady (แววตา อาษาสุข) having a pendant with a picture of Chana. She understands the young lady is her daughter (ลูกแม่). Her boyfriend (ชุมพร พงษ์ชมพู) is also a soldier similar to Chana's position twenty years ago. She gives her a gift offered by Chana before. When Chana sees this gift, he knows Boosara is still alive. Disappointed by life, Boosara tries to get suicide by jumping from a bridge but she is rescued by Win. She is finally reunited with her daughter. The movie was done by the same producer of movie Mae nak Phra khanong with actress Preeya Roongrueng already.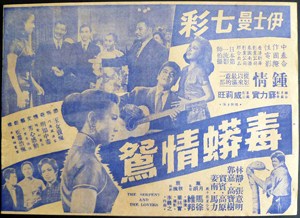 Year

: 1961



Thai title

:

งูและคนรักกัน




English title

: The serpent and the lovers



Rating

: 3/5


Director

:



Main actor

: Surasit Sattayawong,Chao Klaewklong


Main actress

: Wilaiwan Watthanaphanit
Thai HK movie 毒蟒情鴛 / "The Lovers and the Python" / "The serpent and the lovers" was released in year 1961. It features Thai actress Wilaiwan Watthanaphanit and Thai actor Surasit Sattayawong. It was shot in year 1956 but only released in year 1961. It is a Hong Kong–Thailand– Japan co-production. The movie is lost in Thailand but it still can be found in Hong Kong Film Archives. It is available in beta max format, in black and white, in mandarin language only with no subtitles. The image is a bit dark but still sharp. Wen Chai (Surasit Sattayawong), wearing a suit, sees a young lady, called Milly Ko, on a bridge wearing a Cheongsam, Chinese dress. They talk together but it seems Wen Chai is asking too much questions so she leaves. Back home he meets his sister Anne (Wilaiwan Watthanaphanit). Wen Chai is then having a picnic with friends. Wen Chai meets again the same lady on a cliff. Milly Ko wishes to suicide. He stops her. She disappears again in the forest. Wen Chai has only her scarf that she dropped. Wen Chai assists to an exotic dance in a club. The beautiful dancer is using snakes. The same mysterious lady is coming to this club also. A governess is following her. Milly Ko asks Wen Chai to meet her at the cliff. A Chinese man comes to talk to the lady so she leaves. Wen Chai is back to the cliff. The governess brings him to a neighbouring home. Milly Ko is waiting on a bed. Wen Chai is puzzled. She begins to sing holding a rose. Long dialog happens with cries. They finally become lovers. The governess brings the lady away through a car. Wen Chai is back later but Milly Ko is not here anymore despite searching the whole house. In a room, he finds a disfigured lady who chases after him. She is finally hit by a car and dies. While driving, Wen Chai hears a woman singing. It is his mysterious lady. It looks like their love is impossible due to some mysterious reasons. Later on, Wen Chai goes back to the house. It is closed. He forces his way inside but Milly Ko is no longer there. Later on, the young lady has arguments with her governess Ma. Finally Wen Chai meets Milly Ko again. They love each other. She sings for him again. Milly Ko wears many beautiful Cheongsams in this movie. Milly Ko tells him that she is a rich leper. It is the tradition of the place, a leper must have sexual intercourse with opposite sex before marriage in order to get off the disease, therefore Wen Chai has the infection. Wen Chai is willing to sacrifice for her. The father seems unhappy with his daughter. Back to her house, Wen Chai finds she is not there anymore. It looks like the father has other ideas in mind to choose a husband for her. A handicapped man seems to be the one. Milly Ko tries to flee at nighttime but her mother stops her. Wedding announcement are printed in newspaper so Wen Chai is aware. Wen Chai wishes to go back to Thailand. Milly Ko misses him as she is too late to airport. Wen Chai's friend helps. Wen Chai is back to Thailand but even Thai dances (รำวง) or Thai song cannot rejoice him. Wen Chai is unhappy and is not able to write a letter. Milly Ko arrives to Thailand by plane. She travels by taxi showing Bangkok in the 1950s through the Victory Monument, Royal Palace and airport. Wen Chai is sick. His face is swollen. He is locked but succeeds to escape. Milly Ko arrives to his house. Wen Chai's mother seems upset. Thai veteran actor (Chao Klaewklong?) welcomes her to his home. They look for Wen Chai. Wen Chai keeps hiding in the forest as he is disfigured. His body is deformed by leprosy. Milly Ko sings in the forest hoping Wen Chai will come but he flees. Coming to the houses, his face makes the servant afraid so she flees. Milly Ko runs after. In the jungle, a tremendous big snake attacks Milly Ko but Wen Chai protects her and kills the snake. Afraid to show his face, he dives in the pond, drinking the serpent's poison. Emerging from the pond, the buttons have disappeared as the poison is a medicine to cure leper. He is normal again. Milly Ko comes with help and support from Chao Klaewklong. The Chinese actress is Du Wang Wing Yuan (Chung Chin). A movie storybook of 32 pages is still available in HK film archives with text in Chinese and many pictures.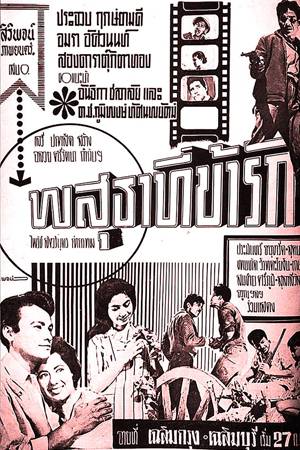 Year

: 1961



Thai title

:

พสุธาที่ข้ารัก




English title

:



Rating

: 3/5


Director

:



Main actor

: Prachuap Ruekyamdee,Sukon Koewliam


Main actress

: Amara Asavananda,Sulaleewan Suwanthat
Thai movie พสุธาที่ข้ารัก was released in year 1961 with Prachuap Ruekyamdee as main actor and Amara Asavananda as main actress. The movie is lost in Thailand and only a trailer lasting 5 minutes is left to be seen. Other actors include Sukon Koewliam, a little boy as new actor (ดาราเด็กๆ). He looks like the son of Prachuap and Amara. It is an action movie and the trailer features sequences showing many fightings and shootings. Prachuap Ruekyamdee did have a short time as main actor as other actors such Mitr Chaibancha, Sombat Methanee and Luechai Natnat emerged also and became more popular.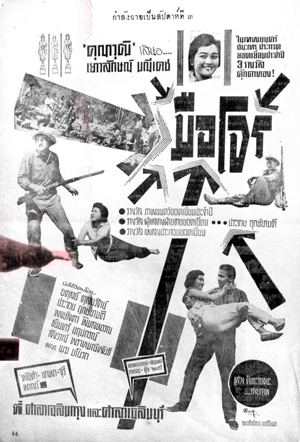 Year

: 1961



Thai title

:

มือโจร




English title

:



Rating

: 3/5


Director

: Wichit Khunawut



Main actor

: Adul Dulyarat,Prachuap Ruekyamdee


Main actress

: Ratanaporn Intarakamhaeng,Usa Atcharanimit
Thai movie มือโจร is a Thai movie released in year 1961. Main actors are Adul Dulyarat and Prachuap Ruekyamdee. In year 1961, Adul is still the main actor. Soon he got only second role as Mitr Chaibancha, Sombat Methanee and Chaiya Suriyun became new favorite actors. Main actress is เยาวลักษณ์ มณีเดช, a new comer. Only 54 minutes is left to be seen. It has been remastered so it has a colorful and sharp picture. This movie got three Thai cinema rewards. Younger sister Saen borrows necklace of 40000 baht (สร้อยเพชร) from her elder sister to go to a party. She lost it. Worried to be accused of stealing the necklace, she flees in another city. She meets Adul there. While travelling, their vehicle has a technical issue. The driver walks away to get another car. Meanwhile they are attacked by robbers led by Yot (Prachuap Ruekyamdee). Discovering that Adul is a doctor, Yot (Prachuap) kidnaps both Adul and the young lady. Yot's wife is sick. She got malaria. Yot has finally a good heart. He was forced by life events to become a ruffian. The ruffians' troupe needs to flee to another place as police is chasing them. Sampan, Yot's wife, asks him to surrender (มอบตัว). Yot has arguments with one of his ruffians trying to steal his bounty. Yot is injured in the leg. While the troupe goes to find food, Sampan, the doctor and the young lady Saen flee. Knowing that she is pregnant, Sampan finally goes back to Yot to ensure her child has a father. Saen understands the doctor is a good man. Saen has to leave for Bangkok. Finally the doctor quits his job and joins her. Ratanaporn Intarakamhaeng and Usa Atcharanimit have two small roles as cameo. Famous director is Wichit Khunawut. He made a remake of his own movie in year 1972. It was then called หัวใจป่า.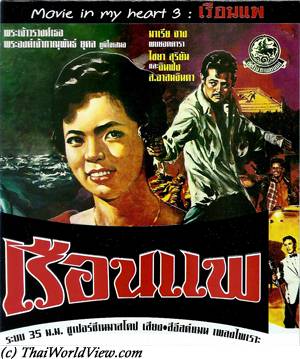 Year

: 1961



Thai title

:

เรือนแพ




English title

: Houseboat



Rating

: 5/5


Director

: Neramit



Main actor

: Sor Asanajinda,Chaiya Suriyun,Jin Fong,Preuhat Boonlong,Jamroon Nuatjim


Main actress

:



Buy now

:

Four friends are living together, 3 men and one woman, Pen (เพ็ญ). They rent an old boat from Pen's father and repair into a boat house to live on it (เรือนแพ). Kaew (แก้ว) wishes to become a Thai boxing champion (นักมวย). Lin (รินทร์) wishes to become singer and songs compositor. Chen (เจน) wishes to finish first grade his studies and become a policeman. Pen is the lady. All three friends secretly love Pen. Many songs are featured in the movie. Kaew wishes to participate to real Thai boxing competition instead of only doing trainings. He is very hot temper. A local ruffian head, Ekarat, finds a fight for him and he wins. A song master hears Lin's beautiful voice and wishes to recruit him. A thunderstorm wrecks their home and they nearly escape to death. Kaew saves Pen from drowning so winning her heart and love (หนูเป็นของเขาแล้ว). Kaew wants to win big money to take care about Pen but he needs to do illegal things such as losing a match. He refuses to do so causing Ekarat's ire. He meets another Lopburi influant man. He gives 40 000 baht for his wedding with Pen. On the way to Chiang Mai for the wedding, Kaew discovers that Pen's father is preparing the wedding with somebody else! Upset he disturbs the ceremony and shots the groom. He has to flee and becomes an outlaw (ผู้ร้าย). The four friends have gone different paths (ตามดวง). Kaew gets friend with another ruffian. They rob banks and barges together. Chen, who is now a policeman, needs to catch Kaew as it is his duty. He tries to convince him to surrender but no to avail as Kaew is afraid to go twenty years in jail. Kaew and Pen still meet together. Pen wishes Kaew to stop robbing (หยุดปล้น). Even if Kaew wishes to stop, his ruffians friends discourage him saying no woman will wait for him so long in jail. On top of this they are still chased by the police so no time to rest and think. During a singing performance, Lin is shot and killed by one of the ruffians. Kaew cannot help on time. Chen believes Kaew is the one who shot Lin. They all meet on their format boat house. Kaew accepts to surrender but other ruffians shot him and Chen. The movie ends tragically, Kaew dying while sending the boat on the ruffian to smash him. Only Pen survives. The friendly happiness is no more. เรือนแพ is the first officially restored Thai movie by USA in years 2006-2007. It is a 50 years old movie and the VCD from "Phanmitr" (พันธมิตร) collection company includes a copy in very good condition. It was the first Thai movie in 35mm with songs and not dubbing like 16mm movies. Even the Thai King went to watch the movie in 1961! Chaiya Suriyun was the first star to win three consecutive Thai oscars (รางวัลตุ๊กตาทอง) in years 1962-1964. His first Thai oscar was thanks to this movie "เรือนแพ". The movie got 3 oscars (best actor, best supporting actor, best movie). It was adapted many times as Thai TV series and another time for cinema in 1989 with Santisuk Promsiri.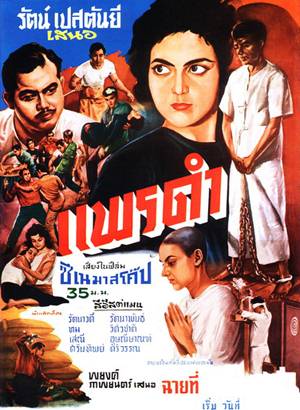 Year

: 1961



Thai title

:

แพรดำ




English title

: Black Silk



Rating

: 5/5


Director

: Ratana Pestonji



Main actor

:


Main actress

:
Seni is a manager of a nightclub. Two men, Sin and Wan, come to visit him and ask him to pay back his debts but he has no money! He refuses to pay and threatening words are exchanged. Young man Tom is used by Seni as odd job man. Phrae, a young widow, is working on clothes confection. She has a baby. Her surname is "Phrae dam" (แพรดำ) as she is mourning for two years. Tom wants to bring happiness back to her but she always refuses to go out with him arguing it is still too early. Sema, Seni's twin brother (ลูกแฟด), just dies of malaria. Seni decides to bury the corpse there and not bring it back to Bangkok. He has a hidden plan. Since years Seni wishes to buy Wan's land but knows Wan will never sell to him due to the debt issue. Seni asks Tom to bring Phrae in order that she pretends to be the buyer. Things turn wrong as Phrae is not aware of the role she is expected to play and Wan refuses to sell. Seni strangles Wan and Tom shots Sin. Seni disguises this as a crime, i.e. Sin having killed Wan and then fleeing away. Phrae has a temporary loss of consciousness. Tom forgets Phrae's shoes there. Seni then simulates his death in a car crash. A burnt corpse is found in the car. It is in fact Sin's corpse. Seni takes Sema's identity, his own brother, in order to get life insurance payment following the car accident. Tom shall get a part in order to marry with Phrae. Seni has a reputation of good man but he is in fact evil. He is now the new owner of the nightclub under Sema's identity and gets the money from insurance company. Meanwhile Phrae is always sick. Phrae chases Tom from her house as he is a murderer. Sema is worried that Phrae could disclose the whole truth so he suggests Tom to stop seeing her. He gives Tom 20 000 bath and a car. Sema has a plan to control Phrae without killing her. Her baby is kidnapped. Sema sets up a plan pretending Sin's father has killed Tom and kidnapped Phrae's child as retaliation. If she dares going to police, the baby will die. Lost, she consults the temple abbot who advices her to become a nun (แม่ชี) to find inner peace. She has already been punished by losing her child by mingling with those two crooks. From black clothes (ดำ) she now wears white clothes. Tom still takes care of her child and wishes to find her as the baby is very sick. He finally finds her. She quits the nunnery to look after her baby. Tom dreams of a new life with Phrae and the baby but Phrae refuses as he lied to her so many times. Sema, aware that Tom brings Phrae back home, rushes to find them. To protect Phrae from Sema, Tom has to shoot him. Police catches him and Phrae. The baby dies while they are in jail. A trial happens. Tom denies any wrong doing but the shoes left by Phrae are the missing proof. Tom is sentenced to death. Phrae is spared and becomes a nun again. People may believe Karma (กรรม) doesn't exist but this movie highlights its impacts and results on people actions. Bad deeds and sinners have been punished. It was a 35mm movie released in 1961. Phrae is played by Ratana Pestonji's own daughter. It was shot in 35mm so that it could participate to overseas movies competitions such as Berlin 1961 festival. The movie got a photography award in Thai cinema yearly awards ceremony in 1961. This movie has also been registered as National Heritage per the 2016 list released by the Thai Film Archive.
---