Increase or decrease font size for easier reading : A+ A-
Year 1959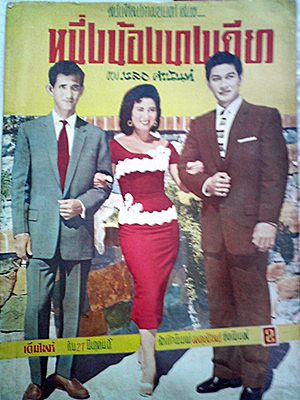 Year

: 1959



Thai title

:

หนึ่งน้องนางเดียว




English title

:



Rating

: 3/5


Director

:



Main actor

: Chana Sriubon,Taksin Jampol,Dokdin Kanyaman


Main actress

: Amara Asavananda
Thai movie หนึ่งน้องนางเดียว was released in year 1959. The movie is lost in Thailand but luckily a sequence of 1h06mn30s remains to be seen. Main actor Chana Sriubon is and main actress is Amara Asavananda. This is a movie in 16mm format so requiring live dubbing so the left sequence is in mute state. The remaining sequence is still colorful. Amara Asavananda and her hunchbacked brother (Taksin Jampol) are living in the forest. They find Chana Sriubon, who is injured. Dokdin Kanyaman is looking for Chana. Amara takes care of Chana while he is sick. Love emerges between Amara and Chana. Fighting happens with the hunchbacked brother as he doesn't trust Bangkok people. Chana finally leaves but promises to come back. Amara has now a child from him but Chana is not yet back. They visit Chana in Bangkok but are chased away as he is already married or engaged. They move to South of Thailand. Amara finds a treasure full of expensive jewels. While visiting South of Thailand, Chana meets a beautiful lady but he doesn't recognise she is Amara. Amara starts to create remorses about his previous behavior and Chana has nightmares. A local shaman (หมอผี) is used by the hunchbacked brother. Chana flees his house and takes refuge in Amara's place. Amara falls again for Chana and this makes Taksin upset. He is looking for revenge. Taksin has no more hunch. They have moved to a new beautiful house. The hunchbacked brother brought chance. Is Chana dreaming as he cannot believe that the previous people from the forest are now rich people? He is confused. The remaining sequence stops here. A remake was released in year 1980. It was featuring Sombat Methanee and Pissamai Wilaisak. It is still available on VCD format. The story is very similar.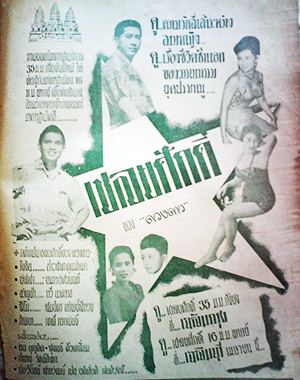 Year

: 1959



Thai title

:

เชลยศักดิ์




English title

: Chaleuy Suk



Rating

: 3/5


Director

: Mom Ubon Yukol



Main actor

: Sukon Koewliam


Main actress

: Amara Asavananda
The first version of the movie เชลยศักดิ์ was shot in 1959. After 1932 events where absolute monarchy was abolished, sharp fighting among the new ruling elites happened. Lieutenant Yothin (โยธิน), who is part of lineage อัศวรัช, becomes another lineage's slave (รับใช้) for one year. Alissa (ม.ร.ว. อลิสา) and his brother Atisak (ม.ร.ว. อติศักดิ์) are part of the lineage (สันตติวงศ์), which won after 1941 events. They want to force Yothin to behave like them (ผู้ดี) and also humiliates him. Despite this bad atmosphere, friendship starts between Anoun, youngest brother of Atisak, and Yothin. Yothin was part of เสรีไทย. The Seri Thai (Free Thai Movement) was an underground resistance movement against Japan. Piromya, school friend of Alissa, is going to visit their home soon. Alissa orders Yothin to give an invitation letter to SaenThai and to bring back some expensive clothes from the tailor. It shall be done within an impossible timing. Yothin succeeds to perform the task but clothes are ruined due to a storm. Not recognizing his efforts, Alissa brashes him and teases him about his fiancee Piromya coming to her home and yet unaware of Yothin's new status. Yothin faints. Guests arrive for a few days. Anoun tells Piromya regarding Yothin's presence. Piromya is now aware of Yothin's new status and breaks up with him. Prince Kwanfa has Kaew, Alissa's governant, as mistress. He wishes to marry Alissa as he has debts. Kaew is upset by his plans. Piromya finds consolation with Prince Kwanfa and becomes also his mistress at the waterfall. Piromya is still confused with her feelings as she still loves Yothin but also identifies some subtle feelings between Alissa and Yothin. Piromya refuses to marry Kwanfa. Alissa decides to visit Piromya, who is now 5 months pregnant. On the way, she is kidnapped by Kwanfa. Kwanfa wishes Alissa to become his new wife (เมียใหม่). She refuses and fights back. Kwanfa is seen as evil (ใจสัตว์) as the has already deceived Kaew and Piromya. Yothin convinces Kaew to help him in order to spare Kwanfa's life. Seeing Alissa as the cause of her love problems, Kaew tries to stab her but finally as Kwanfa interferes to protect, he is the one stabbed to death. Alissa and Yothin flee. Kaew sends Kwanfa's guards after them. In the 1980 remake version, she kills herself on Kwanfa body. Alissa, Yothin and Anoun escape through some rapids but Anoun dies of cold and fatigue. Atisak recognizes Yothin's efforts despite Anoun death and finally gives back his freedom to Yothin. Yothin declares his love to Alissa. This old Thai movie is still in good condition with nice colored image. It features indoor and outdoor sequences. This movie was available in 35mm and 16mm format. It was directed by Mom Ubon Yukol, father of Thai director ChatriChalerm Yukol. Main actress is Amara Asavananda, who had her fame in 1950s.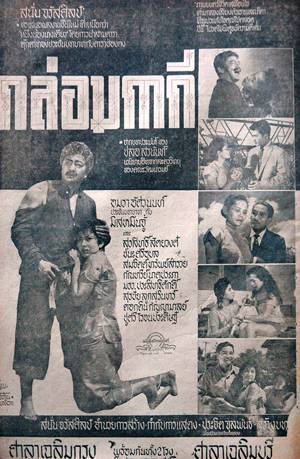 Year

: 1959



Thai title

:

กล่อมกากี




English title

:



Rating

: 3/5


Director

:



Main actor

: Chana Sriubon,Surasit Sattayawong,Dokdin Kanyaman


Main actress

: Amara Asavananda,Somjit Sapsamruey,Chosri Misommon,Sulaleewan Suwanthat
Thai movie กล่อมกากี was released in year 1959. It features Amara Asavananda as main actress and Chana Sriubon as main actor. Thong (Surasit Sattayawong) helps a pregnant woman called Yinfa (Somjit Sapsamruey). She is going to jump from a bridge. He saves her life. Her born daughter is called Buakim (Amara Asavananda) and is raised by Thong. Being adult, Buakim finds a job in an office but issues happen. Chana (Chana Sriubon), the staff manager, solves the issues. As uncle Thong is sick, Buakim asks for a three days off and salary advance to the boss (เป็นพิเศษ). Buakim ends up being domestic helper (แม่บ้าน) for Chana's family. Chana doesn't have any mother. Buakim doesn't have any father. So they have a common understanding. Buakim is poor (ยากจน / พบแค่ความทุกข์). She is accused of having stolen money in the house. It is in fact a plan by the younger wife of the boss asking Mae Nim (Sulaleewan Suwanthat) to play trick to Buakim. When Chana finishes his university degree, he wishes to marry with Buakim. Buakim is reluctant as she is only a domestic helper. Thong warns the boss' wife to stop harassing Buakim. Yinfa realises that Chana is her lost son so she asks Buakim to stop seeing Chana. Upset Chana feels betrayed and slaps Buakim. Thong protects Buakim. Chana understands the truth and visits his lost mother. Finally they are all reunited thanks to Thong. Chana loses a wife but gains a mother and sister. Part of the movie is dubbed as it was released earlier in video tape format. It was never released in another format as the movie was not successful enough in VHS format. It lasts around 1h30mn. A Hong Kong actress is also involved, i.e. Miss Minchoo (หมิ่นจู้).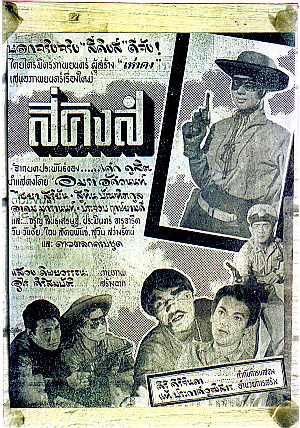 Year

: 1959



Thai title

:

สี่คิงส์




English title

:



Rating

: 3/5


Director

: Tae Prakardwutthisan



Main actor

: Chaiya Suriyun,Dokdin Kanyaman,Prachuap Ruekyamdee,Sompong Phonmitr,Sawin Sawangrat,Lor Tok


Main actress

: Amara Asavananda,Chosri Misommon
สี่คิงส์ or "See King" is a Thai crime movie produced by Tae Prakardwutthisan. The 1959 movie is lost in Thailand but hopefully a 16mm "behind the screen" sequence of 10 minutes is still available. It was given by Tae Prakardwutthisan himself in year 1988 to the Thai Film Archives. Despite using same actors as "Hao Dong" (1956), "See King" movie was not a commercial success. The sequence shows the actors and actresses during the first projection in year 1959. Those actors are Amara Asavananda, Chaiya Suriyun, Dokdin Kanyaman, Prachuap Ruekyamdee, Sompong Phonmitr, Sawin Sawangrat, Lor Tok. The movie trailer is also included. A few fights are featured with Chaiya. Dokdin Kanyaman is acting as a journalist. Somphong and veteran comic actress Chosri Misommon (ชูศรี มีสมมนต์) are featured together. Both the main actor and main actress are nice outlaws. Similar as in movie "Hao Dong", Amara is wearing a mask. The sequence is coming from a DVD that can be bought at Thai Film Archives. The movie advertisement song radio is set as soundtrack (เพลงโฆษณาหนัง) and highlight it is a good movie (สี่คิงส์ หนังดี สี่คิงส์ ยิ่งใหญ่ เด็ดจริง ถึงใจ ใช่ใคร สี่คิงส์). A remake version was released in year 1982 featuring Sorapong Chatree and Naowarat Yooktanun. It was not also a great commercial success.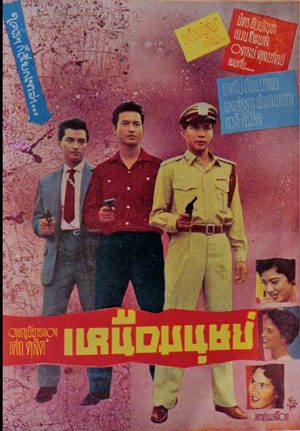 Year

: 1959



Thai title

:

เหนือมนุษย์




English title

:



Rating

: 3/5


Director

: Wichit Khunawut



Main actor

: Mitr Chaibancha,Adul Dulyarat,Man Teeraphol,Sompong Phonmitr,Sukon Koewliam


Main actress

: Rewadee Siriwilai,Kesarin Patamawan,Phong Lada Pimolpan
Thai movie เหนือมนุษย์ was released in year 1959 and lasts 1h26mn. The picture is still colorful. Director is Wichit Khunawut. Mitr Chaibancha was only 25 years old. This is oldest movie still featuring Thai superstar Mitr Chaibancha. Highlight of the movie is Mitr Chaibancha playing with 3 famous main actresses of decade 1950s. Sarawat Cheut (Adul Dulyarat) and Man Teeraphol are policemen. Mitr is playing a bad ruffian, called Krieng, flirting with ladies. Krieng succeeds to win the trust of a gang. The leader sends him in south of Thailand. Sompong Phonmitr follows Krieng as he is impressed by him. Krieng meets Saen, local leader in Pattalung. A local lady called Lada (Rewadee Siriwilai) follows Krieng. Krieng intercepts a truck driven by Saen and containing illicit goods. He joins the Thai police (เจ้าหน้าที่) to catch Saen. Krieng infiltrates another ruffians group and keeps in sync' with Thai police. He meets another lady called Apson (Kesarin Patamawan). Lada is shot while fleeing with Krieng. Businessman Pong asks help from inspector Cheut. Saen kidnaps inspector Man. Krieng helps to release him while ruffians are busy transporting goods. Nit (Phong Lada Pimolpan) is raped by a ruffian. Krieng and Apson joins their efforts to protect Thailand against people trying to hurt the country. Nit steals a document from the ruffians. Undertaker (สัปเหร่อ) kills Saen and Go. Ruffians are aware Krieng betrayed them (ทรยศ). Krieng and Apson are identified as traitors and are attached. Police, called previously by Apson, disturb the ruffians allowing Krieng to escape. Phi Cheua and Nit die during the fightings but Nit shoots Go before dying. Apson is a uncovered policewoman called Achala. It discovered that Krieng's real name is Chet and he is the elder brother of Cheut! Cheut and Chet love the same woman, i.e. Achala. The leader still tries to kill Krieng as revenge. The real leader is Businessman Pong! Krieng succeeds to neutralize the ruffians and escape before the building collapses. He gets Achala's love.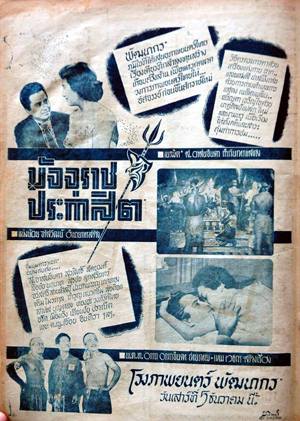 Year

: 1959



Thai title

:

มัจจุราชประกาสิต




English title

:



Rating

: 3/5


Director

: Sor Asanajinda,Neramit



Main actor

: Luechai Natnat,Sor Asanajinda,Surasit Sattayawong,Lor Tok


Main actress

: Prapan Narkthong
Thai movie มัจจุราชประกาสิต was released in year 1959. It is a lost movie in Thailand but a sequence of 26 minutes is still available. The sequence is still very colorful. It is an horror movie with a strange style. Main actor is Luechai Natnat and main actress is Prapan Narkthong. Directors are Sor Asanajinda and ครูเนรมิต. Actress จรัสศรี สายะศิลป์ also plays. It is a movie about hell mixing with human society. The god of death (ยมบาล) is played by Surasit Sattayawong. He sends to hell a wrong person (Luechai Natnat) so needs to bring him back to human world with additional power of being able to answer to various blessings. The human world being messy and deceitful (jealousy from women, lust), Luechai wishes to die again and be back to hell. Poster advertisement mentions that the movie cost 0.5M Baht to be produced in 1959.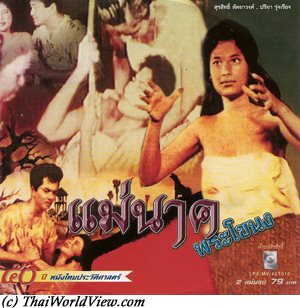 Year

: 1959



Thai title

:

แม่นาคพระโขนง




English title

:



Rating

: 3/5


Director

:



Main actor

: Lor Tok,Surasit Sattayawong,Kokheng


Main actress

: Preeya Roongrueng,Namgneun Boonnak



Buy now

:

Every man in the village loves a young lady called Nak. Young men Mak, Tit Man and the local subdistrict headman's son are part of the suitors but Nak loves Mak. Tit Man tries to forget his discomfiture with another lady called Lamchoon but to no avail so he leaves the village. During a temple festival (งานวัด), where Nak was making merit (ทำบุญ), the local subdistrict headman's son (ลูกกำนันเศรษฐี) fights over Nak with Mak. It turns to be a general fight. Mak promises to marry Nak. On the following day a wedding procession takes place. Similar to movie "The old scar" (แผลเก่า), this 1959 version highlights the rural life with fishing in rice fields and buffaloes. The main actor is the strong and muscular สุรสิทธิ์ สัตยวงษ์. When Nak is pregnant (แผลท้อง), Mak is so happy. But he does receive a letter as he has been selected by lottery to be a soldier in Bangkok. Pa is staying with Nak. The local subdistrict headman's son tries his chance again while Mak is away but Tit Man, going back from Bangkok, helps Nak to chase him. In Bangkok, a woman Chomanak tries to seduce Mak but he is faithful to Nak. Nak dies while giving birth. In this "Mae Nak" 1959 version, the part when Nak is still human is much longer (49 mn) than other "Mae Nak" movies focusing on the ghostly part. During funerals, strong wind and dog howlings happen. People are afraid of ghosts. A local master (อาจารย์) called Thong wishes to make magic filters (ยาเสน่ห์) with Nak's corpse oil (น้ำมันพราย) as it has strong power but he gets strangled while trying to get oil by putting a candle under Nak's chin. Nak is back home waiting for Mak. Nak is now a Phi Tai Hong Klom (ผีตายโหงทองกลม), powerful spirit as it is includes the spirit of unborn baby. The local subdistrict headman's son tries his chance again but this time he loses life. Lor Tok plays a dishonest sorcerer master again asking his acolytes to wear fake ghosts clothes but of course real Mae Nak ghost is coming and all flee. Mak is back home. While preparing food for Mak, a lemon falls on below floor. Mak sees Nak's arm streching out to get the lemon. His child has a demon face. The food is only made of salted fish (ปลาร้า). As he just drank alcohol, he believes his vision is altered. During night time, Nak takes appereance of an ugly ghost again. Mak flees to Tit Man's house. Tit Man confirms that Nak is now a ghost (วิญญาณแรง). Nak is unhappy with Mak's friends as she sees them as a hindrance to her love. A new master helps to neutralize Nak. She refuses to die and birth again (วิญญาณเกิดใหม่) because she loves Mak so much. Love is not possible between ghost and human. In this Mae Nak version, the master succeeds to neutralize Mae Nak and have her spirit emprisonned in an earthen jar closed by a sacred cloth. In other versions, only a Buddhist monk can stop Mae Nak as masters are always useless charlatans. Mae Nak Prakanong (1959) starred sexy actress Preeya Rungruang, while the more recent Nang Nak (1999) featured the actress Intira Jaroenpura, thus shifting the image of female ghosts to a more realistic and humanistic one. It is a typical 1960s movie with dog howling, sorcerer (หมอผี) used, rural background. The picture is decolored and as it is a former 16mm movie, it features a dubbed soundtrack. Mae Nak movie first version was played during Preeya Roongrueng's funerals as an ultimate homage.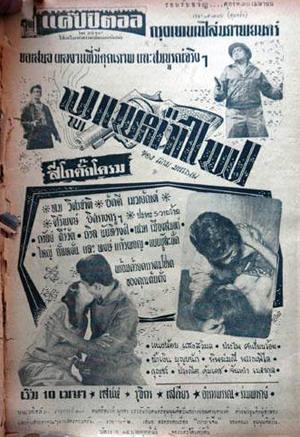 Year

: 1959



Thai title

:

งูเห่าไฟ




English title

:



Rating

: 3/5


Director

:



Main actor

: Tawan Siriwat,Siripong Isarangkul


Main actress

: Namgneun Boonnak
Thai movie งูเห่าไฟ was released in year 1959. It features ทม-แน่งน้อย as main actor and main actress. The movie is lost in Thailand but a damaged sequence of four minutes remains to be seen. Other actors include Tawan Siriwat, Namgneun Boonnak, ทม วิศวชาติ, อัคคี เมฆยัณห์, ถวิล นันทิวงศ์, เสมา เมืองสมุทร. The left sequences include action parts such as fist fighting and gun fights.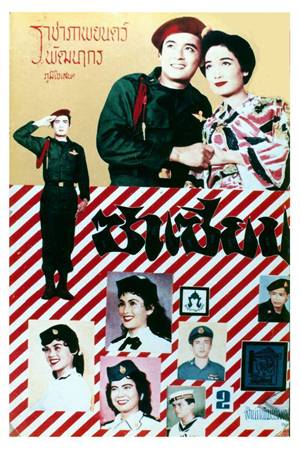 Year

: 1959



Thai title

:

ซาเซียน




English title

: Sasean



Rating

: 3/5


Director

:



Main actor

: Chaiya Suriyun,Sukon Koewliam,Tawan Siriwat


Main actress

: Raodee Sririwilai,Mom Chan Phuangwan,Rewadee Siriwilai
Sasean (ซาเซียน) is a Thai movie released in year 1959 and featuring main actor Chaiya Suriyun and main actress Rewadee Siriwilai. The movie is lost in Thailand but a four minutes sequence as a trailer is still available. The image is still sharp and quite colorful. The short sequence includes war sequences, fist fighting scenes. Other actors include Sukon Koewliam, Tawan Siriwat. A lady is kidnapped but helped by a marine boat soldier. The movie is mute. No summary is available.
---