Increase or decrease font size for easier reading : A+ A-
Decade 1940s



Year

: 1949



Thai title

:

สุภาพบุรุษเสือไทย




English title

:



Rating

: 3/5


Director

: Tae Prakardwutthisan



Main actor

: Surasit Sattayawong


Main actress

:
Supha Burut Seua Thai (สุภาพบุรุษเสือไทย) is a Thai movie shot in 16mm format in 1948 and released in year 1949. It is a lost movie but in year 199x Tae Prakardwutthisan (แท้ ประกาศวุฒิสาร), famous Thai movie director and producer, gave to the Thai Film Archives a lot of documents and films. It included 'Supha Burut Seua Thai' movie behind the screen sequence. It lasts 10 minutes. 'Supha Burut Seua Thai' movie took 3 months to be filmed. The movie was shot in Ratchaburi as Tae is coming from here. One highlight is festival and boats competition shooting in เขางู. It was projected during 28 days and earnt 300k baht, a record for that time. It was one of the first Thai movie after World War 2 and is considered as the launch of Thai movies successful era in 16mm format. Movie Supha Burut Seua Thai (สุภาพบุรุษเสือไทย) includes Surasit Sattayawong as main actor and สอางค์ ทิพยทัศน as main actress. Anecdote regarding the movie is that police has to stay all the time as real gold was used during temple shots and to avoid cameras to be stolen by potential robbers. Due to a lack of dubbers, Tae and main actors have to do the dubbing by themselves in Chalem Krung theatre! One session was for the critics. Good overall critics (dramatic, first Thai movie at same level as foreign movie, usage of festival and culture) were received. Advertising was different from nowadays, i.e. big billboards on the theater, van with billboard going around the city, posters stuck on walls. It was a big success first in cinema Chalem Krung during 28 days, then it was shown in other Bangkok theaters and then in countryside. At that time, a movie included orchestra music, comic shows with Lortok, Dokdin and Somphong. For the first Thai movies oscars in year 1957, this movie received two rewards. Another movie with the same title was released in year 1979 with Sombat Methanee. Many movies about Seua Thai were then released during the next years and decades. A short summary is a below. Surasit Sattayawong is playing a subdistrict headman called Thai. He is accused of having murdered his wife. He has to flee in the forest and becomes Seua Thai, a bandit. One day, he is helping a young lady aggressed by ruffians. She then keeps following him. Seua Thai then decides to take revenge over those who accuse him of murder.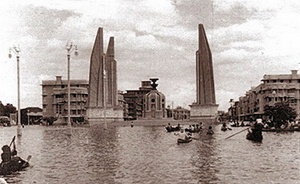 Year

: 1942



Thai title

:

น้ำท่วมกรุงเทพ ปี 2485




English title

: Bangkok Flood of 1942



Rating

: 4/5


Director

: Tae Prakardwutthisan



Main actor

:


Main actress

:
This old documentary is about Thai floods, which happened in 1942 / 2485. Those floods were very serious. The movie shows Sanam Luang (สนามหลวง) and Wat Phra Kaew (วัดพระแก้ว), Ananta Samakhom Throne Hall (พระที่นั่งอนันตสมาคม), Democracy monument (อนุสาวรีย์ประชาธิปไตย) and Victory Monument (อนุสาวรีย์ชัยสมรภูมิ) under water. Thai people are circulating by boat. Some people even put in place a business renting small boats. The Hua Lamphong (หัวลำโพง) train station is not flooded very high. Public Bus (รถเมล์เทศบาล) are still circulating on Yaowarat road. Drinking water is delivered through tanks. Member of Thai Parliament are arriving by boats. This documentary, done by cinematographer Tae Prakardwutthisan, is part of the first 25 films heritage list announced in 2011. This movie was selected on October 4 2011, which is Thai Movies Conservation Day, reminding the current situation as Bangkok was under a flooding threat in 2011 almost 80 years after the great floods in 1942.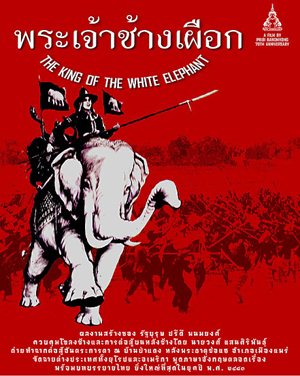 Year

: 1940



Thai title

:

พระเจ้าช้างเผือก




English title

: The King of the White Elephant



Rating

: 3/5


Director

: Pridi Banomyong



Main actor

:


Main actress

:
Thai historical movie พระเจ้าช้างเผือก / The King of the White Elephant was released in year 1940 and lasts 1h40mn. The movie was lost in Thailand but was hopefully found overseas. It was released under DVD in Thailand by Thai Film Archives. The movie was shot in English and features Thai subtitles. Pridi Banomyong is film director. The movie carried a message that Thailand was ready to fight a war against any foreign invaders but Thailand would remain neutral if no external invasion. After Japan attacked Thailand in 1941, Pridi Banomyong became a leader of the Free Thai Movement resistance movement. In year 1540, King Chakra is King of Ayutthaya kingdom. The King is still single. The first chambellan tries to push him to have 365 wifes per old customs. He is pushing especially his own daughter. Mogul has made alliance with King Hongsa from Burma. It is risky for Ayutthaya kingdom. Elephant hunt is needed. The King needs 365 elephants instead of 365 wives! A massive elephant hunt occurs and a white elephant is captured. A big enclosure is built to catch wild elephants. It is a auspicious event for the Kingdom of Ayutthaya to have a white elephant. King Hongsa has a peace treaty with Ayutthaya so he is looking for excuse to attack them. He asks for the white elephant but as King Chakra refuses so war is declared. Burmese troops attack Kanchanaburi city first. Help is needed. Messengers fail to arrive. Burmese fail to take Kanchanaburi and retire. Burmese king sends more troops. Kanchanaburi finally falls. Next step is to defeat Ayutthaya. The country is in danger but the first chambellan still thinks to marry the King first. War has started without any official declaration. Ayutthaya King is aware so his army is leaving to fight King Hongsa. Dozen of elephants are featured. King Hongsa likes to drink and fights for his own benefit versus King Chakra fighting for his kingdom and his people. Fightings happen while King Hongsa is drunk. Burmese army retreats. A challenge one to one with King Hongsa occurs. Hongsa is killed by Chakra. King Chakra lets Burmese army to go home as the enemy was King Honsa and not his army. He reminds them of not doing useless wars anymore.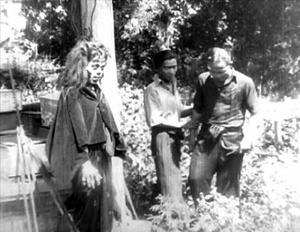 Year

: 1940



Thai title

:

พรายตะเคียน




English title

: Prai Takian



Rating

: 3/5


Director

:



Main actor

:


Main actress

:
This short mute horror movie (หนังผี) called Prai Takian / พรายตะเคียน and released in year 1940 is about Mae Takian spirit (ผีนางพรายตะเคียน). As of today (year 2014), it is the oldest Thai horror movie known. A sequence of eight minutes remains to be seen. It was an add on sequence to a longer movie. In the past, night sequences were often shot during the day for better convenience and then through a filter, it was transformed into a night sequence. Sometimes it just remains as a day sequence! This movie features many comic scenes (people running away from spirit...) that remind of movies such as Baan Phi Pop (บ้านผีปอบ) in 1990s or horror movies in the 1960s. Some of the funny gags didn't change over decades. The Culture Ministry registers 25 Thai classic films each year at the National Film Heritage Registry. This movie is part of the 25 films heritage list announced on 04 October 2014, which is Thai Movies Conservation Day.
---