FESTIVALS
Increase or decrease font size for easier reading : A+ A-
Some famous festivals are only organised in "ISAN" area. The below list shows a some of the most famous festivals organized in Isan area.
---
Elephant round-up in Surin in

November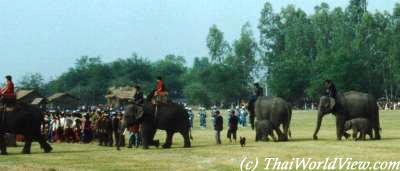 Each year, around 200 to 300 elephants gather in Surin
Surin elephant round-up (
Fly there with Google Earth ) is the biggest elephant gathering in Thailand. A few centuries ago elephants were used as war weapons. So during this festival, tourists can see Siamese war simulations and also elephant work demonstrations in the forest.
---
Bun Bang Fai in all Yasothon in

May-June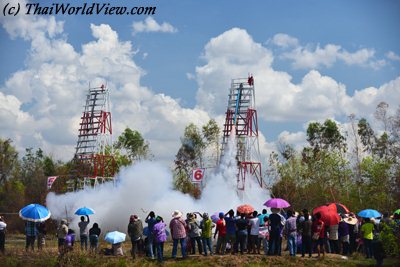 According to traditional belief, the villages gather to organise the "BUN BANG FAI" (

ประเพณีบุญบั้งไฟ

) rocket festival.


Fly there with Google Earth
During this festival, big rockets are launched into the sky. The highest wins. This is a symbolic call to the rain god in order to have bountiful crops. Despite this feast is an animist feast, monks often participate by making the powder for the rockets. It rockets fails, there is no respect for monks. Villagers throw them in a muddy paddy field. Accidents happened when the rocket did not succeed to take off.
---
Phi Ta Khon in Loei district in

June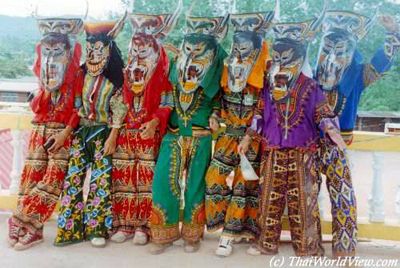 A long time ago, in a previous life, when Buddha was a king, he travelled outside his kingdom during several years. As he didn't come back, everybody thought he was dead. When he finally came back, everybody was so happy that they made a loudly exclamation to welcome the King's return. They made so much noise that the dead woke up and went gathering to the feast.
This "Phi Ta Khon" festival (ผีตาโขน) (
Fly there with Google Earth ) is in fact a religious festival. It is divided into three days. First day people wear big fearful masks and clothes then frighten and make tricks to people. On second day it is the same but they are going in the city centre. Third day, people listen to sermons said by monks.
---
Bang Fai Phajanak in Nong Khai district just after the end of the rain retreat season.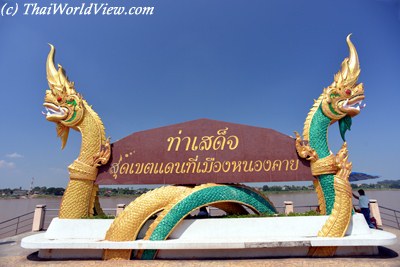 Every year more than 100 000 people gather by the Mekong River in Northeast area on November Full Moon. After sunset, mysterious Naga fireballs rise up from the river and disappear into the sky.
This "Bang Fai Phajanak" festival (ประเพณีบั้งไฟพยานาค) (
Fly there with Google Earth ) is different from the "BUN BANG FAI" feast in Yasothon. But the rockets fly from under the Mekong river instead of the soil.
---
The Rain Retreat Candle Wax procession in Ubon Ratchatani in

July

.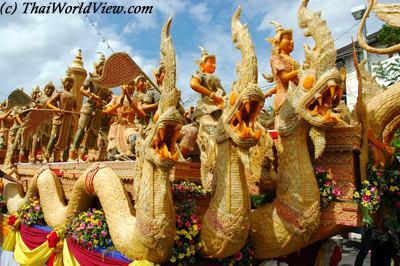 "HAE TIAN KHAO PHANSA" festival (

แห่เทียนเข้าพรรษา

) happens in many cities in Isan region but the most beautiful festival is located in Ubon Ratchatani.


Fly there with Google Earth
Those wax candles are big enough to last three months for a rain retreat season. In 1999 a tragedy happened in Nakhon Pathom. They built the highest and biggest candles in the world. They collapsed and killed several people. That was the end of the Amazing Thailand search after World records.
---
Phanom Rung Fair in Buriram in

April
This feast takes place each year in the Khmer site of "PRASAT HIN PHANOM RUNG" (
Fly there with Google Earth ).
---
5000 years Bang Chiang Civilisation Celebrations Heritage Site near Udon Thani
Ban Chiang is an UNESCO Cultural World Heritage Site (
Fly there with Google Earth ) .
---
Traditionally, Isan villages used a cat in their rain-making procession. The cat was carried about the village in a small cage, while the villagers made noise with musical instruments, to attract the attention of celestial gods. They would stimulate the cat, to make it yell until the celestial gods, unable to bear the sounds, would promise to grant the villagers any request, if only they would make it stop. Then the villagers would say "give us rain".
---
---