SONGKRAN
Increase or decrease font size for easier reading : A+ A-
Due to the large number of restaurants and shops run by Thais, the Kowloon City district of Hong Kong is known as Little Thailand.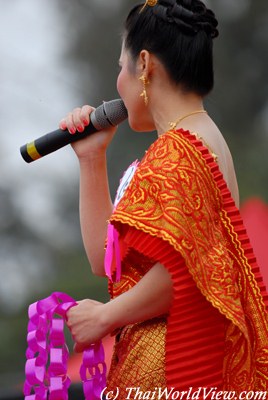 The "SONGKRAN" festival happens during the hot season in middle of April. Songkran is the ancient New Year's Day. Now the official New Year's Day happens on the 1st January.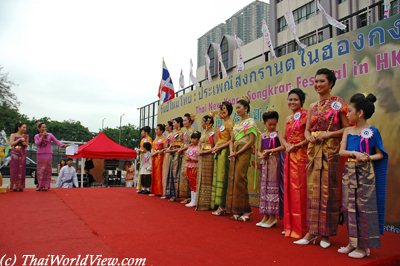 The most popular feast is still "SONGKRAN". It is celebrated in Hong Kong by the Thai community.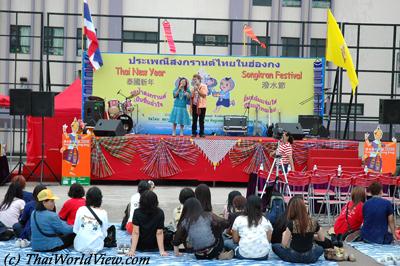 A stage is set up in the middle of Kowloon City sport playground. Various performers dance or sing in front of a cheering crowd.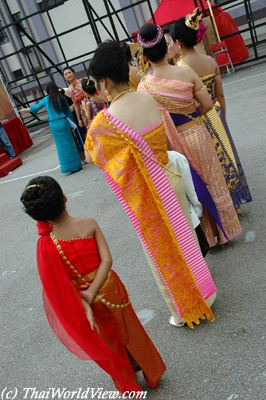 Many local people stop by in order to watch for the Songkran's beauty contest including adults and children. Participants all wear beautiful and colorful Thai dresses.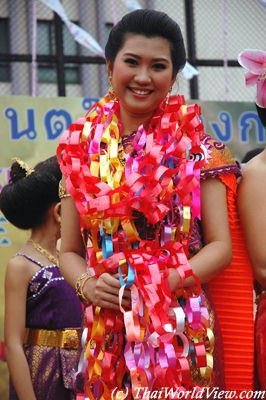 Kowloon City is Hong Kong's Thai quarter as it was close to the old Kai Tak airport, so easy to get fresh goods from Thai Airways aircrafts.
Many Thai groceries and small eateries can be found in Kowloon City. Their number overcome by far the number of groceries in Wan Chai area!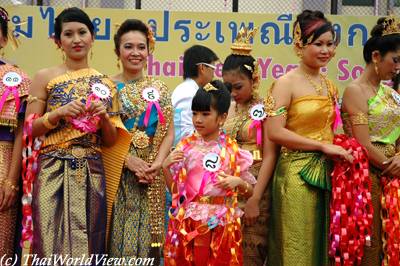 Fans can offer garlands ("DOOK MALAI" -

ดอกมาลัย

). Garlands have to purchased through the Songkran committee.
Thai cuisine, snacks, desserts, accessories, buddhas, DVD/VCD movies and groceries can be found in most streets at Kowloon City near the former Kai Tak Airport.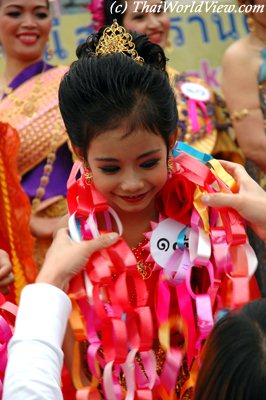 Thai people like Hong Kong because the weather is cooler compared to Thailand! They feel the Thai community is very united while the consulate is organizing regular festive gatherings.
Thai restaurants and grocery stores there sell everything from traditional snacks to translations of Thai fortune-telling books.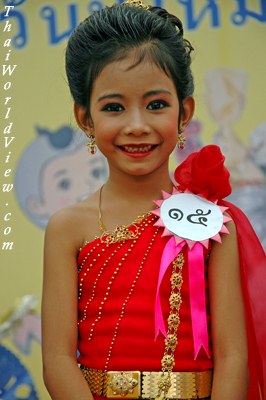 Thai Regional Alliance in Hong Kong (

สมาคมรวมไทยในฮ่องกง

) enhance the community spirit and promoted friendship to strengthen the Thai migrant groups in Hong Kong into an alliance, to protect and promote the rights and welfare of migrants, to provide the social and cultural educational aspects.
Many Thai migrant workers are living in Hong Kong. Already in year 1994 there were over 12000.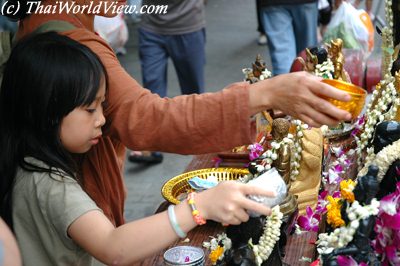 The rite of pouring water on Buddha statues, which has been cleaned by the monks, is performed. The ceremony is known as "ROD NAM DAM HUA" (

รดน้ำดำหัว

).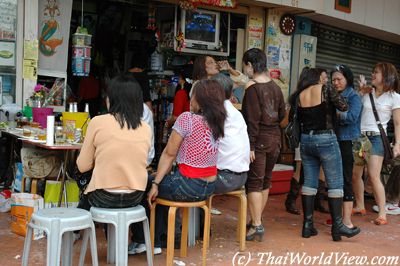 Songkran festival is a rejoicing time for the Thai community in Hong Kong. Beer and Thai food are available!
Thai people are very concentrated here because the old Kai Tak airport used to be right nearby. Thai immigrants didn't want to go too far so many of them chose to live in the old Kowloon Walled City, whose surrounding area became the closest choice for them to start a business.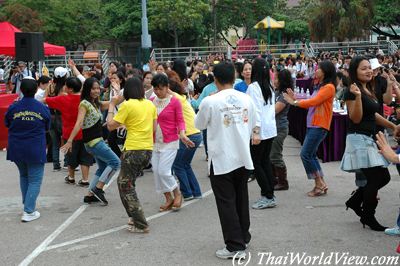 Revellers can enjoy rythmic dance. Performers play Thai style music such as "MOLAM" (

หมอลำ

) and "LOOK TOUNG" (

ลูกทุ่ง

).
In year 2006, according to the latest statistics, Hong Kong was home to 28550 Thais.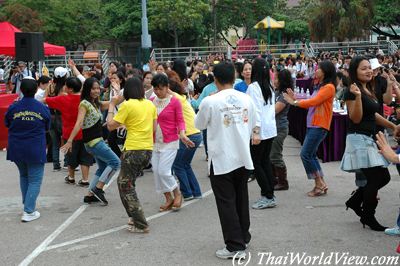 Thai Water Festival or "Songkran" in Hong Kong is always a great success every April. The programs includes Buddha bathing, traditional Thai dance, festive parade, cooking and traditional Thai massage demonstrations.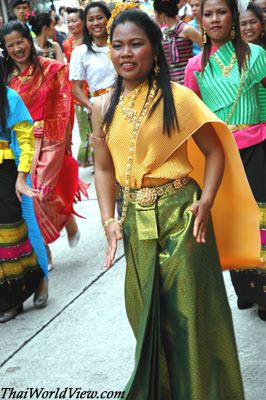 More than three hundreds Thai people parade happily through Little Thailand in Kowloon City.
The Songkran" event takes place in Kowloon City where there is a Thai community with Thai product shops, restaurants and massage boutiques.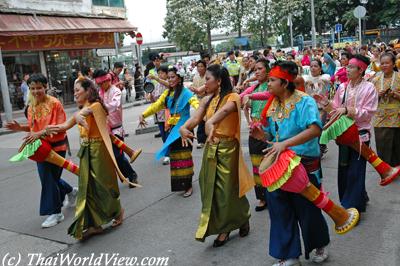 Water pistols are used and some Thai people even resort to use a hose to splash each other.
Officers from the anti-gambling squad raided an underground casino in Kowloon City which catered for Thai nationals in Hong Kong.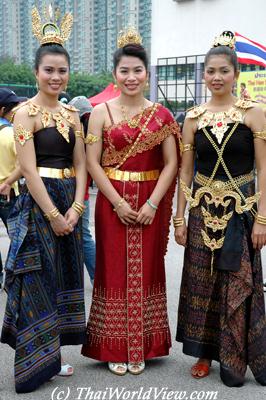 With a large Thai population in Kowloon City District, liaison officers are appointed to foster a better understanding of their policing concerns.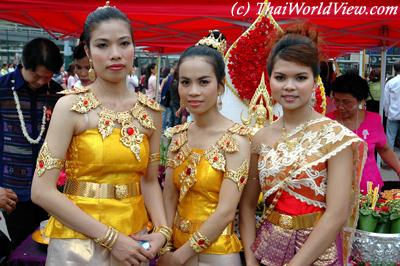 Kowloon City includes many delicious Thai eateries such as "Ruamjai" restaurant. There is a thriving Thai immigrant community. Many Thai maids gather in Kowloon City on their day off on Sunday.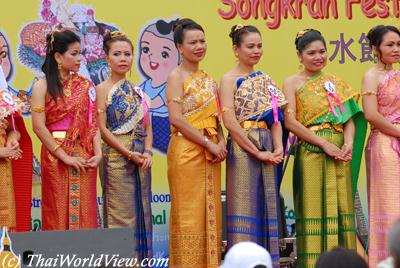 Don't forget to join Thai Songkran festival next year! It is one of the great yearly event in Kowloon City.
On Sunday visitors to Kowloon City can witness monks going through shops for morning alms.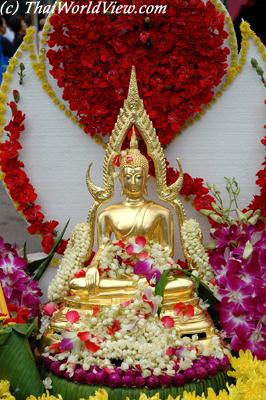 Holiest statues are displayed in open-air pavilions during Thai Songkran festival to allow worshippers to sprinkle them with water.
Thai cuisine is cheap in cheerful eateries in Kowloon City where Hong Kong's Thai community gathers.
---
---
comments powered by

Disqus
---