Thai movie - Selected Theme
Increase or decrease font size for easier reading : A+ A-
Some folklore Thai movies are based on tiger influence in Thai culture.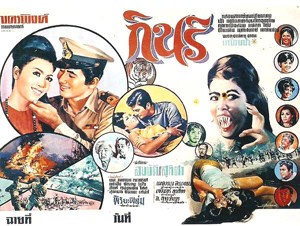 Year

: 1969



Thai title

:

กินรี




English title

:



Rating

: 3/5


Director

:



Main actor

: Sombat Methanee,Chana Sriubon


Main actress

: Suthisa Putnuch,Metta Roongrat,Kaenjai Meenakanit
The action takes place in a territory at the edge of Thailand and Burma. A tiger spirit (วิญญาณเสือสมิง) is possessing the body of a young girl called Kinari. They accuse the young girl to be responsible of the village head's son death. They wish to burn the dead body and the young girl. Hopefully a monk is able to calm them down. The young girl and her grandmother agree to move to Burma to ease villagers. When the young girl will be 20 years old, the fearful tiger spirit will be definitively exorcised. She cannot remove the protective necklace that the monk gave her until she is 20 years old. They find refuge in a catholic mission for 10 years but they miss Thailand. Her grandmother asks her not to forget Buddhism. They finally come back to the village in her 19th year. A young man tries to rape Kinari while she bathes in a waterfall. As she has removed her necklace and anger pops up, she becomes a tiger (เสือ) and kills him. Villagers know Kinari is back. The grandmother is sick. Kinari needs to find a doctor (หมออนามัย). The doctor arrives too late and the grandmother dies. The doctor promises to take care about Kinari. Meanwhile the village leader wishes to burn Kinari to chase definitively the spirit away. Saenkam, a villager, doesn't want to let Kinari leave as he loves her. Kinari and the doctor Nopalit finally succeed to flee. Nopalit brings back Kinari (คนป่า) to his home in Bangkok but she is not welcomed by the mother. Dao, the doctor's fiance, doesn't welcome her also. Dao has another boyfriend Leutchai already so she is lying to Nopalit. The mother and Dao always try to humiliate Kinari as she is not coming from high society (ผู้ดี). The doctor buys Kinari a golden necklace but she is worried to remove her necklace as the tiger spirit might be back. Dao starts to be worried that Kinari has much more qualities than her. Dao hires a tramp to rape Kinari but he is seriously injured as Kinari becomes a tiger spirit again. Saenkam, the villager, still loves Kinari and reaches Bangkok. Kinari is going to be 20 years old. Today is her birthday. The mother offers a diamond necklace for her birthday and throws away the protective necklace. On the birthday party while the doctor is away, Dao slaps Kinari causing the demon inside her to be back. Following an ultimate fight, Saengkam gives back the necklace to Kinari and injures fatally Leutchai. This later shot back killing Saengkam and Dao through a lost bullet. As it is midnight already, the spell is gone and the tiger spirit has disappeared inside Kinari's body so the mother cannot prove that Kinari is a demon. Kinari and Nopalit can now live happily together. Parts of this old 2h20 movie are really damaged.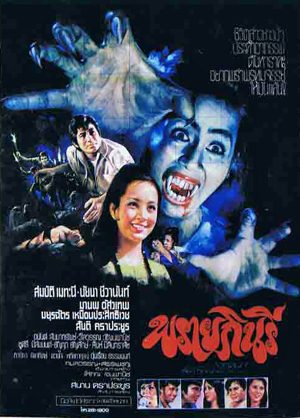 Year

: 1976



Thai title

:

พรายกินรี




English title

: The Tiger Devil



Rating

: 3/5


Director

:



Main actor

: Sombat Methanee,Manop Aussawathep,Adul Dulyarat,Pipop Pupinyo


Main actress

: Naiyana Shewanan,Malee Wetpraseri,Wilaiwan Watthanaphanit,Mayurachath Muarnprasitivej,Chosri Misommon,Duangjai Hathaikarn
Thai movie พรายกินรี (The Tiger Devil) was released in year 1976 and lasts 1h35mn. The movie is certainly cut as it is only available from cable TV programmes. Malee (Malee Wetpraseri) and Kinaree (Naiyana Shewanan) are travelling together after leaving a Christian community. They are aggressed on the way to their village by two men including Manop Aussawathep. They step back when understanding that Kinaree, who was fighting strongly, is a lady (นางฟ้า). Pipop Pupinyo, the village leader, remembers that many years he wanted to burn Kinaree as she was accused to be a tiger devil spirit. A monk stopped the burning and gave a sacred necklace to prevent Kinaree to become a spirit again (เวรกรรมของหลาน). She has to keep until being 20 years old. Kinaree and her grandmother were expelled from the village but are now back. One young villager tries to abuse Kinaree while she is bathing in the waterfall. When angry, she becomes the tiger devil spirit again and kills the villager. The grandmother Malee falls and gets injured. Per Kinaree's request, Manop searches for a doctor. Doctor Sombat Methanee then checks Malee but she finally dies. Pipop, afraid of Kinaree, leads the villagers to burn her again. The doctor decides to bring Kinaree in Bangkok but faces Manop, who is jealous. The doctor and Kinaree succeed to flee Manop and the angry crowd. They are back to Bangkok. New characters are present in the doctor's home, Chosri Misommon as domestic helper, Wilaiwan Watthanaphanit as mother, Mayurachath Muarnprasitivej as his fiancee Dao (ปากเสียใหญ่), friends such as Chom (Duangjai Hathaikarn) and Chatree (Adul Dulyarat). She is used in the kitchen but is useless (เด็กเวร). Dao has a lover (เล่นชู) called Chai (อนันต์ สัมมาทรัพย์). There is a ballroom event. Dao tries to humiliate Kinaree (ชาวป่า) during the ball but to no avail. She hires the car driver to hurt Kinaree but she becomes a tiger devil spirit (ผีเสือ) again and kills him. Today is Kinaree's birthday. Dao aware that Kinaree could be a spirit is willing to challenge her. She removes her necklace and slaps her. Horror happens with Chai is killed and Dao injured by the tiger devil spirit. Police shots the spirit a few minutes before Kinaree's 20th birthday. Kinaree becomes a full human but dies due to her injuries in the doctor's arms. Another version of Kinaree was released in year 1969 (กินรี) with Sombat and Suthisa. In this older version, Kinaree doesn't die.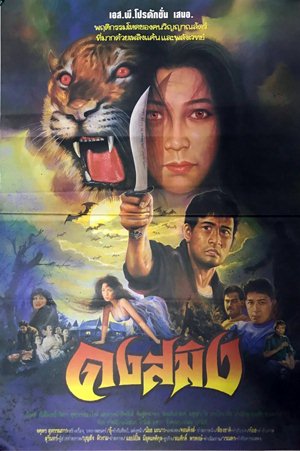 Year

: 1994



Thai title

:

ดงสมิง




English title

:



Rating

: 3/5


Director

:



Main actor

: Bin Banleurit,White Padungkan


Main actress

:
Thai movie ดงสมิง was released in year 1994 and 1h25mn. It was released under VCD format. Lady Yom is aggressed by a tiger spirit at night time. Niyom (White Padungkan) and Rat (Bin Banleurit) arrive in the village as government officials. Village leader (ผู้ใหญ่) Sing and her sister Chaoba welcome them. Mek (นักเลงใหญ่) doesn't welcome them. Mek loves Chaoba but it is not reciprocal. Mek despise Niyom and Rat as Chaoba appreciates them. The village leader Sing has a weird behavior. Another lady is killed in the village. Sing cannot come at the ceremony as he is sick. Sing discusses with an older man, being the village หมอผี Yong, about transferring his tiger fearful spirit to somebody else. Conflicts occur between the two men as the spirit doctor mentions to use Chaoba to transfer the tiger spirit. Sing doesn't want his younger sister to become the new heir (ทายาด). Sing fails to kill the spirit doctor Yong and is injured in the fighting. Niyom and Rat organize a hunt to find the suspected tiger. Sing is severely sick and dies. The spirit doctor wishes to burn immediately the body but Chaoba wishes to follow Thai tradition and keeps the body for 100 days. Chaoba starts to vomit so Mek believes she is pregnant with Rat. Yong believes the tiger spirit entered in Rat's body after Sing's death. Another death occurs. Mek accuses the two Bangkokian men. The villagers try to stone Rat, but Yong interposes. Finally, Chaoba changes a lot as she is the one possessed by the tiger spirit. Mek is killed while trying to abuse Chaoba. Sing got tiger oil filter (น้ำมันพรายเสือสมิง) from Cambodia. Yong, Niyom and Rat visit the doctor spirit to know how to release Chaoba from the tiger spirit. A ceremony is organized to expel the tiger spirit from Chaoba body. The spirit fights back but Chaoba recovers and becomes a normal person again.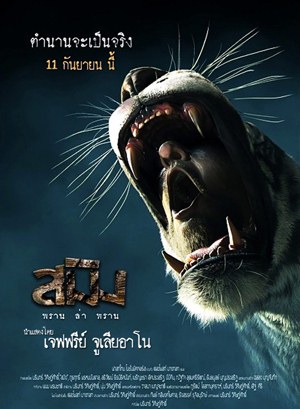 Year

: 2014



Thai title

:

สมิง พรานล่าพราน




English title

: Sming



Rating

: 3/5


Director

:



Main actor

:


Main actress

:



Buy now

:

Thai movie Sming / สมิง พรานล่าพราน was released in year 2014. It lasts 1h40mn. This movie features impressive Fx with the tigers. This Thai movie was also released in India. Pat is a killer of tiger spirits (สมิง). His wife is killed by a fierce tiger spirit. Lam Duan, his daughter, escapes to death as he brings her out of the burning house. He wishes to get revenge and tries to kill the tiger (เสือนรก) but he only succeeds to damage its eye and gets seriously injured. Many years have passed. A little boy comes to the Thai forest administration and asks for help against the tigers. A new worker Pamai is allocated to solve this issue happening in a remote village. Tigers keep attacking and killing villagers. Three heavily armed foreigners wishing to go to this village also join them. Pamai always takes pictures and looks useless to villagers looking for help. The village population is a mix of Chinese people, Cambodian and Thai people. Pamai discovers the reality of the tiger spirits. Pat is still looking for the tiger, which killed his wife. It is now half blind (ตาบอด). The foreigners are hunters. Saming / Tiger spirits can change their appearance so they can lie to people and fool them. Two foreigners are killed as the tiger spirit transforms itself in an attractive Thai young lady. Pamai saves the young boy from the tiger spirit. The Chinese guys including พี่ใหญ่ try to kill the tiger spirit by using special monkey dance but they fail and the villager leader dies. It is finally discovered that Pat is already dead. His daughter Lam Duan and Pamai succeed to kill the tiger thanks to Pat's spirit.
---
This selected theme contains 4 movies.
ThaiWorldView's film database contains 1518 movies.
---