THAI MOVIE
Increase or decrease font size for easier reading : A+ A-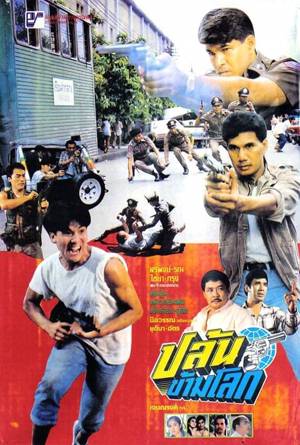 Year

: 1987



Thai title

:

ปล้นข้ามโลก




English title

: Faithful Spirit



Rating

: 3/5


Director

:



Main actor

: Sorapong Chatree,Krung Srivilai,Chaiya Suriyun,Chat Mongkolchai,Somchai Samipak,Ron Rittichai,Lau Wan-Fung


Main actress

:
Thai movie ปล้นข้ามโลก / Faithful Spirit / 手足情 was released in year 1987 and lasts 1h36mn. It is a Hong Kong Thai coproduction. A VHS was also released in Japan and lasts 1h30mn featuring a sharp picture. In Hong Kong, during a police operation, a policeman Saichai (Hong Kong actor Lau Wan-Fung) is surprised to see one of his friends being part of the gangsters they are chasing. He prevents another policeman to shoot his friend, who can flee. The head of the police has now doubt on Saichai's integrity and suspends him from police duty. Saichai is very upset. He has a fight with some gangsters and during the fight, a policeman, trying to arrest them, is killed accidentally. Saichai is accused to have killed this policeman. His friend proposes to Saichai to flee to Thailand and to stay with uncle Chuan. In Thailand, ผู้กอง Sorapong Chatree tries to catch a kidnapper having taken two foreign teachers in hostage. Inspector (สารวัตร) Ron Rittichai (รณ ฤทธิชัย) succeeds to enter in the room and shoots the kidnapper. Uncle Chuan is involved in diamond trade. Palang (Chat Mongkolchai) is disappointed that Chuan wishes to retire. Three ruffians belonging to Palang shoot uncle Chuan and his wife. Khun Kamton (Krung Srivilai) is the big boss. Kamton asks for additional money from all godfathers. Fed up, the godfathers pushed by khun Prasong (Chaiya Suriyun) gather 200 000 baht to get rid of him and a hitman kills Kamton. Uncle Chuan recovers gradually. Saichai promises to take care of Palang. Following a fight in a restaurant, Saichai kills Sia Palang. Godfather Prasong knows that the killer is a former Hong Kong policeman. By threatening Saichai to have him expelled from Thailand, Godfather Prasong hires him to kill other godfathers. One time, he fails as police intervenes. Saichai believes Prasong tried to betray him. Police fails to catch Saichai. Saichai gets a Thai girlfriend called Mary (ชุติมา กาวินละ). Three Hong Kong men are sent to jail following a failed robbery. Saichai knows them. Godfather Prasong is finally arrested by Sorapong following a drug case foiled by Thai police. Somchai Samipak is playing head of Police. Saichai succeeds to release two of his friends. The third one succeeds to escape as police intentionally wants to find other Hong Kong men thanks to him. Police surrounds the house where the Hong Kong men are hiding. They refuse to surrender. Ron Rittichai has to do the dirty job to neutralize the Hong Kong robbers...
ThaiWorldView film database contains 1258 movies.
---