BEFORE YEAR 1958
Increase or decrease font size for easier reading : A+ A-
In year 1897, Thai people discovered cinema.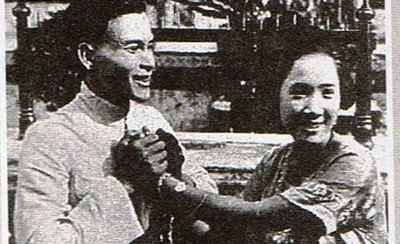 In

year 1923

, Henry McRay directed Nang Sao Suwan (

นางสาวสุวรรณ

), a love story between a lowly clerk and a nobleman's daughter, starring an all-Thai cast.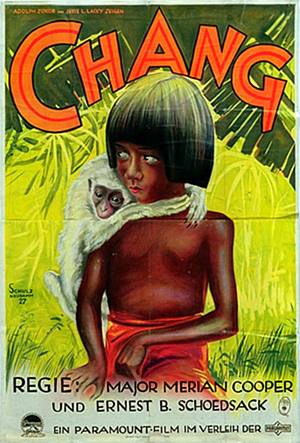 In

year 1927

, Merian C Cooper, who later went on to produce King Kong, made a film called "Chang: A Drama Of The Wilderness" (

ช้าง

) in Nan province, featuring an attack by a herd of rampaging elephants on a forest village.
The first Thai films appeared in decade 1920s such as "Chok Song Chun" (โชคสองชั้น) in year 1927.
---
YEARS 1958 to 1970
All Thai films during decade 1960s, even the 35mm ones, were dubbed. Toward the late 1960s, 16mm films that had to be live-dubbed later were being phased out. 35mm film era had arrived, allowing for sound synchronization. This brought about a resurgence in film-making, a proliferation of cinema halls and bigger audience numbers.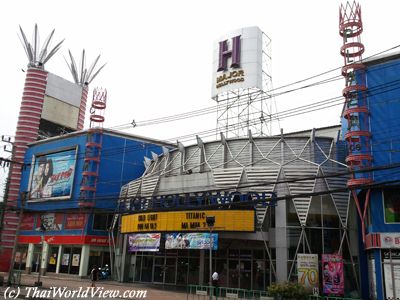 The Thai word "PAPHAYON" (

ภาพยนต์

) is a polite word for movie. The Thai word "NANG" (

หนัง

) is the common word for movie used in daily conversation.
Years 1958-1970 were highlighted by the actor Mitr Chaibancha, who appeared in a phenomenal 266 movies, mostly dramas and action films. In the hundreds or so films released each year, he was the star of thirty of them.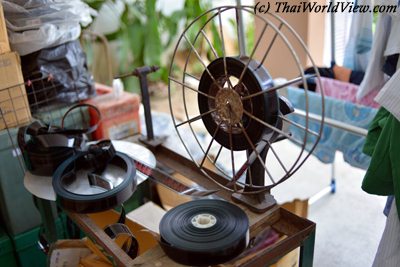 Many old movies have been damaged beyond repair. Only the poster pictures remain as a testimony.
The 35mm movies were more expensive but have the advantage that the director was sure that everyone has the same movie experience.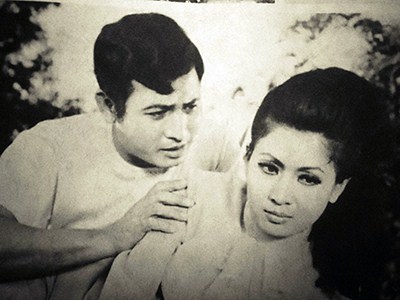 End of 16mm movies started with the death of Mitr Chaibancha as there was no big star anymore to draw people to cinema. Officially the 16mm movies era ends up in

year 1972

being replaced by 35mm movies.
After year 1972, some 35mm movies were still released in 16mm format as outdoor cinema companies were still using 16mm projectors in countryside (16 มม.สโคปไว้เพื่อความสะดวกของการฉายตามต่างจังหวัด).
---
---
YEARS 1970 to 1980
The director ChatriChalerm Yukol was the first to reject dubbing in his movies. He was also the first to have original sountracks and not American soundtracks. It is very common in Thai 1970s movies to hear Star Wars soundtrack!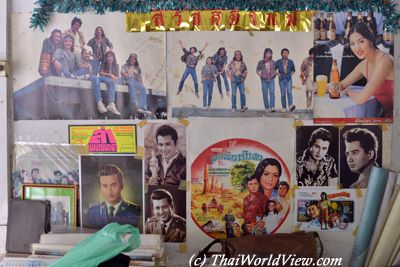 "NANG RIM MUANG" (

หนังริมเมือง

) or movies at the edge of town refers to the titles that usually make more money in the suburban theatres of Bangkok. Despite their image, these edge-of-towners represent a big slice of the cake in the whole cinema industry.
A few big superstars had gone through Thai show business. Mitr Chaibancha and Petchara Chaowarat, at their height in the 1960s, dominated Thai cinema. After Mitr Chaibancha, there was Sombat Metanee and after him there was Sorapong Chatree.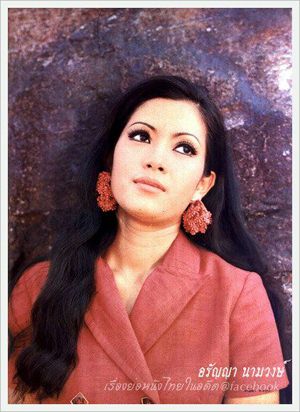 In the female league, Aranya Namwong was considered as Petchara's heiress. Other famous names are Pitsamai Wilaisak, Yodchai Meksuwan, Jarunee Suksawat and more. The last superstar couple was Santisuk Promsiri and Jintara Sukapat in the

1980s

.
The early seventies was the golden age of Thai cinema, with around 200 movies being made annually. For years, locally produced films made practically no attempt to sell outside Thailand. It is believed that the smaller number of movies, dropping from over 200 titles in a year during 1970s, results in a better screening and quality works. So Thai actors were forced to make a living by playing also in TV series.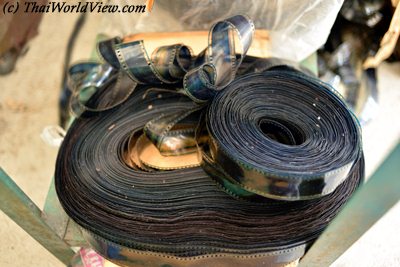 During decade

1970s

, new realistic films appeared breaking with the conventional style of Thai film with an increasing use of sexuality, better storyline, photography, lighting and sound, more realistic and elaborate.
In the 1970s Bangkok's leading intellectuals made fun of Thai conventional films, calling them "NAM NAO" (น้ำเน่า - polluted water) to convey their state of rotten stillness. But Thai cinema in the 1970s took an interest in reflecting social ills. Politics, left and right, was the fabric of daily life.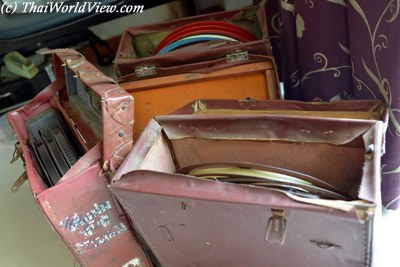 The first wave came in the

1970s

when the intellectuals entered the film industry and made the so-called 'socially critical cinema'. This emergence needs to be understood in parallel to the change of the country's politics and culture, triggered by two major political events: the student uprisings of October 14th 1973 and the attack on demonstrating students on October 6th 1976.
The Motion Picture Export Association of America had to stage a sustained boycott of the Thai market following the increase in import taxes on films in Jan 1977. The price increased from 2.2 baht per metre to 30 baht per metre for 35mm film roll! The boycott stopped in May 1981.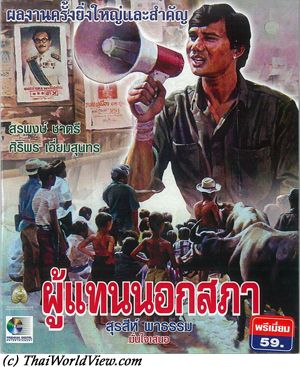 Thai society changed a lot after

14 October 1973

(students took to the streets demanding the military government step down). Thai movies followed this trend. Thai movies after World Ward II always finish happily as they focused on non reality. 1970s movies were more realistic.
Movies characters were divided into two groups, i.e. the good (ดี) and the bad (ร้าย). Sexy stars (ดาวยั่ว) started to appear in all movies. Actresses such as Preeya Roongrueng, Kaenjai Meenakanit or Chadaporn Wachirapranee had to be beautiful but also dared playing sexy and nude roles.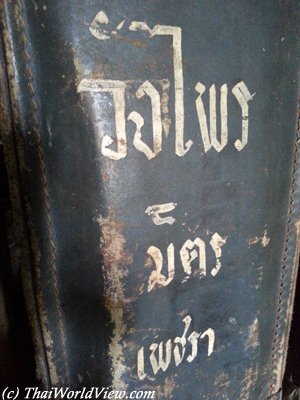 During the 16mm oldies, Mitr Chaibancha and Petchara Chaowarat were the golden couple in 1960s decade. It was easy to find funds for movies, in which the golden couple played, as the return on investment was guaranteed! After Mitr's tragic death in

1970

, it was much more difficult to find funding.
A few 35mm movies became very popular end of 1960s decade (โทน and มนต์รักลูกทุ่ง). Starting in 1972, all movies were shot in 35mm but still two movies characters groups remain, i.e. the good (ดี) and the bad (ร้าย). After 1973, more freedom and more democracy happen. The movies characters groups changed.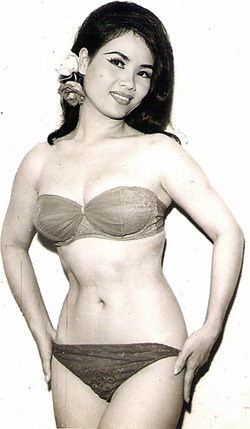 Soviet and Chinese movies were then allowed for showing. After

14 October 1973

, sex was used for first time as a story argument to promote a movie. Leading actresses had to perform daring roles, which were only performed previously by sexy stars (

ดาวยั่ว

).
Such movies were called "Movies selling Sex" (หนังขายเซ็กส์). First Thai movies with such modern leading actress acting daring way were ชู้ (1972) and สาวขบเผาะ (1972).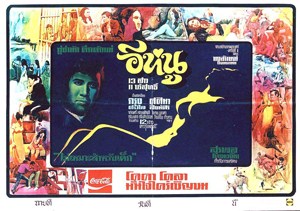 Other movies playing on this wave trend were

รสสวาท

(1973),

ตลาดพรหมจารี

,

อีหนู (13 สาว 11 บริสุทธิ์)

(1973). One famous step forward was The Angel (

เทพธิดาโรงแรม

) (1974) showing life and burden from prostitutes in a realistic way. Many movies try to follow this trend.
The movie characters groups changed. No more funny character (ตัวตลก) groups were present. The leading actress was no more a nice and shy lady (คนเรียบร้อย). The leading actress role merged with the sexy star role, which was reserved to a specific cast of actress before (ดาวยั่ว).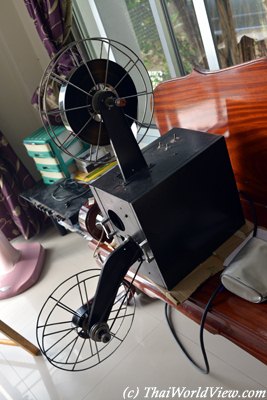 Modern actresses have to be beautiful, capable and fearless (

ใจกล้า

). Actresses such as Aranya Namwong, Wandee Sritrang and Runglawan Sripatimakul were representative of the new actress generation. Most of the time drama movies (

หนังชีวิต

) were the movies using sex (

เซ็กส์

).
Many movies dealt about themes that were not shown during 1960s decade. The movie "Necklace of love" (สร้อยสวาท) (1975) was about homosexuality. The saint's desire (ตัณหานักบุญ) (1975) featured a passionate lesbian kiss between two female leads. Male nudity and men being represented as sexual objects of female desire also hit the news in the mid 1970s.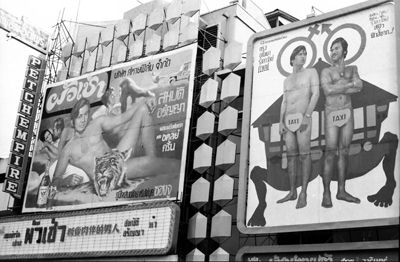 First Thai movies about male prostitution were

ผัวเช่า

(1974) and

ผู้ชายขายตัว

(1974). They created big noise. The film

ผัวเช่า

created a storm due to its crude pre-release advertising (huge billboard of the way to Don Meuang airport). The police issued a banning order saying it was against the good morals of the general public and male sex work occupation is not found in Thailand. It was censured in

1974

. It was seen as wrong with Thai tradition, culture and arts to show male prostitute profession.
The film was finally allowed after change of name but some parts were still censored. Society could accept naked ladies in movies but not yet male prostitutes. It was hypocrisy as Thai censors were all males! Some theathers started to project movies which didn't pass censors.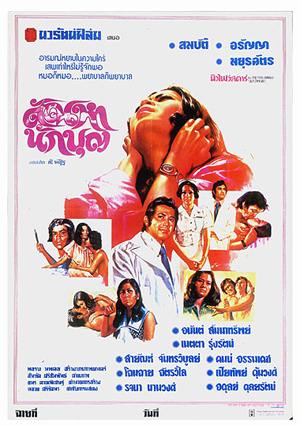 Thai movies changed because the Thai society changed. Thai movies reflected what society wished to see. The liberty seen in 1970s movies reflected the liberty in the society. The young people wanted more liberty (society, sex, behavior, politics...). New censor laws, passed in

1974

, wished to curb this sex trend in Thai movies by forbidding midnight movies and porn movies.
Under the 1930 Film Act, theater owners and broadcasters must submit films that they plan to show to the film censorship board for review. It is a hindrance to the development of the Thai film industry. This makes critical and experimental filmmakers insecure.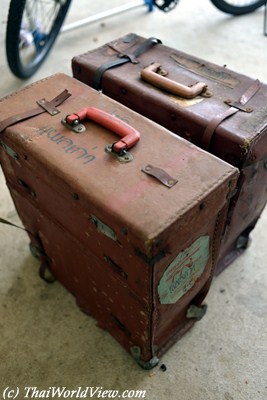 During the anti-communist years, actors found themselves in the Cold War by playing soldiers and mercenaries in many action films in which they fought the red menace in the jungle. Most of these were low-profile, though some were popular as they played to the national sentiment. All actors carried machine guns in those films. Violence was key in Thai movies. It reflected Thai society at that time.
During Thanin Kraivichian's government (1976-1977) period, the production of serious films stopped as Thai people were tought to be afraid of communism. Politics gradually disappeared from Thai films in the 1980s.
---
YEARS 1980 to 1997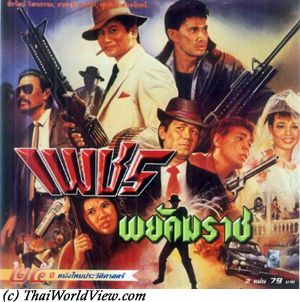 Very commercially successful in the 1980s were gangsters films modeled on Hong Kong genre including a vast amount of gunplay and general quarrels.
In 1980s the television and pirated videotape recordings competed with the film industry and pushed film business into an economic decline. These media influenced the new pattern of movies theatres from stand-alone movie theatres to mini-theatres in shopping malls.
Teen films became a new popular genre in response to the new targeted audience of the shopping malls. About one hundred films per year were released until the late

1980s

. A decrease in audiences, especially adults, attending movies theatres occured, as they were happy with TV and videotape entertainment in their homes.
In the 1990s, mini-theatres in shopping complexes were replaced by multiplex movie theatres. In the 1990s, Thai TV soap operas boomed. While Thai soap became popular, Thai film declined. Moreover many film superstars such as Jarunee Suksawat and Sorapong Chatree turned their career to work in TV drama.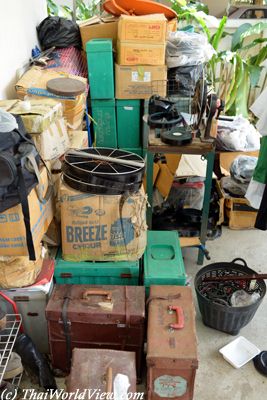 Convential Thai film were popular in 1960s and 1970s. The convential Thai film began to decline popularity around the 1980s however this style has been presented in Thai soap operas (

ละครโทรทัศน์

). Thai people still enjoy the convential style.
In 1993 the government decreased the import tax on films. As a result, the number of Thai films produced decreased such that in 1999 and 2000 only 9 movies were released. The Asian crisis in 1997 didn't help also!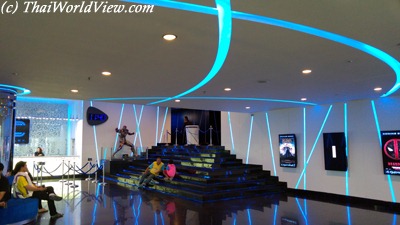 Currently, there are more than 200 screens in Thailand and it is still a growing number. The expectation of higher profits in the increased theatrical situation has been attracting investment into the production of the Thai films. Such old Thai cinema with one huge screen has been replaced by major Cinema operator complexes having several screens.
In early 1990s the invasion of American blockbusters saw most local producers attempt to attract the under-17 audience, where they felt they could still find a market. The result was a preponderance of teen comedy and teen action movies. Plots and themes often centered on the classroom. Between the mid-1980s and the mid-1990s, the Thai film industry suffered a major decline. A sudden trend for teen flicks drove large sections of the filmgoing audience away from cinemas, and by the mid-1990s the industry was producing barely ten films annually. Between 1988 and 1997, Thai movies quantity drops dramatically from 60 to 8 films per year.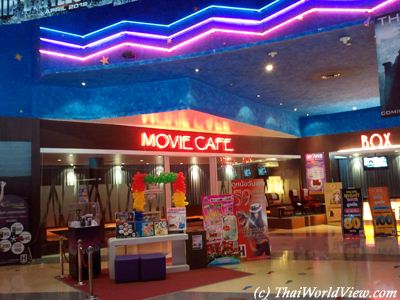 In early

1990s

, the average budget for a Thai film was five million baht. Now it is about fifteen million baht, an increase of 300 percent over a decade.
In the 1990s, the political events of "PREUSAPA TAMIN" (พฤษภาทมิฬ - Black May 1992) inspired filmmakers to produce Third Cinema films. These films emphasized the role of the military in political affairs.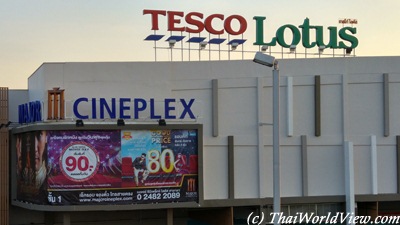 Nowadays Thai audiences are not all that hungry for well-made productions with a social or moral message. They prefer simply and easy-to-digest entertainment.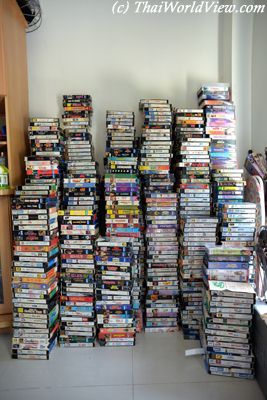 In decade 1980s and 1990s, VHS became a serious competitor to standalone theaters and also to outdoor itinerant cinemas. A VHS player cost almost 100 000 baht but then prices dropped gradually. Thai consumers could choose to watch their movies whenever they wanted and could stay at home. Movies piracy started to be a concern also.
---
YEARS 1997 TO NOWADAYS
The style of films from the new directors (Pen-Ek Ratanaruang, Apichatpong Weerasethakul, Nonzee Nimitbut...) in late 1990s was different from the previous decade. They presented films that were influenced by advertising and music video clips. There were more focus on urban life and people enjoying consumerism. The number of films that presented the story of urban life and middle class increased. On the other hand, the number of films for provincial people (Action movies and Ghost movies) declined.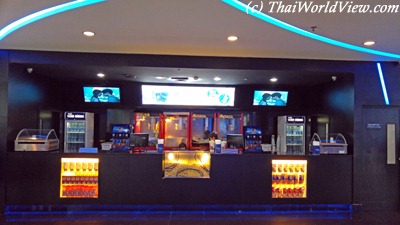 In the

1990s

, the number of Thai films being produced decreased dramatically. During this time Thai film genres such as Teen movies, Action movie, Drama movies, Social movies were no longer popular and began to disappear from the local film market. They were mainly replaced by American movies.
Since 1999, some Thai movies such as "Nang Nak", "Iron Ladies", "Bang Rajan", "Jan Dara", "Ong bak" have been released outside Thailand in Asian countries such as Hong Kong. Even Francis Copolla has shown a great interest in Suriyothai and has promised to help to make a shorter version for US audience. Thai cinema is now breaking down the barriers between the local and international markets.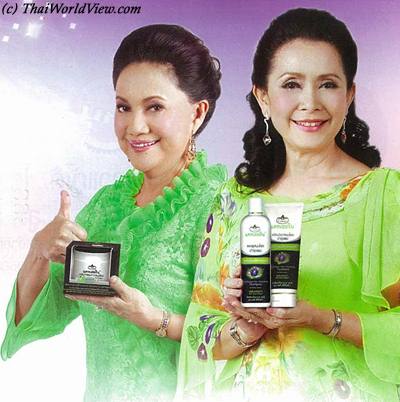 First Bangkok International Film Festival started in year

2003

. The top movie receives a Golden Kinnaree. The Subhanahongsa Awards are the Thailand's equivalent to the Oscars and are organised annually by the Federation of Film Associations of Thailand.
Since the 1997 Asian financial crisis, the Thai movie production has stronly increased. Thai films have enjoyed a revival and the market share of Thai films has increased from 1 percent to 20 percent (only 9 movies in 2000, 17 films in 2001, 21 films in 2002, 46 films in 2003, 44 films in 2004, 39 films in 2005). The majority of annual releases (around 30 to 40 titles) are still occupied with old popular genres like Horror, Action and Comedy. Since 2005, around 45 to 50 Thai films have been made each year. About half of them are either ghost or comedy movies, followed by action movies featuring martial art.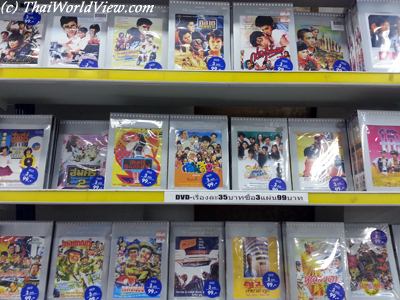 Nowadays good old Thai movies are sold at cheap price such as 3 DVDs for 99 Baht. There is unfortunately no more market for old Thai movies... A VHS tape has now limited value (2 to 3 baht) except for collectors.
Many Thai movies during decade 2010s are mostly romantic movies, horror comedy movies, comedy movies, horror movies and action movies.

---
---