Increase or decrease font size for easier reading : A+ A-
Yodchai Meksuwan
Yodchai Meksuwan (1945) - ยอดชาย เมฆสุวรรณ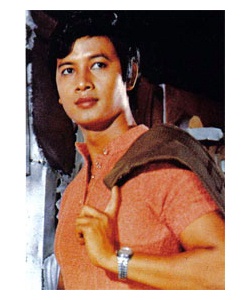 When Mitr Chaibancha died in 1970, Thai producers were looking for new stars to replace him. Yodchai Meksuwan was one of them but also Nard Poowanai, Phairoj Jaising, Krung Srivilai. Yodchai Meksuwan often played with actress Pawana Chanajit. During years 1971-1977, Yodchai Meksuwan appeared in 120 films. He then stopped his show business career to pursue his artistic dreams
This Yodchai Meksuwan movie page contains 28 records.
---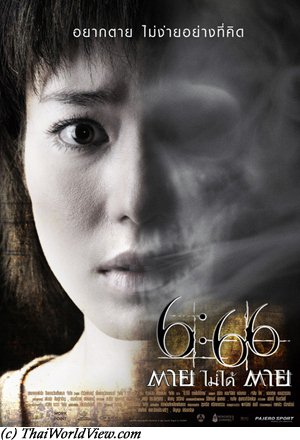 Year

: 2009



Thai title

:

6:66 ตายไม่ได้ตาย




English title

: Death happen



Rating

: 3/5


Director

:



Main actor

: Yodchai Meksuwan


Main actress

:



Buy now

:

The movie starts with a strong opening. A middle age man gets suicide. A photo journalist, called Dao, takes pictures of a business arguing between two men. One man is shot. As Dao has seen the scene, she is also shot. But Dao is safe with no injuries. Her father just died. He is in fact the man who commits suicide. In the hospital morgue, her father wakes up and is sent to reanimation room. Strange night for Dao with two dead peope who finally wake up (ตายไม่ได้ตาย). The father killed his wife as she was suffering in terminal phase. Dao didn't meet her father for 15 years as she never forgives him. Wout is a policeman who is supporting Dao. Some journalist friends talk to her about lost spirits (วิญญาณ) that are wandering around refusing to die, refusing to be born. Dao is enquiring on those mysteries but a hitman is also chasing her regarding the embarrassing pictures she took. She then understands that her father died for her instead of her. Unfortunately the hitman finds her...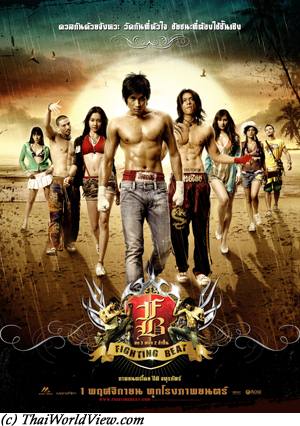 Year

: 2007



Thai title

:

อก 3ศอก 2กำปั้น




English title

: Fighting Beat



Rating

: 3/5


Director

:



Main actor

: Yodchai Meksuwan,Khaosai Galaxy


Main actress

:



Buy now

:

Khaem is a temple boy (เด็กวัด) living on Phi Phi island. He is helping a monk, Luang Pu (Yodchai Meksuwan), every morning during alms. His father was killed by ruffians when he was still a kid. He is working for Uncle Fot (former Boxing champion Khaosai Galaxy). Uncle Fot has two daughters, i.e. Deuan and Dao. To make a living, Khaem and his friends are bringing tourists for daily diving sessions. During evening they organize fake Thai boxing matches to attract customers in their open bar. Khaem practises Muay Chaya style. One night, some ruffians bring troubles to them. Ruffians led by David wish to buy the bar but Deuan's father refuses. Ruffians get pushed back severely. Khaem continues his learning with a new teacher as Muay Thai is only for self-protection or to protect people under threat (คนเดือดร้อน). Finally while Khaem is away with Luang Pu, the ruffians succeed to convince the father to give away the bar by threatening his daughters. Khaem is now back and willing to take back the selling promise. David is helped by a strong fighter just released from prison. This man is the one who killed his father before.Dao is kidnapped. Final thrilling fights are happening between Khaem and the ruffians.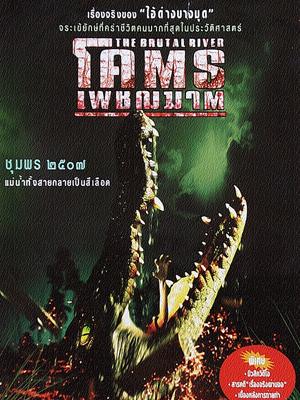 Year

: 2005



Thai title

:

โคตรเพชฌฆาต




English title

: Brutal river



Rating

: 2/5


Director

:



Main actor

: Yodchai Meksuwan,Prompong Nopparith


Main actress

:



Buy now

:

Thai movie โคตรเพชฌฆาต (Brutal river) was released in year 2005. The movie lasts 1h26mn. The movie action takes place in year 1964 in Chumphon province. It is based on a real story. A few veteran actors are playing such as Prompong Nopparith as chief district officer, Yodchai Meksuwan as the Buddhist temple abbot. A man has disappeared in the river and only his stranded boat can be found. A crocodile eating people (จระเข้กินคน) is suspected. A man swimming in the river and a soup vendor are also killed (จระเข้ขัด). Nobody dares to cross the local river anymore. A crocodile hunt starts. The crocodile is named Ai Dang (ไอ้ด่าง). 4000 baht reward is offered. The hunt turns to a disaster as all men are cowards. Only a soldier leader injures the crocodile. Nurse Kate is also killed. Her boyfriend, a policeman, is devastated. A black magician (หมอผี) is used but he is also killed by the crocodile. Another one from Cambodia using dynamite also fails. Soldiers are called for help as villagers cannot cope with the crocodile. They kill a big crocodile but it is not Ai Dang. Some villagers believe it is a crocodile spirit (จระเข้ผี). The soldiers get the blessings from the abbot and start to prepare some traps to catch the crocodile. The crocodile is smart and cannot be caught easily. It gets injured by the soldier leader with a knife but is on the way to flee again. The policeman, Kate's fiance, sacrifices his life and throws himself in the crocodile mouth while holding a grenade. The river gets peaceful again. The movie has weak Fx.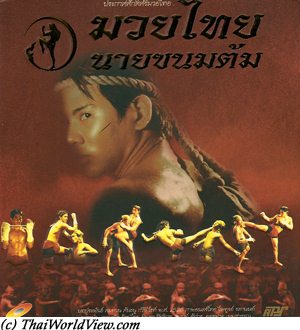 Year

: 2003



Thai title

:

มวยไทย นายขนมต้ม




English title

: NAI KHANOM TOM



Rating

: 3/5


Director

:



Main actor

: Yodchai Meksuwan


Main actress

:
It is the story of a famous Thai boxer, Nai Khanom Tom, who, having been captured by the Burmese, regained his freedom by defeating nine of the enemy's gladiators in a contest witnessed by the Burmese king.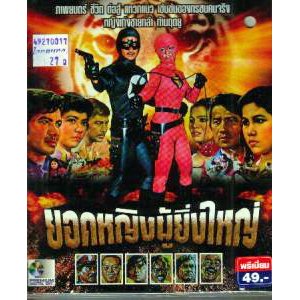 Year

: 1981



Thai title

:

ยอดหญิง ผู้ยิ่งใหญ่




English title

:



Rating

: 2/5


Director

:



Main actor

: Sombat Methanee,Yodchai Meksuwan,Kecha Plianvithee,Pipop Pupinyo,Lak Apichat,Boo Wibunnan,Thuam Thoranong,Paen Pleumsachai,Krong Kangkengdaeng


Main actress

: Wassana Sitthiweth,Piathip Kumwong,Duangcheewan Komolsen.Suphanee Jitthieng
Thai movie ยอดหญิง ผู้ยิ่งใหญ่ was released in year 1981. The version seen only lasts 1h05mn so too many scenes were cut making the storytelling bit weird. Boss (เจ้านาย) Bancha (Kecha Plianvithee) is trafficking weapons. Pipop Pupinyo is part of his team. A mysterious masked vigilante man, wearing black clothes, is trying to stop him. It is Nam (Sombat Methanee). A truck carrying weapons is stopped by Thai Police thanks to Nam. Nam warns Bancha but a fighting erupts with his tough guys. Nam gets help from a mysterious masked vigilante woman, wearing red clothes. Nam meets Nissa (Wassana Sitthiweth), daughter of the police head. Yot (Lak Apichat) helps Pat (Piathip Kumwong) kidnapped by ruffians. Ruffians kidnap Sia / เสี่ย Boo Wibunnan's child and shoot him in the shoulder. Hopefully red and black masked vigilantes follow the car but get attacked by yellow masked men (องค์การสีเลือง). Two ladies Pat and Nissa (นกสองตัว) are captured by Bancha's team, who are preparing to betray Thailand. Yodchai Meksuwan and Darlin (Duangcheewan Komolsen), from Malaysia, are police members. Bancha threatens the police head to kill his daughter Nissa if their business is disrupted again. Nam simulates joining the yellow gang in order to be able to release the ladies. Nam cannot reach agreement so a one to one (ต่อสู้แบบลูกผู้ชาย) fight must happen. Police finally arrives. Pat sacrifices her life to save Nam. Lak helps to release Darlin, who is identified to be the mysterious red masked vigilante woman. All ruffians are captured or killed. The identity of the gang leader (ลืมชาติ) is then known... Other actors are เศกสิทธิ์, Suphanee Jitthieng,โดม สิงโมฬี, Krong Kangkengdaeng.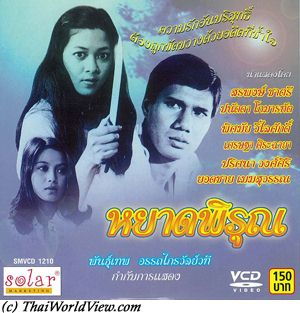 Year

: 1980



Thai title

:

หยาดพิรุณ




English title

:



Rating

: 5/5


Director

:



Main actor

: Sorapong Chatree,Yodchai Meksuwan,Settha Sirachaya,Kamthorn Suwanpiyasiri


Main actress

: Pissamai Wilaisak
A Young lady, called Fai, gives her baby to a rich couple as her husband left her. Her husband is a rickshaw driver and both come from low fringe of Thai society. The baby is named Yat Phirun (หยาดพิรุณ) or Nam Fon as nickname. The new father loves her a lot but the mother Taisanee despises her. They have a second daughter called Nam Phet. Eighteen years passed. Takrit (Sorapong Chatree), young man, is frequenting the daughters. The mother Taisanee still believes Nam Fon is same as her real mother and so should have hot sexual temper (มีไฟ) as she is coming from a poor background. Nam Fon sometimes loses consciousness and forgets what she has just done. Takrit visits the parents' home with his friend Kiti. Nam Fon is sometimes crazy due to painful headaches as she didn't get any love from mother Taisanee (ใจร้าย). The father wishes to separate temporarily his wife and Nam Fon. Nam Fon stays at an aunt's house. Her headaches disappear but then come back. The uncle tries to take advantage of Nam Fon at nighttime. She hits him with a vase but doesn't remember. The uncle claims she enticed him but she refuses to accept a fault (รับผิด) that she didn't do. It will be same as lying (โกหก). Nam Fon is having a double personality syndrome. When she has big headaches, she speaks alone with a low society pronunciation (เสียงประหลาด). Her double personality is called Yat Fon (ผู้ดี - ผู้ต่ำ). She invites Kiti to go out willingly. Takrit meets her in a nightclub at the time Tiki was bringing her to a motel. He rescues her. As the uncle acknowledges his bad behavior, the father and Takrit know that Nam Fon has a problem. The father entrusts Takrit to cure Nam Fon as there is no help to expect from mother Taisanee. Takrit sends her to see a psychanalyst, who uses hypnotism to know the truth. Nam Fon has a split personality (วิญญาณหนึ่งดี - วิญญาณหนึ่งร้าย). Takrit thinks to marry Nam Fon so that she can be far from Taisanee, reduces her headaches and have the double personality die. One body two personalities. Nam Fon's father comes back after 18 years. He asks for 20 000 baht. Taisanee wants to send back Nam Fon to her real father (บุญธรรม). It is too much and Yat Fon beats Taisanee. Taisanee gives money to Nam Fon's father so that he can take her away. Yat Fon is back again and takes a knife to threathen Taisanee and her father. The man acknowledges he is a liar and not her real father, who died already. Taisanee loses consciousness and is sent to hospital. Yat Fon dies in order to be able to give happiness to Nam Fon. Taisanee acknowledges her mistakes and a new relationship can start with Nam Fon. This movie features soundrack from Jerry Goldsmith used in American horror movie The Omen. Pissamai Wilaisak plays swimmingly the bad mother role. This movie highlights prejudices over low society people.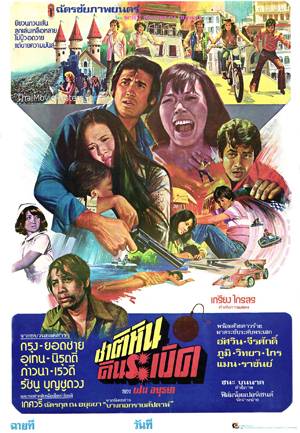 Year

: 1979



Thai title

:

ชาติหินดินระเบิด




English title

:



Rating

: 3/5


Director

:



Main actor

: Krung Srivilai,Yodchai Meksuwan,Nirut Sirijanya,Uten Boonyong,Doo Dook Kradon,Krai Kanchit,Pumi Patanayut,Wittaya Sukdamrong


Main actress

: Pawana Chanajit,Rewadee Pattaphong,Ratchanoo Boonchuduang
Thai movie ชาติหินดินระเบิด was released in year 1979. Main actors and actresses include Krung Srivilai, Yodchai Meksuwan, Pawana Chanajit, Nirut Sirijanya, Rewadee Pattaphong, Ratchanoo Boonchuduang, Uten Boonyong, Doo Dook Kradon, Krai Kanchit, Pumi Patanayut, อัศวิน รัตนประชา, จิระศักดิ์ ปิ่นสุวรรณ, Wittaya Sukdamrong, ราชันย์ กาญจนมาศ. Movie director is เกรียง ไกรสร. The film is lost in Thailand but a sequence in 35mm format can still be seen. The picture is very damaged and reddish. It lasts ten minutes. During the remaining sequence, Nirut and Doo Dook Kradon are in prison. Pumi Patanayut is about to burn Nirut's wife and her child. Policeman Krung tries to help but he is finally captured. Police surrounds the school where ruffians are hiding and having kids as hostages. Yodchai Meksuwan is playing a blind man. Pumi Patanayut is the head of ruffians. Krung and Nirut enter the school to release Nirut's son. It is successful.



Year

: 1979



Thai title

:

อยุธยาที่ข้ารัก




English title

: The last day of Ayudhya



Rating

: 3/5


Director

:



Main actor

: Krung Srivilai,Yodchai Meksuwan,Piya Trakulrard,Surasit Sattayawong,Tawan Siriwat,Lor Tok,Pipop Pupinyo,Pan Borapet


Main actress

: Pawana Chanajit,Chosri Misommon,Somjit Sapsamruey,Marasri Bangchang,Sulaleewan Suwanthat



Buy now

:

Thai movie อยุธยาที่ข้ารัก / The last day of Ayudhya was released in year 1979 and lasts 2h18mn. The movie features many songs. The Thai chief soldier (Tawan Siriwat) is a traitor. Young lady Lam Duan (พนิดา ทองทัต) helps the Thai King (Surasit Sattayawong) to flee. Ayutthaya city is burnt and destroyed as the traitor opens the door to Burmese soldiers. Resistance is on. Lam Duan and her husband Reuang (Yodchai Meksuwan) try to kill the Burmese King but they fail and are sentenced to death. They promise to love each other every life (ทุกชาติ) and to kill the Thai traitor. 200 years have passed. Lam Duan is reborn under MouMou's name. Reuang is reborn under Decha's name. Sulaleewan Suwanthat is playing MouMou's mother. Dam (Pipop Pupinyo) kidnaps the subdistrict headman's daughter. Decha (Yodchai Meksuwan) likes painting and falls for Noi (Pawana Chanajit), a good heart prostitute. Decha is hired (นับสืบ) by a rich lady (Somjit Sapsamruey) to find her lost granddaughter (หลานสาวเศรษฐี). Dam buys a young lady called MouMou (พนิดา ทองทัต) for 3 nights from her parents but she refuses and escape after hitting Dam. Decha finally helps her but she doesn't trust believing he is another rapist. They take refuge in a cave. At nighttime, Decha dreams that MouMou is Noi and makes love to her. He promises to be responsible of his acts. Chased by Dam's ruffians including Pan Borapet, MouMou splits with Decha to attract the ruffians. She is unfortunately shot by ruffians and falls from a cliff. Toon (Lor Tok) is Decha's assistant. Lor Tok as medium (คนทรง) convinces the grandmother that Noi is her lost granddaughter. If Decha marries Noi, lost granddaughter, then they will have 1M baht to share! On the wedding day, MouMou is back. She wants to get her husband Decha back. Krung was the one to rescue MouMou when she falls from the cliff. He wishes to marry her but she refuses as she loves Decha, her husband in this life and previous life as Reuang. In order not to lose 1M baht, Noi has to accept to share Decha with MouMou. One day in alternance (โควตา) but jealousy makes it impossible to happen. Krung Srivilai has finally a small role in this movie but he is displayed on the poster as the main actor. Decha and Noi plan to send MouMou to a psychiatric hospital. She rebels and when facing Tawan Siriwat, she reminds he was the traitor in Ayutthaya and stabs him. The rich lady realises that her missed granddaughter is MouMou and not Noi! MouMou flees and reaches Ayutthaya. There, disappointed by life, she becomes a nun.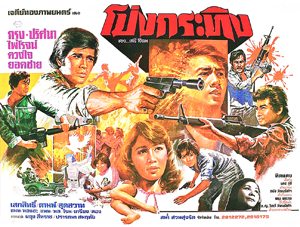 Year

: 1979



Thai title

:

โป่งกระทิง




English title

:



Rating

: 3/5


Director

:



Main actor

: Krung Srivilai,Dam Datsakorn,Yodchai Meksuwan,Phairoj Jaising,Man Teeraphol


Main actress

: Prissana Chabaprai,Duangjai Hathaikarn
Thai action movie โป่งกระทิง was released in year 1979. Main actors are Krung Srivilai and Prissana Chabaprai. This movie is lost in Thailand. The three last reels are only left to be seen. Phairoj Jaising and three ladies (Duangjai Hathaikarn, Prissana Chabaprai) including Kaew are having issues with ruffians. They decide to fight back. Shootings are exchanged with ruffians. Krung Srivilai as policeman (หัวหน้าสถานีคนใหม่) tries to arrest the ruffians. Det (Dam Datsakorn) and Man Teeraphol are the ruffians' leaders. Yodchai Meksuwan is subdistrict headman. Det is using bad influence (อิทธิพล) over the area. Det and Phi Khun are buying weapons (อาวุธ). Their den is surrounded by policemen led by Krung but they refuse to give up. Heavy shootings happen. Det is finally captured.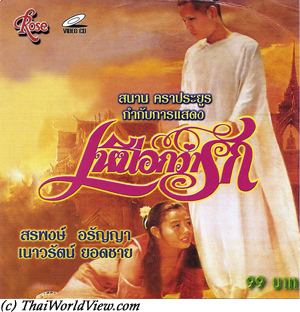 Year

: 1978



Thai title

:

เหนือกว่ารัก




English title

:



Rating

: 4/5


Director

:



Main actor

: Sorapong Chatree,Yodchai Meksuwan


Main actress

: Naowarat Yooktanun,Aranya Namwong,Nipaporn Nongnuch,Tharika Thidathip
A poor woman has to leave her daughter as she cannot take care about her and is giving her to a wealthy family. When growing, the daughter discovered that she has another real mother. In order not to destroy the wealthy family harmony, the poor woman has to play the role of a bad woman, the role of a prostitute to disappoint her daughter. As it is not enough to break her daughter's love, she is no choice than to become a nun ("MAE CHI" - แม่ชี).



Year

: 1977



Thai title

:

หงส์ทอง




English title

:



Rating

: 3/5


Director

:



Main actor

: Phairoj Sangwaribut,Yodchai Meksuwan,Phairoj Jaising


Main actress

: Aranya Namwong
Srongklot, a young man, on a trip to Hong Kong, meets Hong, a young Thai-Chinese lady, selling souvenirs on the Peak. She steals his camera but gets caught explaning that her grandma is very sick and poor. Having issues with local mafia, he has to flee and is rescued by Hong. His brother convinces him to go back to Thailand but he has to leave behind Hong as she cannot get a visa for Thailand. Back to Thailand, he meets Kaekai a lady already married but separated with her husband. Her husband refuses to divorce and sends tough men to hit Srongklot. Kaekai kills her husband and kills her-self. Srongklot, being blind after the attack, goes back to Hong Kong to cure his eyes and heart with Hong. Half of the movie is filmed in Hong Kong so it is very interesting to see Hong Kong with boat people in Aberdeen and the landscape from the Peak without high skycrapers.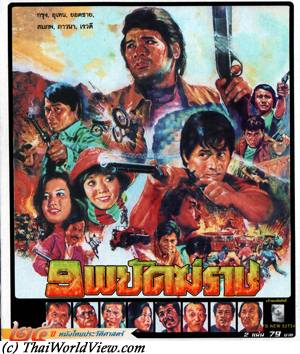 Year

: 1977



Thai title

:

9 พยัคฆ์ราช




English title

:



Rating

: 2/5


Director

:



Main actor

: Krung Srivilai,Yodchai Meksuwan,Uten Boonyong,Pinyo Parnnui,Sithao Petcharoen,Somphob Benjatikul,Sompong Phonmitr


Main actress

: Pawana Chanajit,Rewadee Pattaphong
This movie is one of the many Thai action movies released during decade 1970s. This movie involves a quatuor of famous Thai actors, i.e. Krung Srivilai, Yodchai Meksuwan, Uten Boonyong, Pawana Chanajit. Side characters are Pinyo Parnnui, Sithao Petcharoen, Somphob Benjatikul as a ruffian, Sompong Phonmitr. The daughter Kaessini (Rewadee Pattaphong) is back. She succeeded getting an university diploma. She wishes to use her knowledge for the benefits of the villagers. The villagers have serious issues with local ruffians. Krung is coming from Bangkok. Krung beats a few ruffians. Yodchai Meksuwan is playing a fake medium and provides fake medicine (ยาเทวดา). Yodchai is recruited by Krung. Thugs leader wants to force villagers to sell their land. As they refuse, he kidnaps Pawidee (Pawana Chanajit) in front of her father (Sompong Phonmitr). Shootings happen at the teacher's home. The movie sold by Lepso VCD company seems incomplete or cut as the release of Pawidee is not shown. Frequent fightings happen between ruffians (นักเลง) and Uten and Sa ong. Similar to The Magnificent Seven movie, Krung and his three friends resist to the ruffians. As the ruffians prepare a plan to kill them, Krung prepares a strike back offensive. Ruffians are the ones to fall in a trap. Heavy fightings and shootings happen. All ruffians are defeated or killed. Sa ong is killed. Movie '9 พยัคฆ์ราช' was released in year 1977 and lasts 1h43mn. The Lepso VCD has an horrible sound. Thai action movies were very popular in decade 1970s. This movie gathers many famous stars (Krung Srivilai, Yodchai Meksuwan, Uten Boonyong) but the result is average.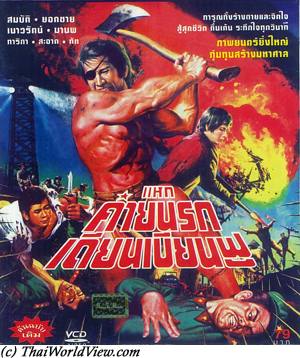 Year

: 1977



Thai title

:

แหกค่ายนรกเดียนเบียนฟู




English title

:



Rating

: 2/5


Director

:



Main actor

: Sombat Methanee,Nard Poowanai,Yodchai Meksuwan,Sor Asanajinda,Manop Aussawathep


Main actress

: Naowarat Yooktanun
During Dien Bien Phu battle, a few Thai soldiers are captured and imprisoned in a Communist Vietnamese working camp. They face difficulty through hard labour and few food given. Those who try to escape are killed. Rivalries appear between inmates, especially with those collaborating with the Vietnamese wardens. Life is hell there. The head of the working camp is a sadist. Thai inmates decide to flee. After a hard battle inside the camp, they need to reach the border to be safe but the head of the working camp has not given up...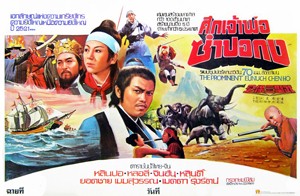 Year

: 1977



Thai title

:

ศึกเจ้าพ่อซำปอกง




English title

: Prominent Eunuch Chen Ho



Rating

: 3/5


Director

:



Main actor

: Yodchai Meksuwan,Lo Lieh


Main actress

: Metta Roongrat
Thai HK movie "Prominent Eunuch Chen Ho" / 鄭和下西洋 / was released in year 1977. It features Thai actors Metta Roongrat and Yodchai Meksuwan. A 7 minutes extract is still available. A Thai monk is kidnapped. Metta Roongrat tries to stop the kidnappers but she is killed. Chief Marshall defeats one of the kidnappers, who flees. The runaway is killed by Lo Lieh. The emperor has been kidnapped (maybe he was hiding in Thailand as a monk).



Year

: 1977



Thai title

:

โอ้มาดา




English title

:



Rating

: 3/5


Director

: Chana Kraprayoon



Main actor

: Sorapong Chatree,Yodchai Meksuwan,Nirut Sirijanya


Main actress

: Naowarat Yooktanun,Pissamai Wilaisak,Mayurachath Muarnprasitivej



Buy now

:

It is about a woman, who is tyrannizing her family by imposing her wishes in order to become a lady (คุณหญิง - "KHUN JING"). Fortunately for her family, her dreams are going to fail...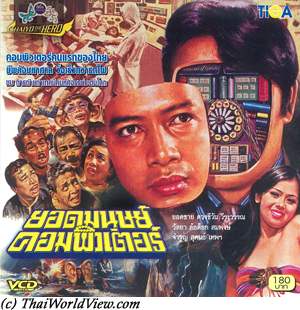 Year

: 1977



Thai title

:

ยอดมนุษย์คอมพิวเตอร์




English title

:



Rating

: 3/5


Director

: Sompote Sangduenchai



Main actor

: Yodchai Meksuwan,Lor Tok,Phirapon Piyawan,Thep Thienchai,Jamroon Nuatjim


Main actress

: Duangcheewan Komolsen



Buy now

:

Four boys are born with strange features, one has very big ears, one has a tail, one has very big hands, one has big nose sinus. Becoming friends, they spend most of their time playing and sleeping. Becoming adults, their fathers banish them from the village as they are doing nothing to help the community. Just as they leave, a local mafia gang threatens the villagers to get help to cultivate opium and to provide food for their members. Meanwhile one lady wants to marry one of the boys but wishes that he can remove his tail. He refuses. At night time, while he is sleeping, she cuts his tail. He flees away but looses a lot of blood. A crazy scientific professor finds and decides to save him by using technology. He becomes the Thai Six Million Dollar Man! He then gathers his three other friends to free the villagers from the mafia gang.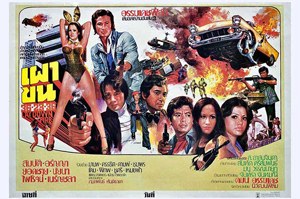 Year

: 1976



Thai title

:

เผาขน




English title

: Lay Down and Die



Rating

: 3/5


Director

: Kom Akadej



Main actor

: Sombat Methanee,Manop Aussawathep,Phairoj Jaising,Kanchit Kwanpracha,Yodchai MeksuwanBoo,Choomporn Theppitak,Dam Datsakorn,Boo Wibunnan,Kom Akadej,Pipop Pupinyo,Pan Borapet


Main actress

: Aranya Namwong,Naiyana Shewanan,Moeifa,Chosri Misommon,Neranchala Thaleungsak
Thai movie เผาขน was released in year 1976. The movie was never released on VCD or DVD in Thailand but a collector saved the film from 16mm format into VHS many years ago. The copy was not so good and was in red color as the film was already old. It lasts 1h44mn and is incomplete. The movie was also released in Italy under the name Lezi Puca Se (Lay Down and Die). It was also released by IFD Films and Arts, a Hong Kong company, under the name Bionic Heroes (1977) and lasts 1h25mn. The VHS rip is still colorful and sharp but the original Thai version has been reduced and cut to fit VHS standard format. Some sequences missing in the Thai remaining version are present in the international release. Enemies are trying to enter Thailand. At the border, Fon (Sombat Methanee) refuses to meet his younger sister Naiyana. He has to investigate who is providing weapons for Thai enemies. The enquiry leads him to a bunny bar, owned by Manop Aussawathep. Both Aranya Namwong and Pong (Phairoj Jaising), sister and brother, have resentments against Manop as he failed to honour the promise to their father to take care of them. They are used by him for low jobs. Pong (Phairoj Jaising) keeps having arguments with Dam, Manop's right hand. Boo Wibunnan is shot by Kanchit Kwanpracha, who ends up in jail. Aranya is having issues with Ah, an older man, who is trying to rape her as she was sold by Manop. Pong shoots him deadly. Pong and Aranya are then chased by the police. Prisoners Kanchit and Yodchai Meksuwan escape from the prison and are chased by the police. Some ruffians led by Dam Datsakorn try to shoot them while they are fleeing. They split to increase the chance for escape. Yodchai meets Pong and Aranya. They bring him temporarily with them to avoid police but then get rid of him on the backside of the road. Manop Aussawathep's girlfriend is played by Moeifa. Both Pong and Aranya fail to kill Manop. Kanchit wishes to revenge also on Manop as he believes he was betrayed. Manop pacifies everybody and Yodchai joins the team also. Dam, Yodchai and Kanchit do a heroin traffic in the train. Naiyana Shewanan spies them. Manop, as head of the traffickers, is upset as his latest traffic was discovered by the police so there must be a spy in his team. Manop decides to use Aranya for a Thai boxing match in order to exchange drugs versus money among a busy crowd. The niece of Manop is Pissamai (Neranchala Thaleungsak). Pissamai and Pong become very close. Chosri Misommon is playing Aranya's Thai boxing trainer. Choomporn Theppitak is playing a drug trafficker. Aranya wins her Muay Thai boxing match. Nayana spies Kanchit and his ruffians charging drugs in a truck. Yodchai convinces the ruffians that he will manage Nayana by himself. As Manop tries to abuse Pissamai, Pong helps her and they flee together chased by Dam. Meanwhile Fon shows to Aranya that Manop uses her as a mule only as drugs is hidden under banknotes. They also flee. Pong is captured while trying to release Nayana. Fon flees with Aranya and Pissamai. While trying to capture drug dealer Choomporn, Fon is finally neutralized by Pipop Pupinyo, Pan Borapet and Kanchit. They are transferred to the ruffians' base by helicopter. Fon is attached to a rope under the helicopter. He falls in a lake. Ruffians are attacking a border station to let enemies enter Thailand. Some ruffians are changing side such as Kanchit trying to protect Yodchai, who was the one always informing the police. The movie highlights police and military helping each other to push back enemies of Thailand. Pong and Pissamai die in each other's arms while fighting for Thailand. Director Kom Akadej is also having a small role as policeman. The movie features a very big number of famous Thai actors / actresses from decade 1970s.



Year

: 1976



Thai title

:

ไผ่กำเพลิง




English title

: Killer Elephants



Rating

: 5/5


Director

: Kom Akadej



Main actor

: Sombat Methanee,Yodchai Meksuwan,Kanchit Kwanpracha,Pipop Pupinyo,Dam Datsakorn,Sayan Chantaraviboon,Kom Akadej


Main actress

: Aranya Namwong,Naiyana Shewanan,Mayurachath Muarnprasitivej
Ruffians are chased by police officer Ching Ming (Yodchai Meksuwan) but he failed to catch them. He meets his old friend Kau Fei (Sombat Methanee). Ruffians are hiding in a Surin timber yard. A big fight happens as Ching Ming wishes to jail them. Hopefully Kau Fei helps Ching Ming but there is no way to know where is the big boss behind. Local police is trying to catch Kau Fei but elephants prevent police to follow up Kau Fei. He has been accused of murder but he was framed. The head of ruffians (Kanchit Kwanpracha) framed him as Kau Fei refuses to sell his farm land to him. Ruffians burn the houses on the farm land. Ching Ming and Kau Fei help people stuck in their home. Ching Ming likes a lot a local lady Shao Feng (Naiyana Shewanan). Kau Fei decides to take revenge by entering in the boss home. He is not here so he captures madame Shu (Aranya Namwong). Ruffians try to rescue her by entering the farm through the forest but they are welcomed by guns and elephants. Kau Fei still loves Shu despite she was forced to go with the boss. Ching Ming tries to arrest Kau Fei but to no avail. Kau Fei comes to town to make trouble inside the boss' favorite nightclub. Shu is now pregnant with Kau Fei. As Shu is about to deliver, Ching Ming helps to bring her to hospital. The boss aware of this wants to use her and the baby as a bait. Taking profit of Surin elephant carnival (เทศกาลของเมืองสุรินทร์), Kau Fei sends a few elephants and villagers to pick up Shu. Kau Fei does a rampage in the boss' house and even injures him but Mau Tien, another ruffian, finishes him. Mau Tien (Dam Datsakorn) becomes the boss and decides to kidnap Shu and two nurses to attract Kau Fei to the plains. Kau Fei and the villagers rescue Shu and the two nurses. Then a crazy rampage of the elephants on the ruffians' camp happens. They are pushing huts and cars with real people inside. Big explosions and houses in fire happen. Even Ching Ming intervenes and helps Shao Feng. He finally lets Kau Fei go to Cambodia. The Thai movie "Killer Elephants" - ไผ่กำเพลิง was released in Thailand in 1976. Main actors are Sombat Methanee and Aranya Namwong. The movie director was Kom Akadej, who got the "international name of Som Kit in the credits, which is a version of his middle name, Somkit. All the other actors got Chinese style names, probably to cash in on the Hong Kong market and the rest of the worlds wish for more Kung Fu movies. The Killer Elephants cannot be found anymore in Thailand except at the Thai Film Archive, the original Thai version. Joseph Lai and his IFD Arts and Entertainment prepared this international version, which is the most common version outside Thailand. This DVD was released by Swedish company Attackafant Entertainment directed by Fred Anderson, a well known lover of Thai cinema. This DVD is the first official ไผ่กำเพลิง DVD release ever. The "Killer Elephants" movie rights in Thailand belongs to Coliseum film (บริษัท โคลีเซี่ยมฟีล์ม), company from Kom Akadej. Up to now no VCD / DVD was released in Thailand with correct rights according to Thai law. Only a video tape was released long time ago. Coliseum film company would sell the rights for all Kom Akadej's movies and not only for 'Killers Elephants' movie. Thai Company XxX (Triple X) was only interested in 'Killer Elephants' movie so up to this day Thai people are still waiting for a Thai version of ไผ่กำเพล to be released again. The movie also includes also famous supporting actors such as Yodchai Meksuwan, Naiyana Shewanan, Mayurachath Muarnprasitivej, Kanchit Kwanpracha, Pipop Pupinyo, Dam Datsakorn, Sayan Chantaraviboon. The finest batch of Thai actors during 1970's! Only Sorapong Chatree and Krung Srivilai are missing. Pipop Pupinyo, Kanchit Kwanpracha and Dam Datsakorn were the regular bad guys in Thai cinema and so of course even in The Killer Elephants! The same story was also released as Thai TV lakorn in 2004.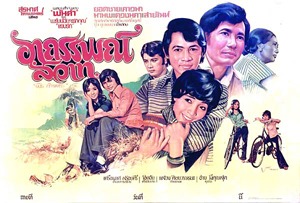 Year

: 1974



Thai title

:

อาถรรพณ์สวาท




English title

:



Rating

: 3/5


Director

: Phan Kam



Main actor

: Yodchai Meksuwan,Sayan Chantaraviboon,Manop Aussawathep,Boo Wibunnan


Main actress

: Pawana Chanajit,Chosri Misommon,Marasri Bangchang,Duangnapa Autthapornphisan
Thai movie อาถรรพณ์สวาท was released in year 1974. This หนังชีวิตรัก movie is lost in Thailand but 59 minutes are left to be seen. Other actors are Duangnapa Autthapornphisan (ดวงนภา อรรถพรพิศาล), จิระศักดิ์, จรัสศรี, ขุนแผน. Movie director is Phan Kam. Nok (Pawana Chanajit) needs to leave for Bangkok. Her friends, including Tao and Kung (Sayan Chantaraviboon), are already missing her. They are close friends (ลูกทะเล). Nok's mum (Marasri Bangchang) sends her in Bangkok to finish her studies. She shall stay in her mother's best friend home. In Bangkok, Nok meets Kata (Yodchai Meksuwan). Chosri Misommon is playing a domestic helper. Kata doesn't welcome Nok as she reminds him a former love that failed and so bad souvenirs. Boo is debtor recover. Walin (Manop Aussawathep), close friend with Kata, likes Nok also. Nok and Yodchai play jealousy games towards each other. Due to debts, Yodchai's mother succeeds to marry Nok and Kata but there is no real love between them. Kata is ashamed as people shall gossip if it is a wedding due to money arrangement. In reality, Nok's mother doesn't have money anymore also! As his mother warns him on his family name status (ตระกูล) if Nok has any bad behavior, Kata starts to enquiry about all activities of Nok. As Nok's mother is bankrupted, Kata's mother is upset to have organised this wedding and tries to find Nok in compromising situation to have an excuse to cancel the wedding. Nok learns that her mother is ruined and gets sick. While Kata is on business trip and Kata's mother refuses to call a doctor, Kung brings Nok out of this heartless home. Kata's mother puts the blame on Nok but Kata is fully aware of his mother's tricks and decides to get Nok back. Finally Kata accepts to give back her freedom to Nok. Going back, he has a car accident. On the hospital bed, Nok declares her love to Kata. The movie ends happily.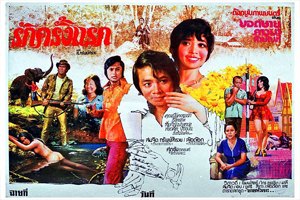 Year

: 1974



Thai title

:

รักครั้งแรก




English title

:



Rating

: 3/5


Director

: Lor Tok



Main actor

: Yodchai Meksuwan,Sayan Chantaraviboon,Op Boonthit,Sithao Petcharoen,Lor Tok,Krai Kanchit


Main actress

: Pawana Chanajit,Chosri Misommon,Somjit Sapsamruey,Malee Wetpraseri,Khomapat Attaya,Manat Boonkiet
Thai movie รักครั้งแรก was released in year 1974. Main actors and actresses include Pawana Chanajit, Yodchai Meksuwan, Sayan Chantaraviboon, Malee Wetpraseri, Somjit Sapsamruey, Op Boonthit, Chosri Misommon, Sithao Petcharoen, Lor Tok, วิภาวดี ตรียะกุล, Khomapat Attaya, Krai Kanchit, Manat Boonkiet. Movie director is Lor Tok. The film is lost in Thailand but a left sequence in 35mm format can still be seen. The picture is very damaged and reddish. It lasts six minutes. During the remaining sequence, Nim (Pawana Chanajit) loves Seum (Yodchai Meksuwan), being a poor man. Sorasak (Sayan Chantaraviboon) is her promised fiance per her parents' arrangement. Sorasak's mother is Manat Boonkiet. On Nim's birthday, an official engagement ceremony shall happen but Nim declares her love to Seum in front of her family. Sorasak loses face and punches Seum afterwards. Nim's parents are mother Mom Somjit Sapsamruey and father Op Boonthit. Chosri Misommon has pity over Nim. Seum teaches Nim to play music with old instrument. Seum is Nim's first love. This movie highlights the dilemma between a chosen marriage by parents and children's own love choice.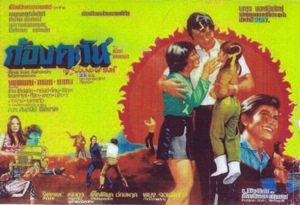 Year

: 1974



Thai title

:

ก้องตะวัน




English title

: THE SOUND OF SUN



Rating

: 3/5


Director

:



Main actor

: Yodchai Meksuwan,Manop Aussawathep,Pipop Pupinyo,Thep Thienchai


Main actress

: Pawana Chanajit,Khomapat Attaya
Thai movie ก้องตะวัน / THE SOUND OF SUN was released in year 1974 and lasts 1h56mn. This movie was never released in Thailand under VHS, VCD or DVD. Kiet (Yodchai Meksuwan) and Daojai (Pawana Chanajit) are stuck in the countryside as their car engine is broken. Thep Thienchai is playing Kiet's domestic helper called Ouam. The sun reverberation is particularly strong in this countryside area. They are married for 7 days. It is not a reciprocal love. Wanna, doctor's wife, is often out with Daojai. The doctor is always obedient to his wife. Kiet is sick while Daojai is away. To create interest from Daojai into Kiet, the doctor lies about a critical disease if she doesn't care more about her husband. Everything is back to normal and they do have a daughter called Sanit. One day, an old friend of Kiet, called Dom, asks him for help. The friend invites him to discuss in a bar and a lady, called Lomrak (Khomapat Attaya), pushes him to drink a lot. He finally sleeps there being drunk. Life goes back to normal but Lomrak keeps calling Kiet (หลงรัก). Kiet keeps going back home late (เมียน้อย) so Daojai is very worried. Very drunk, Lom brings back Kiet at home and meets Daojai (แม่บ้าน). Kiet wishes to use the marital room with Lomrak. Kiet slaps Ouam blaming him. Daojai, Sanit and Ouam quit the house on the same night. They take refuge in a relative's home, who is often drunk. At nighttime, Choei tries to abuse (ปล้ำ) Daojai. Kiet keeps drinking heavily (ทำผิด). Kiet has to sell his car to pay debts. He is fired from his company as 400 000 baht have disappeared from the banking accounts. Kiet is broke (หมดตัว). Kiet discovers that Lomrak is Dom's wife and that they stole his money. Dom's ruffians including Pipop Pupinyo teach him a lesson. The ruffians leave him for dead. Daojai meets อา Montri (Manop Aussawathep). Kiet starts a new life by being a car driver. Daojai and Montree see him on the road side. Daojai misses Kiet but she doesn't want to be weak in front of him so she rejects his apologies and even prevents her daughter to meet Kiet. She mentions that Montri is her new husband. Kiet and Montri have a man-to-man explanation but Dom appears and tries to shoot Kiet. To avoid any issues with Thai justice, Dom has to get rid of Kiet as he is aware of his illegal activities. Dom runs his jeep over Kiet's leg. Due to extreme sun reverberation in this countryside area, Dom loses control of his jeep and crashes into a tree killing Lomrak. A mysterious local doctor takes care of Kiet and he can recover within seven days. Kiet, Daojai and their daughter are back together.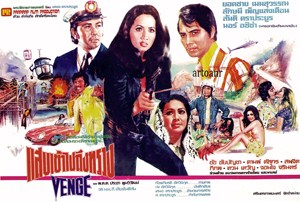 Year

: 1974



Thai title

:

แสบเข้าไปถึงทรวง




English title

: Vengeance



Rating

: 3/5


Director

:



Main actor

: Dam Datsakorn,Yodchai Meksuwan,Pipop Pupinyo


Main actress

: Lakshmi Pensaengdeuan,Somjit Sapsamruey,Jomchai Jarintorn
This 1974 movie "แสบเข้าไปถึงทรวง" is lost in Thailand but is still available in Malaysia under the title "Dendam Perawan" / "Vengeance" as it features a Thai Malaysian actress (Lakshmi Pensaengdeuan - ลักษมี เพ็ญแสงเดือน). Summary might be a bit inaccurate as the movie is dubbed in Malaysian only. Yodchai (Yodchai Meksuwan) is fiancee together with a young Malaysian lady called Ning. Dam (Dam Datsakorn) sees the jewels offered as gifts. Dam, being the fiancee's sister, decides to rob the jewels and kills the middle age lady to succeed. A little boy sees him but he is thrown across the stairs. The mother has time to write the murderer name with her blood. Ning does her enquiry inside Bangkok low cost hotels to find Dam. She is able to drive fast car, knock out ruffians and throw knife. She finds Dam's house but he is not here. Fighting happens with ruffians but Yodchai comes to help on time. Ning goes to Malaysia to continue the investigation. Her friend is a pilot and loves her secretly. Dam is aware that Ning is looking for him. The pilot finally starts a romance with another Malaysian lady. Dam's ruffians try to stop her. They get beaten one by one! Finally they find Dam's secret home. Following violent fighting, Ning and Yodchai are defeated. Ning is put in Dam's car trunk. The pilot and Yodchai still follow them to prevent Dam escaping by helicopter. Ning defeats herself Dam and refuses to give him any chance opting for self justice. Unfortunately her friend, the pilot, has died during the fighting. This movie is mainly shot in Malaysia. The actress Lakshmi has the main role. Thai veteran actor Yodchai Meksuwan has a second role. The movie features great views of Kuala Lumpur with old buildings and old mosques. The movie features a few famous Malaysian actors, i.e. Noor Azizah, S. Roomai Noor, Karim Siraj.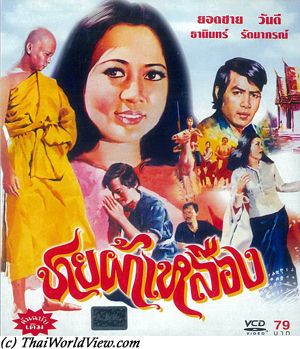 Year

: 1974



Thai title

:

ชายผ้าเหลือง




English title

:



Rating

: 3/5


Director

:



Main actor

: Yodchai Meksuwan


Main actress

: Wandee Sritrang,Metta Roongrat,Ratanaporn Intarakamhaeng
Thong and Boon Yen have two boys, called Phet and Ploy. Phet is the elder. Robbers, lead by Yoi, kill Thong when raiding his house. Twenty years later, following her mother's wish to see him in yellow robes (ชายผ้าเหลือง) as a monk, Phet goes to Bangkok with his uncle to buy materials. Every Thai mother expects his son to become a monk before being married. It bring many Buddhist good deeds to the parents. Meanwhile robbers, lead by Yoi, injure Ploy when raiding the family house. Phet, discovering that Yoi killed his father and injured his brother, shoots him and then becomes an outlaw. Yot, Yoi's son, uses Phet's name to commit more burglaries. Phet's mother convinces Phet to surrender to the district officer. Yot and his robbers team fires at Phet's team and at the district officer so bringing a misunderstanding between Phet and the officer. if nobody can let Phet becomes good, he will then be an outlaw forever. His mother is disappointed by his behavior, saying it was not worth to educate him for becoming an outlaw and that feeding milk to him (ค่าน้ำนม) was a waste. Ploy is preparing to become a monk. Phet finally catches Yot and brings him to the district officer. Phet refuses to stop being an outlaw and grabs a girl to live with him. His mother shoots at him. Before dying, Phet and his mother confirm their filial love and Phet can grab Ploy's yellow robe as his brother has become a monk.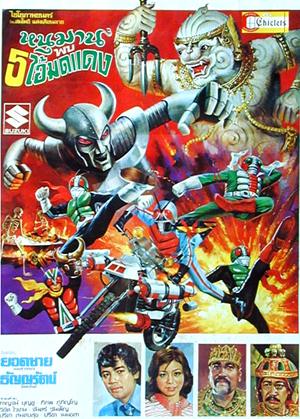 Year

: 1974



Thai title

:

หนุมานพบ 5 ไอ้มดแดง




English title

: Hanuman and the Five Kamen Riders



Rating

: 4/5


Director

: Sompote Sangduenchai



Main actor

: Yodchai Meksuwan,Phirapon Piyawan


Main actress

: Tanyarat Lohanan



Buy now

:

Producer-director Sompote Sangduenchai has made movies covering the "Thai-style kaiju" and costumed Ultraman movies made in years 1970s and 1980s. He has reused footage from other Kamen Rider movies so making this movie montage a little bit strange from time to time with a succession of sequences without link. There are kitsch fx effects from 1970s decade including super computers with many big lights and weird sounds. Those movies are under Chayo productions. All Chayo movies (ไชโยภาพยนตร์) have Sompote's specific touch. King Dark, monsters' leader, needs to drink blood from women or children. Hopefully the Five Kamen Riders (ไอ้มดแดง or red ants) can always stop them. Those Japanese characters are adaptated to Thai customs. The five Kamen riders always succeed to be there when problems with monsters (สัตว์ประหลาด) occur. King Dark refuses to drink blood dog so he needs to find a way to get rid of the Five Kamen Riders. Three men fall in hell (ตกนรก) as they stole Buddha statue heads. A kid tries to stop them but is shot dead. He is reincarnated into Hanuman. Sinners (ทำบาป) are punished and Buddha heads are restored. Yama (พระยม), the hell god, checks his hell book (บัญชี is a map!) and they are condemned to many torments. Sompote Sangduenchai's adaptation is certainly not a film for children as many naked women and men are tortured in the representation of Buddhist hell. The monsters help one of the sinners to escape hell in order to fight the Five Kamen riders. He succeeds to capture famous Doctor Wisut. Doctor Wisut refuses to help but the monsters kidnap his girlfriend Julie to coerce him. He has no choice but to accept doing a Frankenstein creature to fight the Five Kamen riders. The new creature has the same face as Frankenstein in foreign movies. A succession of fights take place and King Dark's aliens are defeated. King Dark needs to move to Ayuthaya (เมืองใหม่). The Doctor is forced again to do a machine to make monsters to catch young ladies for their blood. Their blood is not good as they eat bad food. So they break their promise by taking Julie's blood (กินเลือดสาวบริสุทธิ์จะมีอายุนาน, มีพลัง). The Five Kamen Riders are finally defeated by King Dark but Hanuman helps them (ทำให้ฟื้น). They make an alliance against the monsters. They enter in their headquarters then free doctor and Julie. King Dark flees and starts a rampage in Bangkok same as Godzilla. Nobody can stop him except Hanuman. Hanuman fights in a Thai relax dancing way (สบายสบาย) and defeats King Dark. The traitor is brought back to hell (ตกนรกอีก) and his head is cut (ทำบาปก็ต้องใช้บาป). The movie is worth as it is a Thai adaption of Japanese characters by famous director Sompote adding a lot of Thainess. A 1976 agreement limited Sompote's copyright to only nine movies made by Sompote Sangduenchai in the 1970s.



Year

: 1973



Thai title

:

วางฟูซาน




English title

:



Rating

: 3/5


Director

:



Main actor

: Yodchai Meksuwan,Sukon Koewliam,Lor Tok,Pipop Pupinyo,Thep Thienchai,Man Teeraphol,Joomjim Khemlek


Main actress

: Ling Yin,Metta Roongrat,Sisala Thongtara,Wassana Chalakorn
Thai movie วางฟูซาน was released in year 1973. The movie is lost in Thailand but a sequence of 19 minutes remains to be seen. Main actor is Yodchai Meksuwan and main actress is a Hong Kong actress named Miss Ling Yin (มิส หลินจี). Other actors and actresses include Sukon Koewliam, Metta Roongrat, Joomjim Khemlek, Sisala Thongtara, พนม นพพร, Man Teeraphol, Wassana Chalakorn, พูนสวัสดิ์ ธีมากร, Pipop Pupinyo, Lor Tok, สีเผือก, ศรีสุริยา, Thep Thienchai. Men (Yodchai Meksuwan) comes to Hong Kong to perform Thai boxing fighting matches. He is also a gambler. Men is not allowed to enter a casino anymore as he is responsible of the pregnancy of the owner's daughter called Lin. So he has to go back to Thailand. Meanwhile Lin is waiting for him. Later on Men meets Lin again in a Bangkok bar where she is a singer. Seeing she is pregnant, Men brings her in a rented house for her to deliver the baby. He uses Lin's money to indulge other women. Men is seen with Sisala Thongtara and is carrying her packets. Lin is the one supporting financially Men. As the money is running out, Lin is expelled from the house. She ends up in Phetburi and gives birth to a little girl called Liu. Many years later Liu, now a young girl, finds Men full of blood as he has been beaten by local ruffians. She brings Men to her mother Lin. Lin finally forgives Men. Men becomes finally a good guy. One day while he goes to the market, he finds Thai police in his home arresting Lin as her visa is over. Back to Hong Kong, Lin goes back to the place called Wang Fu San. Seeing no hope in her future, no hope to see again Men and her daughter, she decides to jump from a cliff. Hopefully Men and Liu arrive just in time to stop her.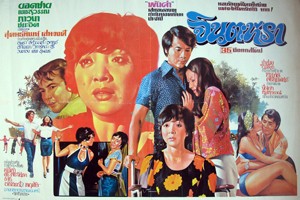 Year

: 1973



Thai title

:

จินตะหรา




English title

:



Rating

: 4/5


Director

: Phan Kam



Main actor

: Yodchai Meksuwan,Choomporn Theppitak,Adul Dulyarat,Preuhat Boonlong


Main actress

: Pawana Chanajit,Amara Asavananda,Marasri Bangchang,Juree Osiri
Thai movie จินตะหรา was released in year 1973 and lasts 1h50mn. It was released under VHS format. Movie director is Phan Kam. It is a romance drama (หนังชีวิตรัก). Montree (Yodchai Meksuwan) is a famous sport student in the university. Kesa (Choomporn Theppitak) introduces him to sexy lady Kha (อภิญญา วีระขจร). Basaba (สุคนธ์ทิพย์ เสนะวงศ์) and Jintara (Pawana Chanajit) are close friends and are joking about Montree. Kha makes Montree drinks a lot. Montree flees before sleeping with her making her very upset. Busaba's father and Jintara's mother have decided to marry. This is a new wedding for the parents (Amara Asavananda and Adul Dulyarat). The grandfather (Preuhat Boonlong) hopes to have a grandson (หลาน) so that his son's life is useful (เสียชาติเกิด)! Busaba and Jintara become half-sisters but from different father and mother! Jealousy often occurs between the two sisters as Jintara likes to have or to use everything that Busaba has. Busaba has interests in Montree. Jintara hides to read playboy. Jintara starts to be jealous to see Busaba and Montree together. Jintara tries to take Montree away from Busaba. Montree is confused. The grandfather wants a son to keep the family lineage. He pushes his son to take a minor wife as the new wife is still not pregnant. Jintara is blamed by her mother as she keeps having bad behavior, i.e. เอาแต่ใจตัวเอง. Jintara collapses (เป็นลม) due to big headache. A doctor finds she has a brain cancer. She has only six months to live. She changes her behavior and becomes a nice person (ความหวังดี). She tries to reunite Montree and Busaba but it fails. In order to push back Montree to Busaba, she stops showing interest to Montree and simulates to be interested in another student called Asawin. Fighting occurs between Asawin and Montree. Montree is injured. Montree's mother, Juree Osiri, complains that Jintara brings troubles to her son (ลูกไม่รักดี). Jintara's mother is finally pregnant. Montree wishes to know the truth behind Jintara's behavior change. Jintara's health is getting worse. Her mother is about to deliver and Jintara has still to perform the school theater performance for orphelin children. Her theater performance becomes similar to her real life as she collapses during the last scene (ฉากสุดท้าย). The new child is a daughter and is named Jintara as the first Jintara is leaving this world… Jintara makes Montree and Busaba promise to love each other.



Year

: 1972



Thai title

:

อ้อมอกเจ้าพระยา




English title

:



Rating

: 3/5


Director

:



Main actor

: Yodchai Meksuwan,Sayan Chantaraviboon,Jin Fong


Main actress

: Aranya Namwong



Buy now

:

Thai movie อ้อมอกเจ้าพระยา was released in year 1972 and lasts 2h07mn. It was released under DVD format by company Happy Time Marketing. It features a sharp and colorful image. Saonai is coming from a rich family (ผู้ดี) and living in Hong Kong. Khun Wang (played by Hong Kong number one actor Jin Fong - จินฟง) is her chaperon. It is really nice to see again Hong Kong almost forty years ago with Love Rock scenery, views from the Peak, old cars, absence of high buildings, boat people settlements. Saonai wishes to experience life with poor people so she settles in Mongkok with boat people (ชาวเรือสลัม) community. She pays an old lady to play her mother. Kla is a Thai captain, whose cargo is berthing in Hong Kong a few days. Saonai hits his small pinnace and he falls into the water. Love starts between Saonai and Kla. Khun Wang continues to look for Saonai following her father's orders. Ruffians hit Kla and bring back Saonai to her father. The father wants a good husband (มีนามมีฐานะ) for his daughter and not a sailor. Kla knows the truth about Saonai thanks to the old lady. Saonai is a modern lady believing in love and heart choice. Her father wishes to marry her to Khun Wang (พ่อใจร้ายไม่เห็นใจ). But Khun Wang promises to help Saonai to find Kla. Kla is back to Thailand disappointed by Saonai's lies. In Thailand a young lady, called Porn, loves Kla but Kla indulges in alcohol as he cannot forget Saonai. Saonai arrives in Thailand and looks for captain Kla at the Bangkok port. Kla already resigned from his job. Saonai looks for him in Bang Kapi district. Thanks to an old colleague, Kla is aware that Saonai is looking for him. But they miss each other. Saonai wishes to kill herself. She is helped by Porn. Kla's younger brother, Keng, meets Saonai at Porn's house. She is renamed as Araya. Keng loves her at first sight and promises himself to achieve his goal to build a family. So love feelings are mixed through a few people (Saonai, Kla, Porn, Keng). Saonai fails to meet Kla at Keng's home but understands he is the one she was looking for. Keng is aware of Saonai's love towards Kla. Disappointed by this news, he has a car accident and is almost blind. Anyway he told Kla the good news about Saonai. Meanwhile love emerges between Khun Wang and Porn. Following some last minute misunderstandings (อกหัก), Saonai and Kla are reunited. Three couples have now happiness as Keng falls in love with Khun Wang's younger sister. This old 1973 movie still features beautiful colorful picture and songs. Aranya Namwong is shining. This movie features an homage to the Chao Phraya river, an homage to the Thai King and the Thai Queen during their birthday celebrations with colorful lightings in Bangkok, an homage to the good Chinese Thai relations.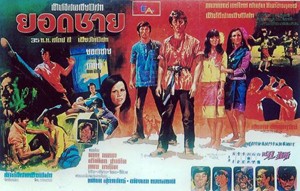 Year

: 1972



Thai title

:

ยอดชาย




English title

: The Roaring Lion



Rating

: 3/5


Director

:



Main actor

: Yodchai Meksuwan


Main actress

: Pawana Chanajit
Thai movie ยอดชาย / The Roaring Lion was released in year 1972. It is a Hong Kong / Thai coproduction. The movie is lost in Thailand. Hopefully it is still available in Hong Kong under the name 獅吼. It lasts 1h45mn. A small trailer, lasting one minute, remains to be seen in Thailand. It features Thai dance and some fighting. Thai actors Pawana Chanajit and Yodchai Meksuwan have participated to a few Hong Kong movies during 1970s decade. Pawana Chanajit, called Pearl of Asia, has acted in five Hong Kong movies. A group of friends are workers in a sawmill. As the foreign boss badly treats his workers, a rebellion happens. The friends, including JeuEr and Chiaouza, have to quit their job. It makes JeuEr's mother very upset and she asks him to stop fighting. Chased by ruffians, they have to flee their village by boat. They are now working in an outdoor mine in Thailand. Workers are over exploited until exhaustion. Pawana gives them information on the ruffians. In Nakhon Pathom pagoda, one of the friends recognizes his sister. She flees but he follows her and finds she is now working in an entertainment place for adults. He tries to release her but fighting erupts. They get defeated by the head of the ruffians who is a strong opponent. To avoid the sister being harmed, they have to accept being defeated in some fighting tournaments. As Chiaouza refuses to lose during the fight, he is finally killed after a tournament overwhelmed by ruffians. JeuEr upset joins the tournament but gets defeated through a bad trick. Looking for JeuEr, ruffians storm his kung fu school. Upset he becomes the roaring lion and defeats a dangerous fighter using whip. Back to the entertainment club, JeuEr through his kung fu skills defeats a dozen opponents and affronts successfully their leaders.
---