Increase or decrease font size for easier reading : A+ A-
Uten Boonyong
Uten Boonyong (1946) - อุเทน บุญยงค์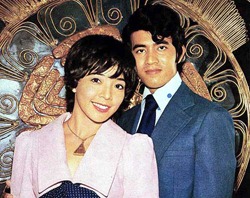 Uten Boonyong has played in more than 40 movies
This Uten Boonyong movie page contains 9 records.
---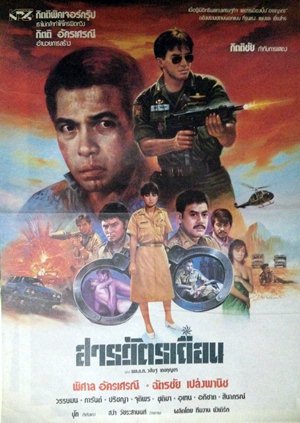 Year

: 1987



Thai title

:

สารวัตรเถื่อน




English title

:



Rating

: 3/5


Director

:



Main actor

: Chatchai Plengpanich,Pisarn Akraseranee,Uten Boonyong


Main actress

: Sinaporn Philailak
Thai movie สารวัตรเถือน was released in year 1987 and lasts 1h34mn. An honest police inspector (สารวัตร) is killed by ruffians. He was a good man (รักษาความดี). The ruffians' leader Songyot (Uten Boonyong) is trying to buy land from local villagers. When they refuse, they get killed. The police inspector's assistant called Chatien (Pisarn Akraseranee) tries to continue his legacy by refusing to bend to external influence of powerful notables. Chatchai Plengpanich arrives in the city. Being chased by ruffians, he punches four of them. Chatien is under risk to be expelled from the police as the new police inspector doesn't like him and frames him (รับสินบนง่อๆ). The new police inspector is friend with the ruffians' leader Songyot. Chatchai disrupts the ruffians' drugs trafficking. Chatchai tries to motivate Chatien to remain a good cop (เลือดและวิญญาณของจ้าเป็นตำรวจ). Chatien is fired from police but gets encouragement from Chatchai to stop drinking. Ruffians wish to know who Chatchai is (คนแปลกหน้า). A new chief district officer's assistant called Palat arrives in the city. Chatchai is finally the chief of the police station (สารวัตรใหญ่). Chatchai does the cleaning among the bad behavior of the local policemen (ตำรวจภาษาอะไร). The new police inspector is arrested. Chatien discovers that Songyot is trafficking weapons also but is then captured and tortured. Through an explosive final, Chatchai neutralises the ruffians, arrests Songyot and releases Chatien. Chatien then becomes a new local police inspector. This movie highlights the fact that Thai policemen have to do their duty towards citizen and not towards their own interest.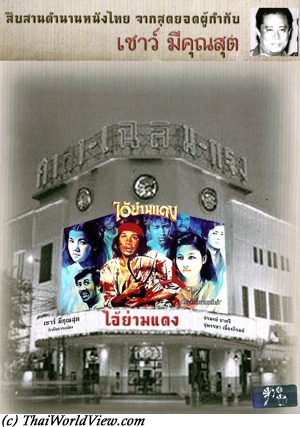 Year

: 1980



Thai title

:

ไอ้ย่ามแดง




English title

:



Rating

: 5/5


Director

: Chao Meekunsut



Main actor

: Sorapong Chatree,Manop Aussawathep,Uten Boonyong


Main actress

: Supansa Nuengpirom,Duangcheewan Komolsen



Buy now

:

Two young boys, Tom and Palad, are close friends. Following a game, one of the kid is injured. His friend Tom has to steal some medicine. The shop owner dies while trying to catch him. Palad becomes a Buddhist novice so they lose contact. Tom (Sorapong Chatree) is now a grown up adult. His girlfriend Malee is already promised to somebody else, i.e. to the ruffian Ying (Manop Aussawathep), by her father. Tom overturns ruffian Ying's boat and then announces that Malee is already his wife. Wedding is canceled but Ying promises revenge over Tom. Tom and Malee have real happiness and are living as farmers. Malee becomes pregnant (กำลังจะมีลูก). Malee is kidnapped by Ying's ruffians while Tom is working in rice fields. Tom wishes to have his child back (จะเอาลูกของกู). As Ying is good friend with the local district officer (กำนัน), nothing Tom can do. The dictrict officer's daughter called Boonlam (Supansa Nuengpirom) is upset by this. Ying has already a wife (Duangcheewan Komolsen). Malee refuses to eat. Tom starts to believe Malee abandoned him but he needs to get his child back. Tom becomes crazy due to sadness (เสียใจถึงเป็นคนบ้า). Tom with long hair is wandering around and acts like a child. As Malee's father becomes too disturbing, he gets shot by Ying's ruffians. While Ying is away, Ying's first wife stabs Malee as she complains Malee is taking Ying away from her. Being wrongly informed that Malee has delivered the baby, Tom only finds Malee's bloody corpse. He gets accused by Ying's wife regarding Malee murder. He gets the foetus baby from Malee's tummy and flees. Tom takes refuge in a Buddhist temple. Ying asks the district officer to catch Tom as he is a dangerous crazy man. Boonlam complains that her father better arrests those who made Tom become crazy. One of Ying's ruffian, a dwarf, tries to rape Ying's wife but as she resists, he stabs her and accuses Tom. Tom has become crazy and sings lullaby to the dead baby. He takes revenge over the district officer. One day, Boonlam is also agressed by the dwarf and another ruffian. Tom, mistaking her as Malee, saves her. Boonlam explains to him that the baby is already dead. She has pity of him (สงสาร) and washes his dirty bloody clothes. Due to a storm, she spends the night with Tom. Palad (Uten Boonyong), Boonlam's fiance, is an administrative officer. Palad is Tom's former friend during childhood. Boonlam wishes Tom to surrender (มอบตัว). A crime is done again by somebody wearing same clothes as Tom. Tom is accused again but finally Palad get proofs that Ying is behind everything. A tentative to arrest Ying degenerates in shootings. Finally Tom kills Ying but also cuts his own threat, unable to support anymore a life full of deaths (ในชีวิตมีแค่ความตาย). Boonlam has no time to tell him that he was declared not guilty by administration. Ai Yam Daeng (ไอ้ย่ามแดง) is a strong movie directed by Chao Meekunsut. It highlights corruption and dark influence impact on poor people like Tom. A new DVD from Happy Home was released in year 2012 but the sound is a bit unstable in volume. Sorapong delivers again great acting performance.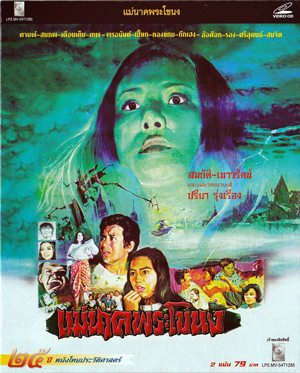 Year

: 1978



Thai title

:

แม่นาคพระโขนง




English title

:



Rating

: 3/5


Director

:



Main actor

: Sombat Methanee,Somphob Benjatikul,Dam Datsakorn,Lor Tok,Thep Thienchai,Uten Boonyong,Rong Kaomulkadee,Songthong


Main actress

: Preeya Roongrueng,Naowarat Yooktanun,Chosri Misommon,Somjit Sapsamruey
Thai movie แม่นาคพระโขนง was released in year 1978 and lasts 1h50mn. Preeya Roongrueng already played Mae Nak role in year 1959. She remained the most famous actress for this role. The 1959 version was very successful. It made more than 1M Baht in 1959, i.e. a huge amount for that period. So for this 1978 version, the movie director reused Preeya Roongrueng again hoping for a similar success. But 19 years have passed. In 1959 Preeya was 19 years old. For 1978 version, she was 38 years old. Preeya mentioned she was getting fatter for the role but it didn't matter as she was playing a ghost! The 1978 movie trailer is also making a reference to the 1959 version. It is Thot Kathin festival (ทอดกฐิน) so lady Somjit Sapsamruey is coming with her two daughters, i.e. Nak and Jampee (ตรีสุคนธ์ ยุกตะนันท์). Phi Mak (Sombat Methanee) and his younger brother Man (Somphob Benjatikul) love the same woman Nak (Preeya Roongrueng). Tui (Rong Kaomulkadee) is playing comic role as usual. Man loves Nak despite she is older than him. Pleum, subdistrict headman's son (ลูกกำนัน), has also interest into Nak. Mak asks Nak for wedding. Disappointed, his brother Man leaves for Bangkok to work there. Nak is pregnant since 2 months. Mak has to leave for Bangkok as he was selected to do his military duty as a soldier. Pleum (Dam Datsakorn) comes to harass Nak but Man is helping her. Naowarat Yooktanun, daughter of officer (นายทหาร), likes Mak but he misses his wife (ห่วงเมีย) and wishes to go home. While delivering, Nak dies (ตายทั้งกลม). Comic actor Thep Thienchai is present at the funerals. A master (อาจารย์) tries to get chin oil but he just makes Nak angry and gets strangled. Nak is upset that Naowarat has interest into Mak. Uten Boonyong wants to hire master Lor Tok to get rid of Nak. It is a complete failure as Lor Tok flees away. At nighttime, Pleum faces Nak. Mak is back home. Things get weird with Mak seeing Nak's arm extension to reach a lemon fallen under the house, food having pla ra taste, baby having Songthong face... Realising she is a ghost (ผี), Mak flees from home and goes to Man's home. Man explains what happened to Mak. They take refuge in the village Buddhist temple. A new master is called and warns that Nak is very powerful (วิญญาณดู่มาก). To neutralize Nak, the master gives a sacred thread to put around her neck. The master captures her spirit into a pot sealed with a sacred cloth. She has to accept her death (หมดเวรหมดกรรม). Mak promises to meet her during next life. The pot is thrown away in the river.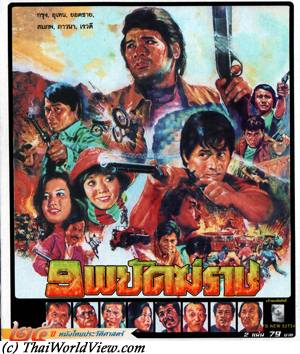 Year

: 1977



Thai title

:

9 พยัคฆ์ราช




English title

:



Rating

: 2/5


Director

:



Main actor

: Krung Srivilai,Yodchai Meksuwan,Uten Boonyong,Pinyo Parnnui,Sithao Petcharoen,Somphob Benjatikul,Sompong Phonmitr


Main actress

: Pawana Chanajit,Rewadee Pattaphong
This movie is one of the many Thai action movies released during decade 1970s. This movie involves a quatuor of famous Thai actors, i.e. Krung Srivilai, Yodchai Meksuwan, Uten Boonyong, Pawana Chanajit. Side characters are Pinyo Parnnui, Sithao Petcharoen, Somphob Benjatikul as a ruffian, Sompong Phonmitr. The daughter Kaessini (Rewadee Pattaphong) is back. She succeeded getting an university diploma. She wishes to use her knowledge for the benefits of the villagers. The villagers have serious issues with local ruffians. Krung is coming from Bangkok. Krung beats a few ruffians. Yodchai Meksuwan is playing a fake medium and provides fake medicine (ยาเทวดา). Yodchai is recruited by Krung. Thugs leader wants to force villagers to sell their land. As they refuse, he kidnaps Pawidee (Pawana Chanajit) in front of her father (Sompong Phonmitr). Shootings happen at the teacher's home. The movie sold by Lepso VCD company seems incomplete or cut as the release of Pawidee is not shown. Frequent fightings happen between ruffians (นักเลง) and Uten and Sa ong. Similar to The Magnificent Seven movie, Krung and his three friends resist to the ruffians. As the ruffians prepare a plan to kill them, Krung prepares a strike back offensive. Ruffians are the ones to fall in a trap. Heavy fightings and shootings happen. All ruffians are defeated or killed. Sa ong is killed. Movie '9 พยัคฆ์ราช' was released in year 1977 and lasts 1h43mn. The Lepso VCD has an horrible sound. Thai action movies were very popular in decade 1970s. This movie gathers many famous stars (Krung Srivilai, Yodchai Meksuwan, Uten Boonyong) but the result is average.



Year

: 1976



Thai title

:

3นักสู้ผู้ยิ่งใหญ่




English title

:



Rating

: 3/5


Director

:



Main actor

: Sorapong Chatree,Phairoj Jaising,Sukon Koewliam,Pipop Pupinyo,Uten Boonyong,Boo Wibunnan,Krai Kanchit


Main actress

: Pawana Chanajit,Moeifa,Duangjai Hathaikarn,Runglawan Sripatimakul
3นักสู้ผู้ยิ่งใหญ่ movie deals about two ruffians factions competing for leadership. One group is led by wealthy man (พ่อเลี้ยง) Yan. The second group is led by Sia (คนอิทธิพลมาก). Sia is played by actor Boo Wibunnan, who always plays the mafia leader, half Chinese half Thai, speaking a Thai language mixed with Chinese words. Sia's daughter is Taptim (Pawana Chanajit). She is fair and doesn't hesitate to recognise mistakes done by her father or his team. Both ruffians leader have sexy mistresses (ดาวโป้) played by Moeifa and Runglawan Sripatimakul. Yumei is Yan's mistress but she has also another lover, i.e. Roj (Phairoj Jaising), Yan's close associate. Some of Sia's ruffians take compromising pictures in order to blackmail Roj as they are aware he is having an affair with his boss mistress. Jom (Sorapong Chatree) and his wife Srithong find a job inside Yan's company. Yan's daughter Songla notices Jom. Sia's ruffians threaten villagers working as gold prospectors. Jom and Roj have a fight with Sia's ruffians as they raped one of the village lady. Each ruffians leader is responsible and protecting his territory and people. While Jom is away, Srithong is raped and killed. Jom promises to revenge her. Siep (Uten Boonyong), an undercover policeman, having a strong punch, is entering the area. Sia wishes to recruit him. As Taptim has studied in university, Siep tries to convince her that her father activities are wrong (เดือดร้อน) towards villagers. Jom is captured by some ruffians led by Hin while walking endlessly. He is finally released as he is identified as staff from Yan. Hin accepts Jom in his team and trains him so that he can revenge his wife. Roj And Yumei are expelled by Yan as they are having an affair. Yan has received a comprising picture given by Sia! Roj joins Sia's team. Siep and Taptim try to reconcile both parties causing Sia's ire. As Siep shoots one of Sia's ruffians trying to rape a villager, he is considered as a traitor (ทรยศ) and imprisoned. Jom joins back Yan as he has finished his training. Moeifa drugs Yumei so that she cannot refuse Sia's advances. Her plan is to take the team control with Roj. Yumei is punished and killed by Roj. Knowing Yumei's death, Yan requests a one to one duel with Sia. Yan shots Sia but then Roj cowardly shots Yan also. Roj is the new leader. Meanwhile Taptim helped Siep to flee. Jom and Siep fight back in order to defeat Roj and his ruffians. The area now becomes ruffians free. It is a 2h12 movie with some 1970s key actors. Movie picture is quite poor and colorless. It certainly comes from an old TV program recording.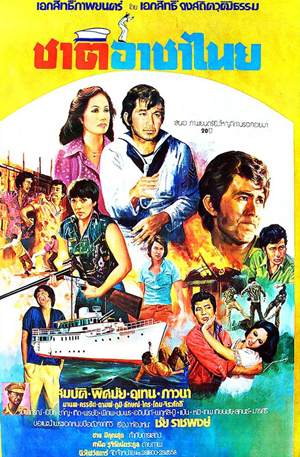 Year

: 1976



Thai title

:

ชาติอาชาไนย




English title

:



Rating

: 3/5


Director

:



Main actor

: Sombat Methanee,Uten Boonyong,Manop Aussawathep,Kanchit Kwanpracha,Krai Kanchit,Dam Datsakorn,Lak Apichat,Choomporn Theppitak,Boo Wibunnan,Paen Pleumsachai


Main actress

: Pissamai Wilaisak,Pawana Chanajit,Moeifa
Thai movie ชาติอาชาไนย was released in year 1976. It features Sombat Methanee as main actor and Pissamai Wilaisak as main actress. The movie is lost in Thailand but there is a short trailer of 1mn30s left to be seen. Other actors and actresses are Uten Boonyong, Pawana Chanajit, Manop Aussawathep, Kanchit Kwanpracha, Krai Kanchit, Dam Datsakorn, Lak Apichat, Choomporn Theppitak, Boo Wibunnan, Moeifa. The short left trailer allows to see a brawl involving Sombat, Kanchit, Dam, Krai, Choomporn and Paen Pleumsachai. Sombat hits Kanchit as he refuses to betray? The movie was previously released in year 2500 with Ratanaporn Intarakamhaeng, เชาวน์ แคล่วคล่อง, Somkuan Krajangsat, ทม วิศวชาติ and กมลพันธ์.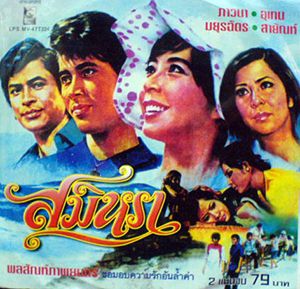 Year

: 1975



Thai title

:

สมิหรา




English title

:



Rating

: 3/5


Director

:



Main actor

: Uten Boonyong,Sayan Chantaravi​boon,Sawin Sawangrat,Sukon Koewliam,Rong Kaomulkadee


Main actress

: Pawana Chanajit,Mayurachath Muarnprasitivej,Metta Roongrat
Thai movie สมิหรา was released in year 1975 and lasts 2h01mn. Two students, Alissa (Mayurachath Muarnprasitivej) and Suntaya (Pawana Chanajit), are two close friends studying in Chiang Mai. Pong (Sayan Chantaraviboon) is Alissa's brother. Metta Roongrat is the aunt called Vina. Yot (Uten Boonyong) accepts to take Suntaya as secretary (เลขาคนใหม่) per Alissa's request. Sawin Sawangrat is the father of Yot. Yot hat a hot temper (ใจร้อน, เอาใจตัวเองอย่างเดียว). Vina warns Alissa about letting Suntaya too close to Yot (ใกล้มากก็ไม่เคยจะดี). Pong wishes to marry Suntaya but he is younger (รุ่นน้อง). Yot and Suntaya go to Hat Yai for business trip while Alissa needs to go overseas again. A difficult meeting happens in Hat Yai regarding company ownership. Suntaya demonstrates her negotiating skills and impresses Yot. During nighttime, Suntaya and Yot becomes lovers (ทรยศเพื่อน). They stay in Hotel Samira (สมิหรา) so giving the movie title. Suntaya asks Yot to stop seeing her in Bangkok. Vina also asks Suntaya to find her own place to allow time between Yot and Alissa. Yot wishes to marry with Suntaya but she doesn't want to hurt Alissa. One day Suntaya feels dizzy while walking in Bangkok. She is pregnant. Pong brings her to the doctor. Yot has then a misunderstanding that Suntaya sees secretly Pong. Being sick, Yot visits Suntaya and is surprised by Alissa. Alissa is disappointed by her friend (น่าเจ็บใจ, เสียดายเพื่อนรัก). Feeling guilty, Suntaya is lost. Pong, aware of the situation, proposes to marry her to ensure the child has a father. Finally Suntaya writes a letter to Alissa and disappears. Yot only realises that she was pregnant. Suntaya is now a teacher in a remote hill tribe village. Sukon Koewliam is also playing a short domestic helper role. Pong's friend, a doctor, meets Suntaya in the village and warns Pong as she is going to deliver her baby. It is discovered that Suntaya has hemophilia (รอดไม่ได้). Pong warns Yot. Alissa also joins. During a final touching sequence, Suntaya gives her baby to Yot and Alissa, then passes away.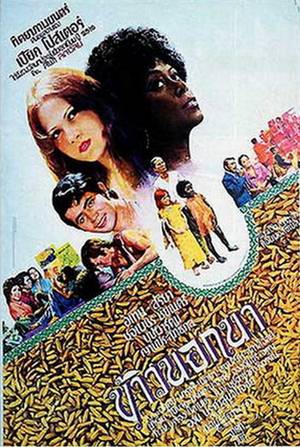 Year

: 1975



Thai title

:

ข้าวนอกนา




English title

:



Rating

: 5/5


Director

: Piak Poster



Main actor

: Uten Boonyong,Adul Dulyarat,Suriya Chinaphan


Main actress

: Sulaleewan Suwanthat,Marasri Bangchang,Khomapat Attaya,Namgneun Boonnak
Thai movie Khao Nok Na (ข้าวนอกนา) was released in year 1975 and directed by Piak Poster. It lasts 1h38mn. An aunt (Sulaleewan Suwanthat) is raising two children, the elder called Deuan is 5 years old and the youngest is called Dam (หีดำ). Both fathers are different. Dam's father is a black man so she is called Dam (ดำ – black) as a reference to her skin color. The children were temporarily given to the aunt by the mother. Unable to raise them, the aunt wishes to sell them to a rich lady. The rich lady (Marasri Bangchang) doesn't want Dam (ไม่ชอบเด็กดำๆ) and buys only Deuan for 3000 baht. She is renamed as Deuan Krai Saen (บุบผารัตน์ ญาณประสิทธิกุล). Father is veteran actor Adul Dulyarat. Finally Dam (ช่อเพชร ชัยเนตร) is sold to a family to become a helper (คนใช้งาน) and to be the puppet of the daughter. Veteran actress Khomapat Attaya is part of the other helpers. Dam is always stubborn (ดือ) as people dislike her skin color. Phi Pan (Suriya Chinaphan) is the son of a taxi driver, who always supported Dam but died earlier in a car accident. The house is becoming a mess with the daughter being pregnant with one male driver and the son spending like crazy on music instruments to build a band. The real mother is back and is asking for her two daughters. The aunt gives the address but the rich lady (คุณผู้หญิง) refuses to let Deuan go. The real mother, always seen smoking, goes to the police to get her rights respected. She finds first Dam. Adul refuses to give back Deuan and proposes 50 000 baht. She accepts and has to sign a contract. Having the money, she also rejects Dam and asks her to go back to her home. Disappointed by her own mother, Dam is looking for a job. She becomes a singer in a nightclub and sings her difficulties as being black in Thailand. Meanwhile the rich family watches Deuan playing in a ballet representation. Dam finds Phi Pan in the street and brings him to her home. They become lover as Dam believes he would be a caring man like his father but Pan is a lazy boy taking profit of girls' money. Pan is using Dam's money to entertain another lady. Adul finds that Deuan goes back home late and is wearing a ring given by a young boy Pop (เลือดแม่ของแค่มันแรง) (Uten Boonyong). Dam is finally dumped by Pan so indulges in alcohol and becomes a short time prostitute. She is surnamed as ลิง (monkey) or สกปรก (dirty) and being rejected by Thai society (equally by rich and poor Thai people). Dam meets people having problems also and starts indulging in drugs to forget daily problems. Pop tries to bring Deuan to a short time motel but finally changes his mind as she keeps crying and mentioning her father's pressure. Dam meets finally Deuan. Deuan is in paradise (สวรรค์) and Dam is in hell (นรก). Finally Deuan ends up with Dam indulging drugs as her paradise is also a hell being the daughter of an easy lady. Police captures the whole group. Deuan's parents bail her, forgive her mistakes and accept her relationship with Pop. A US black man bails Dam from jail and brings her to USA with him. The movie highlights racism in Thailand. Following Vietnam war, many similar cases of children born from Thai prostitutes and black US soldiers did happen in Thailand. A TV serie on the same story was released in year 2013. Khao Nok Na (ข้าวนอกนา) is an interesting title. Normally rice is white so Dam is the rice "outside" the field, i.e. being black and different from the majority of Thai people. The movie got 4 awards (รางวัลตุ๊กตาทอง), i.e. best actress, best song, best story, best supportive role.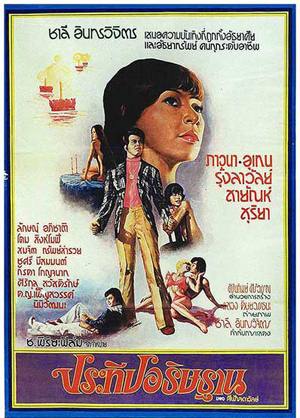 Year

: 1974



Thai title

:

ประทีป อธิษฐาน




English title

:



Rating

: 4/5


Director

:



Main actor

: Uten Boonyong,Sayan Chantaravi​boon,Suriya Chinaphan,Lak Apichat


Main actress

: Pawana Chanajit,Chosri Misommon,Somjit Sapsamruey,Runglawan Sripatimakul
Thai movie ประทีป อธิษฐาน was released in year 1974. It lasts 1h57mn. It was shown on Thai TV cable. Pan (Pawana Chanajit) and Kalan (Uten Boonyong) meet during Loi Krathong. Kalan announces to her that he is her future boss as Hotel manager! Chosri Misommon is Pan's aunt. She always asks for money as she keeps gambling. Pan's mother had a lover as her husband didn't take care of her and her daughter. Upset, the husband wished to bring her to her lover for clarification but a car accident happened on the way and both died. So Pan stayed with her aunt. Sek (Suriya Chinaphan) loves Pan and always does courtship her as a gentleman. Kalan's mother is played by Somjit Sapsamruey. Somjit introduced Da (Runglawan Sripatimakul) to Kalan and wishes for a wedding. The mother believes Pan cannot be trust as cashier as her aunt Chosri is a big spender (การพนัน). Aunt Chosri ends up in jail. While nobody wants to be the guarantor, Kalan offers the money to bail her out. Pan is promoted to manager assistant (ผู้ช่วยผู้จัดการ). Karun (Sayan Chantaraviboon), the second son, is back from overseas but he has heart disease. He likes Pan also. An American tourist is always trying to seduce her also. So four men have hopes on her. Finally she marries Karun. The aunt gets a big amount of money (ใช้หนี้). She knows she doesn't love him. Karun is unable to perform husband duties per a congenital disease. Kalan was former lover of Pan's mother but Kalan confirms it was a platonic love. Smoking scenes and love scenes are blurred. Pushed back by Kalan, Da goes with Lak Apichat to Hua Hin. They become lovers. Karun, being over jealous on Pan, ends up at hospital. Kalan decides to marry with Da to avoid any more jealousy crisis. Unfortunately fightings happen at Kalan's wedding as Karun sees Pan talking to Sek. Pan flees. Kalan announces to Da that he cannot love her as he knows she is pregnant with somebody else (Lak). Kalan finally finds back Pan. Meanwhile Karun is getting crazy and even shoots two people at night believing it was Kalan and Pan. Being a bad girl, Da quits Kalan. Finally Kalan and Pan can have happiness. This is a romantic drama from 1970s with much more realistic story compared to 1960s decade movies.
---