Increase or decrease font size for easier reading : A+ A-
Thida Thidarat
Thida Thidarat (196x) - ธิดา ธีระรัตน์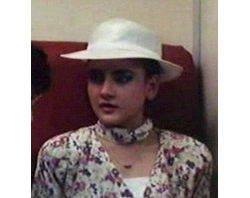 Thida Thidarat played in more than 15 movies. Her career started in 1986 and she was seen as preferred actress in Thai action movies (ราชินีนักบู๊หน้าหวาน). Her busiest year was in 1990 with a highlight of 8 movies. She has even played in Hong Kong movie เชือด เชือด นี่มๆ ภาค 3 in year 1989 (使行動III魔女末日 - "Angels III"). Thida Thidarat got best actress awards for Thai movies หัวใจใส่เกือก in 1992 and ดิฉันไม่ใช่โสเภณี in 1993. She became later a karaoke star (พบนางเอกตุ๊กตาทองสองปีซ้อนชื่อดัง)
This Thida Thidarat movie page contains 10 records.
---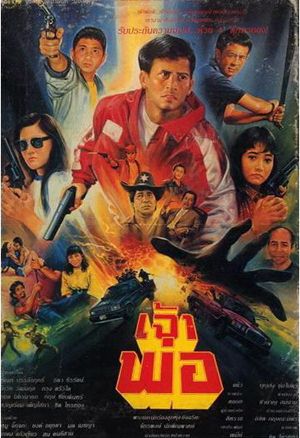 Year

: 1993



Thai title

:

เจ้าพ่อ




English title

:



Rating

: 2/5


Director

:



Main actor

: Bin Banleurit,Kowit Wattanakul,Krung Srivilai


Main actress

: Thida Thidarat
Subdistrict headman (กำนัน) Chom and businessman Anoon are in trouble as the former local head of the police is replaced by an incorruptible new police inspector (สารวัตร) Cheutchai (Bin Banleurit). Chom's business is disrupted by this new police inspector, who shot some robbers (ปล้นตลาด). Thuan and Wet (Kowit Wattanakul) are local villagers facing Chom and its thugs led by Chat. Chom is coming from Phetburi and has an alliance with Chot (Krung Srivilai), his counterpart in Chonburi province. Both subdistricts headmen are also local godfathers (เจ้าพ่อ). Noot and Raem are the daughters of subdistrict headman Chot. Romance and nice songs are happening between them and Wet / Thuan. Chom uses bad influence (อิทธิพล) to buy land and houses through coercion. Chom wants to force Thuan to sell his land but he refuses. Cheutchai helps him on time to exit a difficult situation as Chat and his men were beating him. Sairong, Thuan's sister, asks for the police inspector's help (ศัตรูกัน). Businessman Anoon often meets Chom and Ming (ผู้ใหญ่). Anoon needs to stop business with Ming as his ruffians hurt his own daughter, Tanya (Thida Thidarat), while trying to kill Cheutchai. Chom and Ming recruit hitmen to get rid of Cheutchai but it fails. Tanya and her friend Sairong are kidnapped by Chom's team led by Chat. Cheutchai is also captured while going to Chom's house to know the truth about Tanya whereabouts. Thuan and Wet then attack the house. Following various fightings and shootings, all ruffians and corrupted subdistricts headmen are killed. As usual 16:9 movie put in VCD format cut the movie edges leaving a weird feeling sometimes when watching the film.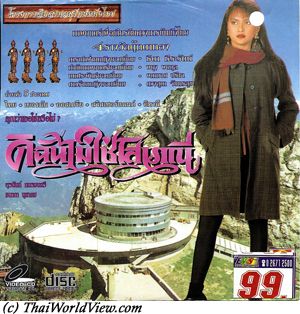 Year

: 1993



Thai title

:

ดิฉันไม่ใช่โสเภณี




English title

:



Rating

: 3/5


Director

: Payoong Payakul



Main actor

: Yuranan PamornMontri


Main actress

: Thida Thidarat



Buy now

:

It is about a young Thai lady leaving her country and going to Germany in order to find a husband through a wedding agency. It shows the harsh life of those ladies dreaming of a prince, the abuse of such wedding agency, the bad behavior of those foreigners wishing to "try" their wives before any wedding. This movie has got four Thai awards and was shot in five countries, i.e. Thailand, Germany, Italy, Switzerland and Austria. Thida Thidarat got the best actress award for this movie.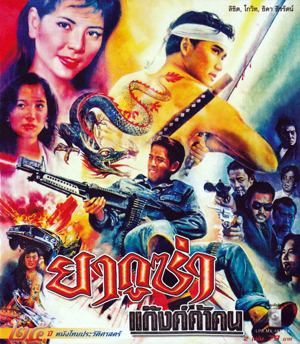 Year

: 1992



Thai title

:

ยากูซ่า แก๊งค์ค้าคน




English title

: Yakusa



Rating

: 2/5


Director

:



Main actor

: Likit Eakmongkol,Kowit Wattanakul,Chat Mongkolchai


Main actress

: Thida Thidarat



Buy now

:

Thai movie ยากูซ่า แก๊งค์ค้าคน was released in year 1992. It lasts around 1h20mn. This movie features a similar scenario to Thai movie ตำรวจเหล็ก where a journalist always interferes with the police investigations. Some cash transport cars are attacked (รถถูกปล้น) by ninjas. Police inspector (Sarawat - สารวัตร) Kiet (Likit Eakmongkol) is asked to work on this case. Yukasa, Japanese mafia, is causing troubles in Thailand including women trafficking. Inspector Kiet enquiries on a company sending people to Japan as he suspects them to provide fake passports. The owner Chakrit argues that the ladies are volunteered to work in Japan. Chat Mongkolchai is also involved. Chakrit helps Kiet's younger sister Plaew aggressed by three ruffians. Kiet doesn't believe in Chakrit's sincerity. A journalist (นักข่าว) called Dao (Thida Thidarat) is always around to take pictures. A local car seller opens a new shop selling Japanese cars. He seems to refuse Yakusa gang's pressure to pay protection fee. Shootings happen during the opening and 4 gang members are shot by Kiet and his colleague. Later on as they enquire in a snooker parlour about the dead gang members, shootings happen again with other members. Kriet is surnamed as มือปราบมหากาฬ. Weapons exchange shall happen with Yakusa gang. Kiet is informed thanks to a singer. The journalist Dao meets Somchai and Yoshida, leaders who are preparing the traffic. Dao learns about the weapon exchange thanks to Chakrit. Kowit Wattanakul is working with the ruffians. Dao's pager sound reveals her presence and shootings happen. As the weapons exchange fail, the gang enquiries who could be the traitor on their side? Kowit is identified as the traitor. Kiet then brings a mess in their drug warehouse. The journalist Dao is kidnapped. Plaew is also kidnapped. Kiet tries to release them but he also gets captured with Kowit, who is a Japanese undercover policeman. As they condemned to slow death, Chakrit releases them. Heavy gun fightings do happen against the ninjas and Thai ruffians, who are all killed. Chakrit also dies by committing hara kiri.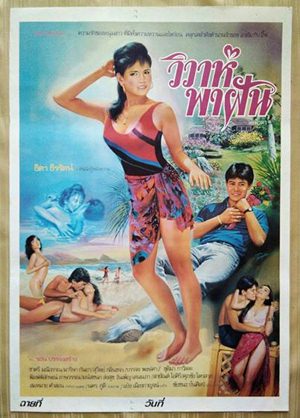 Year

: 1990



Thai title

:

วิวาห์พาฝัน




English title

:



Rating

: 1/5


Director

:



Main actor

:


Main actress

: Thida Thidarat
Thai movie วิวาห์พาฝัน was released in year 1990 and lasts 1h20mn. It is available under VCD format released by Lepso. Some parts of the movie might be censored or cut. This movie has same name as Thai movie released in year 1971 and featuring Sombat Methanee and Aranya Namwong. It is probably not a remake! Sunai (รอน) and Racha (Thida Thidarat) are newlyweds. It is honeymoon time and they invite five other young couples to stay in Sunai's resort. Another couple announces they will marry this month also (แต่งงานสองชั้น). All couples are having happiness. Following her friend's advice, lady Saranya consults an occult master (อาจารย์) in order to marry a man she loves. She leaves as the master is dishonest and tries to abuse her. While visiting an extension of the resort, a woman attacks Racha as she believes she is trying to take her husband away. A couple gets robbed. Luckily the car has a big mobile phone (by 1990 standards) so they can call for help. The ruffians come back to abuse (ปล้ำ) the lady. Sunai and Racha helps them on time and chase the ruffians. All friends are back to hotel and celebrate the new wedding. There is happiness among friends and happiness in the hotel rooms as couples. It is the last day before leaving for Bangkok. The friends are taking a final trip to river Kwai. One of the lady called Saranya is lost while wandering around the waterfall. Her friends are looking for her. A man is offering his help but tries to abuse her. Her friends are helping on her again on time. Sunai and Racha give happiness to their friends (สั่งสวรรค์ให้เขา) by inviting them again. This low budget movie was surely shot in a very short time and was probably only released in second class theaters (โรงหนังชั้นสอง). Presence of actress Thida Thidarat is certainly the main selling point.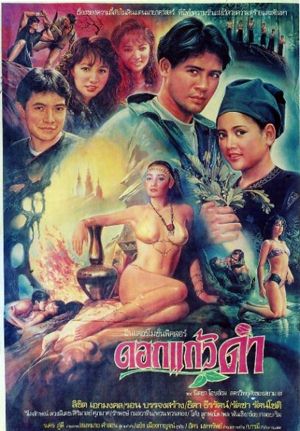 Year

: 1990



Thai title

:

ดอกแก้วดำ




English title

:



Rating

: 3/5


Director

:



Main actor

: Likit Eakmongkol


Main actress

: Thida Thidarat
Thai movie ดอกแก้วดำ / ลายแทงมหาภัย (renamed by Lepso Ltd) was released in year 1990. It lasts 1h31mn. A doctor called Tidi didn't go back home since one month. He went to Burmese border. There are rumours that he is enamored with a mysterious (คุณหมอลงเสนห์ผู้หญิงเจ้าฟ้า) and evil woman (นางผีร้าย) called Mae Nang. His sister called Lak is worried. Lak, a nurse, asks Palang to help as he is close friend with Tidi. Palang (Likit Eakmongkol) is engaged with Pat. Pat is very jealous (แม่หญิง) and upset as she was thinking to go to seaside for holidays with Palang. Palang is head of the forest rangers (หัวหน้าป่าไม้). YouPo (Thida Thidarat), a mountain village girl, likes secretly Palang. A troupe led by Palang goes inside the forest to look for Tidi. Cross hidden love happens between YouPo and Palang, between a young mountain man and Lak. Men wearing black powder are following them. Their leader Payak is interested in Pat. Mae Nang keeps the doctor alive to make special concoction for her. The doctor is kept inside a cave to do herbal medicine (ยาสมุนไพร) to resurrect dead people. Only 3 people go near the cave. YouPo follows them. As they aggressed by three warriors, YouPo's help is decisive. Meanwhile the camp is attacked. Payak wants Pat. Mae Nang is protected by vampires (ผีดิบ). She gives order to them through a talisman she always wears. Pat and Payak become lovers. Being threatened by Mae Nang, Payak has to capture Palang and his team. Pat used herself as a bait but it turns badly as shootings happen. Pat and Payak die. The herbal medicine done by doctor Tidi fails to work with Pat. Mae Nang, interested in Palang, decides to get rid of Tidi and wishes Palang become her new lover. Hopefully YouPo can intervene timely and removes the sacred talisman causing the vampires to kill Mae Nang. The vampires disappear as the talisman is broken. YouPo and Palang can be happy together.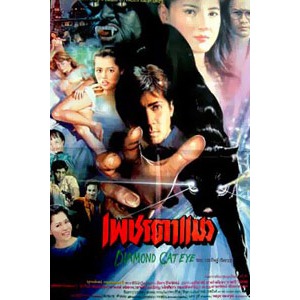 Year

: 1989



Thai title

:

เพชรตาแมว




English title

: Diamond Cat Eye



Rating

: 3/5


Director

:



Main actor

: Apichat Halamjiak,Dam Datsakorn,Yuranan PamornMontri


Main actress

: Thida Thidarat
Thai movie เพชรตาแมว (1989) lasts 1h34mn. Chai (Apichat Halamjiak), Chat coming with his daughter, Dam (Dam Datsakorn) are involved to catch a mystic cat spirit (แมวดำตาเพชร). They wish to get a diamond located in the cat's eyes. Some hunters fail to kill it so they are going in a remote mountain to catch it in his cave. The cat makes the hunters to kill each other. Chat finally gets the diamond and before dying, he asks Chai to give it to his daughter when she is adult. Years have passed. Kong Yot (Yuranan PamornMontri) is a policeman (หมวด) and Chai's good friend. Busarat (Thida Thidarat), Chat's daughter, is the real owner of the diamond. She was raised by Dam. Sia, older man, wishes to marry Busarat but she doesn't love him. Niphon uses a professional masseuse (หมอนวด) as a fake nurse to take care about Chai. He wishes to get the diamond also. But the nurse is thinking about a wedding being interested by the heritage but Kong Yot is around. Kong Yot hires real Busarat as nurse as he knows she is dedicated as he met her before in hospital. Three ladies now claim to be Busarat. One dies by falling in the stairs being shocked seeing somebody disguised like a ghost. Niphon (Kowit Wattanakul) gets blamed as he guaranteed she was real Busarat. Another supposed young lady, foreigner Natalie, asks for the diamond also. She is lover with the house driver. They end up in jail as identified as dishonest people by Kong Yot. Chai finally gives the diamond to another Busaba following nightmares. Chai wishes Busaba's father to be with her. Back to her province, gun shooting happens with Sia as he still wants Busaba to be his wife. Dam is injured during the shooting and Busaba realises she is the real daughter of Chai as she doesn't have the same blood group as Dam. Niphon and fake Busaba are lovers. Finally Niphon's wife, Niphon and fake Busaba kill each other due to greed. Only the real owner can keep the diamond safely. Busaba, identified as Chat's daughter, receives the diamond and following a dream involving the spirit (วิญญาณ), she brings it back to the cave. She can have now happiness with Krong Yot. A former version of this movie was released in year 1972 featuring Phairoj Jaising and Naiyana Shewanan. A TV adaptation through a ละคร was released in year 1999.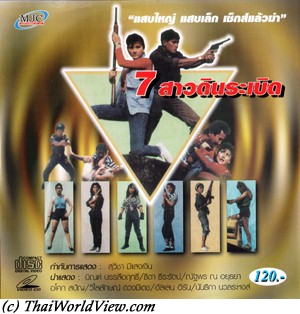 Year

: 1989



Thai title

:

7 สาวดินระเบิด




English title

:



Rating

: 3/5


Director

:



Main actor

: Bin Banleurit,Dam Datsakorn,Chat Mongkolchai


Main actress

: Thida Thidarat
Thai movie 7 สาวดินระเบิด was released in year 1989 and lasts 1h30mn. It was released under VCD format and also VHS format. The former VHS release was migrated to VCD format. The image is pretty sharp. Ruffians led by Dam Datsakorn and Ko (Chat Mongkolchai) are shooting at Thai police led by Pukong Aki (Bin Banleurit). Ruffians succeed to flee. While fleeing through the forest, they storm a house, kill the father, rape his three daughters and then kill them. The fourth daughter, called Usa (Thida Thidarat), asks for Aki's support. She wishes to get revenge. She learns that Ko has a scar. She is selling insurance life in order to approach them. One of the men wishes to go out with Usa but she refuses. Upset, he goes with a young prostitute. The mamasan argues it is her first time. After having made love, she shoots him dead as a revenge of the three girls killed. Another of the ruffians is killed by a lady while repairing a car. Ruffians start to be more alert while Aki is also investigating those deaths. All those ladies are Usa's friends helping for revenge (ล้างแค้น). Six ladies and Usa make a group of 7 ladies so giving the movie name as 7 สาวดินระเบิด (7 dynamite ladies). A third ruffian is killed by another lady (เด็กเวร). Ruffians start to be stressed and investigate on the relatives of the three previously killed ladies. One of the ruffians' leaders sees their domestic helper called Wilai putting some special powder (ยาพิษ) in the food. Another lady helps Wilai on time. Aki suspects Usa to be involved (ความหวังดี) as all murders are related with women, who know Usa... One of the ladies, called Sawanee, injures one of the ruffians, who succeeds to flee. Dam and Ko are now aware it is linked to Usa. Usa is captured (เรามาใช้นามสกุลเดี่ยวกันดีกว่า) and the ruffians asks the six other ladies to surrender in order to spare Usa's life. Aki intervenes. Aki is captured by ruffians also. The six ladies storm the ruffians' den but heavy shooting occurs. Ruffians are defeated but Sawanee dies by protecting Aki.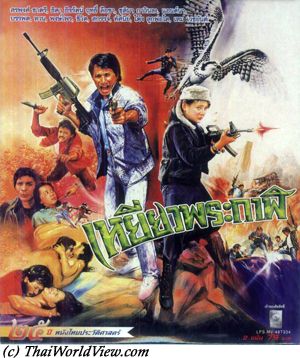 Year

: 1989



Thai title

:

เหยี่ยวพระกาฬ




English title

:



Rating

: 3/5


Director

:



Main actor

: Sorapong Chatree,Rith Luecha


Main actress

: Thida Thidarat,Chutima Kawinla
Thai movie เหยี่ยวพระกาฬ was released in year 1989 and lasts 1h23mn. Parts of the movie are censured. Some sexy scenes are present in the 35mm format release. It was released under VCD format by Lepso Studio company. Police decides to storm Arong's house knowing he is selling war weapons at the border. Following heavy fightings, Arong is injured but succeeds to flee. Young lady Feung Fa (Thida Thidarat) and her friend พี่ Tong are playing with knives when injured Arong arrives. Feung Fa is looking for a doctor. Meanwhile three ruffians shot her parents and Arong. One of the ruffians is injured. She wishes to find them and kill them as revenge. Ruffians continue their rampage as a lady is killed after a love scene. Feung Fa chases one of the three men and gets information on the two other men before killing him. Itti (Sorapong Chatree) wishes to help her but his motives are unclear. Ithit doesn't like such persecutors (รังแก) so he decided to help Feung Fa. Tong dreams of marrying with Feung Fa. He has the funny role (ตัวตลก) of supporting the leading actor Sorapong Chatree. Ruffian Seua Hin tries to neutralize Feung Fa but Ithit helps again. Feung Fa believes police cannot help as her village is in a remote place so it is lawless. Villagers needs to help themselves against the dark bad influence (อิทธิพล). A second killer is neutralized (ผีเฝ้าบ้าน). Feung Fa is still chasing Seua Hin, the third ruffian. Kham, the ruffians' leader, supports him. Kham (Rith Luecha) likes Buatong, sister of Buakaew (Chutima Kawinla). It creates tension between the two sisters. Feung Fa tries to catch the third ruffian by herself. Ithit is in fact a police chief. Ithit finds where Kham is hiding and goes to get more help from police rangers. Meanwhile Feung Fa and Tong are captured. Ithit and the police rangers succeed to free Feung Fa following an usual gun fight. Kham and his ruffians are killed. Other actors and actresses featured are แอนด์นา, บรรพต, ทวน, พงษ์ไพร, ชีวิต,สกรรจ์, ทัศนีย์, โด้ง ลูกพ่อโต, เหม เวชยันต์ แสดงนำ.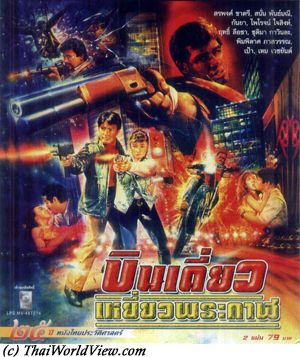 Year

: 1987



Thai title

:

บินเดี่ยวเหยี่ยวพระกาฬ




English title

:



Rating

: 1/5


Director

:



Main actor

: Sorapong Chatree,Rith Luecha,Phairoj Jaising,Lak Apichat,Pao Porapak


Main actress

: Thida Thidarat,Chutima Kawinla
Thai บินเดี่ยวเหยี่ยวพระกาฬ was released in year 1987 and lasts 1h18mn. It is an estimation only as the movie seems to have been released in level 2 standalone theaters (โรงชั้นสอง) only. It is a low budget movie. The soundtrack belongs to other movies such as "Shaft". There are quite a few nice sequences with Sorapong Chatree but the overall film editing is average. It is in fact a movie made with other movies sequences from Sorapong Chatree so that is why the editing is so poor! The numerous love sequences seem here only to ensure the movie can last 1h18. A new police officer (ผู้กอง) Kamtenthong (Sorapong Chatree) arrives in North of Thailand. A ring leader called Dam has dirty businesses such as helping people to cross Thai border illegally, drugs traffic, smuggling of weapons. Many fights and shootings happen between wealthy men (พ่อเลี้ยง) teams. Dam (Rith Luecha) benefits of it until police starts to involve into his business also to stop the numerous killings. Finally police rushes into Dam's ranch and neutralize the ruffians and hitmen. But the leaders are not here. Dam's secretary, Pen, is the one informing the police. It causes the ruffians' leaders to believe the other team betrays them as police is always there when weapons trading is happening. Dam is finally also neutralized through a final shooting. Pen was an uncovered policeman. It is a typical Thai action movie from 1980s mixing some Hong Kong style action sequences such as flying jump. Year 1987 was very prolific with action movies as Panna Rittikrai started to release his own action movies also. Movie บินเดี่ยวเหยี่ยวพระกาฬ features a few actors from 1970s action movies such as Phairoj Jaising but they look quite tired except Sorapong Chatree.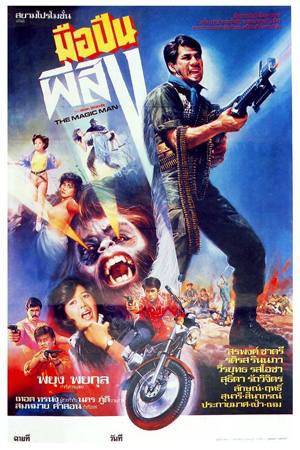 Year

: 1986



Thai title

:

มือปืนผีสิง




English title

: The Magic Man



Rating

: 3/5


Director

: Payoong Payakul



Main actor

: Sorapong Chatree,Lak Apichat,Pao Porapak,Rith Luecha


Main actress

: Thida Thidarat,Sinaporn Philailak
Thai movie มือปืนผีสิง was released in year 1986. It lasts 1h25mn. It is a mix of Thai footage and Hong Kong footage done by Filmark production. The movie is in Spanish language. The international title is "Mad Move". The Thai footage lasts one hour. The Thai actors are not even mentioned in the credits. Director is Payoong Payakul. A lot of sexy scenes are still present but might be removed from the Thai VCD. Lepso released it under the name นักรบผีสิง. Actresses also include ธิดา ธีระรัตน์, สินาภรณ์ พิไลลักษณ์ (Sinaporn Philailak – sexy star), สุนารี. Actors also include วีรยุทธ รสโอชา. Below summary is then partial. Sorapong Chatree is a soldier in black uniform. All his colleagues are dead. Sorapong is seen holding a machine gun and shooting enemies. Lak Apichat is visiting a family. Lak offers money the family but the father refuses. Later on, ruffians kill the whole family. Sorapong is back and finds his family dead. In a sawmill, shootings happen with ruffians. Both Sorapong and Lak are involved in the shootings. As Sorapong believes Lak is responsible of his parents' death, they both fight. Sorapong finally understands that Lak is innocent. Pao Porapak and Rith Luecha are parts of the ruffians. Sorapong finally catches the ruffians, who shot his family. Out of strength, Sorapong collapses and wakes up in a monk's cave. He needs to pacify his heart. While being in a brothel, ruffians have fighting with Lak. Sorapong still has atrocious visions about war. The ruffians send a beautiful lady to seduce Sorapong but it fails. Outside of the room, Pao is waiting and Sorapong is captured by the ruffians. At nighttime Sorapong becomes a werewolf and defeats his captors. The leader's girlfriend abuses the confidence of Bonnie (รติรส รินนภา) but the werewolf stops her. The werewolf abuses her as a revenge. Meeting Lak, the werewolf follows him and by paying respect to a Buddha statue, the werewolf becomes Sorapong again. Rith refuses to believe the stories about a werewolf but finally following the proofs, he gathers a big team to fight back. Finally Sorapong's team acts first. The movie ends up in shootings and two final fights between Lak and Pao, between Sorapong and Rith.
---