Increase or decrease font size for easier reading : A+ A-
Thep Thienchai
Thep Thienchai (1937-1994) - เทพ เทียนชัย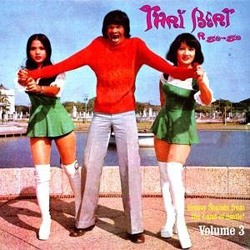 Thep Thienchai is a Thai comic actor
This Thep Thienchai movie page contains 11 records.
---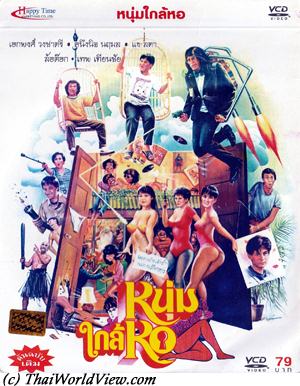 Year

: 1984



Thai title

:

หนุ่มใกล้หอ




English title

:



Rating

: 2/5


Director

:



Main actor

: Lor Tok,Pipop Pupinyo,Thep Thienchai,Doo Dook Kradon,Rong Kaomulkadee,Thuam Thoranong,Note Chernyim,Pao Porapak


Main actress

: Chosri Misommon
Thai movie หนุ่มใกล้หอ was released in year 1984 and it lasts 1h39mn. It is a light sexy comedy and it reminds of the Italian 1970s comedies. The dorm owner (หอสาวแม่) forbids her girls to approach men (สตรีที่ดี). She raises some orphan girls (เลี้ยงเป็นลูก). Pipop Pupinyo is used as a bodyguard to prevent intruders in the dorm. Doctor Lor Tok opens a dorm for men (หอชาย) on the opposite side! Among Lor Tok's disciples, there are veteran actors Doo Dook Kradon, Rong Kaomulkadee, Thuam Thoranong, Note Chernyim. The mother forces Pipop and another guard to take medicine to moderate their ardor (ไม่ไว้ใจ, อารมณ์เพศ). The young men take their revenge by giving to the mother a laxative so that they can be alone with the girls. On the following night, they even cut the water to force the girls to bathe in the swimming pool. Lor Tok tries to provide special medicine (ยาพลังเพศ) to convince Pipop to join them. The mother complains all men are dirty (ลามก). As a new male joins the dorm, the guys change their tactics and use the new handsome guy (รูปหล่อ) to seduce the mother (สุภาพ, แข็งแรง). He succeeds to be invited by the mother as an additional guard when the young ladies sunbathe (สาวอาบแดด). Basically the mother is doing the opposite she was teaching to her girls. They protest against their mother (อย่าทำผิดอีกเลย)! Lor Tok insults her as a mix of madonna (แม่พระ) and witch (แม่มด). Thep Thienchai, as a toilets cleaner, is also involved. Lor Tok is arrested by the police following complaints of Chosri Misommon. Finally the young men fall in love with the ladies. Lor Tok is released from prison and is back with two disciples (ลูกศิษย์) including Pao Porapak. As the two thugs plan to kidnap some girls, the young men intervene to catch them. The ladies dorm's owner decides to remove the fence between the male and female dorms as she recognizes that women cannot live without men. Lor Tok is finally arrested again for selling porn videos. The movie ends up with sexy sequences showing what Lor Tok has secretly filmed. Those sequences present in the 35mm film have been removed from the VCD released by Happy Time. Note Chernyim only plays in a few sequences. There was disagreement on his salary for this movie so he was replaced by Doo Dook Kradon.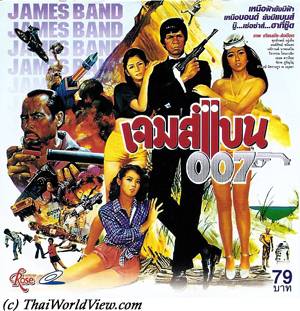 Year

: 1980



Thai title

:

เจมส์แบน 007




English title

: James Band



Rating

: 3/5


Director

:



Main actor

: Lor Tok,Thep Thienchai,Pipop Pupinyo


Main actress

:
A Thai man working for the government is killed while sitting on a rickshaw. Before dying he asks the rickshaw's driver to continue his secret mission. Many funny situations happen as the rickshaw's driver is not used to act like a Thai James Bond... Lor Tok and Thep Thienchai were two famous Thai comic actors. The full title is เจมส์แบน 007 น้ำพริกไทยเนื้อแท้ (James Band 007 the real Thai pepper).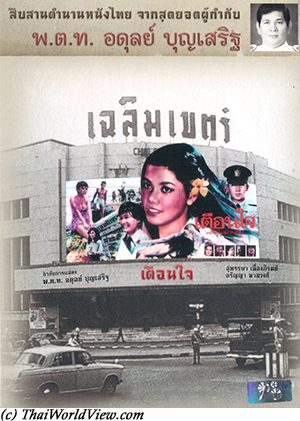 Year

: 1979



Thai title

:

เตือนใจ




English title

:



Rating

: 4/5


Director

: Adul Phijit



Main actor

: Tuanton Kammeesri,Surasit Sattayawong,Lor Tok,Thep Thienchai


Main actress

: Supansa Nuengpirom,Aranya Namwong,Monrudee Yamaphai,Ratanaporn Intarakamhaeng



Buy now

:

Surasit (Surasit Sattayawong) and Ratanaporn (Ratanaporn Intarakamhaeng) have a teenage daughter called Teuan Jai (Supansa Nuengpirom). New soldiers selection (ทหาร) is happening. Lor Tok is their instructor. Strong regulation (ระเบียบ) is taught to them. Young lady Teuan Jai meets one cadet in the bus while going to university. Monrudee Yamaphai as student is her close friend. Tuanton (Tuanton Kammeesri) is married to Aranya Namwong (เมียตำรวจ). He has often nightmares. He is still a low rank policeman making his wife unhappy about his status. Suphansa receives a love letter from one of the soldier. Finally a group of five young soldiers cadets and five young ladies students including Teuan Jai meet each other. They all go to Pattaya. All boys have same goal to serve their country. There are drunkard ruffians at the street entrance leading to Teuan Jai's home. Arguments happen with the young soldiers cadets (นักเรียนเป็นทหาร). One evening, Teuan Jai is raped and killed (มนุษย์ใจสัตว์). A wallet is found with prints on it. The police officer Tuanton investigates on the issue. He visits by night the murdering place and the corpse storeroom (ห้องเก็บศพ) to look for evidences. Thep Thienchai is arrested but he is not the culprit. This murder has caused big emotion and Thai police has to broadcast a message encouraging young ladies to wear appropriate clothing. There is a comparison of young Thai people doing sacrifice to become soldiers and other young people behaving very badly. People having usefulness for the country versus people being a burden. Finally the policeman catches the killer thanks to scratches proofs in his shoulder. As he refuses to acknowledge the murder despite proofs found, the policeman has to force him by using some beatings. Tuanton is finally expelled from the police. This movie is based on a real story, which happened in 1961, where a group of hooligans raped and killed a young student called Teuan Jai PhuangNak. The DVD lasts 1h32mn but the original film is longer. The movie director is Adul Phijit (อดุล พิจิตต์).



Year

: 1979



Thai title

:

ไอ้ถึก




English title

:



Rating

: 3/5


Director

:



Main actor

: Sorapong Chatree,Sayan Chantaravi​boon,Kecha Plianvithee,Rith Luecha,Lor Tok,Thep Thienchai


Main actress

: Chosri Misommon,Duangcheewan Komolsen,Yuwathida Surasawadee
Movie ไอ้ถึก was released in year 1979 and lasts 1h58mn. It is a funny comedy showing the discovery of Bangkok and its modernism by three bumpkins. Lazy husband Sayan (Sayan Chantaraviboon) is chased from home by his wife (Chosri Misommon). His friends are Yiem (Sorapong Chatree) and Phabai (Thep Thienchai). The three friends are fired from their respective home (อยู่วัดตั้งแต่เกิด, home, mistress). They need to find ways to survive. They decide to go to Bangkok (บ้านนอกเข้ากรุง). Various funny situations happen as they are not used to Bangkok modern way of life. They have arguments in a restaurant with ruffians (นักเลง). The ruffians were hired by two young ladies to release their sister Nong Suda kidnapped by Decha (Kecha Plianvithee) and Rith Luecha. The ladies hire the three friends instead. They succeed to release Suda. During the escape, they also take a case belonging to Decha. Ruffians want to get back the suitcase (กระเปาะขอคืน) as it contains important documents related to their business. The three ladies bring the three friends around Bangkok (Happy Land attraction park, Pattaya). They also discover hotels and massage (นวด). As a fighting erupts in the massage parlour, Khun Prangsee (Duangcheewan Komolsen) brings them to her home. They finally befriend with her husband played by Lor Tok (คุณผู้ชายมาแล้ว). After multiple failed trials, Decha finally gets back his suitcase but also kidnaps again Suda and her sisters. The police believes the three friends are responsible of the kidnapping. A fair (งานฉลอง) organized by Khun Prangsee's husband turns to a disaster as police tries to arrest them. By fleeing, the three friends bring the Police by luck to Decha's house. Ruffians are captured. Ladies are released and the three friends are innocented. They prefer to go back to their village than staying in Bangkok. The three ladies bring them to their village but finally flee as Yiem's house collapse on them, as it is discovered that Sayan is already married, as Phabai offers a weird amulet (ปลัดขลิก)!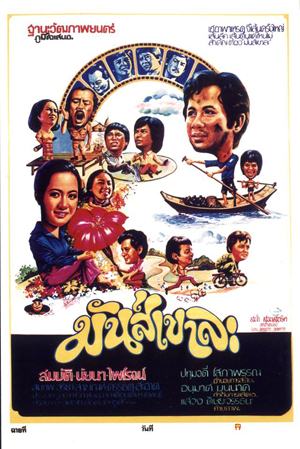 Year

: 1978



Thai title

:

มันส์เขาล่ะ




English title

:



Rating

: 3/5


Director

:



Main actor

: Sombat Methanee,Prachuap Ruekyamdee,Lor Tok,Tawan Siriwat,Suriya Chinaphan,Phairoj Jaising,Sayan Chantaravi​boon,Rong Kaomulkadee,Thep Thienchai,Somphob Benjatikul,Boo Wibunnan,Kanchit Kwanpracha,Sahat Piempongsan,Thuam Thoranong


Main actress

: Naiyana Shewanan,Chosri Misommon,Nipaporn Nongnuch,Tharika Thidathip
Thai comedy movie มันส์เขาล่ะ was released in year 1978. The movie is lost in Thailand but a sequence of 1h03mn is left to be seen. Subdistrict headman (กำนัน) Lor Tok wishes to produce a movie with his daughters and his wife playing as actresses. His wife is played by Chosri Misommon. His daughters include Wassana (Naiyana Shewanan) and Nipaporn Nongnuch. Tawan Siriwat seems to oppose the Subdistrict headman's decision. A photo studio is managed by Prachuap Ruekyamdee and his two friends, i.e. Sayan Chantaraviboon and Rong Kaomulkadee. Prachuap and his friends convince Lor Tok to manage the movie for him. They are now looking for a main actor (พระเอก) for their movie but Fui (Sombat Methanee) is finally hired by mistake. Fui's close friend is Thep Thienchai. Lor Tok is the movie producer so they use the money to buy a mercedes! He wishes his family to play in the movie. Somphob Benjatikul is his assistant. Fui and Wassana like each other. Boo Wibunnan is hired as movie director. They are also looking for somebody to write the story. Tawan brings them to meet Mui (Kanchit Kwanpracha) as they are looking for a ruffian (นักเลง). A ceremony for the movie launch (เลี้ยงใหญ่โต๊ะ) is organized. Fui has to sing and does it well (it is Sombat Methanee's real voice). Thuam Thoranong as comic actor is also present. Sahat Piempongsan is used as decorator. Lor Tok always needs to protect his daughters against the young men trying to seduce them. Multiple gags happen during the shooting as Lor Tok doesn't accept any kiss to his daughters. Phairoj Jaising is involved as actor also and a few ดาวยั่ว are joining (Tharika Thidathip). The movie shooting is a disaster. Kamnan Lor Tok is back to his village and is welcomed by Tawan Siriwat and Suriya Chinaphan singing an ironic son and teasing the Subdistrict headman. This comedy is featuring many famous comic actors from 1970s and more than 18 Thai famous actors / actresses.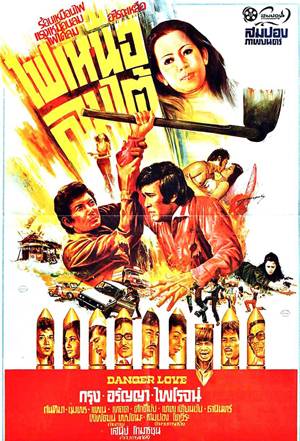 Year

: 1977



Thai title

:

ไฟเหนือลมใต้




English title

: Danger Love



Rating

: 3/5


Director

:



Main actor

: Krung Srivilai,Phairoj Jaising,Choomporn Theppitak,Thep Thienchai,Pan Borapet


Main actress

: Aranya Namwong,Kantima Daraphan,Janthana Siriporn
Thai movie ไฟเหนือลมใต้ was released in year 1977. It features Krung Srivilai as main actor and Aranya Namwong as main actress. The movie is lost in Thailand but a sequence of 1h01mn remains to be seen. Sia (Choomporn Theppitak) is playing pool. Krot (Krung Srivilai) arrives in the game room and shoots him. He then flees. Sia killed Krot's whole family so Krot is taking revenge. Chit (Phairoj Jaising) is upset that his older brother Sia was shot by Krot, a close friend. Chased by ruffians, Krot succeeds to flee by a train going to Hat Yai. A hitman called Takro is killing many people. He finally gets killed due to a trick played by 3 ladies including Linda (Janthana Siriporn) (ไม่น่ามาฅายเพราะว่าข่าอ่อนแบบนี้เลย). The local mafia leader needs to find a new hitman and asks for Krot. Meanwhile Chit finds Krot again and gives him a lesson as he is drunk. Krot succeeds to flee thanks to a taxi driven by Aranya Namwong. Aranya finds a woman picture in Krung's jacket pocket. Probably his former wife killed by Sia. Krot shots 3 drugs traffickers. Chit still tries to catch Krot and a fighting happens on a moving truck. Aranya is in fact a policeman. Krot shots Aranya with a sniper rifle despite Aranya saw him. Krot flees and boards a plane to Chiang Mai. His co passenger is similar to Aranya! Her father just died. Two songs are featured in nightclubs. Linda is also killed by Krot. Aranya is surprised that he is so cruel (หน้าตาดีแต่ใจโหดร้าย). Krot is a professional killer (มือปืนรับจ้าง). Police wants to get him alive to know who are the sponsors behind (ผู้ติดต่อ). So Aranya is assigned to this dangerous task. The remaining sequence ends up here. It could be that Aranya plays two roles. Other actors are กันทิมา, แพน, เทิด, ศักดิ์ชัย, ธานินทร์. A summary of the movie is still available through old Thai stars magazines.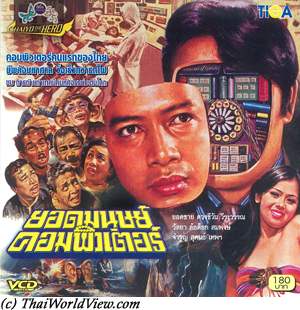 Year

: 1977



Thai title

:

ยอดมนุษย์คอมพิวเตอร์




English title

:



Rating

: 3/5


Director

: Sompote Sangduenchai



Main actor

: Yodchai Meksuwan,Lor Tok,Phirapon Piyawan,Thep Thienchai,Jamroon Nuatjim


Main actress

: Duangcheewan Komolsen



Buy now

:

Four boys are born with strange features, one has very big ears, one has a tail, one has very big hands, one has big nose sinus. Becoming friends, they spend most of their time playing and sleeping. Becoming adults, their fathers banish them from the village as they are doing nothing to help the community. Just as they leave, a local mafia gang threatens the villagers to get help to cultivate opium and to provide food for their members. Meanwhile one lady wants to marry one of the boys but wishes that he can remove his tail. He refuses. At night time, while he is sleeping, she cuts his tail. He flees away but looses a lot of blood. A crazy scientific professor finds and decides to save him by using technology. He becomes the Thai Six Million Dollar Man! He then gathers his three other friends to free the villagers from the mafia gang.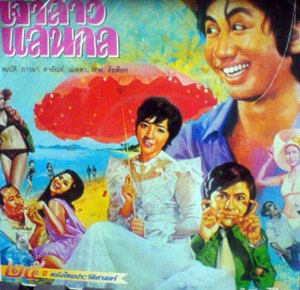 Year

: 1974



Thai title

:

เจ้าสาวแสนกล




English title

:



Rating

: 3/5


Director

:



Main actor

: Sombat Methanee,Sayan Chantaravi​boon,Preuhat Boonlong,Lor Tok,Thep Thienchai


Main actress

: Pawana Chanajit,Sasima Singsiri,Metta Roongrat
Thai movie เจ้าสาวแสนกล was released in year 1974. It lasts 1h53mn. Rataya (Pawana Chanajit) is fleeing her father to avoid a forced marriage (หนีแต่งงาน). Her father (Preuhat Boonlong) promised to marry to an older man called Yiu (Lor Tok). As the father has debts with Yiu, he has no choice. Ran (Sombat Methanee) is fed up being a company owner. He wishes to have a break and asks Varun (Sayan Chantaraviboon) to replace him for a while. Many people believe Rataya drown in the river while fleeing her father but Ran saw her swimming away. An old lady aggressed by thugs (ลูกอัปรีย์) mistakes her as a ghost (ผี). Rataya takes refuge in a friend's home called Too (Sasima Singsiri). Ran wants to be a staff (ลูกช้าง) for a while instead of being a boss. Comic actor Thep Thienchai is even having a small role. Interested by Rataya, Ran succeeds to be hired by Yiu as domestic helper under the name of Yim. Rataya makes Yiu believe that she is a ghost now (ผีหลอก). Yim is fully aware but doesn't disclose the secret. Too asks Yui to cancel the debts with Rataya's father in order to avoid the ghost harassing him but he prefers to do good deeds (ทำบุญ). Rataya disguised as a ghost tries to get the document (โฉนดที่ดิน) but it ends badly as Yiu's daughter called Nut shoots at her. Unfortunately she is not injured but Yiu is now aware of the trick. On the way to get back his wife (รับไม่ได้), Yiu is attacked by two masked robbers being Too and Rataya. Yui gives Rataya an ultimatum of 10 days. Yim has a plan to replace Rataya by another lady called Prai (Metta Roongrat). Finally Yui announces he is not able to perform husband duty! Yim gives him a special medicine but it is finally a laxative medicine (มีปืนก็ไม่มีลูก, ยิงเท่าไรก็ไม่ดัง). Rataya starts to suspect that Yim is more than a domestic helper as he can speak English. Yiu gives back the property title and the debt reconnaissance is burnt. Aware that Yim's real name is Ran, Nut, daughter of Yui, is suddenly interested in Yim. Seeing Yim arguing with Nut, Rataya flees away. Movie ends happily, i.e. Ran with Rataya and Yiu with Prim. A TV serie based on the same story was released in year 1992.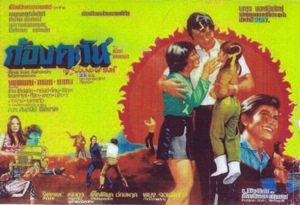 Year

: 1974



Thai title

:

ก้องตะวัน




English title

: THE SOUND OF SUN



Rating

: 3/5


Director

:



Main actor

: Yodchai Meksuwan,Manop Aussawathep,Pipop Pupinyo,Thep Thienchai


Main actress

: Pawana Chanajit,Khomapat Attaya
Thai movie ก้องตะวัน / THE SOUND OF SUN was released in year 1974 and lasts 1h56mn. This movie was never released in Thailand under VHS, VCD or DVD. Kiet (Yodchai Meksuwan) and Daojai (Pawana Chanajit) are stuck in the countryside as their car engine is broken. Thep Thienchai is playing Kiet's domestic helper called Ouam. The sun reverberation is particularly strong in this countryside area. They are married for 7 days. It is not a reciprocal love. Wanna, doctor's wife, is often out with Daojai. The doctor is always obedient to his wife. Kiet is sick while Daojai is away. To create interest from Daojai into Kiet, the doctor lies about a critical disease if she doesn't care more about her husband. Everything is back to normal and they do have a daughter called Sanit. One day, an old friend of Kiet, called Dom, asks him for help. The friend invites him to discuss in a bar and a lady, called Lomrak (Khomapat Attaya), pushes him to drink a lot. He finally sleeps there being drunk. Life goes back to normal but Lomrak keeps calling Kiet (หลงรัก). Kiet keeps going back home late (เมียน้อย) so Daojai is very worried. Very drunk, Lom brings back Kiet at home and meets Daojai (แม่บ้าน). Kiet wishes to use the marital room with Lomrak. Kiet slaps Ouam blaming him. Daojai, Sanit and Ouam quit the house on the same night. They take refuge in a relative's home, who is often drunk. At nighttime, Choei tries to abuse (ปล้ำ) Daojai. Kiet keeps drinking heavily (ทำผิด). Kiet has to sell his car to pay debts. He is fired from his company as 400 000 baht have disappeared from the banking accounts. Kiet is broke (หมดตัว). Kiet discovers that Lomrak is Dom's wife and that they stole his money. Dom's ruffians including Pipop Pupinyo teach him a lesson. The ruffians leave him for dead. Daojai meets อา Montri (Manop Aussawathep). Kiet starts a new life by being a car driver. Daojai and Montree see him on the road side. Daojai misses Kiet but she doesn't want to be weak in front of him so she rejects his apologies and even prevents her daughter to meet Kiet. She mentions that Montri is her new husband. Kiet and Montri have a man-to-man explanation but Dom appears and tries to shoot Kiet. To avoid any issues with Thai justice, Dom has to get rid of Kiet as he is aware of his illegal activities. Dom runs his jeep over Kiet's leg. Due to extreme sun reverberation in this countryside area, Dom loses control of his jeep and crashes into a tree killing Lomrak. A mysterious local doctor takes care of Kiet and he can recover within seven days. Kiet, Daojai and their daughter are back together.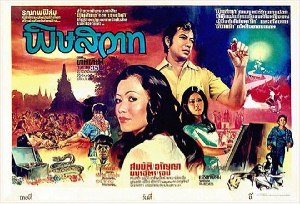 Year

: 1974



Thai title

:

พิษสวาท




English title

:



Rating

: 3/5


Director

: Ruj Ronnapop



Main actor

: Sombat Methanee,Ruj Ronnapop,Somchai Samipak,Thep Thienchai


Main actress

: Aranya Namwong,Mayurachath Muarnprasitivej
Thai movie พิษสวาท was released in year 1974 and lasts 2h20mn. The movie is only available on VHS and was never released on VCD or DVD. The picture is very colourful and sharp. Akanee (Sombat Methanee) has a dream where he cuts the head of a woman. The following day, his friend Chet (Ruj Ronnapop) introduced him to a lady called Chorasinee (Aranya Namwong). She is expert in ancient artifacts (นักนิยมของเก่า). She notices a special jewel owned by Akanee. Akanee is very confused as she is the same lady he just beheaded in his dream. Chorasinee seems to know a lot of things about him. She is able to recall many strange past events. Thip (Mayurachath Muarnprasitivej) loves secretly Akanee. Chorasinee often comes and disappears very fast. She warns Akanee about things not to be done wrongly a second time as nobody has two chances in life! During a charity performance, Chorasinee promises to play an evil lady (นางปีศาจ). Somchai Samipak is interested by her. It seems that Akanee met her in a previous life when he was a prince. She asks her life back to Akanee (ถ่วงชีวิต). Robbers try to steal Akanee's jewel but get punished by an invisible spirit. Chorasinee invites Akanee, Thip and Chet to her home in Ayutthaya. Thep Thienchai welcomes them. During Ayutthaya period, Akanee protected the treasure of the Siamese King. Akanee, to ensure the treasure is not stolen, killed all the guards so that their spirits (วิญญาณ) protect the treasure forever. A lady called Ubon was loved by Akanee's love. Akanee cut Ubon's head also. Somchai's wife is concerned that Chorasinee goes in his car. Chorasinee's duty is to keep the Siamese King's treasure. She is Ubon's resurrection. Somchai wishes to marry Chorasinee and become rich (มหาศาล). Somchai is somebody dishonest as he killed a dealer before to steal his drugs and to keep the agreed money. Somchai is found dead at Chedi Saam Ong. Strange events occur as Thip's painting, formerly showing a beautiful Chorasinee, is now showing an ugly evil spirit (นางปีศาจ). Akanee asks Chet to go to Ayutthaya as he wishes an archeologist team to dig at a specific place as he believes there is a dead body there lying since centuries. A skeleton with a spade is found. It is the Prince's skeleton. Chorasinee invites Akanee to follow her. Thip and Chet follow up. They arrive in a mysterious place and a judgement is occurring per Chorasinee's request. She complains that despite their love, Akanee killed her and gave her a never ending task to look after the treasure. Thip, loving Akanee, agrees to take over but Akanee refuses. Finally the spirit guardian asks Chorasinee to choose somebody to replace her, i.e. Akanee or Thip. She finally accepts to continue doing such role as she cannot choose Akanee as she loves him, she cannot choose Thip as she would lose Akanee's love. Her spirit is then released. Akanee becomes a monk for the rest of his life. They should meet again in another life.



Year

: 1973



Thai title

:

วางฟูซาน




English title

:



Rating

: 3/5


Director

:



Main actor

: Yodchai Meksuwan,Sukon Koewliam,Lor Tok,Pipop Pupinyo,Thep Thienchai


Main actress

: Ling Yin,Metta Roongrat,Sisala Thongtara,Wassana Chalakorn
Thai movie วางฟูซาน was released in year 1973. The movie is lost in Thailand but a sequence of 19 minutes remains to be seen. Main actor is Yodchai Meksuwan and main actress is a Hong Kong actress named Miss Ling Yin (มิส หลินจี). Other actors and actresses include Sukon Koewliam, Metta Roongrat, Actor big, Sisala Thongtara, พนม, แมน, Wassana Chalakorn, พูนสวัสดิ์, Pipop Pupinyo, Lor Tok, สีเผือก, ศรีสุริยา, Thep Thienchai. Men (Yodchai Meksuwan) comes to Hong Kong to perform Thai boxing fighting matches. He is also a gambler. Men is not allowed to enter a casino anymore as he is responsible of the pregnancy of the owner's daughter called Lin. So he has to go back to Thailand. Meanwhile Lin is waiting for him. Later on Men meets Lin again in a Bangkok bar where she is a singer. Seeing she is pregnant, Men brings her in a rented house for her to deliver the baby. He uses Lin's money to indulge other women. Men is seen with Sisala Thongtara and is carrying her packets. Lin is the one supporting financially Men. As the money is running out, Lin is expelled from the house. She ends up in Phetburi and gives birth to a little girl called Liu. Many years later Liu, now a young girl, finds Men full of blood as he has been beaten by local ruffians. She brings Men to her mother Lin. Lin finally forgives Men. Men becomes finally a good guy. One day while he goes to the market, he finds Thai police in his home arresting Lin as her visa is over. Back to Hong Kong, Lin goes back to the place called Wang Fu San. Seeing no hope in her future, no hope to see again Men and her daughter, she decides to jump from a cliff. Hopefully Men and Liu arrive just in time to stop her.
---