Increase or decrease font size for easier reading : A+ A-
Tanit Pongmanoon
Tanit Pongmanoon (19xx) - ธนิตย์ พงษ์มนูญ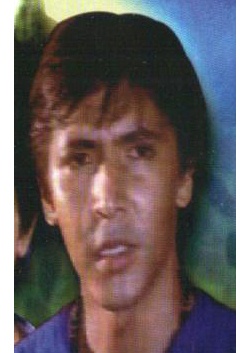 Tanit Pongmanoon has played in more than 10 movies. Most of them are horror movies from mid 1980s
This Tanit Pongmanoon movie page contains 5 records.
---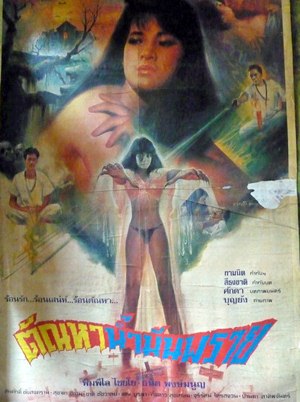 Year

: 1990



Thai title

:

ตัณหาน้ำมันพราย




English title

:



Rating

: 3/5


Director

:



Main actor

: Tanit Pongmanoon,Somsak Chaisongkram


Main actress

:
Thai movie ตัณหาน้ำมันพราย was released in year 1990. It lasts 1h25mn. Sanae (Somsak Chaisongkram) is a spirit doctor (หมอผี) abusing ladies. Teera (Tanit Pongmanoon) gives money to his mistress Pim (เมียน้อย) to build a house. Her younger sister Wan is worried that it may end up badly as Teera is already married with Nit (คุณจะเสียใจ). The movie features a few hot love scenes. Nit is very jealous and promises to Teera to handle this matter… Nit visits Pim and arguments occur (เสน่ห์แรง, แย่งผัวคนอื่น). Spirit doctor Sanae identifies that Teera was possessed (ถูกของ). He gives to Nit a potion to break the spell. Pim meets her former husband Sot, who went working to Singapore. He brings her to see Mae Mo, who gives her a statuette to place into Teera's home in order to have him going back to Pim (ทำเสน่ห์). Sot behaves like a pimp (แมงดา) as he is no money and his wife has now a new rich boyfriend. Having lost her husband, Nit goes to see again spirit doctor Sanae, who gives her a powerful statuette (กุมารพราย). He has to provide oil corpse (น้ำมันพราย) to Nit also. Pim needs also oil corpse from Mae Mo. Her domestic helper Pliu comes to get the philter from Sanae, who seduces her. Pim has to meet again Teera to use the philter on him. The two women argue again (นางกากี, อีตัว). Pim gets Teera back as she waits until nighttime to use the philter on him. Nit decides to use black magic from Spirit doctor Sanae. So it becomes a deadly war between Mae Mo and spirit doctor Sanae. The movie ends up tragically as Mae Mo and Sanae send spirits to kill each other. Teera lost his arms as the evils spirits dismember him. Pliu and Sot are also killed. Pim and Nit remain possessed as evil spirits.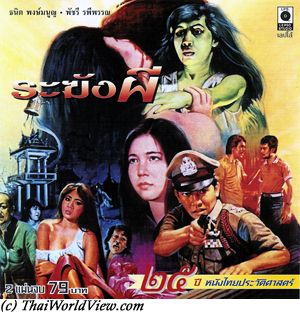 Year

: 1985



Thai title

:

ระฆังผี




English title

:



Rating

: 3/5


Director

:



Main actor

: Tanit Pongmanoon,Sithao Petcharoen,Somsak Chaisongkram


Main actress

: Praew Mardmarud
Village leader (ผู้ใหญ่) Krai is a rich man. His wife Lamduan (ใจสัตว์) is having an affair with An, a local ruffian. Meanwhile An has made Dokmai, a local lady villager, pregnant and swears (สาบาน) to marry her. The child shall be born soon. Chot, Dokmai's brother, is upset by this situation but cannot complain as An is his boss. There is a temple fair with musical folk drama (ลิเก) and a bell is offered to the temple. A nice Buddhist countryside ceremony is shown with the temple bell consecration. It ends tragically as the village leader is pushed into the bell in hot fusion and dies. An becomes the new village leader. A new visitor arrives in the village. His name is Chok and he has been hired by An to protect Pen and her sister Pol, daughters of former Village leader Krai. Lamduan is only their stepmother (แม่เลี้ยง). An will give their heritage back when they get married but he already started to spend a lot. An forgets Dokmai. Village leader ghost (ผีผู้ใหญ่) appears and visits his daughter Pen to tell her the truth and to beware of An. Chok is a hitman (มือปืน) so Pen doesn't trust him either. The ghost kills three ruffians involved in his murder. An still refuses to recognize Dokmai's pregnancy. Dokmai dies in a fire set in her house by An's ruffians. Chot promises to revenge. Lamduan orders to burn both Pen and Pol but Chok helps them on time. Dokmai ghost appears to kill Lamduan as she has taken away An from her. The village leader ghost tries to kill both Lamduan and An as they planned to kill him. Luckily for them the abbot (หลวงพ่อ) amulet chases the ghost away. An recruits a master (อาจารย์) but he is useless. Dokmai ghost strangles Lamduan while she was having a bath so without any Buddhist amulet protection. An hires another master to fight the two ghosts (โจรเราไม่เลี้ยง). Dokmai ghost is neutralised. Chok is an uncovered policeman. He wishes to capture An but this latter escapes and is followed up by Krai ghost. Finally Chot and An kill each other (ทำความชั่วตายจากความชั่ว). Parts of the movie are missing.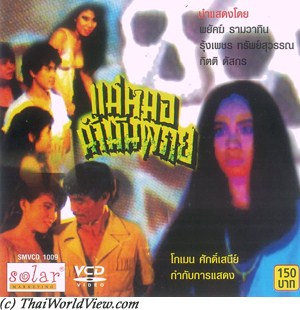 Year

: 1985



Thai title

:

แม่หมอน้ำมันพราย




English title

:



Rating

: 2/5


Director

:



Main actor

: Tanit Pongmanoon,Joomjim Khemlek,Somsak Chaisongkram


Main actress

: Praew Mardmarud
A young girl is found abandoned. She is rescued and adopted by a policeman called Wichai. The policeman is a widower and has two daughters, called Sari and Yupin. Nit is Sari's boyfriend. Nit and his friend Jem are killed by local mafia but are still alive as they have magic skills (วิชา). Local mafia was hired by a witch (แม่หมอ), who is looking to get rid of Nit. She uses the body of the young girl to spy inside the house. She needs more force (พลัง) and is trying to get Nit's heart and body. An entertainment girl, called Waddee, is in love with the father Wichai and convinces him to play big money in an underground casino. Wichai, as a policeman, is using government money to play cards. He loses everything. The dictrict officer (นายอำเภอ) gives Wichai one month to get back the money. Nit and his friend decide to help the policeman and go to play in the underground casino. Thanks to magic skills, they can see inside the dice cup. They get back one million baht. Meanwhile the witch possesses (ถูกผีเข้า) the maid Tawin and then Jin, boyfriend of Yupin. Nit has protective amulets (ของดี) so can chase the witch from their bodies. It is a typical horror movie from the 1980s with a mix of horror, a joke and a slight salacious content. Jem provides a love filter (น้ำมันพราย) for a lady to get back her husband but the thrown bottle reaches a car so creating a crazy situation where the car is in love with the woman. The witch also possesses Yupin. During a final battle with Nit, the witch is defeated.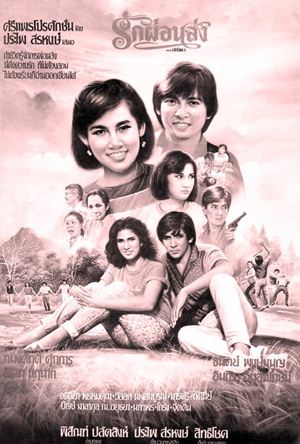 Year

: 1985



Thai title

:

รักผ่อนส่ง




English title

:



Rating

: 2/5


Director

:



Main actor

: Tanit Pongmanoon


Main actress

: Marasri Bangchang
Thai รักผ่อนส่ง was released in year 1985. The movie was released many years ago through VHS video tape but then never under VCD or DVD format. This teen romantic comedy movie (หนังวัยรุ่น) was never famous and was released at a time where teen movie popularity was getting strong. A few minutes trailer is still available also to be seen. The main actors and actresses are ทนงศักดิ์ ศุภการ, สิริยา นฤนาท, Tanit Pongmanoon, อินทิรา อิ่มสมโภชน์, อธิติยา พรหมคุณ, วัลลภ นพสมบูรณ์, Marasri Bangchang.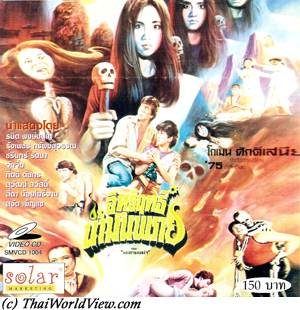 Year

: 1984



Thai title

:

อิทธิฤทธิ์น้ำมันพราย




English title

:



Rating

: 1/5


Director

:



Main actor

: Tanit Pongmanoon,Joomjim Khemlek,Somsak Chaisongkram,Supakorn Srisawat


Main actress

: Praew Mardmarud



Buy now

:

Thai movie อิทธิฤทธิ์น้ำมันพราย was released in year 1984. The VCD released by Solar Marketing Ltd lasts 1h52mn. A previous version released on VHS lasts 1h47mn. The movie mixes comedy, scary, sexy sequences. An Indian master imprisons a sorcerer, called Mae Mo (แม่มด), in a pot believing she is neutralized. Phi Chim (Somsak Chaisongkram) and Yupin are having a baby. She is pregnant for three months. An old grandmother gives a ring and transmits some power (มรดก) to young lady Yupin. At nighttime, Yupin becomes a fearful spirit (ผีกระสือ). Some animals are killed, and their blood was suck. Jim (Tanit Pongmanoon) and Nit (Joomjim Khemlek) are requested by a monk (อาจารย์) to investigate. Meanwhile a new fake master (Supakorn Srisawat) arrives in the village. Villagers ask for his help (ผีออกอาละวาด) to neutralise the spirit (ปล้ำผี). Of course, he completely fails. Mae Mo wishes Yupin to open the pot (กระบอก) in which she is held prisoner. As Yupin refuses, Mae Mo forces her and threatens to disclose the truth to her husband Chim. Only Nit can open the pot so Yupin needs to convince him. Jim and Nit meet a young lady, called Saree, at a waterfall. Nit and Jim promise to find her real father. Funny chasing sequences happen between fierceful spirit Yupin and villagers as she wishes to suck their blood. Yupin succeeds to convince Nit to open the pot and Mae Mo is released. Magical fights happen between Nit, Jim and Mae Mo. Mae Mo is finally defeated and Yupin becomes human again.
---