Increase or decrease font size for easier reading : A+ A-
Suthisa Putnuch
Suthisa Putnuch (1946) - สุทิศา พัฒนุช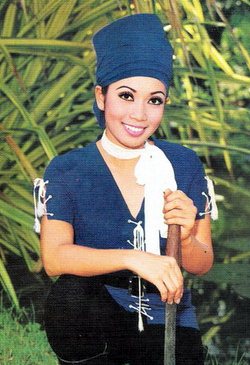 Suthisa Putnuch was miss Thailand in 1965. She was featured in around 40 movies. She played her first movie with Chaiya Suriyun in 1968 (เป็ดน้อย). She was 22 years old. Then she played many movies in years 1968-1970 with other famous Thai male stars (Mitr Chaibancha, Sombat Methanee, Manop Aussawathep...) but most of the time with Mitr and Sombat. After Mitr's death, she played also with new males stars such as Kanchit Kwanpracha, Yodchai Meksuwan, Krung Srivilai, Phairoj Jaising and even Sorapong Chatree. Her last movie was คู่กรรม in 1995 with Thongchai McIntyre
This Suthisa Putnuch movie page contains 12 records.
---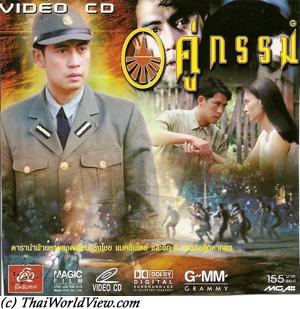 Year

: 1996



Thai title

:

คู่กรรม




English title

: Sunset at Chaophraya



Rating

: 3/5


Director

: Euthana Mukdasanit



Main actor

: Thongchai McIntyre


Main actress

: Suthisa Putnuch,Wilaiwan Watthanaphanit
This movie is about the tragic love during World War II between a Japanese officer called Gobori and a Thai lady. It is remake. Previous versions were shot in 1973 and 1988.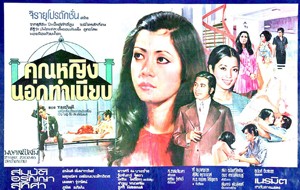 Year

: 1974



Thai title

:

คุณหญิงนอกทำเนียบ




English title

:



Rating

: 4/5


Director

: Neramit



Main actor

: Sombat Methanee,Jamroon Nuatjim


Main actress

: Aranya Namwong,Mayurachath Muarnprasitivej,Suthisa Putnuch,Metta Roongrat,Chosri Misommon,Marasri Bangchang
Thai drama movie คุณหญิงนอกทำเนียบ was released in year 1974. It features Sombat Methanee as main actor and Aranya Namwong as main actress. The movie is lost in Thailand but a sequence of 48 minutes remains to be seen. It is the final sequences of the movie. Supasatee (Aranya Namwong) also called Sajee has arguments with the son, who treats her as a minor wife (เมียเก็บ). The father is Chit (Sombat Methanee). His younger sister (Metta Roongrat) also doesn't accept that Sombat has a new younger mistress. Sajee and Chit deny any wrongdoing. Chit sends Sajee back to the slum through his mercedes so people are gossiping including her own grandmother (Chosri Misommon). Her own grandmother tells her not to forget her own roots but Sajee wishes to climb the social ladder without taking in account other people's critics. Chit is celebrating the birthday of Suthisa, his wife (Suthisa Putnuch). Metta brings doubt in Suthisa's heart but is in fact disappointed that Chit would choose Sajee over her! It causes Lady Suthisa to die as she has a fragile heart already. Even Kaew (Mayurachath Muarnprasitivej), Sajee's best friend and Chit's daughter, believes Sajee wants to take the place of Suthisa. Finally romance happens between Sajee and Chit. The grandmother believes Sajee will be back as same as lotus, she comes from dirty slum soil so she cannot adapt to rich soil. Kaew is pregnant. Sajee has to find an abortion doctor for her. One day while driving with Chit, she sees a woman hit by a car. It is her own mother. Sad event showing she starts forgetting her roots. Chit is also having heart issues. His new wife Sajee gets rejected as Lady nomination (คุณหญิง) as she is not coming from a proper background. Chit ends up at the hospital where Sajee asks to modify the heritage terms. Worried about heritage, Chit's children cause their father's death by asking too many questions instead of letting him rest. On the opening of the testament, Chit's children realize Sajee is not asking for a single baht and is just going back to her slum. Rich people looked wrongly at Sajee. She was the one having a good and true heart.



Year

: 1973



Thai title

:

ดรุณีผีสิง




English title

:



Rating

: 3/5


Director

:



Main actor

: Phairoj Jaising


Main actress

: Suthisa Putnuch



Buy now

:

An aunt is pushing her own daughter towards a rich bachelor. She denigrates Darunee, a young lady, in love with the rich bachelor. Following a fatal love triangle misunderstanding, she kills herself but her ghost is back to get revenge from the aunt...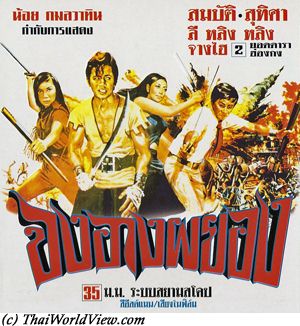 Year

: 1971



Thai title

:

จงอางผยอง




English title

:



Rating

: 4/5


Director

:



Main actor

: Sombat Methanee,Prachuap Ruekyamdee,Songthong


Main actress

: Suthisa Putnuch,Juree Osiri



Buy now

:

A Thai Chinese community is celebrating Chinese New Year (ตรุษจีน) though dances (รำ) and songs. Even Songthong is singing a few songs before being killed as suddenly the village is attacked. Hin is the leader of the pirates (โจร) who attack the village. Many villagers are captured or killed. Four children, two boys (Phet, Chiang Ho) and two girls (Kae, Lilin), promise to revenge their parents and punish Hin. The kids get separated. Fifteen years have passed. Seua and Kae love each other but their love is endangered as it is discovered Seua is Koeb's son. Koeb has cut Kae's mother arm during the village attack fifteen years ago. Their love becomes impossible. Back home Kae finds her mother dead. Chiang Ho and Lilin are back from China and ready for revenge. They meet Kae and look for Phet, the last friend. Phet has been raised by Hin and is called Praew. Hin, following the fall of Ayutthaya, has become lord of the province. The three friends attack directly Hin's fort but are defeated as Phet supports Hin, the pirate leader, and is now a traitor (ทรยศ). The two girls are captured as Seua also betrays Kae. Seua is the one who killed Kae's mother. Phet had to lie and simulates as he is an Ayuthaya soldier (งานของแผ่นดิน). He loves the king and the kingdom. Hin is making an alliance with Burma to sell canons (โจรขายชาติ). Phet's double game is disclosed. He is captured by Hin and his fingers are broken to prevent any fighting. Hopefully Chiang Ho can help and they flee from the fort. Lin takes care (รักษาพยาบาล) of Phet. They ask support from their old teacher but he refuses to believe that Hin is a traitor. Finally faced to the truth he decides to help. Surpassing the pain, Phet fights for the kingdom (ช่วยแผ่นดิน). Elephants are used to defeat Hin's soldiers. Despite being outnumbered, the fierce Siamese soldiers succeed to defeat the traitors and Burmese soldiers in order to save the King. Many sword fights and kung fu / Thai boxing fights typical from 1970s Hong Kong movies are featured. The King's face cannot be seen but Thai royal music is played to indicate his presence. This movie is really typical from years 1970s when patriotic movies were shot due to the communist threats at the Thai borders. The movie features two Hong Kong movies stars. It takes two years to shoot the complete movie. It was an expensive movie to make as real soldiers were used, a fort has to be built along a mountain and then destroyed by explosives.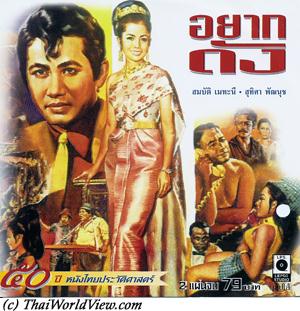 Year

: 1970



Thai title

:

อยากดัง




English title

:



Rating

: 3/5


Director

:



Main actor

: Sombat Methanee,Prachuap Ruekyamdee


Main actress

: Suthisa Putnuch,Metta Roongrat
This movie is about a young man coming from a rich family. He loves singing and falls in love with a young woman coming from a poor family. The rich family tries to break this relationship. The original movie has some beautiful songs but the sound was altered due to aging. Unfortunately Lepso company just cut them instead of trying to put back the same song still available in record format.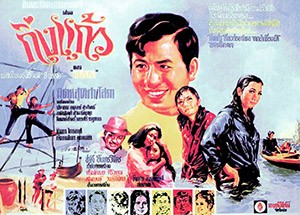 Year

: 1970



Thai title

:

กิ่งแก้ว




English title

:



Rating

: 3/5


Director

:



Main actor

: Mitr Chaibancha,Prachuap Ruekyamdee,Adul Dulyarat,Surasit Sattayawong,Adinan Singhiran


Main actress

: Suthisa Putnuch,Sopha Sataporn,Khomapat Attaya
Thai movie กิ่งแก้ว was released in year 1970. It features Mitr Chaibancha as main actor and Suthisa Putnuch and Sopha Sataporn as main actresses. Other actors featured are Prachuap Ruekyamdee, Adul Dulyarat, Surasit Sattayawong, Khomapat Attaya, Adinan Singhiran. The movie is lost in Thailand but luckily a four minutes sequence featuring a song remains to be seen. Unfortunately Mitr Chaibancha cannot be seen in the remaining four minutes sequence. The singer is ชินกร ไกรลาศ, famous singer during decades 1960s and 1970s. The whole movie features three songs. Normally songs were in 35mm format but for provinces everything was in 16mm format to avoid the pain of having to use two projectors. Three songs were featured in this movie.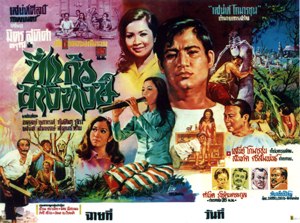 Year

: 1970



Thai title

:

ปี่แก้วนางหงส์




English title

:



Rating

: 3/5


Director

:



Main actor

: Mitr Chaibancha,Adul Dulyarat,Sompong Phonmitr,Sukon Koewliam,Thuam Thoranong


Main actress

: Suthisa Putnuch,Yaowaret Nisakorn,Kantima Daraphan
Thai movie ปี่แก้วนางหงส์ was released in year 1970. The movie is lost in Thailand but there is a sequence of 40s left to be seen. Main actor is Mitr Chaibancha and main actress is Suthisa Putnuch. Other actors and actresses are Adul Dulyarat, Yaowaret Nisakorn, Sompong Phonmitr, Sukon Koewliam, Thuam Thoranong, Kantima Daraphan (กันทิมา ดาราพันธ์). During the sequence left to be seen, it shows Mitr and Sompong boarding a plane, Mitr and Sompong discussing in an hotel room, Mitr talking to Suthisa through a door, a group gathering around a nun and certainly performing a ceremony to chase a spirit away. Thai movie ปี่แก้วนางหงส์ is known as a horror movie. Mitr Chaibancha is playing two roles. 6 songs were featured. The movie was also adapted through TV series in years 2009 and 2014. The movie starts during Rama 5 reign. The scene when Mitr is knocking at Suthisa's door and talking to her happens during this era. Mitr is learning music with Suthisa's father and finally he marries Suthisa. Later on Mitr marries another lady causing Suthisa's sadness. But she still needs to play music. Suthisa plays music flute (ปี่แก้ว) until a blood vessel breaks in her neck. Mitr realizes his mistake but it is too late as Suthisa is already dead. On the way to Bangkok, the spirit of Suthisa appears causing fear to Mitr. He dies while jumping from a boat. The movie continues nowadays. Mitr is a rich man's son, who is back after overseas studies. It can be seen through the sequence where Mitr is boarding a plane. Mitr is back to his house, where the spirit of Suthisa is still waiting for him. Love happens between a human and a spirit happens. It causes fear to all people around.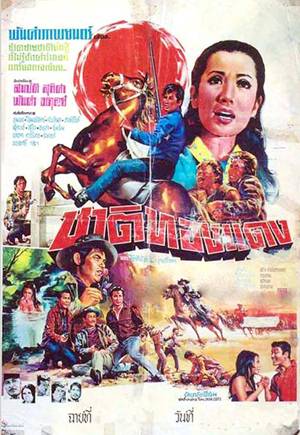 Year

: 1970



Thai title

:

ชาติทองแดง




English title

:



Rating

: 3/5


Director

: Phan Kam



Main actor

: Sombat Methanee,Adul Dulyarat,Chanee Yotchai,Choomporn Theppitak,Anucha Ratanaman,Sukon Koewliam,Joomjim Khemlek,Sawin Sawangrat


Main actress

: Suthisa Putnuch,Khomapat Attaya,Kantima Daraphan
Thai movie ชาติทองแดง was released in year 1970. Main actor is Sombat Methanee and main actress is Suthisa Putnuch. The movie is lost in Thailand but a 2mn14s trailer remains to be seen. The movie director is Phan Kam. The movie is a Thai Western. During the short trailer various sequences can be seen such as Chanee Yotchai hitting a man, a gun duel between Adul Dulyarat and Phan Kam, a fighting scene with Sombat against four men, Anucha Ratanaman flirting with a young lady, Vet actress sexy 1 and 2, a typical waterfall Thai movie scene with a naked lady swimming, a knife duel between Sombat Methanee and Chanee Yotchai, a scene with main actress Suthisa Putnuch. Other actors and actresses are Choomporn Theppitak, Khomapat Attaya, Sukon Koewliam, Joomjim Khemlek, Sawin Sawangrat, Kantima Daraphan.



Year

: 1969



Thai title

:

ละครเร่




English title

:



Rating

: 5/5


Director

: Prince Bhanu Yukol



Main actor

: Manop Aussawathep,Dokdin Kanyaman,Charin Nantanakorn,Sompong Phonmitr


Main actress

: Suthisa Putnuch
A local troop plays traditional theater (เล่นละคร) in front of a pleased audience. The actors sing and dance well (รำดีดี). Middle age women give flower garlands (ดอกมาลัย) to the handsome main actor. Manager (ผู้จัดการ) Thongdam supervises the troop. Thongdam is fond of a young dancer called Maram but the love is not reciprocal. An old master is always teaching constantly the dancers and singers to look for perfection. Before representations actors pay respect to their master and spirits (ไหว้ครู). The two leading actors are handsome actor Boon Ek (พระเอก) and young lady Kathin (นางเอก). A high society young woman from Bangkok, called Waew, likes the handsome actor (เสียงดี - รูปหล่อ). She has a fiance called Prachalin already. Waew's father wishes to take Boon Ek to Bangkok to become a famous singer in nightclubs. Boon Ek refuses as he cannot leave his master but he falls under Waew's charm (ถูกเสน่ห์). It is the opposite of standard scenario as this time the rich lady seduces the poor man. The troop (โรงละคร) always moves from one temple to another. Beautiful representations with colorful costumes are shown. Manora (โนราห์) dance is like a bird dance. Waew brings Boon Ek to old style nightclub with singers and couples dancing. There is an opposition between traditional arts and modern songs, between Lakorn (ละคร) actors and Bangkok singers. A few beautiful 1960s romantic songs are featured in this two hours movie. Following a trip to Bangkok Boon Ek comes back drunk. He never missed a performance. His performance is a disaster (คนอะไร!) as he is too drunk. He has big hope (มีหวัง) for a career (ดารานักร้อง) in Bangkok and wishes for good money. Katin gives back to him her fiancee ring. The old master is very sick. Almost no spectators are paying to view the theather performances since Boon Ek left. The troop is out of cash. Vaew's heart balances between two men, her fiance and Boon Ek. The old teacher will not ask Boon Ek to come back (ยอมตายดีกว่า). Waew's fiancee, Prachalin, is a former singer and compositor. He prefers to lose Waew than a good singer! Thongdam is selling his own gold jewelry to simulate customers renting the troop. He even takes a life insurance (ประกันชีวิต) as he knows he is very sick. Waew doesn't love Boon Ek as he is a countryside guy. She is just having fun. Thongdam dies. He legates his money to the troop. To thank him, Malam decides to learn to dance to try to replace Boon Ek. Boon Ek is now a TV star (ดารา tv) and comes back to his province for singing. He declares his love again to Kathin through a song while she is the audience. She leaves the concert crying. He comes back during a lakorn representation and promises not to leave again. The Bangkok buzz is not for him. This is veteran actor Manop Aussawathep's first movie. It has a few similitudes with Cherd Songsri's movie Nora (โนห์รา) regarding traditional arts protection and conservation. It still features a very nice color picture for a 40 years old Thai movie. This movie was directed by the General Major His Royal Highness Prince Bhanu Yukol, a pioneering Thai filmmaker. He is the uncle of famous director Prince ChatriChalerm Yukol.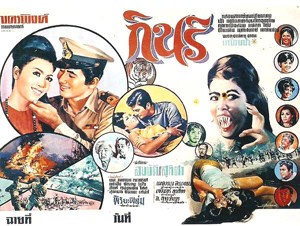 Year

: 1969



Thai title

:

กินรี




English title

:



Rating

: 3/5


Director

:



Main actor

: Sombat Methanee,Chana Sriubon


Main actress

: Suthisa Putnuch,Metta Roongrat,Kaenjai Meenakanit
The action takes place in a territory at the edge of Thailand and Burma. A tiger spirit (วิญญาณเสือสมิง) is possessing the body of a young girl called Kinari. They accuse the young girl to be responsible of the village head's son death. They wish to burn the dead body and the young girl. Hopefully a monk is able to calm them down. The young girl and her grandmother agree to move to Burma to ease villagers. When the young girl will be 20 years old, the fearful tiger spirit will be definitively exorcised. She cannot remove the protective necklace that the monk gave her until she is 20 years old. They find refuge in a catholic mission for 10 years but they miss Thailand. Her grandmother asks her not to forget Buddhism. They finally come back to the village in her 19th year. A young man tries to rape Kinari while she bathes in a waterfall. As she has removed her necklace and anger pops up, she becomes a tiger (เสือ) and kills him. Villagers know Kinari is back. The grandmother is sick. Kinari needs to find a doctor (หมออนามัย). The doctor arrives too late and the grandmother dies. The doctor promises to take care about Kinari. Meanwhile the village leader wishes to burn Kinari to chase definitively the spirit away. Saenkam, a villager, doesn't want to let Kinari leave as he loves her. Kinari and the doctor Nopalit finally succeed to flee. Nopalit brings back Kinari (คนป่า) to his home in Bangkok but she is not welcomed by the mother. Dao, the doctor's fiance, doesn't welcome her also. Dao has another boyfriend Leutchai already so she is lying to Nopalit. The mother and Dao always try to humiliate Kinari as she is not coming from high society (ผู้ดี). The doctor buys Kinari a golden necklace but she is worried to remove her necklace as the tiger spirit might be back. Dao starts to be worried that Kinari has much more qualities than her. Dao hires a tramp to rape Kinari but he is seriously injured as Kinari becomes a tiger spirit again. Saenkam, the villager, still loves Kinari and reaches Bangkok. Kinari is going to be 20 years old. Today is her birthday. The mother offers a diamond necklace for her birthday and throws away the protective necklace. On the birthday party while the doctor is away, Dao slaps Kinari causing the demon inside her to be back. Following an ultimate fight, Saengkam gives back the necklace to Kinari and injures fatally Leutchai. This later shot back killing Saengkam and Dao through a lost bullet. As it is midnight already, the spell is gone and the tiger spirit has disappeared inside Kinari's body so the mother cannot prove that Kinari is a demon. Kinari and Nopalit can now live happily together. Parts of this old 2h20 movie are really damaged.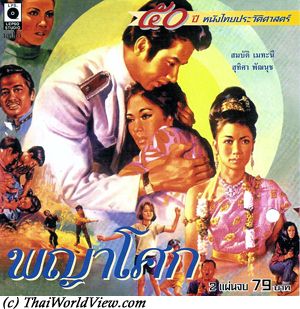 Year

: 1969



Thai title

:

พญาโศก




English title

:



Rating

: 4/5


Director

: Cherd Songsri



Main actor

: Sombat Methanee,Sawin Sawangrat,Prachuap Ruekyamdee,Choomporn Theppitak,Sukon Koewliam,Joomjim Khemlek


Main actress

: Suthisa Putnuch,Pawana Chanajit,Kaenjai Meenakanit
During World War 2, a man betrays his country (ขายชาติ) and even kills his wife Narinee as she refuses to keep silent. The father then disappears. His own daughter flees and is rescued by a young man called Boripat, who put her in a well off family. She is renamed Lamphap. A few years have passed. Lamphap (Suthisa Putnuch) is a beautiful grown up lady. Boripat plans to become deputy (ผู้แทน) in Phatalung province. Boripat and Lamphap love each other. Cheutchalao (Kaenjai Meenakanit), a jealous lady who wishes to marry Boripat, shows to Boripat's mother a picture of Lamphap's mother. Is it good that Boripat as a future deputy marry a country traitor? Following a night with Boripat, Lamphap flees away as she is ashamed of her background. Boripat looks for her. When he is aware of her parents' background, he breaks up with her and finally marries Cheutchalao. Lamphap is followed by her father's bad reputation. Boripat has become a member of parliament. Cheutchalao introduces Khun Yousapong (Prachuap Ruekyamdee), who is a salesman, to Boripat. Boripat needs to pay back the funding he receives from him through some sales advantages with government projects. Boripat rejects and resigns as he refuses to betray his own principles. Cheutchalao is very upset as Yousapong is in fact her hidden lover. She even refuses to keep the child she is currently having with Boripat! Cheutchalao has an argument with Boripat's mother causing her to fall from the stairs and dies. Boripat then indulged in alcohol and, being sick, decides to die in the place he met Lamphap the first time. He dies in her arms. Kenang is the child born of their brief union. Many years have passed. A young lady called Pen (Pawana Chanajit) stops by the village due to a flat tyre and is helped by Kenang (คนป้า). Pen is daughter of the salesman Yousapong. Salesman is still with stepmother (แม่เลี้ยง) Cheutchalao. Yousapong has always been concerned about money only (ไม่รู้ค่าความรัก). Pen dances on a show and displays her great dancing performing skills (รำไทย) to pay back his father as studies compensation. She gets a reward and wishes to offer it to Lamphap but Cheutchalao prevents her to do it as Lamphap is daughter of a country traitor (เป็นกรรม). Chatkalin, Lamphap's second son (Choomporn Theppitak) doesn't want anybody to mention he is Lamhap's son anymore as he wished to marry Pen. He is in fact Boripat and Cheutchalao's son. Cheutchalao left the child in an orphanage and Lamphap, having pity, raised him. Well off people (ผู้ดี), having status, are seeing down poor people. As a revenge Kenang kidnaps Pen and brings her to a remote place near seaside. Chatkalin burns Lamphap's house as retaliation. Kenang, having finally freed Pen, arrives on time to save his mother. Following a fight with Chatkalin, a passer-by is shot. They all accuse Kenang. Lamphap chases everybody. A policeman offers her an opportunity to clean her name but she has to give information regarding the secret place where her traitor father and his team are hiding. After reaching the place in the mountain, Lamphap's father wished to test her if she is not a spy. She shall kill her own son, Kenang, as he has been accused by Cheutchalao, Chatkalin and Yousapong of having killed the father's own son, i.e. the passer-by. Only Pen defends Kenang. Lamphap has to do a sacrifice (เสียสละ), i.e. Kenang's life against the four other lives (Cheutchalao, Chatkalin, Yousapong, Pen). Finally one of the ruffians revolts for the sake of his country preventing Lamphap to make an impossible choice. Bad characters are punished. Some episodes were cut in this Lepso VCD release, i.e. one episode where Sombat Methanee is singing and another climax episode when the ruffian forces the mother (Suthisa Putnuch) to shoot her own son (Sombat Methanee) but finally changes his mind. Sombat Methanee plays both the father Boripat and the son Kenang. This 1960s movie shows that faithfulness to country is more important that faithfulness to own family. It is typical of many 1960-1970s movies, which featured nationalist elements against the red communist threat. พญาโศก is a less known good movie from famous director Cherd Songsri. It also includes many references to the Thai royalty.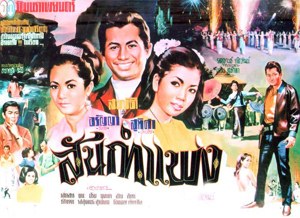 Year

: 1968



Thai title

:

สันกำแพง




English title

:



Rating

: 3/5


Director

:



Main actor

: Sombat Methanee,Chana Sriubon,Choomporn Theppitak,Sawin Sawangrat,Sithao Petcharoen


Main actress

: Aranya Namwong,Suthisa Putnuch,Prim Praphaporn
Thai movie สันกำแพง was released in year 1968. The movie is lost in Thailand but a 90 minutes sequence remains to be seen. The movie is 16mm format so in mute state as such format needs dubbing. Main actor is Sombat Methanee and there are two main actresses, i.e. Aranya Namwong and Suthisa Putnuch. Prim Praphaporn is flirting with a man. Kan (กานต์) (Sombat Methanee) and Sai Mai (สายไหม) (Aranya Namwong) are discussing together during a party. The next day, they are going to Buddhist temple (ทำบุญ) together and maybe to have a common promise. Romance is happening between them. Kan is leaving Chiang Mai by train. Primpaporn is in the same train. They have a flirt. Back to Chiang Mai, Kan is punched by the man flirting with Primpaporn. Finally Kan is reunited with Aranya through a classic scene under the rain. They take refuge in a hut due to the strong storm. They have a daughter called Sai Nam Pheung (สายน้ำผึ้ง) (Suthisa Putnuch). Prim announces to Aranya that Kan is hers. Aranya is unhappy about this news and tells it clearly to Kan. Kan blames Prim. Prim delivers a son and tries to get suicide as she cannot get Kan's love. Twenty years later, their children meet in Chiang Mai. Will they be able to have a love story after their parents' failure twenty years ago? Sombat Methanee is also playing the role of Suriyon (สุริยน) (child) and has a love story with Sai Nam Pheung. Suriyon meets Sai Nam Pheung and a romance starts during Songkran festival. Suriyon is captured by ruffians led by Choomporn Theppitak and Sawin Sawangrat. Then two Sombat Methanee can be seen on the screen, i.e. Kan and Suriyon. A fight with ruffians leader is happening in order to release Suriyon lynching on a tree by the feet. The movie features seven songs. A remake was done in year 1981 with Sorapong Chatree.
---