Increase or decrease font size for easier reading : A+ A-
Sulaleewan Suwanthat
Sulaleewan Suwanthat (1920-1992) - สุลาลีวัลย์ สุวรรณทัต
Sulaleewan Suwanthat is often playing the old aunt in Thai movies
This Sulaleewan Suwanthat movie page contains 30 records.
---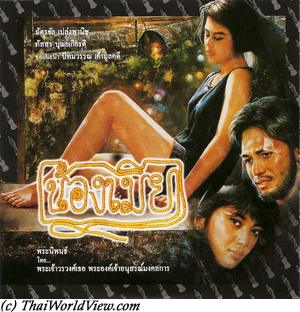 Year

: 1990



Thai title

:

น้องเมีย




English title

: Song for Chao Phraya



Rating

: 5/5


Director

: ChatriChalerm Yukol



Main actor

: Chatchai Plengpanich


Main actress

: Passorn Boonyakiat,Sulaleewan Suwanthat



Buy now

:

The director ChatriChalerm Yukol had done a remake of his own 1978 movie. New actors are playing and a similar scenario is used. This movie got three Thai awards. Four members of a family are living on a sand barge (เรือทราย). They navigate between provinces. Saeng, young man, is married to Plang. They have a young baby. Taptim is the young 15 years old sister-in-law. They are boat people (คนเรือ) since generations. The barge arrives in Bangkok. Plang is fed up with her life on the boat. She is still young and wants to have fun. She threathens Saeng to choose between his sand barge and her. She would like to sell the sand barge and change their life. Saeng bought the sand at high price but the Bangkokian trader only proposes a low price. The boat is leaking and needs repair. He refuses to sell as it means losing money. Plang believes she can be an actress (ดารา). Plang meets in a hair-dresser shop a gentle lady called Mrs Aree, who proposes to help her. Due to her provincial accent, Mrs Aree understands immediately who is Plang and sell her dreams. Mrs Aree is in fact a mama-san (มาม่าซัง). Taptim refuses to join Plang as she is afraid to become a prostitute in Bangkok. Plang quits the barge. Saeng is shocked and finally sells the sand at lower cost to have money and to look for his wife in Bangkok. Bangkok is so big. He walks bare foot alone through the streets, markets and malls to no avail. Taptim has to take care of the baby as both parents are out in Bangkok. Saeng meets the taxi driver who brought his wife to the hair dresser. The taxi is his home same as the boat is Saeng's home. There is mutual understanding between the two men (คนบ้านนอก). Aree is said to be working in a Patpong gogo bar. There are dozens of bars in Patpong. Mrs Aree is now said to be a woman recruiting girls for Chao Praya massage parlour. Saeng succeeds to get Mrs Aree's address but has spent a lot of money. Being drunk, he falls in the river while boarding the boat and so loses his money. Saeng has to sell his boat for 100 000 baht but once debts are paid, there is a few money left to buy a small boat. In Bangkok, business is business. The taxi driver is not as friendly as in first opus and will not transport Saeng for free. Saeng continues to walk and walk many days around Sukhumvit area but cannot find Plang. Meanwhile Plang is still dreaming. Mrs Aree introduces an old rich man to Plang. She is the birthday gift of a movie producer. It is a financial transaction. After a diner, Plang is drunk and sent to a motel. Meanwhile Saeng finds Mrs Aree but then there is a fight with the condominium guard. He is beaten and sent to jail. Realizing that the older man is trying to rape her, Plang fights back and flees but Mrs Aree's ruffians beat her. Taptim pays for Saeng's bail so that he can exit from jail. Saeng wishes to get Taptim as new wife. They all go back to countryside. Anyway they are reunited as a family. When aims are too high, the fall is tough. Bangkok is a symbol for poor up-country people, i.e. dream of wealth. Some people dream to get rich there but many of them come back home without money. Some countryside people arrive in Bangkok and get abused by Bangkokian people.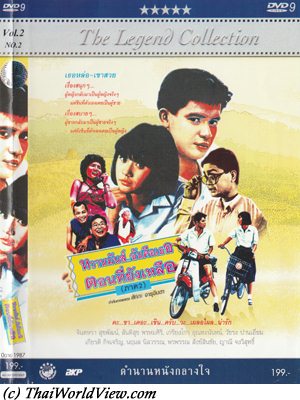 Year

: 1988



Thai title

:

หวานมันส์ฉันคือเธอ ตอนที่ยังเหลือ (ภาค 2)




English title

:



Rating

: 3/5


Director

:



Main actor

: Santisuk Promsiri,Kriengkrai Unhanan,Kiet Kijcharouen


Main actress

: Jintara Sookkapat,Sulaleewan Suwanthat



Buy now

:

Thai movie หวานมันส์ฉันคือเธอ ตอนที่ยังเหลือ (ภาค 2) was released in year 1988 and lasts 1h49mn. This movie is follow up of part 1 released in year 1987. A few songs are featured in the movie. Nap (Jintara Sookkapat) and Ton (Santisuk Promsiri) are close friends since childhood and are now studying in university. Ton's father is worried that his son doesn't behave as a 'man' (ผู้ชายเต็มตัว) and check with his teacher (อาจารย์)(Kriengkrai Unhanan). Ton's parents move to Bangkok but Ton stays behind to finish his studies. Ton moves to a room (ห้องพัก). Aunt (Sulaleewan Suwanthat) is the owner and she is fed up to clean sheets as the tenants keep bringing ladies. Ang (Kiet Kijcharouen) is concerned that Ton is gay so he asks another neighbour to check. Nap is upset with Ton as she believes he brings ladies to sleep in his room. Nap has to do Thai military training. So her friends ask her to reconsider if Ton really misbehaves or not. The misunderstanding is clarified but Nap needs to excuse herself after having slapped Ton. The neighbour tricks him again by sending a sexy lady to Ton's room. Nap arrives at same time and misunderstands Ton again. Ton gets slapped again. The sexy lady also steals Ton's money (ไม่มีเจตนา). This time, Nap doesn't believe Ton (เศร้า). Ton stays home as he has no more money. The neighbour finds a job for them but it is a nightclub performance activity. His father visits him and pushes him to visit prostitutes. Nap's friend, Samon, tries to seduce him. It is exams time. Nap still doesn't forgive Ton. Nap's father complains to the head of school as Ton keeps trying to contact his daughter. Ton explains the whole story to the head of school, apologizes for his behavior and announces quitting the school. Exams shall happen soon (อีกสามวันจะสอบ). Ton is now working as musician in a hill tribe show for foreign tourists. Following plea from Nap about their relation and his future, Ton finally goes back to school to pass his exams as there is no future without diploma.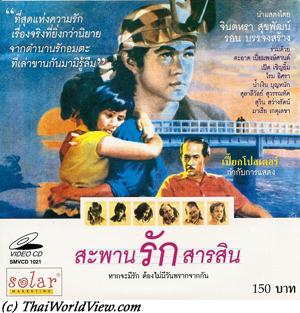 Year

: 1987



Thai title

:

สะพานรักสารสิน




English title

:



Rating

: 4/5


Director

: Piak Poster



Main actor

: Ron Banjongsang,Sahat Piempongsan,Sawin Sawangrat


Main actress

: Jintara Sookkapat,Namgneun Boonnak,Sulaleewan Suwanthat



Buy now

:

Thai movie สะพานรักสารสิน lasts 1h35mn. It was released under VCD many years ago but a HD version remastered is available since year 2015. It is based on a real story happened in 1973 on Phuket island. Sulaleewan Suwanthat is playing the mother. Kotham (Ron Banjongsang) is a good son as he is working in a farm of rubber tree and coconut and giving all his money to his mum. He is also driving local small bus to help his friend. He meets Hiu (Jintara Sookkapat), an university student who has good heart (น้ำใจ) to protect him with her umbrella while he is changing a bus wheel during a thunderstorm. Hiu's father (Sahat Piempongsan) is aware that his daughter is seating in the front with Tom so he forbids her. Kotham buys a doll (ตุ๊กตา) for Hiu knowing she likes it. Romance starts between Hiu and Kotham . While enjoying a local festival, Hiu is surprised by her father and slapped (ลูกไม่รักดี). Back home, she is severely beaten by her father, who even disapproves his daughter going to university. The father meets khun Arun, an administrative officer, as he wishes him to marry her swiftly. Hiu offers herself to Kotham but he refuses (บูชา Hiu). They finally decide to flee on a remote island. Kotham becomes a diver to catch pearls and seashells. Police finds them and Kotham ends up in jail as Hiu is not yet 20 years old. The local Kamnan (Sawin Sawangrat) convinces the father to remove the complaint on Kotham. But the father doesn't forgive. He hits his daughter with a stick in front of Kotham. Hiu is pregnant. Kotham loses his mother. The father still wants his daughter to marry Arun. Only suicide appears a solution for the youngsters. The mother and Kotham's friends wish to stop them but they are too late. The two corpses are found later clinched to each other. As they are inseparable even in the death, Hiu's father orders to bury them together. This movie has also been registered as National Heritage per the 2016 list released by the Thai Film Archive.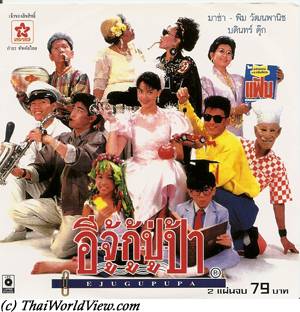 Year

: 1987



Thai title

:

อีจู้กู้ปู่ป้า




English title

: Ejugupupa



Rating

: 1/5


Director

: Kumtorn Tubkunlai



Main actor

: Kamthorn Suwanpiyasiri


Main actress

: Marsha,Piyamas Monayakol,Sulaleewan Suwanthat,Sarinthip Siriwan
A young woman is back from Germany. Her older relatives are quarreling in order to take care about her and find the best husband for her. But the young lady has other ideas in her mind...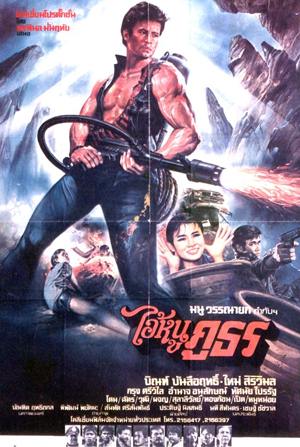 Year

: 1985



Thai title

:

ไอ้หนูภูธร




English title

:



Rating

: 4/5


Director

:



Main actor

: Bin Banleurit,Chat Mongkolchai


Main actress

: Mai Charoeunpura,Sulaleewan Suwanthat
Thai action movie ไอ้หนูภูธร was released in year 1985 and lasts 1h40mn. Movie director is มนู วรรณายก. The movie was released under VHS format before year 1988. It was never released under VCD or DVD format. Thup (Bin Banleurit) is a truck driver delivering goods. His close teammate is named Noi. Thup is getting delivery orders from a warehouse managed by subdistrict headman Chai. Ruffian Chat Mongkolchai is working for subdistrict headman Chai. Each time, they refill petrol, the trucks must pay 20 THB extra fee (ค่าน้ำมัน). This is extortion and it makes Thup and his friends, Krong and Kamsai, very upset. Thup meets his old soldier friend played by Krung Srivilai. Thup still has his mother (Sulaleewan Suwanthat) and a younger sister called Thien. Thup realises that the ruffians try to hide opium in the goods he has to transport. He refuses and quits the warehouse. Subdistrict headman Chai threatens him to keep quiet. Thup helps Rung (Mai Charoeunpura) having her truck stuck in a trench. Subdistrict headman Chai calls local banks and has Thup blacklisted in all local companies. Thup cannot find a new job. Luckily Rung proposes him to work for her and to transport jars (โอ่ง) from Bangkok. He has arguments with Chat and his men when visiting Krung's restaurant. Ruffians try to prevent him to pay back his truck, but it fails. Thup and Noi are ambushed by Chat and his ruffians. Noi is shot by ruffians. It is time for revenge. Thup, helped by Krong and Kamsai, storm a restaurant and shoot Chat and three of his men. Police try to arrest Thup but he flees. Ruffians storm his home and shoots his mother. His sister and Rung are captured. Thup storms subdistrict headman Chai's warehouse to know where his sister and Rung are held prisoners. Chai tells the location and is then arrested by the Police. To avoid long term jail, he also discloses the ruffians' den location, i.e. a remote cave. Thup, Krong and Kamsai enter the place while police and Thai soldiers also try to overcome the place. Thup finds his sister having been killed. The big boss is Krung. Thup is disappointed that Krung, as a soldier, who served Thailand, can behave like this. Thup gets a flamethrower and takes revenge over Krung, who hurt his family very badly.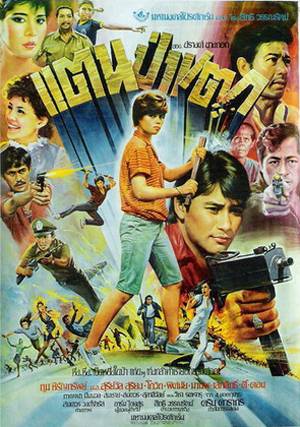 Year

: 1984



Thai title

:

แตนป่าแตก




English title

:



Rating

: 3/5


Director

:



Main actor

: Toon Hiransap,Somkuan Krajangsat,Kowit Wattanakul,Somchai Samipak,Manop Aussawathep


Main actress

: Suriwan Suriyong,Pissamai Wilaisak,Sulaleewan Suwanthat,Malee Wetpraseri
Thai movie แตนป่าแตก was released in year 1984. It features Toon Hiransap as main actor and Suriwan Suriyong as main actress. The movie is lost in Thailand but a sequence of 27 minutes remains to be seen. Other actors are Kowit Wattanakul, Pissamai Wilaisak, Manop Aussawathep, เสกสิทธิ์, กาญจนา นิ่มนวล, Somchai Samipak, Somkuan Krajangsat. Suriwan Suriyong was named as Queen of Thai action movies (นางเอกนักบู๊). Taen (Suriwan Suriyong) is very skilled in fighting. Ruffians storm a farm and steal the cattle. Somkuan Krajangsat is the local village headman but always late. Suriyong catches the killers but gets blamed by the village headman as she is doing his job! Her mother is played by Sulaleewan Suwanthat. Tim (Toon Hiransap) in a magician show. He realises Taen is part of a rich family, being the real (แท้ๆ) granddaughter (หลาน) of Yai Malee Wetpraseri. Ann and her mother Pissamai Wilaisak don't welcome Taen as they are worried about sharing heritage. The father, played by Somchai Samipak, has no issue with Taen. Kowit Wattanakul is Ann's boyfriend. Fed up by intrigues from Pissamai and her daughter, Taen wishes to go home (ไม่สบายใจ). Taen's father was a bandit (เสือ).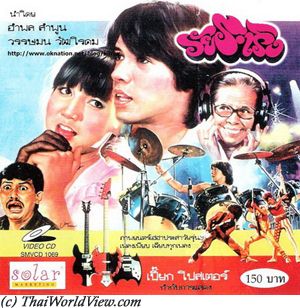 Year

: 1984



Thai title

:

วัยระเริง




English title

:



Rating

: 3/5


Director

: Piak Poster



Main actor

: Amphol Lumpoon


Main actress

: Sulaleewan Suwanthat
Students in class 650 are teenagers. They spend time to make jokes. Their new teacher (อาจารย์) Sri Nuan doesn't understand them and only blame them. So they often flee school and spend time in Siam Square. Teachers have difficulties to educate this class. Teenager Phong uses money from his school fees to buy music instrument and doesn't wish to pursue business studies to replace one day his father as the head of recording studio company. He doesn't go to school anymore. His father is upset. Phong stops going back home and spends time playing music. His grandmother, Pradit, who is also a teacher, blames his father for not giving enough time for his son. She knows the difficulties to teach teenagers. She asks Phong and his friends to stay and play music in her backyard so that she knows where they are. She asks Phong to create a song regarding Europe countries location with a modern rock music. It is an immediate success with the teenagers. They learn and have fun at same time. The grandmother is smart. She knows that teenagers need to study what they like in order to get better results. During a school outing, one of the children of class 650 saves another teen from drowning. The teacher Sri Nuan must acknowledge her mistake and that those kids have also a positive added value to Thai society. During the year end exams, the children of class 650 have very good results thanks to the songs of teacher Pradit. The songs start to be well known but Thai kids cannot buy them. Record producers including Phong's father are queueing for a contract but the group manager is the grandmother so she knows how to defend the kids rights and interests again the business vultures. Finally the father accepts to sign a contract to avoid a competitor to get the deal. They become stars now. Finally they come back to the school year end spectacle to perform. To the puzzlement of all, they perform traditional Thai music. Elders shall respect youth aspirations but youth shall also respect elders achievements as both of them have values. It is Amphol Lumpoon's first role.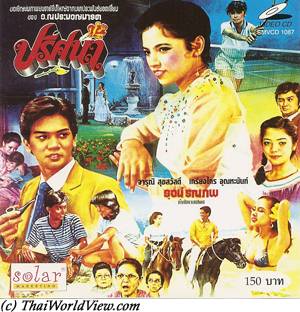 Year

: 1982



Thai title

:

ปริศนา




English title

:



Rating

: 4/5


Director

: Ruj Ronnapop



Main actor

: Kriengkrai Unhanan,Suchao Pongwilai,Adul Dulyarat,Ruj Ronnapop


Main actress

: Jarunee Sooksawad,Linda Khatancharoen,Marasri Bangchang,Sarinthip Siriwan,Marasri Isarangkul,Sulaleewan Suwanthat



Buy now

:

Thai movie ปริศนา was released in year 1982 and lasts 2h08mn. Movie director is Ruj Ronnapop. The movie was released under VCD format by Solar Marketing company. In mid 2010s, it was re-mastered by Five Star production company and shown on True Thai Film cable TV channel. Prisana (Jarunee Sooksawad) is a young Thai lady coming back from USA. Her life vision is influenced by her American education. Her future mate choice should be based on love and not based on family choice or wealth. Will she overcome Thai high society rules? Her father was dead before she was born so her grandmother even refused to recognize Prisana as her granddaughter. Prisana's mother (Marasri Bangchang) welcomes her daughter back from USA after studying 12 years there. It is hard for Prisana to get used to conservative Thai behavior. Fed up at home, Prisana decides to become a teacher (ครู) so she makes herself older. She has two sisters, Seri and Anong. Her older sister has a boyfriend called Sameu (Suchao Pongwilai). One of the student is daughter of a high-level family (ท่านหญิง). Prisana has authority issue with students as the daughter organises rebellion. Prisana teaches her a strong lesson so her brother, Chai, hears about Prisana for the first time. Prawit (เอกลักษณ์ ยลระบิล) meets Anong (ปัทมา ปานทอง) again. Seeing Prisana, Prawit forgets Anong and focus on Prisana only. Chai (Kriengkrai Unhanan) is Prawit's close friend. Chai invites all of them at a party at his home. Ratree (Linda Khatancharoen), Chai's fiance, is upset as Chai dances with Prisana. Ratree is expecting to marry Chai. It is Prisana's birthday. Chai offers her a dog. Prawit offer her a bracelet. Both men are enamoured with Prisana. Following a family trip in Hua Hin, Prisana announces she will not marry Prawit so Anong is happy. Chai is getting closer to Prisana (น่ารักที่สุด). Seeing Ratree unsuccessful to get Chai's love, Sameu tries his luck and kisses Ratree (มนุษย์หลอกลวง). Seri (อัญชลี ชัยศิริ) sees them and is disappointed. Neighbour Anoon (ปรัชญา อัครพล) is back from America and tries to become close to Prisana. Chai tells Prisana that Prawit wants to marry her, so she becomes very upset. Finally, Prawit accepts to marry Anong as he knows he has no more chance with. Chai's aunt (Sarinthip Siriwan) is also very upset as she understands Chai's plan to marry Prisana instead of Ratree, his fiancee. Chai has arguments with his aunt as he refuses to marry Ratree. He doesn't love her and consider her as a younger sister (น้อง). The aunt and Ratree threaten Prisana. Prisana is seen by them as low status girl. The aunt wants this wedding to occur in order to keep money inside the family. At Prawit's wedding, Chai asks Prisana's hand but she doesn't believe him. Prisana is fed up by those high society people. Chai finally offers her a ring for engagement. Pushed by the aunt and Ratree, elder lady Marasri Isarangkul summons both Chai and Prisana. Prisana is looked down again but hopefully her uncle Adul Dulyarat can testify she is the real daughter of his defunct brother. Both the aunt and Ratree lose face and love can blossom between Prisana and Chai.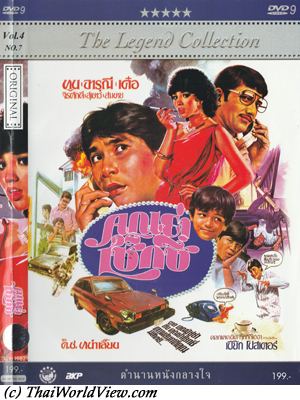 Year

: 1982



Thai title

:

คุณย่าเซ็กซี่




English title

:



Rating

: 2/5


Director

: Piak Poster



Main actor

: Toon Hiransap,Der Doksadao,Somchai Samipak,Doo Dook Kradon,Suchao Pongwilai


Main actress

: Jarunee Sooksawad,Juree Osiri,Sulaleewan Suwanthat,Chosri Misommon



Buy now

:

Thai movie คุณย่าเซ็กซี่ was released in year 1982 and it lasts 1h57mn. It is available under DVD format released by BKP. Movie director is Piak Poster. An old doctor friend visits Et (Toon Hiransap). Et asks for Thip's hand (Jarunee Sooksawad). Thip's father (Somchai Samipak) has a shock. Et visits his doctor friend to find a solution. Chosri Misommon and Doo Dook Kradon are playing crazy patients (อย่าถือคนบ้า ว่าคนเม่า). One of the kids, Mee, is kidnapped by Suchao Pongwilai. Suchao is asking for 300 000 baht as ransom. The kid succeeds to escape and even tricks his kidnappers. The kidnappers lie to Et and capture him. He still has to give a ransom to be released. Luckily the Police is passing by and he can escape. Ruffians are finally identified and jailed by Police. Et can finally marry Thip. Et and Thip are singing a song reminding of วัยอลวน movie in 1975. วัยอลวน was also director by Piak Poster. His old doctor friend (จิรศักดิ์ อิศรางกูร) asks him for help. He needs him to take care about a lady's best friend so that he can focus to seduce her without having a chaperon always around. Et teaches her tennis. Thip sees him with that lady and back home, he gets severely beaten and even falls from the stairs. Incantations (คาถา) from the grandfather are used to make people smaller or bigger so that he is not humiliated by his wife anymore but it is only a dream. Believing Et is becoming crazy as he keeps mumbling incantations, Thip calls the doctor to check his condition. The doctor asks Thip to be nice towards Et as he missed love when he was a kid. Thip announced to the head of school (Juree Osiri) that she quits her job to take care about her home. It is Thip's birthday. As Thip is wearing old style clothes so one of her friend restyles her. So she becomes sexy (คุณย่าเซ็กซี่). Love is back between Et and Thip. The movie can end happily.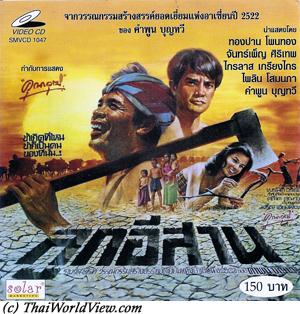 Year

: 1982



Thai title

:

ลูกอีสาน




English title

: Son of the Northeast



Rating

: 4/5


Director

: Wichit Khunawut



Main actor

: Krailat Kriengkrai,Tongchai Prasongsanti


Main actress

: Sarinthip Siriwan,Sulaleewan Suwanthat



Buy now

:

It is about "ISAN" (อีสาน), area in the Northeast of Thailand. This is the poorest area in Thailand. This movie relates the life of Koon, a small boy living in a village. It is based on the book "A Child of the Northeast" ("LUK ISAN" - ลูกอีสาน) written by Kampoon Boontawee. It has won Thailand's first SEAW ite Award in 1979. The film is shot in Lao language. It shows the harsh life of Isan farmers. Some villagers are leaving the area due to drought. Remaining villagers have to quest for water every day. Raining is not coming so a cat ceremony is organized. Water is thrown to an encaged cat in order that his shouts make the rain deity to take pity on him. Monks are the advisors of the communauty and children go to schools located inside temples. Village shops are held by Vietnamese and Chinese people who argue together to sell goods to local people. Koon's family is setting up a caravan to go to the Mun river and stock fishes for a few months. Koon learns hunting skills from his father. Koon's cousin has to marry swiftly as her parents found she spent a whole night with one young man. Molam singers visit the village bringing joy and news from the outside world. An old woman is lamenting on her future as her husband is dead and her daughter only wishes to quit the village and its harsh life. This movie is winner of several international awards and was selected for the 1983 Berlin Film Festival. This movie is part of the first 25 films heritage list announced on October 4 2011, which is Thai Movies Conservation Day.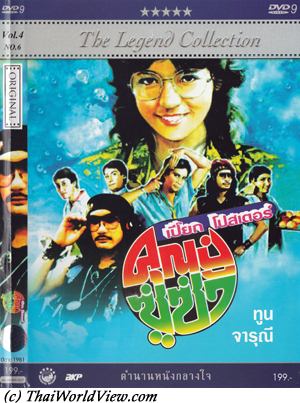 Year

: 1981



Thai title

:

คุณปู่ซู่ซ่า




English title

:



Rating

: 2/5


Director

: Piak Poster



Main actor

: Toon Hiransap,Der Doksadao,Somchai Samipak


Main actress

: Jarunee Sooksawad,Juree Osiri,Sulaleewan Suwanthat,Janthana Siriporn,Chaweewan Boonprok,Patama Panthong



Buy now

:

Thai movie คุณปู่ซู่ซ่า was released in year 1981 and lasts 1h59mn. It is available under DVD format released by BKP. Movie director is Piak Poster. Invited to a wedding party, Et (Toon Hiransap) is still single and is a playboy. He meets Juree Osiri. Et has inherited from his grandfather so he doesn't need to work. He doesn't want to marry as he likes freedom. He invites young lady Pat (Patama Panthong) to Pattaya. Kaew (Der Doksadao), his domestic helper, invites a lady (Janthana Siriporn) in his home while he is away. A little girl called Mot comes to their home. She is Et's relative daughter. As her family has financial issues, the relatives leave Mot with him. Et gets issues with police as he goes to teenager's party (ซวยจริงๆ). Mot's teacher is Thip (Jarunee Sooksawad). As there is nobody to stay with Mot, Thip stays to be her friend as both Kaew and Et are out every night. Et is going out with Chaweewan Boonprok. Enamoured with the teacher Thip (ครูสวยฉิบหาย), Kaew suggests bad ideas to Et in order to seduce Thip such as using sedative (ยานอนหลับ) or inviting her while there is nobody at home. All ideas fail and Thip is very upset with Et as she complains he lives a bad life only spending money and bringing no value to Thai society (ประโยชน์ต่อสังคม). Thip decides to change. Thip's father (Somchai Samipak) is a bakery's owner. Et succeeds to be hired in the bakery and launches successful cakes having tits shape. A co-worker (Sulaleewan Suwanthat) complains he is salacious (ลามก). Worried that Et will bring shame to his father and their business, Thip fires him. Apologizing for his behavior and feeling very sad, Et quits the bakery. While helping the father aggressed by two robbers, he is injured by them. Finally Thip understands Et is a good guy. Et promises to quit his bad behavior and acts as an adult. The second part of this Thai movie is named as คุณย่าเซ็กซี่ was released in year 1982.



Year

: 1979



Thai title

:

อยุธยาที่ข้ารัก




English title

: The last day of Ayudhya



Rating

: 3/5


Director

:



Main actor

: Krung Srivilai,Yodchai Meksuwan,Piya Trakulrard,Surasit Sattayawong,Tawan Siriwat,Lor Tok,Pipop Pupinyo,Pan Borapet


Main actress

: Pawana Chanajit,Chosri Misommon,Somjit Sapsamruey,Marasri Bangchang,Sulaleewan Suwanthat



Buy now

:

Thai movie อยุธยาที่ข้ารัก / The last day of Ayudhya was released in year 1979 and lasts 2h18mn. The movie features many songs. The Thai chief soldier (Tawan Siriwat) is a traitor. Young lady Lam Duan (พนิดา ทองทัต) helps the Thai King (Surasit Sattayawong) to flee. Ayutthaya city is burnt and destroyed as the traitor opens the door to Burmese soldiers. Resistance is on. Lam Duan and her husband Reuang (Yodchai Meksuwan) try to kill the Burmese King but they fail and are sentenced to death. They promise to love each other every life (ทุกชาติ) and to kill the Thai traitor. 200 years have passed. Lam Duan is reborn under MouMou's name. Reuang is reborn under Decha's name. Sulaleewan Suwanthat is playing MouMou's mother. Dam (Pipop Pupinyo) kidnaps the subdistrict headman's daughter. Decha (Yodchai Meksuwan) likes painting and falls for Noi (Pawana Chanajit), a good heart prostitute. Decha is hired (นับสืบ) by a rich lady (Somjit Sapsamruey) to find her lost granddaughter (หลานสาวเศรษฐี). Dam buys a young lady called MouMou (พนิดา ทองทัต) for 3 nights from her parents but she refuses and escape after hitting Dam. Decha finally helps her but she doesn't trust believing he is another rapist. They take refuge in a cave. At nighttime, Decha dreams that MouMou is Noi and makes love to her. He promises to be responsible of his acts. Chased by Dam's ruffians including Pan Borapet, MouMou splits with Decha to attract the ruffians. She is unfortunately shot by ruffians and falls from a cliff. Toon (Lor Tok) is Decha's assistant. Lor Tok as medium (คนทรง) convinces the grandmother that Noi is her lost granddaughter. If Decha marries Noi, lost granddaughter, then they will have 1M baht to share! On the wedding day, MouMou is back. She wants to get her husband Decha back. Krung was the one to rescue MouMou when she falls from the cliff. He wishes to marry her but she refuses as she loves Decha, her husband in this life and previous life as Reuang. In order not to lose 1M baht, Noi has to accept to share Decha with MouMou. One day in alternance (โควตา) but jealousy makes it impossible to happen. Krung Srivilai has finally a small role in this movie but he is displayed on the poster as the main actor. Decha and Noi plan to send MouMou to a psychiatric hospital. She rebels and when facing Tawan Siriwat, she reminds he was the traitor in Ayutthaya and stabs him. The rich lady realises that her missed granddaughter is MouMou and not Noi! MouMou flees and reaches Ayutthaya. There, disappointed by life, she becomes a nun.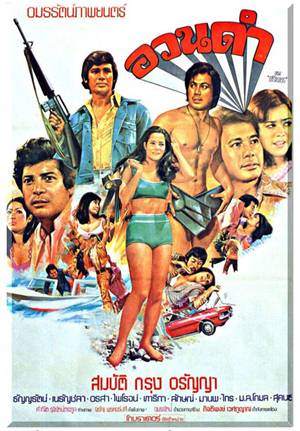 Year

: 1979



Thai title

:

อวนดำ




English title

:



Rating

: 3/5


Director

:



Main actor

: Sombat Methanee,Manop Aussawathep,Krung Srivilai,Phairoj Jaising,Prachuap Ruekyamdee,Krai Kanchit,Sukon Koewliam,Lak Apichat


Main actress

: Aranya Namwong,Sulaleewan Suwanthat,Tanyarat Lohanan,Orasa Isarangkul,Tharika Thidathip
Thai movie อวนดำ was released in year 1979. 1h40mn is left to be seen. Lom (Sombat Methanee) is hired to protect the interests of a company involved in fishery in Mahachai. The owner's daughter called Nori (Aranya Namwong) is concerned about Lom's righteousness. The movie dares a scene with two actresses (including Orasa Isarangkul) kissing each other. Net (Manop Aussawathep) brings money to local mafia leader Prachuap Ruekyamdee. Bulam (Tanyarat Lohanan), selling soup, is upset with these two ladies. So she uses Net and his ruffians to bully the ladies (รังแกผู้หญิง). Lom (Sombat Methanee) being around kicks the ruffians. Net asks Lom for one to one fighting on the next day. Krai, Sukon Koewliam, Lak Apichat are part of Lom's team. Lom defeats Net and wins. Grand mother (Sulaleewan Suwanthat) takes care about the girls. While scuba diving, Nori finds some war weapons on an island. Ruffians, aware that Nori discovered their hidden hideaway, put a bomb in her boat but she escapes to death. Bulam is now bullied by the ruffians but this time, Don Manora (Krung Srivilai) helps her. To join Net's team, Don agrees to knock out Lom but he fails. Don flees with Bulam. Don wishes to meet นาย Prachuap as he wishes to work for him. At nighttime he investigates their warehouses and finds boxes full of M16 weapons. Prachuap is upset as his stock of weapons hidden on the island has disappeared. Simulating being a spirit doctor (หมอดู), Phairoj Jaising is visiting the ruffians site. He meets เสีย Prachuap's girlfriend (Tharika Thidathip). Jaising is undercover policeman. He is recognised and captured. Don succeeds to release him and flees with Bulam. The ruffians succeed to kidnap the ladies again. Fightings happen with the police. Ruffians are overcome. Net tries to flee with the van with the girls and runs over Prachuap. He finally crashes the van in a ravine causing his death and death of Bulam also. Nori finally understands that Lom, Don and Jaising are all policemen.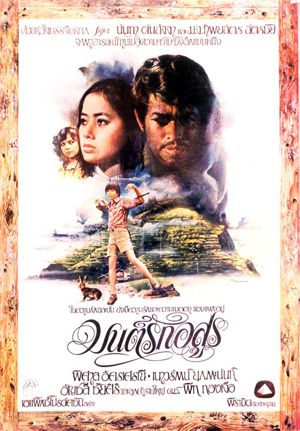 Year

: 1978



Thai title

:

มนต์รักอสูร




English title

:



Rating

: 4/5


Director

:



Main actor

: Pisarn Akraseranee,Pete Thongjure,Sompong Phonmitr


Main actress

: Naowarat Yooktanun,Sulaleewan Suwanthat
มนต์รักอสูร is a Thai movie released in year 1978. Nam Pheung (Naowarat Yooktanun) is a teacher but she needs to miss school often as her parents are sick. The father (เชาว์ แคล่วคล่อง) cannot see anymore. The mother (Sulaleewan Suwanthat) is sick also. The school headmaster (ครูใหญ่) cannot keep her in the school but proposes his help as he loves Nam Pheung. She refuses. Phan (Sompong Phonmitr) recommends Nam Pheung to Teut (Pisarn Akraseranee), a rich man looking for a domestic helper and teacher for his son. The son (Pete Thongjure) is very badly educated and doesn't listen to anybody (เด็กอาละวาด). The father is alcoholic and has a bad temper (คนใจยักษ์ใจหมา). Nam Pheung shall get 30 000 bath for one year and her parents to be sent to hospital in Bangkok so she accepts. Villagers comment that Teut bought Nam Pheung. The son Nan dislikes her as he is worried she wants to replace his deceased mother (อีตาหวาน). Despite her willingness to improve the house (better food, birds), Nan still dislikes her (เกลียดมัน, อยากเป็นแม่เลี้ยงของฉัน, พ่อเอาเป็นเมีย). The headmaster is still chasing Nam Pheung for wedding but she still refuses. Nan invents that he saw them kissing. So Teut is upset by Nam Pheung and forces her one night treating her like a slave (นาย / ทาส). Theuan (อัญชลี ชัยศิริ), sister of the deceased wife, still dreams of making Teut her husband. She receives a letter sent by Nan asking for help. While visiting his tea factory, Teut is injured at the head. Nam Pheung is acting as nurse. Theuan hasn't a good behavior (beer, smoking) compared to Nam Pheung. Theuan arranges to chase away the domestic helpers close to Nam Pheung and Nam Pheung herself. Theuan has to do the cooking and cleaning by herself as she has chased everybody out of the house and it turns to be a disaster. Teut misses Nam Pheung. Theuan wishes to go back to Bangkok. Finally Teut declares his love to Nam Pheung and Nan considers her as his new mother. The movie is ending too fast. Probably part of the movie end has been cut. The movie is lasting 1h43mn and this version is coming from a Vhs copy. A first movie version was released in year 1954 and Thai TV series were released in years 1989 and 2004. Following the success of romantic movie รักเอย, the movie producer used the two same main actors. The movie was shot in 9 days only.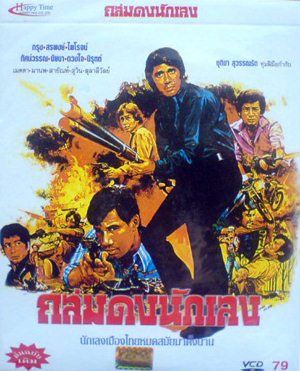 Year

: 1978



Thai title

:

ถล่มดงนักเลง




English title

:



Rating

: 4/5


Director

:



Main actor

: Sorapong Chatree,Krung Srivilai,Phairoj Jaising,Nirut Sirijanya,Manop Aussawathep,Sayan Chantaravi​boon,Sawin Sawangrat


Main actress

: Naiyana Shewanan,Metta Roongrat,Tasawan Saneewong,Duangjai Hathaikarn,Sulaleewan Suwanthat



Buy now

:

Thai movie ถล่มดงนักเลง was released in 1978 and lasts 1h53mn. The movie was released under VCD format by Happy Time Marketing company. Movie director is ชุติมา สุวรรณรัต. It is a typical Thai movie from decade 1970s and featuring two top action movies actors, i.e. Sorapong Chatree and Krung Srivilai. Jane (Metta Roongrat), as countryside bus ticket receiver, has issues with four ruffians including Plaew (Manop Aussawathep) and Sayan Chantaraviboon. Ruffians complain that driver Kate (Tasawan Saneewong) is driving too fast on bad countryside roads. Kate chases them away by threatening them with a rifle. Village leader (Sawin Sawangrat) is concerned that Plaew is back after a few years in prison. Nit is the village leader's daughter (Naiyana Shewanan) (หลานสาวคนสวย). Nit warns Krieng (Sorapong Chatree), her fiance, that ruffians are back to the village. Sa (Nirut Sirijanya), a gay character, is harassed by those four ruffians and beaten severely. Reudi (Duangjai Hathaikarn) is nurse for the village and is taking care of Sa. Mun (Krung Srivilai), selling buffalos and managing a herd, is stopping in the village to buy food for his team. Mun is also beaten by the ruffians and is saved by Nit. Mun promises to come back and gets revenge. Thong Chai (Phairoj Jaising) is arriving in the village. Ruffians prepare to steal the buffalo herd to make easy money. Thong Chai is a undercover policeman. Krieng (คู่รัก) is also arriving in the village following letter sent by Nit. Other ruffians also arrive to work for Plaew. The buffalo herd guardians are attacked. All are killed except Mun being injured. Plaew is jealous to see Nit and Krieng together. He asks for a fight one to one with Krieng but gets defeated. Phairoj wishes to catch the big boss, i.e. Seua Klaew, so he needs to collect more evidences. Meanwhile Plaew's team continues to harass villagers. Mun, staying in the village to get revenge, has a fight with Plaew also. Four men and four ladies have romance, i.e. Krieng (Sorapong Chatree) - Nit (Naiyana Shewanan), Sa (Nirut Sirijanya) - Reudi (Duangjai Hathaikarn), Mun (Krung Srivilai) - Kate (Tasawan Saneewong), Thong Chai (Phairoj Jaising) - Jane (Metta Roongrat). Aunt Sulaleewan Suwanthat is found hanged as she refuses to sell rice noodles to the ruffians. Ruffians try to storm Mun's house but they fail. Plaew uses ruffians from other provinces to avoid being involved. Plaew sends bikers to storm the market. The bikers are pushed back but Sawin dies during the fightings. Plaew is fed up to lose so he decides to act under his real name, i.e. Seua Klaew! Ruffians kidnap the four ladies. It turns badly and Jane is shot. Sayan Chantaraviboon is injured by Jane before being shot. Worried to die, Sayan lets Nit and Kate to search for a doctor for him. The four friends storm the ruffians' den. Heavy shooting shootings occur. Police arrives also. Plaew, upset that Sayan let two ladies to flee, shoots Sayan and the nurse Reudi. All ruffians are killed. Sa carries the nurse body.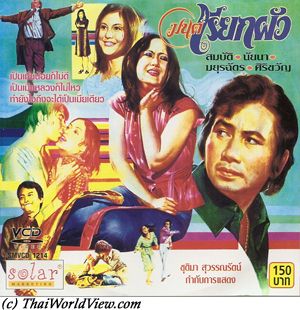 Year

: 1976



Thai title

:

มนต์เรียกผัว




English title

: The Spell



Rating

: 5/5


Director

:



Main actor

: Sombat Methanee,Prachuap Ruekyamdee,Somsak Chaisongkram,Somchai Samipak


Main actress

: Naiyana Shewanan,Mayurachath Muarnprasitivej,Sirikwan Nanthasiri,Sulaleewan Suwanthat,Phong Lada Pimolpan
Thai movie มนต์เรียกผัว was released in year 1976 and lasts 2h16mn. It is a Five Star Production and a remastered version was released in mid-decade 2010s. Previously it was released under VCD format by Solar company (2h12mn). Movie director is ชุติมา สุวรรณรัตน์. This is a romantic family drama movie putting focus on couple life. Plak (Mayurachath Muarnprasitivej) doesn't trust her husband Cheut (รักงาน) as he is working always late having meetings with Somchai Samipak and manager Sak (Prachuap Ruekyamdee). Ram (Somsak Chaisongkram) and aspiring model Rose (Sirikwan Nanthasiri) have a relation. Ram promises to visit her parents to officialise their relationship. Plak remains very upset as for his job, Cheut (Sombat Methanee) has to meet models. She believes he is having affairs, but she cannot catch him. It makes Cheut's life miserable and they often quarrel. Cheut is drunk one night and meets waitress Deuan (Naiyana Shewanan). On the following day, she is aggressed and raped by two ruffians. It is a strong scene and probably one of the first movies where the main actor is unable to help the main actress. Another movie was Thon (โทน) where Chaiya is unable to help Aranya on time. It was a new trend from 1970s movies being more realistic than previous decades. Deuan's mother is played by Sulaleewan Suwanthat. Plak's mother is played by Phong Lada Pimolpan. Rose is pregnant with Ram but he refuses to take responsibility of the baby (คนใจสัตว์) and hits her. He forces Rose to trick Cheut in order to accuse him about the pregnancy. Another day, the ruffians threaten Deuan again but Cheut and Prachuap are luckily there. They help Deuan and a fight occurs with ruffians. Cheut brings back Deuan home. Deuan's mother takes care of eight poor children and raises them so Deuan's work is important to have money for all expenses. There are children from poor prostitutes, who cannot raise them. Cheut finds a job for Deuan in Sak's company in order to work daytime instead of nightime. Plak brings trouble to Deuan so she wishes to change job. Cheut wants to have a child but Plak keeps eating birth control pills. Deuan continues to bring troubles at Cheut's office. He gets closer to Deuan as she has everything he wishes Plak had. By hazard, Plak is present in a shop where Sak buys dresses for Deuan on behalf of Cheut. Sak organises a meeting between the two ladies to ease the tension. Deuan acknowledges she loves Cheut but gets pity from him (ความสงสาร) and not real love (ความรัก). She doesn't wish to break his marriage and mentions that Plak is a bad wife not taking care properly of his husband. Plak wants to take revenge over Cheut and goes out with Ram. Ram brings Plak to a short time hotel. He tries to abuse her but hopefully Sak, passing by, helps her. The next day, Cheut gives a lesson to Ram in a bowling alley but Ram promises to get revenge. Deuan visits a doctor and finds she is pregnant with Cheut. She has a worrying heart disease. The doctor warns she could lose her life by giving birth. But she is willing to take the risk as she knows Cheut wishes a child and she wishes to thank him for all his kindness towards her family. Plak changes her behavior and tries to be a good wife caring about her husband. On the opposite side, Cheut becomes harsher. Plak feels that Cheut changed a lot and that his love has moved to another woman. Cheut comes back home very late even on her birthday. Plak is at hospital and Cheut takes care about Deuan being sick. Ram tricks Cheut by mentioning to Rose's brother that he is one who refused to take responsibility. Cheut is kidnapped while going to Deuan's home to bring her for child delivery. Meanwhile Plak prepares to leave home for UK knowing she has lost Cheut due to her continuous jealous behavior. As Cheut is still not coming to bring Deuan to hospital, Deuan calls his home and talks to Plak without being aware. Decided to do a last good thing for Cheut, she brings Deuan to hospital and then goes towards airport. Cheut gets beaten by Rose's brother but finally Rose confesses Ram is the father. General fighting occurs and Rose shoots Ram going to stab her brother. Cheut arrives at hospital before the delivery. Reading the letter that Plak left for him, he rushes to airport being puzzled by Deuan's sentence that it is probably the last time they meet. He brings back Plak to hospital mentioning that such hasty departure decision should be discussed with cold heart. A child is born but Deuan has died. Plak promises to take care of all children. This movie highlights the difficulties of life for main wife (เมียกลาง) and mistress (เมียน้อย), their place in society, the choice for the husband between two wives and the way some Thai men can abuse women in Thai society (Deuan feeling ashamed of having been raped and not going to police to fill a complaint, Ram refusing assuming Rose's pregnancy).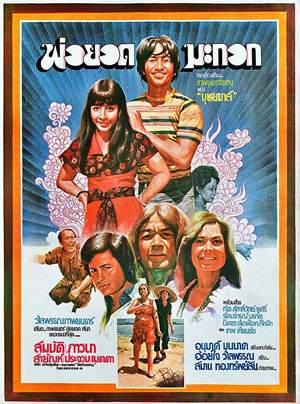 Year

: 1975



Thai title

:

พ่อยอดมะกอก




English title

:



Rating

: 3/5


Director

:



Main actor

: Sombat Methanee,Prachuap Ruekyamdee,Sayan Chantaravi​boon,Lor Tok,Tat Ekathat


Main actress

: Pawana Chanajit,Metta Roongrat,Chosri Misommon,Ratanaporn Intarakamhaeng,Malee Wetpraseri,Sisala Thongtara,Sulaleewan Suwanthat
Thai movie พ่อยอดมะกอก was released in year 1975. The movie is lost in Thailand but a sequence of 1h13mn remains to be seen. The last three film reels were saved. Oon (Pawana Chanajit) is a young single lady. Chosri Misommon is her house's domestic helper and also close friend. Prachuap Ruekyamdee and Chui (Sombat Methanee) are brothers with funny hairstyle. Oon's mother is played by Ratanaporn Intarakamhaeng. It seems there is no more father. Grandmother Malee Wetpraseri is the elder sister of the mother. Oon's uncle is played by Tat Ekathat. Oon has to be engaged. She wishes to marry Pong (Sayan Chantaraviboon) and is supported by his sister Pleun (Metta Roongrat). Chui keeps disrupting Oon and Pong. Chui has also a fiancee called Kwan since a long time but he doesn't love her. Malee and Chosri are sent to Aunt's home to investigate who is really Chui. Aunt Sulaleewan Suwanthat welcome them. Chui and Ratchin are same person. Oon shall marry Ratchin, who is from a high status family. Oon lies she is no more pure (เสียหาย) as she is Pong's girlfriend. Ratchin refuses to cancel the wedding and forbids Oon to meet Pong anymore. Engagement (คู่หมั้น) shall happen. Malee is helping Oon to meet Pong. Pong wishes to flee with Oon but Oon cannot do this as it would bring disgrace to her parents and her family name (เกียรติ). As Pong loves really Oon, he has to sacrifice himself (เสียสละ). Chui / Ratchin is aware of Malee's stratagems. Prachuap meets Pong. Ratchin prevents Oon to meet Pong and wishes to accelerate the wedding. Ratchin asks Pong to stop seeing Oon but Pong asks to meet her a last time. Ratchin still believes Oon is pure and wants to avoid Pong being the first. Oon and Ratchin keep fighting. Finally Oon succeeds to escape from Ratchin. She meets Pong but faints. Pong tries to abuse her but gets stopped on time by Ratchin. Pong's intentions were not as pure as he always mentioned. Oon finally marries with Ratchin. This movie similar to many movies from decades 1960s~1970s is about arranged weddings and early engagement done by parents but it finally ends happily.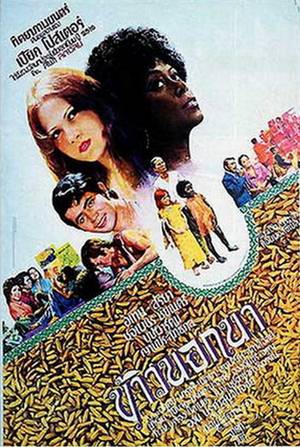 Year

: 1975



Thai title

:

ข้าวนอกนา




English title

:



Rating

: 5/5


Director

: Piak Poster



Main actor

: Uten Boonyong,Adul Dulyarat,Suriya Chinaphan


Main actress

: Sulaleewan Suwanthat,Marasri Bangchang,Khomapat Attaya,Namgneun Boonnak
Thai movie Khao Nok Na (ข้าวนอกนา) was released in year 1975 and directed by Piak Poster. It lasts 1h38mn. An aunt (Sulaleewan Suwanthat) is raising two children, the elder called Deuan is 5 years old and the youngest is called Dam (หีดำ). Both fathers are different. Dam's father is a black man so she is called Dam (ดำ – black) as a reference to her skin color. The children were temporarily given to the aunt by the mother. Unable to raise them, the aunt wishes to sell them to a rich lady. The rich lady (Marasri Bangchang) doesn't want Dam (ไม่ชอบเด็กดำๆ) and buys only Deuan for 3000 baht. She is renamed as Deuan Krai Saen (บุบผารัตน์ ญาณประสิทธิกุล). Father is veteran actor Adul Dulyarat. Finally Dam (ช่อเพชร ชัยเนตร) is sold to a family to become a helper (คนใช้งาน) and to be the puppet of the daughter. Veteran actress Khomapat Attaya is part of the other helpers. Dam is always stubborn (ดือ) as people dislike her skin color. Phi Pan (Suriya Chinaphan) is the son of a taxi driver, who always supported Dam but died earlier in a car accident. The house is becoming a mess with the daughter being pregnant with one male driver and the son spending like crazy on music instruments to build a band. The real mother is back and is asking for her two daughters. The aunt gives the address but the rich lady (คุณผู้หญิง) refuses to let Deuan go. The real mother, always seen smoking, goes to the police to get her rights respected. She finds first Dam. Adul refuses to give back Deuan and proposes 50 000 baht. She accepts and has to sign a contract. Having the money, she also rejects Dam and asks her to go back to her home. Disappointed by her own mother, Dam is looking for a job. She becomes a singer in a nightclub and sings her difficulties as being black in Thailand. Meanwhile the rich family watches Deuan playing in a ballet representation. Dam finds Phi Pan in the street and brings him to her home. They become lover as Dam believes he would be a caring man like his father but Pan is a lazy boy taking profit of girls' money. Pan is using Dam's money to entertain another lady. Adul finds that Deuan goes back home late and is wearing a ring given by a young boy Pop (เลือดแม่ของแค่มันแรง) (Uten Boonyong). Dam is finally dumped by Pan so indulges in alcohol and becomes a short time prostitute. She is surnamed as ลิง (monkey) or สกปรก (dirty) and being rejected by Thai society (equally by rich and poor Thai people). Dam meets people having problems also and starts indulging in drugs to forget daily problems. Pop tries to bring Deuan to a short time motel but finally changes his mind as she keeps crying and mentioning her father's pressure. Dam meets finally Deuan. Deuan is in paradise (สวรรค์) and Dam is in hell (นรก). Finally Deuan ends up with Dam indulging drugs as her paradise is also a hell being the daughter of an easy lady. Police captures the whole group. Deuan's parents bail her, forgive her mistakes and accept her relationship with Pop. A US black man bails Dam from jail and brings her to USA with him. The movie highlights racism in Thailand. Following Vietnam war, many similar cases of children born from Thai prostitutes and black US soldiers did happen in Thailand. A TV serie on the same story was released in year 2013. Khao Nok Na (ข้าวนอกนา) is an interesting title. Normally rice is white so Dam is the rice "outside" the field, i.e. being black and different from the majority of Thai people. The movie got 4 awards (รางวัลตุ๊กตาทอง), i.e. best actress, best song, best story, best supportive role.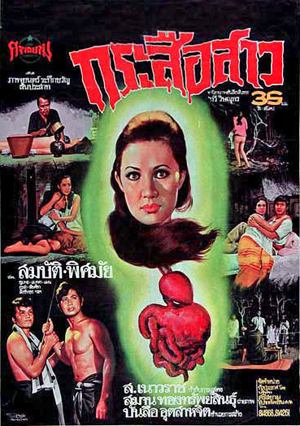 Year

: 1973



Thai title

:

กระสือสาว




English title

: Ghost of Guts Eater



Rating

: 4/5


Director

:



Main actor

: Sombat Methanee,Choomporn Theppitak,Sawin Sawangrat,Lor Tok,Songthong


Main actress

: Pissamai Wilaisak,Metta Roongrat,Sulaleewan Suwanthat
กระสือสาว is a Thai movie about a traditional folklore ghost called Kraseu (กระสือ). It is a filth- eating floating ghost with a head, a trailing heart and intestines. This ghost loves to eat cordon umbilical and placenta from newborn babies (ผีกระสือจะมากินรกเด็ก). Villagers found many dead chicken in their farm. They were eaten by a Kraseu ghost. Villagers followed the floating ghost and hit it critically. A grandmother was in fact possessed by the ghost. Before dying, she gives a ring to her granddaughter, Bua Klee (บัวคลี่), and asks her not to burn her corpse (so opposite of Thai tradition เผาศพ). Bua Klee then becomes possessed by the Kraseu ghost (ถูกวิญญาญกระสือ). Boon Muang (บุญเมือง) is her husband. Chat (ฉัตร), a local thug, still tries to seduce her. Phi Chood (จู๊ด), Boon Muang's closest friend, and Boon Muang chase Chat away. Bua Klee is now pregnant. The Kraseu spirit is inside the ring and is hungry (ไปหากิน). Bua Klee goes outside to look for filthy food and is identified by a villager. She is named as Krasao Sao (กระสือสาว) as the ghost has a young and pretty face! A fight erupts between Chat and Boon Muang as all villagers claim she is a ghost (ผีกระสือ). Boon Muang refuses (ไม่เชื่อ) such allegations but the villagers push him to verify if his wife is a ghost. So he hits her with a stick to chase the ghost but nothing is happening except tears from Bua Klee. A local shaman (หมอผี) Pradit invokes a dead spirit (ผีโขมดพราย) to take revenge on Boon Muang and Bua klee. Yomatut, the hell guardian, comes to get his life as he is a nasty man (ลงนรก). Boon Muang decides to leave the village. They take refuge in a relative home, i.e. uncle Chaeng. Bua Klee meets another Kraseu old ghost in the village. Bua klee is delivering her baby in traditional Thai way by holding a rope attached to the ceiling. The Kraseu old ghost and its husband try to steal the baby. Boon Muang fends them off and hits back. The husband (ผีกะหังและกระสือแก่) dies and the Kraseu old ghost dies in the early sunshine. Boon Muang visits the subdistrict headman of Dong Dok Kaew area to bring him some gifts from uncle Chaeng. Madeua is the daughter of the subdistrict headman and is fond of Boon Muang. While accompanied by Madeua, Boon Muang is shot in the arm by Chat. Madeua is disappointed to learn Muang is already married. She used love potions trick to make him forget his wife and son (เสน่ห์ยาแฝด). Meanwhile Bua Klee wishes to get a treasure (สมบัติ) by seeing an ignis fatuus. When a flame is coming from the ground, it is a spirit haven according to traditional belief. She can get the treasure by showing her nudity! But finally needs to give the treasure back to the guardian as she still needs to pay for karma (กรรม). Boon Muang and Madeua marry. Following Bua Klee's request, Chaeng goes to the subdistrict headman home. The son Chiep is also coming with a sacred thread to recover his father. On the way Chaeng and Chief see each other without head! This is a bad omen indicating a forthcoming death! Uncle Chaeng has to shoot Madeua to protect Chiep. The subdistrict headman wishes to revenge his daughter. Uncle Chaeng and Chiep are shot dead during the fight. Chood is beaten by Chat. Bua Klee finds the uncle Chaeng and Chiep dead bodies. Both Chood and Boo Muang are captured by Chat and the subdistrict headman. Bua Klee interferes as a Kraseu ghost and causes the subdistrict headman and Chat to shoot each other. Boon Muang refuses to go back with Bua Klee as she is a Kraseu ghost. Following advice from an hermit, finally the body of the grandmother is burnt and Bua Klee becomes a normal being again. Kraseu Sao 35mm movie brought new Fx effects in 1971 such as double impression to show the spirit quitting the dead body. It took 3 to 4 months to be shot in the jungle. Thai Film Archives has still a 16mm copy as, in 1973, 16mm projectors were still popular in provinces. Thai Film Archives got it from a donation from a company showing outdoor movies in villages (หนังขายยา). The movie is a bit similar to Nang Nak scenario. It is a Lost movie in Thailand but it was found in Sweden with an original picture, Thai sound and with Sweden subtitles. In 1970s decade a few Thai movie rights were sold in Scandinavia. This movie shows interesting traditional behaviors and patterns such as traditional baby delivery, staying above a hot pot after delivery (การอยู่ไฟ), 100 days ceremony after a relative death, vision of people without head indicating forthcoming death, hidden treasures kept by deity and signalled by an ignis fatuus, Kraseu ghost belief, love filters.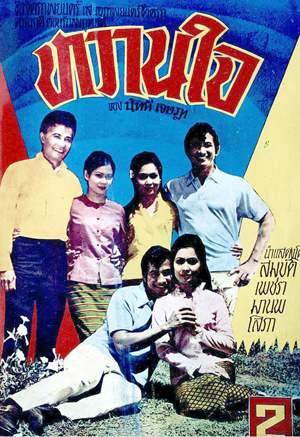 Year

: 1970



Thai title

:

หวานใจ




English title

:



Rating

: 3/5


Director

: Sor Asanajinda



Main actor

: Sombat Methanee,Manop Aussawathep,Charin Nantanakorn,Dokdin Kanyaman,Pramin Jarujareet


Main actress

: Petchara Chaowarat,Sopha Sataporn,Metta Roongrat,Sulaleewan Suwanthat,Namgneun Boonnak
Thai movie หวานใจ was released in year 1970. Sombat Methanee and Manop Aussawathep are playing the main actors. Petchara Chaowarat and Sopha Sataporn are playing the main actresses. Manop Aussawathep is playing one of his first roles. The movie is lost in Thailand but a 2mn30s trailer remains to be seen. Other actors are Charin Nantanakorn, Dokdin Kanyaman, Metta Roongrat, Pramin Jarujareet, Sulaleewan Suwanthat, Namgneun Boonnak, เทิด. Movie director is Sor Asanajinda. A movie summary extracted from Thai stars magazines is still available to be read. Five songs are featured in the movie. Three ladies (Sopha, Petchara, Metta) seem to love Sombat. As usual with 1960s and early 1970s movies, there is a mix of multiple tastes (หนังครบรส) in Thai movies, i.e. romance, action, comedy. Manop gets beaten by ruffians.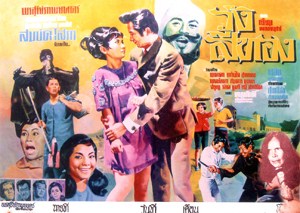 Year

: 1968



Thai title

:

วังสีทอง




English title

:



Rating

: 3/5


Director

: Sulaleewan Suwanthat



Main actor

: Sombat Methanee,Somkuan Krajangsat,Adinan Singhiran,Choomporn Theppitak,Krai Kanchit,Jamroon Nuatjim


Main actress

: Sopha Sataporn,Sulaleewan Suwanthat,Chosri Misommon,Metta Roongrat,Kaenjai Meenakanit,Phong Lada Pimolpan
วังสีทอง is a Thai movie released in year 1968. It features Sombat Methanee as main actor and Sopha Sataporn as main actress. Other actors are Somkuan Krajangsat, Metta Roongrat, Choomporn Theppitak, Krai Kanchit, Kaenjai Meenakanit, Sulaleewan Suwanthat, Adinan Singhiran, Chosri Misommon. The movie is lost in Thailand but a trailer of five minutes is still available. Without a summary and the 16mm movie being in mute state, it is difficult to understand the story. Various short sequences are show Krai abusing of Metta, a man disguised in black outfit, Sombat punching Adinan trying to abuse Sopha. This movie ambiance reminds of other movies such as ปราสาททราย or ฟ้าคะนอง. The movie producer is ป้าทอง also called as Sulaleewan Suwanthat. Other less known actors include สุพรรณ บูรณะพิมพ์-จำรูญ หนวดจิ๋ม-ทนงศักดิ์ ภักดีเทวา.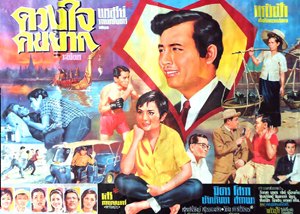 Year

: 1968



Thai title

:

ดวงใจคนยาก




English title

:



Rating

: 3/5


Director

: Sulaleewan Suwanthat



Main actor

: Mitr Chaibancha,Sompong Phonmitr


Main actress

: Sopha Sataporn,Sulaleewan Suwanthat,Kingdao Daranee,Uamdeuan Uttsada
Thai movie ดวงใจคนยาก was released in year 1968. Main actor is Mitr Chaibancha and main actress is Sopha Sataporn. It is a lost movie in Thailand but a sequence of 50mn is still available to be seen. It is a 16mm movie format so it is in mute state. No movie summary is available. Sulaleewan Suwanthat is the movie producer. Duangjai (Sopha Sataporn) is watching the Royal barges procession in Bangkok. Sompong Phonmitr remembers to have seen Duangjai somewhere. Duangjai's mother is living in a shantytown (สลัม). She is a street vendor (แม่ค้า) but is now sick. Her daughter Duangjai has disappeared. Pa asks her sons to find her missing daughter. Duangjai is wandering around and steals food as she is hungry. She shares with another poor young boy. She takes refuge in a hut with as there is no roof so she gets wet when a storm happens. Meanwhile as the mother cannot pay her debts, the creditor (เชาว์) also takes the rugged roof as payment so the mother gets wet also when it is raining. She has 3 sons. Two of her sons finished university and the third one is a tuk tuk driver but he is the one helping the mum in case of problems. Finally they all gather to visit the mum and learn bad news from the doctor regarding her health. The mother wants to see her daughter a last time. Duangjai and the poor boy surprise robbers sharing money from a stolen bag. They catch Duangjai and the young boy flees away to ask for help. He stops a car with Mitr inside! Mitr chases away the three ruffians and helps Duangjai. Duangjai just comes back home but her mother dies in her arms. Mitr gets blamed by Duangjai and the three brothers as his family is the land owner of the slum. Kingdao Daranee is playing Mitr's younger sister. In real life, she was his wife. Mitr decides to fire the creditor and changes the rules regarding the slum management. He succeeds to get back Duangjai and his brothers' trust. He finally marries with Duangjai. Two songs are featured in this movie. Band Samsak (วงดนตรีสามศักดิ์) is performing and their members are acting in this movie as Duangjai's brothers.



Year

: 1965



Thai title

:

เงิน เงิน เงิน




English title

: Money Money Money



Rating

: 5/5


Director

: Prince Anusorn Mongkolkarn



Main actor

: Mitr Chaibancha,Charin Nantanakorn,Lor Tok,Sukon Koewliam,Adul Dulyarat,Sawin Sawangrat,Daonoi Duangjai,Dokdin Kanyaman,Man Teeraphol,Ruj Ronnapop,Thuam Thoranong,Banglae


Main actress

: Petchara Chaowarat,Wilaiwan Watthanaphanit,Orasa Isarangkul,Chadaporn Wachirapranee,Mom Chan Phuangwan,Chosri Misommon,Sulaleewan Suwanthat



Buy now

:

The movie starts by a small introduction highlighting that everybody fights for money (เงิน เงิน เงิน). This introduction features many actors or actresses with cameo role such as Daonoi Duangjai, Dokdin Kanyaman, Man Teeraphol, Chadaporn Wachirapranee. Tu (Mitr Chaibancha) comes back to Thailand after overseas studies in USA. Tum (สุมาลี ทองหล่อ) is his sister. They are orphans. Their uncle Hirun is a creditor. Mom (Mom Chan Phuangwan) is Hirun's assistant. For Hirun, money is work and work is money. He has no feelings for his customers personal problems. Tu's uncle wants him to take over his duty but Tu doesn't like such job bringing suffering to people (สงสาร) so that is why he has done artistic studies as it can bring happiness to people. He meets Kingkaew (Petchara Chaowarat), a vagabond. Wishing to help poor people and teased by Kingkaew, he proposes to bring the A-ram boys band (เด็กวัด) in Bangkok to play music in a nightclub. His uncle chases him away as he cancelled all debt contracts. Tum is chased also. Teacher (ครู) Rangsun (Charin Nantanakorn) will help writing songs for the band. There is a crazy lady (Wilaiwan Watthanaphanit) in Hirun's house looking for her children. Tum wonders if she is her mother or not. They arrive in Bangkok but have little money. They met a restaurant owner's daughter (Chosri Misommon), willing to join them as a singer. Pa (Sulaleewan Suwanthat) is their house owner. They borrow 300 000 baht from Pa but Tu has to promise to marry her daughter (Orasa Isarangkul) Nataya. Pa knows that Tu is a potential rich heir. Lor Tok proposes ideas for their nightclub promotion. Tu's concept is that art belongs to everybody. Hirun wants to be sure his nephews will fail so he hires ruffians to destroy their nightclub. The ruffians steal their money so Tu and his friends decide to serve and cook by themselves. Hirun comes on the opening day with a bunch of tough ruffians to make noise and also kidnap the performing girls. Indian actor Banglae (บังเละ) is acting as nightclub guard. Kingkaew always find solutions to problems occurring. The ruffians drunk the cook and waiters to delay orders. Hirun takes the teacher (ครู) Rangsun's piano as he didn't pay his rent due to sickness. Adul Dulyarat is a doctor trying to save the teacher Rangsun. Hirun sends his ruffians to create a brawl in order to destroy the nightclub. Artist should be protected. The Thai King giving cinema awards inspires them not to stop fighting (ศีลปินไม่เคยตาย). By hazard, Tum and her friends have chance to release the crazy woman called Nat. Another uncle of Tu called Sompong is released from prison after twenty years. He narrates to Tu the story of his father betrayed by his own brother Hirun and who finally committed suicide. Nat is reunited with her two children, Tu and Tum. All the money of Hirun is coming from the one million baht that the father gave him to raise his children. They promise to take revenge on his 60th birthday coming soon. Hirun has to face the truth on his birthday turning to be a nightmare for him. He finally lost his whole fortune. The nightclub featuring arts becomes a huge success. This movie features 14 songs. A double DVD (3h20mn) including the 35mm movie fully restored was released by Thai Film Archives. The whole movie should even be a bit longer as the song หญ้าโลมดิน sung by Mitr and Petchara is missing. It is present on the VHS version and on a 16mm version left. Another movie version was released in year 1983. Two TV series were released in years 1997 and 2007. The producer is Prince หม่อมอุบล ยุคล. This movie includes more than 60 Thai actors, actresses and singers. Petchara got a Thai cinema reward for this movie. This movie is part of the second 25 films heritage list announced on October 4 2012, which is Thai Movies Conservation Day.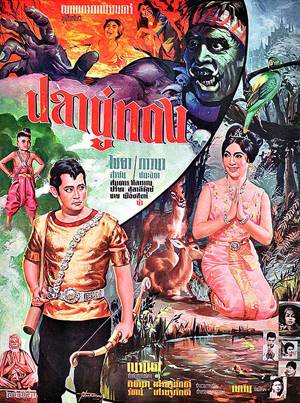 Year

: 1965



Thai title

:

ปลาบู่ทอง




English title

:



Rating

: 3/5


Director

:



Main actor

: Chaiya Suriyun,Daonoi Duangjai,Sukon Koewliam,Somkuan Krajangsat


Main actress

: Pawana Chanajit,Preeya Roongrueng,Malee Wetpraseri,Wilaiwan Watthanaphanit,Sulaleewan Suwanthat
Pla Boo Tong (ปลาบู่ทอง) movie with Chaiya Suriyun and Pawana Chanajit was released in year 1965. The movie is lost in Thailand but a short extract was found in year 2013 thanks to a ThaiCine fan. The extract has still a colorful image and is only three minutes left. Other actors are Daonoi Duangjai, Preeya Roongrueng, Sukon Koewliam, Malee Wetpraseri, Somkuan Krajangsat, Wilaiwan Watthanaphanit and Sulaleewan Suwanthat (ป้า สุลาลีวัลย์ สุวรรณทัต) as a witch. The short extract shows a "kuman thong" child, the mother spirit imprisoned in a bird and Chaiya Suriyun and Pawana Chanajit together. Old still pictures of this last sequence can still be found. This story has been played many times through TV series and through movies (1965, 1972 from TV to cinema, 1979 with Lalana Sulawan, 1984 with Suriya, 1994). Certainly there is a need to find a more recent version in order to better understand this three minutes old trailer. In the past, such movies needed four people to perform the dubbing.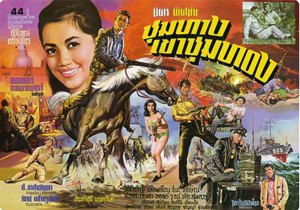 Year

: 1965



Thai title

:

ชุมทางเขาชุมทอง




English title

:



Rating

: 3/5


Director

: Sor Asanajinda



Main actor

: Mitr Chaibancha,Taksin Jampol,Adinan Singhiran,Adul Dulyarat,Tat Ekathat,Chanee Yotchai


Main actress

: Pissamai Wilaisak,Sulaleewan Suwanthat,Wilaiwan Watthanaphanit,Chadaporn Wachirapranee,Uamdeuan Uttsada
ชุมทางเขาชุมทอง movie with Mitr Chaibancha and Pissamai Wilaisak was released in year 1965. The movie director is Sor Asanajinda. The movie is lost in Thailand but a short extract was found in year 2013 thanks to a ThaiCine fan. The extract has still a colorful image and is only three minutes left. A few sequences are showing an ordination procession, a woman kidnapping, ruffians arguing, a few ruffians (ดาราร้าย) appear including Taksin Jampol, Tawan Siriwat (ถวัลย์ คีรีวัตร), Tat Ekathat and Chanee Yotchai (ชาณีย์ ยอดชัย). It is a romantic drama movie (หนังชีวิตรัก) with a bit of action. Mitr and Pissamai are also playing the parents role. Other actors are Sulaleewan Suwanthat, Adinan Singhiran, Adul Dulyarat, Taksin Jampol, Uamdeuan Uttsada, Wilaiwan Watthanaphanit, Chadaporn Wachirapranee, ประภาศรี เทพรักษา. ชุมทางเขาชุมทอง movie was a famous and popular release in year 1965. Another famous film with both Mitr Chaibancha and Pissamai Wilaisak is มงกุฏเพชร (1968) by director Sor Asanajinda again. Mitr Chaibancha and Pissamai Wilaisak played only a few movies together. Mitr also plays the main actor called Keng (เก้ง). He has a child with Pissamai called Kwang (กวาง). Mitr as father comes back looking for his son without knowing that ruffians follow to kill them.



Year

: 1965



Thai title

:

อ้อมอกดิน




English title

:



Rating

: 5/5


Director

:



Main actor

: Mitr Chaibancha,Lor Tok,Somkuan Krajangsat


Main actress

: Petchara Chaowarat,Malee Wetpraseri,Somjit Sapsamruey,Sulaleewan Suwanthat,Chadaporn Wachirapranee



Buy now

:

Thai movie อ้อมอกดิน was released in year 1965. The DVD lasts 2h12mn. It features a sharp and very colorful image. A father is having financial debts. The father (Somkuan Krajangsat) has three kids (Oum, Ann, Oi) and his wife is sick. The father disappears while trying catching fish in the sea. The mother dies. A debtor claims back his money and seizes the house (บ้านถูกรื้อ). So local teacher (Lor Tok) takes the three children (เด็กกำพร้า) in his house. The teacher's wife uses them as her small slaves. Malee (Malee Wetpraseri) from Bangkok claims she wants to raise children so buys Oum and Ann from the teacher. She in fact uses them as street beggars. They flee and take refuge in a neighbouring house where the owner (Somjit Sapsamruey) and the domestic helper (Sulaleewan Suwanthat) receive them (เมตตา) despite opposition of the husband. The mother also brings the younger daughter to join them. 20 years passed. Oum is Mitr Chaibancha. Petchara Chaowarat is a doctor. Oum is still hoping his real father is alive. Ann likes parties (ไปเที่ยว) and meets bad people such as Krai and Kanya wishing to take advantage of rich people. Oi has a bad mindset and everything shall be due to her (ทำใจ). Oum is the only child working hard and helping the father in his company. The real father is back after 20 years passed in prison. He meets the local teacher. The teacher recommends not to disclose his real identity in order not to destroy the children's happiness. The father still wants to see his children. In Bangkok, while spying the house where the children live, he is mistaken as a beggar and mistreated by his own daughter. Only Oum has kindness for him. The stepfather welcomes him as gardener as he is nowhere to go. Ann is framed by Krai with Kanya in order to force a wedding. Krai and Kanya frames another man, Chai, who is Chadaporn's boyfriend. Chadaporn (Chadaporn Wachirapranee) and Krai are part of the same dishonest group of people. Oi chases her own father as he tries to prevent her seeing Chai. Oum hears the gardener praying so now knows he is his own real father. The real father tells Oum not to disclose his identity. Oum and the doctor shall marry. The doctor's father is the debtor, who took their home twenty years ago. Oum flees during the engagement ceremony. Ann tries to get big amount money from his mother but she refuses as no explanation is given by Ann. So Ann disappears. Oum is still upset and chases the doctor and her brother from his home. He slaps Oi lacking respect to the gardener, her own father. Seeing that issues between his children happen since he hired the gardener uncle Tam, the stepfather fires him. Uncle Tam helps Oi aggressed by Krai. Krai tries to steal money from the doctor's father by involving Ann. Shootings happen and Tam gets injured by protecting the doctor's father. The doctor saves his life. Seeing his children happy with the current family, Tam decides to ordain as a monk.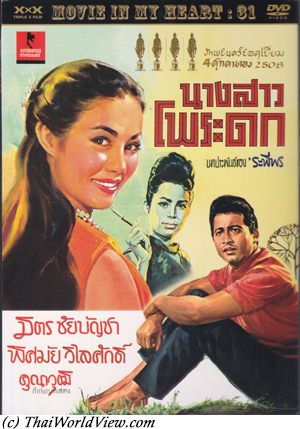 Year

: 1965



Thai title

:

นางสาวโพระดก




English title

:



Rating

: 4/5


Director

: คุณาวุมิ



Main actor

: Mitr Chaibancha,Lor Tok,Prachuap Ruekyamdee,Adul Dulyarat,Banglae


Main actress

: Pissamai Wilaisak,Sopha Sataporn,Namgneun Boonnak,Wilaiwan Watthanaphanit,Sarinthip Siriwan,Sulaleewan Suwanthat,Yaowaret Nisakorn



Buy now

:

Thai movie นางสาวโพระดก was released in year 1965 and lasts 2h18mn. The movie was released on VCD and DVD formats in Thailand by company XxX (Triple X). It features a colorful image. Movie director is คุณาวุมิ. The movie got four Thai cinema awards (ตุ๊กตาทอง) including best movie, best movie director, best costumes, best second role for Namgneun Boonnak. Two songs are featured. A remake was released in year 1981 with Jarunee Sooksawad. Pim (Wilaiwan Watthanaphanit) has a child, named Poradok, with her husband. Unfortunately her husband died. Pim remarries again. Her husband has already two boys from a first wedding. Those two boys from first wedding are Prachuap Ruekyamdee and At (Adul Dulyarat). The new husband also dies when Poradok (Pissamai Wilaisak) is 18 years old. Heritage discussion occurs. Aunt Sarinthip Siriwan is upset by the testament sharing. Saisamon (Sopha Sataporn) is a student and friend with Poradok. Her mother Saichai (Namgneun Boonnak) is sick and is identified with a cancer by doctor. Nephew Sun (Mitr Chaibancha) is living with them. Saichai loves Sun but Sun considers her as a mother. At has a mistress named Prissana (Yaowaret Nisakorn) with one child. Prissana is pregnant again but At is not taking good care of her. Porakdok is aware and promises to help. At is upset that Prissana discloses this to Poradok. Poradok travels to countryside to meet Saisamon. Aunt Saichai is upset to see Sun close to Poradok. Poradok and Sun start to know each other but Poradok believes Sun has a love relationship with Saichai. At and Prachuap arrive in countryside. Poradok has to go back to Bangkok. Aunt Saichai is upset that Sun misses Poradok. Aunt Saichai is entering final cancer phase. Her testament mentions that Sopha and Sun have to marry if they want to get any parts of the heritage. Aunt Saichai recognizes that there was nothing between her and Sun (คนกตัญญู). Sun and Saisamon have to choose between love or money. A party happens at Poradok's parents house. Krissada sings a song. At and his aunt lose face as Krissada sings about bad men unable to respect their engagement. At follows Krissada to her home and hits her. Luckily Poradok was also following behind and punches At. Sun and Saisamon agree to reject the heritage. Sun considers Saisamon as her sister. Saisamon keeps drinking as Sun doesn't love her but loves Poradok. The movie ends happily. At changes religion and marries again with Krissada. Saisamon has a love story with Prachuap. Poradok and Sun finds that the mother's lawyer was stealing money with aunt Sarinthip. Both are chased from the home. Poradok reconciles with her mother Pim. Romance Sun and Poradok can happen.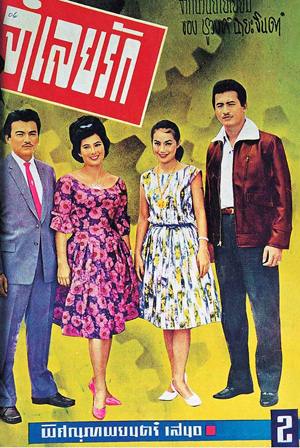 Year

: 1963



Thai title

:

จำเลยรัก




English title

:



Rating

: 5/5


Director

:



Main actor

: Mitr Chaibancha,Prachuap Ruekyamdee,Preuhat Boonlong


Main actress

: Pissamai Wilaisak,Amara Asavananda,Sulaleewan Suwanthat,Manat Boonkiet,Malee Wetpraseri
Thai movie จำเลยรัก was released in year 1963. This movie features Mitr Chaibancha as main actor and Pissamai Wilaisak as main actress. The movie is lost in Thailand but a succession of sequences lasting one hour and 20 minutes is left to be seen. It is remaining out take sequences session (หลุด). The remaining film was dubbed and shown in Thai Film Archives in year 2017. Another version of จำเลยรัก was released in year 1978 through a DVD still available. It features Phairoj Sangwaribut and Naowarat Yooktanun. Two brothers, Narin and Narit (Mitr Chaibancha), are arguing. The youngest brother Narin loves a woman called Satsanee. As the love is not blossoming, he gets suicide. Satsanee (Amara Asavananda) and younger sister So (Pissamai Wilaisak) are part of a rich family. Her parents are played by Preuhat Boonlong and Manat Boonkiet. Her aunt by Malee Wetpraseri. Domestic helper is played by Sulaleewan Suwanthat. Believing So is Satsanee, the elder brother Narit blames So and announces to her that Narin is about to die. It is her last chance for her to see him. She follows Narit without warning her other family members. She understands too late that Narit kidnaps her. Narit wants her to pay for her sins (การใช้บาป). She claims she is not Satsanee but So! He doesn't listen. Satsanee meets Wat (Prachuap Ruekyamdee). Narit doesn't want to release So as he is concerned she would lie to other men again. Ruffians led by Khun Wiset threatens Narit to sell his tin mine but he refuses. On the way to the city, Narit helps Wat, whose car has a flat tire. While having a drink, he learns that Narit just engaged with a young lady called Satsanee! Lady Boonkrai tries to frame So by pushing Bai to rape her. Narit is very upset with So as he believes she keeps seducing men such as his brother Narin, Bai and Wat so he keeps her captive so that she pays her moral debts (ชดใช้). Narit knows the truth as So speaks while having a nightmare. Narit excuses himself about his behavior. So asks him to give pardon (ขออภัย) but Narit refuses as he lost his brother. Love emerges between Narit and So. Ruffians attack the tin mine. Narit defeats their leader and confronts the owner of another mine, khun Wiset, that tried to steal his belongings. So cares for Narit, who was slightly injured during the fightings. Narit offers a pendant to So. So is back to her home. Satsanee wants to know where So has disappeared. Satsanee is engaged with Wat. Nariti finally meets Wat and the real Satsanee. Satsanee borrows So's pendant. Bai realizes that Boonkrai was lying to him. Boonkrai also lies to Satsanee about Wat having an accident. Boonkrai and Hin have a plan. Narit and Wat storm the ruffians' place to release Satsanee. Narit defeats Hin. Satsanee wishes to stay her whole life with Narit. Wat and Narit go back to Bangkok by train. Satsanee breaks up with Wat and gives back her engagement ring (ถอดหมั้น). Narit buys an engagement ring. Narit visits Satsanee's parents and Satsanee believes Narit is asking for her hand. Narit asks for So's hand causing Satsanee's despair! It was a trick for Satsanee to suffer and understand the suffering she caused to others. Narit doesn't want to meet Satsanee anymore and chases her away. Satsanee finally goes to see Wat back at the hospital and they engage again. Narit and So can have happiness. Three songs are featured in the movie.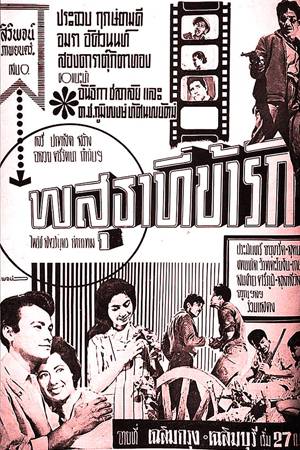 Year

: 1961



Thai title

:

พสุธาที่ข้ารัก




English title

:



Rating

: 3/5


Director

:



Main actor

: Prachuap Ruekyamdee,Sukon Koewliam


Main actress

: Amara Asavananda,Sulaleewan Suwanthat
Thai movie พสุธาที่ข้ารัก was released in year 1961 with Prachuap Ruekyamdee as main actor and Amara Asavananda as main actress. The movie is lost in Thailand and only a trailer lasting 5 minutes is left to be seen. Other actors include Sukon Koewliam, a little boy as new actor (ดาราเด็กๆ). He looks like the son of Prachuap and Amara. It is an action movie and the trailer features sequences showing many fightings and shootings. Prachuap Ruekyamdee did have a short time as main actor as other actors such Mitr Chaibancha, Sombat Methanee and Luechai Natnat emerged also and became more popular.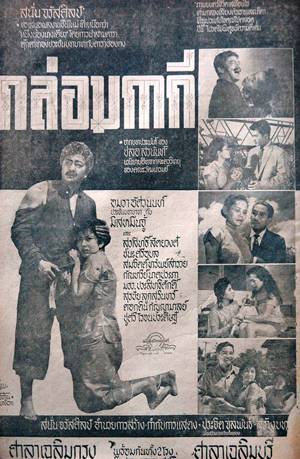 Year

: 1959



Thai title

:

กล่อมกากี




English title

:



Rating

: 3/5


Director

:



Main actor

: Chana Sriubon,Surasit Sattayawong,Dokdin Kanyaman


Main actress

: Amara Asavananda,Somjit Sapsamruey,Chosri Misommon,Sulaleewan Suwanthat
Thai movie กล่อมกากี was released in year 1959. It features Amara Asavananda as main actress and Chana Sriubon as main actor. Thong (Surasit Sattayawong) helps a pregnant woman called Yinfa (Somjit Sapsamruey). She is going to jump from a bridge. He saves her life. Her born daughter is called Buakim (Amara Asavananda) and is raised by Thong. Being adult, Buakim finds a job in an office but issues happen. Chana (Chana Sriubon), the staff manager, solves the issues. As uncle Thong is sick, Buakim asks for a three days off and salary advance to the boss (เป็นพิเศษ). Buakim ends up being domestic helper (แม่บ้าน) for Chana's family. Chana doesn't have any mother. Buakim doesn't have any father. So they have a common understanding. Buakim is poor (ยากจน / พบแค่ความทุกข์). She is accused of having stolen money in the house. It is in fact a plan by the younger wife of the boss asking Mae Nim (Sulaleewan Suwanthat) to play trick to Buakim. When Chana finishes his university degree, he wishes to marry with Buakim. Buakim is reluctant as she is only a domestic helper. Thong warns the boss' wife to stop harassing Buakim. Yinfa realises that Chana is her lost son so she asks Buakim to stop seeing Chana. Upset Chana feels betrayed and slaps Buakim. Thong protects Buakim. Chana understands the truth and visits his lost mother. Finally they are all reunited thanks to Thong. Chana loses a wife but gains a mother and sister. Part of the movie is dubbed as it was released earlier in video tape format. It was never released in another format as the movie was not successful enough in VHS format. It lasts around 1h30mn. A Hong Kong actress is also involved, i.e. Miss Minchoo (หมิ่นจู้).
---