Increase or decrease font size for easier reading : A+ A-
Sompol Kongsuwan
Sompol Kongsuwan (1923) - สมพล กงสุวรรณ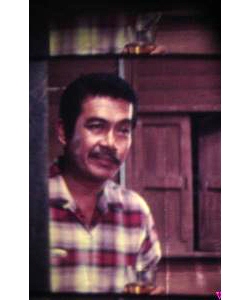 Sompol Kongsuwan always played the bad guy, the ruffians' leader
This Sompol Kongsuwan movie page contains 10 records.
---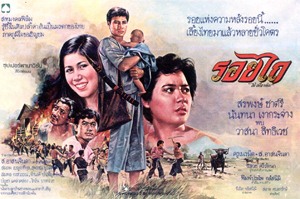 Year

: 1979



Thai title

:

รอยไถ




English title

:



Rating

: 5/5


Director

: Neramit,Sor Asanajinda



Main actor

: Sorapong Chatree,Sor Asanajinda,Somphob Benjatikul,Sompol Kongsuwan


Main actress

: Nantana Ngao Krajang,Wassana Sitthiweth
Thai movie รอยไถ was released in year 1979. The movie lasts 1h48mn. Four versions were directed 1950, 1960, 1979, 1989. Same main actor (Sorapong Chatree) and same main actress (Nantana Ngao Krajang) as "The Scar" (แผลเก่า) - 1976 are playing. Other actors are สุพรรณ บูรณะพิมพ์, Sompol Kongsuwan, จำนง, จิตติน, โกร๋น บางกรวย. Movie directors are Neramit (เนรมิต) and Sor Asanajinda. Talui (Sor Asanajinda), หมอลุย, is a bit crazy but respected as a father by Leu. Leu (Sorapong Chatree) losts his two buffaloes by gambling to Plien. Phan (Wassana Sitthiweth) blames him for this. Leu is brother in law (พี่เคย) of Phan. Leu is married to Pheuan (Nantana Ngao Krajang) and is having one child. Finally Leu defeats the ruffians by fighting as they are unrespectful to Phan. The ruffians (นักเลง) are wishing to take Phan and Pheuan as wives. Oon (Somphob Benjatikul) always wanted to marry Pheuan but he was too late. Bua, the mother, is helping Oon. Bua is upset with Leu as he is poor and lost his mother's heritage by gambling. Oon tries to reignite his love (ย้อนรัก) with Pheuan, who is now considering fleeing from Leu. Pheuan has pity on Leu (ข้าวเปล่าอร่อยดี) and her son so she keeps crying. While Leu is busy repairing the roof, Oon forces her to come as she is still undecided until the last minute. Wedding is happening soon. Oon is worried that Leu will bring a mess and wants to avoid a bloody celebration (ฉลองกับเลือด). Likay is organized. Leu brings his son to Phan and promises to get revenge up to Bangkok as he suffered a lot. Meanwhile Leu hears about the forthcoming wedding. He finally escapes with Pheuan but ruffians are chasing them. He gets injured through a fight versus too many opponents. Talui diverts their attention thanks to firecrackers and helps him to flee. Oon prevents the village headman to use a gun to shoot Leu. The village headman is upset having his men injured so they are looking after Leu. Talui helps Leu same as a father towards a son. Phan takes care of Leu and his son while Leu is sick. Leu understands Phan would have been a better wife than Pheuan. Meanwhile Talui prepares some tricks against the ruffians. The movie ends tragically. Loi, Pheuan and Phan's brother, and Talui die while protecting Leu's house. Even their mother die also. Oon, recognizing his mistake, accepts to give back Pheuan but Leu refuses. He realises too late that Talui is his real father. Having nothing left, he finally quits the area with Phan.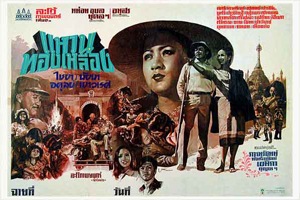 Year

: 1973



Thai title

:

แหวนทองเหลือง




English title

:



Rating

: 4/5


Director

: พระเจ้าวรวงศ์เธอ พระองค์เจ้าอนุสรมงคลการ



Main actor

: Chaiya Suriyun,Adul Dulyarat,Chao Klaewklong,Sukon Koewliam,Sompol Kongsuwan


Main actress

: Naiyana Shewanan,Yaowaret Nisakorn,Marasri Isarangkul,Juree Osiri,Chosri Misommon,Chadaporn Wachirapranee
Thai movie แหวนทองเหลือง was released in year 1973 and lasts 2h56mn. The movie was never released on VCD / DVD formats but was shown on Thai TV cable. Director is Thai prince พระเจ้าวรวงศ์เธอ พระองค์เจ้าอนุสรมงคลการ. The production of this movie last almost 2 years. Many actors and actresses are featured in this movie, i.e. Chaiya Suriyun, Naiyana Shewanan, Adul Dulyarat, Yaowaret Nisakorn, Chao Klaewklong, Marasri Isarangkul, Juree Osiri, Sukon Koewliam, เมืองเริง ปัทมินทร์, Sompol Kongsuwan, เสถียร ธรรมเจริญ, Chosri Misommon, ภาณุวัฒน์ มังคลารัตน์, เขมิกา กุญชร ณ อยุธยา, Chadaporn Wachirapranee. In North of Thailand, Sai Kam (Chosri Misommon) and her young sister Duang Jai (Naiyana Shewanan) are domestic helpers in a beautiful mansion. Krissada (Chaiya Suriyun) (คุณผู้ชาย) is the owner. The subdistrict headman Prem (Chao Klaewklong) is Duang's father. Uuan (Juree Osiri) and Noi (Marasri Isarangkul) dream to marry Krissada. Krissada is gone to visit waterfalls with Duang. A snake bites Krissada and Duang Jai saves him. A romance starts, and a wedding promise happens. Krissada gives a ring to Duang Jai. Krissada has to leave urgently to Bangkok after receiving a telegraph. Sukon Koewliam loses Krissada's letter he was supposed to give to Duang Jai. Duang Jai stays in a relative home to hide her pregnancy. Finally, Prem discovers that his daughter Duang Jai is pregnant. To hide his shame, the father plans to marry Duang as soon as possible. Prem wants to hide that Krissada is the father as he doesn't believe Duang Jai is telling the truth. As he owns a lot to Krissada's father, he nevertheless refuses to damage Krissada's honor. Sai Kam and Duang are enchained but Duang succeeds to flee. She tries to go to Bangkok but has no money, so she walks by following the railway tracks to Bangkok! Railway workers and doctor Metta (Adul Dulyarat) find her. She is about to deliver. A daughter is born. It is war time, so Bangkok is not a good place to stay. Doctor Metta proposes to send her. During two years, Duang Jai is looking for Krissada's house in Bangkok. She finally finds it. Sukon tells her Krissada's story. Krissada has disappeared. Metta asks her to decide about her future but Duang Jai refuses to marry him per her promise to Krissada. Chadaporn Wachirapranee is playing a brothel owner. Duangjai is working there as she needs money to survive. Bombs destroy the brothel house and her friends are killed. A Japanese officer helps her. As she has nowhere to go, being a ผู้หญิงชัว, he proposes her to be his domestic helper and wife (เมีย). The war is going to be finished soon. The Japanese officer promises to keep sending money to her. He dies on the way to Japan. Duangjai needs to resume being a prostitute (โสเภณี). The house owner wishes to expel Duang Jai and Taew as they cannot pay the rent anymore. The Japanese officer helped the owner during war, but gratitude is useless according to the house owner! Duang Jai and Taew find gold hidden under the carpet. Many years passed. Taew (Yaowaret Nisakorn) and Duangjai have set up their own company. Duangjai has a new name, i.e. เศรษฐีโสเภณี. Taew recommends her to look for her lost daughter and to look for happiness. Duang Jai meets Krissada again as her car hits a passerby. He has become a beggar. His father had many debts. Krissada was part of Seri Thai (resistance to Japanese invaders) but had chosen the wrong boss so had to flee to Laos. Duangjai proposes to help. She doesn't dare to tell who she is. Thai newspapers start to give bad rumours about her previous status as prostitute (ปากเสีย). Nattaya, one of the employees, is a drug addict (ติดยา). Krissada proposes to help. Nattaya has difficulties to get rid of drugs. She succeeds to flee from Krissada's home. She is then kidnapped as ruffians want to get money from Duang Jai and Taew. Krissada helps. During fightings with ruffians, Phi Taew is shot and wishes Duang Jai to disclose the truth but Duang Jai still has concerns about her past (ชีวิตโสเภณีมีค่าเพราะว่าเงิน). Nattaya announces to Duangjai that she is going to marry with Krissada. Duangjai tries to break the relationship but Nattaya refuses. Finally, Duangjai asks to be with Krissada a few hours. She wears Northern clothes again. Krissada is not able to link Duang Jai and Aitit, Duang Jai new name. Duangjai leaves and gives a gift for the wedding. The gift is the ring given twenty years ago. Finally doctor Metta is able to explain that Nattaya is Duangjai's daughter and so Krissada's daughter so a wedding cannot happen. Now it is Krissada turn to look for Duang Jai...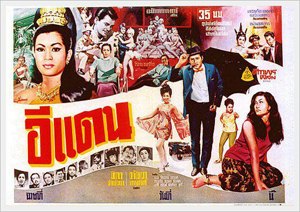 Year

: 1968



Thai title

:

อีแตน




English title

: E-tan



Rating

: 5/5


Director

:



Main actor

: Mitr Chaibancha,Sawin Sawangrat,Sukon Koewliam,Man Teeraphol,Thuam Thoranong,Lor Tok,Kokheng,Sompol Kongsuwan


Main actress

: Aranya Namwong,Chadaporn Wachirapranee,Yaowaret Nisakorn,Wilaiwan Watthanaphanit,Malee Wetpraseri,Chosri Misommon
Thai movie อีแตน was released in year 1968. The movie lasts 3 hours. This movie has a very colorful image and a DVD was released by Thai film Archives in year 2014. Five songs are featured. Kalong (Wilaiwan Watthanaphanit) is married to a chief district officer. Her father is Sawin Sawangrat. She is pregnant. While chasing traffickers, the chief district officer is injured and finally dies. Before dying, he asks his mum to send Kalong to Bangkok in order to have his child raised by his father. The baby has a scar around the ear. The father has a new wife (กันฑรีย์ นาคประภา), who is upset about losing heritage, and she prepares a plan with her lover Nipon (Man Teeraphol) to get rid of Kalong and her child. Mien (Malee Wetpraseri) hears their plan, takes the baby and flees. Shocked, Kalong has a brain attack. Tam, Mien's husband, names the baby E- tan. E-tan (Aranya Namwong) is now a grown beautiful young lady. E-tan meets Rungroj (Mitr Chaibancha) being a lawyer responsible to expel people from a slum to build a new building. E-tan, Tam (Sompol Kongsuwan) and Mien have to leave. Mien goes back to her hometown to work and to send money. Being sick, she is cheated and no money reaches E-tan and Tam. So E-tan decides to quit school in order to work. She tries to find a job as domestic helper in a rich house. But she gets issues with the owner accusing her to have stolen her necklace. She is a fighting with the daughter called Supatra. E-tan meets Phaka (Chadaporn Wachirapranee). She is a mamasan but E-tan is not aware. Tam is the old boyfriend of the mamasan Phaka so he sells E-tan for 5000 baht. Thuam Thoranong, as a customer, is severely beaten with E-Tan. Mien is back and threatens to kill Tam if E-tan is not back within seven days. As the grandfather is getting old and sick but refusing to transfer his heritage to his younger new wife, Nipon has the idea to find a 19 years old girl to pretend being the lost granddaughter. He hires E-tan from Pakha without knowing that E-tan is the real granddaughter! She is recognised by the grandfather thanks to the scar. Rungroj is engaged with Supatra (Yaowaret Nisakorn) but he doesn't love her. He thinks about the young lady beggar but doesn't realise that she is the same lady as the new granddaughter. Supatra is jealous as Rungroj spends a lot of time with E-tan as the grandfather asks him to be a teacher for her. Aware that Nipon and the mother plan to kill them once heritage has been transferred to her, E-Tan prepares a plan with her friends from the slum. A social event is organized to present E-Tan to Thai society as the official lost daughter. Nipon prepares poison for the grandfather. Mien is wishing to announce the bad plans of the new wife and Nipon but she is is killed before by Nipon. Upset by Mien's death, E-Tan shots him with a gun without knowing that he is already dead having drunk the poison by mistake. E-Tan is accused of murder by the new wife and is sent to jail. Rungroj is the lawyer for E-tan. Tam, recognizing that E-Tan has always been good with him, relates the real story to the judge and E-Tan is spared from prison. She then can marry with Rungroj.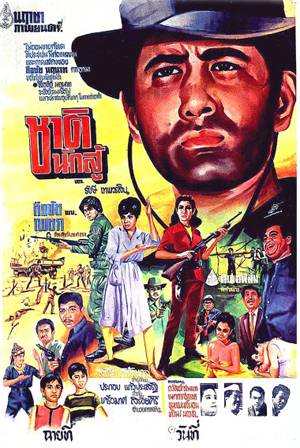 Year

: 1968



Thai title

:

ชาตินักสู้




English title

:



Rating

: 3/5


Director

: Luechai Natnat



Main actor

: Luechai Natnat,Tawan Siriwat,Sompol Kongsuwan


Main actress

: Petchara Chaowarat,Metta Roongrat,Chadaporn Wachirapranee
Thai movie ชาตินักสู้ was released in year 1968. It features Luechai Natnat as main actor and Petchara Chaowarat as main actress. The movie is lost in Thailand but a sequence of 1h30mn remains to be seen. The movie was produced by Luechai Natnat himself. This is a Thai western action movie. Other actors include Sompol Kongsuwan, ขุนแผน ภุมรักษ์, ถนอม นวลอนันต์, สุธรรพ์ ธนะประวิตร, นฤชา ชัยบดินทร์. Plok (Tawan Siriwat), leader of the ruffians, is somebody having a strong bad influence on the village Don Sethi and is selling drugs (คนมีอิทธิพล ขายยาเสพติด). Tawan punishes Jom Thale (Luechai Natnat), whose hands are broken. Arethai (Petchara Chaowarat) and Jom Thale know each other since childhood. Arethai's parents were killed by ruffians. She was raised by them and used as a slave (ทาส). Jom Thale' s father was killed and his mother became Plok's minor wife (เมียน้อย). The main wife (Chadaporn Wachirapranee) persecuted the minor wife and her two children. So they all fled to Lampang. Later on, Jom Thale's young brother died as he was killed by ruffians. The mother died being disconsolate. Metta Roongrat is playing a role as สาว karate. Chadaporn Wachirapranee, Plok's main wife, dies while trying to protect Jom Thale that she loves secretly. Jom Thale (Luechai) succeeds to flee thanks to Arethai so Plok is very upset with her. Plok still wants to kill Jom Thale. Plok sends a sbire (ลูกน้อง) to kill Jom Thale , who is hiding in a Buddhist temple. Bell sound means he is dead. Plok rushes to see the corpse but gets captured by Jom Thale, who kills Plok's thugs. Meanwhile Police storms the drugs factory belonging to Plok. Jom Thale is looking for revenge (ล้างแค้น) as his parents and younger brother died because of Plok. Jom Thale brings Plok in front of his parent's grave for him to give respect to them and to apologise. Fighting between the two men happens. Jom Thale is disadvantaged due to his injured hands but Arethai shots Plok. Before dying, Plok asks for forgiveness.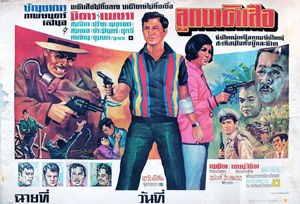 Year

: 1968



Thai title

:

ลูกชาติเสือ




English title

:



Rating

: 3/5


Director

: Neramit



Main actor

: Mitr Chaibancha,Adinan Singhiran,Taksin Jampol,Choomporn Theppitak, Lor Tok,Chao Klaewklong,Tawan Siriwat,Sompol Kongsuwan,Pramin Jarujareet


Main actress

: Petchara Chaowarat,Metta Roongrat,Somjit Sapsamruey,Preeya Roongrueng
Thai movie ลูกชาติเสือ was released in year 1968. The movie is lost in Thailand but a sequence of 27mn remains left to be seen. It is the first reel. As the reel is in 16mm format, the film is in mute state as such format requires live dubbing. It features Mitr Chaibancha as main actor and Petchara Chaowarat as main actress. Director is Neramit. Chao Klaewklong is having issues with ruffians. His wife Somjit Sapsamruey asks him to calm down. During the day he receives an envelope. Ruffians including Adinan Singhiran and Sompol Kongsuwan come back at nighttime when Chao Klaewklong is out. The ruffians kidnap one of his kids. Time passed. The kid has grown up and is played by Mitr Chaibancha. Mitr is a Thai boxer. All those defying Mitr get beaten. The head of ruffians (Pramin Jarujareet) wishes to shoot Mitr but Metta Roongrat interposes herself. Somjit cannot see properly. She is talking to Tawan Siriwat. She dies of heart attack. She gives him a ring before dying. Meanwhile the head of ruffians is attacked but Mitr is here to help. Adinan and the head of ruffians try to steal Lor Tok's taxi. Then they attack a truck. Metta is harassed at the exit of a nightclub but Mitr is here to help. Choomporn is present also and knocks Mitr. The big head of ruffians wishes to get something so threaten to cut Pramin Jarujareet's hand. The ruffians (Lor Tok, Adinan, Sompol) kidnap a man similar to Mitr Chaibancha and also Tawan Siriwat. Later on Pramin Jarujareet releases Mitr Chaibancha.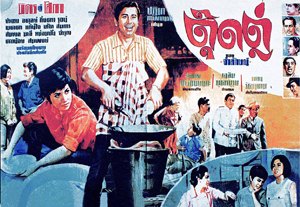 Year

: 1967



Thai title

:

ตุ๊ดตู่




English title

:



Rating

: 3/5


Director

:



Main actor

: Mitr Chaibancha,Daonoi Duangjai,Sukon Koewliam,Prachuap Ruekyamdee,Somkuan Krajangsat,Adul Dulyarat,Ruj Ronnapop,Tat Ekathat,Sompol Kongsuwan


Main actress

: Sopha Sataporn,Kingdao Daranee,Metta Roongrat,Kaenjai Meenakanit,Mom Chan Phuangwan,Malee Wetpraseri
Tut Tu / ตุ๊ดตู่ is a Thai movie released in year 1967 with Mitr Chaibancha and Sopha Sataporn. It is a lost movie in Thailand. Only a 2mn30s sequence is left. Other actors include Daonoi Duangjai, Malee, Malee Wetpraseri, Mom Chan Phuangwan, Kingdao Daranee, Prachuap Ruekyamdee, Sukon Koewliam, Somkuan Krajangsat, Adul Dulyarat, Metta Roongrat, Kaenjai Meenakanit, Ruj Ronnapop, ruffians Tat Ekathat (ทัต เอกทัต) and Sompol Kongsuwan. Sopha is called Tut Tu. Somebody asks for the hand of Tut Tu as a wedding procession (ขบวนแต่งงาน) is seen. She flees to Bangkok. The movie summary is still available thanks to some very old Thai stars magazines.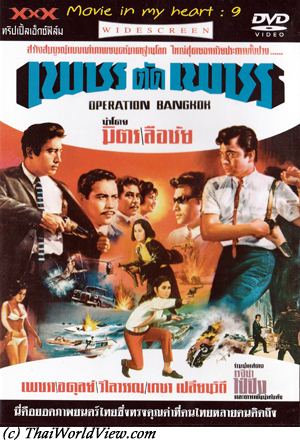 Year

: 1966



Thai title

:

เพชรตัดเพชร




English title

: Operation Bangkok



Rating

: 5/5


Director

: Wichit Khunawut



Main actor

: Mitr Chaibancha,Luechai Natnat,Adinan Singhiran,Choomporn Theppitak,Kecha Plianvithee,Adul Dulyarat,Sompol Kongsuwan,Chao Klaewklong,Lor Tok,Tat Ekathat


Main actress

: Petchara Chaowarat,Regina Pai Ping,Chadaporn Wachirapranee,Wilaiwan Watthanaphanit,Kaenjai Meenakanit,Malee Wetpraseri,Yaowaret Nisakorn



Buy now

:

Movie Operation Bangkok / เพชรตัดเพชร was released in year 1966 and lasts 1h50mn. It is a HK Thai co production managed by three film directors including Wichit Khunawut. Mitr Chaibancha meets Yot (Luechai Natnat). An exchange of suitcases happens over a bridge. Adinan Singhiran is Yot's acolyte. Yot betrays Mitr and tries to keep the two suitcases. Shooting happens and Yot flees. Choomporn Theppitak is part of a gang led by Kecha Plianvithee. Yot belongs to the same gang also. Luechai arrives in Hong Kong. He meets Adul Dulyarat on a boat to exchange drugs against money. The drug is fake and he steals the money by punching Adul. He flees to Bangkok and escapes to Choomporn, who tries to shoot him with a long range rifle. Yot has betrayed (ทรยศ) Kecha. Yot meets singer Pai Lu (Hong Kong actress Regina Pai Ping) in the plane and sympathizes. Mitr disguises himself as Chat, a tough ruffian, to infiltrate Kecha's gang. Chadaporn Wachirapranee is Chat's old wife so he punches Sompol Kongsuwan to show he is back. Chao Klaewklong introduces Chat to Kecha. Kecha is looking for a new right-hand man (แขนขวาคนใหม่) as Yot betrayed him. Kecha wishes Chat to get rid of Yot. Ratsamee (Petchara Chaowarat) loves Yot but Yot also loves Pai Lu, who is in fact an undercover policewoman from Hong Kong. Ratsamee warns Yot that Adul is around looking for him. Pai Lu and Ratsamee escape from Adul but get arrested by policeman Lor Tok, who ignore they are from Interpol Police (ตำรวจสากล). A painting called เพชรตัดเพชร is purchased by Wilaiwan Watthanaphanit bidding against Kecha. Miss Boran (Kaenjai Meenakanit) is the sexy painter. Adul wishes to buy the jewel hidden in the painting but this one is now always worn by Miss Boran. The jewel contains a password (รหัด). Choomporn kills Miss Boran to get the jewel but Yot and his team steal it from him also. Pai Lu is surnamed HK 16. Mitr is surnamed BKK 38 (ตำรวจไทยเจ้าชู้อย่างนี้ทุกคนหรือค่ะ?). Mitr helps Pai Lu chased by two ruffians including Choomporn. Chat brings Pai Lu himself to Kecha. Understanding that she is an enemy (ศัตร)ู, she is condemned to be shot by Choomporn but Chat succeeds to charge the gun with blank bullets. Yot falls in a trap prepared by Adul to steal the diamond but it fails and Adul dies. Yot wishes to make peace with Kecha. Kecha wants only one right-arm man so both Chat and Yot have to fight against each other. Pai Lu and Petchara ask them to stop fighting. They are all captured by Kecha. Part of the movie is then lost here. Wilaiwan shots Ratsamee. Hopefully Pai Lu shots Wilaiwan and can help Ratsamee on time. Thai police attack the ruffians. All are killed or captured but Kecha succeeds to flee. Kecha refuses to surrender to the Thai police and prefers to explode his boat. The movie ends up on a sad note as Pai Lu has to leave Chat to go back back to Hong Kong, Ratsamee is separated from Yot as he has to go to jail. This movie is still available in Hong Kong under title 諜海蛟龍 and was shown on cable TV. The famous song of this movie is ดวงใจ by singer สวลี ผกาพันธุ์. This movie is one of the best confrontations between Thai superstars Mitr Chaibancha and Luechai Natnat. As it is a HK Thai co production, it is interesting to find that the Chinese version poster features Chinese actress Regina Pai Ping's head in big size. Mitr Chaibancha and Petchara Chaowarat are displayed in small size. But the Thai poster displays more prominently Mitr Chaibancha and Petchara Chaowarat. In the Chinese synopsis, Mitr Chaibancha is written as mi-tsai- wan-chai (Thai detective No 78) and called as Ah Tsai in the movie. Regina Pai Ping (Hong Kong agent No 113) is called as Pai Lu in the movie. Petchara Chaowarat is written as Pi-chai-la and called as Sha Mei in the movie. The movie was so famous that it was released once in year 1966 and then reshown again in year 1975. The original version lasts 2h20mn but the 1975 version was reduced to less than 2 hours as both movies เพชรตัดเพชร and คนเหนือคน were shown together. The DVD released by company Pantamit is based on the 1975 version. It took five years for company Pantamit to convince the film owner to lend it in order to make a digital copy. Another film copy remains in the Thai Film archives.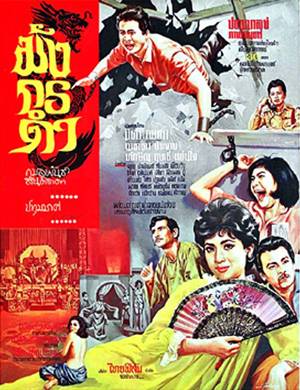 Year

: 1965



Thai title

:

มังกรดำ




English title

:



Rating

: 3/5


Director

:



Main actor

: Mitr Chaibancha,Prachuap Ruekyamdee,Taksin Jampol,Pramin Jarujareet,Adinan Singhiran,Sompol Kongsuwan


Main actress

: Petchara Chaowarat,Kaenjai Meenakanit,Metta Roongrat
Thai movie มังกรดำ was released in year 1965. It features Mitr Chaibancha as main actor and Petchara Chaowarat as main actress. It is a lost movie in Thailand but a trailer lasting three minutes remains to be seen. The sequence is in mute state as such 16mm film requires live dubbing. Main actors and actresses are Mitr Chaibancha, Petchara Chaowarat, Metta Roongrat, Prachuap Ruekyamdee, Taksin Jampol, ฤทธี, Kaenjai Meenakanit, จรูญ, Pramin Jarujareet, Sompol Kongsuwan, Adinan Singhiran. วิชัย เชยประทุม is movie director and also movie producer. Taksin is the leader of a secret organisation. The trailer shows Mitr, Adinan, Metta, Kaenchai and Prachuap. Metta is attached and held captive.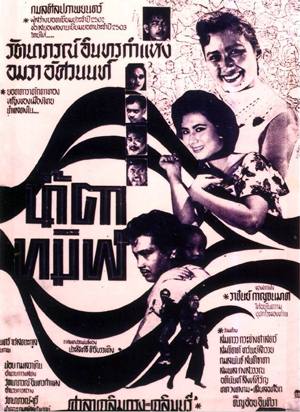 Year

: 1960



Thai title

:

น้ำตาทมิฬ




English title

:



Rating

: 3/5


Director

:



Main actor

: Ratchan Kanchanamat,Somkuan Krajangsat,Lor Tok,Adinan Singhiran,Sompol Kongsuwan


Main actress

: Ratanaporn Intarakamhaeng,Amara Asavananda,Somjit Sapsamruey
Thai movie น้ำตาทมิฬ was released in year 1960. Main actor is Ratchan Kanchanamat (ราชันย์ กาญจนมาศ) and main actress is Ratanaporn Intarakamhaeng. Other actors and actresses are Amara Asavananda, Somkuan Krajangsat, Lor Tok, Somjit Sapsamruey, กมลพันธ์ สันติธาดา, Sompol Kongsuwan, Adinan Singhiran, ทศ วงศ์งาม. The movie is lost in Thailand but a ten minutes sequence remains to be seen. It is still very colorful. A three minutes sequence online shows Ratanaporn Intarakamhaeng talking to Ratchan Kanchanamat, Amara with Somkuan Krajangsat, Amara drinking alcohol and starting to be drunk, a boat speeding on the Chao Praya river. The movie was produced by Ratanaporn Intarakamhaeng. Ratchan Kanchanamat is a main actor from decade 1950s. He played in อกสามศอก (1958) and later on in ชีวิตบัดซบ (1976).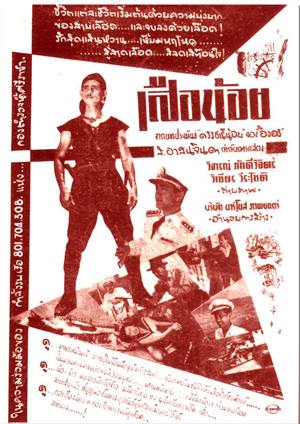 Year

: 1955



Thai title

:

เสือน้อย




English title

:



Rating

: 3/5


Director

: Sor Asanajinda



Main actor

: Taksin Jampol,Sor Asanajinda,Phan Kam,Lor Tok,Preuhat Boonlong,Sompol Kongsuwan,Jamroon Nuatjim


Main actress

:
Thai movie เสือน้อย was released in year 1955. It was a famous film during year 1955. No image or summary is left to be seen for this movie. The movie is lost in Thailand but a sequence of 10 minutes is left to be seen. Many other Thai movies used the same plot in other remakes. Main actor is Taksin Jampol acting as a pirate (โจรสลัด). Sor Asanajinda is movie director. Other actors and actresses are Sor Asanajinda, Phan Kam, Lor Tok, จำรูญ, Preuhat Boonlong. During the left sequence, the main actress is captured and kept as hostage. She is a member of the Royal family (ลูกหม่อมเจ้า) and has fallen in the hands of pirates. One ruffian (Sompol Kongsuwan) tries to abuse her but Seua Noi (Taksin Jampol) intervenes in time. The ruffian finally ends up beating another male hostage but it doesn't finish well again for him. Ruffians are all wearing red bandana. Taksin is seen kissing the main actress. Lor Tok is wearing a nice black moustache. Thai navy has decided to get rid of the pirates and attack their campement. Taksin is seen holding a baby. The remaining sequence ends here.
---