Increase or decrease font size for easier reading : A+ A-
Siripong Isarangkul
Siripong Isarangkul (1925-1991) - ศิริพงษ์ อิศรางกูร ณ อยุธยา
Siripong Isarangkul
This Siripong Isarangkul movie page contains 2 records.
---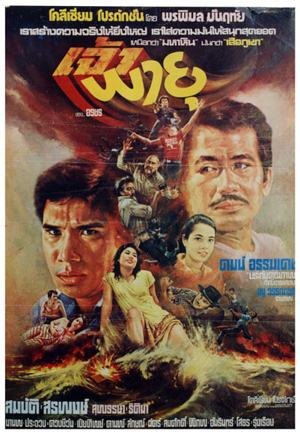 Year

: 1980



Thai title

:

เจ้าพายุ




English title

: Thunder Kid



Rating

: 5/5


Director

: Kom Akadej



Main actor

: Sorapong Chatree,Sombat Methanee,Manop Aussawathep,Prachuap Ruekyamdee,Dam Datsakorn,Somsak Chaisongkram,Lak Apichat,Choomporn Theppitak,Somchai Samipak,Chat Mongkolchai,Pipop Pupinyo,Siripong Isarangkul,Paen Pleumsachai,Pao Porapak


Main actress

: Supansa Nuengpirom,Piathip Kumwong,Thitima Sangkapitak,Duangcheewan Komolsen
Thai movie เจ้าพายุ was released in year 1980 and lasts 1h55mn. It was never released in Thailand but is still available overseas in Sweden as it was sold through VHS format. Palat (Sombat Methanee) rapes Piathip Kumwong, his former wife, as he is upset she has another lover (Manop Aussawathep). A kid is born from this relationship but it has no recognized father (ไม่มีพ่อแต่ต้องมีชื่อ). Manop is said to be Yu's father. Uncle (พ่อลุง) Jaeng (Prachuap Ruekyamdee) names the kid as Thunder (เจ้าพายุ), as he is born during a storm, but his nickname is Yu. When Yu was 3 years old, Piathip left home as Palat was having a new wife called Duangcheewan. Being adults, Eum (Thitima Sangkapitak) and Yu (Sorapong Chatree) love each other since childhood. Eum's parents promise her to another man called To (Dam Datsakorn). Palat, Somsak Chaisongkram and To try everything to break this relationship. Eum and Yu flee but are chased by Palat and ruffians led by To. Yu accepts to surrender and is sent to prison. Manop Aussawathep, father of Yu, learns that Palat has been nominated as chief district. He still has a debt to pay with Palat. While Palat is resting with his family, he does attack them. Palat's new wife (Duangcheewan Komolsen) is shot dead. Pho Seua (Choomporn Theppitak) in prison teaches Yu to master resistance and strength. Yu becomes friend with Pha (Lak Apichat) in prison. Eum, knowing that Yu's father killed Duangcheewan, cannot marry Yu anymore and accepts to marry To. Yu is devastated to learn this news. After a while, Yu is released from jail. Pha is waiting for him. Yu helps Sia Wiwat (Somchai Samipak) and his daughter Chan (Supansa Nuengpirom) Chan having issues with ruffians. He has conflicts with Chat Mongkolchai, head of workers (ป่าไม้). Meanwhile To sends some men (Somsak Chaisongkram and Pipop Pupinyo) to get rid of Yu. Siripong Isarangkul is playing the big boss. They push Manop to force his own son Pha to get rid of Yu. Pha and Yu are in fact brothers. As Pha refuses to kill Yu, To sends Paen Pleumsachai to kill him but it fails as Pha is only injured. Pha gets revenge by shooting Siripong Isarangkul. To's hidden plan is to get rid of Sia Sawat, Yu and to get the sawmill for himself and to get Chan as wife for Chat. Chat uses heavy machine to drop tree logs on the office, where Sia Wiwat and uncle Jaeng are working. Uncle Jaeng dies. Yu has to take revenge on Chat and To. Yu chases To until he can kill him. Final fighting does occur between Manop, Palat and Yu. Manop catches Yu and threatens to kill him if Palat doesn't surrender. Yu is Palat's real son! Piathip already lost one son so she cannot accept this and shoots Manop.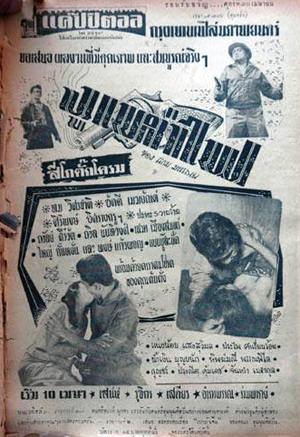 Year

: 1959



Thai title

:

งูเห่าไฟ




English title

:



Rating

: 3/5


Director

:



Main actor

: Tawan Siriwat,Siripong Isarangkul


Main actress

: Namgneun Boonnak
Thai movie งูเห่าไฟ was released in year 1959. It features ทม-แน่งน้อย as main actor and main actress. The movie is lost in Thailand but a damaged sequence of four minutes remains to be seen. Other actors include Tawan Siriwat, Namgneun Boonnak, ทม วิศวชาติ, อัคคี เมฆยัณห์, ถวิล นันทิวงศ์, เสมา เมืองสมุทร. The left sequences include action parts such as fist fighting and gun fights.
---