Increase or decrease font size for easier reading : A+ A-
Preuhat Boonlong
Preuhat Boonlong (191x-1977) - ฤหัส บุญหลง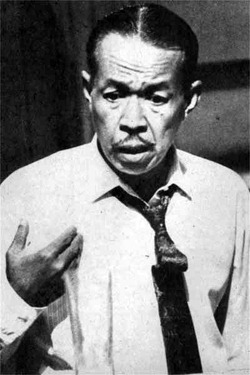 Preuhat Boonlong is known under two names พฤหัส บุญหลง / สาหัส บุญหลง
This Preuhat Boonlong movie page contains 21 records.
---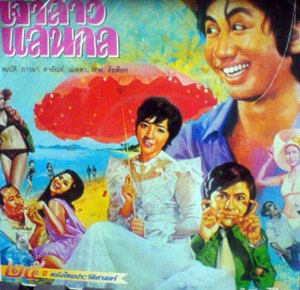 Year

: 1974



Thai title

:

เจ้าสาวแสนกล




English title

:



Rating

: 3/5


Director

:



Main actor

: Sombat Methanee,Sayan Chantaravi​boon,Preuhat Boonlong,Lor Tok,Thep Thienchai


Main actress

: Pawana Chanajit,Sasima Singsiri,Metta Roongrat
Thai movie เจ้าสาวแสนกล was released in year 1974. It lasts 1h53mn. Rataya (Pawana Chanajit) is fleeing her father to avoid a forced marriage (หนีแต่งงาน). Her father (Preuhat Boonlong) promised to marry to an older man called Yiu (Lor Tok). As the father has debts with Yiu, he has no choice. Ran (Sombat Methanee) is fed up being a company owner. He wishes to have a break and asks Varun (Sayan Chantaraviboon) to replace him for a while. Many people believe Rataya drown in the river while fleeing her father but Ran saw her swimming away. An old lady aggressed by thugs (ลูกอัปรีย์) mistakes her as a ghost (ผี). Rataya takes refuge in a friend's home called Too (Sasima Singsiri). Ran wants to be a staff (ลูกช้าง) for a while instead of being a boss. Comic actor Thep Thienchai is even having a small role. Interested by Rataya, Ran succeeds to be hired by Yiu as domestic helper under the name of Yim. Rataya makes Yiu believe that she is a ghost now (ผีหลอก). Yim is fully aware but doesn't disclose the secret. Too asks Yui to cancel the debts with Rataya's father in order to avoid the ghost harassing him but he prefers to do good deeds (ทำบุญ). Rataya disguised as a ghost tries to get the document (โฉนดที่ดิน) but it ends badly as Yiu's daughter called Nut shoots at her. Unfortunately she is not injured but Yiu is now aware of the trick. On the way to get back his wife (รับไม่ได้), Yiu is attacked by two masked robbers being Too and Rataya. Yui gives Rataya an ultimatum of 10 days. Yim has a plan to replace Rataya by another lady called Prai (Metta Roongrat). Finally Yui announces he is not able to perform husband duty! Yim gives him a special medicine but it is finally a laxative medicine (มีปืนก็ไม่มีลูก, ยิงเท่าไรก็ไม่ดัง). Rataya starts to suspect that Yim is more than a domestic helper as he can speak English. Yiu gives back the property title and the debt reconnaissance is burnt. Aware that Yim's real name is Ran, Nut, daughter of Yui, is suddenly interested in Yim. Seeing Yim arguing with Nut, Rataya flees away. Movie ends happily, i.e. Ran with Rataya and Yiu with Prim. A TV serie based on the same story was released in year 1992.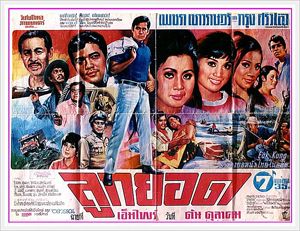 Year

: 1971



Thai title

:

ลูกยอด




English title

:



Rating

: 3/5


Director

:



Main actor

: Krung Srivilai,Sithao Petcharoen,Choomporn Theppitak,Boo Wibunnan,Pisarn Akraseranee,Preuhat Boonlong,Sukon Koewliam,Krai Kanchit


Main actress

: Petchara Chaowarat,Wassana Chalakorn,Sopha Sataporn
Thai movie 'Luk Yot' (ลูกยอด) was released in year 1971 and features Thai film superstars Krung Srivilai and Petchara Chaowara. It was Krung Srivilai's first movie. Krung was 4 years younger than Petchara so from being the younger sister (น้อง) with Mitr, Petchara becomes the older sister (พี่)! After Mitr Chaibancha's tragic death in year 1970, the Thai cinema needed new faces, new main actors to replace the void caused by Mitr's premature death. Only a two minutes trailer is remaining as the movie is lost in Thailand. A full movie summary is still available as some old Thai movie stars magazines can still be found nowadays. Various sequences can be seen during those two late minutes : Sithao Petcharoen paddling a small boat on a river and watching young ladies, shootings. Other actors / actresses include Pisarn Akraseranee, Choomporn Theppitak, Boo Wibunnan, Wassana Chalakorn, Sopha Sataporn, Preuhat Boonlong,Sukon Koewliam. 7 songs are featured in 35mm format.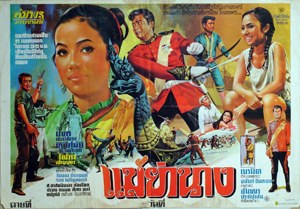 Year

: 1970



Thai title

:

แม่ย่านาง




English title

:



Rating

: 5/5


Director

: Neramit



Main actor

: Mitr Chaibancha,Sor Asanajinda,Sithao Petcharoen,Lor Tok,Preuhat Boonlong,Rong Kaomulkadee


Main actress

: Pissamai Wilaisak,Sopha Sataporn,Kaenjai Meenakanit



Buy now

:

แม่ย่านาง is a 1970 movie in VCD format featuring a still colorful picture and lasting 1h54mn. An additional 30mn reel (the reel number 2) is available through a Thai collector. Young lady Prang (Sopha Sataporn) is waiting for Jiaw (เด็กวัด) to give alms (ตักบาตร) to the monks but he doesn't come today. Jiaw (Mitr Chaibancha) is a temple boy with a kind heart (ใจบุญ) so seeing Jom and his friends trying to steal money donated to the temple, he tries to prevent them to rob money to buy alcohol. Unfortunately he gets accused by Jom so the abbot believes he is the robber. Jiaw is chased from the temple. He decides to sell food (ขายของ) with his two friends by navigating on a boat on river and canals. A mysterious spirit Mae Ya Nang (ผีหลอก) (Pissamai Wilaisak) on the boat bow helps them to get business. Jae (Kaenjai Meenakanit), a shop vendor, likes Jiaw a lot but he is not interested. Sithao Petcharoen has issues with his wife as she doesn't accept he has mistresses. Prang is seen as a young sister (น้องสาว) only by Jiaw. Jiaw seems to love his boat more than anything else despite strong interest from Jae and Prang. Jae is under a charm (ถูกเสน่ห์). A local villager has recruited a black magician (Lor Tok)(หมอผี) to make a love philter to seduce Jae. As uncle Man (พฤหัส บุญหลง - Preuhat Boonlong) breaks the spell, the black magician tries to kill uncle Man. As it fails, he sends Jom and his team protected by magic tattoos. Once again the spirit Mae Ya Nang (แม่ย่านางเรือ) protects Jiaw. In a previous life, the mysterious lady and Jiaw knew each other. The mysterious lady was a princess (ลูกหญิง). As the King's boat (พระองค์) was attacked by pirates, the King ordered Jiaw to take away the princess and to protect her. Jom, who was the head of soldiers, was treacherous to his King and killed him. Sor Asanajinda is the father of Jom. Before dying, Jiaw's friend succeeded to reach him and told the truth about Jom. Spade fighting happened between Jom and Jiaw. Jiaw won and Jom died (ทรยศ). The princess didn't trust the uncle Sor and asked Jiaw to organise their escape. Jiaw was split between his love to the princess and the love to the kingdom. The uncle Sor asked him to leave to preserve the princess. As he finally refused, he was killed by a guard. Knowing his death, the princess got suicide. Back to the present, the black magician sends Jom to kill Jiaw and the uncle Man. Prang and Jae are kidnapped by the black magician (อาจารย์). Jiaw shall avoid any bad actions (จ้องเวร จ้องกรรม) to hope being reunited with the princess one day. Jom kills the black magician as he made a love philter for himself to seduce Jae and Prang instead of doing it for Jom. Through a final fight with Jom, Jiaw is killed while protecting the abbot (in fact the king in a previous life) with his own body. Jiaw failed to protect the King in his previous life but in this life, he saves the monk. Jiaw and the princess are reunited in heaven. The 1h54mn movie is really great but the additional 30mn reel reveals additional details of the movie: Jae is upset that Jiaw prefers to sleep on the boat than with her. Jiaw helps to prevent a kidnapping of Jae. Sithao suggests Jom to visit the black magician to get spells. He is a bad guy always trying to abuse for his own purpose people asking for love philter. Through a sexy scene with an unknown veteran actress, the black magician makes a love philtre to seduce her instead of doing one for her to seduce back her husband Sithao. It is highly probable that this scene would have been cut on any VCD release. Seeing the power of love filters, they recommend the black magician to the villager trying to seduce Jae. As old movies were long, each actor / actress always had the opportunity to have his own long scene to please his fans. It is also very frequent to see Thai people onlookers in outdoor scenes such as market. It was additional potential customers to come watching in cinema to see if they were in the movie! The original movie features 5 songs but the DVD only features 1 song.



Year

: 1970



Thai title

:

วิญญาณดอกประดู่




English title

:



Rating

: 3/5


Director

:



Main actor

: Mitr Chaibancha,Adul Dulyarat,Prachuap Ruekyamdee,Tat Ekathat,Somkuan Krajangsat,Tawan Siriwat,Lor Tok,Preuhat Boonlong,Joomjim Khemlek


Main actress

: Petchara Chaowarat,Sopha Sataporn,Metta Roongrat
Thai movie วิญญาณดอกประดู่ was released in year 1970. It features Mitr Chaibancha as main actor and Petchara Chaowarat as main actress. Other actors and actresses include Sopha Sataporn, Adul Dulyarat, Metta Roongrat, Prachuap Ruekyamdee, Tat Ekathat, Somkuan Krajangsat, พูนสวัสดิ์, ทานฑัต, Joomjim Khemlek, Tawan Siriwat, โขน, Preuhat Boonlong, Lor Tok. The movie is lost in Thailand but a sequence of four minutes remains to be seen. The sequence shows the opening sequence of the movie with the title and credits. The sequence also shows Tawan Siriwat holding a machine gun. It then also features some fightings between soldiers. Except Tawan Siriwat, no other actors or actresses can be seen in the left sequences. Some still pictures show Mitr Chaibancha wearing a soldier uniform. It is certainly a nationalist movie.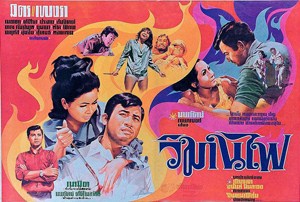 Year

: 1969



Thai title

:

วิมานไฟ




English title

:



Rating

: 3/5


Director

: Neramit



Main actor

: Mitr Chaibancha,Prachuap Ruekyamdee,Sukon Koewliam,Joomjim Khemlek,Choomporn Theppitak,Pipop Pupinyo,Preuhat Boonlong


Main actress

: Petchara Chaowarat,Metta Roongrat,Somjit Sapsamruey,Boosara Narumit
Thai movie วิมานไฟ was released in year 1969. This movie features Mitr Chaibancha as main actor and Petchara Chaowarat as main actress. The movie is lost in Thailand but a trailer sequence of four minutes is left to be seen. Other actors and actresses are Metta Roongrat, Prachuap Ruekyamdee, Somjit Sapsamruey, Sukon Koewliam, Joomjim Khemlek, Choomporn Theppitak, Pipop Pupinyo, Boosara Narumit, Preuhat Boonlong. During a short sequence online, Petchara is cutting Mitr's arm with a knife as it looks like Mitr is behaving as butterfly with other women.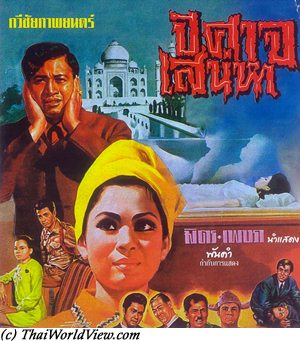 Year

: 1969



Thai title

:

ปีศาจเสน่หา




English title

:



Rating

: 4/5


Director

: Phan Kam



Main actor

: Mitr Chaibancha,Sukon Koewliam,Choomporn Theppitak,Preuhat Boonlong,Krai Kanchit


Main actress

: Petchara Chaowarat,Kaenjai Meenakanit,Boosara Narumit,Wilaiwan Watthanaphanit
Kangwan (กังวาน) and Karaket (การะเกด) meet each other in a Buddhist temple at night time. Kangwan, young and rich bachelor, is studying magic and ghosts knowledge (วิชาชุบชีวิต). Karaket brings flowers to her mother grave, Nang Sopha. Ladies O and Karaket are half sisters, i.e. same father but different mothers. O's mother was the main wife. Karaket's mother, Nang Sopha, was the minor wife (เมียน้อย). Kangwan's father and the two daughters' father agreed to have Kangwan marry one of the two daughters. O and her mother are jealous towards Karaket especially as Kangwan has more interest into Karaket than into O. The mother decides to have Karaket killed. She is already responsible of Karaket's mother death twenty years ago by poisoning. The mother and her maid try to poison Karaket's drinking water. Nang Sopha ghost protects her daughter but no killing shall be done to avoid adding more sins to her karma (กรรม). The poisoning attempt fails thanks to the ghost intervention. The bad mother then uses a monk to purify the house and install a sacred thread around the house to prevent ghosts from entering. Kangwan has to go to India to continue his studies. Meanwhile the bad mother attempts another trial to kill Karaket by putting a snake inside a box. This time due to sacred tread (สายสิญจน์) the ghost cannot help her and she dies following the snake bite. Kangwan is at Taj Mahal when Karaket's spirit asks for help. It is time for judgement in hell and Phra Yom (God of the underworld) takes Karaket with him. Kangwan has to fulfill the earlier promise between both families and is forced to marry O. But thanks to his knowledge in white magic, his soul (วิญญาณ) goes to hell to pick up Karaket and brings her back in the living world. The trueness behind Karaket's death is known. The mother sizes a gun and kills her maid, who has revealed the truth, and is strangled by Nang Sopha ghost before being able to kill Karaket a second time. Kangwan and Karaket can marry happily. In this old movie, there are typical dog howlings to indicate ghosts coming and Fx effect are limited to images superposition for ghosts apparition. This great old 1960s movie with superstars Mitr Chaibancha and Petchara Chaowara is typical of old Thai movies with the bad girl (นางอิจฉา) trying everything to be the main actor's girlfriend and always trying to get rid of the leading actress (นางเอก).



Year

: 1969



Thai title

:

ยอดคนจริง




English title

:



Rating

: 3/5


Director

:



Main actor

: Mitr Chaibancha,Ruj Ronnapop,Choomporn Theppitak,Sukon Koewliam,Preuhat Boonlong,Daonoi Duangjai,Chana Sriubon


Main actress

: Petchara Chaowarat,Somjit Sapsamruey,Manat Boonkiet
ยอดคนจริง is a Thai movie released in year 1969. It is in 16mm format so the movie is mute as such 16mm reels requires dubbing. Main actors are Mitr Chaibancha and Petchara Chaowarat. Other key actors include Ruj Ronnapop, Chana Sriubon, Choomporn Theppitak, Sukon Koewliam, Preuhat Boonlong, Daonoi Duangjai. It is a lost movie and only part of the first reel is left. A 16 minutes passage is available online. A few sequences are about Mitr listening to his boss (Preuhat Boonlong) blaming him. Mitr accepts to seat in a car following the driver's advice for a job. There is a sequence in a nightclub with dance and music concert. Mitr is recruited as bouncer in this nightclub. Fight erupts in the nightclub with Choomporn. Mitr's boss, aware of it, is going to cane him but Petchara prevents it. Working as gardener, Mitr gets comfort from his mum (Somjit Sapsamruey), Petchara and Ruj. The poster is great and shows sequences that are unfortunately not in the 16 minutes passage left. It shows that it is an action movie.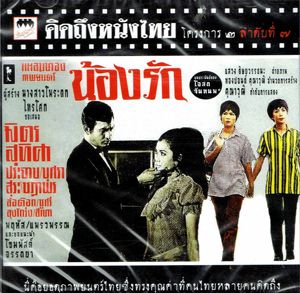 Year

: 1969



Thai title

:

น้องรัก




English title

:



Rating

: 3/5


Director

: Wichit Khunawut



Main actor

: Mitr Chaibancha,Prachuap Ruekyamdee,Lor Tok,Sithao Petcharoen,Preuhat Boonlong


Main actress

: Suthisa Putnuch,Chosri Misommon,Boosara Narumit,Chadaporn Wachirapranee,Khomapat Attaya,Marasri Bangchang



Buy now

:

Thai movie น้องรัก was released in year 1969 and lasts 1h13mn. It is available under VCD format by famous company XxX owned by Toh Pantamit. The original movie is certainly longer as movies in decade 1960s could last up to 2h30mn. It is probably the last 3 reels of the film. Movie director is Wichit Khunawut. One 35mm reel is also still available. Sri (Chadaporn Wachirapranee) brings her niece Kate (Boosara Narumit) in a massage parlour for work but arguments occur as other masseuses complain she is too beautiful so she will take away their customers such as Lor Tok. Sithao Petcharoen is the parlour manager. Fight occurs between Chosri Misommon and Sri. Young lady Dao (Suthisa Putnuch) meets doctor Wut (Mitr Chaibancha) in Neramit's house. Khomapat Attaya is the niece. Shot (Prachuap Ruekyamdee), car driver, knows Kate and loves her. Shot punches his own boss after seeing him with Kate in the massage parlour. She works to be able to raise her younger sister Dao. Marasri Bangchang is playing the owner of rental house. Lying to Shot, Kate has to prostitute herself (ทำงานพิเศษ) in order to find money to pay the rent. Meanwhile Dao tries everything to meet Preuhat Boonlong, her lost grandfather. Neremit proposes to pay Dao's birthday party as he knows she is not rich. It causes the mother and niece's ire. They ruin the party. To help her, Wut pays for the expense and proposes to transform her into an ugly nurse so she can be close to her grandfather. Meanwhile Kate is abused by another man at night time believing it was her lover. She feels so ashamed (ความชั่ว). Thanks to a ring, the grandfather identifies Dao as his granddaughter. Meanwhile Kate is arrested by Police and sent to prison for rehabilitation. Everybody is looking for Kate but she forbids her aunt to tell the truth to anybody. Kate gets seriously sick in the prison. Doctor Wut is the one to treat her. He identifies an incurable cancer (มะเร็งมดลูก). Kate was behaving same as a mother for Dao. Before dying, Kate asks to give her blessings (อวยพร) to the future wedding of Dao and Wut.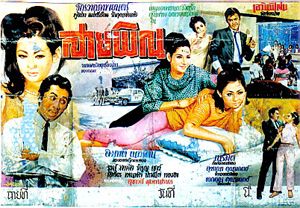 Year

: 1968



Thai title

:

สายพิณ




English title

:



Rating

: 3/5


Director

:



Main actor

: Sombat Methanee,Ruj Ronnapop,Preuhat Boonlong


Main actress

: Naowarat Watchara
"Sai Pin" (สายพิณ) is a Thai movie released in year 1968. Main actors are Sombat Methanee and Naowarat Watchara. Actress Naowarat was just famous after playing her first role in movie "Chula tree koon" (จุฬาตรีคูณ) with Mitr Chaibancha in year 1967. She even got a Thai cinema golden award (รางวัลตุ๊กตาทอง). สายพิณ is her second movie. The next next famous movie featuring Sombat and Naowarat was "Lom Krot" (ลมกรด). "Sai Pin" (สายพิณ) full movie was supposed to be lost. Finally in year 2013, a final 16mm copy was found belonging to a former outdoor cinema projectionist. The full movie is then still available in Thailand and lasts more than two hours ten minutes. It was never released in any video format. A 20mn extract can be found online. The picture is still very colorful. The movie features also two songs. Sombat rents a house (มาเช่าบ้าน). Ruj Ronnapop is the second tenant. He claims to be rich but has no money. Ruj also claims to be the son of a famous company owner (Preuhat Boonlong). Sombat is the real son but he believes his father has maybe another son with a second wife. The two sisters (Naowarat and สุชาวดี มุกดาประกร, new actress starring for the first time in this movie) are renting part of their house. The company warehouse was burnt. Who did it? Sombat is investigating. The sister gets raped by the ruffian head. As usual, the police arrives when everything is settled down. In the older movies, it was almost impossible to find a movie where bad guys would win. The movie ends up by a double wedding (Sombat / Naowarat and Ruj / สุชาวดี มุกดาประก). Ruj is finally also adopted by Sombat's father as he is finally a good guy also.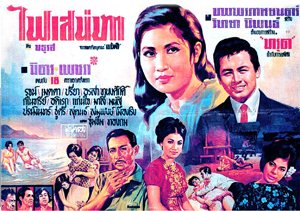 Year

: 1967



Thai title

:

ไฟเสน่หา




English title

:



Rating

: 3/5


Director

:



Main actor

: Mitr Chaibancha,Adinan Singhiran,Ruj Ronnapop,Sukon Koewliam,Sompong Phonmitr,Joomjim Khemlek,Preuhat Boonlong


Main actress

: Petchara Chaowarat,Metta Roongrat,Preeya Roongrueng,Kaenjai Meenakanit,Orasa Isarangkul,Chosri Misommon
Thai movie ไฟเสน่หา was released in year 1967. It features Mitr Chaibancha as main actor and Petchara Chaowarat as main actress. This movie is lost in Thailand and only a 13s sequence is left to be seen. During the short sequence Mitr and Petchara are seen on a raft. Veteran actor Adinan Singhiran can also be seen. On the movie poster, 18 Thai stars are announced, i.e. Mitr Chaibancha, Adinan Singhiran, Ruj Ronnapop, Sukon Koewliam, Sompong Phonmitr, Joomjim Khemlek, Preuhat Boonlong (สาหัส บุญหลง), Petchara Chaowarat, Metta Roongrat, Preeya Roongrueng, Kaenjai Meenakanit, Orasa Isarangkul, Chosri Misommon.



Year

: 1967



Thai title

:

เหนือเกล้า




English title

:



Rating

: 3/5


Director

:



Main actor

: Mitr Chaibancha,Chana Sriubon,Choomporn Theppitak,Somkuan Krajangsat,Lor Tok,Sukon Koewliam,Sompong Phonmitr,Adinan Singhiran,Dokdin Kanyaman,Preuhat Boonlong,Op Boonthit


Main actress

: Petchara Chaowarat,Somjit Sapsamruey,Kingdao Daranee,Orasa Isarangkul
Thai movie เหนือเกล้า was released in year 1967. It is in mute mode as the film is in 16mm format so requesting live dubbing. 1h33mn is left to be seen. It still has a colorful image but the film is partially damaged. Somjit (Somjit Sapsamruey) is working as food street vendor (แม่ค้า). Her husband (Somkuan Krajangsat) is often drunk and violent. They have three kids. They have always financial problems as the father drinks a lot. Years have passed and children have grown up. One of them is Mitr Chaibancha. The others are Chana Sriubon and Choomporn Theppitak. Sompong Phonmitr is head of Thai boxing training centre. Lor Tok is his assistant. One day as the drunkard father asks for money, he becomes violent again and Somjit has to protect herself with scissors. Through an accident, the father receives a fatal injury. Somjit ends up in jail. Mitr, Sompong and Lor Tok leave and look for job to find money to pay for Somjit's bail. Mitr is recruited as Thai boxer. A first match versus Adinan Singhiran happens. Petchara Chaowarat and Dokdin Kanyaman are part of spectators. Mitr finally wins the match despite being told to lose it as he needs money to help his mother. As the match maker refuses to pay, it ends up in another fighting. Preuhat Boonlong decides to hire the three men to working in an outdoor mine. They got troubles with two men in the mine. Fed up the three friends wish to quit the job but Preuhat Boonlong convinces them to stay. The mine is attacked. Mitr pushes back the aggressors but is injured so getting the sympathy from Petchara. The mother is finally released from prison. Kingdao recruits her as domestic helper. Her boyfriend is Choomporn. Finally the mother is also reunited with Mitr. Another attack happens on the mine and Mitr is accused of murder. It ends up to trial. Scolded by his mother, Chana finally gives information that Mitr is not guilty. Ruffians wishing to take revenge on Chana and try to shoot him. The mother interposes herself and gets shot. Mitr and his brothers catch the ruffians. Movie ends up with everybody around the mother's bed at hospital. 34 stars are announced on the movie poster!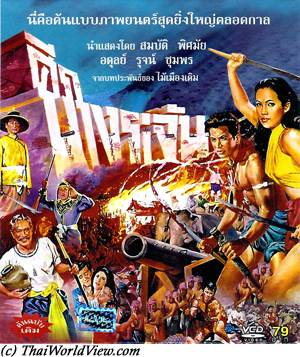 Year

: 1966



Thai title

:

ศึกบางระจัน




English title

: The Battle of Bang Rajan



Rating

: 4/5


Director

:



Main actor

: Sombat Methanee,Taksin Jampol,Ruj Ronnapop,Adul Dulyarat,Sawin Sawangrat,Preuhat Boonlong,Anucha Ratanaman


Main actress

: Pissamai Wilaisak,Preeya Roongrueng



Buy now

:

This movie is about Bang Rajan village. This village is located north of Ayutthaya, the old capital of Siam, predecessor state to modern Thailand. The village played a famous role related to its resistance against the Burmese in the war that saw the destruction of Ayutthaya city in 1767. Tap is a Siamese soldier leader. Siamese people have internal conflicts while they are also fighting with Burma (พม่า). Siamese soldiers kidnap two ladies, who are Tap's sister and Tap's fiancee. They are raped. Tap has the difficult task to choose between rescuing his sister and fiancee or leading the villagers far from Burmese soliders. They take refuge inside Bang rajan village. They help and support each other. Siamese from various villages lure a group of Burmese soldiers with the promise of young women and then turn upon them and kill the whole group. This event leads the whole Burmese army to Bang Rajan. Tap, after taking care of the villagers, goes to rescue his sister and fiancee. His fiancee is soiled (ตัวเสีย) so they cannot come back together. Tap forgives to the Siamese men as they promise to take care of the young ladies so they join his group in Bang Rajan. Burmese army starts to assault Bang Rajan. Burmese has guns but Siamese people have only swords. Women are fighting also. It is the duty for men to become soldier and protect the nation. Burmese come with elephants and big guns. Siamese people needs a big gun to fight back Burmese army. Ayutthaya king refuses to give them a big gun as Bang Rajan is a small village only. Ayutthaya people donate utensils for Bang Rajan to mold a big gun but it is fissured during moulding. Siamese are disadvantaged by their lack of firearms. As Burmese do not succeed to enter inside Bang Rajan with their infantry, they build forts surrounding the village. Siamese soldiers cannot destroy the forts built by the Burmese and suffered casualties from infantry assaults upon those forts. One of the Siamese leaders becomes drunk and furious. Upon a water buffalo, he takes a few men and attacked the Burmese. This event remains a forever legend and has been reused on poster of the 2000s Bang Rajan movie. He was killed and his men routed. Tap and his men succeed to neutralize the big gun before it destroys Bang Rajan walls. But they fail when Burmese use weapons similar to Katyusha multiple rocket launchers. Villagers are outnumbered and killed. Bang Rajan villagers and soldiers sacrifice their life for the nation. Tap and his new girlfriend are the only one to survive. They are rescued by future King Taksin, who liberated Siam from Burmese occupation after Ayutthaya fall in 1767. Such movies were very popular during nationalist era of Thailand, i.e. 1960s with communist threat risk and the 2000s folliwing the 1997 Asian Financial Crisis. This movie highlights the sacrifice of villagers not supported by the official administrators. Sombat Methanee got a gold statuette award (รางวัลตุ๊กตาทอง) received from HM the King for his best actor work. In 1966 the government renovated Bang Rachan camp (ค่ายบางระจัน).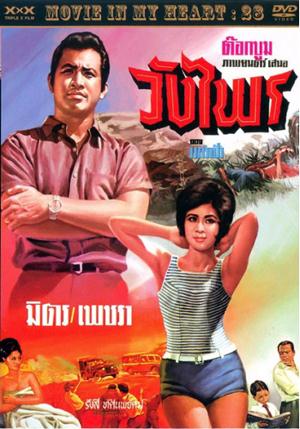 Year

: 1966



Thai title

:

วังไพร




English title

:



Rating

: 4/5


Director

:



Main actor

: Mitr Chaibancha,Adinan Singhiran,Preuhat Boonlong,Tat Ekathat,Lor Tok,Adul Dulyarat,Prachuap Ruekyamdee


Main actress

: Petchara Chaowarat,Kingdao Daranee,Somjit Sapsamruey,Preeya Roongrueng,Manat Boonkiet



Buy now

:

Thai movie วังไพร was released in year 1966 and it lasts 1h45mn. The original movie is certainly longer. It was released under VCD and DVD format by Thai company TripleX owned by former dubber คุณโต๊ะพันธมิตร. Rumours say there is a ghost (ผี) around Wang Prai (วังไพร) domain. Adinan Singhiran tries to prevent hunter Wikrom to go there. Wikrom is bitten by a snake (งูเจ้า) while entering in Wang Prai to find the ghost. Wang Prai is a 2500 rai domain. Kramom (Preuhat Boonlong) and Ekarin (Tat Ekathat) are now enemies (ศัตรูของพ่อ) due to old family stories over the domain possession. Chai (Mitr Chaibancha) is son of Kramom. Lor Tok is Kramon's attendant. Choompu (Kingdao Daranee) is one of Ekarin's daughter. Somjit Sapsamruey is Ekarin's wife. Prapayon (Preeya Roongrueng) wishes to marry Chai but this one has more interest in Koi (Petchara Chaowarat), Ekarin's second daughter. Chai's parents don't like Koi. In fact Chai doesn't approve elders' decision to be enemies. Phi Pong (Adul Dulyarat) is Koi's elder brother but he has disappeared for many years. In fact Pong is hiding in Wang Prai as he is disfigured following a virus caught during war. Chai is helping him and ghosts rumors are only there to frighten anybody to come near Wang Prai. Chai's brother (Prachuap Ruekyamdee), a doctor, comes back to Thailand with a lady called Nathalie and her kid. They are Pong's family. 500 000 baht are needed to cure him. Koi and Chai succeed to find enough money by lying to elders. Pong is finally cured but elders refuse to allow weddings between Chai Phi / Koi and Chai Nong / Choompu. So the youngsters simulate fleeing and hide in Wang Prai. As the grandchild is about to fall from a cliff, the grandfathers help each other and regain friendship. Weddings are authorised. Other actors / actresses are วิน, เปรมชัย, มนัส.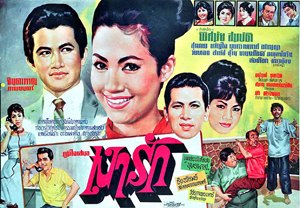 Year

: 1965



Thai title

:

เงารัก




English title

:



Rating

: 3/5


Director

:



Main actor

: Sombat Methanee,Preuhat Boonlong,Sawin Sawangrat,Lor Tok,Daonoi Duangjai


Main actress

: Pissamai Wilaisak,Yaowaret Nisakorn
Thai movie เงารัก was released in year 1965. It is a movie in 16mn format. The movie is lost in Thailand but a "behind the screen" sequence in black and white remains to be seen. It lasts 15 minutes. Main actor is Sombat Methanee and main actress is Pissamai Wilaisak. A few various shooting sequences allow to see some ideas about this lost movie. Pissamai and Sombat are bringing a doctor to check a sick man. A shooting sequence is seen. Other actors such as Preuhat Boonlong, Sawin Sawangrat, veteran actress Wongton (วงทอง), Daonoi Duangjai, Lor Tok, Yaowaret Nisakorn can be seen. Pissamai plays the role daughter of Preuhat Boonlong.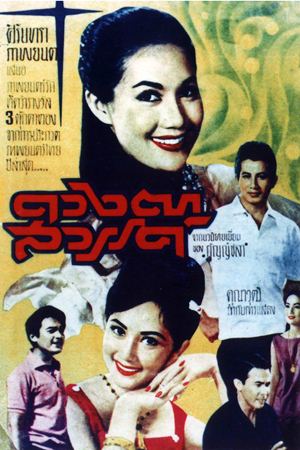 Year

: 1964



Thai title

:

ดวงตาสวรรค์




English title

:



Rating

: 4/5


Director

: Wichit Khunawut



Main actor

: Sombat Methanee,Adul Dulyarat,Prachuap Ruekyamdee,Preuhat Boonlong,Sukon Koewliam,Daonoi Duangjai


Main actress

: Pissamai Wilaisak,Sopha Sataporn,Sarinthip Siriwan
Thai movie ดวงตาสวรรค์ was released in year 1964. Director is Wichit Khunawut. Main actor is Sombat Methanee and main actresses are Pissamai Wilaisak and Sopha Sataporn. Other actors / actresses include Adul Dulyarat, Prachuap Ruekyamdee, Preuhat Boonlong, เชาว์ , Sarinthip Siriwan. Sukon Koewliam and Daonoi Duangjai are playing as domestic helpers roles. Pissamai Wilaisak got a Thai cinema award (ตุ๊กตาทอง) for this movie. Wichit Awut also got a Thai cinema award for his directing skills for this movie. This is the first movie played by Sopha Sataporn. This movie is lost in Thailand and only a sequence of 23 minutes is left to be seen. Pissamai is coming from countryside but changed her name ("อีแพน") as she wants to increase her status in Bangkok society ( สาวสังคม / นักเที่ยว). She is now a cinema star (ดารา). She likes Rawin (Sombat Methanee) but he is already engaged with Sopha. Teun (Prachuap Ruekyamdee) is disappointed that Pissamai finally married with Chai (Adul), a teacher training painting arts. Pissamai marries with Adul to have opportunity to be closer to Rawin. Teun and Pissamai know each other since they were youngsters in the countryside. They were lovers before. Before the wedding, Rawin congratulates Pissamai but gets slapped as she tells him she doesn't love Chai. Teun keeps drinking alcohol as he is disappointed. Pissamai's father visits her knowing she is now a star and married to a rich man. Pissamai is very bad (ร้าย) as she chases away her father and younger brother by trying to give them money. The left sequence ends here. Another recent version was shot in 1981 and features Sorapong Chatree and Pisarn Akraseranee. Thai TV series were also released.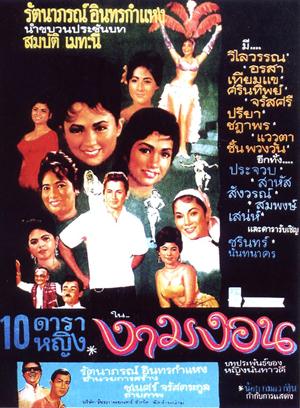 Year

: 1963



Thai title

:

งามงอน




English title

:



Rating

: 3/5


Director

:



Main actor

: Sombat Methanee,Prachuap Ruekyamdee,Charin Nantanakorn,Sompong Phonmitr,Preuhat Boonlong


Main actress

: Ratanaporn Intarakamhaeng,Sarinthip Siriwan,Mom Chan Phuangwan,Wilaiwan Watthanaphanit,Preeya Roongrueng,Orasa Isarangkul,Chadaporn Wachirapranee
Thai movie งามงอน was released in year 1963. It is a romantic comedy movie. It features Sombat Methanee as main actor and Ratanaporn Intarakamhaeng as main actress. The full movie is lost in Thailand but around three film reels are still available (more than 40 minutes). The movie is in 16mm format so it is in mute state as such movie requires live dubbers. No summary is available. This movie was produced by Ratanaporn and directed by her husband. Sombat Methanee's five first movies were produced by Ratanaporn's company (รุ้งเพชร - 1961...). In 1963, Sombat had a similar hairstyle as Mitr Chaibancha. Ratanaporn is playing two roles, i.e. two twin sisters. Sombat Methanee and Prachuap Ruekyamdee wish to seduce the two sisters. An evening party (masquerade ball) is organized. Ratanaporn is disguised as an old sorceress (แม่มด). She gives advices to Preeya Roongrueng. Sombat is getting confused between the two sisters at the masquerade ball. Orasa Isarangkul invites Sombat to dance. Prachuap simulates to have a leg injury to have opportunity to talk to Ratanaporn. He is wearing a fake moustache and works a waiter to be able to join the party. Sombat disguises also himself into a waiter to be close to Ratanaporn. Many Thai stars are playing in this movie, i.e. Sombat Methanee, Prachuap Ruekyamdee, Charin Nantanakorn, Sompong Phonmitr, Preuhat Boonlong, Ratanaporn Intarakamhaeng, Sarinthip Siriwan, Mom Chan Phuangwan, Wilaiwan Watthanaphanit, Preeya Roongrueng, Orasa Isarangkul, Chadaporn Wachirapranee. Chadaporn Wachirapranee is playing the wife of Preuhat Boonlong. 10 Thai feminine stars are present! Finally a romance starts between Sombat and Ratanaporn.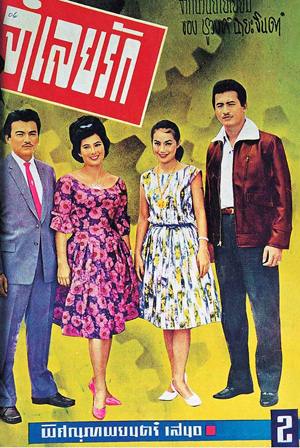 Year

: 1963



Thai title

:

จำเลยรัก




English title

:



Rating

: 5/5


Director

:



Main actor

: Mitr Chaibancha,Prachuap Ruekyamdee,Preuhat Boonlong


Main actress

: Pissamai Wilaisak,Amara Asavananda,Sulaleewan Suwanthat,Manat Boonkiet,Malee Wetpraseri
Thai movie จำเลยรัก was released in year 1963. This movie features Mitr Chaibancha as main actor and Pissamai Wilaisak as main actress. The movie is lost in Thailand but a succession of sequences lasting one hour and 20 minutes is left to be seen. It is remaining out take sequences session (หลุด). The remaining film was dubbed and shown in Thai Film Archives in year 2017. Another version of จำเลยรัก was released in year 1978 through a DVD still available. It features Phairoj Sangwaribut and Naowarat Yooktanun. Two brothers, Narin and Narit (Mitr Chaibancha), are arguing. The youngest brother Narin loves a woman called Satsanee. As the love is not blossoming, he gets suicide. Satsanee (Amara Asavananda) and younger sister So (Pissamai Wilaisak) are part of a rich family. Her parents are played by Preuhat Boonlong and Manat Boonkiet. Her aunt by Malee Wetpraseri. Domestic helper is played by Sulaleewan Suwanthat. Believing So is Satsanee, the elder brother Narit blames So and announces to her that Narin is about to die. It is her last chance for her to see him. She follows Narit without warning her other family members. She understands too late that Narit kidnaps her. Narit wants her to pay for her sins (การใช้บาป). She claims she is not Satsanee but So! He doesn't listen. Satsanee meets Wat (Prachuap Ruekyamdee). Narit doesn't want to release So as he is concerned she would lie to other men again. Ruffians led by Khun Wiset threatens Narit to sell his tin mine but he refuses. On the way to the city, Narit helps Wat, whose car has a flat tire. While having a drink, he learns that Narit just engaged with a young lady called Satsanee! Lady Boonkrai tries to frame So by pushing Bai to rape her. Narit is very upset with So as he believes she keeps seducing men such as his brother Narin, Bai and Wat so he keeps her captive so that she pays her moral debts (ชดใช้). Narit knows the truth as So speaks while having a nightmare. Narit excuses himself about his behavior. So asks him to give pardon (ขออภัย) but Narit refuses as he lost his brother. Love emerges between Narit and So. Ruffians attack the tin mine. Narit defeats their leader and confronts the owner of another mine, khun Wiset, that tried to steal his belongings. So cares for Narit, who was slightly injured during the fightings. Narit offers a pendant to So. So is back to her home. Satsanee wants to know where So has disappeared. Satsanee is engaged with Wat. Nariti finally meets Wat and the real Satsanee. Satsanee borrows So's pendant. Bai realizes that Boonkrai was lying to him. Boonkrai also lies to Satsanee about Wat having an accident. Boonkrai and Hin have a plan. Narit and Wat storm the ruffians' place to release Satsanee. Narit defeats Hin. Satsanee wishes to stay her whole life with Narit. Wat and Narit go back to Bangkok by train. Satsanee breaks up with Wat and gives back her engagement ring (ถอดหมั้น). Narit buys an engagement ring. Narit visits Satsanee's parents and Satsanee believes Narit is asking for her hand. Narit asks for So's hand causing Satsanee's despair! It was a trick for Satsanee to suffer and understand the suffering she caused to others. Narit doesn't want to meet Satsanee anymore and chases her away. Satsanee finally goes to see Wat back at the hospital and they engage again. Narit and So can have happiness. Three songs are featured in the movie.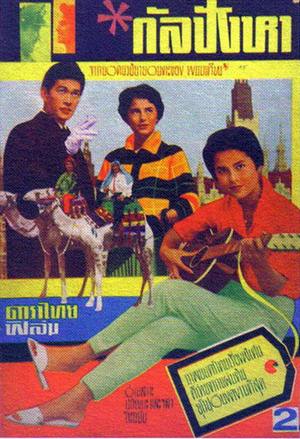 Year

: 1962



Thai title

:

กัลปังหา




English title

:



Rating

: 3/5


Director

: Wichit Khunawut



Main actor

: Chana Sriubon,Ruj Ronnapop,Sukon Koewliam,Preuhat Boonlong,Boo Wibunnan


Main actress

: Kesarin Patamawan,Amara Asavananda,Manat Boonkiet
Thai movie กัลปังหา was released in year 1962. It features Chana Sriubon as main actor and Kesarin Patamawan as main actress. Back from overseas, Kung (Kesarin Patamawan) doesn't want to study anymore as she is old enough. His parents are worried she just wants to have fun with friends. Kung has met Chris (Chana Sriubon) in Italy. Back to Thailand, she meets a fisherman called Naemai (also played by Chana Sriubon) near her home and sympathizes with him. Other actors are Ruj Ronnapop and Boo Wibunnan. She even forces her way (คนดือ) on his boat to see how the life on a boat is. But she takes unreasonable risks. Romance starts between them. Kung receives a request for engagement from Chris. Naemai is arrested by the police. Naemai is Chris' younger brother. Finally aware of the love between Naemai and Kung, Chris breaks his engagement with Kung and lets them having happiness. A VHS from the 16mm film was released in 1992 at the same time as Thai movie สาวน้อย. Director of this movie is famous director Wichit Khunawut. Thai actress Kesarin Patamawan (เกศริน ปัทมวรรณ) played in less than 10 movies before moving to USA. Chana Sriubon played in many other movies with various famous actresses such as in แม่ (with Ratanaporn Intarakamhaeng), ยอดพิศวาส (with สุทิน บัณฑิตกุล), จอมใจเวียงฟ้า (with Metta Roongrat), ก่อนอรุณจะรุ่ง (with Prapan Narkthong), โรงแรมนรก (with Sarinthip Siriwan), สองฝั่งฟ้า (with Pissamai Wilaisak), หมอกสวาท (with Petchara Chaowarat). A remake of movie กัลปังหา with Jarunee Sooksawad, Sorapong Chatree and Nirut Sirijanya was released in year 1985.



Year

: 1961



Thai title

:

รุ้งเพชร




English title

:



Rating

: 3/5


Director

:



Main actor

: Sombat Methanee,Preuhat Boonlong,Adinan Singhiran


Main actress

: Ratanaporn Intarakamhaeng,Juree Osiri,Sarinthip Siriwan,Mom Chan Phuangwan
This movie รุ้งเพชร was shot in 1961. Main actors are Sombat Methanee and Ratanaporn Intarakamhaeng. It was Sombat Methanee's first movie (พระเอกใหม่). It was first opportunity for Sombat as a handsome young and muscular leading actor. Sombat was 4 to 5 years younger than the leading actress. This 16mm version is partially lost and only 48 minutes are still left to be seen. The film has no sound as all 16mm movies were dubbed. Rung's best close friend is a bird "NOK IENG" (นกเอี้ยง) sitting on her shoulder. As often in old Thai movies, bad female characters are depicted as smoking girls. Another version, a 35mm film, was shot in 1980 with Sorapong Chatree, Sor Asanajinda, Settha Sirachaya as actors and Nanthida Kaewbuasai, Pissamai Wilaisak, Piathip Kumwong, Thitima Sangkapitak, Nantada Ngaokrajang as actresses. A few sequences can be seen in both movies such as fruit throwing on Sombat's head, Sombat as a teacher to a stubborn student, Sombat looking for Rung who has fled from home. A nice old Renault 1960 is driven by Sombat. Some sequences only happen in 1961 version such as a romantic sequence in a cave, Sombat doing unsuccessful iron clothing and cooking food. The 1961 version still has a quite colorful image.



Year

: 1961



Thai title

:

เรือนแพ




English title

: Houseboat



Rating

: 5/5


Director

: Neramit



Main actor

: Sor Asanajinda,Chaiya Suriyun,Jin Fong,Preuhat Boonlong,Jamroon Nuatjim


Main actress

:



Buy now

:

Four friends are living together, 3 men and one woman, Pen (เพ็ญ). They rent an old boat from Pen's father and repair into a boat house to live on it (เรือนแพ). Kaew (แก้ว) wishes to become a Thai boxing champion (นักมวย). Lin (รินทร์) wishes to become singer and songs compositor. Chen (เจน) wishes to finish first grade his studies and become a policeman. Pen is the lady. All three friends secretly love Pen. Many songs are featured in the movie. Kaew wishes to participate to real Thai boxing competition instead of only doing trainings. He is very hot temper. A local ruffian head, Ekarat, finds a fight for him and he wins. A song master hears Lin's beautiful voice and wishes to recruit him. A thunderstorm wrecks their home and they nearly escape to death. Kaew saves Pen from drowning so winning her heart and love (หนูเป็นของเขาแล้ว). Kaew wants to win big money to take care about Pen but he needs to do illegal things such as losing a match. He refuses to do so causing Ekarat's ire. He meets another Lopburi influant man. He gives 40 000 baht for his wedding with Pen. On the way to Chiang Mai for the wedding, Kaew discovers that Pen's father is preparing the wedding with somebody else! Upset he disturbs the ceremony and shots the groom. He has to flee and becomes an outlaw (ผู้ร้าย). The four friends have gone different paths (ตามดวง). Kaew gets friend with another ruffian. They rob banks and barges together. Chen, who is now a policeman, needs to catch Kaew as it is his duty. He tries to convince him to surrender but no to avail as Kaew is afraid to go twenty years in jail. Kaew and Pen still meet together. Pen wishes Kaew to stop robbing (หยุดปล้น). Even if Kaew wishes to stop, his ruffians friends discourage him saying no woman will wait for him so long in jail. On top of this they are still chased by the police so no time to rest and think. During a singing performance, Lin is shot and killed by one of the ruffians. Kaew cannot help on time. Chen believes Kaew is the one who shot Lin. They all meet on their format boat house. Kaew accepts to surrender but other ruffians shot him and Chen. The movie ends tragically, Kaew dying while sending the boat on the ruffian to smash him. Only Pen survives. The friendly happiness is no more. เรือนแพ is the first officially restored Thai movie by USA in years 2006-2007. It is a 50 years old movie and the VCD from "Phanmitr" (พันธมิตร) collection company includes a copy in very good condition. It was the first Thai movie in 35mm with songs and not dubbing like 16mm movies. Even the Thai King went to watch the movie in 1961! Chaiya Suriyun was the first star to win three consecutive Thai oscars (รางวัลตุ๊กตาทอง) in years 1962-1964. His first Thai oscar was thanks to this movie "เรือนแพ". The movie got 3 oscars (best actor, best supporting actor, best movie). It was adapted many times as Thai TV series and another time for cinema in 1989 with Santisuk Promsiri.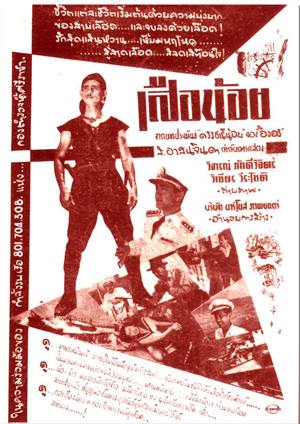 Year

: 1955



Thai title

:

เสือน้อย




English title

:



Rating

: 3/5


Director

: Sor Asanajinda



Main actor

: Taksin Jampol,Sor Asanajinda,Phan Kam,Lor Tok,Preuhat Boonlong,Sompol Kongsuwan,Jamroon Nuatjim


Main actress

:
Thai movie เสือน้อย was released in year 1955. It was a famous film during year 1955. No image or summary is left to be seen for this movie. The movie is lost in Thailand but a sequence of 10 minutes is left to be seen. Many other Thai movies used the same plot in other remakes. Main actor is Taksin Jampol acting as a pirate (โจรสลัด). Sor Asanajinda is movie director. Other actors and actresses are Sor Asanajinda, Phan Kam, Lor Tok, จำรูญ, Preuhat Boonlong. During the left sequence, the main actress is captured and kept as hostage. She is a member of the Royal family (ลูกหม่อมเจ้า) and has fallen in the hands of pirates. One ruffian (Sompol Kongsuwan) tries to abuse her but Seua Noi (Taksin Jampol) intervenes in time. The ruffian finally ends up beating another male hostage but it doesn't finish well again for him. Ruffians are all wearing red bandana. Taksin is seen kissing the main actress. Lor Tok is wearing a nice black moustache. Thai navy has decided to get rid of the pirates and attack their campement. Taksin is seen holding a baby. The remaining sequence ends here.
---