Increase or decrease font size for easier reading : A+ A-
Phong Lada Pimolpan
Phong Lada Pimolpan (1931) - พงษ์ลดา พิมลพรรณ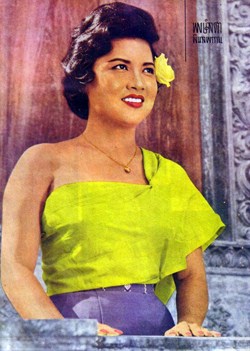 Phong Lada Pimolpan was a main actress in decade 1950s. Later on, she was famous for playing the mother and then the grandmother in Thai TV series
This Phong Lada Pimolpan movie page contains 2 records.
---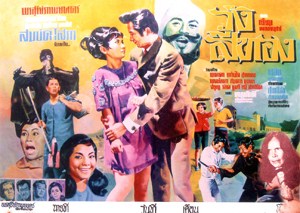 Year

: 1968



Thai title

:

วังสีทอง




English title

:



Rating

: 3/5


Director

: Sulaleewan Suwanthat



Main actor

: Sombat Methanee,Somkuan Krajangsat,Adinan Singhiran,Choomporn Theppitak,Krai Kanchit,Jamroon Nuatjim


Main actress

: Sopha Sataporn,Sulaleewan Suwanthat,Chosri Misommon,Metta Roongrat,Kaenjai Meenakanit,Phong Lada Pimolpan
วังสีทอง is a Thai movie released in year 1968. It features Sombat Methanee as main actor and Sopha Sataporn as main actress. Other actors are Somkuan Krajangsat, Metta Roongrat, Choomporn Theppitak, Krai Kanchit, Kaenjai Meenakanit, Sulaleewan Suwanthat, Adinan Singhiran, Chosri Misommon. The movie is lost in Thailand but a trailer of five minutes is still available. Without a summary and the 16mm movie being in mute state, it is difficult to understand the story. Various short sequences are show Krai abusing of Metta, a man disguised in black outfit, Sombat punching Adinan trying to abuse Sopha. This movie ambiance reminds of other movies such as ปราสาททราย or ฟ้าคะนอง. The movie producer is ป้าทอง also called as Sulaleewan Suwanthat. Other less known actors include สุพรรณ บูรณะพิมพ์-จำรูญ หนวดจิ๋ม-ทนงศักดิ์ ภักดีเทวา.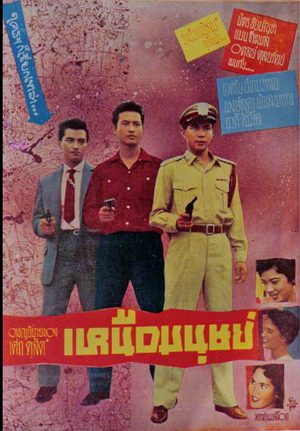 Year

: 1959



Thai title

:

เหนือมนุษย์




English title

:



Rating

: 3/5


Director

: Wichit Khunawut



Main actor

: Mitr Chaibancha,Adul Dulyarat,Man Teeraphol,Sompong Phonmitr,Sukon Koewliam


Main actress

: Rewadee Siriwilai,Kesarin Patamawan,Phong Lada Pimolpan
Thai movie เหนือมนุษย์ was released in year 1959 and lasts 1h26mn. The picture is still colorful. Director is Wichit Khunawut. Mitr Chaibancha was only 25 years old. This is oldest movie still featuring Thai superstar Mitr Chaibancha. Highlight of the movie is Mitr Chaibancha playing with 3 famous main actresses of decade 1950s. Sarawat Cheut (Adul Dulyarat) and Man Teeraphol are policemen. Mitr is playing a bad ruffian, called Krieng, flirting with ladies. Krieng succeeds to win the trust of a gang. The leader sends him in south of Thailand. Sompong Phonmitr follows Krieng as he is impressed by him. Krieng meets Saen, local leader in Pattalung. A local lady called Lada (Rewadee Siriwilai) follows Krieng. Krieng intercepts a truck driven by Saen and containing illicit goods. He joins the Thai police (เจ้าหน้าที่) to catch Saen. Krieng infiltrates another ruffians group and keeps in sync' with Thai police. He meets another lady called Apson (Kesarin Patamawan). Lada is shot while fleeing with Krieng. Businessman Pong asks help from inspector Cheut. Saen kidnaps inspector Man. Krieng helps to release him while ruffians are busy transporting goods. Nit (Phong Lada Pimolpan) is raped by a ruffian. Krieng and Apson joins their efforts to protect Thailand against people trying to hurt the country. Nit steals a document from the ruffians. Undertaker (สัปเหร่อ) kills Saen and Go. Ruffians are aware Krieng betrayed them (ทรยศ). Krieng and Apson are identified as traitors and are attached. Police, called previously by Apson, disturb the ruffians allowing Krieng to escape. Phi Cheua and Nit die during the fightings but Nit shoots Go before dying. Apson is a uncovered policewoman called Achala. It discovered that Krieng's real name is Chet and he is the elder brother of Cheut! Cheut and Chet love the same woman, i.e. Achala. The leader still tries to kill Krieng as revenge. The real leader is Businessman Pong! Krieng succeeds to neutralize the ruffians and escape before the building collapses. He gets Achala's love.
---