Increase or decrease font size for easier reading : A+ A-
Payoong Payakul
Payoong Payakul (194x) - พยุง พยกุล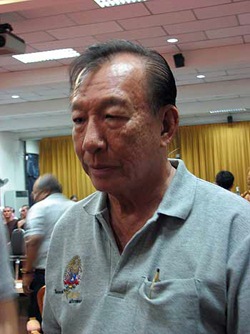 Payoong Payakul is a famous Thai director for action movies
This Payoong Payakul movie page contains 16 records.
---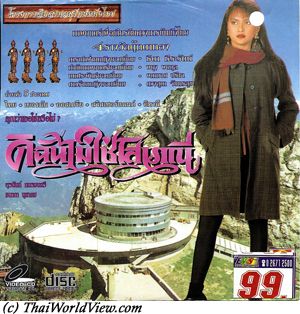 Year

: 1993



Thai title

:

ดิฉันไม่ใช่โสเภณี




English title

:



Rating

: 3/5


Director

: Payoong Payakul



Main actor

: Yuranan PamornMontri


Main actress

: Thida Thidarat



Buy now

:

It is about a young Thai lady leaving her country and going to Germany in order to find a husband through a wedding agency. It shows the harsh life of those ladies dreaming of a prince, the abuse of such wedding agency, the bad behavior of those foreigners wishing to "try" their wives before any wedding. This movie has got four Thai awards and was shot in five countries, i.e. Thailand, Germany, Italy, Switzerland and Austria. Thida Thidarat got the best actress award for this movie.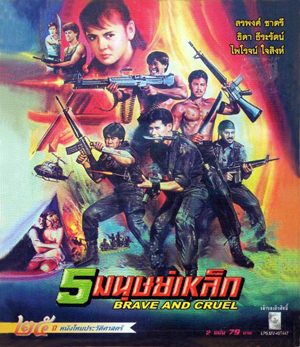 Year

: 1988



Thai title

:

5 มนุษย์เหล็ก




English title

:



Rating

: 3/5


Director

: Payoong Payakul



Main actor

: Sorapong Chatree,Pao Porapak,Phairoj Jaising


Main actress

: Thida Thidarat,Chutima Kawinla
Thai war movie 5 มนุษย์เหล็ก / Brave and cruel was released in year 1988 and lasts 1h21mn. It was released under VHS format and also VCD format by Lepso Studio company. Movie director is Payoong Payakul. This movie was also released internationally under the name "Hell Hunters" by Filmark production. It was then mixing sequences from the Thai movie and original sequences shot in Hong Kong. Captain (ผู้กอง) Leuat (Sorapong Chatree) is leading Thai soldiers including Pao Porapak. They are attacked and have to retreat. Five soldiers are left only, and they don't have radio to ask for help. Mapree (Thida Thidarat) brings her mother, who is injured following village attack. She meets doctor Phairoj Jaising and nurse Chutima Kawinla. They plan to go back to the village to take care of other injured villagers. On the way to the village, the five soldiers stop the van and share it to reach village Nong Prai. All villagers are dead. The five soldiers accept to chase the attackers guided by Mapree and to release the missing villagers. Three foreigners, met on the way, join them, i.e Kellyann Kelly, David Klaper, Bernard Hindenberg. These three foreigners are not famous actors. It reminds "Gold" / "ทอง" movies by movie director Chalong Pukdeewichit. They also always included foreign actors but they were famous actors and the movies budget was much higher than "5 มนุษย์เหล็ก". The attackers storm another village. The foreigners' Thai families have been killed. Leuat needs to go with his men to a ralliement point. Through the small van, they continue their journey towards the attackers. The ralliement point is also attacked by the ruffians. Thanks to Mapree, they find where the attackers are staying. Despite being a small number, they decide to attack the ruffians. Thanks to a radio found at the ralliement point, they ask for renfort. Attackers are aware of this as they spy the radio waves. Heavy fighting occurs. The Thai soldiers win but one of them dies to protect his country (รักษาแผนดิน).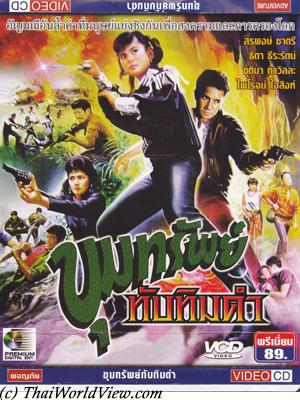 Year

: 1987



Thai title

:

ขุมทรัพย์ทับทิมดำ




English title

: Forbidden ruby



Rating

: 2/5


Director

: Payoong Payakul



Main actor

: Sorapong Chatree,Phairoj Jaising,Lak Apichat,Pao Porapak


Main actress

: Thida Thidarat
Thai movie ขุมทรัพย์ทับทิมดำ / Forbidden ruby was released in year 1987 and lasts 1h28mn. It was released under VCD format by Lepso company and VHS format before. It was also released internationally under the name "Magic emerald" by Filmark under VHS format (1h26mn). Payoong Payakul is movie director. The movie features the same village as Thai movie มนุษย์หมาป่า. So it looks like movies ขุมทรัพย์ทับทิมดำ, มนุษย์หมาป่า, มหัศจรรย์สุดขอบฟ้า are part of a trilogy. Praisanee (Thida Thidarat) has issues with four ladies warriors as she enters a forbidden part of the forest. Their master (อาจารย์) stops the fighting. Two villages are opposing each other. One is led by Chao Mae and one is led by Jaising. Mae Mot (แม่หมด) sanctuary, old heritage, is protected by the two villages and they keep arguing. Jaising's villagers are attacked by Chao Mae's villagers led by Pao Porapak. Five of them die. The leader Chao Mae (เจ้าแม่) is a lady. Chao Mae maintains discipline among her male warriors by offering ladies to them or even herself. Chao Mae's villagers attack Jaising's village while Lak Apichat, village leader Phairoj Jaising and his daughter Praisanee are away. They promise to get revenge. Three men arrive in Chao Mae's village for a weapons deal to get rid of Jaising's village. They get full hospitality from Chao Mae. Another groupe including Macawan (Sorapong Chatree), Kaewta, Warun, Phit and lady Pissamai is visiting the forest to find old jewels. They are aware to be near ancient dangerous villages. The weapons exchange fails thanks to Praisanee. Another weapons exchange fails again following heavy shootings. Praisanee and villagers arrests Macawan's team to understand why they enter the forest. Chao Mae needs blood to stay healthy. Macawan decides to help Praisanee. While visiting the Mae Mot sanctuary, Phit dies. Pissamai is captured by the Chao Mae's villagers. She is aggressed and killed by them. At night time, Praisanee enters in the village to release her but it is too late. She then faces Pao Porapak and defeats him. Unfortunately, Pissamai is dead already. Both groups of villagers enter the sanctuary and heavy shootings occur. Praisanee gets the magical weapon from Mae Mot and gets rid of opponents such as Chao Mae, Pao Porapak… Peace is back in the area.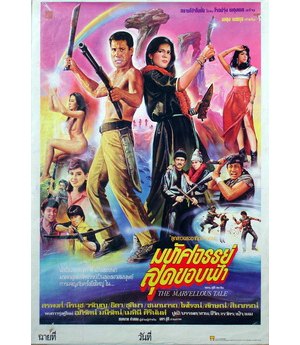 Year

: 1987



Thai title

:

มหัศจรรย์สุดขอบฟ้า




English title

: The Marvellous Tale



Rating

: 2/5


Director

: Payoong Payakul



Main actor

: Sorapong Chatree,Phairoj Jaising,Lak Apichat,Pao Porapak


Main actress

: Thida Thidarat,Chutima Kawinla
Thai movie มหัศจรรย์สุดขอบฟ้า was released in year 1987 and lasts 1h25mn (incomplete movie). It was released under VHS format. Five years have passed. Young man Ati is still remembering young lady Monoko met during a trip to a remote village. He convinces a few friends and a group is created to go back to the village. Tatsanee (Thida Thidarat), daughter of archeologist, and Chatchai are part of them. They meet weird monsters (มนุษย์ปีศาจ). They are inoffensive during daytime but attack the group at nighttime. They are chased away by using fire. Iti cannot find Monoko as she has moved to a new village. A bunch of ruffians including Pao Porapak asks for protection money (เก็บเงิน) to villagers managing a local market. As villagers have no money, Pao's team hit them. Pen Yiem (Sorapong Chatree) interposes. Fighting erupts but Lak Apichat stops all of them and retreats. Pen Yiem meets Monoko. Chao Mae (เจ้าแม่) is upset that her men were chased from the market, so she gives order to burn it. The group sees five ladies dancing naked on a cliff. Ati recognizes Monoko but she flees. The group is then attacked by villagers linked to Chao Mae. Thanks to Pen Yiem, they succeed to escape. Pen Yiem refuses to accompany them to the border as it is too dangerous. Phairoj Jaising leads another village. Villagers delegations meet each other. Only one village can protect the sacred land. Jaising's villagers win the contest. Chao Mae captures Ati's group and men are attached under the sun. Pen Yiem helps Jaising's villagers attacked again by Chao Mae's villagers. Distrust happens between both villages as Chao Mae's villagers don't accept peace despite they were defeated in official contest. Lak kills Chao Mae and then Pao Rak through a fierce duel as he wishes to become new village leader. Ati wants to meet Monoko (Chutima Kawinla). They are finally captured by Jaising's villagers. Pen Yiem forces Jaising to find a solution. Jaising agrees to release them but they need to go through hell gates first... The movie ends up here.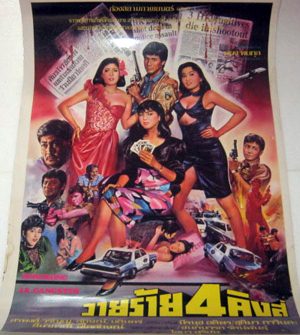 Year

: 1986



Thai title

:

วายร้าย 4 คิงส์




English title

:



Rating

: 2/5


Director

: Payoong Payakul



Main actor

: Sorapong Chatree,Chaiya Suriyun,Lak Apichat


Main actress

:
Thai movie วายร้าย4คิงส์ was released in year 1986. It was released under VCD format by Lepso Studio Company and lasts 1m27mn. Movie director is famous action movie director Payoong Payakul. Main actors and actresses featured in this movie are Sorapong Chatree,Chaiya Suriyun,Lak Apichat, นีรนุช อติพร. Some sequences of the movie (four minutes) are censored in Thailand as it features various daring sequences such as the three robbers with three prostitutes. Those sequences can be seen in the international release "Shoot Out" done by Filmark production. "Shoot Out" movie mixes the Thai movie "วายร้าย4คิงส์" and some action sequences shot in Hong Kong. During a jewelry robbery, two women are kidnapped. The three robbers finally release their hostages and flee inside the forest. By using grenades, the robbers succeed to flee the police. The head of police is Chaiya. Sarawat Sorapong receives duty to catch them. The head of police recommends him to check with a singer called Riem in a bar frequented by Hong Kong and Singapore citizens. Apichat provides support to the robbers, who are coming from Hong Kong. Riem is in fact undercover policewoman. Despite bring identified by Riem, the Hong Kong thieves succeed to flee and try to catch a plane to Saudi Arabia. They are caught at embarking gate in Don Meuang airport. The head of ruffians sends two Charlie's angels to get back the three Hong Kong men. On trial day, Apichat succeeds to release two Hong Kong guys through a daring escape. One fails to escape and is caught back by the police. Fai Chai is another local Thai helping them. The boss doesn't leave his teammates (ลูกน้อง) in difficulty. As Fai Chai is identified, Thai police storms the house where ruffians are hiding. All are killed. Thai police saves face (ตำรวจไทยไม่ขายหน้า).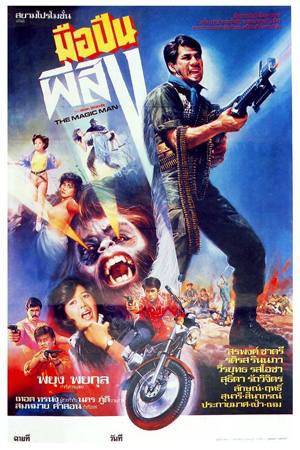 Year

: 1986



Thai title

:

มือปืนผีสิง




English title

: The Magic Man



Rating

: 3/5


Director

: Payoong Payakul



Main actor

: Sorapong Chatree,Lak Apichat,Pao Porapak,Rith Luecha


Main actress

: Thida Thidarat,Sinaporn Philailak
Thai movie มือปืนผีสิง was released in year 1986. It lasts 1h25mn. It is a mix of Thai footage and Hong Kong footage done by Filmark production. The movie is in Spanish language. The international title is "Mad Move". The Thai footage lasts one hour. The Thai actors are not even mentioned in the credits. Director is Payoong Payakul. A lot of sexy scenes are still present but might be removed from the Thai VCD. Lepso released it under the name นักรบผีสิง. Actresses also include ธิดา ธีระรัตน์, สินาภรณ์ พิไลลักษณ์ (Sinaporn Philailak – sexy star), สุนารี. Actors also include วีรยุทธ รสโอชา. Below summary is then partial. Sorapong Chatree is a soldier in black uniform. All his colleagues are dead. Sorapong is seen holding a machine gun and shooting enemies. Lak Apichat is visiting a family. Lak offers money the family but the father refuses. Later on, ruffians kill the whole family. Sorapong is back and finds his family dead. In a sawmill, shootings happen with ruffians. Both Sorapong and Lak are involved in the shootings. As Sorapong believes Lak is responsible of his parents' death, they both fight. Sorapong finally understands that Lak is innocent. Pao Porapak and Rith Luecha are parts of the ruffians. Sorapong finally catches the ruffians, who shot his family. Out of strength, Sorapong collapses and wakes up in a monk's cave. He needs to pacify his heart. While being in a brothel, ruffians have fighting with Lak. Sorapong still has atrocious visions about war. The ruffians send a beautiful lady to seduce Sorapong but it fails. Outside of the room, Pao is waiting and Sorapong is captured by the ruffians. At nighttime Sorapong becomes a werewolf and defeats his captors. The leader's girlfriend abuses the confidence of Bonnie (รติรส รินนภา) but the werewolf stops her. The werewolf abuses her as a revenge. Meeting Lak, the werewolf follows him and by paying respect to a Buddha statue, the werewolf becomes Sorapong again. Rith refuses to believe the stories about a werewolf but finally following the proofs, he gathers a big team to fight back. Finally Sorapong's team acts first. The movie ends up in shootings and two final fights between Lak and Pao, between Sorapong and Rith.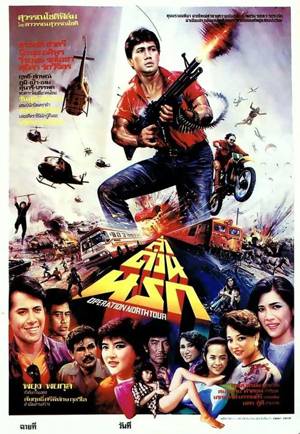 Year

: 1986



Thai title

:

ล่าด่วนนรก




English title

: Operation North Tour



Rating

: 2/5


Director

: Payoong Payakul



Main actor

: Sorapong Chatree,Rith Luecha,Lak Apichat


Main actress

: Prissana Chabaprai
Pen and Tong (Sorapong Chatree) meet each other in a bus going to Chiang Mai. Nobody knows the real reason of Tong arrival to Chiang Mai. He just comes to rest and to see a friend called Den. A few people are killed by a hitman (มือปืน) and acolytes in a pool club. Tong is witness of the murder. He shots one killer. Pen's business is also threatened by local mafia. Chiang Mai area is dominated by two local mafia heads. A lady called Gnam seduces Tong to know the truth regarding his visit to Chiang Mai but to no avail. Gnam is linked to mafia. The two mafia rings fight each other. During a shooting at the Chiang Mai airport by another hitman, a young man called Suchai helps to protect Saichai, daughter of Somchai (Rith Luecha), mafia leader. Suchai gains the trust of Somchai. The two mafia leaders decide to unify their efforts instead of fighting. Gnam is killed during a fight between Tong and a ruffian. Finally Suchai gets information that both mafia team will gather in Don Pui area to sell drug. Gun fights happen between mafia and the police helped by Tong, Den and Suchai. Similar to a a Thai copy of Rambo II, Tong carries a huge machine gun with ammunitions over the shoulder. The movie features fightings shot with a Hong Kong action movie style. As often during such Thai action movies, it is revealed that the main characters were undercover policemen. Many Thai action movies in 1980s decade include influence from Hong Kong movies and American movie Rambo II fighting style.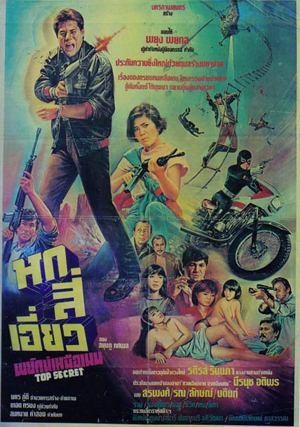 Year

: 1985



Thai title

:

หกสี่เอี่ยว พยัคฆ์เหนือเมฆ




English title

: Top Secret



Rating

: 3/5


Director

: Payoong Payakul



Main actor

: Sorapong Chatree,Lak Apichat,Sithao Petcharoen,Ron Rittichai


Main actress

:
Thai movie หกสี่เอี่ยว พยัคฆ์เหนือเมฆ was released in year 1985. Payoong Payakul is movie director. The movie is lost in Thailand but a sequence of 47 minutes is left to be seen. Lak Apichat is playing a police inspector (สารวัตร) role. Veteran actor รณ ฤทธิชัย is playing a ruffian role. Sithao Petcharoen is playing a comic role as useless policeman. In Thai the countryside, goods exchange shall happen between Sing and a group of soldiers led by Reuang (Sorapong Chatree). They arrive by parachute. Sing plays double role and kill the soldiers including Reuang. A bit later, Sing and his ruffians are also killed by mysterious men wearing black clothes. So nobody knows where the goods (สินค้า) end up. Reuang survives and agrees to look for the culprits. Reuang is arrested by the police. Ruffians learning that he is not dead wish to capture him to identify where their goods are hidden. They succeed to release him but Reuang admits he has no clues where the goods are. Later on, Apichat and a policewoman catch Reuang to know where the goods are hidden but to no avail. Reuang is seen by all as the key entry point (กุญแจดอกสำคัญ). Those goods are important at Thai national level. Reuang accepts to collaborate with the police. The left sequence ends up here. Movie หกสี่เอี่ยว พยัคฆ์เหนือเมฆ was also used in IFD movie Top Secret.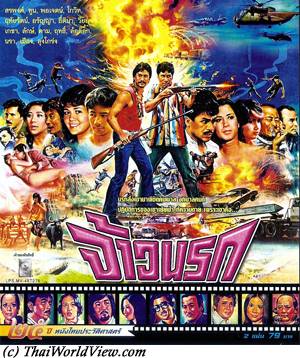 Year

: 1982



Thai title

:

จ้าวนรก




English title

:



Rating

: 3/5


Director

: Payoong Payakul



Main actor

: Sorapong Chatree,Lor Tok,Toon Hiransap,Kecha Plianvithee,Dam Datsakorn,Rith Luecha,Porjed Kaenpetch,Lak Apichat,Kowit Wattanakul,Pao Porapak,Paen Pleumsachai


Main actress

: Aranya Namwong,Wiyada Umarin,Thitima Sangkapitak,Reuthairat Amatawanit
Khongra (Sorapong Chatree) is relative (หลาน) of Am Su Ra Krai (Toon Hiransap). Khongra is coming to Phailom district to visit Am. Am's team, such as Wo (Lak Apichat), needs to carry guns as the area is full of ruffians (นักเลงบ้านนอก) such as Thaem (Porjed Kaenpetch). Mr Putr is accused to have stolen (ปล้นรถไถ) Am's tractor. Local ruffians forbid farmers to cultivate the fields but as Khongra dares to bring a tractor, he has no choice but to shoot them. Later on, he helps a young lady Chairon harassed by three ruffians. Chairon is living alone as her parents died already. Thaem is defeated by Khongra on one to one fight. Friendship starts between Thaem and Khongra. Godfather (เจ้าพ่อ) Bamjong (Kecha Plianvithee) wishes to recruit Khongra as he likes his style. Khongra discovers that the tractor was stolen by Mr Putr despite his disclaimer. Romance starts between Khongra and Chairon. All the illegal activities are handled by a local few godfathers including lady Sa (Aranya Namwong), Bamjong, Dam (Dam Datsakorn) and Reut (Rith Luecha). Chairon has been kidnapped and Khongra is ordered to leave the area within 24 hours. Meanwhile Khongra (เสียตัว) is also kidnapped by mysterious Amazons (Sopha played by Wiyada Umarin and Thitima Sangkapitak) but succeeds to escape. Gnoh (Kowit Wattanakul) is a policeman coming to arrest drug traffickers believed to be linked to local ruffians. Am, Khongra storm Putr's home to know where Chairon is. Before dying, Putr just says she is located at Beung Mai. While going to Beung Mai, they meet Sopha again. It is a trick to split Am, Wo and Khongra. In a fierce shooting, Wo is killed. Sa is suspected to have kidnapped Am. Khongra and Thaem are captured and imprisoned with Am. Chairon provides a hidden message but her behavior is noticed by the guard (ทรยศ). Chairon and Sopha are sentenced to death by Sa. Hopefully Khongra, who succeeds to escape, helps them on time. A festival for farmers is happening in Phailom district. Khongra is aware of the ruffians' plan to intimidate farmers in order to finally possess the whole land in the area. Explosions happen during the festivities. Following various shootings and car chasing, all ruffians are killed or captured by Khongra, Am and police led by Gnoh. This Thai movie จ้าวนรก, directed by Payoong Payakul, is a typical 1980s action movie involving many key leading actors from decades 1970s-1980s.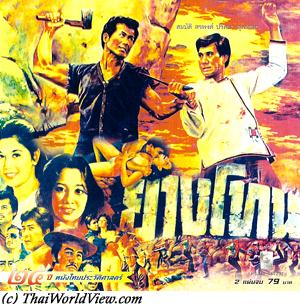 Year

: 1981



Thai title

:

ยางโทน




English title

:



Rating

: 3/5


Director

: Payoong Payakul



Main actor

: Sombat Methanee,Sorapong Chatree,Phairoj Jaising,Dam Datsakorn


Main actress

: Supansa Nuengpirom,Prissana Chabaprai
While Yot (Sorapong Chatree), young man, is away from his home, three ruffians raid his house and kill his parents. They were looking for a red jade (หยกแดง). Yot promises to punish the three robbers. Than (Sombat Methanee) is a farmer who has a family. He refuses to sell his rice to the local village headman (กำนัน) as the offered price is too low. The local village headman uses strong power (อำนาจ) and bad influence (อิทธิพล) to coerce villagers. Yot helps Than to beat the local ruffians. They sympathize. At nighttime ruffians come again but Yot shoots one of them. In the following morning, the local village headman comes with the police to arrest the two men. Following a misunderstanding between thugs, Yot and Than can flee. Yot continues his way to find the murderers of his parents. He finds two of them and learns that a rich man (เศรษฐีใหญ่) from Phrae and Nan provinces has ordered to get the red jade. Meanwhile the local village headman chases Than up to his home and shoots his wife. This is his final crime as Than shoots him also. Arrived in Nan, Yot receives help from the local mafia head Sai Wan as he had arguments with a prostitute in a local hotel. Sai Wan recruits Yot. Meanwhile Than enters Pho Liang Rak's ruffian team. Fights happen between the local mafia teams. Yot identifies that Pho Liang Rak is responsible of his parents' death. Pho Liang Rak and his team are neutralized but then Yot and Than fight over the red jade. They finally realize they are brothers. They decide to sell the red jade to build a Buddhist temple. This movie is a Thai Tom Yum (ต้มยำ) western from decades 1970s-1980s.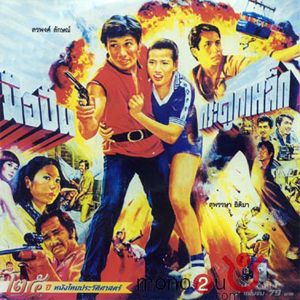 Year

: 1981



Thai title

:

มือปืน กระดูกเหล็ก




English title

: Iron Bone killer



Rating

: 3/5


Director

: Payoong Payakul



Main actor

: Sorapong Chatree,Nard Poowanai,Dam Datsakorn,Porjed Kaenpetch,Lak Apichat,Phairoj Jaising,Sithao Petcharoen


Main actress

: Thitima Sangkapitak,Supansa Nuengpirom,Moeifa
Thai movie Iron Bone killer / มือปืน กระดูกเหล็ก was released in year 1981. It is directed by famous action movie director Payoong Payakul. It lasts 1h56mn. While driving back from an underground casino, Kit Meka (Sorapong Chatree) finds a dead man lying on the road with a pod full of money. Kit gets shot and injured by two men but succeeds to flee after shooting them. Another car chases him. He takes refuge at a doctor's home but the ruffians do a rampage there. He finally ends up in a neighbouring house where a young enthusiastic lady welcomes him warmly. He leaves to go to funeral of his friend Phi Kamnan Pan. He meets Seua Tot (Nard Poowanai) and Moeifa there. Kit escapes to ruffians again and is rescued by a young lady called Pim. The ruffians' leader, Pho Luang (Dam Datsakorn), is upset that his men are not able to catch Kit named as มือปืน กระดูกเหล็ก so he has to be involved himself. Pho Luang's girlfriend is called Taorung (Thitima Sangkapitak). Porjed Kaenpetch, playing a policeman, is investigating on the ruffians' activities. Pim is the niece (หลานสาว) of Seua Tot. Lak Apichat is part of Seua Tot's team. Kit helps Tot betrayed by one of his teammates. Meanwhile Pim is disfigured and raped by Pho Luang's ruffians. Seua Tot promises revenge. Tot takes revenge on Pho Luang's mother. They also kidnap Pho Luang's wife Taorung and ask for 500 000 baht (ผู้นรก) ransom. Pho Luang and his men chase after them. They take refuge in a Christian village (หมู่บ้านศาสนา). Kit and Seua Tot's team diverge and split. Seua Tot's team falls into an embuscade and Seua Tot is left for dead. Fed up to always been chasen, Kit decides to counterattack. Kit shoots Pho Luang's men and through a final fight, both Pho Luang and Kit fall from a cliff but only Kit survives. Ot (Phairoj Jaising) takes over Pho Luang's illegal business. Some ruffians led by Ot try to kill Kit. Kit ends up facing the policeman Pat (Porjed Kaenpetch). Pat is former lover of Taorung and still loves her. Taorung's heart is still split but promises forever love to Kit (ดวงเดียว). Meanwhile Kit only sees himself as a staff of Taorung. He meets Farung (Supansa Nuengpirom) and asks her father (Sithao Petcharoen) to teach him Thai boxing. Ot and his men decide to get rid of Kit. Pat chases the ruffians and ends up in a duel with Ot. Kit helps Pat before Ot can shot him. Seua Thot also saves Kit but dies, being shot by Ot. All ruffians being neutralized, Kit ends up with both Taorung and Farung.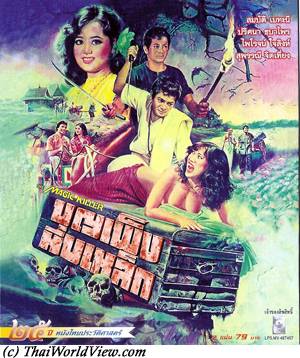 Year

: 1980



Thai title

:

บูญเพ็ง หีบเหล็ก




English title

: The Magic Killer



Rating

: 3/5


Director

: Payoong Payakul



Main actor

: Sombat Methanee,Phairoj Jaising,Lak Apichat,Sithao Petcharoen


Main actress

: Prissana Chabaprai,Suphanee Jitthieng
Boon Peng is a famous local spirit doctor (หมอชื่อเสียง) with known skills (เมตตามหานิยม, วิชา, วิเศษ). Boon Peng can see future and destiny (ชะตา, ดูจิต). Boon Peng and his clique take advantage of gullible people. Divorced ladies (แม่ม่าย) or young girls only visit him. One of them, Mae Na, disappeared. Thiu (Sombat Methanee) and lady Prin love each other but Prin's mother wants her daughter to marry Boon Peng. Mae Na's dead body is found by Thiu in a mysterious coffer (หีบเหล็ก) hidden close to the river. There is Mae Na's dead body in the chest. A Boon Peng's sbire was seen carrying the chest. Boon Peng's ruffians (ลูกน้อง) have arguments with Thiu, who distrusts Boon Peng. Thiu surveys what is happening around Boon Peng's House. Boon Peng asks to be Prin's fiance (คู่หมั้น). Boon Peng tries to use love potion (น้ำมันพราย) to win Prin's heart. Thiu becomes an adversary (รู้มากแล้ว). Prin cannot refuse as she needs to show gratitude (กตัญญู) to her mother. Boon Peng wants to accelerate the wedding date but Thiu decides to fight back (ต่อสู้สำหรับความรักของเรา). It is Thiu's real Love (ศักดิ์สิทธิ์) against Boon Peng's bad black magic. Meanwhile another Boon Peng's follower wishes to be her wife. Boon Peng has to kill her as she was threatening to announce their relationship to the whole village. The daughter is witness that her mother stopped at Boon Peng's house. Thiu arrests Boon Peng, who is condemned to death by decapitation. According to the legend swords couldn't cut his head (ดาบฟันไม่เข้า) until he accepts remorse (ชดใช้กรรม). This movie reminds of 1960s Thai horror movies ambiance mixing comedy and slight horror with frightening owl sounds. This movie is based on a real story, which happened during Rama VI period. A spirit doctor has many followers (ลูกศิษย์), who were mainly ladies. He killed some of them for their money and was throwing the bodies away hidden in a chest. He was finally captured and killed in 1919. A version of this story was done in 1967. Sombat Methanee was already the main actor.



Year

: 1979



Thai title

:

นรกแตก




English title

:



Rating

: 3/5


Director

: Payoong Payakul



Main actor

: Sombat Methanee,Krung Srivilai,Phairoj Jaising,Dam Datsakorn,Kecha Plianvithee,Lak Apichat,Pipop Pupinyo,Boo Wibunnan,Phirapon Piyawan


Main actress

: Nantana Ngao Krajang,Prissana Chabaprai,Duangcheewan Komolsen,Deuan Tem Salitul
Thai movie นรกแตก was released in year 1979. It features Sombat Methanee and Krung Srivilai. This action movie is lost in Thailand but a trailer lasting 1 minute 30 seconds is left to be seen. The short trailer shows Sombat (ยิ่ง มหายศ) receiving sacred tattoos from a famous monk from South of Thailand so giving him mystical power, a knife fight between Sombat and Dam. Other actors are Phairoj Jaising, Pipop Pupinyo, Dam Datsakorn, Duangcheewan Komolsen, Kecha Plianvithee, Lak Apichat, Nantana Ngao Krajang, Boo Wibunnan, Prissana Chabaprai. This movie was a mixed of action and mystic (หนังบู๊ผสมไสยศาสตร์) same as เสาร์ 5 (1976). There are ghosts (ผีดิบ) and pirates (โจรสลัด). Director was Phayung Phayakul (พยุง พยกุล). The main actress in this director's movies is always his own wife, i.e. Prissana Chabaprai.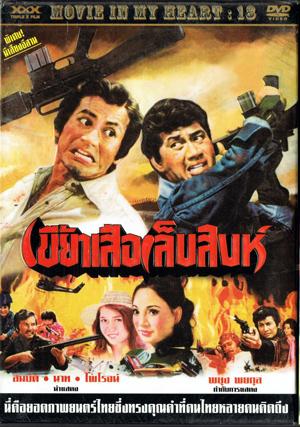 Year

: 1977



Thai title

:

เขี้ยวเสือเล็บสิงห์




English title

:



Rating

: 3/5


Director

: Payoong Payakul



Main actor

: Sombat Methanee,Phairoj Jaising,Nard Poowanai,Dam Datsakorn,Pipop Pupinyo,Pan Borapet


Main actress

: Rewadee Pattaphong



Buy now

:

Thai movie เขี้ยวเสือเล็บสิงห์ was released in year 1977. It lasts 1h48mn. Director is Payoong Payakul. Atit (Sombat Methanee), a mercenary (ทหารรับจ้าง) is back to his village in Isan. His father was kidnapped. Some ruffians try to kill him but Atit is faster to shoot them. He meets his old friend Akan (Phairoj Jaising), now Turkish bath manager. Seua Suk (Dam Datsakorn) and Pan Borapet storm the school as village header Thong complained to the police about their ruffians' activities. Teacher (Rewadee Pattaphong) is his daughter. Mokara (Nard Poowanai), a policeman, acting as a telecom company employee, hides a microphone inside Mien Wo's phone. Athit helps Mokara, aggressed by three ruffians, so they sympathize. He promises to help to find his kidnapped father. Mokara identifies that Mien Wo is the ruffians' leader (นายผู้หญิง) behind the kidnapping. Mokara requests the help of Seua Suk to identify ruffians around. They accept to work together. Upset by this, Mien Wo's team kidnaps the daughter of the village leader Thong to have a guarantee (ตัวประกัน). The dream team composed of Athit, Mokara, Akan, Seua Suk and others prepare to storm the ruffians' place. Pipop Pupinyo is leading the resistance but ruffians are defeated. A foreigner, Athit's friend, tries finally to betray him and to flee by helicopter with the father. Following a daring fight, the foreigner falls from the helicopter but Seua Suk dies while helping Athit. The DVD movie is certainly composed of two sets of partial reels as sometimes the image is colorful and sometimes it is reddish.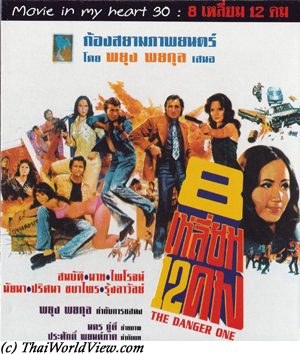 Year

: 1976



Thai title

:

8 เหลี่ยม 12 คม




English title

: The Danger One



Rating

: 3/5


Director

: Payoong Payakul



Main actor

: Sombat Methanee,Dam Datsakorn,Nard Poowanai,Phairoj Jaising,Pipop Pupinyo,Phirapon Piyawan


Main actress

: Prissana Chabaprai,Naiyana Shewanan,Runglawan Sripatimakul,Moeifa,Khomapat Attaya



Buy now

:

Payoong Payakul is the director of the Thai movie "8 เหลี่ยม 12 คม". His wife Prissana Chabaprai is also playing. The movie was released in year 1976 and lasts 1h44mn. The image is a bit reddish and damaged as being the last copy still available on the market. The selling point of the point, according to the poster, is the presence of six movie stars (ดาราเอกโคจร) including Runglawan Sripatimakul, Prissana Chabaprai, Naiyana Shewanan, Nard Poowanai, Sombat Methanee, Phairoj Jaising. The movie features also a few ดาวยั่ว (วิกาวดี, Khomapat Attaya, Moeifa, มิสหลาบยัง) acting in a few daring sequences. A jewellery robbery does happen. Khom (Sombat Methanee) and Chitchai (Dam Datsakorn) are involved. An overseas buyer is now expected in a few days. Anita (Naiyana Shewanan) is the younger sister of Chitchai. Chitchai fails to steal the jewellery suitcase from Khom. Khom sent Krissana (Nard Poowanai) to study in England. Krissana now becomes a policeman. Khom promises it is his last job in order to avoid facing Krissana as a policeman. Tonachai (Phairoj Jaising) with two ladies called Rita and Rosana always help Khom. Chitchai requests the diamonds to Khom earlier than expected. Tonachai has many enemies (ศัตรู) and has a fighting in an underground parking. Chitchai sent some ruffians (Pipop Pupinyo, Phirapon Piyawan...) but it fails. In the morning, Khom brings the 10M baht jewellery for Rita to check. The hotel groom exchanges the small suitcases while they are not aware. Police head asks Krissana to neutralise this jewellery ring. Krissana starts by entering Chitchai's nightclub, i.e. the Suzi bar, by claiming being a life insurance seller. Chitchai's ruffians aware that Krissana is certainly a cop tries to kill him but without success. Khom is concerned that he may face sooner or later Krissana (ปัญหาตัดสินใจไม่ถูก). Krissana gets information from Anita, who is his girlfriend. Khom believes the diamonds have been stolen by Chitchai's team. Rita is in fact part of Chitchai's team also and is finally shot by them. Chitchai captures Khom. The jewels are going to be used in a weapons deal exchange. Aware of the exchange place, Tonachai and the ladies head there. Krissana brings policemen there and also helps to release Khom. The HQ is then stormed and Chitchai is captured. Chitchai recognises his mistakes and is finally happy about the relationship of Rita and Krissana.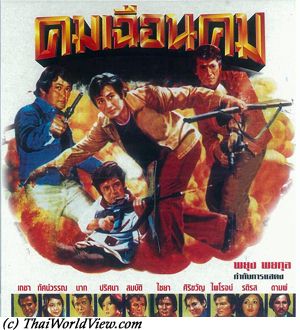 Year

: 1976



Thai title

:

คมเฉือนคม




English title

: The outlaw man



Rating

: 3/5


Director

: Payoong Payakul



Main actor

: Sombat Methanee,Phairoj Jaising,Nard Poowanai,Chaiya Suriyun,Kecha Plianvithee,Dam Datsakorn


Main actress

: Tasawan Saneewong,Prissana Chabaprai,Sirikwan Nanthasiri



Buy now

:

Three men are arrested by the Thai police following a trip to Hong Kong as they are suspected to sell drugs. They are released as no proofs are found. They met a guy called Daeng in the cell and befriended together. A young lady, Maria, Tawai's assistant, pick them up. Daeng is trying to join Tawai's secret organization, which is buying and selling weapons and drugs. Such organization undermines Thailand. As Tawai orders Daeng to kill Krit (Sombat Methanee), Daeng reveals that he is a hidden policeman and convinces Krit, who is a drug smuggler, to join his side. Policemen and gangster groups go to the golden triangle, border between Thailand, Laos and Burma. Heavy fightings happen between both groups. The country traitors are killed or captured. Some policemen are killed but they didn't die in vain as they give their life for the nation, the religion and the monarchy. It is a typical action movie of mid 1970s in which Thailand needs to be protected against external red communist threat. There is a rupture with traditional movies as Thai actors shake hands, listen to western music and kiss ladies in front of spirits shrines.
---