Increase or decrease font size for easier reading : A+ A-
Mayura Thanabutr
Mayura Thanabutr (1957) - มยุรา ธนะบุตร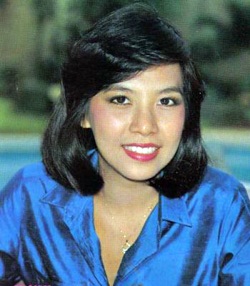 Mayura Thanabutr started her movie career in 1975 "Sweet Ma'am" comedy as a fresh face. Nowadays she is a well-known TV host
This Mayura Thanabutr movie page contains 11 records.
---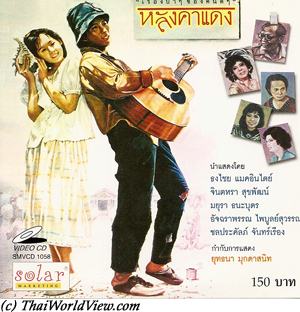 Year

: 1987



Thai title

:

หลังคาแดง




English title

: The Red Roof



Rating

: 3/5


Director

: Euthana Mukdasanit



Main actor

: Thongchai McIntyre


Main actress

: Jintara Sookkapat,Mayura Thanabutr,Amara Asavananda



Buy now

:

A man is wrongly sent in asylum by a greedy woman, who wants to get her husband's fortune. There he meets another woman left alone by a family in the asylum and decides to help her to get away. This movie features a few songs by Bird.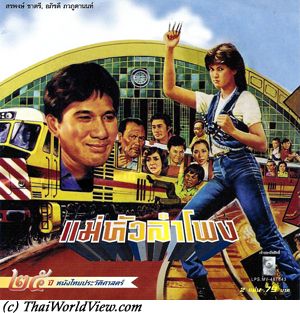 Year

: 1983



Thai title

:

แม่หัวลำโพง




English title

:



Rating

: 3/5


Director

:



Main actor

: Sorapong Chatree,Lor Tok,Nard Poowanai


Main actress

: Apiradee Pawaputanon,Wiyada Umarin,Mayura Thanabutr
Aissa is a girl coming from a poor family in a slum. She acts and fights like a boy. Her best friend is a boy called Tom. while still being young children, they are separated as Tom's parents are moving away but they promise each other to be united again. Once becoming an adult, Aissa has to face mafia people in the slum where she is living. Matter turn worse when her sister is kidnapped by the mafia. She then tries to fight them in her own way. Tom, now being a policeman, also fights against the local mafia. They help each other ignoring their real identity.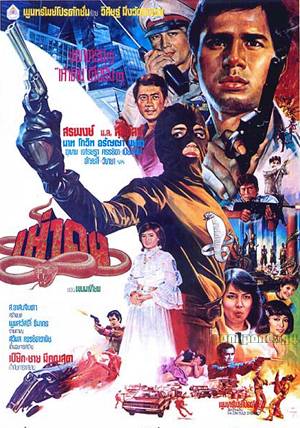 Year

: 1983



Thai title

:

เห่าดง




English title

:



Rating

: 4/5


Director

:



Main actor

: Sorapong Chatree,Nard Poowanai,Pipop Pupinyo,Kanchit Kwanpracha,Kowit Wattanakul,Settha Sirachaya


Main actress

: Suriwan Suriyong,Aranya Namwong,Piathip Kumwong,Mayura Thanabutr
Pleng (เพลิง) and Kam have arguments. Kam complains Pleng is not sincere. Pleng has to choose between being a ruffian (นักเลง, การพนัน) versus being an honest military officer (ยุติธรรม). They break up. The military head, Prachom, promises to help Pleng but this latter refuses due to his strong character (กระดูกแข็ง). Pleng has arguments with a debtor, who insults his mother. He stabs him, flees and quits army. Finally Pleng becomes a ruffian (เสียคน). Pleng is accepted in ruffian team by leader Prayak. Prayak and Chinta (จินดา) have a child called Bayan. Bayan is in fact a child being kidnapped. Prayak and Chinta need to flee the police and go overseas. Pleng promises to take care of Bayan. Many years have passed. Bayan has now grown up and is renamed Prao (พราว). She has learnt fighting skills (การต่อสู้). While doing shopping, a young policeman called Wut (วุฒิ) contacts Prao as Prissana but it is a mistake. But in fact Prao and Prissana are twins (ลูกแฝด)! They were separated 15 years ago following a robbery by Prayak in Prachom's home. Hao Dong is a mysterious judiciary punishing ruffians and warning police in advance (ผู้หวังดี). Behind it is Pleng, who always felt guilty to have quit the army. During last affair, Pleng gets shot and killed while helping Wut. Prao replaces Pleng as judiciary. She revenges Pleng by putting a bomb in ruffian leader's car. Wut pretends to be Niwat, insurance representative, in order to investigate close to the daughter, Saisree (ไซซี), regarding her father death. Wut suspects Prao to be Hao Dong but proofs are not enough (ตำรวจมีหัวใจเหมือนกัน!). Chita and Phayak come back from overseas to support Prao. Prao still wants to catch the real leader of the mysterious society (วงการ). Saisree is now the head of Chinese style secret society. Saisree asks Wut to lie to Prao and makes her come thanks to a trick. He refuses. Due to Saisree's love towards Wut, the ruffians shot each other. Wut succeeds to escape but Prissana is kidnapped and shall be exchanged with Prao. Wut, the police and Prao storm the ruffians headquarters. Prao is reunited with her parents. A double wedding Prissana / Chao and Prao / Wut can happen. As usual on Thai television programs, bad things are blurred such as smoking a cigarette, alcohol bottle or putting a gun on temple. A first version of movie "เห่าดง" was released in 1958 with leading actress Amara Asavananda. The 1983 version is leading actress Suriwan Suriyong's first movie. The movie song is "♪จะไปดูหนังไทย บ๊ะ ต้องเห่าดง ดาวดัง สรพงษ์ ผิวคล้ำ นำแสดง สุรีย์วัล สุริยง มาประชันขันแข่ง อรัญญา ก็มา ร่วมกันในเห่าดง♪".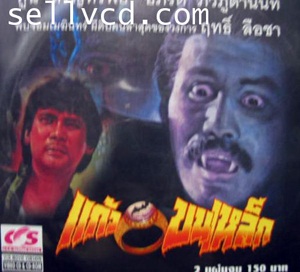 Year

: 1983



Thai title

:

แก้วขนเหล็ก




English title

: The Dracula



Rating

: 3/5


Director

:



Main actor

: Toon Hiransap,Somphob Benjatikul,Rith Luecha,Somchai Samipak


Main actress

: Apiradee Pawaputanon,Mayura Thanabutr,Pornpan Ketmamatsu
Thai movie แก้วขนเหล็ก / The Dracula was released in year 1983 and lasts 1h22mn. It features some background music by Jean-Michel Jarre and also from James Bond movies. Movie director is สุริยน ดวงทองดี. Wat (Toon Hiransap), Dom (Somphob Benjatikul) and Nin (Apiradee Pawaputanon) are discussing. Dom just gets a heritage (มรดก). It is an old haunted abandoned house. He decides to stay there and so starts restoring it (ตกแต่งห้อง). Rose (Mayura Thanabutr), his fiancee (คู่หมั้น), finds that he changed a lot. An old uncle tells the story of the house. Sir Maekin (ท่าน เมฆินทร์) (Rith Luecha), previous prince (ลูกเจ้าพระยา), wished to marry a young lady (played by Apiradee) but the father refused as the lady was already promised to somebody else. So Maekin kidnapped the lady. His father (Somchai Samipak) imprisoned him for a few days until the wedding was over but Maekin disappeared. Legend said that he become a ghost. Toon helps an old uncle aggressed by two ruffians. He gives him a ring supposed to push back ghosts. One night, Dom is possessed by vampire Maekin. Rose's birthday will happen soon. Dom places a transparent coffin in the house's underground (ห้องใต้ดิน). Dom becomes normal while holding a Buddha amulet, which burns his hand. Maekin possesses him again. Wat uses Tibetan prayers to neutralize the vampire (ผีดิบ). The vampire possesses Wat's young brother (ปรัชญา) in order to shoot Wat. Under Maekin's influence, Dom kidnaps Nin. Wat has no choice but to affront the vampire and use the special ring… A first version was released in year 1971 with Petchara Chaowarat and a later one in year 2003.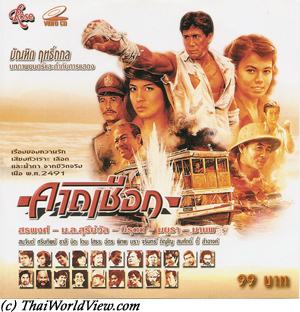 Year

: 1983



Thai title

:

คาดเชือก




English title

:



Rating

: 4/5


Director

: Bandit Ritthakol



Main actor

: Sorapong Chatree,Manop Aussawathep,Pipop Pupinyo,Nirut Sirijanya


Main actress

: Suriwan Suriyong,Mayura Thanabutr
After many years spent in jail, a man is coming back to his home town but he is not welcomed. His mother has become addicted to opium. Now being officer, he decides to expel the local drug kingpin from the town. But the local mafia strikes back and tries to get rid of him. Will he succeed? It is the first movie directed by Bandit Ritthakol.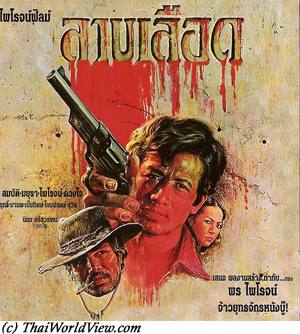 Year

: 1979



Thai title

:

ลาบเลือด




English title

:



Rating

: 3/5


Director

:



Main actor

: Sombat Methanee,Phairoj Jaising,Manop Aussawathep,Sawin Sawangrat,Rith Luecha,Pipop Pupinyo


Main actress

: Piathip Kumwong,Mayura Thanabutr,Duangjai Hathaikarn



Buy now

:

Drunk ruffians are terrorizing a shop while listening to an old Boney M song. Sukol gives them a lesson. Seuabin (Rith Luecha) is the leader of the ruffians. They kidnap villagers and force them to work as slaves (ทาส). Sukol (Sombat Methanee) is working in a gambling den (บ่อน). He meets his old friend Phairoj Jaising. They were former Thai soldiers during the war in Laos. Both of them have been requested to meet in this remote Isan city by their old friend Siaw (Manop Aussawathep). Siaw requests help as his two sisters, Bao (Mayura Thanabutr) and Mon (Duangjai Hathaikarn), have disappeared. They are part of the working slaves (ทำไร่กัญชา) and have been lured by fake job offers. Bao is sick but to get medicine from the guards, women have to offer their body. No problem (มาเลย) for Chai (Piathip Kumwong), who is a former kind hearted prostitute, in order to help Bao. As usual Pipop Pupinyo is playing the ruthless ruffian also. Sukol loves to eat Larb Luat dish (ลาบเลือด). Phairoj, simulating to be an up country bumpkin, is recruited as worker by the agency offering expensive fake jobs. Seua Ling (Sawin Sawangrat) is the big boss. Meanwhile showing his fighting and shooting skills, Sakol is recruited by Seua Ling. Rivalry happens between Sakol and Seuabin as both are skilled gunman (มือปืน). When Chai is sick, nobody is helping her (ใจหมา). She dies during the night refusing Mon to sacrifice herself for her. Sakol asks Siaw to provide explosives. Sawin has an important 500 kg shipment to be done so extra ruffians come. New plan is to release all inmates and not only the two sisters. Seuabin prepares a putsch against Seua Ling as he is upset that Seua Ling is too friendly with Sakol and also wishing to get a bigger share of money. The plan seems to go wrong when Seuabin captures and tortures Sakol to know the truth. Phairoj organises the inmates uprising and uses weapons hidden by Siaw in the field. Through a thrilling and explosive final, all ruffians are defeated or killed. Finally Siaw offers his two sisters to Sakol and Phairoj as rewards. ลาบเลือด is a 2h08mn Thai western.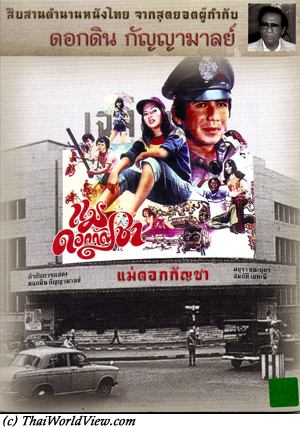 Year

: 1977



Thai title

:

แม่ดอกกัญชา




English title

:



Rating

: 4/5


Director

: Dokdin Kanyaman



Main actor

: Sombat Methanee,Dokdin Kanyaman,Choomporn Theppitak,Prachuap Ruekyamdee,Lak Apichat,Suriya Chinaphan


Main actress

: Mayura Thanabutr



Buy now

:

Yuak (Dokdin Kanyaman) is involved in a shooting with police. He is part of a drug gang selling cannabis (กัญชา) hidden in garlands sold by kids. Yuak is finally arrested and spends 6 years in jail. His release happens just during Songkran period. His relative has taken care of his now grown-up niece, Klong (Mayura Thanabutr) (เด็กสลัม). Local policeman warns Yuak (หม้าว้ด) to beware of any misconduct if he doesn't want to go to jail again. Klong's mother Kae Son has left and stopped sending money to her. The mother went to live with a ruffian called Rot (Choomporn Theppitak). He is a violent man stealing Klong's school fee. Rot is now involved in cannabis traffic also and has a new wife. While Yuak, Klong and Songthai (Suriya Chinaphan) are playing music, police arrests some drug traffickers nearby. Afraid of police, Yuak flees in front of inspector Pheung's (Sombat Methanee) despite being innocent. They are arrested and then released but Pheung gets scolded by Klong. Prachuap (Prachuap Ruekyamdee) is a doctor fighting drug usage. He is the father of one of Klong's best friend, Phanit. Pheung is Phanit's brother. Pheung's girlfriend, Chat, dislikes immediately Klong as she is having a famous family name (สกุล) which is improbable as being a poor girl from slum (สลัม). Klong and Yai have issues with Rot and it ends up at the police station but Rot flees before as he is involved in narcotics. Yai is severely sick. Klong has no money to cure her so one of her friends in the slum sacrifices herself with men to find the money. Following an advice from Yuak, it is discovered that Chaiyut (Lak Apichat), Chat's secret lover, is involved in drug trafficking with Rot. Following gunfight with Pheung, Rot is shot. Chatchai, Phanit's boyfriend, is also involved in the traffic. Songthai helps Phanit to flee from Chatchai. Phanit and her friends are addicted so a detoxification is needed with special herbs tea by Yuak. Prachuap hits Songthai believing he mistreated his daughter. It is a weird situation as despite having a father fighting against drug usage, a policeman brother fighting against traffickers, Phanit is still a drug addict. Prachuap finds that Klong is the lost granddaughter (หลาน) of a rich heiress. Romance starts between Klong and Pheung. The old lady caused Klong's parents to split up as she couldn't accept a poor maiden for her son. So knowing this, Klong leaves her being very angry. Pheung understands Klong's kindness versus Chat's selfishness. Meanwhile Chat organises the kidnapping of the old lady. Klong and Pheung help on different side to neutralize Chaiyut and his team. The old lady is freed. Ruffians are shot by Pheung. Happiness can resume in the family. Dokdin's movie แม่ดอกกัญชา is a high criticism of usage of cannabis in Thai society, either in poor neighborhood or either high society. Cannabis sinners are shown on a torn tree (Buddhist symbolism). Dokdin's movie highlights drug traffic, prostitution and drug taking in slums. As usual, Dokdin movie mixes comedy, romance and action.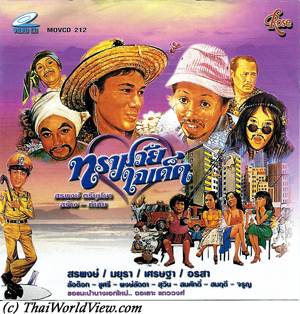 Year

: 1977



Thai title

:

ทรามวัยใจเด็ด




English title

:



Rating

: 3/5


Director

:



Main actor

: Sorapong Chatree,Lor Tok,Settha Sirachaya


Main actress

: Mayura Thanabutr
Four young women want to become policemen. They face harsh selection inside the police school. One of them is coming from a wealthy family but still wants to be a policeman same as her father. The trainer is aware of this and is helping them though gags during the selection and their first assignments.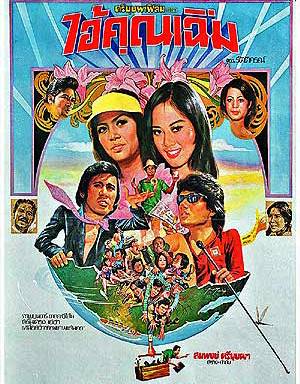 Year

: 1977



Thai title

:

ไอ้คุณเฉิ่ม




English title

:



Rating

: 3/5


Director

:



Main actor

: Sorapong Chatree,Krung Srivilai,Lor Tok,Rith Luecha,Kanchit Kwanpracha,Sayan Chantaravi​boon


Main actress

: Naowarat Yooktanun,Mayura Thanabutr
Three beggars are friends and helping each other. One is polishing shoes, one is singing, one is simulating being a blind man in order to be able to sell lottery tickets. One of them has opportunity to work for a businessman and starts a romance with the businessman's daughter. Another one is courting another businessman's daughter. A local mafia gang is kidnapping the two businessmen. Police promises to help but the local police head is part of the mafia gang. The three beggards will manage to release the two businessmen.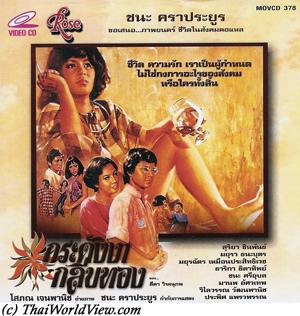 Year

: 1976



Thai title

:

กระดังงากลีบทอง




English title

:



Rating

: 3/5


Director

: Chana Kraprayoon



Main actor

: Manop Aussawathep,Chana Sriubon


Main actress

: Mayurachath Muarnprasitivej,Mayura Thanabutr
It is about a love story between a young boy and a woman older than him. The boy's parents refuse to let such a marriage. Will he follow his heart or the Thai society pressure?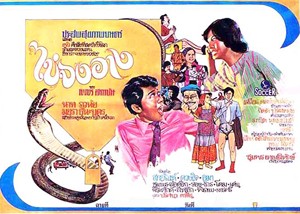 Year

: 1976



Thai title

:

ไข่จงอาง




English title

:



Rating

: 3/5


Director

: Choomporn Theppitak



Main actor

: Nard Poowanai,Sayan Chantaravi​boon,Krai Kanchit,Rong Kaomulkadee,Choomporn Theppitak,Lor Tok


Main actress

: Mayura Thanabutr,Duangjai Hathaikarn,Marasri Bangchang
Thai movie ไข่จงอาง was released in year 1976. The movie is lost in Thailand but a remaining sequence of 28 minutes is left to be seen. Veteran actress Marasri Bangchang is collecting debts reimbursement. She is married to younger man called Insee (Rong Kaomulkadee) but his little bird gets burnt by hot soup poured by his wife as he is courting younger lady (แม่ค้า)! This comedy features three male friends (Sayan Chantaraviboon, Nard Poowanai and Pong) looking for fun. Three ladies friends (Nit – Mayura Thanabutr, Pip - Duangjai Hathaikarn, Tip…) realise that their three husbands are going to have fun together but their wives surprise them (อยากตายไหม). Pong is a doctor so he is lying about his friends' health in order to get some compassion from their wives. Other actors are Krai Kanchit, Lor Tok, อุมา, โดม, เด่น, ปริศนา ดาริน, หมึก.
---