Increase or decrease font size for easier reading : A+ A-
Manop Udomdej
Manop Udomdej (19xx) - มานพ อุดมเดช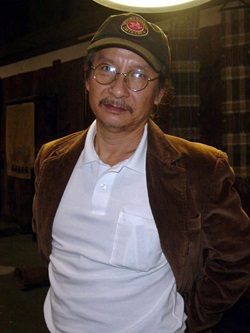 Manop Udomdej first movie On the Fringe of Society was a social-realism film that discusses the urban migration of rural workers. During his career, Manop Udomdej has done a few films related to women position in Thai society (Macabre case of Prom Pi Ram and the Accusation) and a few actions movies. Manop Udomdej is a good example of the filmaker whose work comes from a concern with social justice and whose connection with rural and deprived sectors has molded his approach to filmmaking
This Manop Udomdej movie page contains 7 records.
---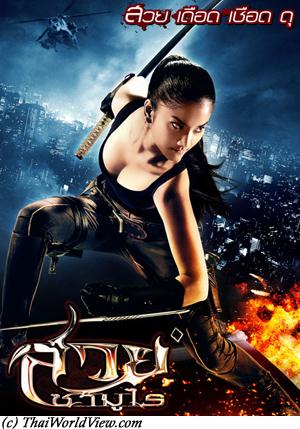 Year

: 2009



Thai title

:

สวยซามูไร




English title

: The Vanquisher



Rating

: 2/5


Director

: Manop Udomdej



Main actor

: Pete Thongjure,Saranyu Wongkrachang


Main actress

:



Buy now

:

The Vainquisher is similar to a B grade movie. Lady Genja is expert in martial skills. She is working in Thai special forces as secret agent. During a mission in South Thailand, Genja is betrayed by her own organization but survives. Claire, her boss, is a treacherous lady. Two years later Genja is involved in an international terrorism threat involving CIA, Thai special forces, South Thailand islamic insurgents and Japanese Ninjas. Wajip, head of terrorists, is hidding in Bangkok. Genja has to face Claire again. English language is used in the main part of the movie as multinational teams are involved to catch Wajip. Sexy women and samourai fights cannot compensate the weak scenario and montage sequences. The owner of Sahamongkol Film International ordered all footage of Chotiros Suriyawong to be deleted from the movie "The Vanquisher" as she was rebuked for wearing a revealing outfit to the Subhanahongsa Awards. Following Tak Bai incident in South of Thailand, this action film was ordered to cut a scene showing gunmen opening fire into a mosque, or facing a ban.



Year

: 2004



Thai title

:

ตุ๊กแกผี




English title

: Lizard Woman



Rating

: 2/5


Director

: Manop Udomdej



Main actor

: Pete Thongjure


Main actress

:



Buy now

:

A writer has just finished her latest book which is a story about an evil lizard. She comes face to face with strange apparitions and a supernatural curse with lizards, but nobody believes her. Her boyfriend suggests her to go seeing a doctor for analysis, but she refuses. She soon realizes that her life is endangered and starts to discover a way to stop it without knowing that she may be the cause of this mysterious evil.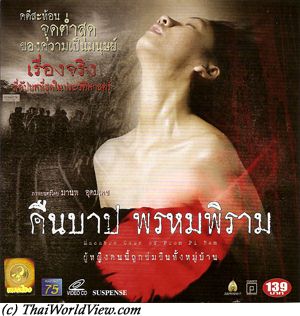 Year

: 2003



Thai title

:

คืนบาป พรหมพิราม




English title

: Macabre case of Prom Pi Ram



Rating

: 4/5


Director

: Manop Udomdej



Main actor

: Somphob Benjatikul


Main actress

:



Buy now

:

In year 1977, around 30 males reportedly raped a woman until she died. She had been kicked off her train at Phrom Phiram short of her intended stop for not having a ticket. This movie relates this story and the police enquiry to find the culprits. Local politicians had interfered with the judicial process after the crime. This action raises the inequality facing women in Thai society, especially when they are crime victims. The film's co-producer is ChatriChalerm Yukol. Manop Udomdej started working on his project after he read a book based on the tragedy written by investigative journalist Santi Sawetwimol, who uncovered details about the case that local authorities had tried to cover up.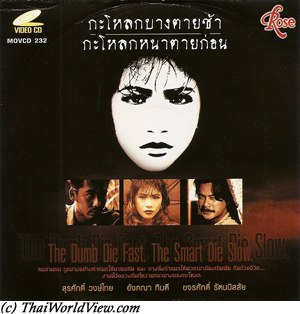 Year

: 1991



Thai title

:

กะโหลกบางตายช้า กะโหลกหนาตายก่อน




English title

: The Dumb Die Fast. The Smart Die Slow.



Rating

: 4/5


Director

: Manop Udomdej



Main actor

:


Main actress

:
After a bloody robbery, a man flees in South of Thailand. He gets a job as mechanics. Recognizing him in newspapers as a robber, the wife of his boss orders him to open her husband's safe. As the man accuses her of treachery, the perfidious woman kills her husband. Nevertheless the man refuses to open the safe fearing the police and the woman. His friend, also safe expert, joins them in South of Thailand. Then suspicion emerges between the three actors. Who will get the money and who will die? Manop Udomdej's movie depicts the dark side of humanity but made only 4 millions Baht in theatres.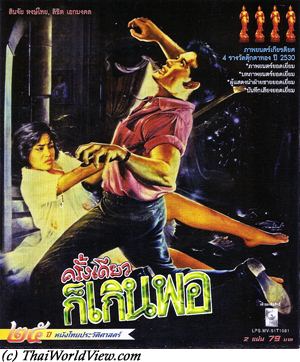 Year

: 1988



Thai title

:

ครั้งเดียวก็เกินพอ




English title

:



Rating

: 4/5


Director

: Manop Udomdej



Main actor

: Likit Eakmongkol,Apichat Halamjiak,Somsak Chaisongkram


Main actress

: Sinjai Hongthai



Buy now

:

Lak is a modern Thai lady. She is fianced since two years but her fiance (คู่หมั้น) is always busy with his work and has no time for her. There is still no confirmed date for the wedding and she is upset by this. In Pukhet, to escape to boredom, Lak (Sinjai Hongthai) meets young bachelor Samon (Likit Eakmongkol). Samon is hot temper and asks for wedding with Lak after a few days of friendship only but she refuses as she has already a fiance. She starts to be fed up with Samon as she doesn't love him. Samon is a butterfly man. Samon invites himself (รังควาน) to Lak's appartement in Phuket. She refuses to tell anything to her fiance as there is nothing to say! Lak accepts to kiss Samon but nothing more. Then Samon forces her and she gives way to Samon. Despite her friend advice, Lak refuses to go to police to file a claim (แจ้งความ) as she is afraid and feels shameful. Lak is back to Bangkok. Samon continues to chase her in Bangkok. Samon contacts Lak's fiance and tell him he and Lak love each other and that he and Lak are lovers. A discussion happens between Lak and her fiance. She cannot stand his kindness and gives back her fiancee ring. He leaves to Indonesia. As Samon is still chasing her, she goes to police to complain. Samon is arrested. Samon's lawyer asks for compromise outside the court to protect her name but she refuses. She claims she was not consenting (ไม่เต็มใจ). Samon's lawyer tries to convince the tribunal that it was not a rape but a common acceptance. Lak changes home and quits Bangkok. She doesn't care anymore about the trial. She is now pregnant. Shall she keep the future baby or not? She doesn't want to destroy the baby future as it is still a life so she decides to keep it. She doesn't want to be forced again by Salmon's acts so she keeps behaving same as before, i.e. doing intensive gym. The foetus dies. She is now freed. She loses the trial as Samon is only condemned to a 600 baht fine. She meets him in an hotel again. He challenges her again. At night time, he succeeds to enter in her house but gets severely beaten and dies when falling from the stairs. She is sent to prison but released promptly. Her former fiance is waiting for her. This Manop Udomdej's movie is related to women position in Thai society (difficulty to prove a rape, abortion difficulty for single woman). This movie received four gold statuette awards (รางวัลตุ๊กตาทอง) in 1987.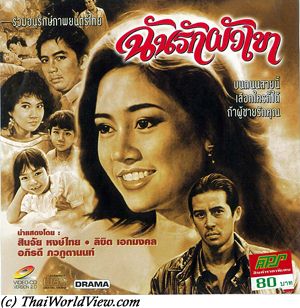 Year

: 1987



Thai title

:

ฉันรักผัวเขา




English title

:



Rating

: 4/5


Director

: Manop Udomdej



Main actor

: Likit Eakmongkol,Apichat Halamjiak


Main actress

: Sinjai Hongthai,Apiradee Pawaputanon
Am is singer in a music club. A young mysterious man called Win is coming every evening. Am refuses to sing a specific song "The last night" (คืนสุดท้าย) for him as it reminds her bad memories. She is living with her mother. She often thinks about her previous fiance, who lied to her as he had already a wife. She is now a singer and needs to be hostess with customers. A producer and a journalist are looking for new singers. They notice Am. Nowadays being capable (สามารถ) is not enough, the journalist would like to request more from Am but she doesn't play such bad game. She made a first music album with the producer. The journalist writes a bad article on Am regarding her relationship with a married man in order to boost record sales. She feels bad and drinks too much. Win brings her home. It is bad journalism. The journalist gets 2 baht per record sold. The journalist claims that nowadays talent (สามารถ) is nothing without advertisement (โฆษณา). The producer makes new songs for her, i.e "I love her husband" (ฉันรักผัวเขา) and "My heart hurts because of you" (ใจเจ็บเพราะว่าเธอ). Am accepts to sing these two songs even if she is worried that it will only corroborates the false news. Am is invited at the journalist's birthday in Cha Am. He tries to force her as he claims her success is due to him but Win knocks out the journalist and helps her. Win and Am become friends and start a relation (แฟน). The journalist continues to write bad news article on Am's love life. ช่างมันฉันไม่แคร์ - she decides to ignore the news. Am discovers that Win has two children already with a woman called Kae. They are married but live separately. Kae has already a new boyfriend (มีใหม่แล้ว). As Win is not yet divorced, Am refuses to go inside his house to protect her honor (ขายหน้า). Win's wife refuses to divorce in order to bring him troubles and to get more money. It is a difficult situation for Am as she is a middle of a broken family. The kids want the mother to stay. Kae calls the journalist. Another dirty (สกปรก) news article is published. Kae takes the two kids to use them as a means (เครื่องมือ) to force Win. She teases (แกล้ง) Win to prevent any happiness for him. She finally agrees for divorce as her children don't love her and her new boyfriend threatens to leave her. Unfortunately when happiness seems to be possible, Win dies in a car accident when going to Pattaya to meet Am. She sings his song "The last night" (คืนสุดท้าย) as a last homage for Win while crying. This movie highlights modern items in Thai society, i.e. the bad journalism, the stigmata of being a woman breaking a married couple.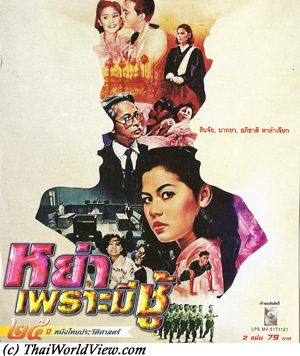 Year

: 1985



Thai title

:

หย่าเพราะมีชู้




English title

: The Accusation



Rating

: 5/5


Director

: Manop Udomdej



Main actor

: Apichat Halamjiak


Main actress

: Sinjai Hongthai,Nardtaya DaengBunga
The English title is the Accusation. Phan is a modern woman, teacher and writer. She is married with Phukphan and there is no love in the couple anymore (ชีวิตคู่น่าเบื่อ) but she needs to endure. They have strong arguments and her husband wishes to push her for divorce. He is an army officer. She finally receives a registered letter suing her for divorce due to adultery (ชู้). It makes newspaper headlines. She wishes to fight back and asks her friend Wan, a lawyer, to help but she refuses as Phan doesn't have strong evidences to refute the accusation. Wan finally changes her mind but has to face a famous lawyer on the other side. They start enquiries on Phukphan's past. The trial starts. The judge would like them to divorce silently to avoid noise and shame but it is too late. They both had a very busy schedule. Phukphan accuses his wife to have an affair with soldier Chayo. The trial raises issues related to sex affairs and private diseases (ติดเชื้อ). Crude details are given during the trial regarding intimate preferences of the husband such as a sadism. He blames his wife for not giving him what he wanted (อารมณ์เพศ). Real crude details are given during the trial. It was quite shocking during 1980s Thai society period. The lawyer is a woman. The defendant is a woman facing the establishment and men hostility. The accuser even tries to use fake testimony involving a policeman. Phukphan wishes to go with another woman. As Phan doesn't want to initiate the divorce, he planned to accuse her of adultery. Who wants to marry a woman who divorces her husband? it is wrongly seen as shameful by Thai society. A woman that asks for divorce is seen as a bad woman. She tried to support hoping her husband would change but he didn't. The movie exposes the horrible realities of her relations and his own sordid sexual life. Phukphan's lawyer claims that Phan's bad behavior is coming from the modern Thai novels she is writing. She finally wins the trial. This movie is widely admired by younger educated and intellectual Thai people. It nevertheless caused a major scandal by its sexual frankness and by the implication that a senior military figure could be guilty of socially inadmissible practices. In 1980s, Sinjai Hongthai played the modern woman in many movies (ฉันรักผัวเขา, ครั้งเดียวก็เกินพอ) directed by Manop Udomdej. She always has to fight for her rights.
---