Increase or decrease font size for easier reading : A+ A-
Linda Khatancharoen
Linda Khatancharoen (1956) - ลินดา ค้าธัญเจริญ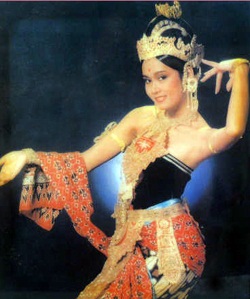 Linda Khatancharoen has played in more than 25 movies and many Thai TV series. She was seriously ill in year 2012
This Linda Khatancharoen movie page contains 4 records.
---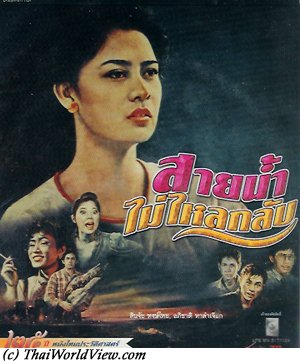 Year

: 1987



Thai title

:

สายน้ำไม่ไหลกลับ




English title

:



Rating

: 5/5


Director

:



Main actor

: Apichat Halamjiak,Somsak Chaisongkram


Main actress

: Sinjai Hongthai,Piathip Kumwong,Linda Khatancharoen
A young lady called Feun (Sinjai Hongthai) is working in a hairdresser shop and washes customers' hair. Khun Warut (Apichat Halamjiak), one customer, has interest in Feun. Phaen (Piathip Kumwong), Feun's stepmother, tries to push her to go out with Warut. Feun's father (Somsak Chaisongkram) indulges in alcohol and is seriously sick. Aniwat is Feun's close friend and wishes to marry her when he finishes his studies. Pressured by Phaen, Feun accepts a dinner invitation from Warut. Aware of this, Aniwat feels betrayed. Warut asks for Feun's hand. Phaen pushes her to accept. Troubled, she wishes to talk to Aniwat. But seeing him with another lady, she finally accepts Warut's offer. Warut starts to be more daring with Feun knowing they will marry soon. The wedding shall be a very small ceremony without Warut's parents. In fact, Warut is already married with three children. Phaen was aware. Warut and Feun don't understand each other. Feun likes to stay home but Warut likes to go to disco. Phaen is not interested in Feun's father but only in money that Warut gives to Feun. Warut doesn't come back home a few days already. While doing shopping with Warut, Warut and Feun meet Warut's wife. Feun understands that Warut lied to her (โลกลวง). She flees but is hit by a car. She is rescued by a DJ who introduces her to another lady called Luang. Feun cannot go back home as she doesn't want to be forced by Phaen again or to meet Warut again. Luang is working as a call girl. First Feun looks for normal jobs (waitress) but she still faces men harassment. She cannot find proper jobs (อยากเป็นคนดีแต่สังคมไม่ยอม). So she has finally no choice than working same as Luang as she is worried about her father. It is a difficult job as some men are crazy or violent. She enters in a whirlpool of sex and easy money. One day, one of her guest is Aniwat! Aniwat still believes Feun is a good person despite doing this job (ต้องการเงิน). Aniwat still loves Feun. Feun accepts to start a real love relationship with Aniwat. Their love is spoilt by meeting some former customers while dining and by a liver disease due to alcohol high level of consumption. Aniwat's friend tries to break this relationship. Feun's friend finds that Aniwat is already fiance with a teacher. Knowing this, she indulges in alcohol again and ends up in hospital. Despite cutting part of her liver, she will not survive long. She leaves the hospital and stays near the sea. Knowing Aniwat's wedding, she ends up in hospital again. Her friend forces Aniwat to visit her to hospital so that he can understand her real love and the pain he caused her. Feun dies in front of him. Movie สายน้ำไม่ไกลกลับ highlights society hypocrisy as it is allowed or understood that a man can have multiple mistresses but the opposite is not accepted. It highlights a society where men harassment is still excessive.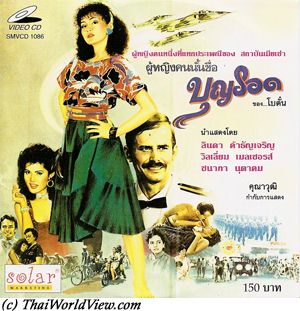 Year

: 1985



Thai title

:

ผู้หญิงคนนั้นชื่อบุญรอด




English title

: Her name is Boonrawd



Rating

: 4/5


Director

: Wichit Khunawut



Main actor

:


Main actress

: Linda Khatancharoen,Sarinthip Siriwan
Boonrawd is coming from a poor Isan family but she is proud and wants to succeed in work and family. During Vietnam war she works in a Pattaya restaurant and also opens a small bakery. An American officer, who speaks Thai language, wants to become her friend as he appreciates her strong spirit and mind. She faces the discrimination of prostitutes (Boonrawd is strong minded and refuses to become a prostitute for easy money), American GIs (they think all Thai women can be bought), Thai people (discrimination when she is seen with the American officer). Boonrawd faces pressure from her mother who wants her to become a prostitute (same as her sister) in order to pay her mother's lottery bills. She finally overcomes all difficulties and marries her American officer.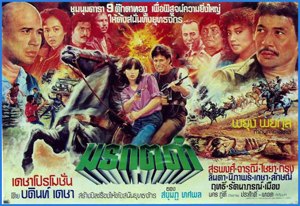 Year

: 1983



Thai title

:

มรกตดำ




English title

:



Rating

: 2/5


Director

:



Main actor

: Sorapong Chatree,Chaiya Suriyun,Rith Luecha,Krung Srivilai,Kecha Plianvithee,Lak Apichat


Main actress

: Jarunee Sooksawad,Nipaporn Nongnuch,Ratanaporn Intarakamhaeng,Linda Khatancharoen
Fighting is happening in a village. All villagers are killed by mercenaries led by Rith (Rith Luecha). Fighters, riding horses and wearing black clothes, led by Maneerak (Jarunee Sooksawad) are chasing them away. Maneerak has a mixed of Ninja and cowboy skills. Two groups are fighting for this area control as it contains precious gems. One group includes Maekin (Krung Srivilai), Kecha (Kecha Plianvithee), Maneewong (Nipaporn Nongnuch) and Maneerak. The opposite group includes Rith, Lak (Lak Apichat) and Runfa (Linda Khatancharoen). Maneerak, Maneewong and Runfa are three sisters. Their father died before. Rith's ruffians are looking over workers digging for gems. Yutta (Sorapong Chatree) finds a big black emerald (มรกตดำ) and flees away but is chased by the guards. The black stone (ก้อนหิน) is a sacred item. It helps to get rid of the guards and a blind monk appears to Yutta to encourage him to take good care of the stone. A mysterious man called Chaiya (Chaiya Suriyun) keeps surveying the two groups. Yutta is involved despite him in the fightings between the two groups as he helped Maneewong and then sold some gems. Yutta loves Runfa but she cannot be trusted as she steals the black stone while he is sleeping. This time, Yutta helps Maneerak, younger sister of Maneewong. The black stone belongs to Tibet and Runfa tries to sell it. Maneerak is able to get the black stone as Rufa's domestic helper stole it. Maneewong wishes to get the full heritage of her father. Maneerak visits her mum (Ratanaporn Intarakamhaeng) in a Buddhist retreat on a hill. Yutta follows her but Maneewong and her lover Maekin are just behind. Duel happens between Yutta and Maekin. Everybody is now looking for the black stone. Maekin kills Rith during the fighting between the two groups. Yutta gets rid of Lak. Finally both Yutta and Maekin are discovered to be undercover police officers (ผู้กอง). Chaiya(Chaiya Suriyun) is an undercover military officer. Chaiya and the mother make everybody realize greed. Understanding is back in the family and Yutta will bring back the black stone to Tibet with Maneerak. This 1h37mn movie is part of Thai Tom Yam western style. The Thai movie poster mentioned that nine Thai stars, having received Thai cinema awards before, are featured in this movie.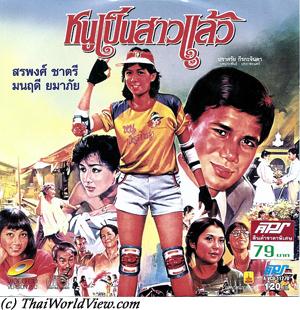 Year

: 1982



Thai title

:

หนูเป็นสาวแล้ว




English title

:



Rating

: 3/5


Director

:



Main actor

: Sorapong Chatree,Sor Asanajinda,Prachuap Ruekyamdee


Main actress

: Monrudee Yamaphai,Thitima Sangkapitak,Metta Roongrat,Linda Khatancharoen
Kathon is a girl coming from a poor family in a slum. She is doing small jobs to support her aging grandparents. A supermarket owner, Pakasit, catches her stealing food cans. Following her explanations, he has mercy on her. He then understands her good heart and character. He declares his love for her. But his mother looks down people coming from slum believing that they are only interested in her son's money. Hopefully his friends are coming to help Pakasit...
---