Increase or decrease font size for easier reading : A+ A-
Kriengkrai Unhanan
Kriengkrai Unhanan (1956) - เกรียงไกร อุณหะนันท์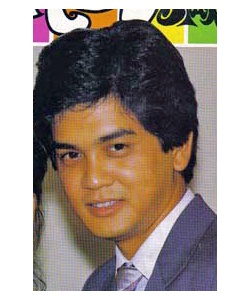 Kriengkrai Unhanan plays his first movie "ปริศนา" with superstar Jarunee Sooksawad. Between 1982-1984, Jarunee Sooksawad played many times in duo with Kriengkrai Unhanan but also with Toon Hiransap and Sorapong Chatree. Starting in 1985, he starts to get more second roles (พระรอง) as competition with new stars like Yuranan PamornMontri, Santisuk Promsiri and Amphol Lumpoon increased
This Kriengkrai Unhanan movie page contains 18 records.
---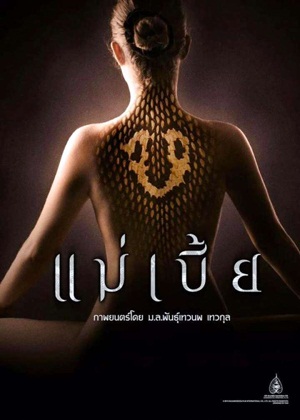 Year

: 2015



Thai title

:

แม่เบี้ย




English title

: Maebia



Rating

: 4/5


Director

: Pantewanop Tewakul



Main actor

: Shahkrit Yamnarm,Ananda Everingham,Kriengkrai Unhanan


Main actress

: Karnpithchar Katemanee



Buy now

:

Thai movie แม่เบี้ย was released in year 2015. It lasts 2h. Miss Thailand World 2009 second runner-up Karnpithchar "Oam" Katemanee was selected for the challenging role of Mekhala. Compared to previous versions in 1988 and 2001, this version is highlighted by a beautiful picture as usual with movies from director Pantewanop Tewakul and also an important dose of erotism with many love scenes. The elder brother khun Charachon (Shahkrit Yamnarm) wishes to buy an old house (เรือนโบราณ). The owner of the house is a beautiful lady called Mekhala. Charachon visits the house with his younger brother Prapoum. The house is showing traditional puppet events. While the elder brother enjoys the show and is attracted by the beautiful owner, the younger brother is having an affair with one of the dancers. Charachon wishes to meet Mae again. Charachon is married to Kaew and has a daughter. Mekhala is having a lover called Pot already but he dislikes a snake always around. Pot is the son of political party owner. Charachon wishes to have a diner with Mekhala but she prefers to organise it in her home... Pot cannot come that night as Mekhala is busy already. Pot sends some men to get rid of the snake (งูผี) but they die. Pot is also married. The snake ghost is jealous about men being close to Mekhala. Charachon has to meet again Mekhala as he fully attracted by her. While riddling on the river, they fall from the boat as the snake (งูเห่า) was about to attack. Charachon doesn't know how to swim. Charachon feels so well in Mekhala's old house that he forgets going home (ไม่เหมาะ) despite his wife waiting. The spirit has the appearance of a beautiful young lady at nighttime. Charachon has weird dreams and wishes to understand the significance. Charachon sees Mekhala talking to a big snake (ทีนี้ไม้ใช่ที่ของคุณ). They finally become lovers. Mekhala tells the story of the snake (คุณ), who was already protecting her mother. On his side, Charachon is an adoptive child. He doesn't know his biological parents. In the morning, while wandering with Mekhala, the cobra attacks Charachon again. Thanks to the spade (ดาบพิเศษ) given by Lung Tim, Charachon pushes back the snake. Lung Tim warns Charachon not to come back to this house. Pot is chased away by Mekhala as she has Charachon now. Aware of Charachon's outside activities with Mekhala, Charachon's wife, Kaew, asks her to stop taking her husband (แย่งผัวชาวบ้าน). Meanwhile Pot dies while trying to kill the snake. The house is damned (บ้านของบาป, บ้านมีกรรม) with lust and death. Charachon realises he is not the real son of Kriengkrai Unhanan. Perplex, he finds his own brother Prapoum in bed with his wife Kaew. Deceived by life, Charachon goes back to Mekhala's home knowing she is not here and knowing that death is waiting for him there. A few months later, Prapoum brings his new boss (Ananda Everingham) to visit Mekhala...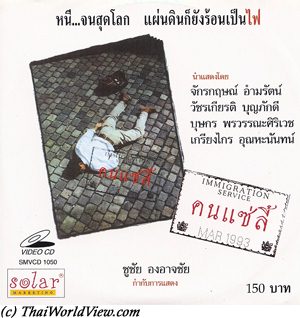 Year

: 1993



Thai title

:

คนแซ่ลี้




English title

: Immigration service



Rating

: 3/5


Director

:



Main actor

: Kriengkrai Unhanan


Main actress

:
Jack refuses to be a scapegoat and to be involved in a big corruption scheme managed by his boss. As a killer is trying to get rid of him, he has to flee in Switzerland. There he meets another Thai man, who has fled for similar issue. They wish to fight against the corrupted Thai society but there are too many people in the system and the numbers keep increasing. They alone cannot possibly change anything when the majority still sticks to the old system. A hitman finds Jack back in Switzerland. A young woman, who in fact Jack's boss daughter, is helping him. Is she truly helping Jack or protecting her father? This movie grabs 10 awards.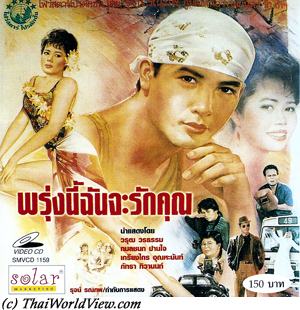 Year

: 1989



Thai title

:

พรุ่งนี้ฉันจะรักคุณ




English title

:



Rating

: 3/5


Director

: Ruj Ronnapop



Main actor

: Waruth Woratum,Kriengkrai Unhanan


Main actress

:
This movie is a remake. The previous version was shot in 1980. A man called Non helps a woman, called Oon, drugged by a taxi driver, who wants to rape her. Oon believes that Non raped her and flees. Non loves Oon but cannot find her anymore as she leaves for France. Oon's sister meets Noon and is fond of him. Non asks her in marriage. When Oon comes back from France, many confusions happen until love emerges between Non and Oon.



Year

: 1989



Thai title

:

เทวดาตกสวรรค์




English title

:



Rating

: 4/5


Director

:



Main actor

: Santisuk Promsiri,Kiet Kijcharouen,Suchao Pongwilai,Kriengkrai Unhanan


Main actress

: Jintara Sookkapat,Mayurachath Muarnprasitivej
Thep is part of a group of deities (Thewada - เทวดา) that comes to earth. Thep fails to go back to heaven. People in a slum (สลัม) are expelled from their home as a big company wishes to build a hotel. A journalist from CH8 (ข่าว 8) called Aep is showing the truth. Ruffians try to bring troubles but Thep protects Aep. Aep believes he met a crazy guy (เจอคนบ้า). As Thep has nowhere to go, he welcomes him in his home. Aep's sister, Kaew, is blind and makes flowers. Aep is having issues with a colleague, Watee, at the office. Other deities come to pick up Thep but Thep prefers to stay believing he is more useful in human world (มนุษย์). Aep is doing an enquiry on a kid that was kidnapped. He always highlights the opposition between poor and rich society. Aep interviews show real society so they are disturbing to his boss. Aep is worried (กลุ้มใจ) as her boss doesn't value his work. Thep starts to understand society hypocrisy (Good people – คนดี – only pretending, Charitable work – งานกุศล - is not only for those going to temple, do we value people only by their name particule – ทาน ?) Deities can be same as humans. As Thep is not willing to go back yet to heaven so he is helping Aep to do kindness (ช่วยทำความดี). Wattee and his boss (หัวหน้าผู้หญิง) are lovers. Wattee threatens her to nominate him at a higher position. An eye donation (บริจากตา) happens for Kaew. The donor is not compatible but Kaew accepts her fate. Meanwhile Wattee has no scruples. He dumps his girlfriend to pursue high professional hopes. He gets one video tape featuring a drug case but it is stolen by Da, one of the employee as it features her husband. She tries to protect her wedding and child as her husband is playing cards and dealing with drugs. Thep challenges the heaven that goodness should be seen before he heads back. To avoid bringing trouble to Da, the chief editor takes the responsibility of the missing tape. Things get worse as Da tries to get suicide as her husband has fled with her daughter. The deity leader tries to get back Thep but to no avail. Finally Da and her daughter are reunited. Through Kaew and the chief editor's action, Thep can see kindness on earth. Wattee is still jaleous with Thep and Aep. He sends some ruffians to neutralize them. Thep can vanquish them and Wattee is sent to jail as his boss doesn't support him (ตอบแทนความดี!). As Wattee is now in jail, it is time for Thep to go back to heaven. It was originally a Thai TV serie done in 1986 and then adapted to cinema in 1989. Another TV serie remake was done in 1998.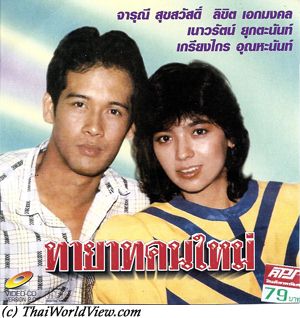 Year

: 1988



Thai title

:

ทายาทคนใหม่




English title

:



Rating

: 3/5


Director

:



Main actor

: Likit Eakmongkol,Kriengkrai Unhanan


Main actress

: Jarunee Sooksawad,Naowarat Yooktanun,Sarinthip Siriwan
A father has two sons, one has taken over the business. He is heartless and strong minded. The other one spends his time going out for party and doesn't want to help on his father's business. His dream is to open his own business. They met a young lady living in a slum and selling flowers on the streets. She has arguments with the first son but becomes friend with the second one. The first son's girlfriend wants to push to get married and plots a plan to get the whole family heritage. A gunman wishing to kill the father is hindered by a samlo driver, who is the father of the young lady. Unfortunately he got killed. To show his gratitude, the father decides that the young lady shall become his daughter. Tenses situations happen at the house when the new daughter arrives...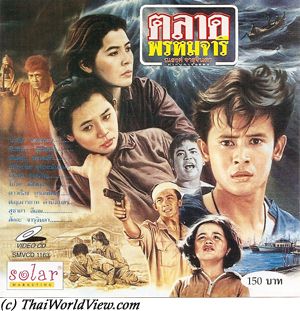 Year

: 1988



Thai title

:

ตลาดพรหมจารี




English title

: Virgin market



Rating

: 5/5


Director

:



Main actor

: Kriengkrai Unhanan,Santisuk Promsiri,Kowit Wattanakul


Main actress

: Jintara Sookkapat,Nardtaya DaengBunga
This movie takes place in the South of Thailand. The Thai title means "Virgin market". Kaem is living with his wife (Phrae), son and father. Kaem is a fisherman. He also takes care of Pia as she has no father and mother anymore. Pia is now 18 years old and is flirting with Faeng. Pia and Faeng love each other but Kaem is over protective. Kaem is drinking and gambling. He has gambling debts and needs to give back 2000 Baht within two months so he has to interact with the gambling den owner. Phrae is a good wife that Kaem doesn't deserve due to his bad behavior. Kaem's fishing selling business is getting worst and worst. He believes he needs to get a faster engine to be able to go far and get more fishes in deep sea. Kaem learns that a sick Hong Kong businessman is looking for a young virgin woman as he believes it is the best cure. Kaem is so eager to get a new engine for his fishing boat that he agrees to sell Pia's virginity to the local gambling den owner for 15 000 Baht. He gets the money, buys the engine and has to handover Pia within three days. While trying the new engine, a storm is coming. Kaem doesn't listen to Phrae's advice to go back. The engine gets stuck and the boat gets caught in the storm. Hopefully they survive but the engine is dead. But Kaem still has his promise to fulfill. He deceits Pia by sending her to the gambling den owner by bringing a letter. She is forced to stay emprisonned during two days until the Chinese man arrives. On his arrival, she succeeds to escape from her jailers and jumps into the sea. She goes back to her home but the gambling owner is waiting there. Phrae protects her by beating him with a paddle. Everybody now knows Kaem's treacherousness. For her own good sake, Phae sends Pia to Faeng's home but this one rejects her believing she has slept with other man. The gambling den owner now wants his money back with interest. He threathen with gun Kaem, Phrae and Kaem's father in front of many villagers. He shots a few time inside the boat engine making it unusable. Kaem becomes crazy and cries endlessly about his engine. Faeng now understands the whole story and goes back to search for Pia. It is unfortunately too late... Pia has jumped to her death from a cliff. Wrecked lives due to poverty... Kriengkrai Unhanan is more used to play the good guys but deliver an outstanding performance in playing Kaem role. It is a remake of ตลาดพรหมจารี realized in 1973 with Piathip Kumwong.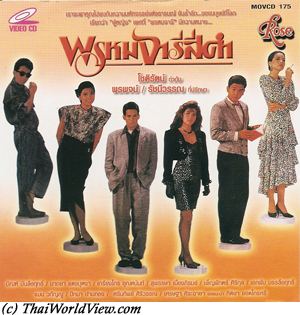 Year

: 1987



Thai title

:

พรหมจารีย์สีดำ




English title

:



Rating

: 2/5


Director

:



Main actor

: Kriengkrai Unhanan,Bin Banleurit


Main actress

: Supansa Nuengpirom,Penpak Sirikul
A young lady will soon marry a playboy handsome guy but another lady seduces him. Disappointed, the young lady tries to suicide and finally quit Thailand. Sixteen years after she comes back to Thailand and starts a revenge by luring the lady's son.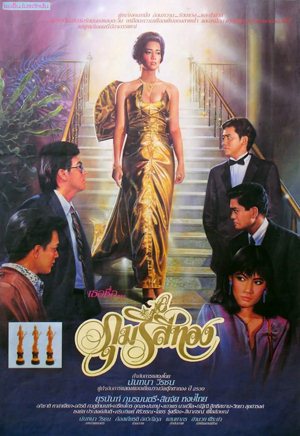 Year

: 1987



Thai title

:

ภุมรีสีทอง




English title

:



Rating

: 3/5


Director

:



Main actor

: Yuranan PamornMontri,Kriengkrai Unhanan,Apichat Halamjiak


Main actress

: Sinjai Hongthai,Apiradee Pawaputanon,Natanee Sitthisaman,Sarinthip Siriwan
Nam Pheung (Sinjai Hongthai) and Payon are in love. Payon needs to go overseas to study. While rowing on a lake, a storm happens so they take refuge in a small cabana. They become lovers. On the day of leaving overseas, while meeting Nam Pheung at the train station, Payon is hit by a train and dies. Veteran actress Natanee Sitthisaman is the one who warns Nam Pheung. Shocked and while walking along the path, she is kidnapped by two songthaew drivers and raped. Shortly after their wrongdoing, they both die in a traffic accident. Nam Pheung's father is played by veteran actor วิทยา สุขดำรงค์. The movie ภุมรีสีทอง (the golden queen bee) is narrating the story of a woman that causes the death of all her lovers. Will she ever find true love? This movie received three Thai awards.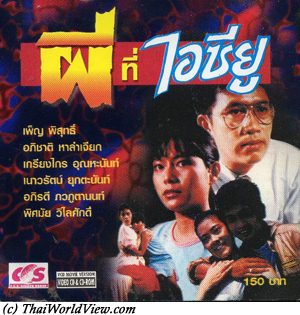 Year

: 1987



Thai title

:

เหตุเกิดที่ห้องไอซียู




English title

: Ghost in ICU room



Rating

: 3/5


Director

:



Main actor

: Apichat Halamjiak,Kriengkrai Unhanan


Main actress

: Pissamai Wilaisak,Naowarat Yooktanun,Apiradee Pawaputanon,Pen Pisut
Doctor (หมอ) Bucha saves Mrs Kamala life through reanimation. Mrs Kamala has heart problems since years and had helped to donate (บริจาค) money for the hospital construction. Mrs Kamala and her family, including her two daughters Koi and Kung, come to rest at a seaside resort. Doctor Bucha is married to Noon, who is always very jealous and doesn't like he spends too much time with patients. Koi and Kung are dragged in a dirty trick by Noon's brother following a party but the doctor, aware, can help the two sisters. Noon is jealous of Koi and Kung as she has concerns to protect her husband. Koi knows Bucha before Noon. Bucha and Noon is an arranged wedding and not a love wedding. Korn's brother, Nat, is a lazy guy, who wishes to marry Koi as she is coming from a rich family. A ceremony is organised for the new hospital building offered by Kamala. Noon jokes about entering ICU room to be close to her husband. This is a bad omen as she has a car accident while following her brother stealing goods from her home. But Noon spirit (วิญญาณ) is still around (พี่หมอค่ะ). A nurse trying to seduce Doctor Bucha is found dead. Bucha is accused by the police. Noon now threatens Koi and asks her to stop seeing doctor Bucha. At nighttime Noon frightens Mrs Kamala causing her to have a heart attack. Mrs Kamala seems to be dead but she suddenly resurrects being possessed by Noon. Mrs Kamala starts to behave like Noon and tries to seduce Doctor Bucha. A domestic helper understanding that Mrs Kamala is now a ghost gets killed also. Mrs Kamala's husband decides to consult a monk on spirit chasing. A sacred cloth is given. Mrs Kamala tries to kill her own daughter Koi but the usage of the sacred cloth neutralizes successfully the evil spirit. Bucha and Koi can now have happiness. This movie is 1h16mn only.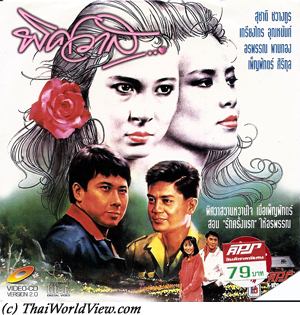 Year

: 1987



Thai title

:

พิศวาส




English title

:



Rating

: 2/5


Director

:



Main actor

: Kriengkrai Unhanan


Main actress

: Penpak Sirikul
A young lady is oppressed by her tutor that has brought her since her youth. She wants to get freedom and be able to choose her own life. She decides to flee, finds a safe place to stay in Chiang Mai area and discovers love also. Her tutor, becoming crazy due to such ingratitude, does everything possible to get her back...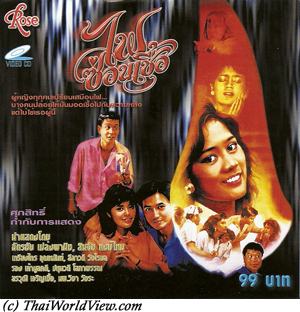 Year

: 1987



Thai title

:

ไฟซ่อนเชื้อ




English title

:



Rating

: 2/5


Director

:



Main actor

: Chatchai Plengpanich,Kriengkrai Unhanan


Main actress

: Sinjai Hongthai
One woman is jealous of her sister, who has found a nice husband. Despite all her attempts, she cannot find the right mate. Her jealousy will lead her to madness.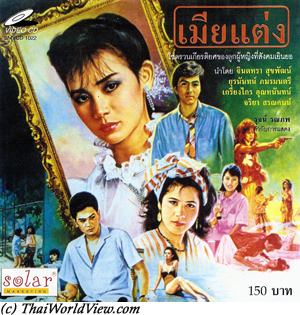 Year

: 1986



Thai title

:

เมียแต่ง




English title

:



Rating

: 3/5


Director

: Ruj Ronnapop



Main actor

: Kriengkrai Unhanan,Yuranan PamornMontri


Main actress

: Jintara Sookkapat,Pissamai Wilaisak,Sarinthip Siriwan
Arunprapai is a woman who has a good look and qualities. Her mother arranges a wedding with Kongkai. Her family life is not happy as Kongkai still visits Prungchat, his former lover. Divorcing seems to be the only solution choice even if relationships start to improve. Prungchat claims she is pregnant of Kongkai to force him to divorce from Arunprapai. The whole thing is just a lie, so he finally goes back to Arunprapai who is pregnant of him.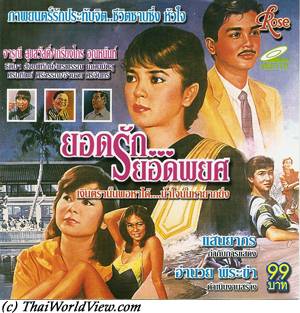 Year

: 1985



Thai title

:

ยอดรักยอดพยศ




English title

:



Rating

: 3/5


Director

:



Main actor

: Kriengkrai Unhanan


Main actress

: Jarunee Sooksawad,Sarinthip Siriwan
Two sisters are reunited together after the elder comes back from USA. A man is seduced by the younger sister's wit but he was the elder sister's lover in USA. How the sisters are going to manage this delicate situation?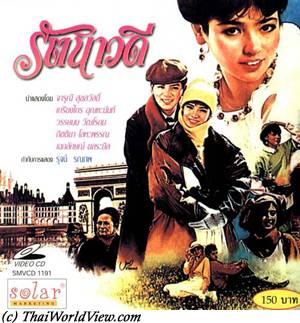 Year

: 1985



Thai title

:

รัตนาวดี




English title

:



Rating

: 2/5


Director

: Ruj Ronnapop



Main actor

: Kriengkrai Unhanan


Main actress

: Jarunee Sooksawad,Sarinthip Siriwan



Buy now

:

Princess (มจ.หญิง) Rattanawadee and her maid are going to London. Her brother's friend, Sadet, is working at the embassy. He was supposed to pick her at the airport but he fails to be on time. Rattanawadee is upset and very angry. She goes to complain at Sadet's home. She mistakes Sadet as the car driver. To avoid losing face, Sadet simulates being the car driver, called Lek, and propose them an Europe tour as a compensation for Sadet's lateness. They visit many countries in Europe including France (Versailles, Chateaux de la Loire...). Lek can speak many languages and is very cultured (รู้จักเยอะ) for a driver (คนขับรถ). Lek faces issues and jealousy from a hiso British Thai man called Wisan and willing to seduce Rattanawadee. The trip continues to Hamburg, Liechtenstein and then to the Swiss lakes. Love starts slowly to emerge. Jealousy also changes side as they meet a Thai tourist, Sasi, having high interest in Lek. Rattanawadee wishes to push Lek to marry Sasi as she is coming from a rich family but Lek will marry somebody for love and not for money. Sasi is rich (รวย) but has no manner (มารยาท). Finally Lek is uncovered as Prince Sadet working for the London embassy. After a short ire from Rattanawadee to have been abused, reciprocal love is declared. This movie has a typical scenario similar to many 1980s romantic movies where the two protagonists don't know their real status and identity. It looks like European countries discovery for Thai people. Whoever car driver or princess everybody expects love.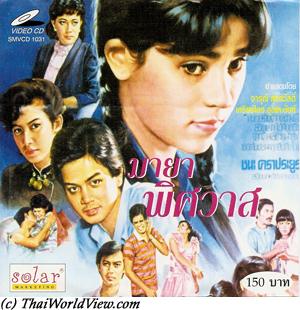 Year

: 1983



Thai title

:

มายาพิศวาส




English title

:



Rating

: 4/5


Director

: Chana Kraprayoon



Main actor

: Kriengkrai Unhanan,Suchao Pongwilai,Manop Aussawathep


Main actress

: Jarunee Sooksawad,Pissamai Wilaisak,Mayurachath Muarnprasitivej,Nipaporn Nongnuch
Dokbua (ดอกบัว), a young lady, is hurt by Chala's car. She is a poor girl coming from Chiang Mai to Bangkok in order to work but she was told a falsehood regarding the job nature. As she has nowhere to go, she can finally stay as a maid as Chala gets pity on her harsh life. Chala's HiSo family includes various members. Pen is a middle age woman. She is the new wife of Chon, who is paralyzed. Chita is Chon's sister. She never got married. Chon has three children, Chala, Chet and Lek. There is always a bad and oppresive ambiance in the family. Chala only spends money but does not earn anything. In fact Chala gives the money to a poor family. Chet and Pen are lovers. All men in the house fight over Dokbua. Pen wants to use Dokbua to take care about her paralyzed husband ardors so that she can have more free time with Chet. Dokbua played the stupid girl but she is in fact very intelligent. Only Chala knows Dokbua has entered the house with a specific idea. What is her goal and her hidden secret? This HiSo house is same as hell (นรก). People are doing bad deeds (มีบาป). Ten years ago, Chon, the father always partied in the house and brought girls. It only stopped when the father became paralyzed. Lek, the youngest daughter, has a boyfriend called Tat. Tat also tries to seduce Dokbua. Pen has a new plan and introduces Dokbua to a rich man called Tawat. Pen gets money in exchange of providing young girls to rich men. There are arguments between Tawat and Chon. Dokbua prefers to stay with Chon. Tawat takes over Chon's company as he looses face regarding Dokbua. It causes a heart attack to Chon. Dokbua talks to Chon privately on his hospital bed while he is dying. Chon is afraid about hell (กลัวนรก) due to his previous bad deeds. Before dying he updates his testament and gives nothing for his children. Everything goes for Dokbua. Chita relates Chon's story to Chala. Chon was behaving like a ruffian when he was young. After having a second kid the father starts to misbehave again with girls so the mother called Lamyong hanged up herself. Dusit was a former business associate of Chon but they had arguments. Chita and Dusit were in a love story and Chon made it broken up. Dusit later has another wife but Chon never forgave to Dusit and Dusit was shot in the back. Dokbua is Dusit's daughter. Dusit is still alive but is paralyzed. Tat still tries to seduce Dokbua as Lek is now a poor girl. Chet also tries to be nice. This hypocrisy causes Tat and Lek to break up. Pen and Chet also break up. Pen cannot stand it. Pen shots Chet and becomes crazy. Lek behaves as a bad girl. The whole family ends up in a turmoil even if Dokbua didn't intend to be such a mess. Finally Dokbua and Chala declares their love for each other. Dokbua gives all heritage to Chita. This movie highlight the high society hypocrisy. Chana Kraprayoon is famous for directing drama / romance movies and Thai TV series. This movie was adapted in a Thai TV serie in 2007. Jarunee Sooksawad got an award for her Best Actress performance in this movie.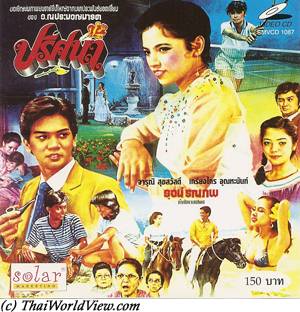 Year

: 1982



Thai title

:

ปริศนา




English title

:



Rating

: 4/5


Director

: Ruj Ronnapop



Main actor

: Kriengkrai Unhanan


Main actress

: Jarunee Sooksawad
Prisana is a young Thai lady coming back from USA. Her life vision is influenced by her American education. Her future mate choice should be based on love and not based on family choice or wealth. Will she overcome Thai society rules?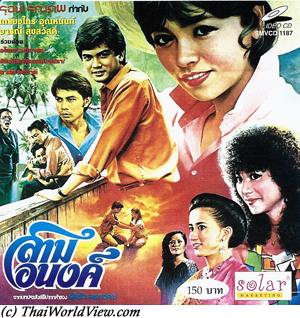 Year

: 1982



Thai title

:

สามอนงค์




English title

:



Rating

: 3/5


Director

: Ruj Ronnapop



Main actor

: Kriengkrai Unhanan


Main actress

: Jarunee Sooksawad,Nipaporn Nongnuch
A grandmother has got four grandchildren, i.e. 3 girls and one boy. Due to heritage machiavellian reasons, she forced a wedding between two of her grandchildren but the boy has already a girl friend. So the newly husband misbehaves with his wife. Fed up by this behavior, her sister brings her back to Chiang Mai. Knowing that his wife is pregnant, the husband asks for forgiveness.



Year

: 1982



Thai title

:

เทพธิดาโรงงาน




English title

: Factory angel



Rating

: 5/5


Director

: Yutthana Mookdasanit



Main actor

: Kriengkrai Unhanan,Lak Apichat,Somchai Samipak,Krailat Kriengkrai


Main actress

: Jarunee Sooksawad,Wilaiwan Watthanaphanit,Juree Osiri



Buy now

:

Oi (Jarunee Sooksawad) is leaving her village and is going to the city (กรุง) to find a work. Teum (Krailat Kriengkrai) proposes to help. After a long trip, they reach the textile factory (คนงานใหม่). Rangsan (Kriengkrai Unhanan) as factory manager (ผู้จัดการ) agrees to recruit Oi and her two friends. Rotchai is the factory controller (ห้าม, ไม่อนุญาต). Factory workers sleep in dormitory and share big bathroom. The factory manager seems to like Oi a lot. His parents are played by famous veteran actor Somchai Samipak and veteran actress Juree Osiri. Chalai is a high-so girl pushed by Rangsan's mother to marry her son. Working conditions are hard in the factory, i.e. hot and noisy environment. Japanese investors are visiting the factory. Yamada, the Japanese factory owner, wants Oi to represent the Thai factory in Japan as angel protector. Everybody is stunned by Oi's beauty when she wears traditional clothes. Molam song is used as soundtrack (สาวโรงงาน). Oi is split between her boyfriend waiting for her in Isan and the strong interest shown by the factory manager Rangsan. There is a contest in the factory similar to Songkran festival (ประกวด เทพธิดาโรงงาน or angel factory contest). Pa Chan, an old aunt (Wilaiwan Watthanaphanit), working there for twenty years, gets the title. A high society fair is organized by Rangsan's parents in their home. Oi is invited (สวัสดีปีใหม่). There is a contrast between western classical music used in high society part and Molam listened in the factory. But at the end the high society people (ผู้ดี) also push each other for the buffet. Lak Apichat is playing a house guard. The fair degenerates as Chalai denigrates Oi (คนบ้านนอก) and ends up with a bowl of food on the head. Rangsan refuses to punish Oi as she didn't behave badly in her job so the mother hires ruffians but they get pushed back thanks to the taxi driver Pen (อโนเชาว์ ยอดบุตร). Many countryside people have dreams when coming to Bangkok the first time (กรุงเทพเป็นเมืองฟ้า). Some workers end up working in sauna believing work is easier and getting fast money. Pa Chan loses conscience again while working. Despite being a worker dedicated for twenty years, she is finally thrown away like a dog (is it the reward for being a slave for twenty years?). A sign shows "Safety first" but no action is taken to help Pa Chan. Rangsan explains the gesture by being worried about syndicates and wish to avoid inspections as it could mean additional expenses. Oi rescues the old lady at her home. Oi is invited in Japan and shall be selected as factory angel representative. On the day of the announcement event, Pa Chan dies of sickness in Oi's arms. Oi makes a touching speech to the factory management complaining about their lack of humanity towards Pa Chan. She quits her job and goes back to Isan. Her boyfriend is on the way to Saudi Arabia to work there one year. She finds her father. Only family is source of trust and happiness. The movie เทพธิดาโรงงาน lasts 2 hours. It has been adapted into a Thai TV serie in year 2012.
---