Increase or decrease font size for easier reading : A+ A-
Joomjim Khemlek
Joomjim Khemlek (1950-1994) - จุ๋มจิ๋ม เข็มเล็ก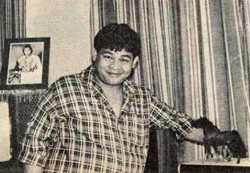 Joomjim Khemlek is a Thai comic actor. He was corpulent so always played comic roles. He died due a heart failure
This Joomjim Khemlek movie page contains 19 records.
---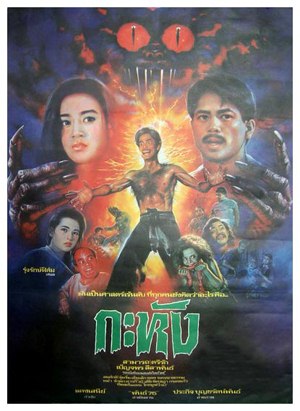 Year

: 1991



Thai title

:

กะหัง




English title

:



Rating

: 3/5


Director

:



Main actor

: Mum Jokmok,Joomjim Khemlek,Somsak Chaisongkram


Main actress

: Trirak Rakkarndee



Buy now

:

Thai movie กะหัง was ​released in year 1991. It lasts 76 minutes. The picture quality is average. It was sold by two VCD companies under the name หม่ำต้มยำผี2. The highlight of this low budget comedy horror movie with limited Fx is to have two famous spirits from Thai folklore to meet (ผีปอบ and ผีกะหาง). Lom (Mum Jokmok) and Joomjim Khemlek are talking about a young lady called Fon. Doctor Klam (หมอกล่ำ) (Somsak Chaisongkram) is an herbal doctor (สมุนไพร). His daughter Oon, is pregnant since 2 months with Phi Mek but she didn't tell her father. A bit of light erotism suggestion is featured as such movie needs to accommodate many tastes in rural audience. Nobody talks to Sai Jai (Trirak Rakkarndee) or her mother in the village except Phi Mek. Sai Jai doesn't know that her mother is an ogress (ผีปอบ). Phi Mek decides to flee with Oon as they know Oon's father doesn't like Mek so he will not approve the wedding. Fon is Mek's younger sister. Mek asks his friends to take care of his father and his sister while he is away. Friends argue to be the one to take care of the beautiful Fon. Klam is very upset and threatens to kill both Mek and Oon. At nighttime in the forest, a demon (ผีกระหัง) attack them. Oon is killed. Sai Jai's mother, who was following Klam, eats her intestine. Phi Mek is back to the village. Nobody knows who the demon is. It is in fact doctor Klam! Sai Jai's mother forbids her daughter to see Mek and to marry only once she is dead. At nighttime, the mother becomes an ogress (ผีปอบ), female ghost eating intestines, and chases for preys. She is then attacked and killed by the demon. Before dying, the spirit is transferred from the mother to Sai Jai. Sai Jai then becomes an ogress. Klam is identified by villagers as the demon. A spirit doctor (หมอผี) is called. Finally as both ghosts are chasing villagers, the spirit doctor succeed to neutralize them. Klam becomes ashes and Sai Jai is safe after the spirit is removed from her body.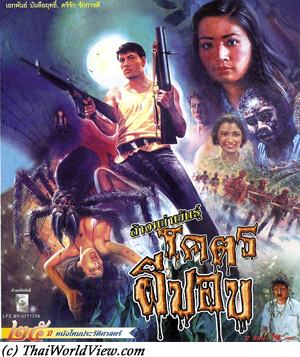 Year

: 1990



Thai title

:

ล้างเผ่าพันธุ์โคตรผีปอบ




English title

: Holocaust of the ogre clan



Rating

: 1/5


Director

:



Main actor

: Ekapan Banleurit,Lak Apichat,Joomjim Khemlek


Main actress

: Trirak Rakkarndee
Two young soldiers find a decomposed body in a bag floating on the river. They decide to bury it. A spirit exits from the tomb and transforms itself into a beautiful lady called Nuan (Trirak Rakkarndee). Nuan is given refuge in the soldiers' home as she claims she is on the way to Bangkok but it is already nighttime. Nuan loves immediately Cheut as he is kind hearted man. It generates jealousy from Khun, the subdistrict headman's (กำนัน) daughter, as she also loves Cheut since a long time. The subdistrict headman Son likes Nuan a lot and invites her to stay in his home as it is more comfortable than Cheut's home. Other ladies having interest in the subdistrict headman in the village start to be jealous of this Bangkok girl! The subdistrict headman follows up Nuan at nighttime but then she becomes a ghost again. The two ladies Kamlai and Kamlong visit an expert into magic (อาจารย์) to get special oil (น้ำมันพราย) to make a love filter (ยาเสน่ห์) to try seduce easier the subdistrict headman. Meanwhile the village ruffians flee away when Nuan, beautiful lady, taking a bath, becomes a ghost! The other villagers tell Cheut that Nuan is a ghost. He flees from home and shelters at subdistrict headman's home. They ask for a local shaman's (หมอผี) help. Nuan decides to get her husband back. But he refuses to join her again. Nuan forces Cheut's friend to play the bait. Cheut goes back to her as he is under a spell. Finally Nuan is defeated by the shaman. Many couples can now have happiness and marry. As often during years 1988s-1993s, Ekapan Banleurit and Trirak Rakkarndee are playing the main couple in those cheap horror Thai movies. Same old tricks are used with ghostly skeletons and simple basic FX effects. Such movie includes more gags than real horror. It was targeted for rural audience and not Bangkokian audience. The scenario is very similar to Mae Nak (แม่นาค) traditional old story where the young man loves and lives with a ghost without knowing it (ผีหลอก!). This movie is released by Lepso Studio. Image and sound quality are quite poor. Once again the title is wrong. It is named "ล้างเผ่าพันธุ์โคตรผีปอบ" (Holocaust of the ogre clan) but there is not a single ogre (ผีปอบ) in the movie. The VCD cover belongs to another movie called "ปีศาจแมงมุมสาว". The real name of this movie seems to be "ต้นตระกูลปอบ".



Year

: 1990



Thai title

:

กระสือกัดปอบ




English title

:



Rating

: 2/5


Director

:



Main actor

: Bin Banleurit,Note Chernyim,Joomjim Khemlek,Tongchai Prasongsanti


Main actress

: Trirak Rakkarndee
Dao (ดาว), a young lady, is living with her grandmother (ยาย), who is sick. They are poor. Pen, young man, just defrocked from monkhood. His father, village leader (ผู้ใหญ่), wishes to find a wife for him. Dao asks Pen to find a doctor as her grandmother is very sick. The grandmother gives Dao a ring, which is a family heritage. Em, Dao's friend, invites her to see an outdoor movie at the temple fair. It is a trick as another male villager called Chot wishes to meet Dao. Pen loves secretly Dao and is upset by other male villagers interest into Dao. Dao is feeling unwell and goes back home. She finds her grandmother died while sleeping. Due to the ring, Dao becomes a Kraseu (กระสือ), a filth-eating floating ghost with a head, a trailing heart and intestines. Kraseu steals the food from another ghost, a Phi Pop (ผีปอบ) who eats intestines. Villagers have now to flee two ghosts (ผีหลอก). Villagers identify Dao as the Kraseu ghost. The Phi Pop ghost has possessed (ถูกปอบเข้าสิง) another young villager lady called Raem (แรม). Her parents identify that she is a ghost as they saw her eating raw meat. Pen wishes to marry Dao as he doesn't know she has become a ghost. Chot finally wishes to marry with Raem so her parents are embarrassed as she is a ghost. Raem agrees to the wedding. On the wedding night, Chot wishes to reach the seventh paradise level (สวรรค์ 7) but it is a failure as his wife is a Phi Pop. Nevertheless Riem spares his life. Phi Kraseu and Phi Pop fight together. Riem's parents consult a master (อาจารย์). Within the first three months, the possessed can be saved (สุภาพเป็นคน) if the spirit is chased away. After it is too late. Another master is called as the first one failed. He recovers Dao successfully but the task is harder with Raem. Finally both ladies are safe but the love between Raem and Pen is stronger so Dao accepts Raem to become Pen's minor wife. Basic Fx effects similar to 1970s / 1980s Thai horror movies are used such as the infamous howling dog during nighttime. It is "Baan Phi Pop" similar recipe mixing comedy and light horror. The soundtrack is a patchwork of other stolen soundtrack such as Friday 13.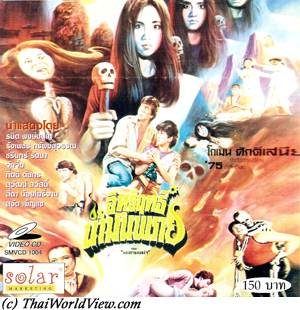 Year

: 1984



Thai title

:

อิทธิฤทธิ์น้ำมันพราย




English title

:



Rating

: 1/5


Director

:



Main actor

: Tanit Pongmanoon,Joomjim Khemlek


Main actress

: Praew Mardmarud
The spirit ("PHI KRASEU" - ผีกระสือ) is a malicious and very dangerous spirit which manifests itself as a beautiful woman. It floats through the air because it has no lower body. It appears as a length of intestines suspended from a lovely woman face. This movie is about an old sorcerer transforming a young woman into an evil spirit "PHI KRASEU". She frightens the villagers. Is it possible to get rid of the spirit without hurting the young woman?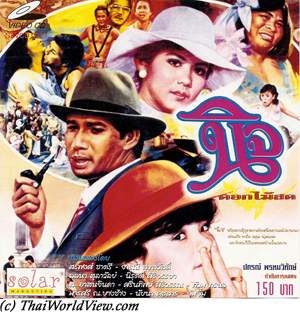 Year

: 1983



Thai title

:

นิจ




English title

:



Rating

: 3/5


Director

:



Main actor

: Sorapong Chatree,Sor Asanajinda,Joomjim Khemlek,Thuam Thoranong


Main actress

: Jarunee Sooksawad,Lalana Sulawan,Sarinthip Siriwan,Marasri Bangchang
Two young people are married following their parents agreement but the man doesn't love his wife and still continue to visit his mistress. Despite all her attemps, the young lady cannot succeed to get love from her husband and left. His husband finally understands that her mistress has an awful mind and try to get her wife's love back. Is it too late?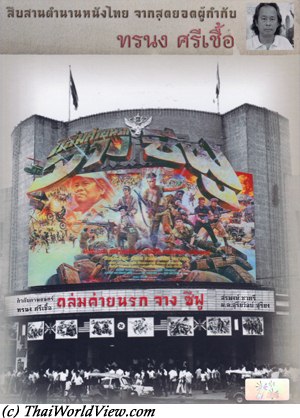 Year

: 1982



Thai title

:

ถล่มค่ายนรกจางซีฟู




English title

: KHUN SA THE OPIUM EMPEROR



Rating

: 3/5


Director

: Toranong Srichua



Main actor

: Sorapong Chatree,Joomjim Khemlek,Tuanton Kammeesri,Manop Aussawathep,Somjin Thammatat,Nirut Sirijanya,Pinyo Parnnui,Somsak Chaisongkram,Pumi Patanayut


Main actress

: Nanthida Kaewbuasai
Thai movie ถล่มค่ายนรกจางซีฟู / 'KHUN SA' THE OPIUM EMPEROR was released in year 1982 and lasts 1h45mn. The DVD soundtrack is quite bad with sound going up and down. The DVD image has also a poor quality. This is a VHS ripped and put on a DVD. Movie director is Toranong Srichua. This movie is about Chang Chi-fu (จางซีฟู) or Khun Sa, famous opium warlord. In January 1982 a Thai Ranger squad, together with units from the Border Patrol Police and the Royal Thai Army, was used to force Khun Sa to move his headquarters from Thailand across the border into Burma. Sorapong Chatree recalls war and is stressed. He is sent to spy Khun Sa. Twenty men, including Tuanton Kammeesri / Pumi Patanayut / พยัคฆ์ รามวาทิน, arrive in the camp led by Khun Sa. Their trainer is Joomjim Khemlek. Khun Sha (Somjin Thammatat), drug warlord, sells drugs to buy weapons. Manop (Manop Aussawathep) has conflicts with Khun Sha. Manop is attacked on his way back by Burmese soldiers but gets help from Nirut (Nirut Sirijanya). Manop is back to his mountain village with Nirut. His younger sister Rungfa (Nanthida Kaewbuasai) welcomes him. A journalist Pinyo Parnnui is arrested by Somsak Chaisongkram. He wishes to interview khun Sa. Sorapong, disguised as a fleeing prisoner, is attacked by a plane and then is arrested by Khun Sa's men. Siriporn (ศิริพร เอี่ยมสุนทร), daughter of Khun Sa, saves his life but he remains tied. Manop learns that the Burmese soldiers who attacked him are in fact soldiers linked to Khun Sa as real Burmese soldiers would not dare entering Thai soil. Upset, Manop and Nirut storm Khun Sa's HQ but get captured. Sorapong wins Siriporn's trust. Khun Sa believes there is a traitor in the camp. Sorapong sympathizes with other men, who are part of the government. Siriporn complains her father produces too much drugs. Drug is given to prisoners to keep them under control. Sorapong succeeds to have his friends escaping but he is then captured. About to be hanged, Sorapong is released by his teammates. Thai forces' attacks against the camp happen. Many people die but Khun Sa succeeds to flee in Burma. This movie is often considered as Thai remake of US movie "Apocalypse Now" by Francis Ford Coppola.



Year

: 1981



Thai title

:

แก้วกาหลง




English title

:



Rating

: 3/5


Director

:



Main actor

: Sorapong Chatree,Joomjim Khemlek


Main actress

: Apaporn Kornthip,Ampha Pusit
Kaew is a slave at the beginning of 20th century. He has an affair with Kalong, his master's daughter. They love each other and she becomes pregnant. Being aware of the situation, the master beats Kaew every day and Kalong is secretly hidden and kept by the master's servants. One of them, drunk, kills Kalong while she is giving birth. Kalong becomes a ghost and kills those who hinder her. Following the abolition of slavery by Rama V, Kaew quits his master's home and settles in another village where he meets a lady called Sonklin. Love goes beyond death and Kalong searches for Kaew. She finally finds Kaew and stays with him. Kaew ignores that his wife is a ghost. Finally Kalong is recognized as a ghost and wants to kill Sonklin and brings Kaew with her. A buddhist monk has to calm down Kalong so that she accepts her death and wishes to meet Kaew again in their next life. The scenario has many similarities with "MAE NAK" ghost (แม่นาค) story. Same as Mae Nak, there is art of compromise in film ending instead of one party winning. This is part of Thai culture. It is a remake of the movie shot in 1967 with legendary stars Mitr Chaibancha and Petchara Chaowarat.



Year

: 1970



Thai title

:

วิญญาณดอกประดู่




English title

:



Rating

: 3/5


Director

:



Main actor

: Mitr Chaibancha,Adul Dulyarat,Prachuap Ruekyamdee,Tat Ekathat,Somkuan Krajangsat,Tawan Siriwat,Lor Tok,Preuhat Boonlong,Joomjim Khemlek


Main actress

: Petchara Chaowarat,Sopha Sataporn,Metta Roongrat
Thai movie วิญญาณดอกประดู่ was released in year 1970. It features Mitr Chaibancha as main actor and Petchara Chaowarat as main actress. Other actors and actresses include Sopha Sataporn, Adul Dulyarat, Metta Roongrat, Prachuap Ruekyamdee, Tat Ekathat, Somkuan Krajangsat, พูนสวัสดิ์, ทานฑัต, Joomjim Khemlek, Tawan Siriwat, โขน, Preuhat Boonlong, Lor Tok. The movie is lost in Thailand but a sequence of four minutes remains to be seen. The sequence shows the opening sequence of the movie with the title and credits. The sequence also shows Tawan Siriwat holding a machine gun. It then also features some fightings between soldiers. Except Tawan Siriwat, no other actors or actresses can be seen in the left sequences. Some still pictures show Mitr Chaibancha wearing a soldier uniform. It is certainly a nationalist movie.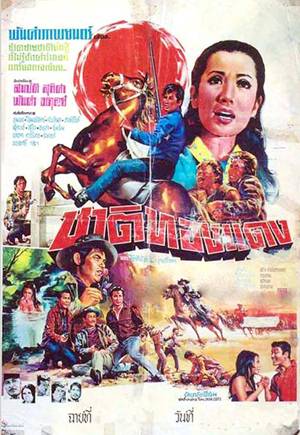 Year

: 1970



Thai title

:

ชาติทองแดง




English title

:



Rating

: 3/5


Director

: Phan Kam



Main actor

: Sombat Methanee,Adul Dulyarat,Chanee Yotchai,Choomporn Theppitak,Anucha Ratanaman,Sukon Koewliam,Joomjim Khemlek,Sawin Sawangrat


Main actress

: Suthisa Putnuch,Khomapat Attaya,Kantima Daraphan
Thai movie ชาติทองแดง was released in year 1970. Main actor is Sombat Methanee and main actress is Suthisa Putnuch. The movie is lost in Thailand but a 2mn14s trailer remains to be seen. The movie director is Phan Kam. The movie is a Thai Western. During the short trailer various sequences can be seen such as Chanee Yotchai hitting a man, a gun duel between Adul Dulyarat and Phan Kam, a fighting scene with Sombat against four men, Anucha Ratanaman flirting with a young lady, Vet actress sexy 1 and 2, a typical waterfall Thai movie scene with a naked lady swimming, a knife duel between Sombat Methanee and Chanee Yotchai, a scene with main actress Suthisa Putnuch. Other actors and actresses are Choomporn Theppitak, Khomapat Attaya, Sukon Koewliam, Joomjim Khemlek, Sawin Sawangrat, Kantima Daraphan.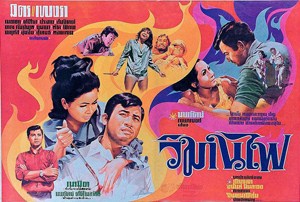 Year

: 1969



Thai title

:

วิมานไฟ




English title

:



Rating

: 3/5


Director

: Neramit



Main actor

: Mitr Chaibancha,Prachuap Ruekyamdee,Sukon Koewliam,Joomjim Khemlek,Choomporn Theppitak,Pipop Pupinyo,Preuhat Boonlong


Main actress

: Petchara Chaowarat,Metta Roongrat,Somjit Sapsamruey,Boosara Narumit
Thai movie วิมานไฟ was released in year 1969. This movie features Mitr Chaibancha as main actor and Petchara Chaowarat as main actress. The movie is lost in Thailand but a trailer sequence of four minutes is left to be seen. Other actors and actresses are Metta Roongrat, Prachuap Ruekyamdee, Somjit Sapsamruey, Sukon Koewliam, Joomjim Khemlek, Choomporn Theppitak, Pipop Pupinyo, Boosara Narumit, Preuhat Boonlong. During a short sequence online, Petchara is cutting Mitr's arm with a knife as it looks like Mitr is behaving as butterfly with other women.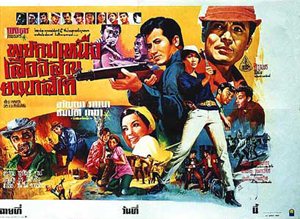 Year

: 1969



Thai title

:

พยัคฆ์เหนือ เสืออิสาน ยมบาลใต้




English title

:



Rating

: 3/5


Director

:



Main actor

: Sombat Methanee,Kecha Plianvithee,Prachuap Ruekyamdee,Surasit Sattayawong,Joomjim Khemlek,Sawin Sawangrat,Ruj Ronnapop


Main actress

: Aranya Namwong,Pawana Chanajit,Kaenjai Meenakanit,Yaowaret Nisakorn
Ruffians capture a man fleeing with a suitcase. Two important letters inside have disappeared from the suitcase when he hit a group of three people while running away. Those people are a father (Surasit Sattayawong), his daughter Fimeuang (Pawana Chanajit) and their friend (Joomjim Khemlek). Those letters are related to their plan to bring troubles from overseas into South of Thailand (คนขายชาติ). Sak (Prachuap Ruekyamdee) and inspector (สารวัตร) Cheut (Sombat Methanee) meet the 3 characters in Nakhon Sawan and sympathize. Ruffians try everything to get back those letters but Sak and Cheut support them. Cheut communicates with his Police Headquarters through young lady Nop (Yaowaret Nisakorn also called Petchara 2). Ramet (Kecha Plianvithee), undercover ruffians leader, tries to seduce Dao (Aranya Namwong) but she doesn't like him. Ramet is a good friend of Krit (Ruj Ronnapop), Dao's brother, as he can always borrow money to him for gambling (พนัน). Cheut also appreciates Dao. Fimeuang and her father take refuge in Chiang Mai. Finally Fimeuang understands that Cheut is a right and trusty man, so she gives him the envelopes. Fimeuang loves secretly Cheut and goes back to Surin. Cheut's heart is divided between Dao, Fimeuang and Nop. Cheut is captured by the ruffians. Finally Sak helps him on time. Ramet is captured but finally later on free again so it looks like a part of the movie is missing. Willing to get back the letters, the ruffians capture Fimeuang and her friend Kamoon. The father shall give back the letters back to Ramet to save his daughter's life. Policeman Cheut, Sak and Nop help to penetrate the ruffians' camp. Dao and Chris also realize who is Ramet while visiting the camp and find that Fimeuang is held captured there. During final shootings, Fimeuang is unfortunately shot. Ruffians are defeated. Movie พยัคฆ์เหนือ เสืออิสาน ยมบาลใต้ is a mix of action and comedy. This small movie really features a great bunch of Thai actors and Thai actresses from decade 1960s.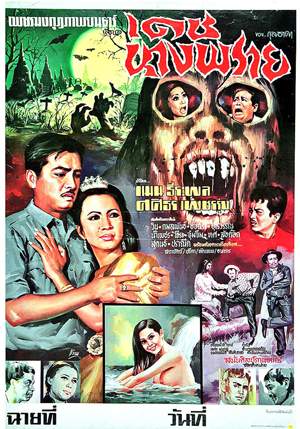 Year

: 1969



Thai title

:

เดชนางพราย




English title

:



Rating

: 3/5


Director

:



Main actor

: Man Teeraphol,Lor Tok,Sukon Koewliam,Joomjim Khemlek


Main actress

: Sasithorn Phetrung
Thai movie เดชนางพราย was released in year 1969. Main actor is Man Teeraphol and main actress is Sasithorn Phetrung. The movie is lost in Thailand but a 3mn30s trailer remains to be seen. This movie is a comedy horror movie. It features Man Teeraphol, Sasithorn Phetrung, วิน, กมลพันธ์, อัจฉรา, อุไรวรรณ, น้ำเพชร, พีระ, Joomjim Khemlek, ทศ, Lor Tok. The left sequence show a ghost transforming itself into a beautiful lady (Sasithorn Phetrung), the romance between Man Teeraphol and the ghost, a black magician (หมอผี) used to chase the ghost. Man Teeraphol and Sasithorn Phetrung are seldom the main stars in movies. As it was a small horror comedy movie, there was no need to have big stars such as Mitr Chaibancha and Petchara Chaowarat.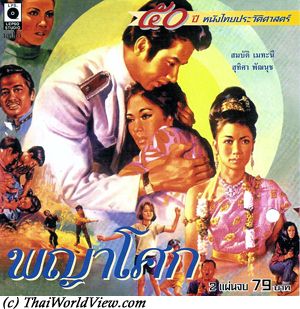 Year

: 1969



Thai title

:

พญาโศก




English title

:



Rating

: 4/5


Director

: Cherd Songsri



Main actor

: Sombat Methanee,Sawin Sawangrat,Prachuap Ruekyamdee,Choomporn Theppitak,Sukon Koewliam,Joomjim Khemlek


Main actress

: Suthisa Putnuch,Pawana Chanajit,Kaenjai Meenakanit
During World War 2, a man betrays his country (ขายชาติ) and even kills his wife Narinee as she refuses to keep silent. The father then disappears. His own daughter flees and is rescued by a young man called Boripat, who put her in a well off family. She is renamed Lamphap. A few years have passed. Lamphap (Suthisa Putnuch) is a beautiful grown up lady. Boripat plans to become deputy (ผู้แทน) in Phatalung province. Boripat and Lamphap love each other. Cheutchalao (Kaenjai Meenakanit), a jealous lady who wishes to marry Boripat, shows to Boripat's mother a picture of Lamphap's mother. Is it good that Boripat as a future deputy marry a country traitor? Following a night with Boripat, Lamphap flees away as she is ashamed of her background. Boripat looks for her. When he is aware of her parents' background, he breaks up with her and finally marries Cheutchalao. Lamphap is followed by her father's bad reputation. Boripat has become a member of parliament. Cheutchalao introduces Khun Yousapong (Prachuap Ruekyamdee), who is a salesman, to Boripat. Boripat needs to pay back the funding he receives from him through some sales advantages with government projects. Boripat rejects and resigns as he refuses to betray his own principles. Cheutchalao is very upset as Yousapong is in fact her hidden lover. She even refuses to keep the child she is currently having with Boripat! Cheutchalao has an argument with Boripat's mother causing her to fall from the stairs and dies. Boripat then indulged in alcohol and, being sick, decides to die in the place he met Lamphap the first time. He dies in her arms. Kenang is the child born of their brief union. Many years have passed. A young lady called Pen (Pawana Chanajit) stops by the village due to a flat tyre and is helped by Kenang (คนป้า). Pen is daughter of the salesman Yousapong. Salesman is still with stepmother (แม่เลี้ยง) Cheutchalao. Yousapong has always been concerned about money only (ไม่รู้ค่าความรัก). Pen dances on a show and displays her great dancing performing skills (รำไทย) to pay back his father as studies compensation. She gets a reward and wishes to offer it to Lamphap but Cheutchalao prevents her to do it as Lamphap is daughter of a country traitor (เป็นกรรม). Chatkalin, Lamphap's second son (Choomporn Theppitak) doesn't want anybody to mention he is Lamhap's son anymore as he wished to marry Pen. He is in fact Boripat and Cheutchalao's son. Cheutchalao left the child in an orphanage and Lamphap, having pity, raised him. Well off people (ผู้ดี), having status, are seeing down poor people. As a revenge Kenang kidnaps Pen and brings her to a remote place near seaside. Chatkalin burns Lamphap's house as retaliation. Kenang, having finally freed Pen, arrives on time to save his mother. Following a fight with Chatkalin, a passer-by is shot. They all accuse Kenang. Lamphap chases everybody. A policeman offers her an opportunity to clean her name but she has to give information regarding the secret place where her traitor father and his team are hiding. After reaching the place in the mountain, Lamphap's father wished to test her if she is not a spy. She shall kill her own son, Kenang, as he has been accused by Cheutchalao, Chatkalin and Yousapong of having killed the father's own son, i.e. the passer-by. Only Pen defends Kenang. Lamphap has to do a sacrifice (เสียสละ), i.e. Kenang's life against the four other lives (Cheutchalao, Chatkalin, Yousapong, Pen). Finally one of the ruffians revolts for the sake of his country preventing Lamphap to make an impossible choice. Bad characters are punished. Some episodes were cut in this Lepso VCD release, i.e. one episode where Sombat Methanee is singing and another climax episode when the ruffian forces the mother (Suthisa Putnuch) to shoot her own son (Sombat Methanee) but finally changes his mind. Sombat Methanee plays both the father Boripat and the son Kenang. This 1960s movie shows that faithfulness to country is more important that faithfulness to own family. It is typical of many 1960-1970s movies, which featured nationalist elements against the red communist threat. พญาโศก is a less known good movie from famous director Cherd Songsri. It also includes many references to the Thai royalty.



Year

: 1969



Thai title

:

ลอยกระทง




English title

: Loy Krathong



Rating

: 3/5


Director

: Neramit



Main actor

: Mitr Chaibancha,Adul Dulyarat,Boo Wibunnan,Adinan Singhiran,Prachuap Ruekyamdee,Lor Tok,Tat Ekathat,Sukon Koewliam,Adul Dulyarat,Joomjim Khemlek,Pipop Pupinyo


Main actress

: Petchara Chaowarat,Metta Roongrat,Wassana Chalakorn,Tukata Jindanuch,Mom Chan Phuangwan
Thai movie ลอยกระทง was released in year 1969. It is a 16mm film so in mute state and no complete summary of the movie is left. The movie is incomplete as only 2h08mn is left. Mitr Chaibancha, Adul Dulyarat, Boo Wibunnan are watching ladies Petchara Chaowarat, Wassana Chalakorn, Metta Roongrat launching krathongs in the river during Loy Krathong festival. A speed boat makes Petchara fall in the water. Mitr rescues her. The speed boat is driven by Petchara's brother. As he dislikes his sister meeting the three young men, fighting happens. The father Tat Ekathat interposes himself but he doesn't like Mitr either. The father forbids them to meet. The movie is named Loy Krathong but the movie is about Loy Krathong festival only at the beginning of the movie when both Mitr and Petchara initially met. The movie is then more an action movie. Mitr and Petchara try to help a young kid tentatively treated by a tribe shaman (Lor Tok). Other villagers interpose as they are not used to western medicine. At nighttime one of the villagers (Pipop Pupinyo) brings the kid for injection. Finally Mitr sympathizes with the shaman and ends up taking care of several children! Metta is aggressed by three ruffians and gets help from Mitr and also a group of children (including famous child actress Tukata Jindanuch). Those children are mischievous. Disappointed not to get Mitr's love, Metta ends up to be drunk. Metta does use a trick on Petchara in order for Mitr to be disappointed by her. Metta prevents her to see Mitr. Mitr and Lor Tok have arguments with policemen and end up in jail. Prachuap Ruekyamdee releases them by using violence and threatening policemen. Mitr injures by the accident a policeman. Arguments are happening between tribe kids and Thai local kids. Petchara is their teacher. Adul Dulyarat, a policeman officer, tries to seduce Petchara. The father Tat Ekathat threatens his daughter of closing the school. Tat Ekathat is aggressed by thieves on a mountain road. Luckily Mitr, Prachuap, Lor Tok are around and chase away the thieves. The three friends realise that Boo Wibunnan is trafficking drug. Behind this traffic, there is involvement of Tat Ekathat and ruffians leader. Fist fighting erupts involving Adinan also. Tat Ekathat stops everybody. It is discovered that the candles on the krathong contain explosives. It looks like Boo Wibunnan and Lor Tok die in an explosion. Mitr and Prachuap are arrested by Adul and Sukon Koewliam, a policeman. They get transfered under military authority, who releases them. Metta is captured with ruffians. Two policemen gets captured also. Meanwhile Mitr follows up Adinan but gets injured by Ekathat's fellow worker. Mitr hides in the school and is treated by Petchara. Adul discovers Mitr in Petchara's room. Things get worse as Petchara is kidnapped and Mitr and Adul are locked in a room with Prachuap. They succeed to flee. Meanwhile Petchara is crucified by hill tribe villagers. Mitr fails to help her and is also crucified. Meanwhile Prachuap follows the ruffians leader and tries to prevent Adinan to rape Wassana Chalakorn. Adul with a bunch of policemen try to release Mitr and Petchara. Finally Prachuap and Wassana Chalakorn flee and release all the hill tribes children. Hill tribes villagers change side seeing their children now released. Ruffians blaze the village. A four minutes trailer is still available and showing some final scenes not present in the 2h08mn left to be seen. A final fight happens between Mitr and the ruffians leader.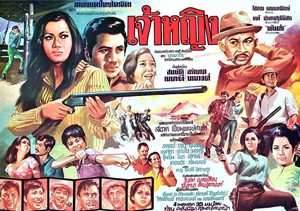 Year

: 1969



Thai title

:

เจ้าหญิง




English title

:



Rating

: 3/5


Director

: Phan Kam,Tae Prakardwutthisan



Main actor

: Sombat Methanee,Sahat Piempongsan,Adul Dulyarat,Choomporn Theppitak,Sukon Koewliam,Joomjim Khemlek,Ruj Ronnapop,Kokheng


Main actress

: Aranya Namwong,Metta Roongrat,Kaenjai Meenakanit
Thai movie เจ้าหญิง was released in year 1969. The whole film is still complete, around 2h30mn, but it was never released in any video format such as VHS, VCD or DVD. The movie is stored at the Thai Film Archives and can be seen there. It is a 16mm movie so no sound is available as such movies were dubbed. This movie is a Thai western and a lot of action, i.e. shootings and boxing fightings, is happening. A short summary is also still available. Busaba is played by actress Aranya Namwong. Busaba's father, played by Adul Dulyarat, has arguments with Luang Soradet (Sahat Piempongsan). Her father dies so Busaba has to be responsible of the paternal ranch. Luang Soradet wishes to extend his own ranch but Busaba refuses to sell. Heun (Sombat Methanee) gets a job in Busaba's ranch but gets trouble with Luang Soradet's ruffians. Kaenjai Meenakanit is on Luang Soradet's side and tries to convince Heun to stay aside. Heun, bathing in waterfalls, helps Kaenchai, whose ankle is twisted. She asks for a massage as a way to entice Heun, who finally throws her in the pond! Heun does protect Busaba as she gets issues with ruffians (house burnt, kidnapping). Heun and his friends push back ruffians attacking a village. Kaenchai shots one ruffian leaders but gets shot also. Heun releases Busaba, who has been captured by ruffians. All friends are arrested by the police. As usual, it is disclosed at the end of the movie that Heun is in fact undercover policeman officer when all ruffians has been neutralized. Busaba is upset but finally forgives Heun. The movie producer was famous director Tae Prakardwutthisan. The movie was given by Tae Prakardwutthisan to Thai Film Archives but it was never released commercially. The movie features 4 songs recorded in 35mm format. Comics are strongly present with veteran actors Sompong Phonmitr, Kokheng, Sukon Koewliam and Joomjim Khemlek.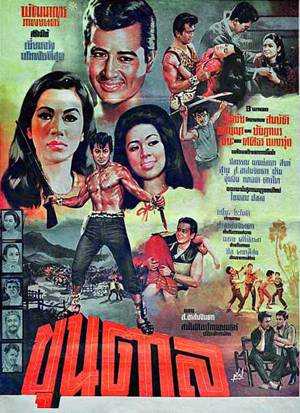 Year

: 1969



Thai title

:

ขุนตาล




English title

:



Rating

: 3/5


Director

: Sor Asanajinda



Main actor

: Sombat Methanee,Sor Asanajinda,Chana Sriubon,Luechai Natnat,Joomjim Khemlek,Sawin Sawangrat,Somkuan Krajangsat


Main actress

: Aranya Namwong,Wilaiwan Watthanaphanit,Prim Praphaporn,Chatchadaporn Laksanawed,Sasithorn Phetrung
Thai movie ขุนตาล was released in year 1969. Main actor is Sombat Methanee and main actress is Aranya Namwong. The movie is lost in Thailand but three reels remain to be seen. The whole movie is reduced to a sequence of 47 minutes so making it difficult to understand in details. Sor Asanajinda is actor and movie director. No movie summary is left to be read. The movie is in 16mm format so without sound as such format requires live dubbing. Two friends always like to fight to settle their disagreement (เพื่อนรัก). They are living in a bandit village (ชุมเสือ). One of them, called Sing (สิงห์), is having a child with Prim Praphaporn. Their son is played by Sombat Methanee. Years have passed, he is now an adult. Following some fighting, Sombat becomes the new leader and gets a crown shaped like a tiger head (มงกุฎหัวเสือ). Sombat summons a spirit doctor (หมอผี) to cure Sasitorn Phetrung (ศศิธร เพชรรุ่ง), who is blind. Some ingredients are missing. In the city, a sequence shows Chana Sriubon, Chatchadaporn Laksanawed (ชัชฎาพร), Sawin Sawangrat and Sor Asanajinda talking together. Sombat and the spirit doctor enter in Pa Sor's house to get some of the missing ingredients. Sombat meets Chadaporn and then Aranya. Wilaiwan Watthanaphanit is the mother of the two daughters, i.e. Chadaporn and Aranya. Sombat is injured by the bandit he defeated before to become the village leader. Chana Sriubon neutralises the bandit so that Sombat can run away. Luechai Natnat is then also injured in Pa Sor's house and flees. He is chased by ruffians but gets help from Sombat. Sombat comes back again to the house to have discussion with Pa Sor and ends up kidnapping Aranya and Sasitorn. Sawin and his ruffians chase them. Chana Sriubon tries to prevent them but gets neutralised. Sombat seems very unhappy over Aranya. Aranya saves Sombat's life while he is attacked again by the rogue bandit. Sawin captures Pa Sor and Chana Sriubon. Aranya asks Sombat to help Pa Sor captured by Sawin. Wilaiwan releases Chana. Luechai gets rid of Sawin. Final duel happens between Sombat and Pa Sor until they realise they are relatives (father / son?).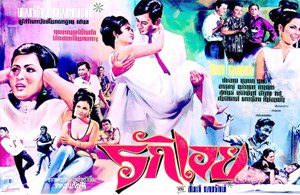 Year

: 1968



Thai title

:

รักเอย




English title

:



Rating

: 5/5


Director

: Neramit



Main actor

: Mitr Chaibancha,Sukon Koewliam,Prachuap Ruekyamdee,Adul Dulyarat,Choomporn Theppitak,Adinan Singhiran,Joomjim Khemlek


Main actress

: Metta Roongrat,Petchara Chaowarat,Chadaporn Wachirapranee



Buy now

:

A young lady called Wannee (Petchara Chaowarat) gets suicide in Passakorn's home and this latter (Mitr Chaibancha) gets accused of murder (ผู้ตาย). Adirek (Adul Dulyarat), lawyer, explains the whole story to the police inspector (Choomporn Theppitak). Oi (Metta Roongrat) and her sister Wannee were students. Wannee failed her exams despite being a good student as she didn't want to bring extra financial burden to her parents as they have already the younger sister's studies to support. Wannee found a job in a Bangkok dancing club directed by sexy directress Ratree (Chadaporn Wachirapranee). Pon (Prachuap Ruekyamdee) and Passakorn often party. Wannee met Passakorn in the dancing club. He liked her immediately (ผู้หวังดี). Passakorn is the son of a rich company owner but he is not really hard worker, spending a lot of money and going in clubs. Passakorn asked a few days to Wannee before talking to parents about their relationship. Wannee still had doubts on Passakorn's real feelings. Wannee got pregnant but Passakorn still didn't inform his parents about their relationship (ไม่ชื่อแล้ว, คนโกหก). When talking to his father, this latter shown him a photo of Adirek and Wannee together. He believed Wannee had betrayed him (ทรยศ). He went for London leaving Wannee puzzled and believing Passakorn refused to take his responsibility (ใจชั่ว). Passakorn stopped his friendship with Adirek also. Knowing that Wannee was pregnant and her difficult situation, Adirek proposed his help. Wannee and her mother went on countryside to deliver the baby quietly. Meanwhile Oi continued her studies and got closer to Adirek. As his father died in an accident, Passakorn had to flight back from London. Passakorn still couldn't forget Wannee and was drinking heavily every day. Oi got highest grade in her school and got a tuition for Japan offered to the school by Passakorn! Passakorn started a close friendship with Oi causing serious despair to Adirek and Wannee. Wannee's child was a born dead baby. Passakorn was still upset with Wannee believing she betrayed him (นางกากี. คนทรยศ). Passakorn had to marry with Urai following heritage arrangements. Wannee's father was upset with her (ลูกช่ัว) and only Oi was seen as a good girl. Wannee went to meet Passakorn to ask him stopping meeting her young sister and to move away. He refused. Being denigrated by her father and sister, Wannee organized Oi's kidnapping and got suicide in Passakorn's home so that he could get accused. Pon finally claims that he is the one who took the picture with Adirek and Wannee but he didn't think it will degenerate like this. Passakorn and Adirek resume friendship. Adirek and Pon look for a letter proving that Wannee died through suicide and not murdered by Passakorn. Uncle Wong (Adinan Singhiran) refuses to give it as he believes Passakorn is responsible of Wannee's death. During the trial, Passakorn, knowing he was unfair to Wannee, agrees he killed her. His friends succeed to get the letter and can show Passakorn innocence. Released and back home, Passakorn gets reunited with Wannee by using the same knife inhibited with poison to quit this world. This 1968 movie is 2h24mn long and still features a very colorful image. it is one of the best role of Mitr Chaibancha playing a bad guy. The real movie is longer as a trailer of 3mn48 is also available. It includes sequences in the jail that are not present in the VCD.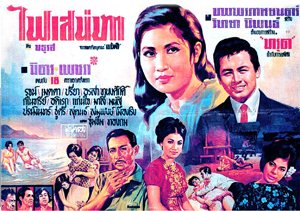 Year

: 1967



Thai title

:

ไฟเสน่หา




English title

:



Rating

: 3/5


Director

:



Main actor

: Mitr Chaibancha,Adinan Singhiran,Ruj Ronnapop,Sukon Koewliam,Sompong Phonmitr,Joomjim Khemlek,Preuhat Boonlong


Main actress

: Petchara Chaowarat,Metta Roongrat,Preeya Roongrueng,Kaenjai Meenakanit,Orasa Isarangkul,Chosri Misommon
Thai movie ไฟเสน่หา was released in year 1967. It features Mitr Chaibancha as main actor and Petchara Chaowarat as main actress. This movie is lost in Thailand and only a 13s sequence is left to be seen. During the short sequence Mitr and Petchara are seen on a raft. Veteran actor Adinan Singhiran can also be seen. On the movie poster, 18 Thai stars are announced, i.e. Mitr Chaibancha, Adinan Singhiran, Ruj Ronnapop, Sukon Koewliam, Sompong Phonmitr, Joomjim Khemlek, Preuhat Boonlong (สาหัส บุญหลง), Petchara Chaowarat, Metta Roongrat, Preeya Roongrueng, Kaenjai Meenakanit, Orasa Isarangkul, Chosri Misommon.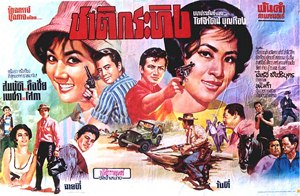 Year

: 1966



Thai title

:

ชาติกระทิง




English title

:



Rating

: 3/5


Director

: Phan Kam



Main actor

: Sombat Methanee,Luechai Natnat,Sukon Koewliam,Joomjim Khemlek,Lor Tok,Boo Wibunnan


Main actress

: Petchara Chaowarat,Sopha Sataporn,Preeya Roongrueng,Kwanta Buapliensri
Chat Krathing (ชาติกระทิง) is a 1966 Thai movie but only 6mn30 are left. Only a trailer is left. The whole movie is lost as it is a 16mm format reel so it was certainly shown until it became unusable. No movie summary is currently available. Only a commercial movie poster is left. This movie features four big stars, i.e. Sombat Methanee, Luechai Natnat, Petchara Chaowarat and Sopha Sataporn. They are together for the first time and for the only time. Some ruffians harass veteran comic Sukon Koewliam. So Petchara Chaowarat protects him by hitting one of the ruffians. On next sequence, the ruffians speed through a village but this time they face Sombat Methanee. Fist fights happen. Romance between two couples Sopha / Luechai and Sombat / Petchara happen. Famous director Phan Kam (พันคำ) is there again. Luechai is part of the fight party. Movies with him are hard to find as his fame period was during 1957-1960, just before Mitr Chaibancha golden period, and then between 1964-1972. Scenario is unknown but certainly good guys (Sombat and Luechai) are fighting against ruffians terrorizing a village. Even veteran actor Chinese Boo Wibunnan can be seen in the short trailer. Actors Joomjim Khemlek, Lor Tok, Preeya Roongrueng, Kwanta Buapliensri are also mentioned in the credits but unfortunately cannot be seen in the short trailer left.
---