Increase or decrease font size for easier reading : A+ A-
Duangdeuan Jithaisong
Duangdeuan Jithaisong (1965) - ดวงเดือน จิไธสงค์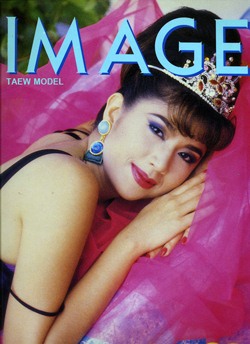 Duangdeuan Jithaisong has played in 15 movies. 13 movies were with Sorapong Chatree
This Duangdeuan Jithaisong movie page contains 8 records.
---



Year

: 2002



Thai title

:

ตำนานกระสือ




English title

: Demonic Beauty



Rating

: 1/5


Director

: Bin Banleurit



Main actor

: Chat Mongkolchai


Main actress

: Pissamai Wilaisak,Duangdeuan Jithaisong



Buy now

:

The spirit ("PHI KRASEU" - ผีกระสือ) is a malicious and very dangerous spirit which manifests itself as a beautiful woman. It floats through the air because it has no lower body. It appears as a length of intestines suspended from a lovely woman face. A Khmer princess and her lover are sentenced to death by a Thai king. The Khmer princess is possessed by an evil spirit. Before dying, the evil spirit left the princess body to enter in a lady villager, who has just died and have same appearance. Her father and fiance are so happy that she has recovered but many people suspects she might be a ghost. During the night, "PHI KRASEU" starts to attack animals and then human beings. Monk help is required to get rid of the evil spirit.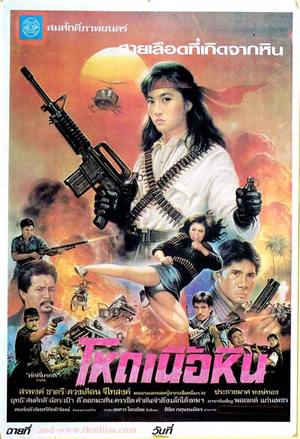 Year

: 1990



Thai title

:

โหดเนื้อหิน




English title

:



Rating

: 3/5


Director

:



Main actor

: Sorapong Chatree,Rith Luecha,Kanchit Kwanpracha,Chat Mongkolchai,Somsak Chaisongkram


Main actress

: Duangdeuan Jithaisong
Thai movie โหดเนื้อหิน was released in year 1990 and lasts 1h29mn. Two groups of ruffians meet in order to exchange drugs and money. Suddenly a young lady called Duangdeuan (Duangdeuan Jithaisong) shots all of them with a M16 rifle. Sophit, restaurant waitress, hears that a group of four guys will deliver heroin soon so she informs subdistrict headman Cheut (Kanchit Kwanpracha). Duangdeuan helps a young girl being kidnapped by ruffians so Duangdeuan seems to be kindhearted. Police, including Duang (Chat Mongkolchai) as policeman, and subdistrict headman Cheut prepare a plan to catch the drug dealers. Thanks to information given by Sophit, ruffians are killed and drug is seized. Mafia leader (พ่อเลี้ยง) Boonseum (Rith Luecha), father of Rith Luecha, is very upset with subdistrict headman Cheut (มึงกับกุเห็นกันดีแน่ๆ). Duangdeuan (นายหญิง) promises to take care of subdistrict headman Cheut herself (หน้าที่ของลูก) and kills him in a sudden attack. The younger brother of Cheut, Chat (Sorapong Chatree), comes back and plans to revenge his elder brother. Ruffians try to get rid of him but they fail. Boonseum wishes to use hitman Khao Yai (Somsak Chaisongkram). Khao Yai and his men attack Chat and he is left for dead. Hopefully village leader Duang helps him and his daughter Phakamat cures his injuries. They prepare a plan (สักวันต้องรับกรรมแน่). Sophit helps to hide Chat but then gets killed by Khao Yai for being a traitress. Chat kills Khao Yai and his men by himself. Fed up that others always fail, Duangdeuan decides to take care of Chat by herself. Going to Duang's house, she only finds Phakamat, who is then hurt and kidnapped. Chat has to help her while Duang is getting help from the police. Chat is an undercover policeman. The policemen and Chat storm the ruffians' house while they are selling weapons to the country traitors. Heavy shootings happen as Duangdeuan has got a machine gun. Almost everybody die. Both Chat and Duangdeuan blow up each other with grenades.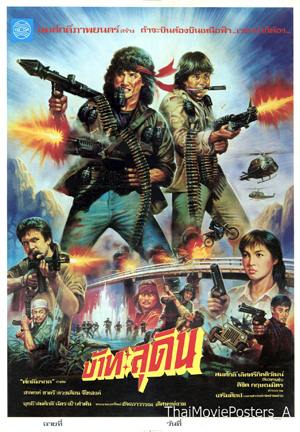 Year

: 1989



Thai title

:

บ้าทะลุดิน




English title

:



Rating

: 1/5


Director

:



Main actor

: Sorapong Chatree,Rith Luecha,Somsak Chaisongkram


Main actress

: Duangdeuan Jithaisong
Four men bloodily rob a bank and kill all guards and employees. They have long hairs. They are part of a mafia gang. Ayu, a former ranger, is arrested when buying medicine for his sick mother as he has also long hairs. He is accused without proofs and beaten by the Police to get his confession. He flees from the prison with another inmate. They are chased by the police in the jungle. Two mafia groups also affront each other in the jungle. One group is lead by a young lady. She is injured but rescued by Ayu. Unfortunately Ayu arrives home too late. His mother is already dead. His teammate is in fact a covered policeman who wants to trick the robbers. The mafia group kills Ayu's family members and catches him. The young lady is the daughter of the mafia group's boss that got killed recently. She spared Ayu's life. Ayu is rescued by the policeman but he decides to take revenge over the mafia group. Similar to a a Thai copy of Rambo II, Ayu carries a huge machine gun with ammunitions over the shoulder. A butchery happens with heavy spurts of blood. All policemen are killed. Everybody dies including the mafia leaders and Ayu. Sorapong Chatree played in many serie B action movies in year 1989. In 1980s, action movies were still very popular and actors often carried machine guns in those films.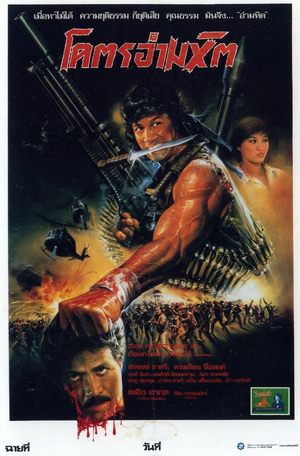 Year

: 1989



Thai title

:

โคตรอำมหิต




English title

:



Rating

: 2/5


Director

:



Main actor

: Sorapong Chatree,Somsak Chaisongkram,Rith Luecha,Chat Mongkolchai


Main actress

: Duangdeuan Jithaisong
Thai movie โคตรอำมหิต was released in year 1989. It lasts 1h30mn. This Thai movie was only released under VHS format many years ago. It reminds of a Thai Rambo version. Phayu (Sorapong Chatree) and his men (ทหารรับจ้าง) are facing Vietnamese soldiers. They defeat them but have only three men left. Vietnamese army is led by Somsak Chaisongkram. Phayu is back to his village and helps a captain aggressed by ruffians. Those ruffians (กลุ่มนักเลง) attack his father's house claiming for a 20 years debt. Phayu is chased, gets injured and falls in the river. He is rescued by a villager and his daughter Surita (Duangdeuan Jithaisong). Villager Praka seems Phaya as a threat towards his love to Surita and is worried about enemy (ศัตรู) looking for Phayu. Somsak asks help from Rith Luecha and Chat Mongkolchai to find Phayu. Meanwhile three men wearing soldier's clothes do a rampage in a village. One has same face as Phayu! Surita is worried if Phayu goes back to his village. Praka doesn't support Surita's interest in Phayu and tries to kill him by jealousy. Phayu's parents and younger sister have all been killed by bandits (โจร). Revenge is mandatory for Phayu. The other man with similar face as Phayu is called Phayak and is in fact his elder brother. Praka brings the bandits to Surita's home. He dies while protecting Surita, who gets shot also. Phayak also dies. Phayu's storms the ruffians' camp. He places some hidden grenades on the way to his village as he knows ruffians will chase him. It ends in a bloody and deadly fighting.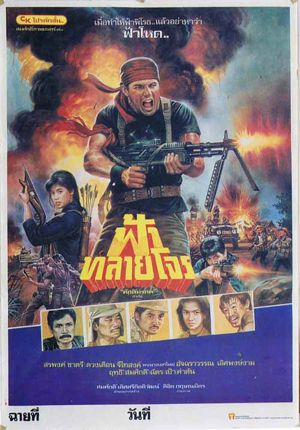 Year

: 1989



Thai title

:

ฟ้าทลายโจร




English title

:



Rating

: 2/5


Director

:



Main actor

: Sorapong Chatree,Chat Mongkolchai,Rith Luecha,Somsak Chaisongkram,Pao Porapak


Main actress

: Duangdeuan Jithaisong
Thai movie ฟ้าทลายโจร was released in year 1989 and lasts 1h32mn. It is available under VCD format released by Lepso company. It was renamed as ถล่มพระกาฬ by Lepso. As often with war movies from 1985 to 1995, it is very violent with a lot of blood to make it more realistic. Hanfan (Sorapong Chatree) and his men ambush a group of soldiers. By capturing a soldier, they can identify where the enemy camp is. Heavy fighting happens and many soldiers are killed on both side. Hanfan is the only survivor but he is also injured. He is rescued by villagers. Meanwhile ruffians led by Chat Mongkolchai storm the village. The men (โจรป้า) rape the girls and kill all inhabitants. Only two young ladies (including Duangdeuan Jithaisong) are left and are hiding in a cave inside the mountain with Hanfan. They help Hanfan but he wishes to go to the ruffians' camp in order to release some of his men (ทหารชุดดำ) held captive there. Somsak Chaisongkram is head of the camp and Pao Porapak is one of his soldiers. The doctor of the camp disagrees with Somsak's harsh methods. Hanfan kidnaps the doctor (ขายชาติ) to know where his men are held captive. Somsak, aware that Hanfan is still alive, sends his men to chase him. The soldiers find where the two young ladies are hiding and capture them. Meanwhile additional soldiers enter in the jungle but they fall in a trap. Only two survive and are captured. Somsak and his men torture the two ladies. Hanfan storms the place, releases them and kills Somsak. Hanfan releases the doctor but she is captured by Chat's team. Other ruffians led by Rith Luecha join them. The doctor is aggressed by two ruffians including Pao Porapak but Hanfan helps again on time. Rith tortures Hanfan's soldiers. Disgusted, the doctor steals some documents for Hanfan. She is followed by Chat and other ruffians as they wish to track Hanfan. Fightings happen between Hanfan and the ruffians. They shot the doctor but Hanfan kills them all including Chat. Hanfan and two ladies storm the ruffians' place to get rid of them. Severe fightings happen and the two ladies are killed. Similar to a a Thai copy of Rambo II, Hanfan succeeds to get a huge machine gun with ammunitions over the shoulder. All ruffians including Rith are killed.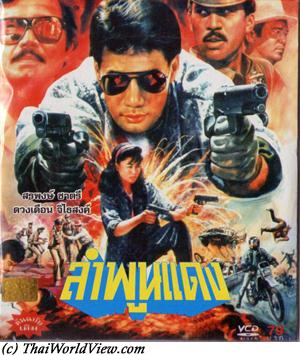 Year

: 1988



Thai title

:

ลำพูนแดง




English title

:



Rating

: 3/5


Director

:



Main actor

: Sorapong Chatree,Rith Luecha,Choomporn Theppitak


Main actress

: Duangdeuan Jithaisong



Buy now

:

Tongchai (Rith Luecha) is the leader of a ruffians team terrorizing the local district. Villager Tasuk is killed because he was on government side regarding illegal logging concessions instead of being on ruffians' side. Tasuk and his family are killed except one of his daughter, Asunee. The subdistrict headman (กำนัน) Sit and the village headman (ผู้ใหญ่บ้าน) are also on the ruffians' side. Sing is Tasuk's son. He just gets released from prison and visits the Thai Buddhist temple abbot first before going back to his village. The abbot gives him a sacred Buddha amulet (Lamphun Daeng - ลำพูนแดง). But Sing needs to use it wisely. He goes back to his village but nobody dares to tell him the truth about his parents death (ไม่กล้า) as they are afraid of the ruffians. Before Sing had another sacred amulet (Lamphun Dam - ลำพูนดำ) but it was taken away when he was sentenced to jail. The ruffians decide to get rid of him but it fails as bullets cannot hurt him (ยืงไม่เข้า) thanks to the sacred amulet (ของดี). The ruffians visit the abbot to know if a sacred amulet has been given to Sing. Usanee is under the district officer's (นายอำเภอ) protection. But proofs are missing to accuse the killers. The ruffians want to get rid of Asunee before she can meet her brother. They kidnap her. Police officer (ผู้กอง) and the district officer ask Sing to wait for more proofs but he decides to act first. He steps inside Sit's house and releases Asunee following a deadly fight with Sit. Asunee is shot and seriously injured. Sing now knows the truth about his parents' death. Police is now looking after Sing. They succeed to escape to the Police as the Buddha amulet makes them invisible. His sister dies as she lost too much blood. Sing wishes to seek revenge. Ruffians continue to terrorize the local population. Chiwin, daughter of district officer, and Sing love each other. He visits her for her birthday party and fails to shoot Tongchai. Sing takes revenge over the village headman. Tongchai starts to be worried for his own security. The ruffians capture Chiwin. While trying to release Chiwin, Sing is captured by Sing's ruffians. The police believes Tongchai is involved so enters his camp. Sing, thanks to the sacred amulet, takes profit to flee. Sing steps inside Tongchai's home, releases Chiwin and kills Tongchai. As promised to Chiwin, Sing surrenders to the police. Movie Lamphun Daeng - ลำพูนแดง was shot in 1988. Previous sequel Lamphun Dam - ลำพูนดำ was shot in 1983. This movie features sacred amulets. Most Thai people believe that wearing around the neck a Buddha holy amulet protects them from anything.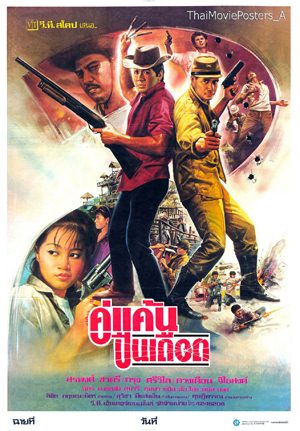 Year

: 1988



Thai title

:

คู่แค้นปืนเดือด




English title

:



Rating

: 3/5


Director

:



Main actor

: Sorapong Chatree,Krung Srivilai,Chat Mongkolchai


Main actress

: Duangdeuan Jithaisong
Don (Krung Srivilai) is always looking for troubles with ruffians (นักเลง) and hitmen. Most of the time he is drunk. Pot (Duangdeuan Jithaisong) is now Phayak's girlfriend (แฟน) but Don loved her before. Don is now married to Phaen. Phayak (Sorapong Chatree) (มือปราบที่จับตายทุกคน) is local subdistrict headman. Ruffian So is looking for revenge (คิดบัญชี) against Phayak as this latter put him in jail before. Amnat (Chat Mongkolchai) arrives with 20 ruffians in a restaurant. Phayak tries to stop their rampage. Don helps as the situation was getting tense. Don finds Phaen (อี๊สาวเลว) in bed with a ruffian. Ruffian So kidnaps Pot. It is a trick to kill Phayak but it fails. Ruffians see Don as a weak drunkard. Don also punches ruffians showing them that they shall not insult him too much (แมงดา). Phayak's responsibility now extends to cover territory from So. Amnat's ruffians storm Phayak's home and kill everybody (ครอบครัว) including Pot despite strong opposition. Pot is finally only injured. Phaen was aware but didn't warn Don. Amnat proposes a duel to Phayak but it will be 7 against 3. Don is severely sick due to alcohol but Phaen takes care of him. Amnat prepares a trick again. Don comes to give a hand. Don kills Amnat in a final duel but gets severely injured. He finally recovers. Don and Phaen are back together. Lepso VCD คู่แค้นปืนเดือด (1988) is only 1h16mn long so the movie was certainly cut a lot and so making the movie directing a bit awkward. Sorapong is wearing a north confederation hat.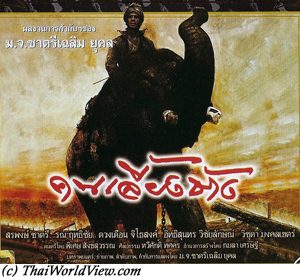 Year

: 1987



Thai title

:

คนเลี้ยงช้าง




English title

: The Elephant Keeper



Rating

: 5/5


Director

: ChatriChalerm Yukol



Main actor

: Sorapong Chatree


Main actress

: Duangdeuan Jithaisong



Buy now

:

It is about forest exploitation by rich people. Boonsong is an elephant keeper, who is having debts with a local and influent pawner. The pawner is supported by a local corrupted police officer. Kamroon is a ranger fighting against illegal loggers in order to protect the forest. Some gunmen try to get rid of Kamroon but Boonsong helps him. Boosong has to do illegal logging in order to pay back his debt to the pawner. Kamroon wants to help him but is killed by the corrupted policeman, who also wants to suppress Boonsong... This movie puts the stress on forest diminishing size due to overexploitation and illegal logging, elephants lacking work as the forest is getting smaller, corrupted policemen, influential people escaping troubles, illiterate poor people exploited by rich Chinese pawners, companies possessing official logging concessions and cheating by adding illegal logging, the helplessness of the simple people as well as the animals caught up in this struggle. The film failed at box office and lost around 7 millions baht. The long history of debate around the Chinese control over business in Thailand is one of the most deep and daring assertions in this movie. This movie touches deeply controversial issues such as the Thai state failing to protect its people against illegal interests. During the filming in the Northeast of Thailand local gangsters, probably working for illegal logging interest, attacked the film crew and one member was killed. The Culture Ministry registers 25 Thai classic films each year at the National Film Heritage Registry. This movie is part of the 25 films heritage list announced on 04 October 2014, which is Thai Movies Conservation Day.
---