Increase or decrease font size for easier reading : A+ A-
Darin Kornsakoon
Darin Kornsakoon (1967) - ดาริน กรสกุล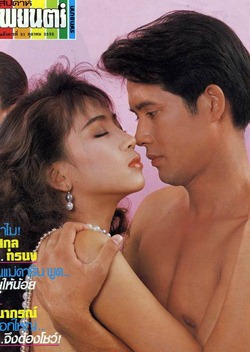 Darin Kornsakoon has played in around 10 movies. She was miss Thailand in year 1986. Darin Kornsakoon made big news in 1990 with a Mekong whisky (แม่โขง) nude calendar, which was forbidden and seized by the Police. Such nude calendars were not authorized. She was the first Thai actress daring a full nude body for a calendar. She then married an American citizen and opened her own beauty cream business
This Darin Kornsakoon movie page contains 5 records.
---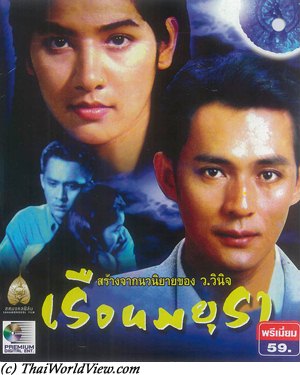 Year

: 1996



Thai title

:

เรือนมยุรา




English title

: House of the Peacock



Rating

: 4/5


Director

: Cherd Songsri



Main actor

: Saranyu Wongkrachang,Ruj Ronnapop


Main actress

: Darin Kornsakoon



Buy now

:

In 1775, a Brahmin priest casts an eclipse. It was during Ayuthaya period when fights with Burma were frequent. Lady Nok Yung and her suite stays in the house of the Peakcock (เรือนมยุรา), which is now out of the time realms and out of reach of Burmese soldiers. Lady Nok Yung made a wedding promise to a noble soldier called Wai Wongsa. Nowadays, on the way to Ayuthaya, a young man, called Pranai, just avoids bumping in a young lady crossing the road. She smiles and disappears in a tree. Is she a ghost or a tree spirit (นางไม้)? Pranai has same face as noble soldier Wai Wongsa. Pranai is the owner of a Siam antiques shop. Today it is Pranai's birthday. He is still single. His sister tries to marry him but to no avail. His sister tries to push young lady Fai. Pranai still wants to meet the mysterious girl. He stays near the tree. Nok Yung needs food for 20 people for one month. Pranai agrees to give but wants to know and understand. Nok Yung agrees to visit Ayuthaya area. She realizes that Sri Ayuthaya was burnt down. Nok Yung asks Pranai not to visit her again. Pranai learns meditation to see his past. Pranai's sister and Fai believes he is possessed by a ghost (ถูกผีเข้า). They use a sorcerer (หมอผี) to cure Pranai and chase the ghost. Meanwhile Arawee, a local young actor, lies to Yipoo, another lady staying in the house of the Peakcock, in order to seduce her by pretending he is an Ayuthaya soldier. He succeeds to enter in the house and so the spell protecting the house is broken. Inhabitants have to flee. The sorcerer and acolytes fight over the gold. Fai's father, called Fa Feun, prevents the robbing. Pranai helps Nok Yung and invites her in his home. Fa Feun loves Nok Yung and gives money to Pranai in order that he breaks up with Nok Yung. Pranai refuses and is looking for a way to send back Nok Yung into the past. Arawee is Waiwongsa's current reincarnation. Believing into karma (กรรม) and in order not to break her promise done 221 years ago, Nok Yung accepts to marry Arawee. Pranai is in despair. Finally Fa Feun convinces Arawee not to marry as Arawee is more interested in his acting career. Pranai is not willing to marry Nok Yung anymore as he believes she is too nice to live in 20th century. The house goes back to the past but Nok Yung finally stays happily with Pranai. This movie questions the old-fashioned morals that are being lost in modern Thailand. Some traditions are getting lost (smile, not speak loudly, no lies). Bangkok development threatens the country-side. We need to take care more of our heritage. The trailer is the TV serie shot in 2540.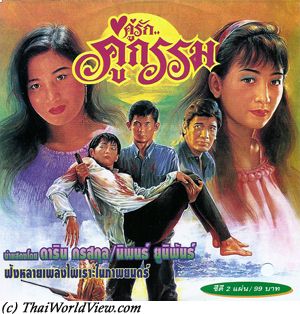 Year

: 1995



Thai title

:

คู่รัก คู่กรรม




English title

:



Rating

: 2/5


Director

:



Main actor

:


Main actress

: Darin Kornsakoon
Two friends in love with two ladies are confronting to bad tough guys who have interest in the two ladies also. This movie features three songs of the singer "Nipon Yunipan" (นิพนธ์ ยูนิพันธ์)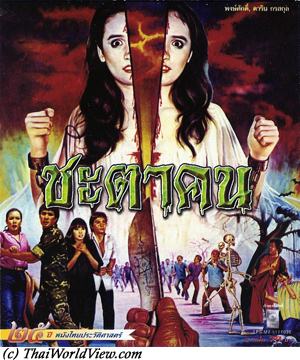 Year

: 1990



Thai title

:

ชะตาคน




English title

:



Rating

: 3/5


Director

:



Main actor

: Choomporn Theppitak


Main actress

: Darin Kornsakoon
Sia, local godfather, tries to corrupt a judge in a drugs case. As the judge refused, he gets killed (ไม่ยอมรับสินบน). Chem, his son, comes back from overseas. As the police is too slow, Chem takes his own revenge. He gets a list from his friend Thep regarding people that had issues with his father. Chem meets Kaet, a young lady, whose father is a small godfather. Chem has high interest into Kaet. Chem wishes to clean Thai society from bad people. He first check some liars pretending getting money for Buddhist temples (บริจาค). Those people harm Thai buddhism (จรทำร้ายศาสนา). Thep (รับจ้าง - คนกลาง) gets the job as middleman but Chem (มือปืน), the hitman, does the dirty job and gets paid. Chem always gives the money to a Buddhist temple. Kaet's father is threatened by Suthon, another mafiosi, who tries to force him to give his daughter as wife. The father uses Thep to find a solution to get rid of Suthon. Chem shall do the dirty job but doesn't want any money. Kaet sees him but Chem refuses to acknowledge his involvement. Kaet uses his name for a temple donation to thank him. Godfather (เจ้าพ่อ) Sunsit wants to get rid of Kaet's father. Chem refuses (ไม่ยอมรวมมือ) the job due to his personal honor code. Sunsit is unhappy that the hitman refuses the job and forces Thep to give his name by threatening his younger sister. Thep has to give up and is finally killed. Chem is shot and injured. Chen still wishes to clean society from bad people (สมควรตาย) but finally promises to Kaet to stop when Thep will be revenged. He finally punishes Sunsit and surrenders to the police to the despair of Kaet. Chem is played by actor พงษ์ศักดิ์ สวนศรี , who is more famous for his "Like" theatrical performances. (Nota: As often with Lepso Studio, the cover given with the VCD is wrong and belongs to another movie!).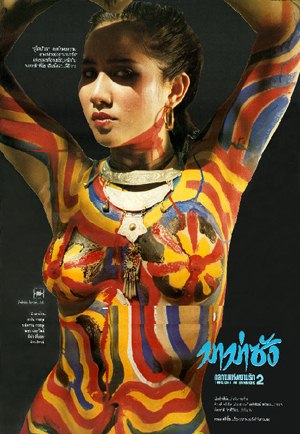 Year

: 1990



Thai title

:

มาม่าซัง กลกามแห่งความรัก 2




English title

: Twilight in Bangkok



Rating

: 1/5


Director

: Toranong Srichua



Main actor

:


Main actress

: Darin Kornsakoon
This is the second opus of "Twilight in Tokyo". The Thai lady is not dead but only hurt. Back to Bangkok, she takes revenge over her previous pimp by having her own business.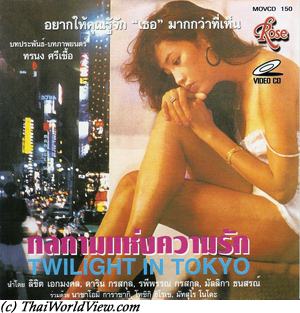 Year

: 1989



Thai title

:

กลกามแห่งความรัก




English title

: Twilight in Tokyo



Rating

: 3/5


Director

: Toranong Srichua



Main actor

: Likit Eakmongkol


Main actress

: Darin Kornsakoon
It deals about a young Thai lady, Waew, sent to Japan to become an escort girl (โสเภณี). Her parents are poor farmers. Waew is the elder sister and has decided to sell her body in Tokyo in order to support her parents and younger sister (น้องสาว). She discovers the sad life there, the huge debt to pay back. Anyway she supports her family by sending money back home. She wishes her father to build a new house instead of the shack, in which they are living. Homesick, she goes back home and discovers that her father has lost all the money she has sent due to unscrupulous investments and gambling (การพนัน), her mother has become a nun (บวชชี), her sister is partying everyday after learning that Waew is a prostitute. The younger sister's moraly is tarnished by living in Bangkok. Money has destroyed her family (เสียผู้เสียคน). Fed up by her family who doesn't understand and compassionate about her burden, she goes back to Japan. Disappointed by her pimp's selfishness, she kills herself. In 1989, the movie got Thai movie "best scenario" award (รางวัลตุ๊กตาทอง). In 1980s many Thai girls went to work as prostitutes in Japan so director Toranong Srichua wanted to show their fate through his movie. He went to Japan with a 32 people team during 15 days to shoot the movie. Even a Yakusa gang (แก๊งยากูซ่า) helped to close Shinjuku street (ถนนชินจูกุ) for 5 hours. Actress Darin Kornsakoon became famous thanks to this role. In 1980s, movies were shown in a limited number of cinemas in Bangkok. Toranong Srichua's movies often got only secondary grade cinemas but thanks to "Twilight in Tokyo" movie, the film was released in first grade cinemas and it was full at each session.
---