Increase or decrease font size for easier reading : A+ A-
Chutima Kawinla
Chutima Kawinla (196x) - ชุติมา กาวินละ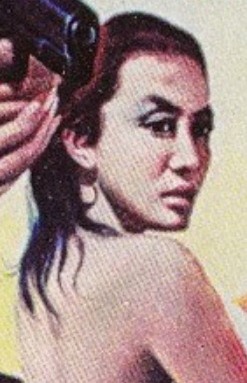 Chutima Kawinla
This Chutima Kawinla movie page contains 3 records.
---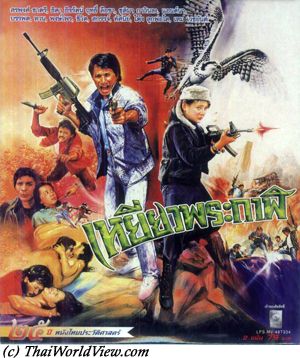 Year

: 1989



Thai title

:

เหยี่ยวพระกาฬ




English title

:



Rating

: 3/5


Director

:



Main actor

: Sorapong Chatree,Rith Luecha


Main actress

: Thida Thidarat,Chutima Kawinla
Thai movie เหยี่ยวพระกาฬ was released in year 1989 and lasts 1h18mn. Parts of the movie are missing. It was also released under VCD format by Lepso Studio company. Police decides to storm Arong's house knowing he is selling war weapons at the border. Following heavy fightings, Arong is injured but succeeds to flee. Young lady Feung Fa (Thida Thidarat) and her friend พี่ Tong are playing with knives when injured Arong arrives. Feung Fa is looking for a doctor. Meanwhile three ruffians shot her parents and Arong. One of the ruffians is injured. She wishes to find them and kill them as revenge. Ruffians continue their rampage as a lady is killed after a love scene. Feung Fa chases one of the three men and gets information on the two other men before killing him. Itti (Sorapong Chatree) wishes to help her but his motives are unclear. Ithit doesn't like such persecutors (รังแก) so he decided to help Feung Fa. Tong dreams of marrying with Feung Fa. He has the funny role (ตัวตลก) of supporting the leading actor Sorapong Chatree. Ruffian Seua Hin tries to neutralize Feung Fa but Ithit helps again. Feung Fa believes police cannot help as her village is in a remote place so it is lawless. Villagers needs to help themselves against the dark bad influence (อิทธิพล). A second killer is neutralized (ผีเฝ้าบ้าน). Feung Fa is still chasing Seua Hin, the third ruffian. Kham, the ruffians' leader, supports him. Kham (Rith Luecha) likes Buatong, sister of Buakaew (Chutima Kawinla). It creates tension between the two sisters. Feung Fa tries to catch the third ruffian by herself. Ithit is in fact a police chief. Ithit finds where Kham is hiding and goes to get more help from police rangers. Meanwhile Feung Fa and Tong are captured. Ithit and the police rangers succeed to free Feung Fa following an usual gun fight. Kham and his ruffians are killed. Other actors and actresses featured are แอนด์นา, บรรพต, ทวน, พงษ์ไพร, ชีวิต,สกรรจ์, ทัศนีย์, โด้ง ลูกพ่อโต, เหม เวชยันต์ แสดงนำ.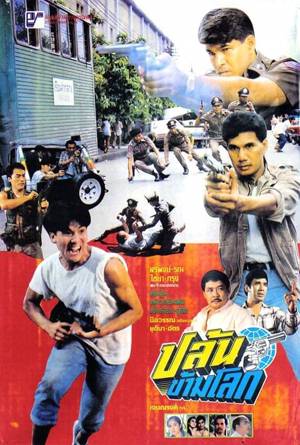 Year

: 1987



Thai title

:

ปล้นข้ามโลก




English title

: Faithful Spirit



Rating

: 3/5


Director

:



Main actor

: Sorapong Chatree,Krung Srivilai,Chaiya Suriyun,Chat Mongkolchai,Somchai Samipak,Ron Rittichai,Lau Wan-Fung


Main actress

: Chutima Kawinla
Thai movie ปล้นข้ามโลก / Faithful Spirit / 手足情 was released in year 1987 and lasts 1h36mn. It is a Hong Kong Thai coproduction. A VHS was also released in Japan and lasts 1h30mn featuring a sharp picture. In Hong Kong, during a police operation, a policeman Saichai (Hong Kong actor Lau Wan-Fung) is surprised to see one of his friends being part of the gangsters they are chasing. He prevents another policeman to shoot his friend, who can flee. The head of the police has now doubt on Saichai's integrity and suspends him from police duty. Saichai is very upset. He has a fight with some gangsters and during the fight, a policeman, trying to arrest them, is killed accidentally. Saichai is accused to have killed this policeman. His friend proposes to Saichai to flee to Thailand and to stay with uncle Chuan. In Thailand, ผู้กอง Sorapong Chatree tries to catch a kidnapper having taken two foreign teachers in hostage. Inspector (สารวัตร) Ron Rittichai (รณ ฤทธิชัย) succeeds to enter in the room and shoots the kidnapper. Uncle Chuan is involved in diamond trade. Palang (Chat Mongkolchai) is disappointed that Chuan wishes to retire. Three ruffians belonging to Palang shoot uncle Chuan and his wife. Khun Kamton (Krung Srivilai) is the big boss. Kamton asks for additional money from all godfathers. Fed up, the godfathers pushed by khun Prasong (Chaiya Suriyun) gather 200 000 baht to get rid of him and a hitman kills Kamton. Uncle Chuan recovers gradually. Saichai promises to take care of Palang. Following a fight in a restaurant, Saichai kills Sia Palang. Godfather Prasong knows that the killer is a former Hong Kong policeman. By threatening Saichai to have him expelled from Thailand, Godfather Prasong hires him to kill other godfathers. One time, he fails as police intervenes. Saichai believes Prasong tried to betray him. Police fails to catch Saichai. Saichai gets a Thai girlfriend called Mary (ชุติมา กาวินละ). Three Hong Kong men are sent to jail following a failed robbery. Saichai knows them. Godfather Prasong is finally arrested by Sorapong following a drug case foiled by Thai police. Somchai Samipak is playing head of Police. Saichai succeeds to release two of his friends. The third one succeeds to escape as police intentionally wants to find other Hong Kong men thanks to him. Police surrounds the house where the Hong Kong men are hiding. They refuse to surrender. Ron Rittichai has to do the dirty job to neutralize the Hong Kong robbers...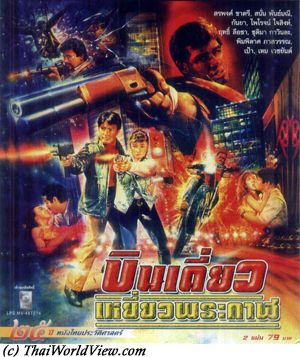 Year

: 1987



Thai title

:

บินเดี่ยวเหยี่ยวพระกาฬ




English title

:



Rating

: 1/5


Director

:



Main actor

: Sorapong Chatree,Rith Luecha,Phairoj Jaising,Lak Apichat,Pao Porapak


Main actress

: Thida Thidarat,Chutima Kawinla
Thai บินเดี่ยวเหยี่ยวพระกาฬ was released in year 1987 and lasts 1h18mn. It is an estimation only as the movie seems to have been released in level 2 standalone theaters (โรงชั้นสอง) only. It is a low budget movie. The soundtrack belongs to other movies such as "Shaft". There are quite a few nice sequences with Sorapong Chatree but the overall film editing is average. It is in fact a movie made with other movies sequences from Sorapong Chatree so that is why the editing is so poor! The numerous love sequences seem here only to ensure the movie can last 1h18. A new police officer (ผู้กอง) Kamtenthong (Sorapong Chatree) arrives in North of Thailand. A ring leader called Dam has dirty businesses such as helping people to cross Thai border illegally, drugs traffic, smuggling of weapons. Many fights and shootings happen between wealthy men (พ่อเลี้ยง) teams. Dam (Rith Luecha) benefits of it until police starts to involve into his business also to stop the numerous killings. Finally police rushes into Dam's ranch and neutralize the ruffians and hitmen. But the leaders are not here. Dam's secretary, Pen, is the one informing the police. It causes the ruffians' leaders to believe the other team betrays them as police is always there when weapons trading is happening. Dam is finally also neutralized through a final shooting. Pen was an uncovered policeman. It is a typical Thai action movie from 1980s mixing some Hong Kong style action sequences such as flying jump. Year 1987 was very prolific with action movies as Panna Rittikrai started to release his own action movies also. Movie บินเดี่ยวเหยี่ยวพระกาฬ features a few actors from 1970s action movies such as Phairoj Jaising but they look quite tired except Sorapong Chatree.
---