Increase or decrease font size for easier reading : A+ A-
Chosri Misommon
Chosri Misommon (1929-1992) - ชูศรี มีสมมนต์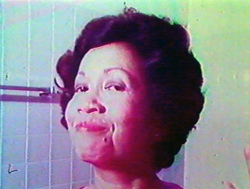 Chosri Misommon is a Thai comic actress. She played in more than 50 movies
This Chosri Misommon movie page contains 57 records.
---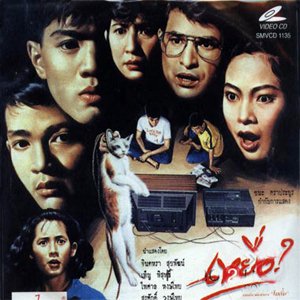 Year

: 1987



Thai title

:

เหยื่อ




English title

:



Rating

: 5/5


Director

:



Main actor

: Ron Rittichai


Main actress

: Mayurachath Muarnprasitivej,Jintara Sookkapat,Chosri Misommon
A couple has two teen boys, Long and Lit (elder brother). They don't spend a lot of time with their children as they need to work hard and late to pay back their mortgage. The father often goes on long business trips in provinces. Having no time for their children will bring bad consequences. The wife's younger sister, Sai, is staying as maid. The couple has issues with their teen boys. The boys are playing in illegal underground den, do small smuggling to earn extra money despite the pocket money given already by parents, wander with bad guys (นักเลง). The parents are worried that their kids may be caught by the police following raids on illegal casinos. The maid suggests to buy a video player so that they stay home. They wish to watch porn and violent movies. They borrow tapes from bad guys. It gives them bad ideas such as rape and they starting peeping Sai bathing. The teens are lazy and expect everything is due to them (ลูกแบบเทวดา). Watching violent movies makes Long tense. So he tortures and kills a cat. Watching porn movies arouse the teens (เกิดอารมณ์จะปล่อยที่ไหน). They think about Sai to teach them as she had a boyfriend before. Long drinks alcohol and still frequents the bad guys, who propose to bring him to prostitutes. He is always in bad mood (หงุดหงิด). Lit tries to rape Sai in the bathroom and Long hits her violently on the head. Blood flows. Sai is dead. The teens are murderers that need to hide their crime. They lie that Sai fled away with her new boyfriend in order to avoid that their mother calls the police for disappearance. They hide Sai's corpse inside the garden well. A house lizard (จิ้งจก) falls in front of Long. It is a bad omen as house lizards should never fall from ceiling or walls. A new maid is found to take care of the house. She is a young divorced lady called Sawin. They prevent the new maid to check inside the well as there is a very bad smell. Since Sai's death, Long feels bad and always stay alone. Sawin is not shy and entices Lit. They become lovers. Long becomes jealous. Long's bad friends are arrested for rape. Long starts to panic. He complains that Lit throws away brotherhood versus his girlfriend. They decide to get rid of Sai's corpse while Sawin is going out. Sawin finally discovers the corpse. Long tries to drown Sawin. A fight between the two brothers. Sawin flees and alerts the neighbours. The teens are jailed. The mother becomes crazy. The father blames the society for allowing such bad movies sales and distribution. But watching movies at home is internal affair. เหยื่อ means victim (indirect or direct). This movie is also a warning to parents not giving enough time to their children. Giving them too much freedom can have terrible side effects.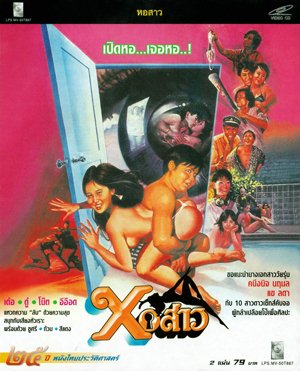 Year

: 1984



Thai title

:

หอสาว




English title

:



Rating

: 2/5


Director

:



Main actor

: Pipop Pupinyo,Doo Dook Kradon,Thuam Thoranong,Note Chernyim,Der Doksadao


Main actress

: Chosri Misommon
Thai movie หอสาว was released in year 1984. The VCD lasts 1h13mn only so this version is cut or censored. All sexy scenes are removed. Choosri (Chosri Misommon) and Chat (Thuam Thoranong) are the dorm owners. Chat dislikes a young man called Sing (Note Chernyim), who visits often the young ladies in the dorm. The female dorm (หอสาว) has harsh rules to follow. Young lady Plaew needs to find fast money as she needs to support her poor parents. Doo (Doo Dook Kradon), one of the dorm guardian, is stealing bras (โรคจิต) inside the dormitory. Bantoop (Pipop Pupinyo), another dorm guardian, is forbidden by his wife to go upstairs in the dorm as she doesn't trust him. Plaew meets a movie director, who promises to make her as a star but he is just a liar. Another dorm lady proposes her to become a model (นางแบบ) first. The men are using periscope to spy ladies in their rooms (บุญตาของเรา). Plaew becomes close friend and even lover with another lady. As Plaew is alone, Choosri's son becomes close to Plaew as she feels lonely. When the lady finds that Plaew is now having a boyfriend, arguments occur (ไม่ธรรมชาติ). A new tenant called Jarunee arrives. It is a katoey so she is fired from the dorm. Two other ladies find one sponsor to pay for their rent. Chat is getting favors from one tenant as she is used to drugs (ขอยาเธอ). It ends up badly as she dies from overdose. Sing is arrested by the Thai Police as he was the one selling drugs to the ladies in the dorm. Despite being an average film, the movie highlights some challenges faced by Thai society in decade 1980s (drugs, upcountry women coming to Bangkok, homosexuality, mistress, prostitution...). Choosri decides to stop doing dorm business (ฉันไม่ทำแล้ว) as there are only problems to manage. New actresses include คนึงนิจ นฤมล and แข ลดา. The movie's selling argument highlighted on the poster is about 10 young daring ladies (10 สาวดาว).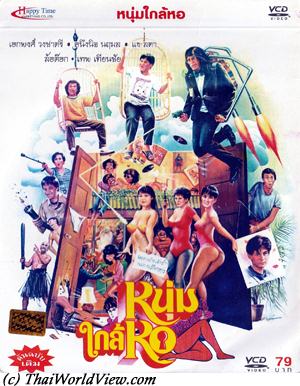 Year

: 1984



Thai title

:

หนุ่มใกล้หอ




English title

:



Rating

: 2/5


Director

:



Main actor

: Lor Tok,Pipop Pupinyo,Thep Thienchai,Doo Dook Kradon,Rong Kaomulkadee,Thuam Thoranong,Note Chernyim,Pao Porapak


Main actress

: Chosri Misommon
Thai movie หนุ่มใกล้หอ was released in year 1984 and it lasts 1h39mn. It is a light sexy comedy and it reminds of the Italian 1970s comedies. The dorm owner (หอสาวแม่) forbids her girls to approach men (สตรีที่ดี). She raises some orphan girls (เลี้ยงเป็นลูก). Pipop Pupinyo is used as a bodyguard to prevent intruders in the dorm. Doctor Lor Tok opens a dorm for men (หอชาย) on the opposite side! Among Lor Tok's disciples, there are veteran actors Doo Dook Kradon, Rong Kaomulkadee, Thuam Thoranong, Note Chernyim. The mother forces Pipop and another guard to take medicine to moderate their ardor (ไม่ไว้ใจ, อารมณ์เพศ). The young men take their revenge by giving to the mother a laxative so that they can be alone with the girls. On the following night, they even cut the water to force the girls to bathe in the swimming pool. Lor Tok tries to provide special medicine (ยาพลังเพศ) to convince Pipop to join them. The mother complains all men are dirty (ลามก). As a new male joins the dorm, the guys change their tactics and use the new handsome guy (รูปหล่อ) to seduce the mother (สุภาพ, แข็งแรง). He succeeds to be invited by the mother as an additional guard when the young ladies sunbathe (สาวอาบแดด). Basically the mother is doing the opposite she was teaching to her girls. They protest against their mother (อย่าทำผิดอีกเลย)! Lor Tok insults her as a mix of madonna (แม่พระ) and witch (แม่มด). Thep Thienchai, as a toilets cleaner, is also involved. Lor Tok is arrested by the police following complaints of Chosri Misommon. Finally the young men fall in love with the ladies. Lor Tok is released from prison and is back with two disciples (ลูกศิษย์) including Pao Porapak. As the two thugs plan to kidnap some girls, the young men intervene to catch them. The ladies dorm's owner decides to remove the fence between the male and female dorms as she recognizes that women cannot live without men. Lor Tok is finally arrested again for selling porn videos. The movie ends up with sexy sequences showing what Lor Tok has secretly filmed. Those sequences present in the 35mm film have been removed from the VCD released by Happy Time. Note Chernyim only plays in a few sequences. There was disagreement on his salary for this movie so he was replaced by Doo Dook Kradon.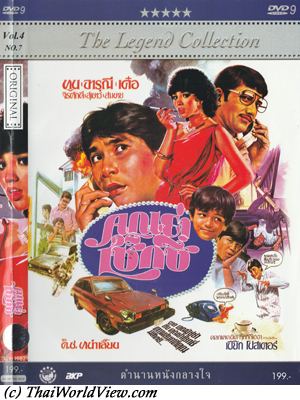 Year

: 1982



Thai title

:

คุณย่าเซ็กซี่




English title

:



Rating

: 2/5


Director

: Piak Poster



Main actor

: Toon Hiransap,Der Doksadao,Somchai Samipak,Doo Dook Kradon,Suchao Pongwilai


Main actress

: Jarunee Sooksawad,Juree Osiri,Sulaleewan Suwanthat,Chosri Misommon



Buy now

:

Thai movie คุณย่าเซ็กซี่ was released in year 1982 and it lasts 1h57mn. It is available under DVD format released by BKP. Movie director is Piak Poster. An old doctor friend visits Et (Toon Hiransap). Et asks for Thip's hand (Jarunee Sooksawad). Thip's father (Somchai Samipak) has a shock. Et visits his doctor friend to find a solution. Chosri Misommon and Doo Dook Kradon are playing crazy patients (อย่าถือคนบ้า ว่าคนเม่า). One of the kids, Mee, is kidnapped by Suchao Pongwilai. Suchao is asking for 300 000 baht as ransom. The kid succeeds to escape and even tricks his kidnappers. The kidnappers lie to Et and capture him. He still has to give a ransom to be released. Luckily the Police is passing by and he can escape. Ruffians are finally identified and jailed by Police. Et can finally marry Thip. Et and Thip are singing a song reminding of วัยอลวน movie in 1975. วัยอลวน was also director by Piak Poster. His old doctor friend (จิรศักดิ์ อิศรางกูร) asks him for help. He needs him to take care about a lady's best friend so that he can focus to seduce her without having a chaperon always around. Et teaches her tennis. Thip sees him with that lady and back home, he gets severely beaten and even falls from the stairs. Incantations (คาถา) from the grandfather are used to make people smaller or bigger so that he is not humiliated by his wife anymore but it is only a dream. Believing Et is becoming crazy as he keeps mumbling incantations, Thip calls the doctor to check his condition. The doctor asks Thip to be nice towards Et as he missed love when he was a kid. Thip announced to the head of school (Juree Osiri) that she quits her job to take care about her home. It is Thip's birthday. As Thip is wearing old style clothes so one of her friend restyles her. So she becomes sexy (คุณย่าเซ็กซี่). Love is back between Et and Thip. The movie can end happily.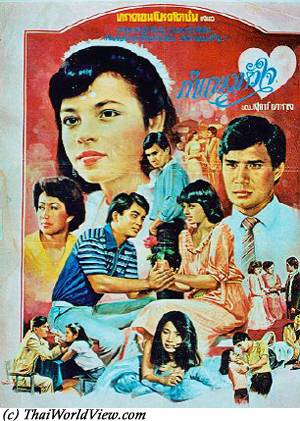 Year

: 1981



Thai title

:

กำแพงหัวใจ




English title

:



Rating

: 3/5


Director

: Sor Asanajinda



Main actor

: Sorapong Chatree,Sor Asanajinda,Yuranan PamornMontri,Sukon Koewliam


Main actress

: Jarunee Sooksawad,Thitima Sangkapitak,Pissamai Wilaisak,Metta Roongrat,Chosri Misommon
A theater (โรงละคร) employing veteran actors is closing. One of the main actress, Valla, finds herself out of job. Uncle Pongpat (Sor Asanajinda), one of his fan, asks Walla (วัลลา) for wedding. Valla (Pissamai Wilaisak) has already two young children, i.e. Viraya (วีรยา) (Jarunee Sooksawad) and Chat. Pongpat has also two young children already, i.e. Tor (Sorapong Chatree) and Athon (อาทร). Valla was an actress (เล่นลาคร) so Athon always underestimated Viraya and Chat. They never got along. Children have now grown up. Athon has studied overseas and developed a passion for painting. Back to Thailand, he meets a young lady and loves her immediately. He is not aware that she is Viraya! He keeps chasing her. In fact Athon and Tor love the same woman, Viraya. Ton has its own gallery and insists to make a painting (เขียนภาพ) of Viraya. Tor is not aware who Athon is now painting. Busamalee (บุษมาลี) (Thitima Sangkapitak) is another lady fond of Athon also. Athon now believes Tor and Viraya are already sweethearts (คู่รัก) so he wishes to go back studying abroad as soon as possible. Busamalee is disappointed when realizing Athon doesn't love her. Ton is now aware that Viraya is Valla's daughter. Athon has often craziness crisis. So Athon is violent with Viraya believing she lied to him on purpose. He rapes her in his painting gallery. Busamalee also goes to study abroad. Viraya tries to get suicide. Tor suspects a man behind but Viraya refuses to tell who by refusing to disclose what is deep buried in her heart (กำแพงหัวใจ). To avoid any further suicide tentatives, Tor decides to marry Viraya as soon as possible. Tor discovers Viraya's portrait in Athon's room so now understands the truth. Pongpat has a heart attack when learning this and dies. Athon becomes the new house owner. Viraya delivers a boy but the child dies during the delivery. Tor asks Viraya to forget the past but she cannot. Athon is back from overseas with Busumalee. They are engaged. The painting gets an award so Busumalee knows something has happened between Athon and Viraya. She is upset and spent the night out. She spends the night with Chat, Viraya's brother, who revenges her sister by sleeping with Athon's fiancee. Viraya and Athon finally meet. Athon tries to abuse Viraya again, claiming he always loved her, but she fights back successfully. She can now really forget Athon and enjoy happiness with Tor. The movie กำแพงหัวใจ is Yuranan PamornMontri's first movie.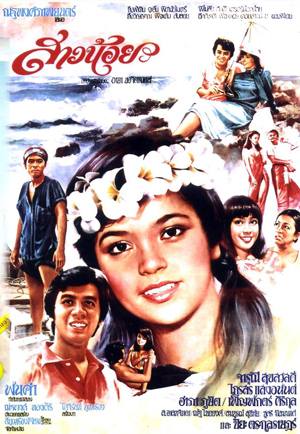 Year

: 1981



Thai title

:

สาวน้อย




English title

:



Rating

: 4/5


Director

: Phan Kam



Main actor

: Piya Trakulrard,Sor Asanajinda,Kraison Saenganan,Boo Wibunnan,Sompong Phonmitr


Main actress

: Jarunee Sooksawad,Ampha Pusit,Penpak Sirikul,Chosri Misommon
Thai movie สาวน้อย was released in year 1981. Main actors are Jarunee Sooksawad, Kraison Saenganan (ไกรสร แสงอนันต์) and Piya Trakulrard. Other actors are Ampha Pusit, Penpak Sirikul, Sor Asanajinda, Chosri Misommon as friendly governess, Boo Wibunnan as film producer, Sompong Phonmitr. Movie director is Phan Kam. The movie lasts 1h43mn. A first version was released in year 1958 with Charin Nantanakorn as main actor and ทรงศรี เทวคุปต์ as main actress. The 1958 movie is still available in Thailand. It was shot in Koh Si Chang but the 1981 version happens in Koh Samet. The shooting took one week there. Sao Noi is a romantic movie. Suwalee (Ampha Pusit) is engaged with Siem (Kraison Saenganan). Siem's father called Pla wishes to marry a young lady called Marasee (Penpak Sirikul)(แม่เลี้ยง) but Siem knows she is a bad lady. Marasee uses ruffians to hit Siem. He loses memory, ends up on a remote island and meets Nit (Jarunee Sooksawad). Love emerges between them causing Nit's friend, Cheut (Piya Trakulrard), to be disappointed. Pla finds back his son. Siem brings Nit to Bangkok to his father's home. Following surgery, Siem (Kraison) remembers Suwalee but forgets Nit. As Nit sees Marasee having an affair with another man, Nit is accused of stealing jewellery and leaves their home. Luckily she succeeds to become a movie star. Real old standalone theaters are shown with huge real billboards of Jarunee Sooksawad (โรงเพชรรามา - Pratunam, โรงเมโทร - Ratchathewi, โรงหนังแกรนด์ - Wang Uurapha). She even wins a Thai oscar award. Disappointed by Siem and despite fame, Nit wishes to go back to her island. Cheut, looking for Nit, punches Siem, who then recovers his memory. He rushes to the island to find Nit. They finally reconcile. Cheut ends up with Suwalee.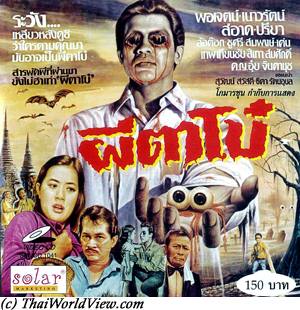 Year

: 1981



Thai title

:

ผีตาโบ๋




English title

:



Rating

: 3/5


Director

:



Main actor

: Porjed Kaenpetch,Lor Tok,Sahat Piempongsan,Sithao Petcharoen


Main actress

: Naowarat Yooktanun,Preeya Roongrueng,Chosri Misommon



Buy now

:

A fake taxi driver (No taxi meter in 1981 on taxis!) captures a young lady student. His boss, a mysterious and unscrupulous doctor (หมอ) Kampon, takes away her eyes. One of the eyes cannot be used as the fake taxi driver punches her. Da, the doctor's wife, is blind following a car accident so Kampon needs to find new eyes (ดวงตา). Noi (Naowarat Yooktanun) and Pol,a young couple, are married but have financial difficulties. Pol is looking for a job. The bad servants capture a drunken tramp to steal his eyes. His eyes cannot be used as they are sick (ตายฟรีๆสองคน!). So Kampon shall select next time the donor by himself. Kampon meets Pol and is immediately interested by his eyes. Nang Soi (Preeya Roongrueng), Kampon's servant, is possessed by the two dead spirits (ผีเข้า), i.e. the lady student and the tramp, while walking near their graves. A shaman (หมอผี) is needed. The shaman recommends to put drawing representing religious mystical symbols (ยันต์) and sacred threads (สายสิญจน์) in front of the house to repel ghosts. Kampon's servant comes to take Pol to work. It is a trick to take his eyes to give to his blind wife. The body is thrown away in the same cemetery as the previous bodies (ศพ). Noi has bad premonition about her husband. One of servant Off wishes to help some villagers friends to make love filters so he tells them where to find a fresh dead body, i.e. Pol, to make corpse oil (น้ำมันพราย). Thanks to Pol's eyes, Da can see again. A shaman (อาจารย์) wakes up Pol's spirit by wishing to get corpse oil (ผีตาโบ๋). It turns to a fiasco. Pol wants his eyes back (เอาลูกตาของกูคืนมา) and wishes to kill Kampon. Noi is worried about her husband and visits Kampon to get news. There is opposition between the modern doctor (นักวิทยาศาสตร์) and the ghost. The doctor has to accept ghost reality and asks help from a traditional shaman called Ket! Pol ghost visits his own house and discusses with his youngest daughter. Only young children are not afraid of ghosts. Pol ghost terrorizes local villagers. Pol appears in Noi's dreams and asks her to remove the sacred items in front of Kampon's house. He is now able inside the house, gets revenge and his eyes back. Shaman Ket cannot help and escapes death as Noi asks Pol ghost to stop his killings. Pol ghost is reduced to ashes and worms as the sunny morning arrives. There is a short funny apparition of legendary comic actor Lor Tok as a guy stealing coconuts at nighttime. As usual in 1980s movies, there is mix of slight horror and comedy with simple Fx effects.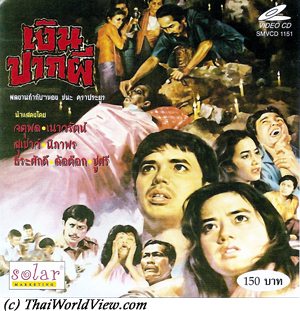 Year

: 1981



Thai title

:

เงินปากผี




English title

: Ghost Money



Rating

: 3/5


Director

: Chana Kraprayoon



Main actor

: Jatuphol Poopirom,Lor Tok,Suchao Pongwilai


Main actress

: Naowarat Yooktanun,Nipaporn Nongnuch,Chosri Misommon
Malee (Chosri Misommon) is married to Lor Tok, an alcoholic caretaker. Lor Tok has a daughter called Lao (Nipaporn Nongnuch) and a son called Lo. Malee has also a son from a previous wedding. He is called Mon (ทะลึ่ง). Lor Tok is a husband believing his wife more than his children so relationship is very bad between his children and the new wife. Teacher Awan (Naowarat Yooktanun) meets Pop (Jatuphol Poopirom) visiting the countryside per invitation from his friend, a policeman played by Suchao Pongwilai. The father doesn't give money anymore to his children so Lo thinks about stealing the coins from dead corpses (เงินปากผี). With two friends (Biaw and Pui), Lo goes in a Buddhist temple at night time to steal coins from corpses stored in a morgue. The teacher brings Pop to a famous sacred cave where birds can be heard but not seen. Many people died there. The three children spent all their pocket money so decide to go to the sacred cave to look for additional coins. They dig up a coffin with a corpse still in perfect condition (ผีเขมร). One of the kids forces to open the mouth in order to get the coin so causing the dead spirit to be very upset. Biaw dies because of the ghost. The boy Lo wishes to give back the coins to the spirit but Mon has stolen the coins and plan to sell them in Bangkok. The policeman enquiries on the coins found on Biaw. Biaw's mother gives the coins to the teacher. The spirit then possesses the teacher and frightens Pui at night time. Pui is found with burnt hands. As Lo recognises his stealing, the spirit doesn't hurt him but forces him to watch Pui digging endlessly. The spirit is now after Malee and sends hell birds (นกนรก) to punish her as she is a liar. Pui finally dies. A spirit doctor (หมอผี) arrives in the village and warns the teacher Awan that she is possessed. He asks to meet her in the sacred cave to perform an exorcist ceremony (พิธี) but he is found dead. The spirit kills both Malee and Mon. Villagers finally request the help of a Buddhist monk in order to neutralize successfully the evil ghost. In 2014, this movie was fully restored in beautiful colorful HD version by Five Star company.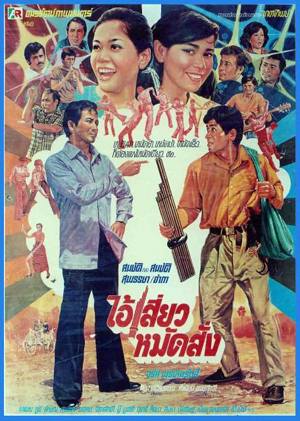 Year

: 1981



Thai title

:

ไอ้เสี่ยวหมัดสั่ง




English title

:



Rating

: 3/5


Director

:



Main actor

: Sombat Methanee,Lak Apichat,Boo Wibunnan,Adul Dulyarat,Manop Aussawathep,Sayan Chantaravi​boon,Rith Luecha


Main actress

: Supansa Nuengpirom,Ampha Pusit,Chosri Misommon
Thai movie Ai Sio (ไอ้เสียวหมัดสัง) was released in year 1981 and lasts 2h03mn. Sio (Sombat Methanee) from Isan area is going to Bangkok for the first time to find a job. Some people promise him a fake job in Saraburi. They drug him with sedative pills (ยานอนหลับ) and steal his money. Sio speaks Isan language only. Sio finds the three men again and a fight erupts. Very strong, Sio kills them during the fight thanks to his strong punch. Sio ends up in jail with two other men, Lak Apichat and Boo Wibunnan, who are pickpockets. They become friends. Released from prison, Lak and Boo meet Phi Kang (Adul Dulyarat), who has serious issues with ruffians led by Boonchai (Manop Aussawathep) wishing to buy his garden. There are gems (พลอยแดง) in his garden soil. His children are Sayan Chantaraviboon, Supansa Nuengpirom and her elder sister played by Ampha Pusit. Sombat is having two roles in this movie, i.e. Sio and Sia! Sia Songsak is another local ruffian and his mother is played by Chosri Misommon. Some people confuse Sio and Sia. Sio has to punch people mistaking him as Sia. Sia finally finds Sio. Fighting erupts between both of them. Through the fight, Sio kills Sia due to his strong fist punch. Each time he gets hit below the stomach, Sio loses his temper. Afraid of being arrested by police again, both Sio and Boo leave for Chantaburi. Arriving there, they are involved in another fight and befriend with young men. Boo brings them to work with him. Sio likes fair justice (รักความยุติธรรม). Ruffians propose a 5 to 5 fight. Rith Luecha is one of the fighters. If they lose, they have to sell the garden. Thanks to Sio, they win. Trying a last solution, the ruffians kidnap the two daughters. Even Saran, now able to fight, joins them. Through final fighting, ruffians are neutralized. Sio is injured while protecting Supansa. US movie Rocky soundtrack is used.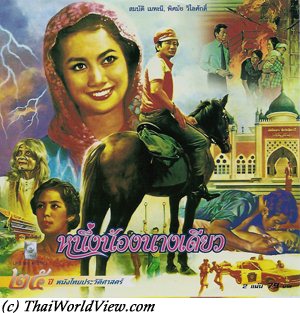 Year

: 1980



Thai title

:

หนึ่งน้องนางเดียว




English title

:



Rating

: 3/5


Director

:



Main actor

: Sombat Methanee


Main actress

: Pissamai Wilaisak,Tharika Thidathip,Chosri Misommon,Marasri Isarangkul
Thai movie หนึ่งน้องนางเดียว was released in year 1980 and lasts 1h18mn. Maybe the movie was cut or censored as it is a short duration for a movie. The picture quality is average. This movie is remake of movie หนึ่งน้องนางเดียว released in year 1959. The mother is played by Marasri Isarangkul. The poor family adopts an orphelin Phayak on top of their current child Phayak. Many years have passed. Narit (Sombat Methanee) is riding horse with his fiancee Nathee. Suddenly Narit falls from a horse (ตกม้า) as a snake attacks it. He gets help from PlaiWan (Pissamai Wilaisak). Phayak (ณัฐ ไชยยงค์) is her brother, who is a hunchback. Narit seduces PlaiWan (คนกรุงเทพพูดหวานอย่างนี้ทุกคนหรือค่ะ?). Phayak doesn't trust Narit. While her parents are away to cure the father's heart disease, PlaiWan and Narit become lovers. Phayak blames his sister (ใจง่าย). The father, knowing that her daughter was too easy, has a heart attack and dies. Narit is back to Bangkok and promises to come back as soon as possible. A child is born but Narit is still not back so PlaiWan decides to to Bangkok. Chosri Misommon is playing a domestic helper. Narit had to marry Nathee (Tharika Thidathip) due to some debt towards parents. In front of Nathee, Narit ignores PlaiWan and his child (เลวกว่าหมา). Narit chases them. Back home, the baby is dead and the mother dies also. PlaiWan and Phayak burn the house and leave the area to start a new life. They settle in South of Thailand and make a living by fishing. An old sorceress predicts to PlaiWan that Narit will come back to her as a slave. A spirit (ปู่) tells to Phayak where a treasure is located in the sea. They become rich and buy a beautiful home. PlaiWan is renamed as Fatima. Narit meets Fatima but he doesn't recognize PlaiWan. They become lovers again causing Phayak's ire towards this (หมาป่า). Phayak is going overseas to remove his hunch. Narit meets Methinee, a business woman but he doesn't realize she is PlaiWan (ไม่จริงจัง). Phayak kidnaps Narit to get revenge over him. He also lies to Nathee in order to seduce her. He tortures Narit's body but also Narit's spirit by telling his fiancee is now his! Nathee grabs a gun but Phayak shoots her. The police arrives and shootings happen. PlaiWan releases Narit as Phayak has gone too far. Phayak finally dies as he was willing to revenge PlaiWan's honor.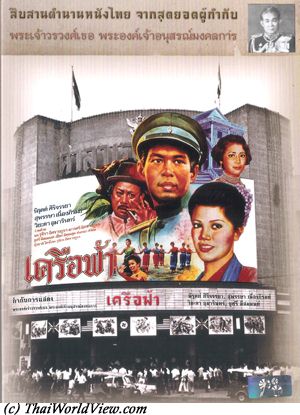 Year

: 1980



Thai title

:

เครือฟ้า




English title

:



Rating

: 4/5


Director

:



Main actor

: Nirut Sirijanya


Main actress

: Supansa Nuengpirom,Wiyada Umarin,Sarinthip Siriwan,Chosri Misommon,Marasri Isarangkul,Janthana Siriporn



Buy now

:

Thai movie เครือฟ้า (สาวเครือฟ้า) was released in year 1980. It is available under DVD format (1h49mn) and VCD format (2h01mn) released by former company Solar. During World War 2, Hoi is a military officer (นายทหาร) in Chiang Mai back from overseas. Hoi (ลูกผู้ดี / ลูกพญา) is coming from a high society family (Sarinthip Siriwan). Hoi (Nirut Sirijanya) meets a young Northern lady called Kreua Fa (Supansa Nuengpirom) at a traditional dance event. Chiang Mai is famous for the beauty of its ladies (เมืองคนงาม). Kreua Fa's father raised elephants. Local North people speak local northern dialect in the movie. Kreua Fa makes Hoi discover elephants' life in the forest. A local old notable wishes to marry Kreua Fa. The notable involved in drugs trafficking wishes to get rid of Hoi. A plan is set up to have Hoi having a deadly accident in the forest with an elephant but Kreua Fa helps him on time. Romance starts between them. They finally marry following Northern traditions. As Thailand has declared war to Germany, Hoi needs to go back to Bangkok and then to fight in Europe. His plane is hit and Hoi lost his memory. Three years have passed. Champa has been taking care of him during his long recovery. Hoi's parents settle the wedding with this rich heiress (Wiyada Umarin). Meanwhile Kreua Fa has delivered a child. The evil notable kidnaps Kreua Fa's baby to force her to become his wife. Kreua Fa's friends use elephants to release her and the notable is arrested for drug trafficking. One day Hoi is invited to Chiang Mai to demonstrate Thai airplanes. Kreua Fa hearing the plane believes Hoi comes back for her. Hoi has the feeling he went to Chiang Mai before losing his memory (ความทรองจำ). The new wife is aware of Kreua Fa but hides the truth to Hoi. Officer Pla explains the truth to Kreua Fa that Hoi lost memory as his plane was hit during the war. Kreua Fa needs to wait. Kreua Fa tries to get suicide. Finally aware of a ball given by high society, she decides to find Hoi. During the ball, arguments arise between Kreua Fa and Champa but Hoi cannot remember Kreua Fa. Kreua Fa is so disappointed so she decides to kill herself. Hoi finally recovers his memory. While rushing to find Kreua Fa, he just arrives on time to have her dying in his arms. She entrusts her child to Hoi. This movie has been released in theaters before in year 1953 (Chalit Susewee and Wilaiwan Watthanaphanit) and 1965 (Mitr Chaibancha and Pissamai Wilaisak).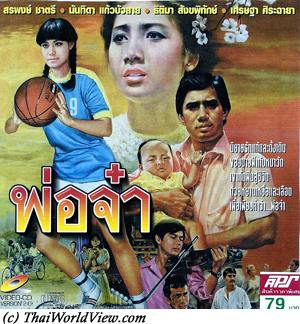 Year

: 1980



Thai title

:

พ่อจ๋า




English title

:



Rating

: 3/5


Director

:



Main actor

: Sorapong Chatree,Settha Sirachaya,Sor Asanajinda,Witoon Karuna


Main actress

: Nanthida Kaewbuasai,Ratanaporn Intarakamhaeng,Thitima Sangkapitak,Chosri Misommon,Tukata Jindanuch
Yen (Thitima Sangkapitak) flees her family as her father wants to force her to marry a man she doesn't love. She wants to commit suicide. Yen is saved by Pon (Sorapong Chatree), a poor young man living in a slum. They live happily a few months and she gets pregnant. Her father finally finds her. She has to go back with him and leaves Pon. On her wedding day, Pon appears to take back his new born daughter to bring her up. Her name is Yuwadee. During many years, he works very hard to pay for her education and keeps secret his low society level status. Having financial problems following an accident, his daughter Yuwadee has to go back in Yen's family but she is not happy. He finally succeeds to get Yuwadee back. Now becoming a TV serie star, her career is endangered by rumours about her father. Forced to appear on the stage, Pon insults and dishonors himself to avoid that his daughter career is damaged. Will Yuwadee reject her father? Yuwadee character is played by actress and singer Nanthida Kaewbuasai. A few songs are featured in the movie. Thai cinema often uses young actors and make them look older instead of using real veteran actors. This movie highlights the strong bonds between a father and his child. A first version of this movie was directed by Sor Asanajinda in 1957. Sor Asanajinda is playing Yen's father in this 1980 version! Ratanaporn Intarakamhaeng, who played as leading actress in the 1957 version, is also playing in the 1980 version.



Year

: 1979



Thai title

:

อยุธยาที่ข้ารัก




English title

: The last day of Ayudhya



Rating

: 3/5


Director

:



Main actor

: Krung Srivilai,Yodchai Meksuwan,Piya Trakulrard,Surasit Sattayawong,Tawan Siriwat,Lor Tok,Pipop Pupinyo,Pan Borapet


Main actress

: Pawana Chanajit,Chosri Misommon,Somjit Sapsamruey,Marasri Bangchang,Sulaleewan Suwanthat



Buy now

:

Thai movie อยุธยาที่ข้ารัก / The last day of Ayudhya was released in year 1979 and lasts 2h18mn. The movie features many songs. The Thai chief soldier (Tawan Siriwat) is a traitor. Young lady Lam Duan (พนิดา ทองทัต) helps the Thai King (Surasit Sattayawong) to flee. Ayutthaya city is burnt and destroyed as the traitor opens the door to Burmese soldiers. Resistance is on. Lam Duan and her husband Reuang (Yodchai Meksuwan) try to kill the Burmese King but they fail and are sentenced to death. They promise to love each other every life (ทุกชาติ) and to kill the Thai traitor. 200 years have passed. Lam Duan is reborn under MouMou's name. Reuang is reborn under Decha's name. Sulaleewan Suwanthat is playing MouMou's mother. Dam (Pipop Pupinyo) kidnaps the subdistrict headman's daughter. Decha (Yodchai Meksuwan) likes painting and falls for Noi (Pawana Chanajit), a good heart prostitute. Decha is hired (นับสืบ) by a rich lady (Somjit Sapsamruey) to find her lost granddaughter (หลานสาวเศรษฐี). Dam buys a young lady called MouMou (พนิดา ทองทัต) for 3 nights from her parents but she refuses and escape after hitting Dam. Decha finally helps her but she doesn't trust believing he is another rapist. They take refuge in a cave. At nighttime, Decha dreams that MouMou is Noi and makes love to her. He promises to be responsible of his acts. Chased by Dam's ruffians including Pan Borapet, MouMou splits with Decha to attract the ruffians. She is unfortunately shot by ruffians and falls from a cliff. Toon (Lor Tok) is Decha's assistant. Lor Tok as medium (คนทรง) convinces the grandmother that Noi is her lost granddaughter. If Decha marries Noi, lost granddaughter, then they will have 1M baht to share! On the wedding day, MouMou is back. She wants to get her husband Decha back. Krung was the one to rescue MouMou when she falls from the cliff. He wishes to marry her but she refuses as she loves Decha, her husband in this life and previous life as Reuang. In order not to lose 1M baht, Noi has to accept to share Decha with MouMou. One day in alternance (โควตา) but jealousy makes it impossible to happen. Krung Srivilai has finally a small role in this movie but he is displayed on the poster as the main actor. Decha and Noi plan to send MouMou to a psychiatric hospital. She rebels and when facing Tawan Siriwat, she reminds he was the traitor in Ayutthaya and stabs him. The rich lady realises that her missed granddaughter is MouMou and not Noi! MouMou flees and reaches Ayutthaya. There, disappointed by life, she becomes a nun.



Year

: 1979



Thai title

:

ไอ้ถึก




English title

:



Rating

: 3/5


Director

:



Main actor

: Sorapong Chatree,Sayan Chantaravi​boon,Kecha Plianvithee,Rith Luecha,Lor Tok,Thep Thienchai


Main actress

: Chosri Misommon,Duangcheewan Komolsen,Yuwathida Surasawadee
Movie ไอ้ถึก was released in year 1979 and lasts 1h58mn. It is a funny comedy showing the discovery of Bangkok and its modernism by three bumpkins. Lazy husband Sayan (Sayan Chantaraviboon) is chased from home by his wife (Chosri Misommon). His friends are Yiem (Sorapong Chatree) and Phabai (Thep Thienchai). The three friends are fired from their respective home (อยู่วัดตั้งแต่เกิด, home, mistress). They need to find ways to survive. They decide to go to Bangkok (บ้านนอกเข้ากรุง). Various funny situations happen as they are not used to Bangkok modern way of life. They have arguments in a restaurant with ruffians (นักเลง). The ruffians were hired by two young ladies to release their sister Nong Suda kidnapped by Decha (Kecha Plianvithee) and Rith Luecha. The ladies hire the three friends instead. They succeed to release Suda. During the escape, they also take a case belonging to Decha. Ruffians want to get back the suitcase (กระเปาะขอคืน) as it contains important documents related to their business. The three ladies bring the three friends around Bangkok (Happy Land attraction park, Pattaya). They also discover hotels and massage (นวด). As a fighting erupts in the massage parlour, Khun Prangsee (Duangcheewan Komolsen) brings them to her home. They finally befriend with her husband played by Lor Tok (คุณผู้ชายมาแล้ว). After multiple failed trials, Decha finally gets back his suitcase but also kidnaps again Suda and her sisters. The police believes the three friends are responsible of the kidnapping. A fair (งานฉลอง) organized by Khun Prangsee's husband turns to a disaster as police tries to arrest them. By fleeing, the three friends bring the Police by luck to Decha's house. Ruffians are captured. Ladies are released and the three friends are innocented. They prefer to go back to their village than staying in Bangkok. The three ladies bring them to their village but finally flee as Yiem's house collapse on them, as it is discovered that Sayan is already married, as Phabai offers a weird amulet (ปลัดขลิก)!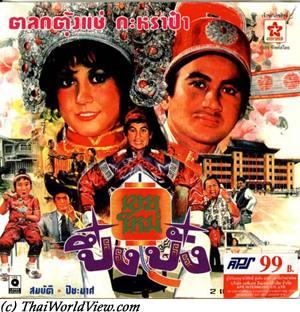 Year

: 1979



Thai title

:

เขยใหม่ปึ๋งปั๋ง




English title

:



Rating

: 2/5


Director

: Kumtorn Tubkunlai



Main actor

: Sombat Methanee,Boo Wibunnan


Main actress

: Piyamas Monayakol,Runglawan Sripatimakul,Chosri Misommon,Janthana Siriporn



Buy now

:

Kimtom is a young man part of a wealthy Chinese family established in Thailand since a few generations. Wo is a young lady part of a Thai traditional high society family (ผู้ดี). Kimtom and Wo love each other but both families refuse this union. The Chinese family wants a rich bride for Kimtom. The Thai family wants a famous family name to match their rank. The Thai high society family despises Chinese customs (strong accent - พูดไทยไม่ชัด, laugh loudly, No good manners - มารยาท, burping during diner). Kimtom wants to prove that Wo's mother is wrong. Wo's mother is pushing towards the son of a Thai rich family linked to old aristocracy. His name is Samkhan (สำคัญ). Kimtom comes to the diner dressed with Chinese traditional old clothes. As Wo's mother thinks that Chinese food is savorless (รสชืดชืด), she makes a very spicy curry for Kimtom! Kimtom's family makes a 2M Baht donation (บริจาค). Wo's family complains about new rich people (เศรษฐีใหม่) versus old aristocracy (เศรษฐีเก่า). It is Wo turn to go for a diner with the Chinese family. Funny situations happen as she doesn't know how to use chopsticks. Finally both families agree for a wedding but the wedding needs to include Chinese and Thai ceremonies. Kimtom doesn't feel well because Wo's mother doesn't accept him. The movie raises issues regarding multiracial weddings. There should be no border for love. The wife needs to stay in the husband's home according to Chinese customs. But Wo's mother keeps her at her home. Misunderstandings keep happening (ทำประชด). Wo is pregnant. The Chinese family wants a boy first. Then both families fight over the education of the child. Finally as Kimtom helps to prevent a robbery on Wo's mother jewels and they move to their own house, happiness and understanding happen again.



Year

: 1979



Thai title

:

ตลกร้องไห้




English title

:



Rating

: 4/5


Director

:



Main actor

: Lor Tok,Sahat Piempongsan,Sukon Koewliam,Thuam Thoranong


Main actress

: Nipaporn Nongnuch,Malee Wetpraseri,Chosri Misommon



Buy now

:

Four comics have no success as their comical shows in slums or market are failures. One of them knows famous and rich comic Lor Tok and thinks to ask him to be their teacher (ครูบาอาจารย์). During one TV show, Lor Tok sees a young beautiful lady called Kloi (Nipaporn Nongnuch) singing a song related to old men attractiveness. He wants to know more about her. Lor Tok wishes to be her sponsor (ผู้อุปการะ) to help her to become famous. Lor Tok has become a capricious star (ดาราดังมาก, ลืมตัว, สร้างบารมี) believing his fame can allow him all excesses. Lor Tok rejects the four comics' request to be their teacher and mentor. He has a wife and daughter already. His wife is unhappy as he changed a lot since being a star. Lor Tok wishes to drop everything for Kloi and promises house, car, career to her but she is afraid. His wife, fed up, considers to quit him (เลิก). Lor Tok has only Kloi in mind and refuses all movie, interview or show proposals as they are too low for a superstar like him. So he starts to alienate people around him. Lor Tok has no gratitude (ไม่มีกตัญญู) for show owners who helped him before when he was not famous (ไม่มีวันดับ). Following heavy drinking, Lor Tok has a car accident with Kloi. Lor Tok's wife flees away. His manager has to sell the house and two cars to cover the hospital expenses. He now lives with his daughter in a rented small bungalow. He keeps indulging in alcohol and had often serious pains in the chest. Finally without money, Lor Tok stops drinking and looks for show representations to pay for his daughter school fees. Nowadays people like comic groups and not anymore individual comic so he has no more success. The four guys are now a famous comic troupe in Thailand. His daughter is back with her mother. Finally Lor Tok accepts to play as a team with the four guys he denigrated before. He succeeds to regain fame (เป็นอาจารย์) and during a singing contest, Lor Tok sings a touching song regarding his life errors. At the end of the song, he dies following heart attack. On his cremation day, all his former friends including Kloi pay sincere homage to him.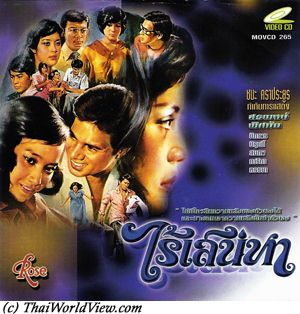 Year

: 1979



Thai title

:

ไร้เสน่หา




English title

:



Rating

: 3/5


Director

:



Main actor

: Sorapong Chatree,Nirut Sirijanya


Main actress

: Pissamai Wilaisak,Chosri Misommon
Long ago, two sisters loved the same man but the elder married him. The younger never accepted this failure and became too emotive. Years after, when a bachelor comes to visit her sister's daughter, she reminds her past and thinks that he comes for her. She starts becoming crazy and tries to spoil their love using even a killer. Will she succeed?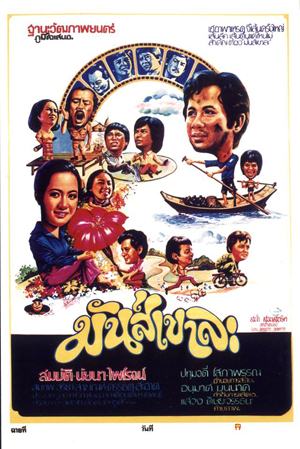 Year

: 1978



Thai title

:

มันส์เขาล่ะ




English title

:



Rating

: 3/5


Director

:



Main actor

: Sombat Methanee,Prachuap Ruekyamdee,Lor Tok,Tawan Siriwat,Suriya Chinaphan,Phairoj Jaising,Sayan Chantaravi​boon,Rong Kaomulkadee,Thep Thienchai,Somphob Benjatikul,Boo Wibunnan,Kanchit Kwanpracha,Sahat Piempongsan,Thuam Thoranong


Main actress

: Naiyana Shewanan,Chosri Misommon,Nipaporn Nongnuch,Tharika Thidathip
Thai comedy movie มันส์เขาล่ะ was released in year 1978. The movie is lost in Thailand but a sequence of 1h03mn is left to be seen. Subdistrict headman (กำนัน) Lor Tok wishes to produce a movie with his daughters and his wife playing as actresses. His wife is played by Chosri Misommon. His daughters include Wassana (Naiyana Shewanan) and Nipaporn Nongnuch. Tawan Siriwat seems to oppose the Subdistrict headman's decision. A photo studio is managed by Prachuap Ruekyamdee and his two friends, i.e. Sayan Chantaraviboon and Rong Kaomulkadee. Prachuap and his friends convince Lor Tok to manage the movie for him. They are now looking for a main actor (พระเอก) for their movie but Fui (Sombat Methanee) is finally hired by mistake. Fui's close friend is Thep Thienchai. Lor Tok is the movie producer so they use the money to buy a mercedes! He wishes his family to play in the movie. Somphob Benjatikul is his assistant. Fui and Wassana like each other. Boo Wibunnan is hired as movie director. They are also looking for somebody to write the story. Tawan brings them to meet Mui (Kanchit Kwanpracha) as they are looking for a ruffian (นักเลง). A ceremony for the movie launch (เลี้ยงใหญ่โต๊ะ) is organized. Fui has to sing and does it well (it is Sombat Methanee's real voice). Thuam Thoranong as comic actor is also present. Sahat Piempongsan is used as decorator. Lor Tok always needs to protect his daughters against the young men trying to seduce them. Multiple gags happen during the shooting as Lor Tok doesn't accept any kiss to his daughters. Phairoj Jaising is involved as actor also and a few ดาวยั่ว are joining (Tharika Thidathip). The movie shooting is a disaster. Kamnan Lor Tok is back to his village and is welcomed by Tawan Siriwat and Suriya Chinaphan singing an ironic son and teasing the Subdistrict headman. This comedy is featuring many famous comic actors from 1970s and more than 18 Thai famous actors / actresses.



Year

: 1978



Thai title

:

รักเต็มเปา




English title

:



Rating

: 3/5


Director

:



Main actor

: Sombat Methanee,Sayan Chantaravi​boon,Settha Sirachaya,Sawin Sawangrat,Lor Tok


Main actress

: Naiyana Shewanan,Pissamai Wilaisak,Chosri Misommon
Thai movie รักเต็มเปา was released in year 1978. It is lost but a sequence of 1h26mn remains to be seen. This movie mixes songs, comedy and romance. Sayan Chantaraviboon, Toei (Settha Sirachaya) and two friends are singing during a Buffalo racing festival to attract interest from Naiyana Shewanan and other beautiful young ladies. They are in conflict with another group of men but Sawin Sawangrat, local subdistrict headman (กำนัน), and To (Sombat Methanee), local village headman, calm them down. Sayan loses and buffaloes run over him. He ends up at a local clinic where a beautiful nurse called Oon takes care of him. To, his father, is upset that his son, Sayan, lost. Pissamai Wilaisak, the head of the clinic, asks him to make less noise. Toei has interest in Naiyana, daughter of Kamnan Sawin, but he is afraid of the father. To promises to help Toei and to visit the subdistrict headman. Chosri Misommon is the wife of Kamnan Sawin. A triple romance is happening. To is from lineage Bai Toei (ตระกูล) so he wants to organize a big procession (ขบวนขันหมาก). Unfortunately Chosri has hearing problems so To and Chosri misunderstood each other. So it ends up in a funny food fighting between the two families as the subdistrict headman refuses the wedding as he has not been informed before. Toei asks help from Lor Tok (นักเลงเก่า) but it turns to a disaster again two times! Sayan leaves the clinic as he was simulating being sick in order to be near Oon. Seeing that love stories are not successful, To has the idea to kidnap the ladies. Sayan messes up and Pissamai is kidnapped instead of Oon. To claims to be สุภาพบุรุษ Bai Toei or ผู้ยิ่งใหญ่ Bai Toei! Meanwhile subdistrict headman Sawin organises a hunt to find the ladies. After seeing To driving a car with the ladies inside, subdistrict headman Sawin shots him but the ladies prevent Sawin and his men to kill them. Pissamai takes care of To. As a wedding is going to happen, some members of the opposite family kidnapped Naiyana, so Sombat and Pissamai follow them and finally they succeed to release Naiyana.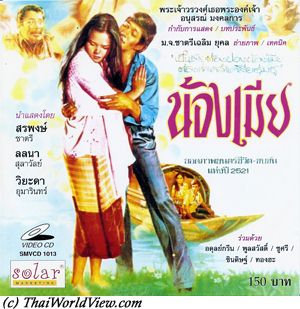 Year

: 1978



Thai title

:

น้องเมีย




English title

: Sister-In-Law



Rating

: 5/5


Director

: ChatriChalerm Yukol



Main actor

: Sorapong Chatree,Thuam Thoranong


Main actress

: Lalana Sulawan,Wiyada Umarin,Chosri Misommon
Four members of a family are living on a barge and carrying goods between provinces. Saeng, young man, is married to Plang. They have a young baby. Taptim is the young sister-in-law. Taptim is working hard but her elder sister is lazy. Saeng shouts after Taptim but remains silent with his wife. The barge arrives in Bangkok. Plang is fed up with her life on the boat. She is still young and wants to have fun. She sees herself having no future with Saeng. Taptim believes Plang doesn't love Saeng but married him to go away from her parents. Saeng doesn't believe Taptim. Saeng needs to sell 5000 watermelons. He only gets an offer of 20000 baht only. He refuses to sell. Plang believes she can be a country music (ลูกทุ่ง) singer. Plang meets in a hair-dresser shop a middle age gentle lady, who proposes to help her. Taptim refuses to join Plang as she is afraid to become a prostitute in Bangkok. Plang quits the barge. Saeng is shocked and finally sell the watermelons 12000 baht to have money and look for his wife in Bangkok. The trader knows that Saeng needs money urgently so he gives him a very low price (ขี้โกง). Bangkok is so big. He goes in every singing entertainment places to find her the whole day and night. Hopefully a taxi driver helps him (คนบ้านนอก). Saeng doesn't know how to read. He drinks too much and leaves his 12000 baht in a restaurant. Taptim has to take care of the baby as both parents are out in Bangkok. The taxi driver is a nice and honest guy as most of the taxi drivers come from Isan (อีสาน). Saeng sells his boat for a small amount and buys back a smaller boat. He finally finds Plang when she was ironically singing "chai dio rak dio" (ใจเดียวรักเดียว - one heart one love). Plang is performing in a drinking joint which offers live entertainment. Customers can invite singers to chat with them. Saeng and the taxi driver get beaten by the guards. The old woman introduces an old rich man to Plang. It is a financial transaction. Understanding that the man brings her to a hotel, she flees. Saeng loses his money again. Saeng stops looking for Plang having lost everything. The only money that is left is from Taptim as she forces the trader to give a higher compensation for the watermelons. Finally Saeng regrets not to have married Taptim as she has a better mood and behavior than Plang. Saeng wishes to get Taptim as new wife. It happens... When Plang decides to come back, it is too late to get back Saeng. She comes to get back her child. Nobody wishes to stay in Bangkok. They all go back to countryside. Bangkok is a symbol for poor up-country people, i.e. dream of wealth. Some people dream to get rich there but many of them come back home without money. Some countryside people arrive in Bangkok and get abused by Bangkokian people.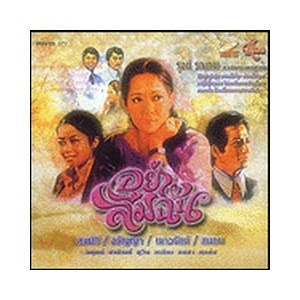 Year

: 1977



Thai title

:

อย่าลืมฉัน




English title

:



Rating

: 3/5


Director

: Ruj Ronnapop



Main actor

: Sombat Methanee,Sawin Sawangrat,Sayan Chantaravi​boon,Somphob Benjatikul,Adul Dulyarat


Main actress

: Aranya Namwong,Naowarat Yooktanun,Chosri Misommon,Marasri Isarangkul,Tharika Thidathip
Thai romance movie อย่าลืมฉัน was released in year 1977. The movie lasts around 2 hours 04 minutes and was released under VCD format. Movie director is Director is Ruj Ronnapop. Khaem (Sombat Methanee) and Suriyong (Aranya Namwong), both students, are in love. They shall marry. Finally Suriyong, due to filial duty (บุญคุณ), has to marry an older rich man, who is a banker. Khaem is disappointed and goes overseas. Suriyong never had chance to explain to him (มีเหตุผล). Fed up to be at home, Suriyong looks for a job and is engaged as secretary (เลขา). Her new boss is just back from overseas and is Khaem himself! Working relationship is difficult as Khaem makes it hard for Suriyong due to resentments. Khaem is also giving hard time to his managers (ผู้จัดการ) Somkit (Sawin Sawangrat) and Boon (Sayan Chantaraviboon). Khaem has a new girlfriend (แฟน) called Kaelong (Naowarat Yooktanun). Suriyong still wears the ring given by Khaem. Khaem spies Suriyong as she sees a man called Eua meeting her. For Eua (Somphob Benjatikul), Suriyong is only her stepmother (แม่เลี้ยง). He has no other feelings despite Khaem's suspicion. Alita, Khaem's gig from overseas, is back to Thailand and brings him trouble. Khaem is aware that Suriyong has two children but those two children are in fact from the previous wife of the banker, who died earlier. One night, while bringing the kids for holidays, Khaem becomes lover with Suriyong. There is misunderstanding as Suriyong believes it was arranged to trick her. Suriyong becomes pregnant. Khaem is upset to always see Suriyong with Eua so he writes a harsh letter to her. Khaem asks for a wedding with Kaelong as soon as possible. Finally Suriyong plans to flee overseas (หายกลุ้มก็กลับมาเอง). Khaem, realising his mistakes and misunderstandings due to jealousy, rushes to airport in order to find Suriyong before she leaves Thailand…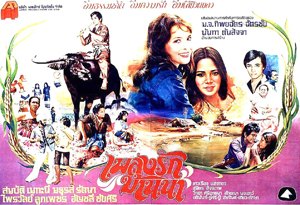 Year

: 1977



Thai title

:

เพลงรักบ้านนา




English title

:



Rating

: 3/5


Director

:



Main actor

: Sombat Methanee,Boo Wibunnan,Adinan Singhiran,Doo Dook Kradon


Main actress

: Chosri Misommon
Thai movie เพลงรักบ้านนา was released in year 1977. It features Sombat Methanee as main actor, มธุรส รัตนา and อัญชลี ชัยศิริ as main new actresses. A four minutes trailer and a 1h30mn movie are still available. The full movie with 12 songs including 3 by Sombat is not available anymore. A partial version was released many years ago on Thai TV CH7 but in a shorter release with only one song featured. Other actors featuring in this movie are Boo Wibunnan, Adinan Singhiran, Doo Dook Kradon, Chosri Misommon. A young man (ไพรวัลย์ ลูกเพชร) from Suphanburi is sheltered in Sri Prai and her sister's home as he has nowhere to go but he has nice singing skills. Worrying he would seduce his two daughters, the father finally chases him. Duan (Sombat Methanee) rescues Sri Prai aggressed by ruffians. Romance between Duan and Sri Pai happens. The story is about two sisters coming from a rich family and who love two poor men to the despair of their father. Finally the two poor men help their future father in law as a businessman is trying to buy his land knowing that a road is going to be built soon. The two new actresses are อัญชลี ชัยศิริ born in 1956 and มธุรส รัตนา born in 1957.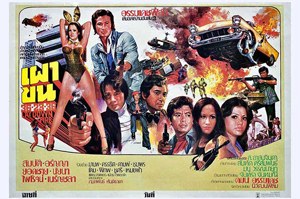 Year

: 1976



Thai title

:

เผาขน




English title

: Lay Down and Die



Rating

: 3/5


Director

: Kom Akadej



Main actor

: Sombat Methanee,Manop Aussawathep,Phairoj Jaising,Kanchit Kwanpracha,Yodchai MeksuwanBoo,Choomporn Theppitak,Dam Datsakorn,Boo Wibunnan,Kom Akadej,Pipop Pupinyo,Pan Borapet


Main actress

: Aranya Namwong,Naiyana Shewanan,Moeifa,Chosri Misommon,Neranchala Thaleungsak
Thai movie เผาขน was released in year 1976. The movie was never released on VCD or DVD in Thailand but a collector saved the film from 16mm format into VHS many years ago. The copy was not so good and was in red color as the film was already old. It lasts 1h44mn and is incomplete. The movie was also released in Italy under the name Lezi Puca Se (Lay Down and Die). It was also released by IFD Films and Arts, a Hong Kong company, under the name Bionic Heroes (1977) and lasts 1h25mn. The VHS rip is still colorful and sharp but the original Thai version has been reduced and cut to fit VHS standard format. Some sequences missing in the Thai remaining version are present in the international release. Enemies are trying to enter Thailand. At the border, Fon (Sombat Methanee) refuses to meet his younger sister Naiyana. He has to investigate who is providing weapons for Thai enemies. The enquiry leads him to a bunny bar, owned by Manop Aussawathep. Both Aranya Namwong and Pong (Phairoj Jaising), sister and brother, have resentments against Manop as he failed to honour the promise to their father to take care of them. They are used by him for low jobs. Pong (Phairoj Jaising) keeps having arguments with Dam, Manop's right hand. Boo Wibunnan is shot by Kanchit Kwanpracha, who ends up in jail. Aranya is having issues with Ah, an older man, who is trying to rape her as she was sold by Manop. Pong shoots him deadly. Pong and Aranya are then chased by the police. Prisoners Kanchit and Yodchai Meksuwan escape from the prison and are chased by the police. Some ruffians led by Dam Datsakorn try to shoot them while they are fleeing. They split to increase the chance for escape. Yodchai meets Pong and Aranya. They bring him temporarily with them to avoid police but then get rid of him on the backside of the road. Manop Aussawathep's girlfriend is played by Moeifa. Both Pong and Aranya fail to kill Manop. Kanchit wishes to revenge also on Manop as he believes he was betrayed. Manop pacifies everybody and Yodchai joins the team also. Dam, Yodchai and Kanchit do a heroin traffic in the train. Naiyana Shewanan spies them. Manop, as head of the traffickers, is upset as his latest traffic was discovered by the police so there must be a spy in his team. Manop decides to use Aranya for a Thai boxing match in order to exchange drugs versus money among a busy crowd. The niece of Manop is Pissamai (Neranchala Thaleungsak). Pissamai and Pong become very close. Chosri Misommon is playing Aranya's Thai boxing trainer. Choomporn Theppitak is playing a drug trafficker. Aranya wins her Muay Thai boxing match. Nayana spies Kanchit and his ruffians charging drugs in a truck. Yodchai convinces the ruffians that he will manage Nayana by himself. As Manop tries to abuse Pissamai, Pong helps her and they flee together chased by Dam. Meanwhile Fon shows to Aranya that Manop uses her as a mule only as drugs is hidden under banknotes. They also flee. Pong is captured while trying to release Nayana. Fon flees with Aranya and Pissamai. While trying to capture drug dealer Choomporn, Fon is finally neutralized by Pipop Pupinyo, Pan Borapet and Kanchit. They are transferred to the ruffians' base by helicopter. Fon is attached to a rope under the helicopter. He falls in a lake. Ruffians are attacking a border station to let enemies enter Thailand. Some ruffians are changing side such as Kanchit trying to protect Yodchai, who was the one always informing the police. The movie highlights police and military helping each other to push back enemies of Thailand. Pong and Pissamai die in each other's arms while fighting for Thailand. Director Kom Akadej is also having a small role as policeman. The movie features a very big number of famous Thai actors / actresses from decade 1970s.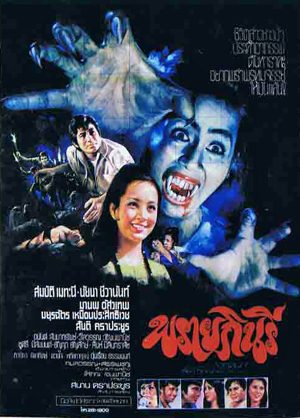 Year

: 1976



Thai title

:

พรายกินรี




English title

: The Tiger Devil



Rating

: 3/5


Director

:



Main actor

: Sombat Methanee,Manop Aussawathep,Adul Dulyarat,Pipop Pupinyo


Main actress

: Naiyana Shewanan,Malee Wetpraseri,Wilaiwan Watthanaphanit,Mayurachath Muarnprasitivej,Chosri Misommon,Duangjai Hathaikarn
Thai movie พรายกินรี (The Tiger Devil) was released in year 1976 and lasts 1h35mn. The movie is certainly cut as it is only available from cable TV programmes. Malee (Malee Wetpraseri) and Kinaree (Naiyana Shewanan) are travelling together after leaving a Christian community. They are aggressed on the way to their village by two men including Manop Aussawathep. They step back when understanding that Kinaree, who was fighting strongly, is a lady (นางฟ้า). Pipop Pupinyo, the village leader, remembers that many years he wanted to burn Kinaree as she was accused to be a tiger devil spirit. A monk stopped the burning and gave a sacred necklace to prevent Kinaree to become a spirit again (เวรกรรมของหลาน). She has to keep until being 20 years old. Kinaree and her grandmother were expelled from the village but are now back. One young villager tries to abuse Kinaree while she is bathing in the waterfall. When angry, she becomes the tiger devil spirit again and kills the villager. The grandmother Malee falls and gets injured. Per Kinaree's request, Manop searches for a doctor. Doctor Sombat Methanee then checks Malee but she finally dies. Pipop, afraid of Kinaree, leads the villagers to burn her again. The doctor decides to bring Kinaree in Bangkok but faces Manop, who is jealous. The doctor and Kinaree succeed to flee Manop and the angry crowd. They are back to Bangkok. New characters are present in the doctor's home, Chosri Misommon as domestic helper, Wilaiwan Watthanaphanit as mother, Mayurachath Muarnprasitivej as his fiancee Dao (ปากเสียใหญ่), friends such as Chom (Duangjai Hathaikarn) and Chatree (Adul Dulyarat). She is used in the kitchen but is useless (เด็กเวร). Dao has a lover (เล่นชู) called Chai (อนันต์ สัมมาทรัพย์). There is a ballroom event. Dao tries to humiliate Kinaree (ชาวป่า) during the ball but to no avail. She hires the car driver to hurt Kinaree but she becomes a tiger devil spirit (ผีเสือ) again and kills him. Today is Kinaree's birthday. Dao aware that Kinaree could be a spirit is willing to challenge her. She removes her necklace and slaps her. Horror happens with Chai is killed and Dao injured by the tiger devil spirit. Police shots the spirit a few minutes before Kinaree's 20th birthday. Kinaree becomes a full human but dies due to her injuries in the doctor's arms. Another version of Kinaree was released in year 1969 (กินรี) with Sombat and Suthisa. In this older version, Kinaree doesn't die.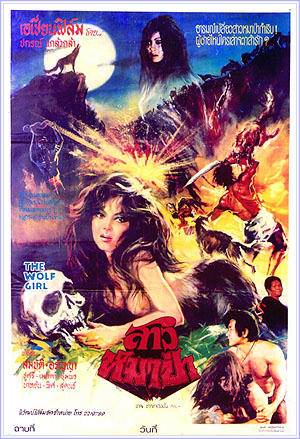 Year

: 1976



Thai title

:

สาวหมาป่า




English title

: The Wolf Girl



Rating

: 3/5


Director

:



Main actor

: Sombat Methanee,Sukon Koewliam,Choomporn Theppitak


Main actress

: Aranya Namwong,Chosri Misommon,Metta Roongrat
Thai movie สาวหมาป่า was released in year 1976. The movie is lost in Thailand but it is still available overseas in mandarin language under the name 狼女 - "The Wolf Girl". A VCD is lasting 1h37mn. Recently it was shown on Thai TV CH3 dubbed in Thai language. A black magician (หมอ) is talking to the lord Hang Pao and gets a spade. He wishes to get the unborn baby of the lord's wife in order to a create a Kuman Thong (กุมารทอง)(powerful protective spirit) as the lord had a lot of bad luck recently. The lord wishes to discover who killed his father and hopes the Kuman Thong can help him. The wife, played by Aranya Namwong, pregnant and about to deliver, hears them and then flees. Chosri Misommon helps her to deliver. Two babies girl are born. During the night Aranya flees with one baby and lets the other with Choosri with a golden necklace. While trying to escape from the wolves (หมาป่า), she falls from a cliff and dies. The black magician kills many ladies to get an unborn male baby but it is always a girl. Meanwhile the baby girl is raised by the wolves. Her twin sister called Arunee has been raised by Choosri. She is working in the family restaurant where Anan (Sombat Methanee) comes to court her. Metta Roongrat is the Lord's new wife but she is still not pregnant so the lord is having mistresses to get more babies. Choomporn Theppitak is the Lord's assistant. Artisan (ช่าง) Anan has arguments with Choomporn. The Lord remembers his former wife as Arunee has the same face. So later on, he sends an engagement parade to ask for her hand but Arunee refuses. Metta, still wishing to get pregnant, misleads Anan and forces him. Metta disguises herself into Arunee to deceive Anan (หลอกลวง). Arunee seeing them is disappointed and angry. Metta still provides young ladies to the local Lord. Anan goes to see Metta in order that she explains the truth to Arunee but she drugs him. The Lord Hang Pao decides to bury alive Anan but the wolf girl saves him. As a female wolf, she needs a male... Meanwhile the Lord brings one of his pregnant mistresses to the black magician. She is killed in order to create successfully a kuman thong. Discovering that Metta is having an affair with Choomporn, the Lord orders the kuman thong to kill them. The Lord wants to get back his two daughters but the black magician warns him it is dangerous. A final fight happens between the Lord and the black magician as the Kuman Thong discloses that the black magician is the one who killed the Lord's father. The wolf girl intervenes but is injured. Anan saves her and flees the collapsing cave while lord Hang Pao sacrifices his life while holding the black magician.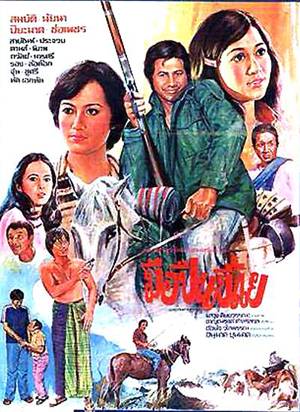 Year

: 1976



Thai title

:

มือปืนขี้แย




English title

:



Rating

: 3/5


Director

:



Main actor

: Sombat Methanee,Dam Datsakorn,Prachuap Ruekyamdee,Pipop Pupinyo,Rong Kaomulkadee,Tawan Siriwat,Sayan Chantaravi​boon,Tat Ekathat,Lor Tok,Kokheng


Main actress

: Piyamas Monayakol,Chosri Misommon,Marasri Isarangkul,Naiyana Shewanan
Thai movie มือปืนขี้แย was released in year 1976. This action and comedy movie is lost in Thailand but the first reel lasting 26mn and a 3mn trailer are still available to be seen. Fightings happen with Dam Datsakorn and Pipop Pupinyo as they discover that Sombat Methanee is travelling hidden in their truck. Sombat is accompanied by a tall actor reminding Richard Kiel playing in James Bond movie Moonraker. Comic actor Rong Kaomulkadee is the driver. Sombat Methanee is looking for Kamnan Tawan Siriwat in order to find his mother (Marasri Isarangkul). He finds her but he wishes to identify now who killed his father. Sayan Chantaraviboon wishes to impress young lady KamPoo (Piyamas Monayakol). But he gets bullied by Chosri Misommon and Tat Ekathat. Policeman Raem Prachuap Ruekyamdee meets a friend's daughter, who is now a teacher (ช่อเพชร). Lor Tok is Thai boxing trainer (อาจารย์). Sayan wishes to learn from him as he is not able to fight against anybody. Dao (Naiyana Shewanan) meets Sombat but clash happens between them. Other comic actors are Kokheng and Joomjim Khemlek as policeman.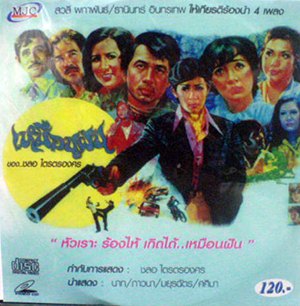 Year

: 1976



Thai title

:

เหมือนฝัน




English title

:



Rating

: 3/5


Director

:



Main actor

: Nard Poowanai,Dam Datsakorn,Taksin Jampol


Main actress

: Pawana Chanajit,Mayurachath Muarnprasitivej,Metta Roongrat,Moeifa,Chosri Misommon,Sasima Singsiri
Thai movie เหมือนฝัน was released in year 1976. It lasts 2h09mn but is still incomplete. Sakuna (Mayurachath Muarnprasitivej), Ot's young sister, shots a man in a nightclub (คนทรยศ). Yeah Nut (Metta Roongrat), a singer, and Kachen (Taksin Jampol), nightclub's owner, believe Ot (Dam Datsakorn) is responsible but he refutes any implication. Yeah Nut and Kachen go upcountry side to meet Meuan (Nard Poowanai), the younger brother of the dead man. He is responsible of a temple school. Meuan decides to go to Bangkok. Yeah Nut likes secretly Meuan. It seems a part of the movie is missing there but Meuan is recruited by Kachen to work as gigolo. Meuan has a girlfriend (แฟน) called Mascilla in Bangkok but still needs to perform his gigolo job with demanding customers such as Moeifa. A hitman (นักเลงรับจ้าง) tries to kill Kachen but Meuan foils this plan. Meuan needs to meet his new customer called Linda. Ot decides to use Sakuna to neutralise Meuan. Meuan is finally the one to catch Sakuna! Meuan, while looking for Linda, gets a pieing from Luuk Maew (Pawana Chanajit). Chosri Misommon is playing a role as Linda's domestic helper. Luuk Maew is Linda's daughter and she dislikes Meuan. Aware that Meuan is going to Kanchanaburi with Linda, Ot prepares a plan to get rid of him. As Linda and Meuan are not back after one week, Mascilla and Luuk Maew go there to look for them. Everybody meets at the same restaurant along the river. General fighting happens and all ends up in police station. Linda and Mascilla decide to fight over Meuan (ถึงเก่ายังไม่มีสนิม). They have arguments about beauty comparison and money (ซื้อความสุขจากเขา). Meuan gets slapped by Linda. Luuk Maew is kidnapped. Meuan is fed up of his job. He indulges in alcohol and has arguments with Linda, Mascilla and Kachen as he feels other people just use him. Meuan kidnaps Sakuna (ตัวประกัน) to exchange her with Luuk Maew. During the exchange, Meuan is injured and Tawat (สมชาย ศรีภูมิ), who kidnapped Luuk Maew, is killed. Sakuna promises to revenge over Meuan. Luuk Maew loves Meuan but finds Linda in bed with Meuan (หลอกลวง). She flees away. Meuan requests his money to Kachen. Meuan plans to give his money back to the temple school he funded. All protagonists meet in the temple. Sakuna wishes to kill Meuan but Yeah Nut wishes to protect him. They end up killing each other. Meuan, injured but helped by Fan, finds strength to bring the money to the temple school. Both Kachen and Ot stop fighting as they have their dead young sisters to take care.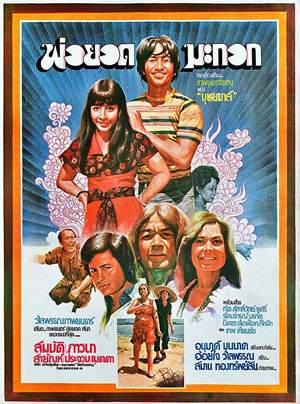 Year

: 1975



Thai title

:

พ่อยอดมะกอก




English title

:



Rating

: 3/5


Director

:



Main actor

: Sombat Methanee,Prachuap Ruekyamdee,Sayan Chantaravi​boon,Lor Tok,Tat Ekathat


Main actress

: Pawana Chanajit,Metta Roongrat,Chosri Misommon,Ratanaporn Intarakamhaeng,Malee Wetpraseri,Sisala Thongtara,Sulaleewan Suwanthat
Thai movie พ่อยอดมะกอก was released in year 1975. The movie is lost in Thailand but a sequence of 1h13mn remains to be seen. The last three film reels were saved. Oon (Pawana Chanajit) is a young single lady. Chosri Misommon is her house's domestic helper and also close friend. Prachuap Ruekyamdee and Chui (Sombat Methanee) are brothers with funny hairstyle. Oon's mother is played by Ratanaporn Intarakamhaeng. It seems there is no more father. Grandmother Malee Wetpraseri is the elder sister of the mother. Oon's uncle is played by Tat Ekathat. Oon has to be engaged. She wishes to marry Pong (Sayan Chantaraviboon) and is supported by his sister Pleun (Metta Roongrat). Chui keeps disrupting Oon and Pong. Chui has also a fiancee called Kwan since a long time but he doesn't love her. Malee and Chosri are sent to Aunt's home to investigate who is really Chui. Aunt Sulaleewan Suwanthat welcome them. Chui and Ratchin are same person. Oon shall marry Ratchin, who is from a high status family. Oon lies she is no more pure (เสียหาย) as she is Pong's girlfriend. Ratchin refuses to cancel the wedding and forbids Oon to meet Pong anymore. Engagement (คู่หมั้น) shall happen. Malee is helping Oon to meet Pong. Pong wishes to flee with Oon but Oon cannot do this as it would bring disgrace to her parents and her family name (เกียรติ). As Pong loves really Oon, he has to sacrifice himself (เสียสละ). Chui / Ratchin is aware of Malee's stratagems. Prachuap meets Pong. Ratchin prevents Oon to meet Pong and wishes to accelerate the wedding. Ratchin asks Pong to stop seeing Oon but Pong asks to meet her a last time. Ratchin still believes Oon is pure and wants to avoid Pong being the first. Oon and Ratchin keep fighting. Finally Oon succeeds to escape from Ratchin. She meets Pong but faints. Pong tries to abuse her but gets stopped on time by Ratchin. Pong's intentions were not as pure as he always mentioned. Oon finally marries with Ratchin. This movie similar to many movies from decades 1960s~1970s is about arranged weddings and early engagement done by parents but it finally ends happily.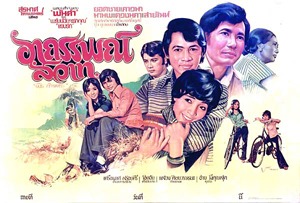 Year

: 1974



Thai title

:

อาถรรพณ์สวาท




English title

:



Rating

: 3/5


Director

: Phan Kam



Main actor

: Yodchai Meksuwan,Sayan Chantaravi​boon,Manop Aussawathep,Boo Wibunnan


Main actress

: Pawana Chanajit,Chosri Misommon,Marasri Bangchang,Duangnapa Autthapornphisan
Thai movie อาถรรพณ์สวาท was released in year 1974. This หนังชีวิตรัก movie is lost in Thailand but 59 minutes are left to be seen. Other actors are Duangnapa Autthapornphisan (ดวงนภา อรรถพรพิศาล), จิระศักดิ์, จรัสศรี, ขุนแผน. Movie director is Phan Kam. Nok (Pawana Chanajit) needs to leave for Bangkok. Her friends, including Tao and Kung (Sayan Chantaraviboon), are already missing her. They are close friends (ลูกทะเล). Nok's mum (Marasri Bangchang) sends her in Bangkok to finish her studies. She shall stay in her mother's best friend home. In Bangkok, Nok meets Kata (Yodchai Meksuwan). Chosri Misommon is playing a domestic helper. Kata doesn't welcome Nok as she reminds him a former love that failed and so bad souvenirs. Boo is debtor recover. Walin (Manop Aussawathep), close friend with Kata, likes Nok also. Nok and Yodchai play jealousy games towards each other. Due to debts, Yodchai's mother succeeds to marry Nok and Kata but there is no real love between them. Kata is ashamed as people shall gossip if it is a wedding due to money arrangement. In reality, Nok's mother doesn't have money anymore also! As his mother warns him on his family name status (ตระกูล) if Nok has any bad behavior, Kata starts to enquiry about all activities of Nok. As Nok's mother is bankrupted, Kata's mother is upset to have organised this wedding and tries to find Nok in compromising situation to have an excuse to cancel the wedding. Nok learns that her mother is ruined and gets sick. While Kata is on business trip and Kata's mother refuses to call a doctor, Kung brings Nok out of this heartless home. Kata's mother puts the blame on Nok but Kata is fully aware of his mother's tricks and decides to get Nok back. Finally Kata accepts to give back her freedom to Nok. Going back, he has a car accident. On the hospital bed, Nok declares her love to Kata. The movie ends happily.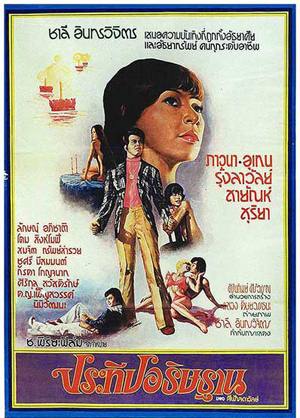 Year

: 1974



Thai title

:

ประทีป อธิษฐาน




English title

:



Rating

: 4/5


Director

:



Main actor

: Uten Boonyong,Sayan Chantaravi​boon,Suriya Chinaphan,Lak Apichat


Main actress

: Pawana Chanajit,Chosri Misommon,Somjit Sapsamruey,Runglawan Sripatimakul
Thai movie ประทีป อธิษฐาน was released in year 1974. It lasts 1h57mn. It was shown on Thai TV cable. Pan (Pawana Chanajit) and Kalan (Uten Boonyong) meet during Loi Krathong. Kalan announces to her that he is her future boss as Hotel manager! Chosri Misommon is Pan's aunt. She always asks for money as she keeps gambling. Pan's mother had a lover as her husband didn't take care of her and her daughter. Upset, the husband wished to bring her to her lover for clarification but a car accident happened on the way and both died. So Pan stayed with her aunt. Sek (Suriya Chinaphan) loves Pan and always does courtship her as a gentleman. Kalan's mother is played by Somjit Sapsamruey. Somjit introduced Da (Runglawan Sripatimakul) to Kalan and wishes for a wedding. The mother believes Pan cannot be trust as cashier as her aunt Chosri is a big spender (การพนัน). Aunt Chosri ends up in jail. While nobody wants to be the guarantor, Kalan offers the money to bail her out. Pan is promoted to manager assistant (ผู้ช่วยผู้จัดการ). Karun (Sayan Chantaraviboon), the second son, is back from overseas but he has heart disease. He likes Pan also. An American tourist is always trying to seduce her also. So four men have hopes on her. Finally she marries Karun. The aunt gets a big amount of money (ใช้หนี้). She knows she doesn't love him. Karun is unable to perform husband duties per a congenital disease. Kalan was former lover of Pan's mother but Kalan confirms it was a platonic love. Smoking scenes and love scenes are blurred. Pushed back by Kalan, Da goes with Lak Apichat to Hua Hin. They become lovers. Karun, being over jealous on Pan, ends up at hospital. Kalan decides to marry with Da to avoid any more jealousy crisis. Unfortunately fightings happen at Kalan's wedding as Karun sees Pan talking to Sek. Pan flees. Kalan announces to Da that he cannot love her as he knows she is pregnant with somebody else (Lak). Kalan finally finds back Pan. Meanwhile Karun is getting crazy and even shoots two people at night believing it was Kalan and Pan. Being a bad girl, Da quits Kalan. Finally Kalan and Pan can have happiness. This is a romantic drama from 1970s with much more realistic story compared to 1960s decade movies.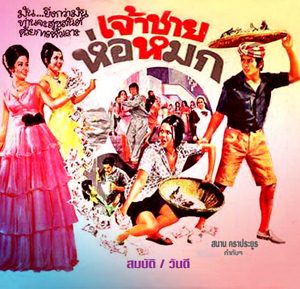 Year

: 1974



Thai title

:

เจ้าชายห่อหมก




English title

: Curried fish prince



Rating

: 3/5


Director

:



Main actor

: Sombat Methanee,Thuam Thoranong


Main actress

: Wandee Sritrang,Khomapat Attaya,Jomchai Jarintorn,Viphavadi Triyakul,Chosri Misommon,Malee Wetpraseri,Metta Roongrat
Thai movie เจ้าชายห่อหมก (Curried fish prince) was released in year 1973. The movie was never released in Thailand under VHS or VCD format. Nevertheless the 35mm film was recorded by a collector and lasts 2h08mn. Chosri Misommon is playing a domestic helper. Mom Pa is waiting for her lost son, Kinarin, who had gone to study abroad and didn't send any news for years. Many years passed and she is getting severely sick. To please her and to speed up her recovery, Metta announces that her son is coming back very soon so she has to organize an event (งานต้อนรับ). The father (Thuam Thoranong) and Metta Roongrat have idea to find a man with a similar face in order to please Mom Pa. The father remembers to have seen such man (พ่อค่า) in Ayutthaya selling curried fish (ห่อหมก). His name is Cheui (Sombat Methanee). His sister, Khomapat Attaya, is also playing a market merchant (แม่ค่า). The grandmother is played by Malee Wetpraseri. Cheui accepts under the pressure of his sister wishing to change her life. He has to learn with moult difficulty good manners from high society (สังคมผู้ดี). Cheui disappears the day before as being caught by a former girlfriend. Seeing her son again, Mom Pa recovers. Mom Pa wishes her son to marry Kantima (Wandee Sritrang). Kantima is upset with Cheui as he is playing too well his role and she refuses to sacrifice herself as she is part of those who paid to hire Cheui. She knows he is coming from a low background (คนจร) so he should behave and not try to abuse about his position of being the fiancé. Real Kinarin (also played by Sombat Methanee) is back but he lost his arm due to airplane accident. Cheui's self declared girlfriend tries to bring a mess but it fails. Cheui is back home as his seven days contract is over. Kinarin, seeing that his mum is happy and Kantima loving Cheui, decides to go back to England to let others having happiness. The rich family still needs Cheui so they use his mother Malee Wetpraseri to convince him again. Kinarin will go back to England and needs Cheui to replace him. Metta is going to England with Kinarin (ท่านพี่). Finally Cheui and Kantima marry. In this romantic comedy movie actor, Sombat Methanee is playing two roles, i.e. Cheui and Kinarin.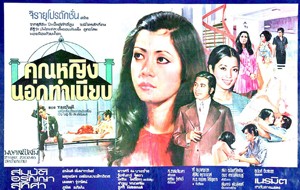 Year

: 1974



Thai title

:

คุณหญิงนอกทำเนียบ




English title

:



Rating

: 4/5


Director

: Neramit



Main actor

: Sombat Methanee,Jamroon Nuatjim


Main actress

: Aranya Namwong,Mayurachath Muarnprasitivej,Suthisa Putnuch,Metta Roongrat,Chosri Misommon,Marasri Bangchang
Thai drama movie คุณหญิงนอกทำเนียบ was released in year 1974. It features Sombat Methanee as main actor and Aranya Namwong as main actress. The movie is lost in Thailand but a sequence of 48 minutes remains to be seen. It is the final sequences of the movie. Supasatee (Aranya Namwong) also called Sajee has arguments with the son, who treats her as a minor wife (เมียเก็บ). The father is Chit (Sombat Methanee). His younger sister (Metta Roongrat) also doesn't accept that Sombat has a new younger mistress. Sajee and Chit deny any wrongdoing. Chit sends Sajee back to the slum through his mercedes so people are gossiping including her own grandmother (Chosri Misommon). Her own grandmother tells her not to forget her own roots but Sajee wishes to climb the social ladder without taking in account other people's critics. Chit is celebrating the birthday of Suthisa, his wife (Suthisa Putnuch). Metta brings doubt in Suthisa's heart but is in fact disappointed that Chit would choose Sajee over her! It causes Lady Suthisa to die as she has a fragile heart already. Even Kaew (Mayurachath Muarnprasitivej), Sajee's best friend and Chit's daughter, believes Sajee wants to take the place of Suthisa. Finally romance happens between Sajee and Chit. The grandmother believes Sajee will be back as same as lotus, she comes from dirty slum soil so she cannot adapt to rich soil. Kaew is pregnant. Sajee has to find an abortion doctor for her. One day while driving with Chit, she sees a woman hit by a car. It is her own mother. Sad event showing she starts forgetting her roots. Chit is also having heart issues. His new wife Sajee gets rejected as Lady nomination (คุณหญิง) as she is not coming from a proper background. Chit ends up at the hospital where Sajee asks to modify the heritage terms. Worried about heritage, Chit's children cause their father's death by asking too many questions instead of letting him rest. On the opening of the testament, Chit's children realize Sajee is not asking for a single baht and is just going back to her slum. Rich people looked wrongly at Sajee. She was the one having a good and true heart.



Year

: 1973



Thai title

:

คู่กรรม




English title

:



Rating

: 3/5


Director

:



Main actor

: Nard Poowanai,Lor Tok,Sayan Chantaravi​boon,Sukon Koewliam,Jamroon Nuatjim,Chao Klaewklong


Main actress

: Somjit Sapsamruey,Chosri Misommon
This movie is about the tragic love during World War II between a Japanese officer and a Thai lady.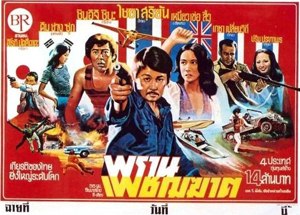 Year

: 1973



Thai title

:

พรานเพชฌฆาต




English title

: TOKYO-SEOUL-BANGKOK



Rating

: 3/5


Director

:



Main actor

: Sonny Chiba,Chaiya Suriyun,Kecha Plianvithee,Pipop Pupinyo


Main actress

: Chosri Misommon
Thai movie พรานเพชฌฆาต (TOKYO-SEOUL-BANGKOK - 東京-ソウル-バンコック_実録 麻薬地帯) was released in year 1973. It lasts 1h42mn. This co production movie is lost in Thailand but still available in Japan. As the movie is in Japanese language only, below summary might not be fully correct. Two cars are chasing and the lady's car is pushed in a ravine. She was Sonny Chiba's girlfriend. In the remainings of the car, a camera is found. It contains a picture of the girlfriend and another younger Korean lady. Ruffians are following Sonny and beat him seriously. He gets help from a detective. The ruffians become the ones chased but their leader succeeds to escape. The movie continues to Hong Kong where the leader does his drug trafficking. The action ends up in Thailand. Pipop Pupinyo is the right hand of the Japanese ruffian in Thailand. Chosri Misommon is playing a domestic helper. The ruffian leader's girlfriend sees Sonny in a market. Sonny meets Chaiya Suriyun but this latter dislikes Japanese people. Finally Chaiya helps Sony when he is overwhelmed by thugs sent by Pipop Pupinyo. Ruffians leader wishes to buy heroin and gets introduced to Kecha Plianvithee by Pipop. Heroin shall be available in north of Thailand. Chase is happening between Sony and the ruffians leader. Kecha through a small airplane tries to kill all of them. Chaiya is also involved in the shootings. The girlfriend is shot. The ruffians leader is killed but Kecha gets also killed. Before dying the Japanese ruffians leader gives important information about the gang location in Japan. Sony accepts to bring Chaiya to Thailand and they destroy their secret laboratory and the leader dies. The Thai poster mentions 4 countries for a budget of 14M Baht. Chaiya Suriyun is put in the centre of the poster despite not being the main actor of the movie.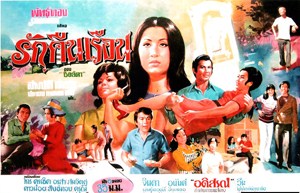 Year

: 1972



Thai title

:

รักคืนเรือน




English title

:



Rating

: 3/5


Director

:



Main actor

: Sombat Methanee,Prachuap Ruekyamdee,Songthong,Krai Kanchit,Daonoi Duangjai


Main actress

: Petchara Chaowarat,Somjit Sapsamruey,Chosri Misommon,Sisala Thongtara,Metta Roongrat,Orasa Isarangkul,Darunee Cheunsakul
Thai movie รักคืนเรือน was released in year 1972. Main actor is Sombat Methanee and main actress is Petchara Chaowarat. The movie is lost in Thailand but a sequence of one hour remains to be seen. The remaining sequence shows a high society party with Petchara singing a song. Petchara is then discussing with Somjit Sapsamruey, her mother. Her mother wants her to marry the son of a friend as they are poor. Veteran actors (Prachuap Ruekyamdee and Songthong), a doctor and a young man (ทม วิศวชาติ) are visiting them. Petchara and the young man appreciate each other. Veteran actress Chosri Misommon is playing a domestic helper. Sombat later on arrives. He is welcomed by Sisala Thongtara and Somjit, then also by Metta Roongrat and Petchara. Petchara is not so happy to meet Sombat. Somjit is feeling unwell and ends up at hospital. Certainly Somjit asks Petchara to really consider Sombat as engagement but Petchara loves already another man. Misunderstanding happens between Petchara and Sombat. A fire in the house happens. This is a romantic drama.



Year

: 1972



Thai title

:

หัวใจป่า




English title

:



Rating

: 3/5


Director

: Wichit Khunawut



Main actor

: Nard Poowanai,Sithao Petcharoen,Sahat Piempongsan


Main actress

: Petchara Chaowarat,Prim Praphaporn,Chosri Misommon,Metta Roongrat



Buy now

:

Thai movie หัวใจป่า was released in year 1972. It features 8 songs. Saeng (Petchara Chaowarat) is working in a nightclub as manager secretary (เลขา). Suda (Prim Praphaporn) is her close friend. The manager (เห็นใจ) tries to abuse her so she has to use a gun to protect herself. The driver accuses her of being a minor wife (เมียเก็บ) and to be responsible to have planned to kill the club manager. As police is looking for Saeng, Suda helps her to leave Bangkok. She goes in a remote area of northeast Thailand. While going to Krating, she meets Wissanoo (Nard Poowanai) with who she sympathizes. A music orchestra including Chosri Misommon joins them. On the way, some thieves including Sithao Petcharoen and led by Sahat Piempongsan stops their truck. Identifying Wissanoo as a doctor, Phi Ann (Sahat Piempongsan) orders him and Saeng, believed to be his wife, to follow them. The three ladies of the orchestra are also kidnapped. Phi Ann's wife (Metta Roongrat) called Yom is sick due to malaria (ไข้ป่า). Wissanoo gives her medicine. Phi Ann is not a bad thief as he stops his guys harassing the three ladies. Finally the three ladies have to choose by themselves their husbands! Police is coming so thieves have to move away. One of the rogue ruffians knowing that Saeng is not Wissanoo's wife harasses her. Wissanoo has to fight against him to protect Saeng. Yom wishes Phi Ann to stop being a thief. At nighttime, the rogue ruffian tries to steal Phi Ann's bounty. Following a deadly shooting, Phi Ann is injured in the leg. As the ruffians go to find food, Wissanoo and Saeng take profit to flee with Yom as Phi Ann is injured. Yot and the three ladies join them. While chased by Phi Ann, Yot is shot. Yom decides to go back to Phi Ann to ensure her child can get a father. Getting back Yom, Phi Ann stops chasing the doctor. Finally Wissanoo dismisses in order to join Saeng in Bangkok. This movie is a remake of มือโจร by director Wichit Khunawut in year 1961. The 1972 version lasts 2h22mn.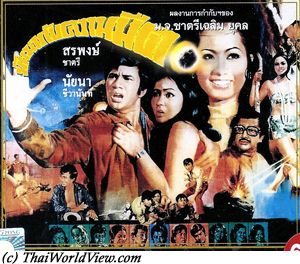 Year

: 1972



Thai title

:

มันมากับความมืด




English title

: Out of the Darkness



Rating

: 3/5


Director

: ChatriChalerm Yukol



Main actor

: Sorapong Chatree,Kom Akadej


Main actress

: Naiyana Shewanan,Chosri Misommon
A mysterious object fall in the sea. Two scientifists from Bangkok come to the South of Thailand looking for the mysterious object. The local villagers worship what they believe to be a god. But a mysterious creature start to kill villagers at night time. The scientifists have to help the villagers to get rid of this mysterious objet. It was the first Thai science-fiction movie but it was not successful at the box office. In his first film, ChatriChalerm Yukol used new actors, whereas other filmmakers used established superstars.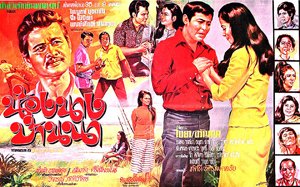 Year

: 1971



Thai title

:

น้องนางบ้านนา




English title

:



Rating

: 3/5


Director

:



Main actor

: Chaiya Suriyun,Chat Mongkolchai,Choomporn Theppitak,Op Boonthit,Anucha Ratanaman,Sawin Sawangrat,Sompong Phonmitr


Main actress

: Aranya Namwong,Wassana Chalakorn,Chosri Misommon,Khomapat Attaya
Thai movie น้องนางบ้านนา is a Thai movie released in year 1971. It features Chaiya Suriyun as main actor and Aranya Namwong as main actress. The movie was started with Mitr Chaibancha but it was incomplete due to his premature death. So the main actor was replaced by Chaiya Suriyun. The movie features nine songs but none are left. Many famous singers from beginning of 1970s decade are acting in this movie. No movie summary is available anymore. The movie is lost in Thailand but luckily an extract of 56 minutes is still left. Other actors are Chat Mongkolchai, Choomporn Theppitak, Wassana Chalakorn, Khomapat Attaya, Anucha Ratanaman, Sawin Sawangrat, Marasee (มารศรี), Sompong Phonmitr, Chosri Misommon, Op Boonthit. Without a summary and the movie being in mute state as it is in 16mm format, the story is difficult to understand. Aranya Namwong receives a letter from her fiance studying at university. Wassana Chalakorn is jealous and steals the photograph. Op Boonthit and his daughter Chosri Misommon are bar owners. Sompong is their regular customer. Choomporn Theppitak is agressed by a ruffian, who is finally an old friend. Sawin Sawangrat and Rujira (ม.ล. รุจิรา) seem to have bad plans but are spied by Choomporn and Anucha. Chaiya is back from his studies. Chaiya and Wassana Chalakorn are in a rice field having romantic talk. Khomapat Attaya is with them. Wassana Chalakorn tries to prevent Chaiya to meet Aranya. Anucha is trying to abuse Wassana Chalakorn. Heated arguments happen during a wedding colorful procession. This movie reminds of famous movie "Mon Rak Luk Thung" (มนต์รักลูกทุ่ง - 1970) as it features many songs and various couples involving romance and jealousy. Following movie "Mon Rak Luk Thung" success, many romantic song movies (หนังเพลง) were released in the following months and years trying to surf on a similar popular wave.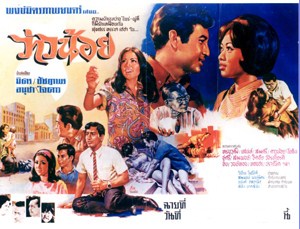 Year

: 1970



Thai title

:

ว่าวน้อย




English title

:



Rating

: 3/5


Director

: Sompong Phonmitr



Main actor

: Mitr Chaibancha,Anucha Ratanaman,Daonoi Duangjai,Sompong Phonmitr,Op Boonthit


Main actress

: Tukata Jindanuch,Chatchadaporn Laksanawed,Chosri Misommon
Thai movie ว่าวน้อย, shot in year 1970, is a romantic comedy featuring Mitr Chaibancha and Chatchadaporn Laksanawed. The film is complete (2h20mn) but was never released in VCD as there is no dubbing script left. It is one of the last complete movies played by Mitr Chaibancha. Actress Chatchadaporn Laksanawed (ชัชฎาพร ลักษณาเวช) is a former Miss Thailand (นางสาวไทย). As it is a 16mm movie, the movie needs to be dubbed. As there is no dubbing script left, the movie is mute. Anucha loves secretly Chatchadaporn. Chatchadaporn is the daughter of a rich family. Mitr and Chatchadaporn know each other while playing kite. Argument between Mitr and Anucha happens as Mitr's kite causes Chatchadaporn's kite to fall. On the next day, kite playing continues and Mitr's kite causes Chatchadaporn to fall in a pond. Daonoi (ตลกตามนาง) and Sompong (ตลกตามพระ) are playing support role actors accompanying the main actor (Mitr) / main actress (Chatchadaporn). Old maiden Chosri Misommon tries to seduce Mitr through delicious dishes. During nighttime Mitr dreams about Chatchadaporn. Chatchadaporn's father (Op Boonthit) is the house owner where Mitr and Sompong live. As they have no money to pay the rent, they have to work as gardeners in Chatchadaporn's house. Mitr is useless and is fired. While going back home, Mitr helps Chatchadaporn aggressed by three ruffians. She starts to appreciate Mitr. Mitr tries to see Chatchadaporn in her house and disguise himself as lion dancer but he is discovered by the father. Mitr and Chatchadaporn spend one night together. Finally their relationship is accepted as Mitr is a good young man. Mitr is also the son of a rich family. Mitr's mother accepts reluctantly the engagement. Mitr needs to go to countryside for business purpose. Chatchadaporn is pregnant. On the countryside a young lady is fond of Mitr but in fact she is sent by Mitr's mother in order to drunk him and take advantage of him at bedtime. Mitr's mother convinces her that Mitr will not marry her. Chatchadaporn's father is sick. They have to sell their house. As her father dies, Chatchadaporn goes to Bangkok to find a job. Chatchadaporn ends up in jail after stabbing her employer trying to rape her. Anucha is now a policeman. Chatchadaporn gives her child to Anucha to ensure it can get a good future. Mitr's mother, being sick, dies also. Before her death, she tells the truth about Chatchadaporn. So Mitr looks for her. Meanwhile with no goal in her life, Chatchadaporn tries to get suicide but a nun prevents to do so. Mitr finally finds her but she refuses to disrobe. Mitr then educates his daughter. Sompong Phonmitr (สมพงษ์ พงษ์มิตร) is the director and is also playing a comic role in his own movie.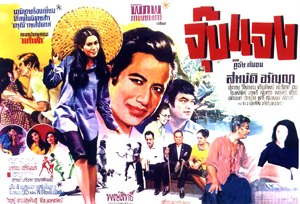 Year

: 1970



Thai title

:

จุ๊บแจง




English title

:



Rating

: 3/5


Director

:



Main actor

: Sombat Methanee,Somkuan Krajangsat,Adinan Singhiran,Prachuap Ruekyamdee,Sukon Koewliam,Op Boonthit,Sompong Phonmitr


Main actress

: Aranya Namwong,Wilaiwan Watthanaphanit,Somjit Sapsamruey,Sarinthip Siriwan,Khomapat Attaya,Chosri Misommon,Marasri Isarangkul
Thai movie จุ๊บแจง was released in year 1970. Main actor is Sombat Methanee and main actress is Aranya Namwong. The movie is in 16mm format and so in mute state as such format requires dubbing. The film is incomplete as only 1h31mn remains to be seen. No summary is available. The movie features four songs but they are lost. Aranya Namwong is Jub Jaeng. Her parents are played by Somkuan Krajangsat as father and Wilaiwan Watthanaphanit as mother. Her mother seems upset. Sombat meets Jub Jaeng's mother indulging in alcohol. Marasee, a rich old lady, orders Adinan Singhiran to kidnap Jub Jaeng. While discussing inside the house, three thugs storm it and kidnap Jub Jaeng. The father and mother get hit by the thugs. Somjit Sapsamruey is Sombat's mother. Prachuap Ruekyamdee releases Jub Jaeng but it is a coup monté. It seems that Jub Jaeng is coming from a rich family. Khomapat Attaya and her mother Sarinthip Siriwan are having arguments with Jub Jaeng. Sukon Koewliam and Chosri Misommon are playing comic roles a domestic helpers. Sombat tries to seduce Jub Jaeng. They finally become lovers. Khomapat and her mother denigrate Jub Jaeng towards Sombat. Khomapat pushes Aranya in the stairs. She ends up at hospital. Wilaiwan and Somkuan finally find Jub Jaeng. They finally get reunited thanks to Sompong Phonmitr. This movie features sequence shot in famous Daimaru former shopping mall. Prachuap has a leg injury and is visited by twin ladies (real singers อารยา ปาริชาติ ฉายาลักษณ์). Finally the parents let Jub Jaeng go with Sombat. Khomapat and her mum are upset about the gifts bought by Sombat to Jub Jaeng. Sombat tries to end the dispute with Khomapat but it ends up badly. While walking on the beach, he gets stabbed by ruffians. Khomapat gets also aggressed by ruffians on the beach. Khomapat tries to hit Jub Jaeng again but she fights back and finally decides to quit this crazy house. Prachuap and Sombat finally understand Khomapat's bad games. Sombat rushes after Jub Jaeng and they finally reconcile.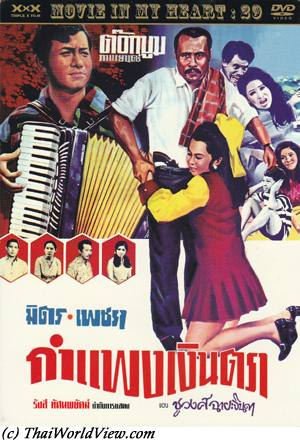 Year

: 1970



Thai title

:

กำแพงเงินตรา




English title

:



Rating

: 4/5


Director

:



Main actor

: Mitr Chaibancha,Prachuap Ruekyamdee,Lor Tok,Sompong Phonmitr,Adul Dulyarat,Boo Wibunnan,Choomporn Theppitak,Adinan Singhiran


Main actress

: Petchara Chaowarat,Somjit Sapsamruey,Chosri Misommon



Buy now

:

Thai movie กำแพงเงินตรา was released in year 1970. The movie lasts 1h40mn. Prachuap Ruekyamdee is bringing Yong (Mitr Chaibancha) on a boat. Yong meets Nam Pheung (Petchara Chaowarat) and Sarai (มิสฮันหวา), daughters of subdistrict headman (กำนัน) Lor Tok. Yong is interested in Sarai but Nam Pheung doesn't trust him. Sompong Phonmitr, subdistrict headman's domestic helper, also dislikes Yong. Nam Pat, subdistrict headman's wife, is aggressed while meeting her lover Phi Bun, who is killed. Subdistrict headman Lor Tok is aware his wife was having a lover but forgives her. A new chief district officer (นายอำเภอคนใหม่) called Tamanoon (Adul Dulyarat) visits subdistrict headman's house. He is widowed with three kids. Yong and Sarai love each other but Nam Pheung (เด็กบ้า) tries to break their relationship and wishes to push Sarai toward the new chief district officer by using Prachuap to write false letters. Aunt Chan (Somjit Sapsamruey) has debts towards the subdistrict headman so Yong, being her nephew, repays the debt by working in their house. Yong is a music teacher. Yong helps Tamanoon aggressed by ruffians. Tamanoon asks for Sarai's hand so Yong decides to flee with Sarai. Mae Pat wishes to join them to be Sarai's domestic helper. Nam Pheung hears them and informs Tamanoon. During a celebration organised by the subdistrict headman, they wish to flee but Nam Pheung brings mess again and foils their plan. So finally Yong ends up kidnapping Nam Pheung. Upset, Yong forces Nam Pheung. But then Yong regrets his act and takes good care of her as she is sick. Choomporn Theppitak is his close friend. At nighttime Nam Pheung tries to flee and is aggressed by ruffians. Yong helps on time but is seriously beaten. Nam Pheung understands he is a nice guy. Yong accepts to bring back Nam Pheung to his father and to face whatever her father, a subdistrict headman, will do to him. Probably shoot him dead! Tamanoon wishes to help and prepares a plan in secret. While the father is unable to decide who to punish, his daughter or Yong, Adinan Singhiran attacks the father per Tamanoon's plan. Yong, unware of the plan, protects the subdistrict headman and gets slightly injured. The subdistrict headman seeing that Yong is brave and good man forgives to him and allows the wedding. Yong and Nam Pheung can marry happily. The DVD picture is really beautiful. Toh Phanmitr (คุณโต๊ะพันธมิตร) has done a great job by restoring this movie and releasing it.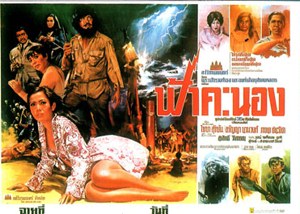 Year

: 1970



Thai title

:

ฟ้าคะนอง




English title

:



Rating

: 4/5


Director

:



Main actor

: Chaiya Suriyun,Sorapong Chatree,Sukon Koewliam,Ruj Ronnapop,Surasit Sattayawong


Main actress

: Aranya Namwong,Pawana Chanajit,Chosri Misommon,Wilaiwan Watthanaphanit
ฟ้าคะนอง is a Thai movie released in year 1970 and featuring main actors Chaiya Suriyun, Aranya Namwong and Pawana Chanajit. Thanks to a group of former dubbers performing with 16 mm movies, old reels with small parts of lost films were found in year 2013. Two reels (45 minutes) are left for this movie. The image and sound are quite bad but it is still an unique chance to see this famous movie in same lineage as ปราสาททราย (1969). A reduced version of movie ฟ้าคะนอง was restored and shown on Thai TV. Sorapong and Pawana take a bus to go to Fa Khanong pier. Sorapong Chatree, one of the most famous Thai actors with Mitr Chaibancha, Sombat Methanee, was still an unknown actor at that time playing side roles. Everybody discourages Pawana to go to Fa Khanong island. People are talking about ghosts... It seems many people died before due to pirates. Spirits (วิญญาณ) are said to be around. Chosri Misommon is playing Pawana's domestic helper (คนรับใช้). Mysterious deaths happened previously on the island. People who take the job of nurse (นางพยาบาล) before Pawana all died... Ruj (Ruj Ronnapop) is playing a crazy disabled man (เล็นตุ๊กตา) always scold by the governess. Khun phujing (Wilaiwan Watthanaphanit) is disabled. Her mother needs also to take medicine. Pawana is responsible to take care of them as a nurse. Khun Lek (Aranya) is Khun Phujing's younger sister. During a storm, Pawana has a vision, i.e. seeing a hirsute man asking for medicine. The following day, Pawana meets Chaiya and believes the hirsute man and him are the same person. On the same day, crazy Ruj harass Chosri and Pawana. The governess scolds and beats again but it turns badly as he cuts the governess head! During this messy situation, Pawana loses conscience and disappears probably kidnapped by Ruj. The island superintendent Durong (Surasit Sattayawong) is hoping to find a secret treasure (สมบัติ). He has a relationship with Khun Phujing. Chaiya and Lek try to flee Fa Khanong island by boat. The superintendent, a few tough men, Chosri and Khun Jing follow them by boat also. Both boats capsize but they can all escape the sharks. Stranded on a small island the superintendent is willing to check the treasure again but also to catch back Chaiya and Lek.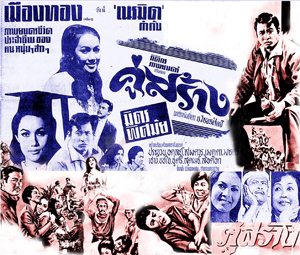 Year

: 1970



Thai title

:

คู่สร้าง




English title

:



Rating

: 3/5


Director

: Neramit



Main actor

: Mitr Chaibancha,Sukon Koewliam,Prachuap Ruekyamdee,Lor Tok,Adinan Singhiran,Somkuan Krajangsat,Adul Dulyarat


Main actress

: Pissamai Wilaisak,Metta Roongrat,Chosri Misommon
Thai movie คู่สร้าง was released in year 1970. It features Mitr Chaibancha as main actor and Pissamai Wilaisak as main actress. Other actors are Sukon Koewliam, Prachuap Ruekyamdee, Lor Tok as medium (หมอไสยศาสตร์), Adinan Singhiran, Somkuan Krajangsat, Metta Roongrat, Chosri Misommon, Adul Dulyarat. The movie is lost in Thailand but a trailer of four minutes remains to be seen. Various short sequences show Pissamai being kidnapped by Mitr, some hill tribes, some shootings, Mitr angry with Prachuap and fighting with him. Director is Neramit. A summary of the movie is still available in old Thai stars magazines. Pissamai is playing Napalai, brave young lady. Fifteen years ago, Napalai was a princess from a small kingdom in North of Thailand. Her father, i.e. the King, was killed by ruffians. Those ruffians were never arrested. One day, an injured man (Prince Phumintara) gets cured by Napalai and he gives her a gem as reward. This gem belonged previously to Napalai's father so it could help to find those ruffians and get revenge. Mitr is playing Prince Phumintara. Phumintara is the son of the man, who ordered to kill Napalai's father. How will Napalai take revenge? Her mother suggests her to inject poison to her enemies. Will she be able to kill the father of the man she now loves?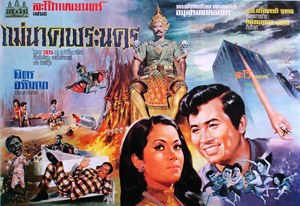 Year

: 1970



Thai title

:

แม่นาคพระนคร




English title

:



Rating

: 3/5


Director

:



Main actor

: Mitr Chaibancha,Sompong Phonmitr,Sukon Koewliam,Op Boonthit,Songthong


Main actress

: Aranya Namwong,Mom Chan Phuangwan,Sisala Thongtara,Kingdao Daranee,Chosri Misommon,Yaowaret Nisakorn
Thai movie แม่นาคพระนคร was released in year 1970. The movie is lost in Thailand but the movie is still available at the Thai Film Archives in Nakhon Pathom. Main actor is Mitr Chaibancha and main actress is Aranya Namwong. Other actors and actresses are Sukon Koewliam, Sompong Phonmitr, Mom Chan Phuangwan, Sisala Thongtara, Kingdao Daranee Op Boonthit, Chosri Misommon, Yaowaret Nisakorn, Songthong. Most of them are comic actors / actresses. So this 1970 version is more comic oriented (หนังผีตลก) than horror oriented. In this 1970 version, Nak also extends her hand but not to catch a lemon falling from the kitchen but to save somebody falling froma building. Mitr is playing Mak (มาก) and Aranya is playing Nak (นาค). The movie is taking place nowadays. Nak is hurt by a car driven by Doctor Mak, who is the reincarnation of soldier Mak from last century! The movie is lasting 145 minutes. The story is still available through old Thai magazines also.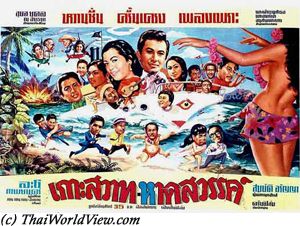 Year

: 1969



Thai title

:

เกาะสวาทหาดสวรรค์




English title

: Paradise Island



Rating

: 3/5


Director

: Prince Anusornmongkolgan



Main actor

: Sombat Methanee,Thuam Thoranong


Main actress

: Aranya Namwong,Chosri Misommon,Manat Boonkiet
Khun Pradeun, a playboy, loves to party. He doesn't work. His father has arguments over coconuts gardens in Ko Samui with another businessman. They bet who could work more successfully, i.e. the son, Khun Pradeun, or the daughter, Khun Tum. Tum is a modern Thai lady wishing to work and with no husband. Her mother wants to find one husband for her but she prefers to go to island Sawat to help her father. If Pradeun wins, Tum must marry him. If he loses, he shall give up his business to her. Similar to many movies at the end of 1960s decade, this movie is rythmed with songs. Pradeun and Tum meet each other on the boat to island Sawat. Pradeun doesn't know the real identity of Tum as he expects somebody called Tum (ตุ่ม - pimple) to be fat, stupid. But he only shows his arrogance and suffisance. Tum and his friends try everything to have Pradeun to go back to Bangkok but to no avail. In the midst of controversy, he falls in love with her. Meanwhile, she begins to be confused because she might be in love with him as well. Pradeun tries dumping tactic to prevent sales but his three thousands coconuts have disappeared. He then needs to sort the coconuts that are mixed on purpose with those of Tum. They decide to use ruffians (นักเลง) to intimidate each other. Despite a few KO, Pradeun is the last one to stand up. Finally he knows the true regarding Tum and slaps her face for her treacherous behavior (in many Thai movies or Thai TV series, violence over women is surprisingly a way for men to show their love). Love is stronger between both of them. He saves her life during a fire in the local school and they finally marry. It is a 2h30 long lovely emotions movie. In 1960s decade, 2 hours length was frequent for many movies. This movie was then successfully updated in 2000s decade as a Thai TV serie.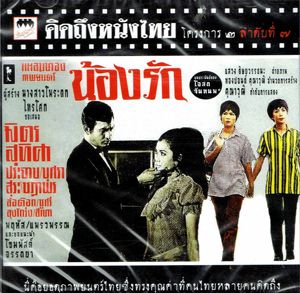 Year

: 1969



Thai title

:

น้องรัก




English title

:



Rating

: 3/5


Director

: Wichit Khunawut



Main actor

: Mitr Chaibancha,Prachuap Ruekyamdee,Lor Tok,Sithao Petcharoen,Preuhat Boonlong


Main actress

: Suthisa Putnuch,Chosri Misommon,Boosara Narumit,Chadaporn Wachirapranee,Khomapat Attaya,Marasri Bangchang



Buy now

:

Thai movie น้องรัก was released in year 1969 and lasts 1h13mn. It is available under VCD format by famous company XxX owned by Toh Pantamit. The original movie is certainly longer as movies in decade 1960s could last up to 2h30mn. It is probably the last 3 reels of the film. Movie director is Wichit Khunawut. One 35mm reel is also still available. Sri (Chadaporn Wachirapranee) brings her niece Kate (Boosara Narumit) in a massage parlour for work but arguments occur as other masseuses complain she is too beautiful so she will take away their customers such as Lor Tok. Sithao Petcharoen is the parlour manager. Fight occurs between Chosri Misommon and Sri. Young lady Dao (Suthisa Putnuch) meets doctor Wut (Mitr Chaibancha) in Neramit's house. Khomapat Attaya is the niece. Shot (Prachuap Ruekyamdee), car driver, knows Kate and loves her. Shot punches his own boss after seeing him with Kate in the massage parlour. She works to be able to raise her younger sister Dao. Marasri Bangchang is playing the owner of rental house. Lying to Shot, Kate has to prostitute herself (ทำงานพิเศษ) in order to find money to pay the rent. Meanwhile Dao tries everything to meet Preuhat Boonlong, her lost grandfather. Neremit proposes to pay Dao's birthday party as he knows she is not rich. It causes the mother and niece's ire. They ruin the party. To help her, Wut pays for the expense and proposes to transform her into an ugly nurse so she can be close to her grandfather. Meanwhile Kate is abused by another man at night time believing it was her lover. She feels so ashamed (ความชั่ว). Thanks to a ring, the grandfather identifies Dao as his granddaughter. Meanwhile Kate is arrested by Police and sent to prison for rehabilitation. Everybody is looking for Kate but she forbids her aunt to tell the truth to anybody. Kate gets seriously sick in the prison. Doctor Wut is the one to treat her. He identifies an incurable cancer (มะเร็งมดลูก). Kate was behaving same as a mother for Dao. Before dying, Kate asks to give her blessings (อวยพร) to the future wedding of Dao and Wut.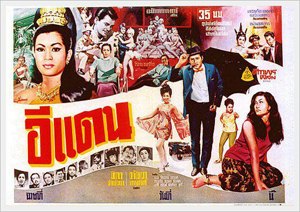 Year

: 1968



Thai title

:

อีแตน




English title

: E-tan



Rating

: 5/5


Director

:



Main actor

: Mitr Chaibancha,Sawin Sawangrat,Sukon Koewliam,Man Teeraphol,Thuam Thoranong,Lor Tok,Kokheng,Sompol Kongsuwan


Main actress

: Aranya Namwong,Chadaporn Wachirapranee,Yaowaret Nisakorn,Wilaiwan Watthanaphanit,Malee Wetpraseri,Chosri Misommon
Thai movie อีแตน was released in year 1968. The movie lasts 3 hours. This movie has a very colorful image and a DVD was released by Thai film Archives in year 2014. Five songs are featured. Kalong (Wilaiwan Watthanaphanit) is married to a chief district officer. Her father is Sawin Sawangrat. She is pregnant. While chasing traffickers, the chief district officer is injured and finally dies. Before dying, he asks his mum to send Kalong to Bangkok in order to have his child raised by his father. The baby has a scar around the ear. The father has a new wife (กันฑรีย์ นาคประภา), who is upset about losing heritage, and she prepares a plan with her lover Nipon (Man Teeraphol) to get rid of Kalong and her child. Mien (Malee Wetpraseri) hears their plan, takes the baby and flees. Shocked, Kalong has a brain attack. Tam, Mien's husband, names the baby E- tan. E-tan (Aranya Namwong) is now a grown beautiful young lady. E-tan meets Rungroj (Mitr Chaibancha) being a lawyer responsible to expel people from a slum to build a new building. E-tan, Tam (Sompol Kongsuwan) and Mien have to leave. Mien goes back to her hometown to work and to send money. Being sick, she is cheated and no money reaches E-tan and Tam. So E-tan decides to quit school in order to work. She tries to find a job as domestic helper in a rich house. But she gets issues with the owner accusing her to have stolen her necklace. She is a fighting with the daughter called Supatra. E-tan meets Phaka (Chadaporn Wachirapranee). She is a mamasan but E-tan is not aware. Tam is the old boyfriend of the mamasan Phaka so he sells E-tan for 5000 baht. Thuam Thoranong, as a customer, is severely beaten with E-Tan. Mien is back and threatens to kill Tam if E-tan is not back within seven days. As the grandfather is getting old and sick but refusing to transfer his heritage to his younger new wife, Nipon has the idea to find a 19 years old girl to pretend being the lost granddaughter. He hires E-tan from Pakha without knowing that E-tan is the real granddaughter! She is recognised by the grandfather thanks to the scar. Rungroj is engaged with Supatra (Yaowaret Nisakorn) but he doesn't love her. He thinks about the young lady beggar but doesn't realise that she is the same lady as the new granddaughter. Supatra is jealous as Rungroj spends a lot of time with E-tan as the grandfather asks him to be a teacher for her. Aware that Nipon and the mother plan to kill them once heritage has been transferred to her, E-Tan prepares a plan with her friends from the slum. A social event is organized to present E-Tan to Thai society as the official lost daughter. Nipon prepares poison for the grandfather. Mien is wishing to announce the bad plans of the new wife and Nipon but she is is killed before by Nipon. Upset by Mien's death, E-Tan shots him with a gun without knowing that he is already dead having drunk the poison by mistake. E-Tan is accused of murder by the new wife and is sent to jail. Rungroj is the lawyer for E-tan. Tam, recognizing that E-Tan has always been good with him, relates the real story to the judge and E-Tan is spared from prison. She then can marry with Rungroj.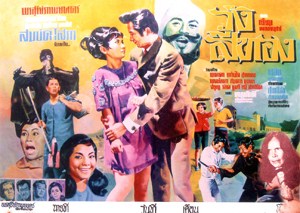 Year

: 1968



Thai title

:

วังสีทอง




English title

:



Rating

: 3/5


Director

: Sulaleewan Suwanthat



Main actor

: Sombat Methanee,Somkuan Krajangsat,Adinan Singhiran,Choomporn Theppitak,Krai Kanchit,Jamroon Nuatjim


Main actress

: Sopha Sataporn,Sulaleewan Suwanthat,Chosri Misommon,Metta Roongrat,Kaenjai Meenakanit,Phong Lada Pimolpan
วังสีทอง is a Thai movie released in year 1968. It features Sombat Methanee as main actor and Sopha Sataporn as main actress. Other actors are Somkuan Krajangsat, Metta Roongrat, Choomporn Theppitak, Krai Kanchit, Kaenjai Meenakanit, Sulaleewan Suwanthat, Adinan Singhiran, Chosri Misommon. The movie is lost in Thailand but a trailer of five minutes is still available. Without a summary and the 16mm movie being in mute state, it is difficult to understand the story. Various short sequences are show Krai abusing of Metta, a man disguised in black outfit, Sombat punching Adinan trying to abuse Sopha. This movie ambiance reminds of other movies such as ปราสาททราย or ฟ้าคะนอง. The movie producer is ป้าทอง also called as Sulaleewan Suwanthat. Other less known actors include สุพรรณ บูรณะพิมพ์-จำรูญ หนวดจิ๋ม-ทนงศักดิ์ ภักดีเทวา.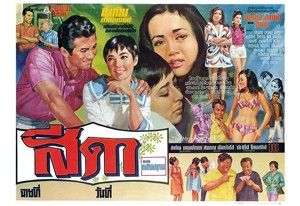 Year

: 1968



Thai title

:

สีดา




English title

:



Rating

: 3/5


Director

:



Main actor

: Sombat Methanee,Adul Dulyarat,Prachuap Ruekyamdee,Daonoi Duangjai,Sompong Phonmitr


Main actress

: Pawana Chanajit,Pissamai Wilaisak,Metta Roongrat,Kaenjai Meenakanit,Mom Chan Phuangwan,Marasri Isarangkul,Chosri Misommon
Thai movie สีดา was released in year 1968. It lasts 2 hours and the film image is quite damaged as being only in red color. This movie was never released on VCD but shown on Thai cable TV only. Naren (Adul Dulyarat) and Nuan (Pissamai Wilaisak) have two children. Naret has a heart decease and ends up at the hospital. He dies there. Many years have passed. Nuan is living in a slum with her two daughters, Sophee (Metta Roongrat) and Sida (Pawana Chanajit) still studying. Daonoi Duangjai and Sompong Phonmitr are their neighbours. Malin and Kaenjai (Kaenjai Meenakanit), playing an actress, meet Sophee. Sophee is lazy and big spender. She dreams of becoming an actress, be famous and have money. Nuan is hurt by a car driven by Wan (Sombat Methanee). Ramet (Prachuap Ruekyamdee) is a movie director. Main actor Panong is pushed by Malin for wedding but he is a butterfly and is interested by Sophee. Sophee refuses to recognize her mother is in the street as she is ashamed of her origins. Pa (Marasri Isarangkul) is Wan's aunt. Wan meets Sida as his car splashes her but he pretends to be a car driver only in order to be friend with her as she has a kind heart and has education. Changing his name as Tiaw, he looks for a job in the slum. An undertaker job (สัปเหร่อ) is proposed to him. Sophee is offered the role of main actress. She wishes to quit the house. The mother is sick, they have no more money and Sida stops going to school. Sophee lends to Sida 100 baht but doesn't want to see her anymore. The landlord คุณนาย (Chosri Misommon) expels them. Sida and Nuan have to live under a bridge. Sida becomes blind following a car accident involving Ramet. Wan, aware of this, takes care of Sida. Net, Wan's official fiancee, is jealous and hires the domestic helper to cause Sida to fall from a cliff. Hopefully Wan helps Sida on time. On Sophee's birthday, Nuan and Sida visit her but she is not happy to see them and asking them to stop visiting her. Altercation happens and Sophee pushes Sida, whose head hits a pillar. She ends up at hospital again. Meanwhile Sophee and Panong promise love to each other. Malin, fed up by Sophee and Panong, throws acid to their faces. Luckily Sopha recovers her sight while Sophee is disfigured. She asks for mercy to Sida and Nuan. She decides to become a nun. This movie highlights that doing good always pays off while doing bad always ends up sadly.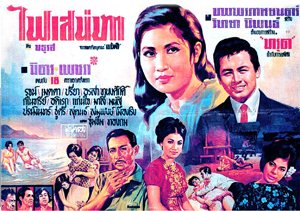 Year

: 1967



Thai title

:

ไฟเสน่หา




English title

:



Rating

: 3/5


Director

:



Main actor

: Mitr Chaibancha,Adinan Singhiran,Ruj Ronnapop,Sukon Koewliam,Sompong Phonmitr,Joomjim Khemlek,Preuhat Boonlong


Main actress

: Petchara Chaowarat,Metta Roongrat,Preeya Roongrueng,Kaenjai Meenakanit,Orasa Isarangkul,Chosri Misommon
Thai movie ไฟเสน่หา was released in year 1967. It features Mitr Chaibancha as main actor and Petchara Chaowarat as main actress. This movie is lost in Thailand and only a 13s sequence is left to be seen. During the short sequence Mitr and Petchara are seen on a raft. Veteran actor Adinan Singhiran can also be seen. On the movie poster, 18 Thai stars are announced, i.e. Mitr Chaibancha, Adinan Singhiran, Ruj Ronnapop, Sukon Koewliam, Sompong Phonmitr, Joomjim Khemlek, Preuhat Boonlong (สาหัส บุญหลง), Petchara Chaowarat, Metta Roongrat, Preeya Roongrueng, Kaenjai Meenakanit, Orasa Isarangkul, Chosri Misommon.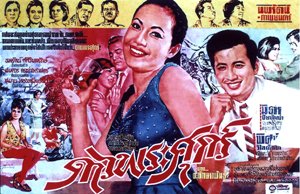 Year

: 1966



Thai title

:

ดาวพระศุกร์




English title

:



Rating

: 3/5


Director

: Somkuan Krajangsat



Main actor

: Mitr Chaibancha,Choomporn Theppitak,Sompong Phonmitr,Sukon Koewliam


Main actress

: Pissamai Wilaisak,Boosara Narumit,Chadaporn Wachirapranee,Chosri Misommon
ดาวพระศุกร์ is a Thai movie released in year 1966 and featuring main actors Mitr Chaibancha and Pissamai Wilaisak. The movie was lost in Thailand but finally a partial reel was found in year 2013 thanks to a teacher and collector of old items in Songkhla area. It is the movie last reel, which is lasting 21 minutes. Dao Prasuk is played by Pissamai. Sasi (Boosara Narumit) is her mum refusing to recognise as her daughter as she has a new husband. Khun Pak (คุณภาคย์) is played by Mitr. Dao Prasuk had a difficult life. Mitr has already a fiancee Rassamee (Chadaporn Wachirapranee) but he loves secretly Dao Prasuk. Uncle At opens a flowers shop for Dao Prasuk and offers an engagement ring without knowing that Dao Prasuk is his own daughter! Knowing that Dao Prasuk has a ring, Mitr gets upset and has a fight with Uncle At despite Choomporn Theppitak trying to interpose. Sasi tells the truth to At and Dao Prasuk is now also aware. Pak learns it also. Pak has an accident and finally reconciles with Dao Prasuk. The last reel is still in quite good condition and colorful. This first version of Dao Prasuk was adapted many times in cinema (Version in 1981 with Sorapong Chatree and Apaporn Kornthip, version 1995) and TV releases (พล and Monrudee Yamaphai in 1981 - this TV serie was also released in a cinematographic version - 1995 and 2003). The summary is as below. Dao Prasuk has been rejected by her mother since youth and abandoned in a hospital. She is adopted but her stepmother is cruel. Dao Prasuk is used as a slave to take care about the home and the other children. She learns that her real mother is called Sasi. One day Dao helps a boy called Kae begging in the street. It is misunderstood by her stepfather believing she has a boyfriend. Dao flees from home. Sasi (ศศิ) has a new husband and a son called Daeng. Sasi misses Dao and gets some news through the beggar called Kae. She knows Dao has fled from home. On the street Dao faces many difficulties, then she meets King Kaew (กิ่งแก้ว) a prostitute and then Arathai (อรทัย), the nurse who gave birth to her. So Dao knows now who her real mother is. Dao is finally bought as maid by Pak (ภาคย์). Pak is a good man so Dao gets education in his home, i.e. English lessons by Sasi who is a relative of Pak and music lessons by Rassamee (รัศมี), Pak's fiancee! Dao doesn't disclose her real identity to Sasi. Dao starts to love Pak. Rassamee, aware of this, tries to get rid of her. It fails and on the opposite, it increases Pak's love over Dao. He takes care of her when she gets sick. Meanwhile older man At (อรรถ) starts to appreciate Dao a lot. He gives 100 000 baht to buy back Dao. It causes Pak's ire. Being disappointed by her real mother, her stepmother, her impossible love with Pak, Dao final accepts At's wedding proposal. In reality, At is Dao's biological father! Disappointed and fed up, Dao flees again. Pak is looking for her and has a car accident. Meanwhile At and Rassamee marry! Sasi's husband divorces as she lied to him regarding the child she had from a previous wedding. Dao settles in Ratchaburi. Pak learns about it and asks for forgiveness. They finally marry.



Year

: 1965



Thai title

:

เงิน เงิน เงิน




English title

: Money Money Money



Rating

: 5/5


Director

: Prince Anusorn Mongkolkarn



Main actor

: Mitr Chaibancha,Charin Nantanakorn,Lor Tok,Sukon Koewliam,Adul Dulyarat,Sawin Sawangrat,Daonoi Duangjai,Dokdin Kanyaman,Man Teeraphol,Ruj Ronnapop,Thuam Thoranong,Banglae


Main actress

: Petchara Chaowarat,Wilaiwan Watthanaphanit,Orasa Isarangkul,Chadaporn Wachirapranee,Mom Chan Phuangwan,Chosri Misommon,Sulaleewan Suwanthat



Buy now

:

The movie starts by a small introduction highlighting that everybody fights for money (เงิน เงิน เงิน). This introduction features many actors or actresses with cameo role such as Daonoi Duangjai, Dokdin Kanyaman, Man Teeraphol, Chadaporn Wachirapranee. Tu (Mitr Chaibancha) comes back to Thailand after overseas studies in USA. Tum (สุมาลี ทองหล่อ) is his sister. They are orphans. Their uncle Hirun is a creditor. Mom (Mom Chan Phuangwan) is Hirun's assistant. For Hirun, money is work and work is money. He has no feelings for his customers personal problems. Tu's uncle wants him to take over his duty but Tu doesn't like such job bringing suffering to people (สงสาร) so that is why he has done artistic studies as it can bring happiness to people. He meets Kingkaew (Petchara Chaowarat), a vagabond. Wishing to help poor people and teased by Kingkaew, he proposes to bring the A-ram boys band (เด็กวัด) in Bangkok to play music in a nightclub. His uncle chases him away as he cancelled all debt contracts. Tum is chased also. Teacher (ครู) Rangsun (Charin Nantanakorn) will help writing songs for the band. There is a crazy lady (Wilaiwan Watthanaphanit) in Hirun's house looking for her children. Tum wonders if she is her mother or not. They arrive in Bangkok but have little money. They met a restaurant owner's daughter (Chosri Misommon), willing to join them as a singer. Pa (Sulaleewan Suwanthat) is their house owner. They borrow 300 000 baht from Pa but Tu has to promise to marry her daughter (Orasa Isarangkul) Nataya. Pa knows that Tu is a potential rich heir. Lor Tok proposes ideas for their nightclub promotion. Tu's concept is that art belongs to everybody. Hirun wants to be sure his nephews will fail so he hires ruffians to destroy their nightclub. The ruffians steal their money so Tu and his friends decide to serve and cook by themselves. Hirun comes on the opening day with a bunch of tough ruffians to make noise and also kidnap the performing girls. Indian actor Banglae (บังเละ) is acting as nightclub guard. Kingkaew always find solutions to problems occurring. The ruffians drunk the cook and waiters to delay orders. Hirun takes the teacher (ครู) Rangsun's piano as he didn't pay his rent due to sickness. Adul Dulyarat is a doctor trying to save the teacher Rangsun. Hirun sends his ruffians to create a brawl in order to destroy the nightclub. Artist should be protected. The Thai King giving cinema awards inspires them not to stop fighting (ศีลปินไม่เคยตาย). By hazard, Tum and her friends have chance to release the crazy woman called Nat. Another uncle of Tu called Sompong is released from prison after twenty years. He narrates to Tu the story of his father betrayed by his own brother Hirun and who finally committed suicide. Nat is reunited with her two children, Tu and Tum. All the money of Hirun is coming from the one million baht that the father gave him to raise his children. They promise to take revenge on his 60th birthday coming soon. Hirun has to face the truth on his birthday turning to be a nightmare for him. He finally lost his whole fortune. The nightclub featuring arts becomes a huge success. This movie features 14 songs. A double DVD (3h20mn) including the 35mm movie fully restored was released by Thai Film Archives. The whole movie should even be a bit longer as the song หญ้าโลมดิน sung by Mitr and Petchara is missing. It is present on the VHS version and on a 16mm version left. Another movie version was released in year 1983. Two TV series were released in years 1997 and 2007. The producer is Prince หม่อมอุบล ยุคล. This movie includes more than 60 Thai actors, actresses and singers. Petchara got a Thai cinema reward for this movie. This movie is part of the second 25 films heritage list announced on October 4 2012, which is Thai Movies Conservation Day.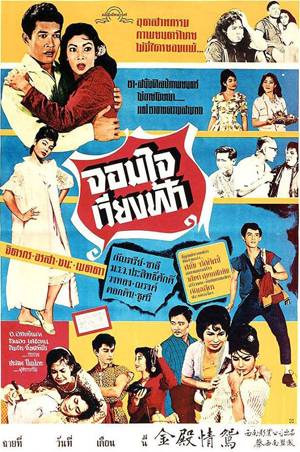 Year

: 1962



Thai title

:

จอมใจเวียงฟ้า




English title

:



Rating

: 3/5


Director

:



Main actor

: Chana Sriubon,Dokdin Kanyaman


Main actress

: Metta Roongrat,Chosri Misommon
Thai movie จอมใจเวียงฟ้า was released in year 1962. The movie is lost in Thailand but a very damaged sequence of four minutes remain to be seen. It looks like a drama with murders. Actors and actresses seen in the left sequence include Dokdin Kanyaman, Metta Roongrat, Chana Sriubon, Chosri Misommon, จิตรกร, อรสา, กัณฑรีย์, ชาลี, มรว.ประสิทธิศักดิ์, วงทอง, ณรงค์.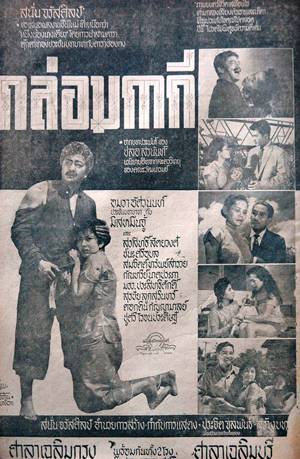 Year

: 1959



Thai title

:

กล่อมกากี




English title

:



Rating

: 3/5


Director

:



Main actor

: Chana Sriubon,Surasit Sattayawong,Dokdin Kanyaman


Main actress

: Amara Asavananda,Somjit Sapsamruey,Chosri Misommon,Sulaleewan Suwanthat
Thai movie กล่อมกากี was released in year 1959. It features Amara Asavananda as main actress and Chana Sriubon as main actor. Thong (Surasit Sattayawong) helps a pregnant woman called Yinfa (Somjit Sapsamruey). She is going to jump from a bridge. He saves her life. Her born daughter is called Buakim (Amara Asavananda) and is raised by Thong. Being adult, Buakim finds a job in an office but issues happen. Chana (Chana Sriubon), the staff manager, solves the issues. As uncle Thong is sick, Buakim asks for a three days off and salary advance to the boss (เป็นพิเศษ). Buakim ends up being domestic helper (แม่บ้าน) for Chana's family. Chana doesn't have any mother. Buakim doesn't have any father. So they have a common understanding. Buakim is poor (ยากจน / พบแค่ความทุกข์). She is accused of having stolen money in the house. It is in fact a plan by the younger wife of the boss asking Mae Nim (Sulaleewan Suwanthat) to play trick to Buakim. When Chana finishes his university degree, he wishes to marry with Buakim. Buakim is reluctant as she is only a domestic helper. Thong warns the boss' wife to stop harassing Buakim. Yinfa realises that Chana is her lost son so she asks Buakim to stop seeing Chana. Upset Chana feels betrayed and slaps Buakim. Thong protects Buakim. Chana understands the truth and visits his lost mother. Finally they are all reunited thanks to Thong. Chana loses a wife but gains a mother and sister. Part of the movie is dubbed as it was released earlier in video tape format. It was never released in another format as the movie was not successful enough in VHS format. It lasts around 1h30mn. A Hong Kong actress is also involved, i.e. Miss Minchoo (หมิ่นจู้).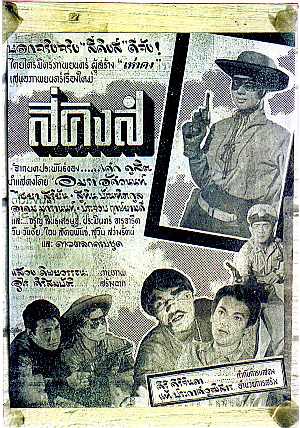 Year

: 1959



Thai title

:

สี่คิงส์




English title

:



Rating

: 3/5


Director

: Tae Prakardwutthisan



Main actor

: Chaiya Suriyun,Dokdin Kanyaman,Prachuap Ruekyamdee,Sompong Phonmitr,Sawin Sawangrat,Lor Tok


Main actress

: Amara Asavananda,Chosri Misommon
สี่คิงส์ or "See King" is a Thai crime movie produced by Tae Prakardwutthisan. The 1959 movie is lost in Thailand but hopefully a 16mm "behind the screen" sequence of 10 minutes is still available. It was given by Tae Prakardwutthisan himself in year 1988 to the Thai Film Archives. Despite using same actors as "Hao Dong" (1956), "See King" movie was not a commercial success. The sequence shows the actors and actresses during the first projection in year 1959. Those actors are Amara Asavananda, Chaiya Suriyun, Dokdin Kanyaman, Prachuap Ruekyamdee, Sompong Phonmitr, Sawin Sawangrat, Lor Tok. The movie trailer is also included. A few fights are featured with Chaiya. Dokdin Kanyaman is acting as a journalist. Somphong and veteran comic actress Chosri Misommon (ชูศรี มีสมมนต์) are featured together. Both the main actor and main actress are nice outlaws. Similar as in movie "Hao Dong", Amara is wearing a mask. The sequence is coming from a DVD that can be bought at Thai Film Archives. The movie advertisement song radio is set as soundtrack (เพลงโฆษณาหนัง) and highlight it is a good movie (สี่คิงส์ หนังดี สี่คิงส์ ยิ่งใหญ่ เด็ดจริง ถึงใจ ใช่ใคร สี่คิงส์). A remake version was released in year 1982 featuring Sorapong Chatree and Naowarat Yooktanun. It was not also a great commercial success.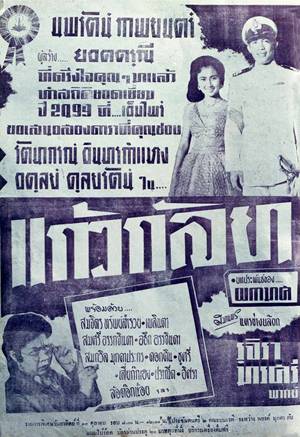 Year

: 1958



Thai title

:

แก้วกัลยา




English title

:



Rating

: 3/5


Director

:



Main actor

: Adul Dulyarat,Lor Tok Noi,Banglae,Dokdin Kanyaman,Banglae


Main actress

: Ratanaporn Intarakamhaeng,Chosri Misommon,Somjit Sapsamruey
Thai movie แก้วกัลยา was released in year 1958. It features Adul Dulyarat as main actor and Ratanaporn Intarakamhaeng as main actress. The movie is lost in Thailand but a damaged sequence of five minutes remain to be seen. Adul is playing an officer. In 1958 he was still a main actor. Other actors include Lor Tok Noi, Banglae (บังเละ) playing the comic Indian guy as usual, Dokdin Kanyaman playing a mariner, Chosri Misommon, Somjit Sapsamruey. A middle age lady makes Ratanaporn crying. The middle age lady is using her as a servant. Ratanaporn is working later on boats.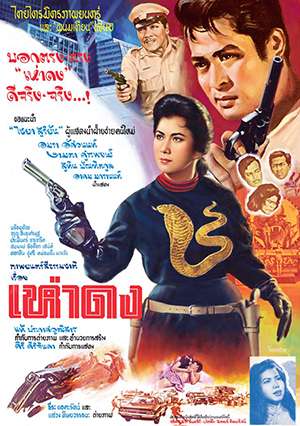 Year

: 1958



Thai title

:

เห่าดง




English title

: Hao Dong



Rating

: 3/5


Director

: Tae Prakardwutthisan



Main actor

: Chaiya Suriyun,Lor Tok,Dokdin Kanyaman,Sompong Phonmitr


Main actress

: Amara Asavananda,Chosri Misommon,Marasri Bangchang
เห่าดง (Hao Dong) is a 1958 Thai movie by director Thae Pragartvuthisarn. It features famous Thai actor Chaiya Surin (his first movie) and actress Amara Asavananda. Other actors include Lor Tok, Dokdin Kanyaman, Sompong Phonmitr, Chosri Misommon. A remake was released in year 1983 with Sorapong Chatree and Suriwan Suriyong. No extract of the movie is left anymore. But there is still a short 1mn22s sequence from 1958 Thai news showing a huge crowd waiting to see Hao Dong movie. A few still pictures are still available showing Amara Asavananda wearing color Hao Dong costume. It was a big commercial success thanks also to great advertisements including radio, TV, huge billboards up to 12 meters (คัทเอาต์ขนาดยักษ์) of actress Amara Asavananda in popular areas of Bangkok. Three gangs of robbers are bringing trouble in Bangkok. Hao Dong works alone. Hao Dong is a former military (ทหารม้า). He is not a ruthless gangster like the two other groups. Feeling betrayed, the other groups (เล็บเหล็ก, แสงเทียน) wish to get rid of Hao Dong. As he dies, his daughter (Amara Asavananda) takes over. Chaiya is playing a policeman and love will emerge with Amara. The success of movie Hao Dong is due to the presence of 3 famous Thai comic stars (Lor Tok, Dokdin Kanyaman, Sompong Phonmitr). Tae Prakardwutthisan had also the good idea to make a simple but entertaining song to be diffused on radios for movie promotion. It mentions Dokdin as ตัวดำๆ. A movie as that time was always a financial risk due to potential military coup d'etat as it could ruin all investments on a movie. Hao Dong generated 1.3M baht revenue.
---