Increase or decrease font size for easier reading : A+ A-
Chana Sriubon
Chana Sriubon (1932-1996) - ชนะ ศรีอุบล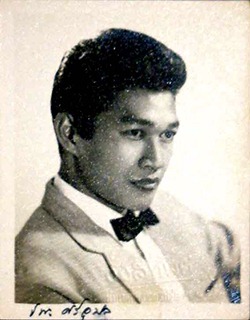 Chana Sriubon played in more than 70 movies
This Chana Sriubon movie page contains 31 records.
---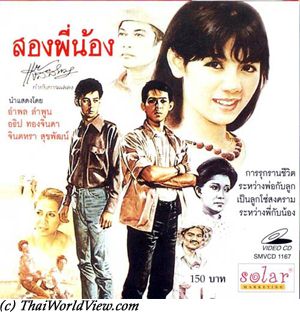 Year

: 1985



Thai title

:

สองพี่น้อง




English title

:



Rating

: 4/5


Director

:



Main actor

: Amphol Lumpoon,Chana Sriubon


Main actress

: Mayurachath Muarnprasitivej,Pissamai Wilaisak,Jintara Sookkapat
Ken's mother left early when he was a baby as she has a mysterious decease. Even the father doesn't know the real reason. The father marries again and has another boy called Ann (Amphol Lumpoon). Growing up, there is always animosity between Ann and Ken. Ann believes their father loves Ken much more than him. Having hot and bad temper, it creates jealously up to the point Ann hits Ken. Willing to clarify with Ann, the father chases him and has a serious car accident. He is disabled. A friend doctor sends his fresh graduate daughter Bin Kaew (Jintara Sookkapat) to help for his recovery. The father is the head of a big farm. Being disabled, the intendant Tiu needs to replace him. The father is strong and strict with his son Ann. The father does not forgive his son's past mistakes. One brother is doing everything good. One brother is doing everything bad. Ken has difficulty to live without knowing why his mother left many years ago. A love story starts between Ann and Bin Kaew. Ann discovers that every month Tiu is going in a remote area in the mountains. Puzzled, he follows secretly Tiu and finds he brings food to a lady. This lady is Ken's mother. She has leprosy disease so hides her-self since 20 years. She is ashamed and doesn't want anybody to know she is still alive. Thinking doing good, Ann brings Ken to see his mother. Ken has still in mind his beautiful mother picture. He cannot stand the vision of his mother aged and disfigured by the leprosy. He flees away. Nobody knows where he is. A few days later, he decides to go to see his mother again but she has commited suicide already disappointed by her son rejection. Ann and Bin Kaew finds Ken on top of the mountain trying to suicide. Unfortunately despite Ann's desperate efforts, Ken falls from the cliff and dies. Ann brings Ken's body to his father and this one has an hemorrhage in the brain. On his bed, before dying, he forgives to his son Ann so that Ann can move forward in his life and not be eaten by remorses.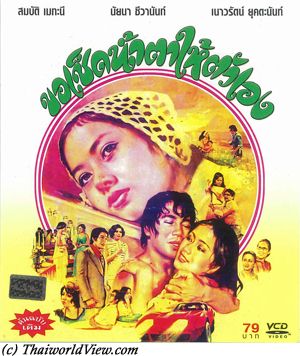 Year

: 1978



Thai title

:

ขอเช็ดน้ำตาให้ตัวเอง




English title

:



Rating

: 3/5


Director

:



Main actor

: Sombat Methanee,Sawin Sawangrat,Chana Sriubon


Main actress

: Naowarat Yooktanun,Naiyana Shewanan,Tharika Thidathip
Daen Chai is a young teen happing problems with her stepfather and his son. She decides to flee home but always thinks about her mother left alone with her bad stepfather. She gets shelter in Pa and Lung's home who have pity on her. They treat her in a similar way as their own daughter. But one day, Lung declares his love for Daen Chai and forces to have private relationship with him in exchange of a promise to send her to study in Japan. Daen Chai accepts as she wishes to be able to help her mother when she gets a job but she is fed up with men behavior. Back from Japan, she finds a job in a fashion design house. The boss, Phong, surprised by her strong character, asks her for marriage. They are happy together but Phong's sister wishes to break their love by introducing Miss Pree to Phong. Miss Pree succeeds to seduce Phong. Daen Chai blames Phong of having a mistress or เมียน้อย. Phong and Daen Chai finally divorce but Daen Chai is still in Phong's heart despite he has to marry Miss Pree. Fate is against Miss Pree that discovers she has a terminal cancer...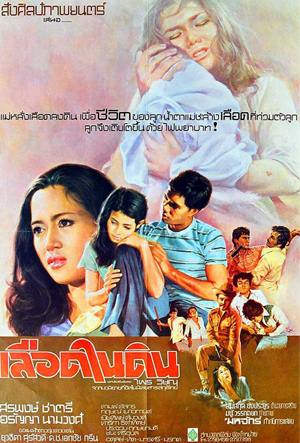 Year

: 1978



Thai title

:

เลือดในดิน




English title

:



Rating

: 3/5


Director

:



Main actor

: Sorapong Chatree,Prachuap Ruekyamdee,Dam Datsakorn,Adul Dulyarat,Chana Sriubon


Main actress

: Aranya Namwong,Piathip Kumwong,Yuwathida Surasawadee,Tharika Thidathip
Thai movie เลือดในดิน was released in year 1978. It features Sorapong Chatree as main actor and Aranya Namwong as main actress. The movie is lost in Thailand but a three minutes 30 seconds trailer remains to be seen. Other actors are Prachuap Ruekyamdee, Dam Datsakorn, Piathip Kumwong, Adul Dulyarat. Yuwathida Surasawadee, Tharika Thidathip, Chana Sriubon. It is a strong drama movie (เป็นหนังชีวิตเข้มข้น). It looks like a child was separated from his father. Getting adult, Sorapong is reunited with his father (Prachuap). Many fightings do happen on this family drama movie.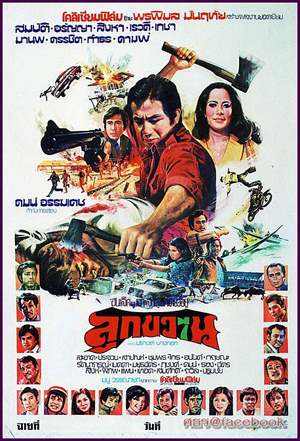 Year

: 1977



Thai title

:

ลูกขวาน




English title

:



Rating

: 3/5


Director

: Kom Akadej



Main actor

: Sombat Methanee,Kom Akadej,Dam Datsakorn,Choomporn Theppitak,Sahat Piempongsan,Kecha Plianvithee,Krai Kanchit,Chat Mongkolchai,Lak Apichat,Prachuap Ruekyamdee,Kamthorn Suwanpiyasiri,Kanchit Kwanpracha,Manop Aussawathep,Pipop Pupinyo,Somsak Chaisongkram,Sayan Chantaravi​boon,Chana Sriubon


Main actress

: Aranya Namwong,Ratanaporn Intarakamhaeng,Metta Roongrat,Rewadee Pattaphong
ลูกขวาน is a Thai movie released in year 1977. It lasts 1h54mn. This action movie, directed by director Kom Akadej, features a great bunch of Thai actors. Sing A (Sombat Methanee) arrives too late as his father Nae Klam died already. His father was a big mafia boss (นักเลง) so smaller bosses (Chun - Dam Datsakorn, Kam - Choomporn Theppitak, Pon - Sahat Piempongsan, Krong - Kanchit Kwanpracha) want to become the leader instead. The movie features fighting between those smaller bosses in order to become the big boss. Back from overseas, Sing A is welcomed by KoLit (Kecha Plianvithee) and by his mother (Ratanaporn Intarakamhaeng). Krai Kanchit challenges Sing A but as he is defeated, he finally joins Sing A's team. Ruffians are using axes (ขวาน) for fighting so giving the movie name, i.e. ลูกขวาน, "axe child". Many groups want to get rid of Sing A. Prachom (Lak Apichat) gives a hand to Sing A aggressed by motorbikes on the beach. Kam (Choomporn Theppitak), married to Metta Roongrat, is one of the small leader wanting to kill Sing A. Nop (Kamthorn Suwanpiyasiri) and Sai (Prachuap Ruekyamdee) are close friends with Sing A. Sing A finally sympathizes with Nolee (Aranya Namwong), daughter of Nop. Phi Pon (Sahat Piempongsan) and his team start hostilities and take over a mine. Mek (Chana Sriubon) and Wan are having a love affair. Tan (Manop Aussawathep) orders to kill Sing A. KoLit and Mek defeat Pipop Pupinyo and his guys trying to enter in their ranch. Krong is shot and injured by another gang. Tan refuses to work with Phi Pon (ขายหน้า). Chat Mongkolchai and his ruffians attack Mek's house but get defeated by KoLit and Mek following a long boat race. Wedding is happening between Mek and Wan. Chun is looking for troubles during the wedding but gets punched by Sing A. Tan is burnt in his car by Phi Pon's team and becomes blind. As a revenge, Phi Pon gets killed by Kanchit. Tan relearns to shoot using his ears instead of eyes. Pinyo and his ruffians kill Sing A's mother but get axed by KoLit and Mek. Kam is arrested by the police. Aranya has a cancer but Sing A still wishes to marry her. Tan takes his revenge over those who caused the fire making him blind. All mafia leaders are now out of the game except Chun. A feast is organized but Chun's ruffians (Somsak Chaisongkram) are bringing a mess. Honor needs to be washed with blood (เลือดต้องล้างกับเลือด). Chun's house is stormed and Chun himself is killed but remaining people including Sing A get caught by police. This Kom Akadej's movie is a non stop action movie featuring around twenty key actors / actresses from decade 1970s.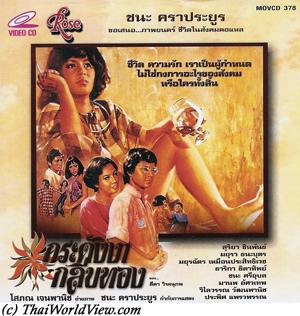 Year

: 1976



Thai title

:

กระดังงากลีบทอง




English title

:



Rating

: 3/5


Director

: Chana Kraprayoon



Main actor

: Manop Aussawathep,Chana Sriubon


Main actress

: Mayurachath Muarnprasitivej,Mayura Thanabutr
It is about a love story between a young boy and a woman older than him. The boy's parents refuse to let such a marriage. Will he follow his heart or the Thai society pressure?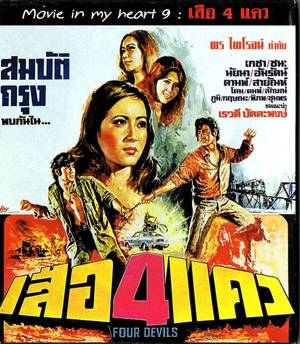 Year

: 1976



Thai title

:

เสือ 4 แคว




English title

: Four Devils



Rating

: 4/5


Director

:



Main actor

: Sombat Methanee,Krung Srivilai,Choomporn Theppitak,Kecha Plianvithee,Pipop Pupinyo,Dam Datsakorn,Chana Sriubon,Kom Akadej,Lak Apichat,Sayan Chantaravi​boon,Pan Borapet,Paen Pleumsachai,Pumi Patanayut


Main actress

: Naiyana Shewanan,Rewadee Pattaphong



Buy now

:

Thai movie เสือ 4 แคว was released in year 1976. It lasts 2h20mn. Pleung (Krung Srivilai) and Chat (Sombat Methanee) are always fighting in a prison. The head of prison decide to transfer them to another prison. To avoid any issues during the transfer, they are hogtied together. During transfer, Pleung's teammates attack the police armed escort. Pleung and Chat flee together. Choomporn Theppitak is playing a policeman. They do realize that they have a common enemy called พ่อเลี้ยง Do Tawan (Kecha Plianvithee). Do Tawan is aware that Pleung is now free. Choi (อัมรัตน์ ขัตติยา) is Do Tawan's girlfriend. Four devils [เสือ4แคว] (Pipop Pupinyo – Seua Wang, Dam Datsakorn - Seua Nan, Seua Ping - Chana Sriubon, Seua Yom – โดม สิงห์โมฬี) are called by Do Tawan to kill Pleung. 1M Baht reward is promised for the one who succeeds to kill Pleung. น้อง Kaew (Rewadee Pattaphong), a teacher, is Do Tawan's younger sister. She knows the secret behind her brother. Do Tawan (โจรใจบาป) is selling drugs. Pleung, a former teammate, asked him to stop but ended up in jail because of Do Tawan. Pleung's younger sister Wallin (Naiyana Shewanan) is still kept captive by Do Tawan (ตัวประกัน). A bomb is hidden in her bungalow. Kaew prevents her brother from abusing Wallin. ภูมิ พัฒนายุทธ, Kan (Kom Akadej), Wai (Lak Apichat), Suki (Sayan Chantaraviboon) meet Chat in the restaurant (เอาเต็มที่). He claims to be เสือ4แคว. They sympathize with Chat, who sends them to help Pleung against the 4 devils. Meanwhile, Chat plans to enter Do Tawan group in order to spy them and release Wallin. Pleung, being attacked by Seua, decides to fight back and attack them directly also causing Dam to flee. Do Tawan hires Chat. Seua Ping's team includes veteran actors Pan Borapet, กฤษณะ อำนวยพร and Paen Pleumsachai. Chat pushes the teams against each other. Chat succeeds to exchange Wallin with Kaew simulating a kidnapping. Meanwhile Choi helps to provide information on Do Tawan's business. Chat is identified as the traitor. Chat shall be smashed by a train but Pleung helps him on time. Knowing that Chat is not dead, Do Tawan moves his stock of drugs in a safer place. Pleung identifies the place and decides to attack it. Chat, being finally a policeman, also comes with reinforcement. All ruffians are killed by the Thai A-team. Unable to flee, Do Tawan prefers to explode the warehouse to avoid surrendering. Pleung has to go back to jail but Chat promises that his efforts to catch Do Tawan will be taken into account to reduce the severity. This movie features a huge number of famous Thai actors and actresses.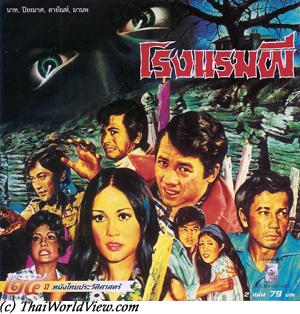 Year

: 1975



Thai title

:

โรงแรมผี




English title

:



Rating

: 3/5


Director

:



Main actor

: Nard Poowanai,Kanchit Kwanpracha,Manop Aussawathep,Lor Tok,Sayan Chantaravi​boon,Chana Sriubon,Sithao Petcharoen,Boo Wibunnan,Tat Ekathat


Main actress

: Piyamas Monayakol,Mayurachath Muarnprasitivej,Metta Roongrat
Khun Samong comes in a hotel for one night as it is raining heavily. Her husband chases her but she refuses to follow him up. During the night, she dies being strangled. Footprints on the floor show that the killer is handicapped. The day after a young lady Wilai is coming one night in the same hotel to meet an older man called Siu. He has many banknotes in his suitcase. He also dies and the money disappears. Wilai also dies. The hotel manager Pan finds the money inside his desk drawer. With his partner, he decides to throw away the money in the sea but the banknotes come back with the tide. Khun Samong's husband believes that the hotel management is responsible of his wife's death and the money robbing. So he tries to take revenge over them but it fails. Police is investigating. Khun Samong's husband is also found dead. Finally it is identified that a ghost is living in the hotel. He possessed the hotel manager causing him to walk like a disabled man. Following a chase with the Police, the hotel manager Pan dies. His partner tells a story. Before World War II, Pan flees with a young lady called Sarapee. Sarapee was promised to an older man. This one becomes disabled during World War II due to bombs. He never forgives to Pan and Sarapee. After his death, a house belonging to the older man is given to Pan and Sarapee through legacy. They transform the house into a hotel. Now the ghost is willing to kill all hotel family member one by one, starting with Pan, then his partner. Finally the younger people found that the ghost body is still kept in a crypt below the hotel. They manage to kill the ghost thanks to a sacred Budha image. This movie is different from other Thai horror movies from 1970s decade and more realistic as there are not the usual traditional clown characters that accompany the leading actor.



Year

: 1971



Thai title

:

วันที่เราจะพรากจากกัน




English title

:



Rating

: 4/5


Director

:



Main actor

: Sombat Methanee,Prachuap Ruekyamdee,Sithao Petcharoen,Songthong,Sawin Sawangrat,Sukon Koewliam,Chana Sriubon,Ruj Ronnapop


Main actress

: Aranya Namwong,Naowarat Watchara,Sopha Sataporn,Ratanaporn Intarakamhaeng
ไม่มีวันที่เราจะพรากจากกัน (There is no day we will split) was released in year 1971. The full movie lasts 2h27mn. The remaining film is in a poor condition. The image has no more color and is only tinted. Unfortunately the sound is distorted and barely hearable. A full movie summary is still available as some old Thai movie stars magazines can still be found nowadays. The movie remains famous for its 9 to 10 songs. A few songs are sung by Sithao Petcharoen and Songthong. One of the famous singer in this movie is กังวานไพร ลูกเพชร, a countryside singer (นักร้องลูกทุ่ง). He is acting as a couple with Naowarat Watchara in this movie. Main actors in this romantic movie are Aranya Namwong and Sombat Methanee. Interesting to see that Aranya Namwong is wearing big sunglasses that are back to fashion in decade 2010s. Other actors include Prachuap Ruekyamdee, comic actor Sukon Koewliam, Naowarat Watchara, Chana Sriubon, Sopha Sataporn, Ratanaporn Intarakamhaeng, Ruj Ronnapop. Kampee (Sombat Methanee) is orphan but gets patronized by his older sister Rampoei, who is married to rich merchant Vivat. Kampee (คัมภีร์) is engaged with Rewadee (Naowarat Watchara). He goes to study abroad. When he comes back, his fiancee Rewadee is going to marry Pinjo, who was a former friend. Kampee, disappointed, causes big arguments during the wedding, gets beaten and thrown away in the water. When he wakes up, he meets for first time a young woman called Ailada (Aranya Namwong), riding a bicycle and going to help him. Surprised, he leaves rashly by taxi (คนบ้า). Kampee leaves his home as Pinjo's father forces him to go to Sukhothai province. Rampoei wants Kampee to marry Walli, younger sister of Vivat. Kampee meets Ailada again in Phitsanulok train station and they argue again. Kampee shall be the head of forest guards in district Huay Krai. Kampee is welcomed by Plang (Prachuap Ruekyamdee), his assistant. Ailada is Plang's daughter! Kamnan Preuang (Sawin Sawangrat) is doing illegal business in the forest by cutting trees. Plaew, son of Kamnan Preuang, loves Ailada since they are kids. Plang and Kampee have a plan to stop those illegal activities. Having learnt this, Ailada informs Preuang. So Kampee's plan fails. Aware that Ailada is the one who disclosed the plan, Kampee has arguments with her but Ailada finally understands and recognises her mistake. Love starts to emerge. Walli is coming to visit Kampee. To get rid of Walli, Kampee claims he is already engaged with Ailada so she has mischievous behavior with Kampee! Kamnan Preuang and Plaew get agreement with Pinjo to use Rewadee to ease Kampee. Pinjo wishes to kill Kampee as he cannot stand to have Rewadee close to Kampee. It is discovered that Plaew is the real son of Plang and not Preuang. Plaew and Ailanda are then brother and sister! Plaew and Ailanda are looking for Kampee knowing he is endangered by Pinjo's plans to kill him. A thunderstorm happens. Kampee and Ailanda take refuge in a cave. A snake is threatening them. Plaew and Rewadee take refuge in a cave also. Pinjo misunderstands Plaew's intention to help Rewadee. He finally falls in the river and dies. Back from the forest, learning that Kampee and Ailanda plan to marry, Rewadee still tries to get back Kampee and simulates to have spent the night with him. It causes Ailanda's ire, who then flees away. Rewadee apologizes but it is too late. Ailanda is gone and Kampee is back to Bangkok. Kampee indulges in alcohol and finally accept his sister's proposal to marry Walli. Rewadee is pregnant with Plaew. As Ailanda is back to district Huay Krai, Plaew decides to stop Kampee's wedding with Walli to ensure Kampee can marry Ailanda! Plaew lies that Kampee made a young lady pregnant in district Huay Krai so he needs to assume. Finally Kampee and Ailanda are reunited.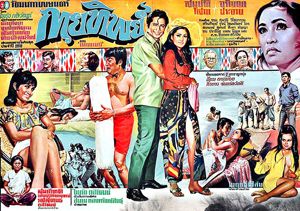 Year

: 1970



Thai title

:

กายทิพย์




English title

:



Rating

: 3/5


Director

:



Main actor

: Sombat Methanee,Chana Sriubon,Prachuap Ruekyamdee,Sukon Koewliam,Sithao Petcharoen,Krai Kanchit,Sawin Sawangrat,Ruj Ronnapop,Sompong Phonmitr,Pan Borapet,Op Boonthit


Main actress

: Aranya Namwong,Sopha Sataporn,Wilaiwan Watthanaphanit,Sarinthip Siriwan,Khomapat Attaya
Thai movie กายทิพย์ was released in year 1970. The movie lasts 2h30mn but only 1h00 is left to be seen. Jaomanat (Sarinthip Siriwan) is Atibadi's domestic helper. Jaomanat has two sons Phayoton (Sombat Methanee) and Pontet (Prachuap Ruekyamdee), playing a gay character (กะเทย). Atibadi (Chana Sriubon) has two daughters Romadee (Aranya Namwong) and Deuan Rung (Sopha Sataporn). Atibadi's wife (Wilaiwan Watthanaphanit), called Nimnuan, is dead already but her soul (วิญญาณ) has possessed Jaomanat. Three house spirits (ศาลพระภูมิเจ้าที่) are also involved. Two of them are played by Sukon Koewliam and Sithao Petcharoen. Krai Kanchit, a hairdresser, gets warned by Phayoton not to disturb Jaomanat anymore. Fighting in slum(สลัม) happens between Phayoton and Krai. Krai is defeated. Sawin Sawangrat comes later with more men to beat Phayoton but the three house spirits help him. สุมาลี ทองหล่อ, mother of Khomapat Attaya, wishes to grab Atibadi. Finally Atibadi takes Sumalee as his new wife. During the wedding party, Khomapat comes with Ruj Ronnapop but Khomapat has more interest in Phayoton. Sompong Phonmitr is playing a หมอทำเสน่ห์. Sumalee and Sawin visit the magician at the same time but they get teased again by the spirits. Krai comes at that time and meets Sumalee. They become lovers. Sumalee and Atibadi spend their honeymoon in Pattaya. Deuan Rung likes Phayoton but this one manages to have his brother Pontet taking care of her so that he can be with Romadee. Meanwhile Krai has seduced also Khomapat so causing Sumalee's ire. She sends Pan Borapet and Sawin to teach (สังสอน) Krai but they kill him. Upset, she also kills Pan Borapet and Sawin. Sumalee is feeling sad (น้อยใจ). Op Boonthit identifies that Nimnuan's sould (วิญญาณ) is inside Jaomanat. A proper ceremony needs to be done. Sumalee wishes to interrupt it. Monks need to be brought. While the soul is about to exit, Sumalee prevents the holy water to be poured. She is struck by a lighting and dies. Ruj is ravaged. Finally Jaomanat can fully recover.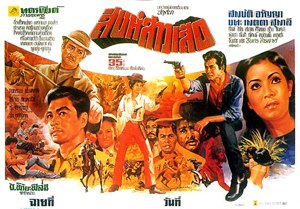 Year

: 1970



Thai title

:

สิงห์สาวเสือ




English title

:



Rating

: 3/5


Director

:



Main actor

: Sombat Methanee,Sawin Sawangrat,Sithao Petcharoen,Sukon Koewliam,Chana Sriubon


Main actress

: Aranya Namwong,Metta Roongrat
Sing Sao Seua or สิงห์สาวเสือ is a Thai movie released in year 1970. There are seven songs in the movie. Only 4 minutes is left. The extract in 35mm format includes the love song between Sombat Methanee and Aranya Namwong. It also just features the sequence where Sombat Methanee is shot by a ruffian. A short summary of the movie is still available. Chatchai (Sombat Methanee) is a police student in his final year. When learning that his father has been killed, Chatchai quits the police and goes back to his home district, Wang Phan, to investigate on his father's death. Patama (Aranya Namwong) is the owner of Wang Phan market. Aranya is using Seuahan to do the internal police in the market as many thugs are around. Sombat and Seuahan become friends. The ruffian leader responsible of his father's death is Sia Bu (เสี่ยบู๊). Sia Bu wants to have Patama as his wife. As she refuses, the ruffians kill the forest guard. Chatchai takes over his duty. Sia Bu asks Chatchai to stop messing around but he refuses. While Chatchai and Patama are singing their love in the garden, one Sia Bu's ruffian shots Chatchai and kidnaps Patama. Hopefully Seuahan rescues Patama. While Chatchai is recovering at the hospital, things get worse with the market being burnt and Patama kidnapped by Sia Bu. Time for Chatchai to revenge his father and rescue his lovely Patama!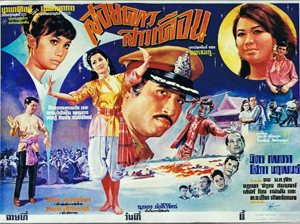 Year

: 1969



Thai title

:

สอยดาวสาวเดือน




English title

:



Rating

: 3/5


Director

: Chalong Pukdeewichit



Main actor

: Mitr Chaibancha,Chana Sriubon,Sorapong Chatree,Jamroon Nuatjim


Main actress

: Petchara Chaowarat,Sopha Sataporn,Viphavadi Triyakul
Saming (สมิง) is a local ruffian. He loves a young lady called Srinuan (ศรีนวล) (Petchara Chaowarat). While trying to get back a necklace belonging to his family, Saming is injured so he cannot stay close to Srinuan. Neung (หนึ่ง) (Mitr Chaibancha), a Bangokian young man, comes to visit the village one week for a local yearly dance contest festival. Saming loves Srinuan but Srinuan is more interested in Neung. It is reciprocal. Saming is unhappy with Neung. During the dance contest, competitors try to hurt Srinuan but Neung protects her and gets injured. Srinuan spends the night with Neung. As Srinuan's father, Kamnan Tong (กำนันธง), is aware, Neung needs to take responsability (ต้องรับผิดชอบ). Neung is coming from a rich family. His father is disappointed by his son's behavior but wants his son to finish his studies first and get approval from the grandmother. Neung needs to leave. Srinuan promises to wait (ค่อยพี่นะ). Behind the curtain, Neung's father promises land and money to Srinuan's father to forget about this union. 18 years have passed. A daughter is born from their brief union. Her name is Soi (สอยดาว), who is now a beautiful teen. Neung's father sends his grand children to check the land he gave to subdistrict headman Tong. It includes Deuan (สาวเดือน ) and Kla (ลูกเมียแต่ง / ลูกเมียหลวง). Saming (โจร เสือ) is now the ruffians leader. Srinuan doesn't want Soi to meet the Bangkokian people as they might have bad intentions. Soi helps Deuan, her half sister, who falls in the river (ด้วยน้ำใจ). She is sad that her real father never visited her. Kla, the brother, has a bad mindset denigrating countryside people and gets smacked by Soi. Neung wishes to know who hit Kla. Neung meets Soi and understands she is her daughter. Neung wishes to know the truth about Soi. The father, subdistrict headman Tong, doesn't wish to let Neung meet Srinuan again but Neung insists. After 18 years passed Srinuan doesn't want to meet him again also (ไม่อยากเป็นเมียที่สอง! ไปขอทานที่อื่น!). Finally Neung recognizes officially Soi as her daughter and she moves to Bangkok to become an upper class lady (เลือดควาย / เลือดผู้ดี). Neung's wife, Soi Phet, doesn't accept this as it means to share heritage with another family member. Many troubles happen. Kla sends two ruffians to rape Soi. The grandmother falls from stairs while trying to help. Soi is accused and goes back to countryside with her mother. Neung's wife wishes to get back the land. Following a boat assault, Neung's wife is shot. Saming is responsible. Following gun fights between Police and ruffians, a final duel happens between Neung and Saming. Neung wins. Kla is injured and is forgiven by his father and Soi. Neung and Srinuan can now live happily together. Interesting to find that Sorapong Chatree, Thailand's most famous actor, is playing a young stunt during a few minutes at the beginning of the movie.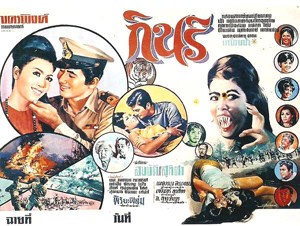 Year

: 1969



Thai title

:

กินรี




English title

:



Rating

: 3/5


Director

:



Main actor

: Sombat Methanee,Chana Sriubon


Main actress

: Suthisa Putnuch,Metta Roongrat,Kaenjai Meenakanit
The action takes place in a territory at the edge of Thailand and Burma. A tiger spirit (วิญญาณเสือสมิง) is possessing the body of a young girl called Kinari. They accuse the young girl to be responsible of the village head's son death. They wish to burn the dead body and the young girl. Hopefully a monk is able to calm them down. The young girl and her grandmother agree to move to Burma to ease villagers. When the young girl will be 20 years old, the fearful tiger spirit will be definitively exorcised. She cannot remove the protective necklace that the monk gave her until she is 20 years old. They find refuge in a catholic mission for 10 years but they miss Thailand. Her grandmother asks her not to forget Buddhism. They finally come back to the village in her 19th year. A young man tries to rape Kinari while she bathes in a waterfall. As she has removed her necklace and anger pops up, she becomes a tiger (เสือ) and kills him. Villagers know Kinari is back. The grandmother is sick. Kinari needs to find a doctor (หมออนามัย). The doctor arrives too late and the grandmother dies. The doctor promises to take care about Kinari. Meanwhile the village leader wishes to burn Kinari to chase definitively the spirit away. Saenkam, a villager, doesn't want to let Kinari leave as he loves her. Kinari and the doctor Nopalit finally succeed to flee. Nopalit brings back Kinari (คนป่า) to his home in Bangkok but she is not welcomed by the mother. Dao, the doctor's fiance, doesn't welcome her also. Dao has another boyfriend Leutchai already so she is lying to Nopalit. The mother and Dao always try to humiliate Kinari as she is not coming from high society (ผู้ดี). The doctor buys Kinari a golden necklace but she is worried to remove her necklace as the tiger spirit might be back. Dao starts to be worried that Kinari has much more qualities than her. Dao hires a tramp to rape Kinari but he is seriously injured as Kinari becomes a tiger spirit again. Saenkam, the villager, still loves Kinari and reaches Bangkok. Kinari is going to be 20 years old. Today is her birthday. The mother offers a diamond necklace for her birthday and throws away the protective necklace. On the birthday party while the doctor is away, Dao slaps Kinari causing the demon inside her to be back. Following an ultimate fight, Saengkam gives back the necklace to Kinari and injures fatally Leutchai. This later shot back killing Saengkam and Dao through a lost bullet. As it is midnight already, the spell is gone and the tiger spirit has disappeared inside Kinari's body so the mother cannot prove that Kinari is a demon. Kinari and Nopalit can now live happily together. Parts of this old 2h20 movie are really damaged.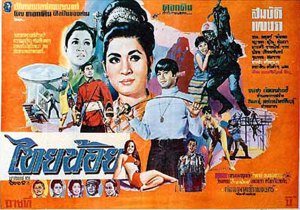 Year

: 1969



Thai title

:

ไทยน้อย




English title

:



Rating

: 3/5


Director

: Dokdin Kanyaman



Main actor

: Sombat Methanee,Dokdin Kanyaman,Sawin Sawangrat,Chana Sriubon


Main actress

: Petchara Chaowarat,Orasa Isarangkul,Chadaporn Wachirapranee
ไทยน้อย is a Thai movie directed by Dokdin Kanyaman and released in year 1969. A 4mn30 mute trailer, shot in 16mm format, is still remaining. Another sequence of 3mn30 can be found on internet also. So parts of the original movie seem to be still available. Sombat Methanee and Petchara Chaowarat are the main actors in this movie. Dokdin Kanyaman and Orasa Isarangkul are playing supporting roles (ตัวประกอบ) so bringing additional fun. As usual, Dokdin's movie features songs and beautiful ladies (Chadaporn Wachirapranee and a veteran sexy actress mixed Thai and foreigner - ลูกครึ่ง). A bit of action is present with a few fist fights involving Sombat Methanee. Sombat and Chana Sriubon also cross swords. Movie ไทยน้อย (Thai Noi) was released in 1969 and movie ไทยใหญ่ (Thai Jai) was released in 1970. Sombat and Petchara are wearing prince / princess clothes in both movies. Despite information is lacking on movie ไทยน้อย (Thai Noi), it is guessed that both movies ไทยน้อย (Thai Noi) and ไทยใหญ่ (Thai Jai) are linked together. Thanks to her unique sweet eyes and face, Thai people loved actress Petchara Chaowarat so much. She got nickname as นางเอกนัยน์ตาหยาดน้ำผึ้ง (honey eyes) or เพชรน้ำหนึ่งราชินีจอเงิน. The other 3mn30s sequence is still colorful and quite sharp. Petchara is selling fruits in a train station and sells to customers in the train when it halts temporary in the station. Petchara plays two roles in the movie. Orasa kidnaps the fruit vendor for Petchara to replace her. Certainly she is chased by some ruffians. Dokdin is selling also fruits in the train station and finds that her behavior has changed. On the way to be recognized by a ruffian, Petchara forcibly feeds Sombat with fruits to create diversion.



Year

: 1969



Thai title

:

ยอดคนจริง




English title

:



Rating

: 3/5


Director

:



Main actor

: Mitr Chaibancha,Ruj Ronnapop,Choomporn Theppitak,Sukon Koewliam,Preuhat Boonlong,Daonoi Duangjai,Chana Sriubon


Main actress

: Petchara Chaowarat,Somjit Sapsamruey
ยอดคนจริง is a Thai movie released in year 1969. It is in 16mm format so the movie is mute as such 16mm reels requires dubbing. Main actors are Mitr Chaibancha and Petchara Chaowarat. Other key actors include Ruj Ronnapop, Chana Sriubon, Choomporn Theppitak, Sukon Koewliam, Preuhat Boonlong, Daonoi Duangjai. It is a lost movie and only part of the first reel is left. A 16 minutes passage is available online. A few sequences are about Mitr listening to his boss (Preuhat Boonlong) blaming him. Mitr accepts to seat in a car following the driver's advice for a job. There is a sequence in a nightclub with dance and music concert. Mitr is recruited as bouncer in this nightclub. Fight erupts in the nightclub with Choomporn. Mitr's boss, aware of it, is going to cane him but Petchara prevents it. Working as gardener, Mitr gets comfort from his mum (Somjit Sapsamruey), Petchara and Ruj. The poster is great and shows sequences that are unfortunately not in the 16 minutes passage left. It shows that it is an action movie.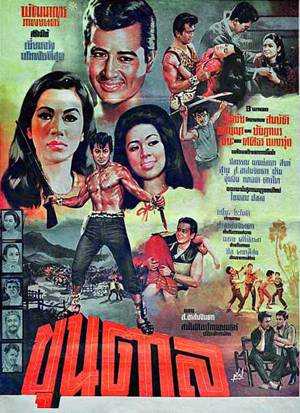 Year

: 1969



Thai title

:

ขุนตาล




English title

:



Rating

: 3/5


Director

: Sor Asanajinda



Main actor

: Sombat Methanee,Sor Asanajinda,Chana Sriubon,Luechai Natnat,Joomjim Khemlek,Sawin Sawangrat,Somkuan Krajangsat


Main actress

: Aranya Namwong,Wilaiwan Watthanaphanit,Prim Praphaporn,Chatchadaporn Laksanawed,Sasithorn Phetrung
Thai movie ขุนตาล was released in year 1969. Main actor is Sombat Methanee and main actress is Aranya Namwong. The movie is lost in Thailand but three reels remain to be seen. The whole movie is reduced to a sequence of 47 minutes so making it difficult to understand in details. Sor Asanajinda is actor and movie director. No movie summary is left to be read. The movie is in 16mm format so without sound as such format requires live dubbing. Two friends always like to fight to settle their disagreement (เพื่อนรัก). They are living in a bandit village (ชุมเสือ). One of them, called Sing (สิงห์), is having a child with Prim Praphaporn. Their son is played by Sombat Methanee. Years have passed, he is now an adult. Following some fighting, Sombat becomes the new leader and gets a crown shaped like a tiger head (มงกุฎหัวเสือ). Sombat summons a spirit doctor (หมอผี) to cure Sasitorn Phetrung (ศศิธร เพชรรุ่ง), who is blind. Some ingredients are missing. In the city, a sequence shows Chana Sriubon, Chatchadaporn Laksanawed (ชัชฎาพร), Sawin Sawangrat and Sor Asanajinda talking together. Sombat and the spirit doctor enter in Pa Sor's house to get some of the missing ingredients. Sombat meets Chadaporn and then Aranya. Wilaiwan Watthanaphanit is the mother of the two daughters, i.e. Chadaporn and Aranya. Sombat is injured by the bandit he defeated before to become the village leader. Chana Sriubon neutralises the bandit so that Sombat can run away. Luechai Natnat is then also injured in Pa Sor's house and flees. He is chased by ruffians but gets help from Sombat. Sombat comes back again to the house to have discussion with Pa Sor and ends up kidnapping Aranya and Sasitorn. Sawin and his ruffians chase them. Chana Sriubon tries to prevent them but gets neutralised. Sombat seems very unhappy over Aranya. Aranya saves Sombat's life while he is attacked again by the rogue bandit. Sawin captures Pa Sor and Chana Sriubon. Aranya asks Sombat to help Pa Sor captured by Sawin. Wilaiwan releases Chana. Luechai gets rid of Sawin. Final duel happens between Sombat and Pa Sor until they realise they are relatives (father / son?).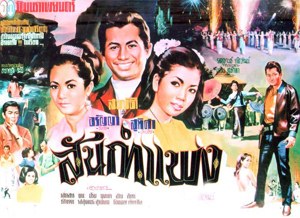 Year

: 1968



Thai title

:

สันกำแพง




English title

:



Rating

: 3/5


Director

:



Main actor

: Sombat Methanee,Chana Sriubon,Choomporn Theppitak,Sawin Sawangrat,Sithao Petcharoen


Main actress

: Aranya Namwong,Suthisa Putnuch,Prim Praphaporn
Thai movie สันกำแพง was released in year 1968. The movie is lost in Thailand but a 90 minutes sequence remains to be seen. The movie is 16mm format so in mute state as such format needs dubbing. Main actor is Sombat Methanee and there are two main actresses, i.e. Aranya Namwong and Suthisa Putnuch. Prim Praphaporn is flirting with a man. Kan (กานต์) (Sombat Methanee) and Sai Mai (สายไหม) (Aranya Namwong) are discussing together during a party. The next day, they are going to Buddhist temple (ทำบุญ) together and maybe to have a common promise. Romance is happening between them. Kan is leaving Chiang Mai by train. Primpaporn is in the same train. They have a flirt. Back to Chiang Mai, Kan is punched by the man flirting with Primpaporn. Finally Kan is reunited with Aranya through a classic scene under the rain. They take refuge in a hut due to the strong storm. They have a daughter called Sai Nam Pheung (สายน้ำผึ้ง) (Suthisa Putnuch). Prim announces to Aranya that Kan is hers. Aranya is unhappy about this news and tells it clearly to Kan. Kan blames Prim. Prim delivers a son and tries to get suicide as she cannot get Kan's love. Twenty years later, their children meet in Chiang Mai. Will they be able to have a love story after their parents' failure twenty years ago? Sombat Methanee is also playing the role of Suriyon (สุริยน) (child) and has a love story with Sai Nam Pheung. Suriyon meets Sai Nam Pheung and a romance starts during Songkran festival. Suriyon is captured by ruffians led by Choomporn Theppitak and Sawin Sawangrat. Then two Sombat Methanee can be seen on the screen, i.e. Kan and Suriyon. A fight with ruffians leader is happening in order to release Suriyon lynching on a tree by the feet. The movie features seven songs. A remake was done in year 1981 with Sorapong Chatree.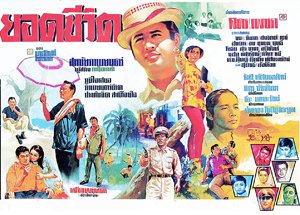 Year

: 1968



Thai title

:

ยอดชีวิต




English title

:



Rating

: 3/5


Director

:



Main actor

: Mitr Chaibancha,Somkuan Krajangsat,Chana Sriubon,Lor Tok,Sukon Koewliam,Op Boonthit,Choomporn Theppitak,Adinan Singhiran


Main actress

: Petchara Chaowarat,Kingdao Daranee,Somjit Sapsamruey
Thai movie ยอดชีวิต was released in year 1968. It features Mitr Chaibancha as main actor and Petchara Chaowarat as main actress. The movie is lost in Thailand but a sequence of 6mn30s remains to be seen. Various sequences show Somkuan Krajangsat discussing with Chana Sriubon, Mitr wearing the famous hat shown on the movie poster, a men being Mitr's father is dying, some fighting in outdoor mine, some family issues as slapping and punching happen, gun shooting. Other actors are Lor Tok, Op Boonthit, Sukon Koewliam, Kingdao Daranee, Somjit Sapsamruey, Choomporn Theppitak, Adinan Singhiran. The movie summary is still available through Thai stars old magazines.



Year

: 1967



Thai title

:

ผู้ชนะสิบทิศ ภาค 2 ตอนบุเรงนองลั่นกลองรบ




English title

: The Conqueror of Ten Directions II



Rating

: 4/5


Director

: Neramit



Main actor

: Chaiya Suriyun,Chana Sriubon,Man Teeraphol


Main actress

: Pissamai Wilaisak,Metta Roongrat



Buy now

:

This part of the second part of the "The Conqueror of Ten Directions" trilogy. Sadet (จะเด็ด) starts to be also named as Buren Nong (บุเรงนอง), his future name as a King. Sadet (จะเด็ด)(Chaiya Suriyun) is now staying in the kingdom of Phrae. Prince Sopinya from the kingdom of Hongsawadee is coming for an official visit to the kingdom of Phrae. Katima (Metta Roongrat) is also in Phrae. She is doing sword street performances to make a little money as she lost her purse. Khairoo, head of Hongsawadee swordmen, wishes to buy Katima's sword and has arguments with her. A soldier helps Katima. Katima is dressed like a man. Sadet doesn't recognize Katima and befriends with her. Sadet still uses sweet words with various princesses. Arguments happen between Sadet and Sopinya. Sadet succeeds to have Khairoo judged for malversation causing Sopinya's ire. The king of Phrae uses Sadet as councillor. Sadet is called under the name of Wang. Following Sopinya's bad influence, the king of Phrae finally decides to arrest Sadet. Sopinya proposes to the king of Phrae an alliance against the kingdom of Taungoo. Princess Kusuma (กุสุมา)(Pissamai Wilaisak) tries to warn Sadet and finds Katima in Sadet's room. It is too late. Sadet is imprisoned. Mangtra's help is needed. Mangtra is now the king of Taungoo. Taungoo's army besieges Phrae but needs to retreat. Taungoo's army is swapped away as night time in their encampment. Hongsawadee henchmen brings troubles during the blocus and Sopinya convinces Kusuma to follow him. Sopinya takes advantage over Kusuma while she is sleeping. Meanwhile taking profit of the mess, Katima succeeds to free Sadet and the other prisoners following fierce fights. Mangtra is angry with Sadet and claims he is a traitor (ทรยศ) as he stayed with Phrae instead of Taungoo. He threatens to cut his head following the 40 000 soldiers, who died for nothing. Hopefully the old monk can interfere and saves Sadet offering his own head as a guarantee. Sadet is ordered to seize Phrae and is offered 60 000 soldiers but he only requests 20 000 soldiers. If he fails, his head will be cut. Sadet wins a first battle over a fort on the way to Phrae thanks to a better strategy. Learning that Kusuma has been sent to Hongsawadee, he leaves the army and decides to go there. Sadet gets the confidence of king of Hongsawadee while Sopinya is away. Kusuma still loves Sadet and wishes to die as Sopinya forced her. A fire is provoked in Hongsawadee by Sadet's henchmen. Sadet steals Sopinya's boat and takes back Kusuma with him. The second opus features an impressive performance by actor Chaya Suriyun. The movie continues to mix romance and historical characters.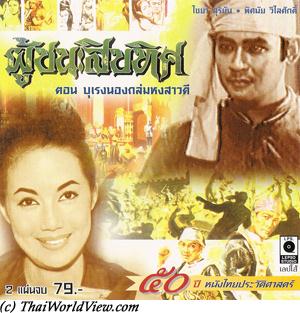 Year

: 1967



Thai title

:

ผู้ชนะสิบทิศภาคสมบูรณ์ บุเรงนองถล่มหงสาวดี




English title

: The Conqueror of Ten Directions III



Rating

: 4/5


Director

: Neramit



Main actor

: Chaiya Suriyun,Chana Sriubon,Man Teeraphol


Main actress

: Pissamai Wilaisak,Metta Roongrat



Buy now

:

This is the last opus of The Conqueror of Ten Directions trilogy. Sadet receives armors and award from Chantra, king of Taungoo kingdom. Chantra, Chantra's sister, still loves Sadet. Kusuma, Phrae kingdom princess, who also loves Sadet, hears everything and leaves for Phrae kingdom. Despite honors given, Mantra is still unhappy with Sadet, following the former military defeats but can do nothing against Sadet as he is seen as a soldier with many virtues (ทหารบารมี). Sadet comes back officially to Taungoo kingdom. The monk mentor protects Sadet as Mantra has still not decided what to with Sadet. Recently Mantra indulges in alcohol. The two men are angry against each other. The war is still ongoing between Hongsawadee and Taungoo kingdoms. Sadet decide to ordain (บวช) to wash his sins and mistakes. Chantra visits him before ordination. They declare their love towards each other once again. Chantra refuses that Sadet ordinates as the kingdom is on war. Sadet captures Khairoo, head of Hongsawadee swordmen. Then Sadet visits Kusuma in Phrae kingdom. Sadet wishes to take Kusuma to Taungoo kingdom. Sadet wants to have both ladies, Chantra and Kusuma, as wives. Khairoo, head of Hongsawadee swordmen, flees from jail and kills the monk, who was the mentor of Sadet and Mantra. Sadet decide to destroy Hongsawadee kingdom as retaliation and defeats their army. Sopinya, Hongsawadee kingdom prince, and Khairoo make an alliance with another warlord to fight Taungoo kingdom. Sadet captures the warlord. The warlord changes alliance and Hongsawadee city is definitively destroyed. Mantra defeats and kills Hongsawadee's king (พระเจ้าสการะวุตพี). Sopinya and Khairoo pay for their sins and are killed. Sadet is also loved by another lady called Katima, who is commoner. Unfortunately seeing that there is no way she can get Sadet's love for her alone, Katima gets suicide. Mantra finally renunciates to the kingdom and Sadet becomes the new king of the three unified kingdoms. The whole trilogy is more than 7 hours long. Even if the 3 VCDs are full, the original movies were in fact cut to fit the VCD format, which means 2h30mn maximum. What a pity Lepso company never releases them in DVD format!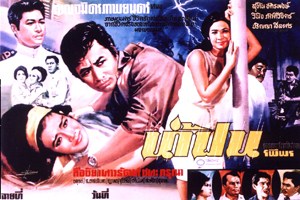 Year

: 1967



Thai title

:

น้ำฝน




English title

:



Rating

: 3/5


Director

:



Main actor

: Luechai Natnat,Lor Tok,Adul Dulyarat,Sor Asanajinda,Adinan Singhiran,Chana Sriubon


Main actress

: Naowarat Watchara,Chadaporn Wachirapranee,Yaowaret Nisakorn
Thai movie น้ำฝน was released in year 1967. It features main actor Luechai Natnat and main actress Naowarat Watchara. The movie is lost in Thailand but a 3mn30s trailer remains to be seen. Other actors are Lor Tok, Adul Dulyarat as a doctor, Sor Asanajinda, Chadaporn Wachirapranee, Yaowaret Nisakorn, Adinan Singhiran, Chana Sriubon as administrative officer and a new actress Karuna Yuwakorn (กรุณา). Luechai Natnat plays two roles. The picture is still colorful. It looks like a family drama.



Year

: 1967



Thai title

:

เหนือเกล้า




English title

:



Rating

: 3/5


Director

:



Main actor

: Mitr Chaibancha,Chana Sriubon,Choomporn Theppitak,Somkuan Krajangsat,Lor Tok,Sukon Koewliam,Sompong Phonmitr,Adinan Singhiran,Dokdin Kanyaman,Preuhat Boonlong,Op Boonthit


Main actress

: Petchara Chaowarat,Somjit Sapsamruey,Kingdao Daranee,Orasa Isarangkul
Thai movie เหนือเกล้า was released in year 1967. It is in mute mode as the film is in 16mm format so requesting live dubbing. 1h33mn is left to be seen. It still has a colorful image but the film is partially damaged. Somjit (Somjit Sapsamruey) is working as food street vendor (แม่ค้า). Her husband (Somkuan Krajangsat) is often drunk and violent. They have three kids. They have always financial problems as the father drinks a lot. Years have passed and children have grown up. One of them is Mitr Chaibancha. The others are Chana Sriubon and Choomporn Theppitak. Sompong Phonmitr is head of Thai boxing training centre. Lor Tok is his assistant. One day as the drunkard father asks for money, he becomes violent again and Somjit has to protect herself with scissors. Through an accident, the father receives a fatal injury. Somjit ends up in jail. Mitr, Sompong and Lor Tok leave and look for job to find money to pay for Somjit's bail. Mitr is recruited as Thai boxer. A first match versus Adinan Singhiran happens. Petchara Chaowarat and Dokdin Kanyaman are part of spectators. Mitr finally wins the match despite being told to lose it as he needs money to help his mother. As the match maker refuses to pay, it ends up in another fighting. Preuhat Boonlong decides to hire the three men to working in an outdoor mine. They got troubles with two men in the mine. Fed up the three friends wish to quit the job but Preuhat Boonlong convinces them to stay. The mine is attacked. Mitr pushes back the aggressors but is injured so getting the sympathy from Petchara. The mother is finally released from prison. Kingdao recruits her as domestic helper. Her boyfriend is Choomporn. Finally the mother is also reunited with Mitr. Another attack happens on the mine and Mitr is accused of murder. It ends up to trial. Scolded by his mother, Chana finally gives information that Mitr is not guilty. Ruffians wishing to take revenge on Chana and try to shoot him. The mother interposes herself and gets shot. Mitr and his brothers catch the ruffians. Movie ends up with everybody around the mother's bed at hospital. 34 stars are announced on the movie poster!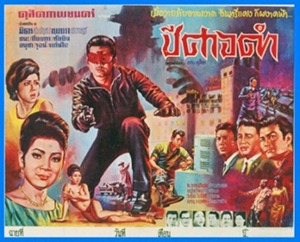 Year

: 1966



Thai title

:

ปีศาจดำ




English title

:



Rating

: 3/5


Director

: Sor Asanajinda



Main actor

: Mitr Chaibancha,Chana Sriubon,Taksin Jampol,Anucha Ratanaman,Ruj Ronnapop,Choomporn Theppitak


Main actress

: Petchara Chaowarat,Kingdao Daranee,Kaenjai Meenakanit
Thai movie ปีศาจดำ was released in year 1966. Main actor is Mitr Chaibancha and main actress is Petchara Chaowarat. The movie is lost in Thailand but a 8 minutes sequence remains to be seen at Thai Film Archives. Other actors are Chana Sriubon, Taksin Jampol, Kingdao Daranee, Anucha Ratanaman, Ruj Ronnapop, Kaenjai Meenakanit, Choomporn Theppitak. The 8 minutes sequence is divided into three small films. Two of the 3 small films still feature nice colors. It is out take sequences so scenes that were rejected in final release. Sequences allow to see Choomporn Theppitak fighting with Taksin Jampol, a Black and White scene of a man wearing black clothes and a mask, Mitr Chaibancha talking to เชาวน์ แคล่วคล่อง, Mitr Chaibancha being captured, Ruj - Taksin - Kingdao are seen. A few still pictures showing some sequences are still available.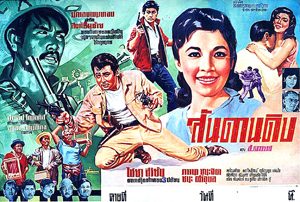 Year

: 1965



Thai title

:

สันดานดิบ




English title

:



Rating

: 3/5


Director

:



Main actor

: Chaiya Suriyun,Chana Sriubon,Lor Tok


Main actress

: Pawana Chanajit,Kaenjai Meenakanit
สันดานดิบ is a Thai western movie released in year 1965. It features three famous awarded Thai actors, i.e. Pawana Chanajit, Chana Sriubon and Chaiya Suriyun. The whole 2 hours movie is still available amid local Thai collectors but was never released on the movie market. A 25mn sequence can be seen online. This old movie still has a colorful image. It is a 16mm movie so there is no sound as it requires dubbing. Below summary is based on the 25mn sequence available online. Pawana is a doctor always willing to help poor people. Chaiya plays a ruffian (นักเลงผมทอง) always holding two guns. Chaiya tries to seduce Pawana but it causes Kaenjai Meenakanit, playing the sexy girl role, to be jealous. Two groups of ruffians shoot each other for the possession of a mysterious box probably containing drugs. Even Kaenjai is shot. The movie ends up with a ruffian kidnapping Pawana but Chaiya rescues her on time following final shootings. Many gun duels happen in this movie as it was an era where westerns movies were very popular.



Year

: 1964



Thai title

:

หัวใจเถื่อน




English title

:



Rating

: 3/5


Director

:



Main actor

: Mitr Chaibancha,Taksin Jampol,Lor Tok,Chana Sriubon,Tat Ekathat,Op Boonthit,Sukon Koewliam


Main actress

: Petchara Chaowarat,Kingdao Daranee,Yaowaret Nisakorn,Somjit Sapsamruey,Malee Wetpraseri
Thai movie หัวใจเถื่อน was released in year 1964. It features Mitr Chaibancha as main actor and Petchara Chaowarat as main actress. Other actor includes veteran Taksin Jampol. He tries to kidnap Petchara twice. The movie is lost in Thailand but a 8 minutes sequence is left to be seen. Other numerous performers are Lor Tok, Chana Sriubon, Kingdao Daranee, Yaowaret Nisakorn, Tat Ekathat, Somjit Sapsamruey, Op Boonthit, Sukon Koewliam, Malee Wetpraseri. It looks like an action movie. A few shooting sequences happen involving Mitr, Chana and Taksin. A few brawls happen with ruffians trying to kidnap Petchara. The company producing this movie belonged to Somjit and her husband Lor Tok.



Year

: 1962



Thai title

:

ดอกหญ้า




English title

:



Rating

: 3/5


Director

:



Main actor

: Chana Sriubon,Taksin Jampol,Adinan Singhiran,Phan Kam


Main actress

: Petchara Chaowarat,Sarinthip Siriwan
ดอกหญ้า is a Thai movie released in year 1962 with Petchara Chaowarat as main actress and Chana Sriubon as main actor. The movie is lost in Thailand and only a 47 seconds sequence remains to be seen. During this short sequence Petchara is discussing with a middle age man. A nanny is then carrying a baby. The sequence still has a colorful image. The partial story is a below. Siriporn (Petchara Chaowarat) is a 16 years old orphan girl living with her grandfather in Chumporn. The grandfather is a gardener. Siriporn sells the garden fruits on the local market. She meets Ms Nanthaka who sends her to study in Bangkok. Reuang Sak (Chana Sriubon) is neighbour of Ms Nanthaka. Ms Nanthaka wishes Reuang Sak to marry her daughter but Reuang Sak loves Siriporn so they get lovers before he is sent to study overseas. Ms Nanthaka's husband is a nice guy but his wife is selfish. Siriporn gets a baby with Reuang Sak. The man with the gun on the poster is the man who raised Siriporn since her youth.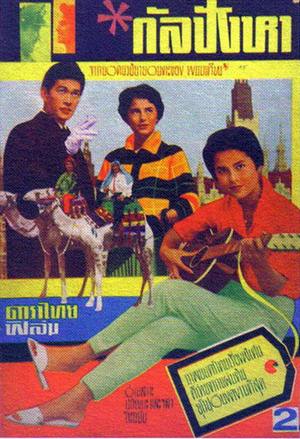 Year

: 1962



Thai title

:

กัลปังหา




English title

:



Rating

: 3/5


Director

: Wichit Khunawut



Main actor

: Chana Sriubon,Ruj Ronnapop,Sukon Koewliam,Preuhat Boonlong,Boo Wibunnan


Main actress

: Kesarin Patamawan,Amara Asavananda
Thai movie กัลปังหา was released in year 1962. It features Chana Sriubon as main actor and Kesarin Patamawan (เกศริน ปัทมวรรณ) as main actress. Back from overseas, Kung (Kesarin Patamawan) doesn't want to study anymore as she is old enough. His parents are worried she just wants to have fun with friends. Kung has met Chris (Chana Sriubon) in Italy. Back to Thailand, she meets a fisherman called Naemai (also played by Chana Sriubon) near her home and sympathizes with him. Other actors are Ruj Ronnapop and Boo Wibunnan. She even forces her way (คนดือ) on his boat to see how the life on a boat is. But she takes unreasonable risks. Romance starts between them. Kung receives a request for engagement from Chris. Naemai is arrested by the police. Naemai is Chris' younger brother. Finally aware of the love between Naemai and Kung, Chris breaks his engagement with Kung and lets them having happiness. A VHS from the 16mm film was released in 1992 at the same time as Thai movie สาวน้อย. Director of this movie is famous director Wichit Khunawut. Thai actress Kesarin Patamawan (เกศริน ปัทมวรรณ) played in less than 10 movies before moving to USA. Chana Sriubon played in many other movies with various famous actresses such as in แม่ (with Ratanaporn Intarakamhaeng), ยอดพิศวาส (with สุทิน บัณฑิตกุล), จอมใจเวียงฟ้า (with Metta Roongrat), ก่อนอรุณจะรุ่ง (with Prapan Narkthong), โรงแรมนรก (with Sarinthip Siriwan), สองฝั่งฟ้า (with Pissamai Wilaisak), หมอกสวาท (with Petchara Chaowarat). A remake of movie กัลปังหา with Jarunee Sooksawad, Sorapong Chatree and Nirut Sirijanya was released in year 1985.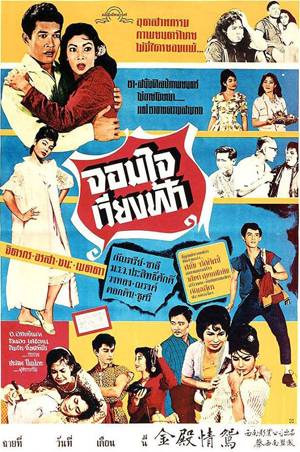 Year

: 1962



Thai title

:

จอมใจเวียงฟ้า




English title

:



Rating

: 3/5


Director

:



Main actor

: Chana Sriubon,Dokdin Kanyaman


Main actress

: Metta Roongrat,Chosri Misommon
Thai movie จอมใจเวียงฟ้า was released in year 1962. The movie is lost in Thailand but a very damaged sequence of four minutes remain to be seen. It looks like a drama with murders. Actors and actresses seen in the left sequence include Dokdin Kanyaman, Metta Roongrat, Chana Sriubon, Chosri Misommon, จิตรกร, อรสา, กัณฑรีย์, ชาลี, มรว.ประสิทธิศักดิ์, วงทอง, ณรงค์.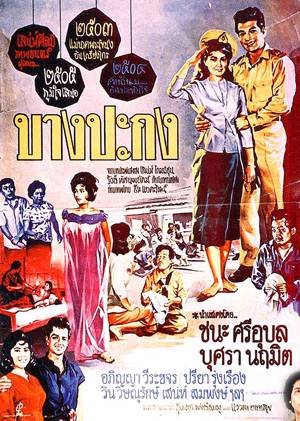 Year

: 1961



Thai title

:

บางปะกง




English title

:



Rating

: 3/5


Director

:



Main actor

: Chana Sriubon,Sompong Phonmitr


Main actress

: Boosara Narumit,Preeya Roongrueng,Malee Wetpraseri
Thai movie บางปะกง was released in year 1961. The movie is lost in Thailand but a sequence of 35 minutes (two reels) remains to be seen. In the first part of the movie Chana Sriubon and Boosara Narumit are having the main roles and then are playing the parents' roles in the second part of the movie. New actors as main actor (ชุมพร พงษ์ชมพู) and main actress (แววตา อาษาสุข) are playing in the second part of the movie. A wedding ceremony involving Chana Sriubon and Preeya Roongrueng happens. Chana is not happy to marry her as he was forced by his mother (Malee Wetpraseri). A child is born with Boosara Narumit, Chana's real love. At nighttime the husband leaves Preeya to find Boosara. Malee Wetpraseri engages a robber to attack Boosara at nighttime but her father (เสน่ห์ โกมารชุน) protects her. But the robber lies so the father and Boosara are finally chased from the home and take refuge in Bang Pakong. Boosara's child is kidnapped per the mother's orders. Boosara has to kill her boss trying to abuse her but ends up in jail. Her father finally dies also. Twenty years have passed. Boosara is released from jail. She is welcome to stay in Win's home. Win (วิน วิษณุรักษ์) is now married to อภิญญา วีระขจร. She finally meets a young lady (แววตา อาษาสุข) having a pendant with a picture of Chana. She understands the young lady is her daughter (ลูกแม่). Her boyfriend (ชุมพร พงษ์ชมพู) is also a soldier similar to Chana's position twenty years ago. She gives her a gift offered by Chana before. When Chana sees this gift, he knows Boosara is still alive. Disappointed by life, Boosara tries to get suicide by jumping from a bridge but she is rescued by Win. She is finally reunited with her daughter. The movie was done by the same producer of movie Mae nak Phra khanong with actress Preeya Roongrueng already.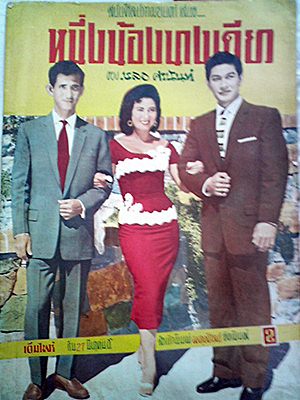 Year

: 1959



Thai title

:

หนึ่งน้องนางเดียว




English title

:



Rating

: 3/5


Director

:



Main actor

: Chana Sriubon,Taksin Jampol,Dokdin Kanyaman


Main actress

: Amara Asavananda
Thai movie หนึ่งน้องนางเดียว was released in year 1959. The movie is lost in Thailand but luckily a sequence of 1h06mn30s remains to be seen. Main actor Chana Sriubon is and main actress is Amara Asavananda. This is a movie in 16mm format so requiring live dubbing so the left sequence is in mute state. The remaining sequence is still colorful. Amara Asavananda and her hunchbacked brother (Taksin Jampol) are living in the forest. They find Chana Sriubon, who is injured. Dokdin Kanyaman is looking for Chana. Amara takes care of Chana while he is sick. Love emerges between Amara and Chana. Fighting happens with the hunchbacked brother as he doesn't trust Bangkok people. Chana finally leaves but promises to come back. Amara has now a child from him but Chana is not yet back. They visit Chana in Bangkok but are chased away as he is already married or engaged. They move to South of Thailand. Amara finds a treasure full of expensive jewels. While visiting South of Thailand, Chana meets a beautiful lady but he doesn't recognise she is Amara. Amara starts to create remorses about his previous behavior and Chana has nightmares. A local shaman (หมอผี) is used by the hunchbacked brother. Chana flees his house and takes refuge in Amara's place. Amara falls again for Chana and this makes Taksin upset. He is looking for revenge. Taksin has no more hunch. They have moved to a new beautiful house. The hunchbacked brother brought chance. Is Chana dreaming as he cannot believe that the previous people from the forest are now rich people? He is confused. The remaining sequence stops here. A remake was released in year 1980. It was featuring Sombat Methanee and Pissamai Wilaisak. It is still available on VCD format. The story is very similar.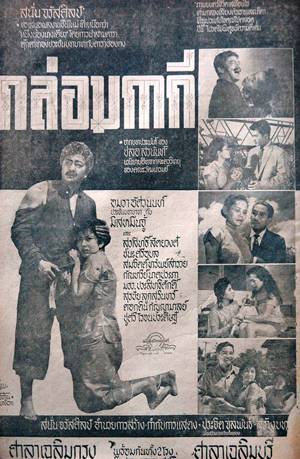 Year

: 1959



Thai title

:

กล่อมกากี




English title

:



Rating

: 3/5


Director

:



Main actor

: Chana Sriubon,Surasit Sattayawong,Dokdin Kanyaman


Main actress

: Amara Asavananda,Somjit Sapsamruey,Chosri Misommon,Sulaleewan Suwanthat
Thai movie กล่อมกากี was released in year 1959. It features Amara Asavananda as main actress and Chana Sriubon as main actor. Thong (Surasit Sattayawong) helps a pregnant woman called Yinfa (Somjit Sapsamruey). She is going to jump from a bridge. He saves her life. Her born daughter is called Buakim (Amara Asavananda) and is raised by Thong. Being adult, Buakim finds a job in an office but issues happen. Chana (Chana Sriubon), the staff manager, solves the issues. As uncle Thong is sick, Buakim asks for a three days off and salary advance to the boss (เป็นพิเศษ). Buakim ends up being domestic helper (แม่บ้าน) for Chana's family. Chana doesn't have any mother. Buakim doesn't have any father. So they have a common understanding. Buakim is poor (ยากจน / พบแค่ความทุกข์). She is accused of having stolen money in the house. It is in fact a plan by the younger wife of the boss asking Mae Nim (Sulaleewan Suwanthat) to play trick to Buakim. When Chana finishes his university degree, he wishes to marry with Buakim. Buakim is reluctant as she is only a domestic helper. Thong warns the boss' wife to stop harassing Buakim. Yinfa realises that Chana is her lost son so she asks Buakim to stop seeing Chana. Upset Chana feels betrayed and slaps Buakim. Thong protects Buakim. Chana understands the truth and visits his lost mother. Finally they are all reunited thanks to Thong. Chana loses a wife but gains a mother and sister. Part of the movie is dubbed as it was released earlier in video tape format. It was never released in another format as the movie was not successful enough in VHS format. It lasts around 1h30mn. A Hong Kong actress is also involved, i.e. Miss Minchoo (หมิ่นจู้).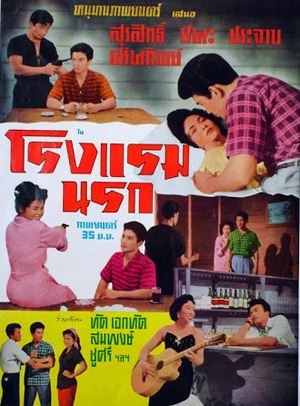 Year

: 1957



Thai title

:

โรงแรมนรก




English title

: Country Hotel



Rating

: 5/5


Director

: Ratana Pestonji



Main actor

: Prachuap Ruekyamdee,Chana Sriubon,Sompong Phonmitr,Tat Ekathat


Main actress

: Sarinthip Siriwan
The hotel bar caretaker Noi is a brave guy (Prachuap Ruekyamdee) but he is a bit gullible and too nice to customers. The hotel is used as rehearsal hall by choral or a Philippine artist such as miss Flora or Chinese opera (งิ้ว) or even a boxing match. The hotel is often used for arm wrestling competition. The caretaker Noi can often beat men much stronger than him. This strange hotel has only one room and it is already occupied by Mr Chana (Chana Sriubon). Issue arises when a young lady called Riem (Sarinthip Siriwan) asks for a room also. Chana renames the hotel Paradise as hotel Hell (โรงแรมนรก) as it is too noisy. Chana and Riem keep arguing for the room and even fight for pillows (ใจดำ). Chana is getting mad as he cannot sleep properly. Rumors about bandit Seua Din reach the hotel. Taking a bath in a nearby river, Riem needs to borrow Chana's gun to protect herself in case Seua Din is around. As Chana refuses, she bets with him and wins a shooting game. Three ruffians including a fierce guy called Krai are looking for Chana as he is an accountant. They wish to rob his money before he pays company salaries. Noi's uncle is shot. Riem is back when they start to beat Noi and Chana to know when the money arrives. The ruffians are quite polite (เสือสุภาพบุรุษ) but determined to get the money. Noi tells that Riem is Chana's wife. To make Chana speaks, the ruffians threaten his wife's integrity. Chana finally accepts to tell that money will arrive at 4am. Love emerges between Riem and Chana. One of the ruffians helps Noi as he was looking for honest job and not a thief job. Krai shoots his two friends at nighttime as he believes they betrayed him by protecting Chana. Seua Din enters in the hotel and wishes to get the money also with no sharing. So a Russian roulette game is organised between Krai and Seua Din. Seua Din is very polite (เสือสุภาพบุรุษ) also but not Krai who breaks the game rules and shoots him. Chana and Noi capture Krai. The agent sending the money was Riem, daughter of the company owner. Chana and Riem cannot marry as Chana believes he is a small accountant only. Riem succeeds to convince him. There is a great performance of Prachuap Ruekyamdee who is playing a major role here instead of being a second role in a movie with leading actor Mitr Chaibancha. The movie scenario is very witty. Country Hotel (โรงแรมนรก) is a 1957 black and white movie lasting 2h19mn. It was filmed in 35mm format (using real actors voice) at the opposite of mainstream Thai movies using 16mm format (using dubbers). The movie received 3 awards in 1959 (best director, best image, best sound). The bar can still be found at Thai Film Archives museum. Western classical music is used. There is a great soundtrack used to create special ambience when fighting is happening. It is an indoor movie shooting.
---