Increase or decrease font size for easier reading : A+ A-
Bin Banleurit
Bin Banleurit (1963) - บิณฑ์ บรรลือฤทธิ์
Bin Banleurit is the older twin brother of Ekapan Banleurit. His first major role was in movie ทับทิมโทน as leading actor. He got three Thai Movie awards as Best Actor in 1986, 1989 and 2000. He played in more than 60 movies
This Bin Banleurit movie page contains 42 records.
---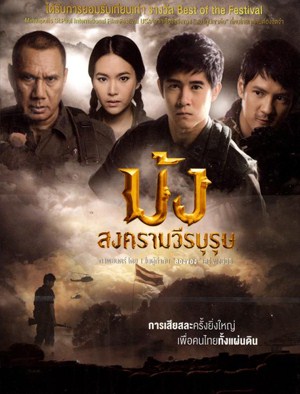 Year

: 2012



Thai title

:

ม้ง สงครามวีรบุรุษ




English title

: Hmong, blood for freedom



Rating

: 3/5


Director

:



Main actor

: Sorapong Chatree,Nard Poowanai,Suchao Pongwilai,Rith Luecha,Bin Banleurit


Main actress

:



Buy now

:

Thai movie ม้ง สงครามวีรบุรุษ (Hmong, blood for freedom) was released in year 2012. It is based on real facts in years 1962-1965. Mountain people (แมว / ชาวโมง) are harassed by ruffians (เจ้าหน้าที่). Their leader is Kamnan Saeng (Rith Luecha). Militaries (Sorapong Chatree,Nard Poowanai,Suchao Pongwilai) are worried by Communist influence. Thai soldiers attack a village believing there are communists inside (ใครเป็นชาวบ้านใครเป็นcommunist). For many soldiers, those mountain people have no value except for Sorapong. Bin Banleurit as soldier is shot by the mountain leader, who is also shot. Sorapong takes responsibility of the mountain leader's son. The mountain leader is only injured and joined the communist resistance (สหาย). His young daughter also joins him. Bin's helicopter is shot down. 15 years have passed. Keng (mountain leader's son) and Aya (Bin's daughter) are now adults. Ken asks Sorapong to perform his duty as Thai soldier in the mountains area. Sorapong is reluctant as he could face former former relatives. Which side would Keng choose (ทรยศแผ่นดินไทย)? Finally he lets him go. Aya and her students friends are captured while trying to find the remaining of her father's helicopter in the forest. While dispatched by helicopter on zone, Keng is captured. His real father remembers the pendant he gave him 15 years ago. Keng helps Aya to find the helicopter of his father and to perform proper Buddhist ceremony with the body remains. Keng's brother, who is a policeman, extracts him from the tribal village. Keng is back in Thai army. A government amnesty is given to all who joined the guerilla war. Hardcore communist members hesitate to surrender. Keng is looking for his father and sister. Other guerilla members don't trust Keng, who is a Thai soldier. Finally Thai soldiers attack the village. Keng's sister is killed and the father is injured. The guerilla is defeated. While raising the Thai flag, one Hmong tribe member shots Thai soldiers causing the Thai flag to fall. Keng prevents the Thai flag to hit the soil but gets deadly injured. He makes his father promises to stop fighting. This nationalist trend movie with many Thai stars from 1970s recalls movies from this era with stress on Monarchy and sacrifice to protect Thai Nation.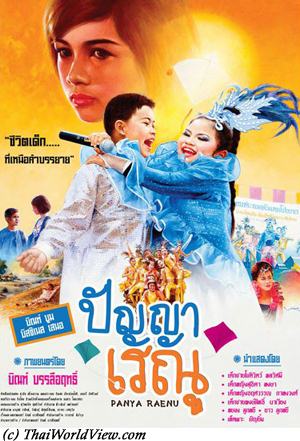 Year

: 2011



Thai title

:

ปัญญาเรณู




English title

: Panya Raenu



Rating

: 5/5


Director

: Bin Banleurit



Main actor

: Kowit Wattanakul,Mum Jokmok,Bin Banleurit


Main actress

:



Buy now

:

Panya (ปัญญา), young boy, and Raenu (เรณู), young girl, are school children in an Isan village. While studying, they have issues with another student who is cheating during exams. Raenu is protecting Panya against this student! It looks like Panya and Raenu will marry together when they will be adults. This movie nicely depicts Isan village life (วัฒนธรรมอีสาน). Panya steals fish in a neighbour rice field but gets punished by catching a disagreeable worm. The teachers are preparing school performances with molam music. Panya is the school molam singer. But they are not doing well due to lack of dancers and equipment. Panya secretly promises to ordain if his school wins. The bus of a Bangkokian school is damaged near the village. They have to stay overnight in the village school. Bangkok girls (เด็กกรุงเทพฯ) have difficulties to get used to Isan food. There is a contrast between Isan boys with dark skin versus Bangkok girls with white skin. They discover Isan village life (วีถีชีวิตของชาวอีสาน) and help on some tasks such as planting rice, bugs, snakes and lizards catching. As a puppy love starts between Panya and a Bangkok girl called Miu, Raenu is very upset with Panya (คนหลายใจ). Five husbands die the same night in the village. A Shaman (แม่หมอ) is called to understand what is going on. The shaman claims a ghost is around (ผีแม่ม่าย) so all men have to wear women clothes a few days in order to fool the ghost. Raenu claims to be possessed also in order to ask Panya to love Raenu only. Ghost belief is still strongly present in Isan. The school needs to find 100 000 baht to buy music instrument to be able to join the village Molam competition. Panya dreams to be a singer. Even the Buddhist abbot doesn't have such amount of money. Hopefully a layman donates 300 000 baht to the temple so the abbot can help the school. Monks are very close to the community. The village can then participate to the contest. Miu helps to bring a Bangkok teacher to help the students to dance properly. Panya's Bangkok friends even promise to join. There is then great molam performances with dozens of dancers and very entertaining songs at the contest (วงมอลำ). Thanks to late arrival of the Bangkok friends on a tractor, Panya's team wins. Even the member of Parliament (ส.ส.) dances! After the victory, some robbers enter in his parents' home. Panya gets shot and ends up at the hospital. Panya is finally saved as he is ordained by the abbot at the last minute. The power of faith in Buddha saves him as he could fulfil his earlier promise. This movie got 13M bath revenue in 2011. A version 2 (ภาค2) was released in 2012. Lao / Isan language is used with Thai subtitles. This movie reminds of "Mon rak luk thung" (มนต์รักลูกทุ่ง) and "Luuk Isan" (ลูกอีสาน). This movie is a great homage to Isan region and features a few famous Isan actors such as comic Mum Jokmok.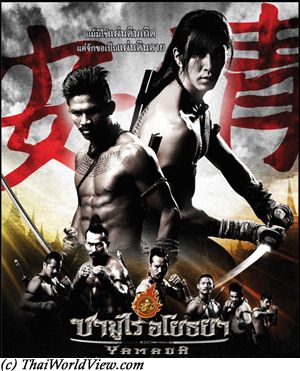 Year

: 2010



Thai title

:

ซามูไร อโยธยา




English title

: Yamada The Samurai Of Ayothaya



Rating

: 4/5


Director

:



Main actor

: Sorapong Chatree,Vinai Kraibutr,Bin Banleurit


Main actress

: Kanokkorn Jaichuen



Buy now

:

Yamada is a Japanese samurai living in Thailand during Ayutthaya period. This movie praises the diplomatic relationships between Thailand and Japan. Some Japanese and Thai soldiers assure the protection of King Naresuan. Yamada, following a feast in Ayutthaya former Japanese village (หมู่บ้านของชาวญี่ปุ่น), is betrayed and attacked by some Japanese ninjas led by traitor Kaito. He was about to be killed when Siamese warriors rescue him. Japanese sword skills are not enough versus Thai boxing skills! Injured, Yamada is cured in Phitsanulok. Traditional medicine, done by the local abbot (Sorapong Chatree), helps him to recover fast. Kaito sends his ninjas to find him as Yamada knows his betrayal. Local Thai people call Yamada as "white face" (หน้าขาว) or "I jipun" (ญี่ปุ่น)! The local abbot is very active to protect Ayutthaya and teaches to Thai soldiers the art (ศิลปะ) of Thai boxing (มวยไทย) with the support of strong warrior Aikham. Champa is the young lady taking care of Yamada during his recovery. Old Thai traditions are nicely shown such as eat betel, big protective tattoos on the body, charming scenes with boats and rivers (คลอง), representation of old traditions and old games. Yamada is very thankful for the cure received. So he wishes to help Ayutthaya kingdom to pay his debt back. A love story also starts with Champa. The Japanese ninjas finally find him but fail to kill him. The villagers now understand Yamada must have an important secret. Yamada wishes to learn Thai boxing but it is an art dedicated to Thai people only. He wish to become the abbot disciple (ลูกศิษย์) and convinces him by proving he is now an Ayutthaya citizen in his heart also. The training starts and despite difficulties, he is finally accepted by other Thai boxing fighters and wins their friendship. Nation love is not only for born citizen but for everybody who has it in his heart. He offers his samurai sword to Aikham (พี่น้อกัน). Following a sacred tattoo session, Yamada has now Ayutthaya blood in his veins. He is accepted inside the King's private guards. 200 Burmese soldiers enter the Thai Kingdom. The King sends ten of his best fighters including Yamada to neutralize them. They succeed. Thematic regarding "Love the King, love the nation" is highlighted. Nationalism is often seen in Thai movies with historical theme. Yamada has to leave the Thai village and to go back to Japan but in fact he wishes to get revenge over Kaito. Yamada has to fight against 100 warriors to reach Kaito but hopefully Aikham helps him. Kaito uses a gun to shoot Yamada but Aikham is the one injured and dies. Yamada takes revenge over Kaito and stays in Thailand. It is based on the real historical character Yamada Nagamasa, who was a Japanese adventurer who gained considerable influence in Thailand at the beginning of the 17th century and became the governor of the Nakhon Si Thammarat province in southern Thailand. This movie uses many strong CGI effects to show the bloody fights. Buakaw Por Pramuk (บัวขาว ป. ประมุข), real Thai kickboxer, starred as a Thai soldier. The movie was also shown in Japan.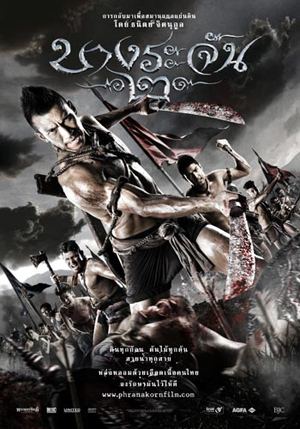 Year

: 2010



Thai title

:

บางระจัน 2




English title

: Bang Rajan 2



Rating

: 3/5


Director

: Thanit Jitnukul



Main actor

: Chatchai Plengpanich,Vinai Kraibutr,Choomporn Theppitak,Bin Banleurit,Paradorn Srichaphan


Main actress

:



Buy now

:

After the fall of Bang Rajan, a group of Thai warriors is left and settle a remote hidden village. With the help of a charismatic Buddhist abbot (หลวงพ่อ), they decide to fight back. Burmese army is looking for them. It results in embuscades. Bloody sequences with CGI similar to US movie "300", head cuts, blood splitting on the screen are featured. This is a nationalist trend movie as Thai people cannot let Burmese army occupies their land (แผ่นดินของเรา). They all think about their life when the war will be over. Currently food is not enough in the village (ชุม) as many people take refuge there (คนเยอะ). Chatchai Plengpanich is playing a soldier (ทหาร), i.e. Phaya. His group is overwhelmed by Burmese soldiers in the forest but he gets help from the former Bang Rajan soldiers. Ayutthaya capital (กรุงศรีอยุธยา) is burning in the background. Tensions happen between soldiers and villagers (ชาวบ้าน). Burmese use some villagers through coercion to try to kill the Buddhist abbot (บารมีหลวงพ่อ). As they fail, all their relatives are killed by Burmese. Phaya asks for a revolt to end the everyday deaths. They have to choose between hide or fight. Two profiles of collaborators with Burmese are shown, a woman (being a courtesan with the Burmese leader in order to get food for her captive mother) and a slave (being passive in front of Burmese soldiers in order to save his life). The Burmese soldiers steal a huge Buddha statue from Ayutthaya to bring it back home. Thai warriors defeat the Burmese soldiers and succeed to save the Buddha statue (so huge that CGI effects have to be used). The courtesan and the slave being deceived by the Burmese change side. The spirits of Bang Rajan fighters (veteran actors from Bang Rajan movie part 1 : Vinai Kraibutr, Choomporn Theppitak, Bin Banleurit) give to the fighters additional strength. A bigger army comes. The abbot accepts to surrender to spare the villagers lives. The monk announces to the Burmese general that they will never win as long as there are warriors like Bang Rajan villagers in Thailand. The abbot is sentenced to death. The Thai warriors seem to face a too big army to be able to win. But Bang Rajan spirit is on forever. Former Thai tennis star Paradorn Srichaphan played in this movie. The movie lasts 2h02mn.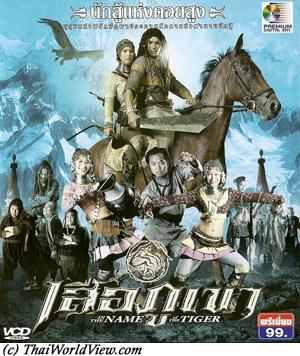 Year

: 2005



Thai title

:

เสือภูเขา




English title

: In the name of the tiger



Rating

: 2/5


Director

:



Main actor

: Krung Srivilai,Ekapan Banleurit,Note Chernyim,Somchai Sakdikul,Bin Banleurit,Chusak Aiemsuk


Main actress

:



Buy now

:

Two groups, led by Hua Jayae and Thao Lai Kan, are worshipping a tiger rock deity. They fight against each other for the control of the village. A volcano eruption happens. A mysterious man then appears on the rock. He is a great fighter. His name is Phi Seua. There is a belief that he is the one depicted on old drawings inside a local cave. The deity guardian mentions that Phi Seua is coming here to help Hua Jayae. In fact, Phi Seua accepts gold from both parties. Phi Seua meets Mai Tho, young lady, who is part of a Padaung giraffe women village. As she is assaulted by Thao Lai Kan's ruffians, Phi Seua helps her. As he protects the Padaung village, he is now hunted by the two groups. Phi Seua then faces various criminals, i.e. the hell twins (แฝดนรก) played by the real Banleurit twins, seven brothers with a face similar to famous actor Sangthong Sreesai (สังข์ทอง สีใส), a big and fat ruffian commanding a Godzilla monster. Phi Seua then becomes the Padaung villager's trainer. Phi Seua leaves the Padaung giraffe women village, which is then attacked. Mai Tho is kidnaped so Phi Seua has to come back to help and defeat the bad guys. This movie is similar to a Manga story. It mixes comedy and action. It has many references to famous movies such as Lord of the rings, the return of the Jedi, western spaghetti, the Magnificent Seven. It includes many famous comic actors from decade 2000s.



Year

: 2000



Thai title

:

บางระจัน




English title

: Bang Rajan



Rating

: 4/5


Director

: Thanit Jitnukul



Main actor

: Bin Banleurit,Vinai Kraibutr,Choomporn Theppitak


Main actress

:
In 1766 the Burmese were moving close to Ayutthaya. But before they could reach the capital, the Burmese soldiers had to pass through Bang Rajan, a town northwest of Ayutthaya. Led by a few brave souls, the Bang Rajan villagers put up a strong fight against an entire Burmese army. During several months and many assaults, the villagers stood strong, until finally they were overwhelmed. The movie was Thailand's biggest box office hit ever until movie Suriyothai was released. Bang Rajan 2 is on the way for 2010! This historical epic is based on the theme of ancient rivalry with Burma and ferocious patriotism. The Culture Ministry registers 25 Thai classic films each year at the National Film Heritage Registry. This movie is part of the 25 films heritage list announced on 04 October 2015, which is Thai Movies Conservation Day.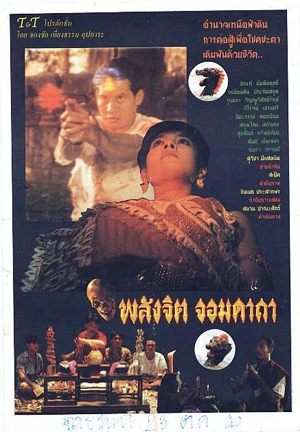 Year

: 1997



Thai title

:

พลังจิตจอมคาถา




English title

:



Rating

: 3/5


Director

:



Main actor

: Bin Banleurit,Suchao Pongwilai,Paen Pleumsachai


Main actress

:
Thai movie พลังจิตจอมคาถา was released in year 1997 and lasts 1h27mn. It was released under VHS format. It is Thai movie ผีสองนาง (1989) re-sequenced. Two spirit doctors (หมอผี), Rawin (Bin Banleurit) and Koi, are confronting each other. Master (อาจารย์) Koi is defeated and requests help from elder brother (พี่) Suchao Pongwilai to extract an arrow sent by Rawin. Two young rich ladies are travelling with their convoy. They are attacked by robbers. A local man helps them to flee but they are chased by the robbers and fall in the river. Their treasure also falls in the water. The elder sister drowns. The local man takes care of the younger sister. A shrine is built to remember the elder sister, who drowned there. Teenager Akio refuses to pay respect (ไม่เคารพ) to the shrine of the female guardian spirit (เจ้าแม่). During the night, the female guardian spirit drags her into the river. Uncle Ping (Paen Pleumsachai) consults master Rawin, who discloses the daughter was captured by the female guardian spirit. The female guardian spirit refuses to release Akio. Rawin promises to help. Rawin confronts the female guardian spirit, having a snake form, and defeats her. The female guardian spirit accepts reluctantly to release Akio. Suchao learns that the female guardian spirit was injured by Rawin so he wishes to defeat her to get all the merit. Meanwhile, the female guardian spirit changes her physical appearance to lie to elderly people. She asks them to get an unction from Rawin to cure her injuries. Being fooled, Rawin is worried that the female guardian spirit will attack villagers again. He blocks her spirit house, so she has nowhere to go. Rawin learns from a spirit doctor that a Cambodian teacher is also looking to harm him. The teacher is defeated by Rawin and requests help from master Poo. At nighttime, the female guardian spirit contacts Rawin and discloses to him where her treasure is hidden. She wishes to share it with poor people in the village to do good deeds and to ease her rebirth. Rawin promises to help the good-hearted female guardian spirit (เจ้าแม่ใจบุญ). Rawin plunges in the river and gets back the treasure as mentioned by the female guardian spirit. Master Poo is aware the treasure is now with Rawin. At nighttime, master Poo makes Rawin and friends to sleep, so they kidnap them and steal the treasure. The female guardian spirit helps by sending two figurines keeping her shrine to release Rawin. Meanwhile ruffians are out to burn the female guardian spirit shrine. The Cambodian master is killed by the female guardian spirit. Rawin is grateful for the female guardian spirit's help. Aware, master Poo decides to strike back. A confrontation occurs between Poo and Rawin. Rawin is about to be defeated by Poo but the female guardian spirit interposes. She uses her sister and new husband to replace Poo's magic stick with a fake stick, so he can be defeated by Rawin. The movie ends with a big celebration around the female guardian spirit shrine to thank her for her treasure donation for the village.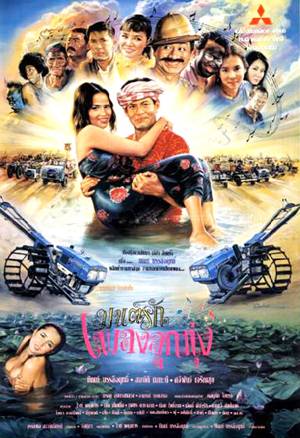 Year

: 1995



Thai title

:

มนต์รักเพลงลูกทุ่ง




English title

:



Rating

: 4/5


Director

: Bin Banleurit



Main actor

: Bin Banleurit,Sombat Methanee


Main actress

:
Movie มนต์รักเพลงลูกทุ่ง (1995) is sponsored by Mitsubishi motors company Ltd as the movie starts by a real mitsubishi advertisement. During the whole movie, the brand can be seen very often on tractors or various signs. Such movies are often called Nang Isan (หนังสายอีสาน / หนังภาคอีสาน). Such movies were targeted for provinces and not really for Bangkok area (ออกมาฉายตามต่างจังหวัด). Thon (Bin Banleurit) tries to seduce Pin (คืนนี้พี่จะบอก) and wishes to marry her but her father (Sombat Methanee) is not willing to give her hand to Thon. Sombat is old fashioned (โบราณเป็นน้อย). Some villagers are willing to help Thon. Thon is having issues with Chatchana as Chatchana wishes also to seduce Pin. Fighting over Pin happens between Thon and Chatchana. Dao, Chatchana's girlfriend, arrives from Bangkok in the village. The green papaya salad (ส้มตำ) seller is Sombat's girlfriend and he always needs to find excuses to go to see her. Sombat forbids Pin to meet Thon again. A few romances happen in parallel (Ek and Tong Yoi). Dao, in order to make Chatchana jealous, announces her wedding with Thon! So Thon announces his intention to marry Pin! Misunderstandings happen (คนหลายใจ). A wedding procession (กระบวนแต่งงาน) led by Chatchana is on the way to Sombat's home but he warns Pin at the last minute (เกลียดพ่อ). Thon and Pin decide to flee. A race of farm multi purpose trucks is organized. The winner will marry Pin. Despite his Mitsubishi motor Thon loses! Chatchana knowing he will never get Pin's heart gives her to Thon. The movie lasts 1h56mn. It features new or quite unknown actors / actresses such as ศจีพันธ์ เจริญสุข-มรกต อุ่นบางหลวง-อาภรณ์ บุญเสนอ-ดลฤทัย ไอยรา. The sequences of successive gags in this movie remind some of the jokes found in Baan Phi Pop (บ้านผีปอบ) movies. There is typical usage of people having ill-favored face to look like ghost (ผี) same as actor Songthong two decades ago. Such Isan movies feature typical sequences with villagers peeping girls using sarong (ผ้าถุง) when taking a bath in local pond. Isan symbols such as farm multi purpose truck (รถอีแต๋น), green papaya salad are well featured. Movie มนต์รักเพลงลูกทุ่ง is a mix of romance, comedy and songs. Seven great songs are featured. This movie is inspired from the famous Mon Rak Luuk Thung (มนต์รักลูกทุ่ง) 1970 movie.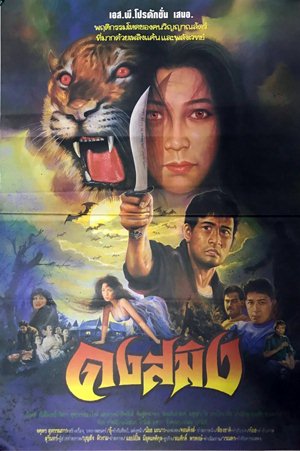 Year

: 1994



Thai title

:

ดงสมิง




English title

:



Rating

: 3/5


Director

:



Main actor

: Bin Banleurit,White Padungkan


Main actress

:
Thai movie ดงสมิง was released in year 1994 and 1h25mn. It was released under VCD format. Lady Yom is aggressed by a tiger spirit at night time. Niyom (White Padungkan) and Rat (Bin Banleurit) arrive in the village as government officials. Village leader (ผู้ใหญ่) Sing and her sister Chaoba welcome them. Mek (นักเลงใหญ่) doesn't welcome them. Mek loves Chaoba but it is not reciprocal. Mek despise Niyom and Rat as Chaoba appreciates them. The village leader Sing has a weird behavior. Another lady is killed in the village. Sing cannot come at the ceremony as he is sick. Sing discusses with an older man, being the village หมอผี Yong, about transferring his tiger fearful spirit to somebody else. Conflicts occur between the two men as the spirit doctor mentions to use Chaoba to transfer the tiger spirit. Sing doesn't want his younger sister to become the new heir (ทายาด). Sing fails to kill the spirit doctor Yong and is injured in the fighting. Niyom and Rat organize a hunt to find the suspected tiger. Sing is severely sick and dies. The spirit doctor wishes to burn immediately the body but Chaoba wishes to follow Thai tradition and keeps the body for 100 days. Chaoba starts to vomit so Mek believes she is pregnant with Rat. Yong believes the tiger spirit entered in Rat's body after Sing's death. Another death occurs. Mek accuses the two Bangkokian men. The villagers try to stone Rat, but Yong interposes. Finally, Chaoba changes a lot as she is the one possessed by the tiger spirit. Mek is killed while trying to abuse Chaoba. Sing got tiger oil filter (น้ำมันพรายเสือสมิง) from Cambodia. Yong, Niyom and Rat visit the doctor spirit to know how to release Chaoba from the tiger spirit. A ceremony is organized to expel the tiger spirit from Chaoba body. The spirit fights back but Chaoba recovers and becomes a normal person again.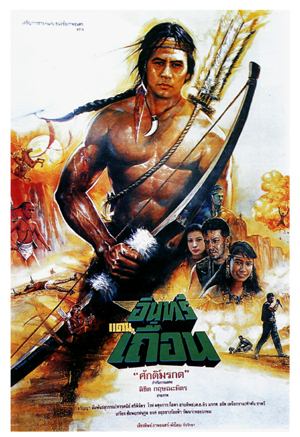 Year

: 1994



Thai title

:

อินทรีแดนเถื่อน




English title

:



Rating

: 3/5


Director

:



Main actor

: Bin Banleurit,White Padungkan


Main actress

:
Thai movie อินทรีแดนเถื่อน was released in year 1994 and lasts 1h25mn. It is available under VCD format with an average picture quality. Lepso company released it but changed the name to โคตรนักเลง. Movie director is ศักดิ์มรกต. Actresses and actors featured in this movie are Bin Banleurit, สรัญญา สัมพันธ์สุวรรณ, ทรรศนีย์ ศรีพิจิตร, White Padungkan, โอดา อาบทิพย์. An expedition occurs in the jungle and is led by Tot Ton (White Padungkan). A single man Dong, used to jungle fighting, attack them and kills them one by one. Injured, Tot Ton is rescued by a lady, called Kratae, living in a village located in the jungle. Strangers are not welcome in the village (คนแปลกหน้า). Tot Ton finds children playing with pure gold stones (ทองคำบริสุทธิ์). He must leave the village but promises to come back. Later, young strong man Lio Daeng (Bin Banleurit) defeats Dong. He is Kratae's husband and is also the village leader. Lio Daeng is a strong fighter (วิญญาณนักสู้). Tot Ton and other teammates (Ita, Fan...) are back for the gold. Ruffians kill villagers to get their gold. Ruffians wish to know where the gold is coming from. Lio Daeng is aware that the village was attacked. Only Lio Daeng knows where the mine is. Ruffians try to kill him but to no avail. Lio Daeng is captured by Ita following a fight with White. Dong helps him to flee but gets killed. Ruffians head to the gold mine and keep Kratae as hostage. Lio Daeng attack them. Ita uses Kratae as a bait to attract Lio Daeng. An earthquake occurs and gold falls from the small hills surrounding the mine. Ita and Fan kill each other as they don't want to share the gold. Lio Daeng gets rid of White but it is late for his wife...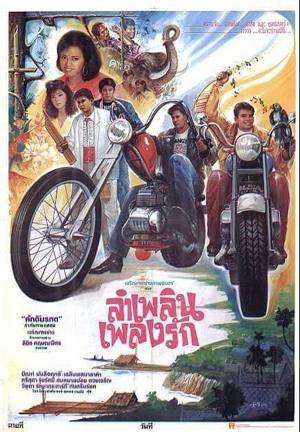 Year

: 1993



Thai title

:

ลำเพลินเพลงรัก




English title

:



Rating

: 2/5


Director

:



Main actor

: Bin Banleurit,White Padungkan


Main actress

:



Buy now

:

Thai movie ลำเพลินเพลงรัก was released in year 1993 and lasts around 1h19mn. It is a musical movie featuring six Isan molam songs (หมอลำ), i.e. music from northeastern Thailand. Jean-Michel Jarre music is also used as background music! Movie director is ศักดิ์มรกต. A village leader (ผู้ใหญ่) is upset as local young lad (singer เฉลิมพล มาลาคำ) is trying to seduce his daughter Chaba through molam songs. Bangkokian guys, White (White Padungkan) and Yai, try to seduce young lady Pim. White and Yai try also to seduce the daughter of village leader Chaba by offering expensive gifts to the father. Other villagers are upset by their behaviour (หนุ่มกรุงเทพ) so they ask a clarification to Chaba and her father. Meanwhile some artisans (including Chang Ek - Bin Banleurit) from Bangkok are coming to the village to perform some work. Kong, on behalf of Chang Ek, sends flowers to Pim. Kong is lying as he is not brave enough to declare his love, but he puts Chang Ek in an awkward situation towards Pim. The Isan local lads also buy a chopper to be at same level as the Bangkok guys. White takes profit of the village leader's credulity and proposes to bring Chaba to the village by riding his chopper. He in fact kidnaps her. Pim, seeing Chaba and White together, is puzzled and also captured. All realize that Chaba has been kidnapped. Chang Ek arrives the first and fighting occurs to release Chaba and Pim. The movie ends up with Chang Ek daring declaring his love to Pim. This movie is an Isan grade B movie featuring a simple scenario and nice molam songs, comic sequences, romance and a bit of action. Such kind of grade B movie was probably never released in Bangkok theaters and only targeted Isan audience.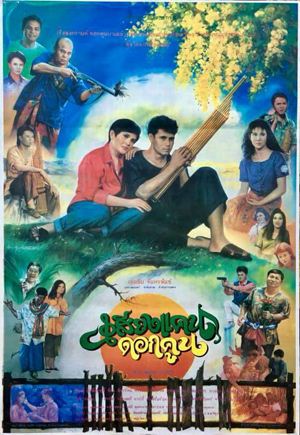 Year

: 1993



Thai title

:

เสียงแคนดอกคูน




English title

:



Rating

: 3/5


Director

: เด่นชัย จันทรพันธ์



Main actor

: Bin Banleurit,White Padungkan


Main actress

: Thida Thidarat,Siriporn Ampaipong
Thai movie เสียงแคนดอกคูน was released in year 1993 and lasts 1h25mn. It was released under VHS and VCD format. Movie director is เด่นชัย จันทรพันธ์. Thai actors and actresses include Bin Banleurit, Thida Thidarat, ศิริพร อำไพพงษ์ (famous Molam singer Siriporn Ampaipong), ลุงแนบ สนธิ สมมาตร, ดวงสุดา จันทร์สุข, วุฒิ วรชัย, ไกรสร เรืองศรี, ดาร์กี้ กันตรึมร็อก, ดวงใจ เพชรสุรินทร์, จ่าโทน คนโก้, ศิริประภา สุขสมวัฒน์, แอ้น สุขทอง, ภคินี สุนทรนาค, Mr Dan Olsen, พล โชกุน, White Padungkan, แรมโบ้ เทืองช้าง, แต้ม ตุกติก, เทพอรุณ, สัญญลักษณ์ ดอนศรี, เจิด ทานตะวัน, ศิลปินเกียรติยศ ส.ส.วิฑูรย์ วงษ์ไกร, ดารารับเชิญ สาววารินทร์, หนุ่มสยาม, หนุ่มโคราช. Movie director is เด่นชัย จันทรพันธ์. It is a musical movie with molam songs. It was a famous movie in the Isan area as multiple famous Isan people are playing. The movie features 9 songs. Movie advisors were Payoong Payakul and Surasee Phatham. The movie features beautiful views on Mekong river. In Isan village, Mr Dan Olsen, a foreigner, comes to visit uncle Khaen to buy reed-mouth organs (แคน), a musical instrument popular in Northeastern Thailand (สิละปินของประชาชน). Dokkhun (Tida) is uncle Khaen's daughter. Raining season is coming soon. Siriporn is going home. Bin (Bin Banleurit)(หมอแคน) is joining her also. A Songkran trip to another province is organized so Bin meets Dokkhun. Siriporn secretly loves Bin, who is younger than her. Uncle Khaen loves Siriporn, while Bin likes Dokkhun. So love stories are complicated. Another seller Athon tries to steal the business from uncle Khaen claiming his instruments are better. The instrument is not that important as the instrument player is the key. The village leader wishes to organize a reed-mouth organ contest to attract tourists. The foreigner's assistant loves Pan, Athon's daughter, so Athon plays on this to increase business chances. A villager, called Kraison, also secretly loves Pan. Bin has respect for Siriporn (ผู้ใหญ่ที่นับถือ) but no love. Dokkhun starts to appreciate Bin. Uncle Khaen is overprotective of his daughter. Bin thinks about going back to Nakhon Phanom as he cannot love Dokkhun due to her overprotective father shooting anybody coming close to his daughter. Siriporn is now aware of this love. Musician (หมอแคน) Kraison is leaving. Athon prefers a son-in-law being a salesman instead of a musician. Most of the romances are failing. As uncle Kaen has no musician to represent him for the contest, he has no choice but to consider Bin. Kraison declares his love to Pan. White Padungkan beats him but hopefully Bin passes by and helps him. The father promises his daughter Dokkhun if Bin wins (แคนจะดีต้องมีคนเป้าที่มีคุณภาพ). Bin wins the contest and Dokkhun's love.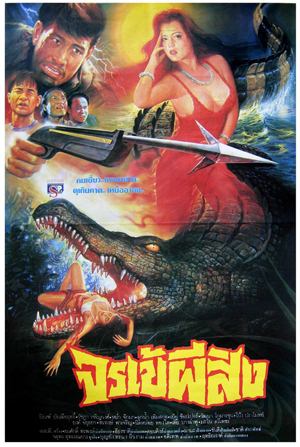 Year

: 1993



Thai title

:

จระเข้ผีสิง




English title

:



Rating

: 2/5


Director

:



Main actor

: Bin Banleurit,Mum Jokmok


Main actress

:
Thai movie จระเข้ผีสิง was released in year 1993 and lasts 1h24mn. It is available under VCD format released by company Lepso (1h24mn) and Yod Maa Nud Ltd (1h07mn so one VCD disc only but the image is colorful and sharp). It is typical Thai horror movie from decade 1990s featuring scary / comic sequences and targeted for provincial audience. Fx are poor due to small budget. The original 35mm movie picture in 16:9 format is cut on each side to fit TV 4:3 format. An old man called Lek is killed by a crocodile while trying to fish at nighttime. Young beautiful lady Chaoba (แม่คนสวย) is harassed by three villagers but she gets rid of them. Chook (Bin Banleurit) writes a love letter to Chaoba but he is using old style. He is planning to ask her hand to her parents. While Chaoba is bathing in the river, she is attacked by the crocodile. Chook meets Chaoba's father Prachot (Mum Jokmok) but she has disappeared. Chook believes Chaoba rejects his request for wedding. Local village headman (พี่ผู้ใหญ่) is requested for help. He decides to consult a local master (อาจารย์). The master identifies that Chaoba is dead and that a danger in the river is threatening the whole village. Meanwhile villagers organise a boat race. The crocodile (ไอ้เข้) disrupts the race. Chook has serious arguments with some villagers led by Chat. Chat is claiming Chook just loses the race and invents the crocodile story as a pretext. So a fighting occurs. The master requests three days to prepare special weapon to kill the crocodile. Chook is not willing to wait and wishes to kill the crocodile by himself. During a dream, Chaoba ghost is back and tells Chook to beware some villagers wishing to kill him. Chaoba's spirit (วิญญาณ) helps to chase away ruffians trying to kill Chook. The master tries to neutralize the crocodile, which rejects Chaoba from his body. Chook has to put a sacred thread around her neck. The spirit is captured into a earthen pot. This part reminds of movie Mae Nak Pra Khanong (แม่นาคพระโขนง). The master gives holy weapons to Chook and his friends to get rid of the crocodile. The crocodile is defeated but the master also dies being killed by the crocodile spirit.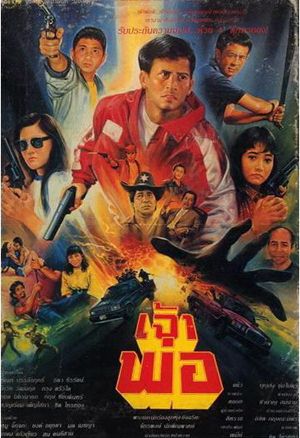 Year

: 1993



Thai title

:

เจ้าพ่อ




English title

:



Rating

: 2/5


Director

:



Main actor

: Bin Banleurit,Kowit Wattanakul,Krung Srivilai


Main actress

: Thida Thidarat
Subdistrict headman (กำนัน) Chom and businessman Anoon are in trouble as the former local head of the police is replaced by an incorruptible new police inspector (สารวัตร) Cheutchai (Bin Banleurit). Chom's business is disrupted by this new police inspector, who shot some robbers (ปล้นตลาด). Thuan and Wet (Kowit Wattanakul) are local villagers facing Chom and its thugs led by Chat. Chom is coming from Phetburi and has an alliance with Chot (Krung Srivilai), his counterpart in Chonburi province. Both subdistricts headmen are also local godfathers (เจ้าพ่อ). Noot and Raem are the daughters of subdistrict headman Chot. Romance and nice songs are happening between them and Wet / Thuan. Chom uses bad influence (อิทธิพล) to buy land and houses through coercion. Chom wants to force Thuan to sell his land but he refuses. Cheutchai helps him on time to exit a difficult situation as Chat and his men were beating him. Sairong, Thuan's sister, asks for the police inspector's help (ศัตรูกัน). Businessman Anoon often meets Chom and Ming (ผู้ใหญ่). Anoon needs to stop business with Ming as his ruffians hurt his own daughter, Tanya (Thida Thidarat), while trying to kill Cheutchai. Chom and Ming recruit hitmen to get rid of Cheutchai but it fails. Tanya and her friend Sairong are kidnapped by Chom's team led by Chat. Cheutchai is also captured while going to Chom's house to know the truth about Tanya whereabouts. Thuan and Wet then attack the house. Following various fightings and shootings, all ruffians and corrupted subdistricts headmen are killed. As usual 16:9 movie put in VCD format cut the movie edges leaving a weird feeling sometimes when watching the film.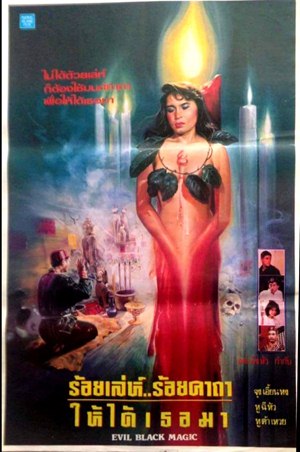 Year

: 1992



Thai title

:

ร้อยเล่ห์ ร้อยคาถา เพื่อให้ได้เธอมา




English title

: Evil Black Magic



Rating

: 2/5


Director

: Ho Meng-Hua



Main actor

: Bin Banleurit


Main actress

: Trirak Rakkarndee
Thai Movie ร้อยเล่ห์ ร้อยคาถา เพื่อให้ได้เธอมา / Evil Black Magic / 处女的诱惑 was released in year 1992 and lasts 1h31mn. It was released as a Cat III movie in Hong Kong as it includes erotic sequences. This Hong Kong movie was shot partially in Thailand and features some famous Thai actors and actresses. In Thailand, a sorcerer is digging in a cemetery. He brings back a woman corpse wearing a mask. A pin is put in her head and she becomes a lady vampire demon. The sorcerer sends her on a mission. Sophia (Trirak Rakkarndee) creates dwarves' spirits to counter the sorcerer. The lady is dancing in a discotheque. A young lady asks help from the sorcerer as she has issues with a chinese man. The sorcerer sends the lady vampire demon to manage the man. The man realises too late she is a ghost and gets killed. Sophia tries to neutralize the lady vampire demon as the killed man was her father. The lady vampire demon is chased by the dwarves. Back in Hong Kong, two men, Meng and Yi, love the same woman Mei. Jealousy and deception occur with Meng. Meng goes to Thailand as the Amah recommends him to visit a sorcerer. When he arrives at the sorcerer house, the sorcerer is doing a spell for a woman willing to seduce a man. It works well as Bin Banleurit has now desire for the lady. Meanwhile the sorcerer is not willing to spend time with Meng, so he chases him away. Meng has to stay outside under rain and harsh sun to show his determination. Then he has to stay in a room with corpses, snakes, lizards, scorpions, salamanders to show his willingness. He is accepted as a novice. Meanwhile the Thai lady has issues with her boyfriend Bin as he is seducing another lady. A lady fight occurs in a hotel room. The Thai lady complains to the sorcerer. He promises to help again. Meng hires a lady to get hair and blood from Bin. The spell works well as Bin is back with the Thai lady. While the master sorcerer is drunk, Meng takes his magic ring and uses the lady vampire demon to steal money. He is now checking for another target. He is impacted by black magic and replaces the sorcerer. Meng is now back in Hong Kong. He visits his two friends. They are going to marry. Frustrated, he injures himself. About to die, he asks them to visit his master, being a sorcerer. It is a trick to bring them to Thailand. To help Meng, the master asks for hair and blood. Being possessed, Mei flees her room to join Meng. Sophia is proposing to help Yi. Finally Mei is released from Meng's spell. Sophia neutralizes Meng and his body is burnt. Yi and Mei are back together.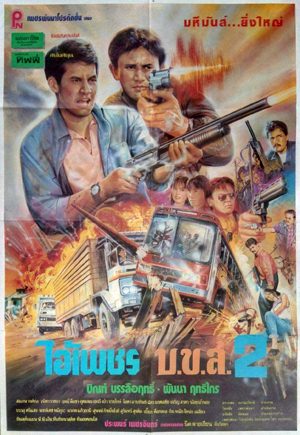 Year

: 1992



Thai title

:

ไอ้เพชร บขส. 2




English title

:



Rating

: 3/5


Director

: ประพนธ์ เพชรอินทร์



Main actor

: Bin Banleurit,Chat Mongkolchai,Panna Rittikrai,Krissanapong Rachata,Sompop Wong Ko,Rith Luecha,Pao Porapak


Main actress

:



Buy now

:

Thai movie ไอ้เพชร บขส. 2 was released in year 1992 and lasts 1h19mn. It was released under VCD format by Lepso company and VHS format. Thai actors and actresses featured are Bin Banleurit, Chat Mongkolchai, Panna Rittikrai, Krissanapong Rachata, กิม , เตี่ย แจ่วบอง, Sompop Wong Ko, Rith Luecha, อุดมพร, โอดา, Pao Porapak, น้อย, เจริญ. Movie director is ประพนธ์ เพชรอินทร์. This movie is an action movie with comedy sequences. Panna's team is fully present, and each team member has a role. Rith Luecha is the ruffian's leader. Rith wants to dominate the songthaew and motorbike (รับจ้าง) markets in Khon Kaen. His idea is to request a protection fee from all drivers as he would oversee the whole market (ดูแลคิ้ว). Phet (Bin Banleurit), a young strong man, is always helping other drivers. เจริญ สาดา refuses to sell his business to Sia Rith but he is forced. Ruffians threaten and hit drivers. Pao Porapak is the owner of a local restaurant. Friends fight back the ruffians so Rith decides to bring a hitman (มือปืน) (Sompop Wong Ko) to get rid of Phet. There is even a sequence happening in a Buddhist temple fair featuring Chinese opera. Chat claims he can handle by himself so there is no need for the professional hitman to intervene. He shoots Phet but only injures him but young lady Wan, part of Phet's friends, is shot dead. Her brother, Pao, promises to take revenge. As Chat failed, Rith sends Sompop to kill Phet. Phet neutralizes Sompop and spares his life so Sompop owns one life to Phet. Panna's younger sister is kidnapped by ruffians. Pao kills Chat but gets shot by Rith. Panna succeeds in releasing his sister from the ruffians. Meanwhile Phet blocks the road with a bus to prevent Rith from fleeing. Rith shoots Phet first but Sompop shoots Rith as Sompop owns one life to Phet. Then as he has no more debt towards Phet, Sompop can finish his job…



Year

: 1991



Thai title

:

ท้าลุย




English title

:



Rating

: 3/5


Director

:



Main actor

: Bin Banleurit,Panna Rittikrai,Lak Apichat


Main actress

:
Two ruffians leaders, Seua and Kachon, meet. A competition between the two mafia leaders is organized by recruiting expert hitmen (มือปืน). Various hitmen characters are depicted. An expert likes to use female make up before killing. Another expert needs to be drunk (ขี้เมา) before shooting accurately. Another one is selling sweets with his son. Another one is Han having great guns. Who will win (ใครเป็นหนึ่งคนเดียว)? Thanong (Bin Banleurit) is a former policeman who quit following a wrong shooting (เลิกวงการ). There is 10M baht for the winner. Seua wants to force Thanong to participate. The vendor finally meets the drunkard as his son is sick. He helps him. Kachon encourages six hitmen to support each other and fight against Han and Thanong as they have no chance in one to one duel. Seua kidnaps Thanong's pregnant wife to force him to participate to the hitmen contest. 100 hitmen gather for the contest including a Kathoey (กะเทย) and a glutton (กินก่อนยิ่ง) characters. Thanong warns his policeman friend Phan (Panna Rittikrai) to come to the contest with policemen. Han, knowing he was used as a toy, kills the two contest organizers. He even releases Thanong's wife but he is not interested in 10M baht. All he wants to be is to be the hitman number 1. As Thanong refuses to fight, he kills his wife to force him. Both Han and Thanong finally shoot each other. All other hitmen also die. The sweet seller with the support of the drunkard dies while protecting his son. Being a hitman is death guarantee at 99.99%. This B grade action movie is part of the numerous movies Panna Rittikrai has played in.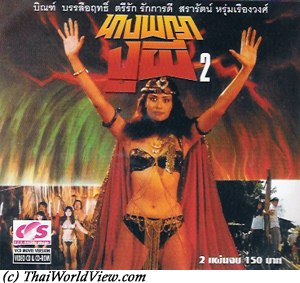 Year

: 1990



Thai title

:

นางพญางูผี 2




English title

:



Rating

: 3/5


Director

:



Main actor

: Bin Banleurit,Somsak Chaisongkram,Kowit Wattanakul


Main actress

: Trirak Rakkarndee,Sararat Rumreuangwong
Thai movie นางพญางูผี 2 was released in year 1990. It is the same story as movie งูผี (1966) featuring Mitr Chaibancha and Petchara Chaowarat. Snake hunters are afraid of a big holy snake (งูเจ้าแม่). Chat is the hunters' leader. His wife Lamai is pregnant. Both of them die following the spirit's wrath. Only the baby survives and is adopted by a villager, who named her Boonme. They have already a daughter called Kamfa. Years have passed and the two daughters are now adults. Boonme is lazy. Kamfa has always gratitude over her parents. Many deaths happen in the village located in North of Thailand. Somsak Chaisongkram is the subdistrict headman (กำนัน). Chatree (Bin Banleurit) is sent to investigate the multiple strange deaths but prefers to be seen as a tourist. He meets Kamfa (Trirak Rakkarndee) in a Buddhist temple during Songkran festival but also Boonme (สรารัตน์ หรุ่มเรืองวงศ์). Inta, a strong local villager, is jealous of Boonme's interest towards Chatree. Chatree asks the caretaker in cemetery to see the corpses but only snakes (งูผี) remain. They consult a local spirit medium (ปู่เจ้า) who gives them a charm to identify in which body the evil spirit (นางงูผี) is hiding. Boonme orders Inta to kill Chatree but he fails. The subdistrict headman's daughter is bitten by a snake and is now resting in the spirit medium's house. The evil spirit orders Kamfa to bring back the little girl to her. As she screams, Kamfa is wrongly identified as the evil spirit (นางงูร้าย) by villagers. Meanwhile Boonme kills her own father (ลูกอพรี). Villagers led by the subdistrict headman wish to burn Kamfa. Chatree tries to help but gets condemned also. Hopefully a wandering monk (พระธุดงค์) (Kowit Wattanakul) stops the fire. The monk gives a holy necklace (ประคำ) to Kamfa to neutralise Boonme but Kamfa gets a promise that Boonme will stop killing people so she doesn't use the necklace. The evil spirit needs human blood to keep her eternal youth (นางปีศาจ). Boonme uses her magical power to convince Chatree to follow her up to her cave. Finally Kamfa uses the holy necklace to wake up Chatree. Through a daring finale, Boonme tries to kill Kamfa but Chatree then uses the necklace towards Boonme. Kamfa and Chatree succeed to escape from the cave before it collapses.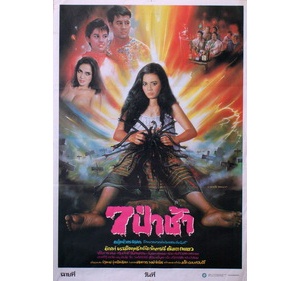 Year

: 1990



Thai title

:

7 ป่าช้า ตอนผีแหกท้อง




English title

:



Rating

: 2/5


Director

:



Main actor

: Bin Banleurit


Main actress

: Trirak Rakkarndee
พี่ Phai is a young man keeping buffalos. Young ladies Lampoo and Reun have interest in Phai. But Phai cannot forget his former girlfriend Riem, who has left for Bangkok. She is now married and pregnant. Riem comes back to countryside as her husband, Pradet, is a bad guy. She dies when giving birth to her child. Her husband arrives on time for the funeral ceremony. He tries to force her sister Reun to become his new wife but Riem's ghost prevents this. Pradet recruits a master (อาจารย์) to provide him corpse oil (น้ำมันพราย) to make love filters (ยาเสน่ห์) in order to seduce Reun and help him to get rid of Riem ghost, who is a powerful spirit (ผีตายโหงทองกลม) because it has the power of two people (the baby and the mother). But the ghost breaks sacred threads (สายสิญจน์) and chases them (there is always the classic gag when many actors enter a water jar one by one to escape ghost and then flee one by one as there is already another ghost in the water jar). They request support of a monk. Riem listens to monk advice and give them a last chance of redemption. Pradet recruits another master from Cambodia, who also fails due his lust following a beautiful lady, who is in fact an ugly ghost. Kathin festival (ทอดกฐิน) happens. During the ceremony Pradet tries to kidnap Reun but it fails again. Riem comes for Phai and asks him to marry her young sister, Reun. A third master is used by Pradet to stop Riem but it fails again. Pradet, afraid of Riem, becomes crazy paying for his bad karma. Riem leaves after Phai promises in front of Reun to marry her. "7 ป่าช้า" is related to people involving in black magic (เล่นของ) with human bones or potions such as corpse oil. This movie is typical of Thai horror movies in end of 1980s mixing horror and comedy (ghost wishing to play cards, ghosts playing คู่กรรม role), dog howling announcing ghost appearance, American Halloween movie soundtrack used...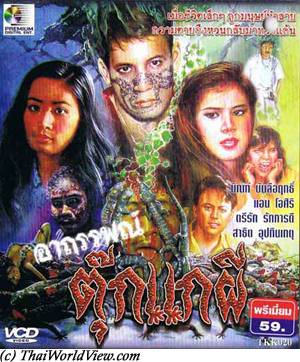 Year

: 1990



Thai title

:

อาถรรพณ์ตุ๊กแกผี




English title

:



Rating

: 1/5


Director

:



Main actor

: Bin Banleurit


Main actress

: Trirak Rakkarndee
A group of student is looking for house lizards. One of them is bitten by a magical house lizard and becomes bewitched. His behaviour starts to change; he protects and commands the house lizards. His girl friend also becomes bewitched. They start to transform themselves gradually in house lizard.



Year

: 1990



Thai title

:

กระสือกัดปอบ




English title

:



Rating

: 2/5


Director

:



Main actor

: Bin Banleurit,Note Chernyim,Joomjim Khemlek,Tongchai Prasongsanti


Main actress

: Trirak Rakkarndee
Dao (ดาว), a young lady, is living with her grandmother (ยาย), who is sick. They are poor. Pen, young man, just defrocked from monkhood. His father, village leader (ผู้ใหญ่), wishes to find a wife for him. Dao asks Pen to find a doctor as her grandmother is very sick. The grandmother gives Dao a ring, which is a family heritage. Em, Dao's friend, invites her to see an outdoor movie at the temple fair. It is a trick as another male villager called Chot wishes to meet Dao. Pen loves secretly Dao and is upset by other male villagers interest into Dao. Dao is feeling unwell and goes back home. She finds her grandmother died while sleeping. Due to the ring, Dao becomes a Kraseu (กระสือ), a filth-eating floating ghost with a head, a trailing heart and intestines. Kraseu steals the food from another ghost, a Phi Pop (ผีปอบ) who eats intestines. Villagers have now to flee two ghosts (ผีหลอก). Villagers identify Dao as the Kraseu ghost. The Phi Pop ghost has possessed (ถูกปอบเข้าสิง) another young villager lady called Raem (แรม). Her parents identify that she is a ghost as they saw her eating raw meat. Pen wishes to marry Dao as he doesn't know she has become a ghost. Chot finally wishes to marry with Raem so her parents are embarrassed as she is a ghost. Raem agrees to the wedding. On the wedding night, Chot wishes to reach the seventh paradise level (สวรรค์ 7) but it is a failure as his wife is a Phi Pop. Nevertheless Riem spares his life. Phi Kraseu and Phi Pop fight together. Riem's parents consult a master (อาจารย์). Within the first three months, the possessed can be saved (สุภาพเป็นคน) if the spirit is chased away. After it is too late. Another master is called as the first one failed. He recovers Dao successfully but the task is harder with Raem. Finally both ladies are safe but the love between Raem and Pen is stronger so Dao accepts Raem to become Pen's minor wife. Basic Fx effects similar to 1970s / 1980s Thai horror movies are used such as the infamous howling dog during nighttime. It is "Baan Phi Pop" similar recipe mixing comedy and light horror. The soundtrack is a patchwork of other stolen soundtrack such as Friday 13.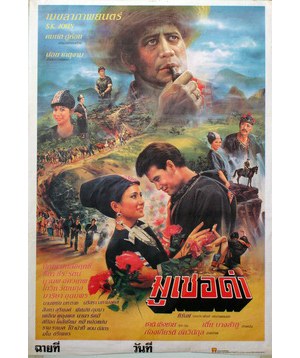 Year

: 1990



Thai title

:

มูเซอดำ




English title

:



Rating

: 3/5


Director

:



Main actor

: Bin Banleurit,Manop Aussawathep,Kowit Wattanakul


Main actress

: Thida Thidarat,Marisa Udomphon
Thai movie มูเซอดำ was released in year 1990 and lasts 1h36mn. It was released under VCD (Lepso update) and VHS format. Liso (Manop Aussawathep) succeed to steal old artifacts in a Buddhist temple in Burma. The temple guardians fail to stop them. Visitors from overseas come to buy heroin drugs at the Thai border. A mountain villagers' leader, called Prakhun, is selling illicit goods to them. Saen Kam, one of his girlfriends, wishes to have a child. Prakhun robs a bus and steals a young baby boy. Upset by his way of working, Liso breaks up with Prakhun. Meanwhile Liso's wife, Amiyo, is pregnant. A daughter is born. A few years have passed. A few inmates led by ruffian Win succeed to flee from forced work. They run through the jungle and reach Liso's house. Trying to rape Amiyo, they finally kill her. They are then captured by Prakhun's men. Prakhun hires them to work for him. Liso teaches fighting skills to his daughter Mio to be able to defend herself. The daughter Mio grows up and is played by Thida Thidarat as a young lady. Policeman Kowit Wattanakul (ตำรวจม้าป่า) is sent to the border area in order to capture back the inmates. Mio still wishes to get revenge (แก้แค้น) over those who killed her mother. Young man Sing Thiem (Bin Banleurit) meets Mio (นางฟ้า) while playing kite. Friendship happens. Kowit meets young lady Adee, Sing Thiem's sister. Sing Thiem is Prakhun's son, i.e. the child kidnapped many years ago. Sing Thiem disapproves his father's activities in drugs but has to help when his father asks him to do so. Some sequences remind of The Golden Triangle (สามเหลี่ยมทองคำ) movie in 1975. Former inmate Win loves Adee but love is not reciprocal. Mio finally sees Win in her village and recognises him as one of the killers. Kowit has arguments with Win and his men. Mio helps and is now aware that Kowit is a policeman looking for the inmates. This movie features hill tribes helping Thai government as they are Thai also. Sing Thiem has a talk with Kowit as he knows Kowit loves his sister Adee (Marisa Udomphon). A drug transport is stopped by the Thai soldiers. A traitor is suspected. Adee is suspected as she is seen speaking with Kowit. ชาวนาย wishes to get rid of Liso. His daughter Mio is captured and the Buddha statues are recovered. Sing Thiem and his sister know the truth about their father. Thai army is ready to storm. Heavy fighting occurs and ruffians have to retreat. Kowit is about to shoot Prakhun but shoots finally the wife Saen Kam as she makes a rampart. Sing Thiem is also injured. Mio also takes revenge over Win. Peace is back. Sing Thiem and Mio are going to marry.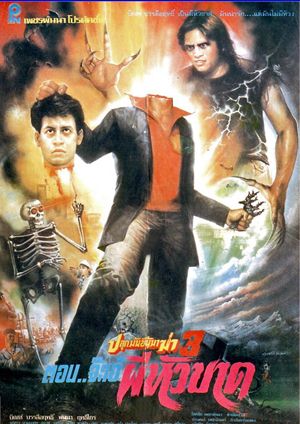 Year

: 1990



Thai title

:

ปลุกมันขึ้นมาฆ่า 3 ตอน จ๊ะเอ๋ผีหัวขาด




English title

:



Rating

: 3/5


Director

: ประพนธ์ เพชรอินทร์



Main actor

: Bin Banleurit,Panna Rittikrai,Pao Porapak,Chat Mongkolchai,Sompop Wong Ko,Krissanapong Rachata,Jai Juntamooltree


Main actress

:



Buy now

:

Thai movie ปลุกมันขึ้นมาฆ่า 3 ตอน จ๊ะเอ๋ผีหัวขาด was released in year 1990 and lasts 1h27mn. It was released under VCD format by Lepso Company and under VHS tape. Movie director is ประพนธ์ เพชรอินทร์. Thai actors and actresses featured are Bin Banleurit, Panna Rittikrai, นริศรา นามมงคล, Sompop Wong Ko, เผ่าไท พรพิสิฐ, Chat Mongkolchai, Pao Porapak, บรรลุ, สุพจน์, Krissanapong Rachata, Jai Juntamooltree. Thai movies serie ปลุกมันขึ้นมาฆ่า has four opus (1987, 1989, 1990, 1994) and focus on ghost (ผีดิบ) having strong fighting skills. Shaman (หมอผี) Bin Banleurit is performing a ceremony with a sacred black ginger root. Suddenly Chat Mongkolchai and Pao Porapak disrupt the ceremony. Bin is killed and beheaded. The sacred black ginger root (ขิงดำ) is stolen. Thanks to Kim (กิม), another strange shaman, Bin is resurrected and has to get back the black ginger root. Bin goes inside the city. A gang, led by young lady Sopha, is featuring a few members including เตี่ย แจ่วบอง and นริศรา นามมงคล. They steal Sompop's money. As he fights back, Bin helps to defeat him as Sompop is wrongly accused of being a robber. A Japanese buyer is ready to pay 50M THB for the black ginger root. Chat agrees. The bigger ruffians' group led by Chat wants to get rid of the small group led by Sopha. Chased by Chat and his ruffians, Sopha lies again to get help from Bin. Chat realizes that Bin is a ghost (ปีศาจ). Chat is waiting for his master Phao Tai (อาจารย์ เผ่าไท พรพิสิฐ) to fight against Bin. Kim helps Sompop. Sopha is in love with Bin (พี่ชาย) but it is an impossible love as he is dead already (ตายแล้ว). His friends are captured so it forces Bin to act again. Through mismatch, the sacred black ginger root (ขิงดำ) is finally inside Bin's bag. Bin cannot fight on holy day (วันพระ) so its opponents take advantage of this. Kim intervenes to help and Chat flees. Master Phao Tai sends a new ghost (Panna Rittikrai) to fight Bin. Master Phao Tai and his new ghost are defeated. Bin gets back the black ginger root and can leave with Kim.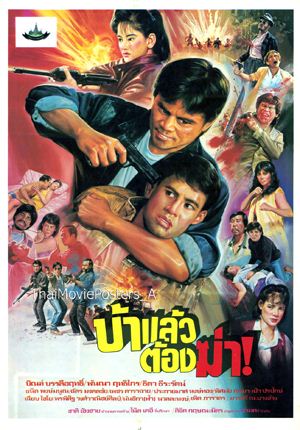 Year

: 1990



Thai title

:

บ้าแล้วต้องฆ่า




English title

:



Rating

: 3/5


Director

: อำมตะ



Main actor

: Bin Banleurit,Panna Rittikrai,Pao Porapak,Chat Mongkolchai,Paen Pleumsachai


Main actress

: Thida Thidarat,Marasri Bangchang
Thai movie บ้าแล้วต้องฆ่า was released in year 1990 and lasts 1h17mn. It was released under VCD format by Lepso company. Thai actors and actresses featured in this movie are Bin Banleurit, Panna Rittikrai, Thida Thidarat, Chat Mongkolchai, เพชร ดาราฉาย, ประกายมาศ หงษ์ทอง, พิศมัย ภุมมา, เพิด ภาราดร, Marasri Bangchang, Paen Pleumsachai, Pao Porapak. Movie director is อำมตะ. A teenage girl is aggressed by multiple ruffians but Panna (Panna Rittikrai) intervenes and knocks them down. Her mother (Marasri Bangchang) is sick so she had to buy medicine for her. Panna has dirty business with Pramat (Paen Pleumsachai). Thai Police, led by Charlie (Bin Banleurit), intervenes. Shooting occurs. Pramat is shot by Charlie. Charlie shoots multiple ruffians but Panna succeeds to flee. Roselin (Thida Thidarat) is a policewoman working with Charlie. Captain (ผู้กอง) Charlie disrupts mafia business. Cheut (Pao Porapak) is killed by Lin (พิศมัย ภุมมา) as he failed a drug exchange. Charlie's wife and son were killed by the mafia a few years ago. Charlie is suspended (พักราชการ) by his boss as he killed too many ruffians as revenge. Heum (Chat Mongkolchai) has to steal diamonds (ปล้นเพชร) per mafia leader Kampon's order. Four ruffians try to kidnap Saithip, Charlie's sister, per Sia's order but they fail thanks to firecrackers used to make them afraid of policemen shooting them. Charlie is just back to his village. Roselin and Thai police stop Panna and Lin transporting illicit goods in a truck. Foreigner John meets Vilod (Tanit Pongmanoon) to organize a diamond exchange. Diamond is stolen as ruffians shoot the foreigner John. Kampon is upset that Lin fails again. Heum gets money from Kampong but does not share it equally so Vilod is in trouble to cure his mother. Charlie chases away the ruffians harassing Saithip again. Charlie's boss calls him back to help with the diamond theft. Vilod has no money to cure his sick money so he steals a lady bag but gets chased by Charlie and Roselin. Being caught, he wishes to negotiate his freedom in order to cure his mother. He shares information related to the diamond theft. Vilod brings Charlie and Roselin to the ruffians' place. One of them succeeds to flee and informs Heum. Then Heum also flees to a new place. Ruffians kill Vilod's sister Vilai and his mother as retaliation. Kampon also prepares to move away. Vilod escapes from the Police and wishes to get revenge. He storms Kampon's house but gets shot. Charlie's sister is kidnapped so Charlie decides not to wait for orders and to storm Kampon's house. He gets help from Panna, who is an undercover policeman. Heavy fighting does occur. Ruffians are defeated but Charlie dies in his sister's arms. Panna saves Rosalin and shoots mafia leader Kampon.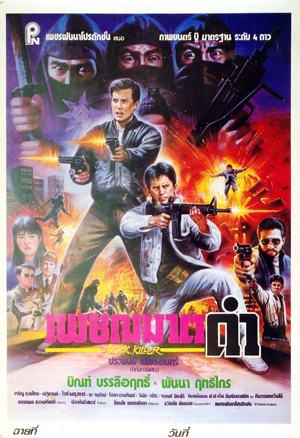 Year

: 1990



Thai title

:

เพชฌฆาตดำ




English title

: Black Killer



Rating

: 3/5


Director

:



Main actor

: Panna Rittikrai,Bin Banleurit,Tony Jaa


Main actress

:



Buy now

:

Thai full packed action movie เพชฌฆาตดำ (Black killer) was released in year 1990. The movie lasts 1h30mn. A young lady Candy is looking for uncle Chiem (เรื่องสำคัญ). Her parents have been killed in Japan. Three Thai ninjas are looking for documents showing corporate wrongdoing so are trying to catch Candy. Thanoo (Bin Banleurit) is a hitman hired to kill people but he is still having a good heart such as helping people who borrow money (กู้เงิน) at excessive rate. He normally kills only sinful people. Two Interpol policemen (ตำรวจสกล) are also looking for the young lady. Dam (Panna Rittikrai) is the leader of a small ruffians gang. Dam's team steals Candy' s bag containing important documents. Thanoo has been hired to shoot uncle Chiem. Uncle Chiem refused to sell his land to businessmen wishing to build a factory. Thanoo was lied to kill uncle Chiem presented as a corrupted village headman (กำนันอิทธิพล). Seua Leu has been hired to kill Thanoo once he completes the job. Seua Leu and Thanoo have a duel won by Thanoo but he is severely injured. Dam accepts to give the envelope against 100 000 baht. Finally all parties meet and final fightings involve the three ninjas and their boss versus Thanoo, Dam and Interpol officers. They finally win despite injuries. Seua Leu beats Thanoo in the final duel but loses to his kindness (แพ้น้ำใจ).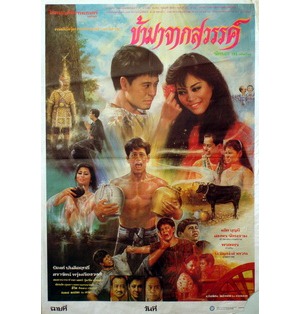 Year

: 1990



Thai title

:

ข้ามาจากสวรรค์




English title

:



Rating

: 3/5


Director

: พรเพชร



Main actor

: Bin Banleurit,Joomjim Khemlek,White Padungkan,Sompong Phonmitr,Somkuan Krajangsat


Main actress

:
Thai movie ข้ามาจากสวรรค์ was released in year 1990 and lasts 1h28mn. It was released under VHS format. Movie director is พรเพชร. Phuta (Bin Banleurit) and his father (Somkuan Krajangsat) are living together. The father has a new young wife named Malasee (พิสมัย ภุมา). Lamtien (สรารัตน์ หรุ่มเรืองวงศ์) is Phuta's girlfriend but her parents refuse this love as Phuta is poor. Phuta (ใจบุญ) is keeping cattle. White Padungkan (ไวท์ ผดุงการ) and Joomjim Khemlek are local drunken ruffians. They beat a beggar (ขอทาน) (Sompong Phonmitr) but Phuta helps. As the beggar has not eaten for days, Phuta gives him his meal. It is in fact an angel (เทวดา). He thanks Phuta for his kindness and promises to help him every time he will ask. Ruffians steal Phuta's cattle while Phuta is resting. Asking for help to the angel, Phuta gets back his cattle. Lamtien wishes to flee with him but Phuta cannot accept such way of acting. Malasee tries to seduce him (ความชั่ว) but he refuses her advances as she is his father's new wife. She complains to the father that Phuta tried to seduce her so the father chases Phuta from his home. Phuta misses his mother (บูชาแม่) so he takes her portrait before leaving. Lamtien's mother wishes to organize a wedding for her (สาวเต็มตัว). The angel gives a treasure but Phuta refuses to take it. At local temple fair, Phuta and Lantiem see White and Malasee together (น่าเกลียด). Phuta's father is getting seriously sick as Malasee is not taking care of him. After a fight, Phuta chases White and Malasee from his home. Lamtiem is now having a fiance as her parents force her (รักไปเอง). The mother gives Phuta a last chance to gather a dowry before the next day. The three ruffians, aware of the treasure and the angel, try to get it. The treasure belongs to Phuta as it is linked to his good deeds during previous lives. Ruffians ask for it and the angel finally accepts but the coffer only includes snakes (บุญไม่มี). The two coffers (บุญเก่า) are found near Phuta's bed when he wakes up. Indebted, White sells his Buddha amulet to ผีนรก. Phuta was always doing good deeds while others were misbehaving. Marasee and White finally kill each other. Phuta and Lamtien can have happiness.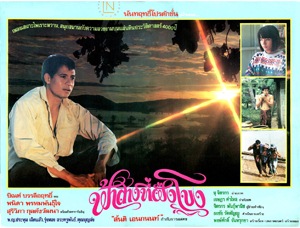 Year

: 1989



Thai title

:

ฟ้าส่างที่ฝั่งโขง




English title

:



Rating

: 3/5


Director

:



Main actor

: Bin Banleurit


Main actress

:
Thai movie ฟ้าส่างที่ฝั่งโขง was released in year 1989 and last 1h28mn. It is a romantic song movie. It was released under VHS format. Movie director is สันติ อเนกนนท์. It was first movie for Thai actress พนิดา พรหมพันธุ์ใจ. Multiple molam songs (หมอลำ) are featured in this musical romantic movie. Khaem (Bin Banleurit) is a villager leaving near the Mekong river. Khaem has an university diploma but has still no job so he is working as fisherman in his village. His family is poor. Young lady Siripon (พนิดา พรหมพันธุ์ใจ) has just finished her studies and is visiting her friend Araya (สุริวิภา กุลตังวัฒนา). Another male villager called Chatree likes Siripon. Both Chatree and Khaem try to seduce Siripon (คนเอาใจ) while visiting old prehistoric rocks along the Mekong river at Pha Taem National Park. Laotian side can be seen (มิตรภาพ). Khaem's father keeps drinking. He wishes his son could have a better life as he studied in university but finally, he ends up as doing same job as him, i.e. catching fish (หาปลา). Romantic balad on the Mekong river occurs with Siripon. Siripon likes Khaem and her friend Araya likes Chatree (น้องรักพี่เพราะว่าพี่รักน้อง). Siripon's parents are worried to have her staying long time on the countryside near the Mekong river. Khaem's father has a crisis. Siripon's father comes to pick up his daughter. Chatree finally gets interest in Araya as he knows he has no chance with Siripon. Khaem's father is now handicapped so he has difficulties to walk. Khaem trains him every day. Siripon is back to the city. Her mother is upset that Khaem visits Siripon and forbids any relationship as he has a poor background. Araya is going to marry Chatree. The father succeeds to convince the mother to change her mind after understanding that Khaem is a good guy. So Khaem and Siripon's love can finally blossom.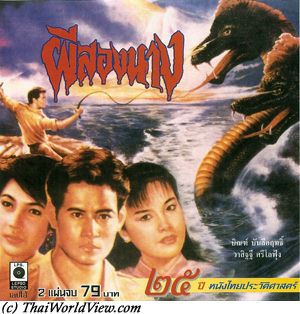 Year

: 1989



Thai title

:

ผีสองนาง




English title

: Heavenly Spell



Rating

: 3/5


Director

:



Main actor

: Bin Banleurit,Suchao Pongwilai,Paen Pleumsachai


Main actress

:
Thai movie ผีสองนาง was released in year 1989 and lasts 1h13mn. It was released under VCD format by Lepso company. A VHS version was released in Hong Kong under the name of Heavenly Spell / 菩薩咒 / Heavenly Devil in year 1991. It was also released again in Thailand under the name of นิกายมนต์ดำนรก. Main actors and actresses are Bin Banleurit, Suchao Pongwilai, Paen Pleumsachai, วาสิฎฐี ศรีโรฟุ้ง, ศศิมาภรณ์ ไชยโกมล. Thai movie ผีสองนาง is based on a real legend in Nong Khai province. Two sisters drowned in the Mekong river with a treasure chest while escaping Vientiane during the Thai looting in year 1828. They become ghosts protecting the treasure chest. They can metamorphose themselves into giant mystical snake or พยานาค. The shrine is located in a Thai Buddhist temple in Sri Chiang Mai. A convoy led by two noble Laotian ladies is transporting a treasure. They are attacked by Thai robbers. Seeing the beautiful ladies, the robbers wish to abuse them. A young Thai man interposes but he is outnumbered. They have to flee. Both ladies fall in the river. The young man is only able to rescue one lady. The other lady drowns. The treasure has fallen in the Mekong river also. Later on, a shrine is built on the river bank as homage to the drown lady. A local young girl, named Lamyai, refuses to give respect to the shrine. At night time, the spirit kidnaps Lamyai. Snakes prints are seen. Lamyai is the district officer's (Paen Pleumsachai) daughter. He asks help from witchdoctor (หมอ) Chook (Bin Banleurit). Chook promises to help to recover his daughter. He dives in the river to find Lamyai. Chook fights and defeats a big snake (งูเจ้าแม่). Lamyai doesn't wake up but finally the snake spirit accepts to release Lamyai's spirit to ease tensions in the village. The snake spirit changes its appearance to lie to old villagers to get unction (ยาทำแผล) to cure the injury caused by Chook at its neck. If the snake spirit gets cured, it will be danger (อาละวาด) for villagers again. Chook makes special ceremony (พิธี). The snake spirit (พญานาค) hires two others black magic sorcerers to fight against him. Another witch doctor warns Chook (ของดีในตัว) that the snake spirit will try to hurt him again (ปล้ำ). Chook has to face a Cambodian black magic sorcerer looking for troubles. Chook dives in the river and gets the treasure back. Suchao Pongwilai is pushed by the snake spirit to defeat Chook. Knowing that the snake spirit has no more treasure, Suchao decides to play his own game to defeat both Chook and the snake spirit. He even destroys the ghost shrine (ไม่มีที่พักอัศาย). Finally understanding that Chook uses white magic and not black magic like the cheating sorcerer Suchao, the snake spirit helps in order to defeat Suchao. The snake spirit forgives Chook for taking initially the treasure chest and the ghost shrine is rebuilt. Do good deeds, get rewards. Do bad deeds, get death.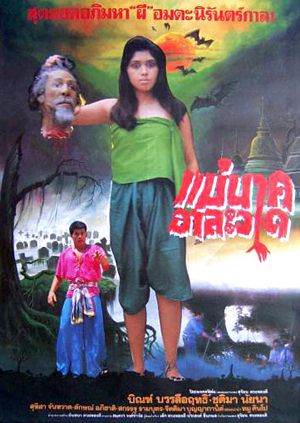 Year

: 1989



Thai title

:

แม่นาคอาละวาด




English title

:



Rating

: 2/5


Director

: สุริยน ดวงทองดี



Main actor

: Bin Banleurit,Lak Apichat


Main actress

: Chutima Naiyana



Buy now

:

Thai movie แม่นาคอาละวาด was released in year 1989 and lasts 1h32mn. It was released under VCD format. Thai movie แม่นาคอาละวาด is another movie based on Mae Nak story. Thai word อาละวาด means "act violently". Movie director is สุริยน ดวงทองดี. Thai actors and actresses featured in this movie are Bin Banleurit, Chutima Naiyana, สุทิศา จันทวาด, Lak Apichat, สกรรฐ์ รามบุตร, จิตติมา บุญญากานต์, หมู คินโป. This film is a remake of previous movie แม่นาคอาละวาด shot in 1973. It is a mix of horror and comedy. Same as many Thai horror movies from 1980s-1990s decades, it includes the classic chases when people run away from ghosts. It also features traditional funny characters (ตัวตลก) such as the big friend. While her husband Mak (Bin Banleurit) is away, Nak (Chutima Naiyana) is going to deliver her baby. As the movie happens in the countryside, it is still the old way to deliver babies. Nak dies during childbed. Mak is in Bangkok. During the funeral ceremony, a black cat jumps on the coffin. It is a bad traditional omen. The coffin breaks and Nak opens her eyes. All villagers flee. Later on, Master Dap has arguments with Sin, son of the sub district headman. Master (อาจารย์) Waen is mandated by Sin to get corpse oil (น้ำมันพราย) to make magic filter (ยาเสน่ห์) to use as a weapon (อาวุธ) to fight Master Dap. The master tries to get corpse oil from Nak but she cuts his head. Mak is going back home. Nak is waiting for him. She makes delicious food for him. The food is in fact rotten (อาหารผี) with worms but Mak cannot see it. Mak realizes that Nak is a ghost as at night time her appearance changes to a putrefied body. He flees from home and takes refuge at Master Dap's home but Nak is chasing after him. Nak still loves Mak and was waiting for his return since her death. Lek and her father Bukan visit Pa Khanong district. Mak previously stayed in Bukan's house. Lek is fond of Mak. She is in competition with Soi, another village lady and previous friend of Nak. A new master tries to neutralize Nak and puts her in a pot closed with a cloth covered with sacred words. The pot is thrown in the river. Meanwhile Mak marries with Lek. A couple of fishermen catch the pot and free the spirit. Nak takes revenge over Sin and the master. Mak and Nak still love each other but cannot stay together (คนละโลก). Only next life, a new love could be possible. Mak is not happy with Lek's hindrance. Finally Lek is too afraid and flees to Bangkok. Nak entrusts Mak with Soi. Nak leaves on her own decision. Compared to other movies, no monk or sorcerer (หมอผี) forces Nak to quit the earthly world.



Year

: 1989



Thai title

:

รับจ้างตาย ตอน แลกตาย




English title

: Employ For Die 2



Rating

: 3/5


Director

: เชาว์ มีคุณสุต



Main actor

: Bin Banleurit,Williams Sunner


Main actress

: Audrey Laurie
Thai movie รับจ้างตาย ตอน แลกตาย / Employ For Die 2 was released in year 1989 and lasts 1h19mn. It was released in VCD format 4:3 by Solar company and Lepso company. As the movie length is quite short, it is probably cut or censored. Movie director is เชาว์ มีคุณสุต. เชาว์ มีคุณสุต is a famous director for Thai action movies. Thai actors and actresses featured in this movie are Bin Banleurit, ศราวุฒิ เก่งทุกทาง, เล็ก ทรงพล, ศักดิ์ รอดริน, ซูกุด น้ำจัน. There are a few foreign actors, i.e. Black Direct, Williams Sunner, Audray Laurie (Audrey Laurie). In the past, featuring foreign actors was giving a higher status to a Thai movie and presenting it as an international production, but the foreign actors in "Employ For Die 2" are just unknown actors and actresses having short roles. This movie is the second sequel of Thai movie จ้างตาย / Employ For Die released in year 1988 and featuring Chatchai Plengpanich as main actor. For the second sequel, Bin Banleurit is the main actor. The movie slogan is ตายไม่ว่าแต่อย่าให้เลือดออก (Dying is no matter but bleeding shall be avoided). Overseas, the movie is known as Cannibal Mercenary 2 and seems to be based on the Thai VCD release. This is a typical 1980s Thai war movie. During the anti-communist years, movies with soldiers and mercenaries fighting in the jungle were popular. Most of these movies were low-profile, though some were popular as they played to the national sentiment. At the end of the 1980s, when the communists were defeated, such action films faded. Communist enemies were then often replaced by drug traffickers. The movie opening credits part is using Wagner's Ride of the Valkyries being a reference to the movie "Apocalypse Now". Leu (Bin Banleurit) is ordered by his boss to form a mercenary team to stop drug propagation in Thailand and to get rid of a dangerous drug lord called Bad Dog and being protected by scores of tough men. Despite being reluctant to perform the job as most of his teammates died in the previous mission, Leu has to do it. Bad Dog is having foreigners in his team. Leu has to form a new team to search for Bad Dog. Five former soldiers join him. Every new team member has a reason to join, such as a need of 300,000 THB to cure a sick mother, money for relatives… All of them know they have little chance to survive on such a difficult mission. They enter the jungle to find Bad dog's stronghold. They are on an unofficial mission so even Thai police and army can shoot them. They are mercenaries (คนรับจ้าง), so they are employed for die. During their progression, they meet another group looking to escape from the Thai army. They join but have to split soon as their missions (ภารกิจ) are different. On the next day, they are attacked by strong black men, part of Bad Dog's team. One mercenary is killed through a machete. Aware of mercenaries entering his territory, Bad Dog orders his men to kill them. During the progression in the jungle, they meet a beautiful foreign lady. She joins them, but it is a trick. She pushes one of the mercenaries in an acid bath. Only four mercenaries are left. They are also concerned about dying too. Dissension occurs within the group. On the way to the stronghold, they find lost migrants including one lady with a baby. They have pity on them and give them their food. Same as them, the migrants cannot go back and have to move forward despite the risk. Some migrants walk on mines and die. Only the young lady and her baby are left. The group continues their journey on a raft and survives an attack by strong swimmers. One of the mercenaries eats แมลงสาบผี, being cockroaches in corpses. They are attacked again, but push back their opponents. They finally arrive in Bad Dog's stronghold. Two mercenaries are killed while trying to protect the baby. The last friend sacrifices his life and explodes grenades on him to get rid of Bad Dog. Leu would like to exchange his life (แลกตาย) with them as he promised that no team members should die. He promised to take care of the baby.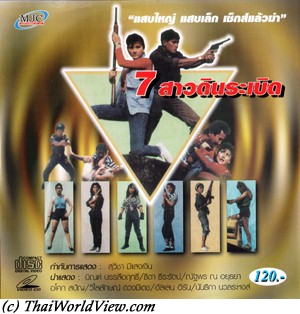 Year

: 1989



Thai title

:

7 สาวดินระเบิด




English title

:



Rating

: 3/5


Director

:



Main actor

: Bin Banleurit,Dam Datsakorn,Chat Mongkolchai


Main actress

: Thida Thidarat
Thai movie 7 สาวดินระเบิด was released in year 1989 and lasts 1h30mn. It was released under VCD format and also VHS format. The former VHS release was migrated to VCD format. The image is pretty sharp. Ruffians led by Dam Datsakorn and Ko (Chat Mongkolchai) are shooting at Thai police led by Pukong Aki (Bin Banleurit). Ruffians succeed to flee. While fleeing through the forest, they storm a house, kill the father, rape his three daughters and then kill them. The fourth daughter, called Usa (Thida Thidarat), asks for Aki's support. She wishes to get revenge. She learns that Ko has a scar. She is selling insurance life in order to approach them. One of the men wishes to go out with Usa but she refuses. Upset, he goes with a young prostitute. The mamasan argues it is her first time. After having made love, she shoots him dead as a revenge of the three girls killed. Another of the ruffians is killed by a lady while repairing a car. Ruffians start to be more alert while Aki is also investigating those deaths. All those ladies are Usa's friends helping for revenge (ล้างแค้น). Six ladies and Usa make a group of 7 ladies so giving the movie name as 7 สาวดินระเบิด (7 dynamite ladies). A third ruffian is killed by another lady (เด็กเวร). Ruffians start to be stressed and investigate on the relatives of the three previously killed ladies. One of the ruffians' leaders sees their domestic helper called Wilai putting some special powder (ยาพิษ) in the food. Another lady helps Wilai on time. Aki suspects Usa to be involved (ความหวังดี) as all murders are related with women, who know Usa... One of the ladies, called Sawanee, injures one of the ruffians, who succeeds to flee. Dam and Ko are now aware it is linked to Usa. Usa is captured (เรามาใช้นามสกุลเดี่ยวกันดีกว่า) and the ruffians asks the six other ladies to surrender in order to spare Usa's life. Aki intervenes. Aki is captured by ruffians also. The six ladies storm the ruffians' den but heavy shooting occurs. Ruffians are defeated but Sawanee dies by protecting Aki.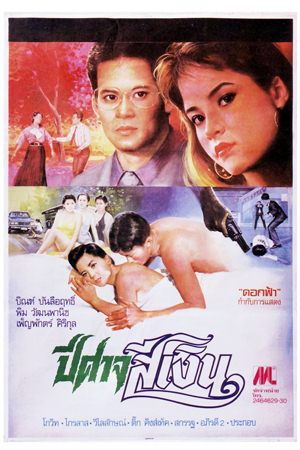 Year

: 1988



Thai title

:

ปีศาจสีเงิน




English title

:



Rating

: 4/5


Director

:



Main actor

: Krailat Kriengkrai,Kowit Wattanakul,Bin Banleurit


Main actress

: Penpak Sirikul,Marsha



Buy now

:

Thai movie ปีศาจสีเงิน was released in year 1988. It lasts 1h40mn. Malee (Penpak Sirikul) is working in a brothel. Bookham (Krailat Kriengkrai) sympathizes with her. Bookham discovers that his wife Chaba is having an affair (ชู้) with another man (แม่เลวที่สุด). Malee's husband Thada is only interested in the money she brings and do not hesitate to sacrifice her to take profit of her beauty. Thada is violent and heavy drinker. Malee helps Bookham to feed his baby called Duangjai. Thada is selfish (ไม่กลัวรอคเอ็ดแต่กลัวรอคอด) so he refuses to have a child. Malee finds an abandoned child and wishes to raise it (เอาเด็กมาเลี้ยง). As Thada refuses, Malee asks Bookham to keep the child for her. The child is named Maem. To pay his own debt, he even uses Malee as money replacement. Finally Thada accepts to release Malee following a last sum of money. Bookham and Malee educate the two girls. Chaba keeps visiting Bookham to get money as claiming she wants to raise her daughter Duangjai by herself but Bookham refuses so he has to give her money. Duangjai and Maem don't get along so well. The real mother Wilai finds Malee but the daughter Maem flees her and gets hit by a car. Malee has to work again as prostitute to pay the hospital bill (ความสำเร็จของลูกสำคัญกว่า) (ทำเพื่อลูก). She has to go with Yamato, a Japanese man. He finally marries her but dies shortly due to cancer. She has to take over his hotel and meets an ambitious manager called Somchat (Kowit Wattanakul). Somchat has a lover already, his own secretary but he wishes to marry Malee to steal her money. Bookham warns her but she doesn't listen as love is blind. One night, Somchat brings her in a remote bungalow. Some ruffians hit Somchat and rape Malee. Pictures to blackmail her and request for one million Baht are sent. Bookham is accused by Somchat to be the mastermind. Malee finds Somchat in bed with the secretary. The secretary asks for 1M to forget Somchat. Being an adult already, Maem (Marsha) is back from overseas. Her fiance is Doctor Bin (Bin Banleurit). Doctor Bin wishes to be a countryside doctor to help poor people but this is not the kind of life that Maem is expecting. So clash happens. Thada (แมงดา) finds a job as server in the hotel. Malee has to name him as assistant manager to keep his mouth shut (ความจำเป็นจริงๆ). She wishes to protect Maem in order that she doesn't know her origin. Somchat and his ruffians hit Thada to know Malee's past. Somchat asks for 5M baht to kept silent but is chased as he is identified as the mastermind. Malee wishes to marry Maem with Bin but she is worried that problems could happen during the wedding ceremony. Somchat wishes to bring trouble but Wilai tries to stop him as she will not let anybody brings trouble to the happiness of Maem, her real daughter. During the fight she is killed. Bookham shots Somchat. Then Thada intervenes by threatening Malee with a gun. He discloses that Malee is a prostitute (ความลับไม่มีในโลก) to all and so bringing shame to Maem. Bookham also shots Thada. Maem blames Malee but gets slapped by Bookham as Malee has done everything to bring good education to Maem (ตระกูลไม่สำคัญ ความกตัญญสำคัญ). Bookham ends up in jail. Bin confirms it doesn't change anything for him and confirms the wedding with Maem.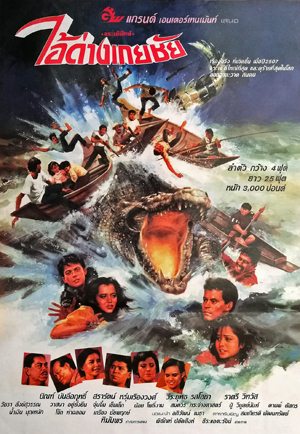 Year

: 1988



Thai title

:

ไอ้ด่างเกยชัย




English title

:



Rating

: 3/5


Director

: ฑิฆัมพร



Main actor

: Bin Banleurit,Dam Datsakorn,Joomjim Khemlek,Somkuan Krajangsat,Boo Wibunnan


Main actress

: Ratree Witawat,Sararat Rumreuangwong,Namgneun Boonnak



Buy now

:

This movie is based on a real story that happened in 1964. A huge crocodile terrorizes a local communauty and wildly eats people (อาละวาดกินคน). A team of three policemen arrives including a new police inspector (นายตำรวจ). The crocodile causes again a rampage during a temple fair. Pornthip, daughter of the subdistrict headman (กำนัน), is saved by the police inspector. Her younger sister, Pen, just comes back from Bangkok after long studies. They visit a famous medium (อาจารย์). He mentions that the crocodile is possessed by a spirit (เป็นจระเข้เจ้า). A crocodile hunter is recruited and also a crocodile expert (หมอจระเข้) to get rid of Ai Dang, the crocodile's nickname given by the villagers. The crocodile hunter, Khun Sak, is played by veteran actor Dam Datsakorn. The subdistrict headman, the village headman (ผู้ใหญ่บ้าน) and a local rich Chinese merchant help each other (รวมมือ) for a reward to catch the crocodile. Jealousy happens between village men and the policemen regarding the subdistrict headman's beautiful daughters. Ai Dang (ไอ้ด่าง) is an intelligent crocodile so it is difficult to catch it. The crocodile expert is killed. Porn gives food to the crocodile in order that Ai Dang is full (กินอิ่มแล้ว) and so avoid any danger for the police inspector and villagers. The police inspector tries to catch the crocodile and puts nets in places but to no avail. Tot, local villager, comes to get Pen's hand but the subdistrict headman refuses as Tot is a rich but lazy guy (เรียนไม่เรียนไม่สำคัญ ถ้ามีตังค์ซื้อตำแหน่ง). There is jaleousy between Porn and Pen over the police inspector. Pen becomes crazy (บ้าที่สุด) and wishes to win over her sister (ต้องชนะให้ได้). Police believes that crocodile Ai Dang is dead as no more rampage happens. Pen pushes Porn in the water when she is feeding Ai Dang. It fails. Ai Dang is hungry again and eats a cow. Police management wants results. Porn wishes to stop seeing the police inspector as she loves her younger sister so much despite she did bad (ทำชั่ว). The two sisters are reconciliated. Ai Dang starts to eat people again. By using bombs and helicopter the police inspector succeeds to chase it and have it killed. Two movies have been done regarding Ai Dang crocodile, one in 1988 and one in 2005. The movie has poor Fx as the crocodile and actors are rarely on same shot. This movie mixes romance with a crocodile story based on real facts.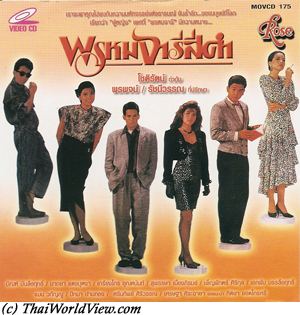 Year

: 1987



Thai title

:

พรหมจารีย์สีดำ




English title

:



Rating

: 2/5


Director

:



Main actor

: Kriengkrai Unhanan,Bin Banleurit


Main actress

: Supansa Nuengpirom,Penpak Sirikul
A young lady will soon marry a playboy handsome guy but another lady seduces him. Disappointed, the young lady tries to suicide and finally quit Thailand. Sixteen years after she comes back to Thailand and starts a revenge by luring the lady's son.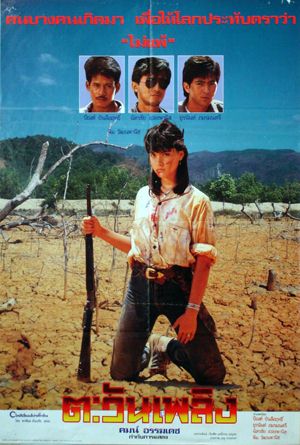 Year

: 1987



Thai title

:

ตะวันเพลิง




English title

:



Rating

: 4/5


Director

: Kom Akadej



Main actor

: Chatchai Plengpanich,Yuranan PamornMontri,Bin Banleurit


Main actress

: Marsha
Thai movie ตะวันเพลิง was released in year 1987 and lasts around 1h44mn. Movie is available under VHS format. Movie director is Kom Akadej. Vin (Chatchai Plengpanich) is a hunter group leader. They hire Chon as a driver but Chon (Bin Banleurit) is upset with the hunters' behavior as they shoot cattle. Young lady Rung Tawan (Marsha), owner of a ranch and raising cattle, is leaving alone. Patana (Yuranan PamornMontri) is her former husband and business partner but they split. Patana is alcoholic and useless. Rung Tawan finds that people went on her domain as she finds beer cans, cigarette packets and one cattle was killed. Police is not helping. She suspects a group of hunters led by Vin. She has strong arguments with them as she asks for compensation. No weapons are found in their car as they were hidden in their camp. Following a car chase with Rung Tawan, one ruffian is slightly hurt so they take revenge by putting snakes and mice in her home. But one of the hunters wants a bigger revenge. Chon tries to calm them down but to no avail. So at nighttime, they use fireworks to frighten her and break her windows. She runs away but they chase her by motorbike. Chon rescues her. On the next day, Patana is surprised to find Chon being at Rung Tawan's side. Being drunk, he did not help and is now jealous. Hunters chase her again and try to rape her. Patana takes a rifle but as he is shaking and is afraid, he flees away. Hopefully, Chon helps Rung Tawan again. Rung Tawan slaps Patana for being a useless drunkard and coward. Hunters are upset by Chon's behavior. Vin's girlfriend tries to entice Chon by provoking him. Being upset, Vin has a fight one to one with Chon. Chon is chased from the group and has to leave his knife, shoes behind per Vin's threat. Rung Tawan, taking her rifle, storms the hunters' camp. Shooting occurs. Rung Tawan shoots their car tank reservoir and it explodes. She flees away. Chased by hunters, she gets help from Chon. They get split inside a hangar. Police announces that the hunters left the area. Patana tries to stop drinking alcohol and finally succeeds. Chon is back and Rung Tawan takes care of him as he is weak. Rung Tawan has to choose between Chon and Patana. Hunters are back (คิดบัญชี). Epic final fighting does occur between Chon, Rung Tawan, Patana and the ruffians led by Vin...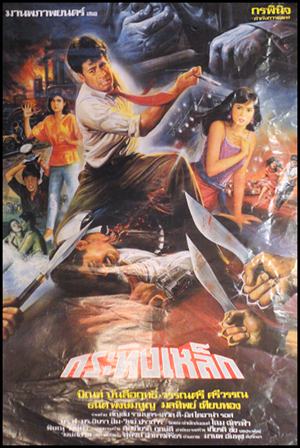 Year

: 1987



Thai title

:

กระทิงเหล็ก




English title

:



Rating

: 3/5


Director

:



Main actor

: Bin Banleurit,Tanit Pongmanoo


Main actress

:
Thai movie กระทิงเหล็ก was released in year 1987 and lasts 1h26mn. Movie director is กรพินิจ. Chen (Bin Banleurit) and Prang (Tanit Pongmanoon) are roommates. Chen is working in a factory (โรงงานเหล็ก). Prang is working in a print shop. Chen meets a young lady called Pat (วรรณศรี ศรีวรรณ) in a mall but first encounter is bad. A company owner wishes his daughter Pat to replace him as he is getting old. So, he asks Panthet, GM of company, to transfer knowledge to her. Panthet, through Saen, is doing illegal business as many products sent from the factory are not written in the bank accounts (บัญชี). Pisit, involved in the illegal business, is beaten to stay quiet. Pat asks to check accounts in full details. Saen causes an accident for Pat to be injured but Chen helps her on time. The ruffians try to kill Pat again. Chen helps her ontime gain. Pisit is killed as he stole important documents he gave to Chen. Before being killed, he tells ruffians that documents are with Chen. Pisit tells Saen name to Chen before dying. That night as Chen is not at home, Prang invites his girlfriend, but ruffians storm his flat and beat him. He is finally killed despite fierce resistance. Chen beats Saen but needs to stop as he has no proof. He drinks to forget his friend's death. Panthet's girlfriend sleeps with Chen while he is drunk in order to steal the documents. Panthet finalizes a deal related to diamonds. Expensive necklace is replaced by a fake one. During a catwalk, Chen recognises one of the models wearing the necklace as Panthep's girlfriend so fighting occurs between Saen, his men and Chen. Final fighting occurs with Panthep as Chen wishes to revenge his dead friend. After successful revenge, he ends up being arrested by the Thai police.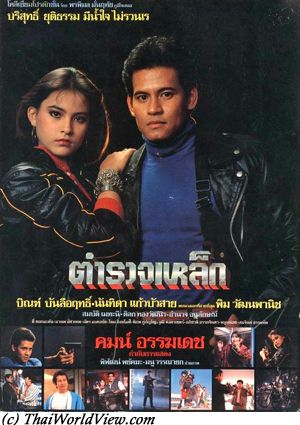 Year

: 1986



Thai title

:

ตำรวจเหล็ก




English title

:



Rating

: 4/5


Director

: Kom Akadej



Main actor

: Bin Banleurit,Sombat Methanee,Kom Akadej,Pipop Pupinyo,Chat Mongkolchai


Main actress

: Marsha,Nanthida Kaewbuasai
Thai movie ตำรวจเหล็ก was released in year 1986. Kom Akadej is the movie director. The movie lasts 1h40mn. Sombat Methanee is a police police commander (ผู้บังคับ) enquiring on a murder. Chanyut was found dead in his swimming pool. 2000M baht have disappeared following the murder. Bin (Bin Banleurit) finds an earring there. Pim (Marsha playing in her first movie) is a journalist (นักข่าว). Muat (หมวด) Bin kills two ruffians having shot policemen. Singer Chengila (Nanthida Kaewbuasai) is harassed by (ขอตัว) Nai Chareun Phran, son of an influential banker and also targeting to be a parliamentary. Fighting happens in the club. Bin arrests Nai Chareun Phran but he is released thanks to his father. Investigations on hitmen are ongoing. Pim enters illegally in a Chinese temple to take pictures of a ceremony. Hitman Chat Mongkolchai is present. A money exchange shall happen between Chat and the son of Sia in order to release Sia. Pim recognizes Bin and reveals by mistake that Police is part of the Chinese lions dancers. Shooting happens and all ruffians are killed. Bin is looking for information on another hitman called Seua Weng. Weng is looking to flee overseas so looking to exchange Thai baht in dollar. He is shot by another fierceful killer, Ai Tong Bai boon Sung, before being able to flee. Bin suspects Kaewbuasai should be related to Chanyut as he found she is wearing only one earring. Chengila was the girlfriend of Chanyut. Chengila has seen the murderer, i.e. Nokhun, famous lawyer (ทนายความใหญ่) and even took a video. Entertainment place Chao Praya 3 is the place where the killer is coming every day to see a girl. Nai Chareun Phran, helped by his lawyer (Kom Akadej) frames Bin in a trap. Chengila blacklists the lawyer Nokhun by asking 200M Baht. The lawyer puts some fake policemen in front of Chengila's condo but Bin arrests them. As usual Pim is here to take pictures. Bin suspects Chengila is not telling the whole truth to him as there should be a reason why fake policemen kept watching her flat. Later on the killer erupts in the disco and tries to shoot Chengila. She escapes thanks to Bin, who is injured. She flees but finally gets shot by the hitman. Before dying, she calls the police and talks about a tape hidden in the bathroom. Bin's assistant finds it and the lawyer is identified as the killer. Nai Chareun Phran is afraid and sends the killer to get rid of the lawyer. He is only injured and ends up at the hospital. The lawyer tries to corrupt Bin's assistant but to no avail. The killer erupts in the hospital and kills Bin's assistant. The lawyer succeeds to flee. Final scene is happening around a political meeting scene. Nokhun injures Nai Chareun Phran and both get arrested. Bin with Pim's succeed to neutralize the killer.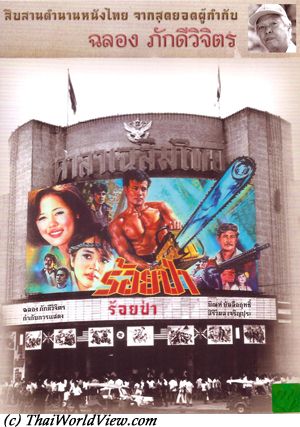 Year

: 1986



Thai title

:

ร้อยป่า




English title

:



Rating

: 5/5


Director

: Chalong Pukdeewichit



Main actor

: Bin Banleurit,Somchai Samipak,Taksin Jampol,Manop Aussawathep,Rith Luecha


Main actress

: Mai Charoeunpura



Buy now

:

Thai movie ร้อยป่า was released in year 1986 and directed by veteran Chalong Pukdeewichit. Luang Ta is taking care of an orphaned boy called Seua (ลูกศิษย์วัด). Seua (Bin Banleurit) sympathizes with young girl Paew but gets an enemy as Anirut (ลูกผู้ดี). Years passed. They are now adults. Luang Ta dies. Seua goes to Lampang to do forest staff studies. He meets Srinuan. In Srinuan's disco, he protects Somchai (Somchai Samipak) as พ่อเลี้ยง against a murder tentative. During studies, he finds that teck forest has few trees left (ตรวจป่า). He meets Boon Ying and presents himself as new forest staff (พนักงานป่าใหม่). He tries to prevent ruffians led by Theum (Taksin Jampol) to cut illegally trees (ทำรายป่าไม่ได้). Seua gets his degree and is sent at Thai Burmese border. He realises that Paew was the one to support him financially during his studies. พ่อเลี้ยง Ithi (Manop Aussawathep), owner of a company allowed to cut 2000 trees, tries to corrupt Seua (เก็บเงินของคุณเลย) to cut more trees. Ruffians are sent to kill Seua but Theum and Leum being around help him. แม่เลี้ยง Saenthong (Mai Charoeunpura) wishes to get authorisation for her trees. Seua has issues with Nok (Rith Luecha), leader of elephant keepers. Seua checks the trees deeply in the forest and gives approval (ราชการดีๆยังมีอยู่ครับ). Back to the village, they found that Nok has taken all elephants. Hopefully Theum lends them some elephants to ensure the company is not stuck. Seua rejects Saenthong's love as he still thinks about Paew. Ithi is the one trying to close Saenthong's company as he is joining shares (ร่วมหุ้น) with a Bangkok company led by Anirut, engaged with Paew. Leum is captured and killed by ruffians with a chainsaw. Saenthong is also kidnapped. Seua revenges Leum through a chainsaw fighting with Nok. It is time for Seua to neutralise Ithi. Hopefully พ่อเลี้ยง Somchai and Theum give a hand to Seua as he is in a bad situation versus many ruffians. All ruffians are killed. Police arrives. Theum prefers to die gun in the hand instead of surrendering. Suea leaves as a lonely cowboy saddened by the death of Theum. An earlier version with Mitr Chaibancha and Petchara Chaowarat was released in year 1963.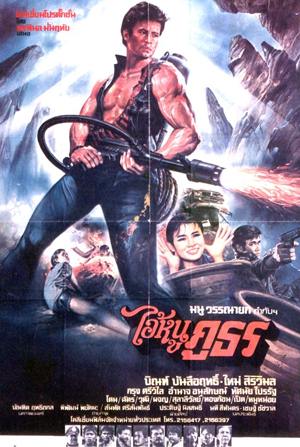 Year

: 1985



Thai title

:

ไอ้หนูภูธร




English title

:



Rating

: 4/5


Director

:



Main actor

: Bin Banleurit,Chat Mongkolchai,Krung Srivilai


Main actress

: Mai Charoeunpura,Sulaleewan Suwanthat
Thai action movie ไอ้หนูภูธร was released in year 1985 and lasts 1h40mn. Movie director is มนู วรรณายก. The movie was released under VHS format before year 1988. It was never released under VCD or DVD format. Thup (Bin Banleurit) is a truck driver delivering goods. His close teammate is named Noi. Thup is getting delivery orders from a warehouse managed by subdistrict headman Chai. Ruffian Chat Mongkolchai is working for subdistrict headman Chai. Each time, they refill petrol, the trucks must pay 20 THB extra fee (ค่าน้ำมัน). This is extortion and it makes Thup and his friends, Krong and Kamsai, very upset. Thup meets his old soldier friend played by Krung Srivilai. Thup still has his mother (Sulaleewan Suwanthat) and a younger sister called Thien. Thup realises that the ruffians try to hide opium in the goods he has to transport. He refuses and quits the warehouse. Subdistrict headman Chai threatens him to keep quiet. Thup helps Rung (Mai Charoeunpura) having her truck stuck in a trench. Subdistrict headman Chai calls local banks and has Thup blacklisted in all local companies. Thup cannot find a new job. Luckily Rung proposes him to work for her and to transport jars (โอ่ง) from Bangkok. He has arguments with Chat and his men when visiting Krung's restaurant. Ruffians try to prevent him to pay back his truck, but it fails. Thup and Noi are ambushed by Chat and his ruffians. Noi is shot by ruffians. It is time for revenge. Thup, helped by Krong and Kamsai, storm a restaurant and shoot Chat and three of his men. Police try to arrest Thup but he flees. Ruffians storm his home and shoots his mother. His sister and Rung are captured. Thup storms subdistrict headman Chai's warehouse to know where his sister and Rung are held prisoners. Chai tells the location and is then arrested by the Police. To avoid long term jail, he also discloses the ruffians' den location, i.e. a remote cave. Thup, Krong and Kamsai enter the place while police and Thai soldiers also try to overcome the place. Thup finds his sister having been killed. The big boss is Krung. Thup is disappointed that Krung, as a soldier, who served Thailand, can behave like this. Thup gets a flamethrower and takes revenge over Krung, who hurt his family very badly.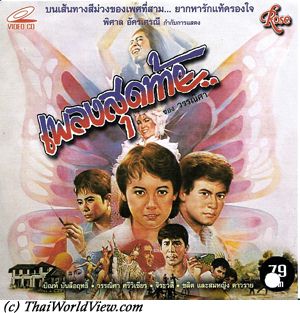 Year

: 1985



Thai title

:

เพลงสุดท้าย




English title

: The Last Song



Rating

: 3/5


Director

: Pisarn Akraseranee



Main actor

: Bin Banleurit


Main actress

: Janthana Siriporn
It is about "KATOEI" (กะเทย - man dressed like a woman and behaves according to the gender role of a woman) and "tom boy" (ทอม - girl who behaves according to the gender role of a boy). It deals about their difficulty to find true love and the way society reacts to them. At that time, society was generally quite conservative and katoeys were viewed as abnormality. The public outcry the film raised helped push it under the national spotlight. The film's theme song became a hit. A remake was done by the same director in year 2006.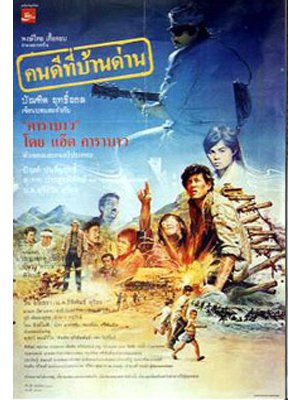 Year

: 1985



Thai title

:

คนดีที่บ้านด่าน




English title

:



Rating

: 5/5


Director

: Bandit Ritthakol



Main actor

: Bin Banleurit,Manop Aussawathep,Lak Apichat,Pumi Patanayut,Suchao Pongwilai,Chat Mongkolchai


Main actress

: Suriwan Suriyong
Thai movie คนดีที่บ้านด่าน was released in year 1985 and lasts 1h44mn. It released in Thailand under VHS format. Movie director is Bandit Ritthakol. A few engaged songs feature justice (ความยุติธรรม). Carabao songs (such as มหาลัย) are featured in the movie. Students are coming to countryside to help villagers. The village leader is called Meui (Manop Aussawathep). Lak Apichat is one of the friendly villagers. Students offer free medical services, help to reinforce school temporary building. Nat (Suriwan Suriyong) is the local school teacher. Nat is separated for two years ago with student Chanuan (Bin Banleurit). Chanuan wishes to resume relationship with Nat but she refuses as she doesn't want to suffer again. Her decision to go in this poor remote village is linked to Chanuan's previous bad behavior. Some villagers such as Wan (Pumi Patanayut) don't welcome students (อาศัยพัฒนาหมู่บ้าน). Local influential man Boonsong is working with Wan to replace Meui. Boonsong gives free wood to build the school. Boonsong forbids anybody to go in some parts of the forest. They cut illegally trees in the forest per student Waen's discovery (ทำร้ายป่า). Arguments occur between students as they don't agree on the way to manage this. The majority decides not to be involved as it is outside their mandate. Wan of course protects Boonsong as he is supporting the villagers to keep them quiet. Meui wishes that Chanuan quits the village as arguments occur with Nat as she doesn't want to forgive him. Waen complains Thailand will become a desert (ทะเลทราย) with all those trees cut illegally. Waen wishes Chanuan to bring some pictures to newspapers. Waen and Chanuan see men led by Chat Mongkolchai and Ong Nai (Suchao Pongwilai) cutting trees. Waen dies shot by ruffians led by Boonsong (คนที่มีอิทธิพล). Mon people are working for Boonsong and get paid in medicine and weapons to be able to fight against Burmese military government (การฆ่าและการต่อสู้ไม่เหมือนกัน). Ong Nai understands Chanuan as he is also a former student, but he cannot help. During the weapons trading, Boonsong's ruffians shoot the Mon people. Only Ong Nai escapes. Ruffians storm the student's place and burn the school as they believe one of them hides the camera. As they threaten Nat, Uan interposes and gets killed. Chanuan has not enough proofs to accuse Boonsong and Wan. To avoid more deaths, students must leave by train. Chanuan decides to go back to rebuild a school as a memorial to Waen and Uan. Students follow him. School has been burnt. Nat and Chanuan resume friendship. Ong Nai has a debt towards Boonsong. He gives Waen's camera back to Chanuan and promises to manage Boonsong per the forest laws... Meanwhile Nat and the children have been kidnapped by the Boonsong's ruffians. They succeed to escape but are chased by ruffians. Meanwhile Thai army, Chanuan and Meui face the ruffians. Shootings happens and Meui is killed. Ruffians send big logs on the Thai army and children but luckily nobody is injured. Chanuan and Lak chase ruffians. Lak loses his life while protecting Chanuan. About to escape, Boonsong is shot by Wan. Wan gets the credit to have stopped Boonsong despite Chanuan claiming he was right hand of Boonsong. Thai army leader mentions to Chanuan that it is time for students to go back to Bangkok. Nothing they can do against what is good or bad here. Wan is nominated as new village leader. Nat refuses to go back to Bangkok as she needs to take care of the kids. Despite adversity, she has to stay and not flee. The only solution for Chanuan to protect Nat and the Baan Dan villagers is to shoot Wan... After shooting Wan, Chanuan is arrested but remains คนดีที่บ้านด่าน in the villagers' hearts.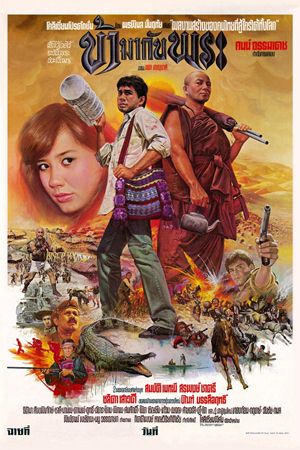 Year

: 1984



Thai title

:

ข้ามากับพระ




English title

:



Rating

: 5/5


Director

: Kom Akadej



Main actor

: Sorapong Chatree,Sombat Methanee,Bin Banleurit,Kom Akadej,Somsak Chaisongkram,Doo Dook Kradon,Pipop Pupinyo,Chat Mongkolchai,Dam Datsakorn,Rith Luecha,Manop Aussawathep,Note Chernyim,Thuam Thoranong


Main actress

: Thitima Sangkapitak
Thai movie ข้ามากับพระ was released in year 1984. It was shown on TV CH7 (ช่อง 7) and last 1h08mn as a shortened version. It was not released on VCD but was released under VHS format. Movie director is Kom Akadej. Soundtrack from band Police is used. It was the first movie for Thai actor Bin Banleurit. A TV serie ข้ามากับพระ was released in 2015. Bin (Sorapong Chatree) is chased by three men (Somsak Chaisongkram, Note Chernyim, Pipop Pupinyo). He is rescued by Luang Pho Seua (Sombat Methanee), being a wandering monk. Bin follows the monk, who wishes to stay alone. Bin wishes to become his disciple (ลูกศิษย์พระ). Doo Dook Kradon and another man are stealing buffalos. Villagers led by Thuam Thoranong are looking for their buffaloes. Luang Pho Seua is wrongly mistaken as a robber but everything is back to normal. Monk Seua and Bin cross a lake but they are attacked by a crocodile. Bin brings bad luck (ซวย) to the monk. They arrive in a ruffian's camp led by Chat Mongkolchai and Seua Noi (Bin Banleurit). Bin follows behind but is stopped by the ruffians. Monk Seua meets Thai Police, who ask him if he saw any ruffians campement. Police attack the camp and Bin can succeed to flee. Seua Noi is upset and promises revenge as he believes Luang Pho Seua and Bin are undercover policemen. Ruffians try to burn Luang Pho Seua but Bin intervenes. Luang Pho escapes to the flames but he is chased by ruffians. Hopefully, hill tribes, led by Kom (Kom Akadej), chase them away. Bin is injured and cured by beautiful doctor Khru Mo (ครูหมอ) (ชลิดา เสาวดี). The village head is worried about revenge by Seua Khaem. Bin meets again the three men chasing him and has to flee. While fleeing, he meets Luang Pho Seua again. Hilltribe lady Baan Su Thong (Thitima Sangkapitak) is fond of Bin. They spend the night together, but Bin flees in the morning, so Baan Su Thong is looking for him. Ut (Dam Datsakorn) enters in the hilltribe village. A fight occurs between Bin and Ut. Ut is defeated. Kom saves the honor of his younger sister Baan Su Thong. Ut requests help for another ruffians' leader (Rith Luecha). Ruffians storm the village. Many ruffians and villagers die in the fighting. Baan Su Thong is killed. Seua Noi is seriously injured by Bin. Khru Mo is kidnapped by Ut to cure Seua Noi. Finally, Seua Noi leaves as he feels better but as he gets sick again. Seua Noi gets help from Luang Pho Suea and is cured. He realizes that Luang Pho Suea is a real monk and a good man. Seua Noi's father is Seua Khaem. Luang Pho Seua is a former policeman. While trying to catch Seua Khaem many years ago, Luang Pho Seua shot his wife, being Seua Noi's mother, by mistake. So, the policeman became a monk. Hill tribe members and Bin surround the ruffians' camp. Seua Kaem (Manop Aussawathep) wishes to take revenge and to shoot the monk but Seua Noi intervenes and is shot instead. Devastated, Seua Kaem gives up on his revenge. Luang Pho has been carrying the wife's bones with him and has been wandering around Thailand in order to meet Seua Khaem.
---