Increase or decrease font size for easier reading : A+ A-
Year 2017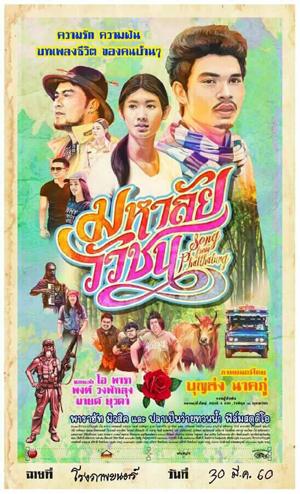 Year

: 2017



Thai title

:

มหาลัยวัวชน




English title

: Song from Phatthalung



Rating

: 5/5


Director

: Boonsong Nakphoo



Main actor

:


Main actress

:
Thai movie มหาลัยวัวชน / Song from Phatthalung was released in year 2017 and it lasts 2 hours. Director is Boonsong Nakphoo / บุญส่ง นาคภู่. The movie is using local Thai southern language, so it has even subtitles in Thai and English. Pong (เทอดพงศ์ เภอบาล) is a young lad being 18 years old. He is is disappointed as his girlfriend Beer needs to leave to Bangkok to study. She then stops answering his phone calls. Pong has no interest in local young lady Mind (ยุวดา โอฬาร์กิจ) bringing him food and proposing to go to see movies together. He just cannot forget Beer. Pong is keeping cows in Phatthalung's area. He gathers with a group of friends with Phi O (ทิวากร แก้วบุญส่ง), being the leader and writing songs. Phi O is also driving a songthaew as part job. Pong has difficulties to forget Beer so it makes him singing songs. His dream is to be a singer. Noi, owner of a pub, asks for Phi O's help. The pub is having financial issues since the military coup. The concert is a failure as people fight. Rubber price go down so life is tough in South Thailand. Phi O asks Pong to be himself on the stage and to stop copying others. All the musicians are working and have small jobs. They are trying to make easy money on fighting bulls but are still losing. They are a bunch of losers but have happiness being together. Phi O wishes to release a new album but they have no money. Phi O girlfriend is a teacher and is now 30 years old already, so she cannot wait any longer for him, but O is concerned as he hasn't achieved anything in his life. Their music is a bit similar style to Carabao with engaged songs. Phi O opens a music school and they prepare their own concert for villagers and family members. Beer is back with a new boyfriend, but it ends up badly as Pong gets beaten as he was complaining too hard that she dropped him as he is a poor non-handsome lad from countryside. Pong is fed up and decides to stop being a singer. Phi O complains about his childish behavior, but Pong flees as he cannot stand being lectured. He finally comes back and the concern is a success with a limited audience. All parents and relatives understand and appreciate their children's skills. Phi O gets an offer from a Bangkok studio, but he prefers to stay in Phatthalung having happiness with his family and friends.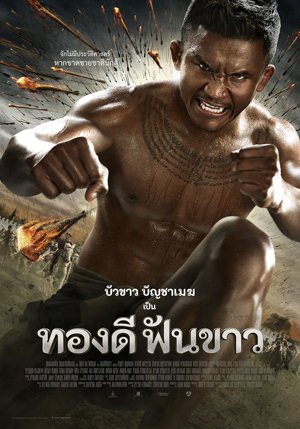 Year

: 2017



Thai title

:

ทองดีฟันขาว




English title

: Thong Dee Fun Khao



Rating

: 4/5


Director

: Bin Banleurit



Main actor

: Buakaw Banchamek,Kanchit Kwanpracha,Manop Aussawathep


Main actress

: Sornsin Maneewan



Buy now

:

Thai movie ทองดีฟันขาว / Thong Dee Fun Khao was released in year 2017 and lasts 1h57mn. Movie director is Bin Banleurit. It is based on the real story of Siamese general Phraya Phichai. Cheut is the son of local noble (เจ้าเมือง). Choi, son of Thai boxer, has always issues with him since childhood. Both of them are now grown up. Cheut and his men are trying to catch Choi (Buakaw Banchamek) but he succeeds to flee. Kanchit Kwanpracha is Cheut's father. Choi joins a group of people organising Thai boxing fights. He becomes their champion. One day, Choi is defeated by a strong opponent being a spade teacher. The group leaves Choi for dead as he is now useless to them. A drunkard helps him and tells him he needs to improve his skills such as speed. Choi renames himself as Thong Dee. He joins Manop Aussawathep as teacher (ครู). Cheut finally finds again Thong Dee. Thong Dee surrenders to avoid villagers being harassed. He is captured but then the soldiers still burn the village. The fighters and Thong Dee rebel and chase the soldiers thanks to their Thai boxing skills. Thong Dee leave the village to avoid the villagers being harassed again. A teenager accompanies him. Seeing Chinese opera performance (งิ้ว) and their master's great skills, Thong Dee asks him to become his disciple (ลูกศิษย์). Later on, Thong Dee helps young lady Rayong (Sornsin Maneewan) and her master attacked by ruffians. Thong Dee gets a new teacher and keep improving his skills. Thong Dee has white teeth. Other actresses have black teeth as Thai people were eating betel nut at that time. At a temple fair, he meets Rayong again. A tournament occurs and the spade teacher is this time defeated by Thong Dee. An attack on the local leader ends up in a fight between the lord Phraya Tak and Thongdee. The Phraya Tak wanted to test Thongdee's loyalty. If Thong Dee loses, he needs to join Phraya Tak's army… Phraya Tak became later King Taksin. Later on, Thongdee became general Phraya Phichai. Thong Dee's role is played by Buakaw Banchamek, a real Thai boxing champion.
---