Increase or decrease font size for easier reading : A+ A-
Year 1997



Year

: 1997



Thai title

:

2499 อันธพาล ครองเมือง




English title

: Dang Bireley and the Young Gangsters



Rating

: 4/5


Director

: Nonzee Nimitbut



Main actor

: Jesdaporn Pholdee


Main actress

:



Buy now

:

Dang Bireley and the Young Gangsters (2499 อันธพาลครองเมือง) is a Thai movie released in year 1997 and directed by Nonzee Nimitbut. Daeng is the son of prostitute and has been in violence cycles since his young age. The action takes place in decade 1950s with youth references such as Elvis Presley or James Dean. Daeng always kiss his James Dean amulet to get good luck and not a Buddhist amulet. Daeng, Pu, Dam, Lem Sing, Piek are close friends (นักเรียน / นักเลง). Daeng's mother would like her son to ordain (บวช). Daeng would like his mum to stop such job. He meets Pra, a bar singer. He refuses to do normal job and keeps trying in order to become a ruffians leader in his district but other leaders are already present so it causes clashes. Daeng gets a gun to get revenge. During an outdoor movie performance in a temple fair with an old movie featuring Sor Asanajinda, Taksin Jampol and Wilaiwan Watthanaphanit, Daeng shots rival thug. Issues then happen with Dam and Pu. Piek ends up in jail. Friendship ends with Dam and Pu. Daeng cannot choose his path but can fight it. Daeng helps his friend Moo Chiem to protect the blue moon bar in Chonburi. Moo Chiem wishes to open a casino (บอล) but he is then in competition with local headman Taek. Moo Chiem hires Pu and Dam without telling Daeng. Pu and Dam have arguments with GIs causing the casino to be closed ten days. Moo Chiem is killed by a hitman. Taek is suspected. Taek hires Pu and Dam to destroy the underground casino. Daeng and his team takes revenge over Taek but Pu and Dam succeed to escape. Daeng goes back home to fulfill his promise to ordain to his mother. Despite threats to ruin the ceremony by Pu and Dam, Daeng decides to go ahead. During the ceremony, heavy shootings happen. Daeng, Pu, Laem and Dam die. Daeng's promise to ordain as a monk was only to please his mother. His heart was not really sincere so he ironically dies before being able to enter the Buddhist temple. Another movie in 2012 called Gangster - Antapal (อันธพาล) was released and involving same protagonists. It was not a remake but another view on the same gangster era. This movie has taken over 75 million baht at the box office in 1997, an amazing figure by local standards.



Year

: 1997



Thai title

:

18 ฝนคนอันตราย




English title

: Bullet Teen



Rating

: 5/5


Director

:



Main actor

: Sorapong Chatree,Suchao Pongwilai,Pongsak Pongsuwan


Main actress

: Naowarat Yooktanun



Buy now

:

Dong (โด่ง) is released from prison. His friend Tor (ต่อ), his brother Ta (ต๊ะ) and his girlfriend Ploy are waiting for him. Ta is mute. They work in a family garage repairing cars. Ta and Dong try to become good teens now. They also try to have happy love stories but fights often happen with local gangsters. Dong loves Ploy, sister of Kong, a local gangster leader. One day Ta's girlfriend Ying is gang raped in front of him by four men from Kong's gang and Ta cannot help. Revenge is inevitable. They storm Kong's gambling den. Following gun fight, one of the ruffians is shot dead. It turns badly (ทางที่ไม่ต้องการ). They kidnap Kong's girlfriend as protection ( ตัวประการ) and also grab a bag containing money and amphetamine drugs (ยาบ้า). Police is involved through inspector Sarawat (สารวัตร), who is wearing amazing colorful "Luk thung" clothes. The father is disappointed by his sons (ลูกชั่ว). The teens are misunderstood but they cannot turn back anymore. Kong is chasing them for the bag not for his girlfriend. Veteran actor Sorapong Chatree is playing the bad corrupted cop. He seldom plays bad guys. Veteran actor Suchao Pongwilai is playing the honest cop Vilai. It is ironic that he plays the rightful policeman this time as normally he always plays the corrupted official role. Things get out of control. Kong and the inspector try to catch them. Following a gun fight, a policeman is shot by the corrupted inspector and the teens get accused again. There is no rightful law in this modern society. There is a 2 millions baht reward to catch them. Ta is injured. Even Ying is endangered in the hospital. They help her on time and bring Ploy as nurse to take care of Ta. Ta leaves a love message for his father (ผมรักพ่อ). Surrounded by the police, they have to jump from a Bangkok bridge. Vilai starts to notice the close relationship between Kong and Sarawat. They take shelter in the Christian church in Thonburi. Kong attacks the parents' house. The father is injured and Ta dies. Only Dong and Tor are left but Ploy prevents them to rush for revenge (ใช้่อารมณ์). Forced by Kong, Ploy refuses to leave for Hong Kong. Relations get sour between the police officer and Kong. The police officer kidnaps Kong's young brother to get a ransom. During the exchange, Dong and Ta irrupts causing a mess and gun fights between all. The movie then features 15 last minutes of intense action and bloody scenes. It ends tragically for all protagonists. The movie song is sing by Seua Thanapol (เสือ ธนพล). Due to 1997 Asian financial crisis, the movie didn't perform as good as it should have at Thai box office (25M baht).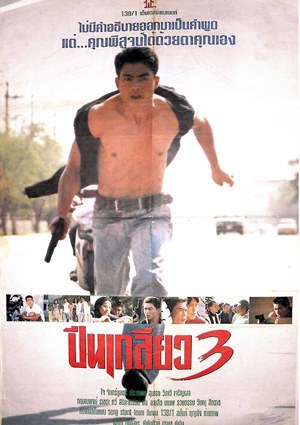 Year

: 1997



Thai title

:

ปีนเกลียว 3




English title

:



Rating

: 4/5


Director

:



Main actor

: Krissanapong Rachata,Jai Juntamooltreem,Tony Jaa


Main actress

:
Thai movie ปีนเกลียว 3 (Jai Juntamooltree, ประภาพร สุนารถ, Krissanapong Rachata) was released in year 1997. It lasts around 1h18mn. A man called Son (Jai Juntamooltree) quits the Buddhist monastery and Luang Pho tells him to always keep cool temper. A Buddhist amulet helps him to stay calm under any circumstances. He is a former Thai boxing champion. Biaw, a tough man, prevents the workers to work. He hits all the men and promises to come back. Son arrives in this company to meet an old friend called Khaek. The owner's brother is a ruffian and asks for half of the paternal house. The company owner refuses as he respects his father's decision and the brother already got a lot of money previously. Biaw is now working for the ruffians' leader. Tony Jaa, assistant of a bigger ruffian, is playing a gay fighter. Taem is the beautiful daughter of the company owner. Biaw is back to prevent workers to work again. Son refuses to fight with him. Biaw finally leaves as Taem threatens to call the police. While Taem and his friends (Kaew, Kam) are visiting a temple, Biaw intervenes again. Son get severely beaten by Biaw as he refuses to fight. Kaew or Taem both start to like Son. Who will get Son's love? Taem brings Son on her motorbike. While they are eating a noodle soup, the ruffians arrive again. Humiliation continues but as one of the ruffians tears off Son's Buddhist amulet, Son gives them a harsh lesson as he is not hindered anymore by his promise to Buddha. It is Taem's birthday. Having a small gift compared to Kam, he doesn't dare to join the birthday party. Taem asks Son to teach her Thai boxing. The ruffians intensify their attack and now use guns to shoot the workers. Khaek, Son's close friend, is killed. The business is stopped. Taem is kidnapped but Son is following the kidnappers through a motorbike. He is captured in the ruffians' den. The ruffians mock him (ดอกฟ้ากับหมาวัด). Final fighting happens with ruffians through gun, rifle shootings and Thai boxing. Son defeats Biaw, Tony Jaa and finally the big boss. As usual, there is full action in movies directed by Panna Panna Rittikrai's team (138/1 production).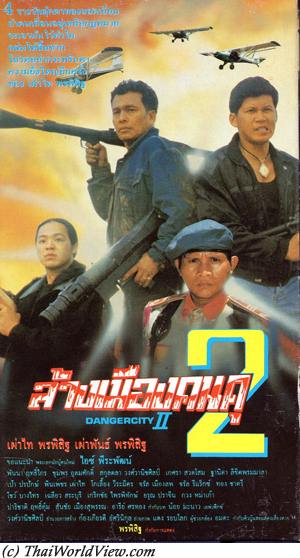 Year

: 1997



Thai title

:

ล้างเมืองคนดุ 2




English title

: Dangercity II



Rating

: 3/5


Director

:



Main actor

: Panna Rittikrai,Pao Porapak


Main actress

:
Thai movie ล้างเมืองคนดุ 2 / Dangercity II was released in year 1997. It lasts 85mn. It was released under VCD format by Thai company Lepso but it doesn't feature a very sharp picture. It was also released under VHS format many years ago. Before dying, a father recognizes he kidnapped his two children, Paopan and Ai, when they were just born. Many years passed. Ruffians attack a resort under construction. Police inspector Prai (สารวัตรใจเพชร) (เผ่าไท พรพิสิฐ) uses a plane to arrive on site and gets support from Police officer Paopan (เผ่าพันธุ์ พรพิสิฐ). Ruffians are pushed back and flee in the jungle. Panna Rittikrai is one of the ruffians' leaders. Police officer Paopan has to ordain (บวช) to honor his father memory. Shootings do happen during the ordination ceremony as ruffians are looking for revenge. Police inspector Prai chases the shooter up to an outdoor cinema (หนังกลางแปลง). Prai asks Paopan to stay calm and to continue being a monk. He will manage the ruffians by himself. The big boss Choomporn is looking for war weapons (อาวุฒิสงคราม). Phayak (Pao Porapak), as hitman, is hired to get rid of other ruffians' opponents. A young man, called Ai, (ไอซ์ พีระพัฒน์ - his first movie) comes to visit the monk, his younger brother. His target is to catch the ruffians. The resort's owner is kidnapped by Panna and his ruffians during his birthday celebration. As the owner refuses to collaborate, the leader Choomporn asks Phayak to kidnap the daughter. The young man, part of CIA, meets Prai and they start working together. The daughter is kidnapped. The supermarket owner Ploy, Prai's sweetheart, is also kidnapped. Police inspector Prai, police officer Paopan and the young man Ai finally storm the camp. Panna, Phayak and the leader Choomporn are killed. There is an excessive use of action as the heroes always succeed to escape the grenades and bullets but it remains a full action-packed movie targeted for Thai provinces. Other actors and actresses include สกุลตา. Dangercity I was released in year 1992. The movie Dangercity II got four Thai cinema awards in 1997.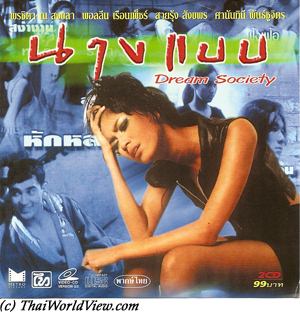 Year

: 1997



Thai title

:

นางแบบ




English title

: Dream society



Rating

: 2/5


Director

:



Main actor

:


Main actress

: Pornshita Na Songkhla
This movie is about a young girl, who wants to become a top model. It shows the top model world from inside with internal jealousy between girls, drugs, "KATOEI" (กะเทย) influence.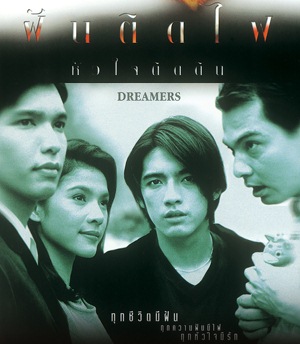 Year

: 1997



Thai title

:

ฝันติดไฟ หัวใจติดดิน




English title

:



Rating

: 3/5


Director

:



Main actor

:


Main actress

: Kullasatree Siripongpreeda
Nai is living with his brother that has a mental deficiency. Their neighbour Pim wishes to be a singer. Following a first failure, Nai and his brother encourage Pim to continue. On a next contest, a producer notices Pim and wants her to become a star. He is also secretly fond of Pim. Meanwhile, Nai's brother succeeds to prevent a theft. The bad boy gets arrested. As he is released from Police station, his gang storms Nai's flat. Nai and his brother have to flee. Will they ever see Pim again?



Year

: 1997



Thai title

:

ฝันบ้าคาราโอเกะ




English title

: fun bar karaoke



Rating

: 4/5


Director

: Pen-Ek Ratanaruang



Main actor

: Ray McDonald


Main actress

:



Buy now

:

Pu, a young girl, has been dreaming that her mother, who had died some years before, is building a house. A fortune teller advises her that, should she continue to have this dream, her father will die when the house is completed. Her father, a playboy, is a karaoke regular. He eventually becomes involved with Yok who has connections with the Chinese Mafia. Noi, son of an American soldier who dreams of saving money, learn English and wants to leave for America. He is in love with Pu, but too shy to reveal his love for her. Pu cannot stop dreaming about the house. Her father's relationship with Yok brings him nothing but bad luck... This movie is a study as well as a satire of the co-existence of modernity and superstition.



Year

: 1997



Thai title

:

ท้าฟ้าลิขิต




English title

: Who is Running?



Rating

: 5/5


Director

: Oxide Pang



Main actor

: Suchao Pongwilai


Main actress

:
Kwan and Siep are girlfriend and boyfriend (แฟน). She is pure traditional Buddhist believer. She often goes to Buddhist temple (วัด). He is not a believer. When coming back from Khao Luang cave (ถ้ำเขาหลวง) in Phetchaburi, she is hurt by a car. Her body is not hurt but there are serious internal problems. She has only 20% chance to survive. Siep goes back to Khao Luang cave to ask for Buddha to protect Kwan as she has never done doing bad to others. The abbot explains to him that Kwan current situation is linked to her karma (กรรม) but Siep doesn't understand (กรรมเก่ามีจริง). Kwan was a robber in her previous life and killed 5 people. Siep needs to save lives of 5 people in exchange of redemption (ชดใช้) for his girlfriend. First he prevents a policeman to bet 300 000 baht on a horse that is favorite but shall finally lose. If he doesn't prevent the policeman to play, the policeman would have lost the money and gets suicide as it is not his own money. Siep also asks the policeman to give back the money he wrongly intended to use. Then Siep saves another life. A teen under the strong pressure of his parents to succeed his exams cannot bear it and wishes to kill himself. Another teen girl wishes also to throw herself under a train at the train station because her boyfriend wants to break up. He stops her just in time. He gives to her and the boyfriend the business card of the policeman so that he can help them to solve their problems. This movie is positive as it shows there are always solutions to problems. A robbery is going to happen in a Chinese jewelry with 5 people including bombs and shootings between robbers and police. His intervention allows to catch the robbers and avoid one policeman death. In another intervention aiming to save a running kid going to be crashed by a speeding car, Siep saves the wrong kid. So Kwan dies (เวรกรรม). Siep cannot find the abbot anymore. There is no monk since many years in Khao Luang cave... When going out of the cave, he gives some coins to an old beggar lady. So he gets another chance to save the kid (ทำดีได้ดี). This time he succeeds and Kwan wakes up. This movie got 5 Thai film awards in 1997. Director Oxide Pang is coming from Thai advertising industry so he uses different methods (fast shooting to indicate the speed and then slow movement for the last poignant seconds).



Year

: 1997



Thai title

:

วัยระเริง




English title

: Wildest days



Rating

: 3/5


Director

:



Main actor

:


Main actress

:
In a college, some boys and girls, coming for problematic families, always make a mess. The principal decides to expel them. An old teacher askes for a last chance in order to educate them. Despite early suspicion from the students, she tries to motivate them and give them back their pride. Will the old teacher succeed?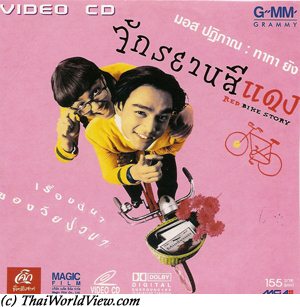 Year

: 1997



Thai title

:

จักรยานสีแดง




English title

: Red bike story



Rating

: 3/5


Director

: Euthana Mukdasanit



Main actor

: Mos


Main actress

: Tata Young



Buy now

:

This romantic comedy is about students trying to pass successfully their exams. Some of them are more interested by courting Thai girls than studying. It is a comedy targeted for young people with nice music from the pop group Loso.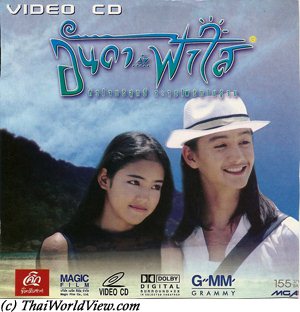 Year

: 1997



Thai title

:

อันดากับฟ้าใส




English title

: Anda and Fasai



Rating

: 3/5


Director

: Pantewanop Tewakul



Main actor

: Ananda Everingham,Phongphat Wachirabanjong,Shahkrit Yamnarm,Krung Srivilai


Main actress

: Sinjai Hongthai,Aranya Namwong
It is about first love between two teens. Their parents claim they shall not follow a first and sudden feeling. Despite their bad parents example who apply for themselves the opposite, they decide to help their parents to find happiness first. It features very nice shooting in South Thailand beaches.
---