Increase or decrease font size for easier reading : A+ A-
Year 1993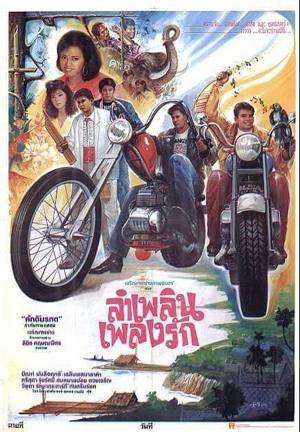 Year

: 1993



Thai title

:

ลำเพลินเพลงรัก




English title

:



Rating

: 2/5


Director

:



Main actor

: Bin Banleurit,White Padungkan


Main actress

:



Buy now

:

Thai movie ลำเพลินเพลงรัก was released in year 1993 and lasts around 1h19mn. It is a musical movie featuring six Isan molam songs (หมอลำ), i.e. music from northeastern Thailand. Jean-Michel Jarre music is also used as background music! Movie director is ศักดิ์มรกต. A village leader (ผู้ใหญ่) is upset as local young lad (singer เฉลิมพล มาลาคำ) is trying to seduce his daughter Chaba through molam songs. Bangkokian guys, White (White Padungkan) and Yai, try to seduce young lady Pim. White and Yai try also to seduce the daughter of village leader Chaba by offering expensive gifts to the father. Other villagers are upset by their behaviour (หนุ่มกรุงเทพ) so they ask a clarification to Chaba and her father. Meanwhile some artisans (including Chang Ek - Bin Banleurit) from Bangkok are coming to the village to perform some work. Kong, on behalf of Chang Ek, sends flowers to Pim. Kong is lying as he is not brave enough to declare his love, but he puts Chang Ek in an awkward situation towards Pim. The Isan local lads also buy a chopper to be at same level as the Bangkok guys. White takes profit of the village leader's credulity and proposes to bring Chaba to the village by riding his chopper. He in fact kidnaps her. Pim, seeing Chaba and White together, is puzzled and also captured. All realize that Chaba has been kidnapped. Chang Ek arrives the first and fighting occurs to release Chaba and Pim. The movie ends up with Chang Ek daring declaring his love to Pim. This movie is an Isan grade B movie featuring a simple scenario and nice molam songs, comic sequences, romance and a bit of action. Such kind of grade B movie was probably never released in Bangkok theaters and only targeted Isan audience.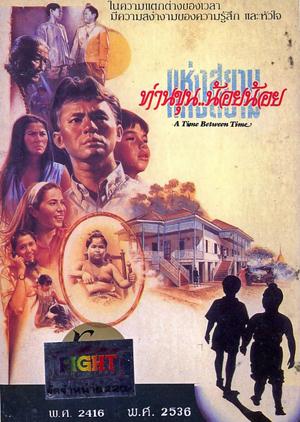 Year

: 1993



Thai title

:

ท่านขุนน้อยน้อย แห่งสยาม




English title

: The Little Lord of Siam



Rating

: 4/5


Director

: Somdet Suntipracha



Main actor

: Saranyu Wongkrachang,Sor Asanajinda,Sithao Petcharoen


Main actress

:
A couple with 4 children (Lek, Klang, Yai) move to a new but old house that has a long history (บ้านความรัก). The old house (โบราณ) even belongs to some nobility Thai members during last century. Saran (Saranyu Wongkrachang) believes the house talks to him through an old uncle (Sithao Petcharoen) and through some dreams with old images. Some promoters want to buy the house to build a village centre. But Saran doesn't want to sell despite rumours of ghosts (ผี) and strange events. Some burglars looking for old artifacts leave the house in fear having seen a ghost. The father makes restoration work on the house (บ้านเรา). Ruffians are recruited to try any ways to have the family quit and sell the old house. A small children ghost spirit called Sin (ลูกของพระยา) helps to chase robbers away. He is the one displayed on an old picture. Only Lek can see him. His spirit (วิญญาณ) was stored inside the picture. Halloween is shown as a new tradition entering Thailand. Teen children want their father to hire a traditional healer (หมอผี), played by veteran actor Sor Asanajinda, to chase ghosts (บ้านมีผี). The father hesitates. The company offers to buy back the house ten times the initial price. Tension happens between the wife Chit and her husband. The wife believes her son is getting crazy as he is talking alone. Sin considers himself as as another child of Saran. Following Lek's plea, the traditional healer accepts to stop torturing the little ghost and explain to Lek how to use monks in order to release Khun Noi from Rama V period. Finally Noi leaves them in order to rebirth and stability is coming back inside the family. The Little Lord of Siam (ท่านขุนน้อยน้อย แห่งสยาม) was directed by Somdet Suntipracha, who is a member of Thai aristocracy. This movie reminds of other Thai movies such as "Tawipop" (ทวิภพ) or "House of the Peacock" (เรือนมยุรา) by director Cherd Songsri with a focus on protection of traditional disappearing heritage items or values.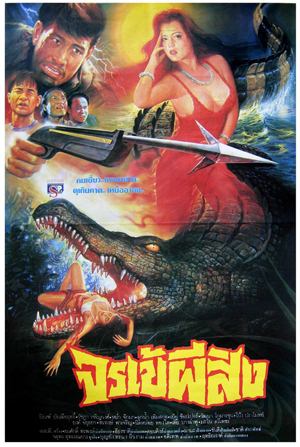 Year

: 1993



Thai title

:

จระเข้ผีสิง




English title

:



Rating

: 2/5


Director

:



Main actor

: Bin Banleurit,Mum Jokmok


Main actress

:
Thai movie จระเข้ผีสิง was released in year 1993 and lasts 1h07mn. It is available under VCD format released by company Lepso and Yod Maa Nud Ltd. The image is colorful and sharp. It is typical Thai horror movie from decade 1990s featuring scary / comic sequences and targeted for provincial audience. Fx are poor due to small budget. The original 35mm movie picture in 16:9 is cut on each side to fit TV format 4:3. Not sure why the movie is so short (1h07mn), maybe the VCD company wanted to save money and released it on one VCD disc only, maybe some parts were censored (love scenes...). An old man called Lek is killed by a crocodile while trying to fish at nighttime. Young beautiful lady Chaoba (แม่คนสวย) is harassed by three villagers but gets rid of them. Chook (Bin Banleurit) writes a love letter to Chaoba but he is using old style. He is planning to ask her hand to her parents. While she is bathing in the river, she is attacked by the crocodile. Chook meets her father Prachot (Mum Jokmok) but she has disappeared. Chook believes she rejects his request for wedding. Local village headman (พี่ผู้ใหญ่) is requested for help. He decides to consult a local master (อาจารย์). The master identifies that Chaoba is dead and that a danger in the river is threatening the whole village. Meanwhile villagers organize a boat race. The crocodile (ไอ้เข้) disrupts the race. Chook has serious arguments with some villagers claiming he just loses the race and invents the crocodile story as a pretext. The master requests 3 days to prepare special weapon to kill the crocodile. During a dream, Chaoba ghost is back and tells Chook to beware some villagers wishing to kill him. Chaoba's spirit (วิญญาณ) helps to chase away ruffians trying to kill Chook. The master tries to neutralize the crocodile, which rejects Chaoba from his body. Chook has to put a thread around her neck. The spirit is captured into a earthen pot. This part reminds of movie Mae Nak Pra Khanong (แม่นาคพระโขนง). The master gives holy weapons to Chook and his friend to get rid of the crocodile. The crocodile is defeated but the master also dies being killed by the crocodile spirit.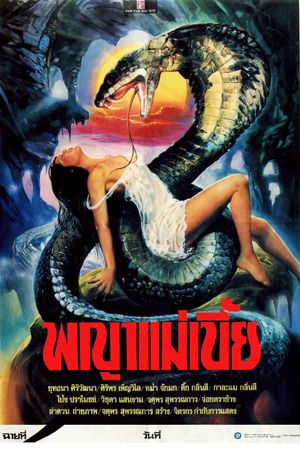 Year

: 1993



Thai title

:

พญาแม่เบี้ย




English title

:



Rating

: 2/5


Director

:



Main actor

: Mum Jokmok


Main actress

:



Buy now

:

A local bad guy wants to force a Thai lady to be her wife. Hopefully a snake is protecting the woman.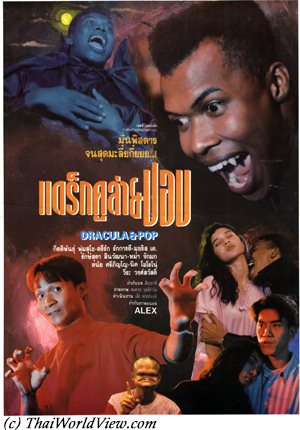 Year

: 1993



Thai title

:

แดร็กคูล่า&ปอบ




English title

: Dracula&Pop



Rating

: 2/5


Director

:



Main actor

: Mum Jokmok,Morris K


Main actress

: Trirak Rakkarndee
Thai movie แดร็กคูล่า&ปอบ / Dracula&Pop was released in year 1993 and lasts 1h20mn. It was released under VHS format and also under VCD format by Lepso. The movie is shorter than usual. Maybe some parts have been cut or censored. It is a horror comedy movie. Policeman Wut (กิตติพันธ์ พุ่มสุโข) is Kate's boyfriend (Trirak Rakkarndee). Kate's father is a doctor. The doctor imports a big box from overseas. Inside there is Dracula. As Thai Police is checking details, the box has to be thrown away. At nightime, Dracula (มอริส เค - Morris K) exits from the box looking for blood. ผีปอบ - Pop (Mum Jokmok) is also hanging around looking for blood and fresh intestines. Dracula from overseas meets Dracula Thailand, i.e. ผีปอบ! Both are vampires (ผีดิบ) but having different culture and different ways of getting blood. They work together to find fresh blood (ดูด). Police is investigating regarding the bodies found after their rampage. Dracula wishes to drink the blood of young lady Chaba (รักษ์สุดา สินวัฒนา) but Pop asks him not to kill her as she is his friend's daughter. Following Dracula's bite, she becomes a vampire also. Dracula uses her to attract men to suck their blood. Wut's police colleagues play comic roles being afraid of ghosts. Police chases the vampires. Wut wants to use Kate to attract the vampire. The plan works as Dracula notices Kate in a discotheque. It starts failing when Wut loses track of Kate as she gets hypnotized by Dracula… Finally, Dracula is captured but Wut's police colleagues, by having too naive, let him flee so he can reunite again with Pop.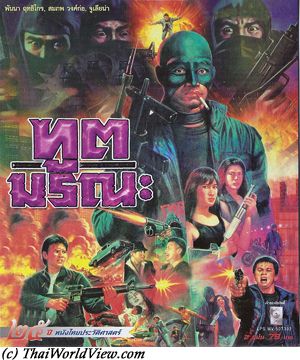 Year

: 1993



Thai title

:

ฑูตมรณะ มันส์เต็มพิกัด




English title

:



Rating

: 3/5


Director

: Panna Rittikrai



Main actor

: Panna Rittikrai,Krissanapong Rachata,Sompop Wong Ko


Main actress

:



Buy now

:

Thai movie ฑูตมรณะ มันส์เต็มพิกัด was released in year 1993 and lasts 1h18mn. It was released on VCD by Lepso (1h19mn) and of course on 35mm film (1h18mn). A man gives instruction to a hitman (มือปืน) by leaving a paper in a jar in a disaffected building. The hitman, wearing a mask, kills a few people in a house. Despite being busy with his girlfriend, Sia (เสี่ย) Manit has to meet Arun. Sia Manit uses Arun (Sompop Wong Ko) to convince villagers to sell their land as he plans to resell it to Japanese investors planning to build factories. Arun uses the local village leader (ผู้ใหญ่) to convince villagers. Each time, another buyer called Kamnoon had proposed more money than Arun, i.e. 150 000 baht for one rai so Arun is very upset. Some villagers such as Thaem (Panna Rittikrai) are not interested to sell (ไม่ขาย). Normally the land is only 40 000 baht per rai so there is certainly a hidden plan behind this offer. Sia Manit agrees to increase the price to 200 000 baht per rai. He calls his favorite hitman, i.e. his own girlfriend, for help also. Meanwhile Arun gathers his men including Jackie (Krissanapong Rachata). Arun sends his men to give a lesson to Kamnoon and to ask him to stop trying to buy the land. As a revenge, Kamnoon hires his usual masked hitman. Thaem and his friend Kon are facing Arun's ruffians but push them back. Kamnon's hitman starts to kill a few men linked to Arun. Sia Manit is very upset as Arun and his team always fail. Kamnoon proposes a deal to Sia Manit to share benefits but Sia Manit plans to trick him. Kamnoon asks his hitman to get rid of Sia Manit and Arun. Kot is killed. Sia Manit, his girlfriend, Kamnoon end up in the disaffected building and shoot at each other. The masked hitman intervenes and is in fact Arun! He shots Sia Manit, his girlfriend and Kamnoon hoping to get the whole deal for him. Thaem has called the Thai police. Refusing to surrender to Police, Arun gets shot. Such movie is precursor of Ong Bak movies with Tony Jaa. Panna Rittikrai is former B grade movies maestro and stunt choreographer of Ong-Bak. A Thai TV serie on Channel 7 with same title "ทูตมรณะ" was released in 1990 with Sorapong Chatree, Sombat Methanee, Rith Luecha, Suchao Pongwilai and Jarunee Sooksawad.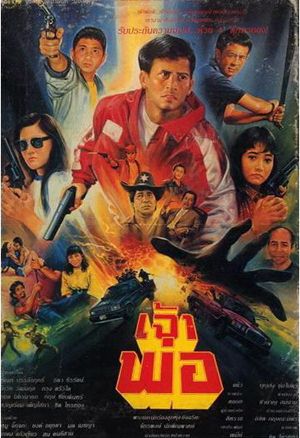 Year

: 1993



Thai title

:

เจ้าพ่อ




English title

:



Rating

: 2/5


Director

:



Main actor

: Bin Banleurit,Kowit Wattanakul,Krung Srivilai


Main actress

: Thida Thidarat
Subdistrict headman (กำนัน) Chom and businessman Anoon are in trouble as the former local head of the police is replaced by an incorruptible new police inspector (สารวัตร) Cheutchai (Bin Banleurit). Chom's business is disrupted by this new police inspector, who shot some robbers (ปล้นตลาด). Thuan and Wet (Kowit Wattanakul) are local villagers facing Chom and its thugs led by Chat. Chom is coming from Phetburi and has an alliance with Chot (Krung Srivilai), his counterpart in Chonburi province. Both subdistricts headmen are also local godfathers (เจ้าพ่อ). Noot and Raem are the daughters of subdistrict headman Chot. Romance and nice songs are happening between them and Wet / Thuan. Chom uses bad influence (อิทธิพล) to buy land and houses through coercion. Chom wants to force Thuan to sell his land but he refuses. Cheutchai helps him on time to exit a difficult situation as Chat and his men were beating him. Sairong, Thuan's sister, asks for the police inspector's help (ศัตรูกัน). Businessman Anoon often meets Chom and Ming (ผู้ใหญ่). Anoon needs to stop business with Ming as his ruffians hurt his own daughter, Tanya (Thida Thidarat), while trying to kill Cheutchai. Chom and Ming recruit hitmen to get rid of Cheutchai but it fails. Tanya and her friend Sairong are kidnapped by Chom's team led by Chat. Cheutchai is also captured while going to Chom's house to know the truth about Tanya whereabouts. Thuan and Wet then attack the house. Following various fightings and shootings, all ruffians and corrupted subdistricts headmen are killed. As usual 16:9 movie put in VCD format cut the movie edges leaving a weird feeling sometimes when watching the film.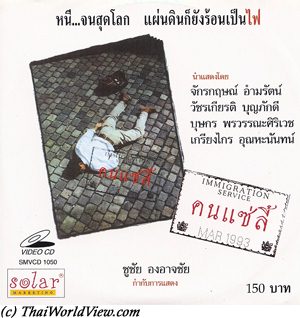 Year

: 1993



Thai title

:

คนแซ่ลี้




English title

: Immigration service



Rating

: 3/5


Director

:



Main actor

: Kriengkrai Unhanan


Main actress

:
Jack refuses to be a scapegoat and to be involved in a big corruption scheme managed by his boss. As a killer is trying to get rid of him, he has to flee in Switzerland. There he meets another Thai man, who has fled for similar issue. They wish to fight against the corrupted Thai society but there are too many people in the system and the numbers keep increasing. They alone cannot possibly change anything when the majority still sticks to the old system. A hitman finds Jack back in Switzerland. A young woman, who in fact Jack's boss daughter, is helping him. Is she truly helping Jack or protecting her father? This movie grabs 10 awards.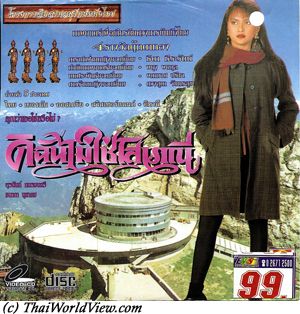 Year

: 1993



Thai title

:

ดิฉันไม่ใช่โสเภณี




English title

:



Rating

: 3/5


Director

: Payoong Payakul



Main actor

: Yuranan PamornMontri


Main actress

: Thida Thidarat



Buy now

:

It is about a young Thai lady leaving her country and going to Germany in order to find a husband through a wedding agency. It shows the harsh life of those ladies dreaming of a prince, the abuse of such wedding agency, the bad behavior of those foreigners wishing to "try" their wives before any wedding. This movie has got four Thai awards and was shot in five countries, i.e. Thailand, Germany, Italy, Switzerland and Austria. Thida Thidarat got the best actress award for this movie.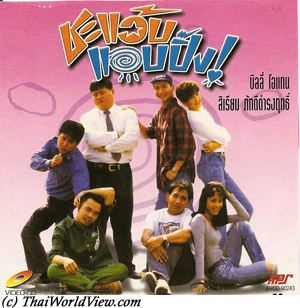 Year

: 1993



Thai title

:

ชะแว้บแอบปิ๊ง




English title

:



Rating

: 1/5


Director

:



Main actor

: Billy Ogan


Main actress

: Siriam Pakdeedamrongrit
The love story between two students is endangered by another young lady showing interest into the young man only to regain interest from her own boyfriend.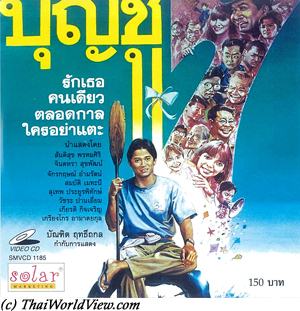 Year

: 1993



Thai title

:

บุญชู 7




English title

:



Rating

: 3/5


Director

: Bandit Ritthakol



Main actor

: Santisuk Promsiri,Sombat Methanee,Kiet Kijcharouen


Main actress

: Jintara Sookkapat
Boonchu and Mo want to marry but Boonchu's mother doesn't want him to go to Bangkok and Mo's elder sister doesn't want her to live in countryside. Boonchu and Mo want to live in an old house close to a river. Mo's elder sister Challenges Boonchu to clean the area in one month in order to get her wedding authorization.
---