Increase or decrease font size for easier reading : A+ A-
Year 1993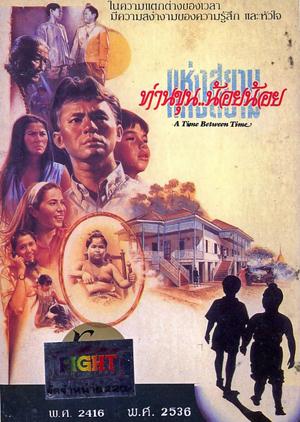 Year

: 1993



Thai title

:

ท่านขุนน้อยน้อย แห่งสยาม




English title

: The Little Lord of Siam



Rating

: 4/5


Director

: Somdet Suntipracha



Main actor

: Saranyu Wongkrachang,Sor Asanajinda,Sithao Petcharoen


Main actress

:
A couple with 4 children (Lek, Klang, Yai) move to a new but old house that has a long history (บ้านความรัก). The old house (โบราณ) even belongs to some nobility Thai members during last century. Saran (Saranyu Wongkrachang) believes the house talks to him through an old uncle (Sithao Petcharoen) and through some dreams with old images. Some promoters want to buy the house to build a village centre. But Saran doesn't want to sell despite rumours of ghosts (ผี) and strange events. Some burglars looking for old artifacts leave the house in fear having seen a ghost. The father makes restoration work on the house (บ้านเรา). Ruffians are recruited to try any ways to have the family quit and sell the old house. A small children ghost spirit called Sin (ลูกของพระยา) helps to chase robbers away. He is the one displayed on an old picture. Only Lek can see him. His spirit (วิญญาณ) was stored inside the picture. Halloween is shown as a new tradition entering Thailand. Teen children want their father to hire a traditional healer (หมอผี), played by veteran actor Sor Asanajinda, to chase ghosts (บ้านมีผี). The father hesitates. The company offers to buy back the house ten times the initial price. Tension happens between the wife Chit and her husband. The wife believes her son is getting crazy as he is talking alone. Sin considers himself as as another child of Saran. Following Lek's plea, the traditional healer accepts to stop torturing the little ghost and explain to Lek how to use monks in order to release Khun Noi from Rama V period. Finally Noi leaves them in order to rebirth and stability is coming back inside the family. The Little Lord of Siam (ท่านขุนน้อยน้อย แห่งสยาม) was directed by Somdet Suntipracha, who is a member of Thai aristocracy. This movie reminds of other Thai movies such as "Tawipop" (ทวิภพ) or "House of the Peacock" (เรือนมยุรา) by director Cherd Songsri with a focus on protection of traditional disappearing heritage items or values.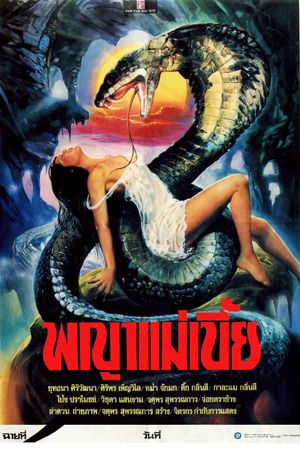 Year

: 1993



Thai title

:

พญาแม่เบี้ย




English title

:



Rating

: 2/5


Director

:



Main actor

: Mum Jokmok


Main actress

:



Buy now

:

A local bad guy wants to force a Thai lady to be her wife. Hopefully a snake is protecting the woman.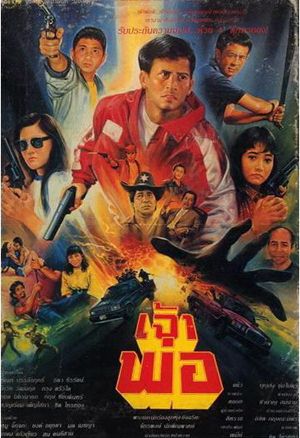 Year

: 1993



Thai title

:

เจ้าพ่อ




English title

:



Rating

: 2/5


Director

:



Main actor

: Bin Banleurit,Kowit Wattanakul,Krung Srivilai


Main actress

: Thida Thidarat
Subdistrict headman (กำนัน) Chom and businessman Anoon are in trouble as the former local head of the police is replaced by an incorruptible new police inspector (สารวัตร) Cheutchai (Bin Banleurit). Chom's business is disrupted by this new police inspector, who shot some robbers (ปล้นตลาด). Thuan and Wet (Kowit Wattanakul) are local villagers facing Chom and its thugs led by Chat. Chom is coming from Phetburi and has an alliance with Chot (Krung Srivilai), his counterpart in Chonburi province. Both subdistricts headmen are also local godfathers (เจ้าพ่อ). Noot and Raem are the daughters of subdistrict headman Chot. Romance and nice songs are happening between them and Wet / Thuan. Chom uses bad influence (อิทธิพล) to buy land and houses through coercion. Chom wants to force Thuan to sell his land but he refuses. Cheutchai helps him on time to exit a difficult situation as Chat and his men were beating him. Sairong, Thuan's sister, asks for the police inspector's help (ศัตรูกัน). Businessman Anoon often meets Chom and Ming (ผู้ใหญ่). Anoon needs to stop business with Ming as his ruffians hurt his own daughter, Tanya (Thida Thidarat), while trying to kill Cheutchai. Chom and Ming recruit hitmen to get rid of Cheutchai but it fails. Tanya and her friend Sairong are kidnapped by Chom's team led by Chat. Cheutchai is also captured while going to Chom's house to know the truth about Tanya whereabouts. Thuan and Wet then attack the house. Following various fightings and shootings, all ruffians and corrupted subdistricts headmen are killed. As usual 16:9 movie put in VCD format cut the movie edges leaving a weird feeling sometimes when watching the film.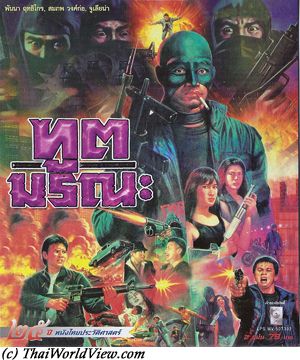 Year

: 1993



Thai title

:

ทูตมรณะ




English title

:



Rating

: 2/5


Director

: Panna Rittikrai



Main actor

: Panna Rittikrai


Main actress

:



Buy now

:

This is a low cost action B grade movie from director Panna Rittikrai including many kung fu and gun fights. Sia, businessman, uses his acolyte Arun to buy cheap land from poor Thai farmers. This land is close to a road so Sia could resell it to foreign investors for building a sugar factory and sugar cane fields. The local village head (ผู้ใหญ่) helps Arun to contact the villagers but another Bangkokian businessman called Kamnuan already proposed to villagers 150 000 Baht for one rai (ไร่). Sia proposes 200 000 baht now but decides also to use some ruffians. One villager, Tem (Panna Rittikrai), refuses to sell his land (ไม่ขาย) to Arun as he believes that Arun will sell much higher to somebody else. Normally the land is only 40 000 baht per rai so there is certainly a hidden plan. Sia's ruffians hit badly Kamnuan. They try to hit Tem but to no avail as he is very skilled in close combat. They then focus on weak villagers to force them. The mysterious masked hitman appears and kills four of them. Other ruffians try to threaten the village head. Tem beats them away. The masked hitman shots a few of them again. Sia is angry that his plans are wrecked. Kamnuan and Sia meet to find a solution to their business dispute but it degenerates into gun fights. Kamnuan is the one to have hired the mysterious masked hitman. Sia sends hitmen to kill recalcitrant villagers. Finally the masked hitman is Arun pushing Sia against Kamnuan in order to weaken them and get the whole deal for him. Tem warns the Police. Having got rid of Sia and Kamnuan, Arun is shot by the Police as he refuses to surrender. Such movie is precursor of Ong Bak movies with Tony Jaa. Panna Rittikrai is former B- pic maestro and stunt choreographer of Ong-Bak. A Thai TV serie on Channel 7 with same title "ทูตมรณะ" was released in 1990 with Sorapong Chatree, Sombat Methanee, Rith Luecha, Suchao Pongwilai and Jarunee Sooksawad.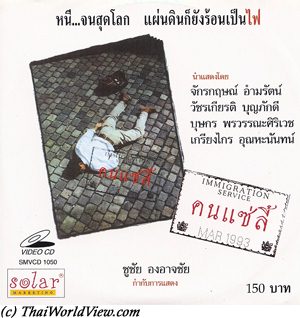 Year

: 1993



Thai title

:

คนแซ่ลี้




English title

: Immigration service



Rating

: 3/5


Director

:



Main actor

: Kriengkrai Unhanan


Main actress

:
Jack refuses to be a scapegoat and to be involved in a big corruption scheme managed by his boss. As a killer is trying to get rid of him, he has to flee in Switzerland. There he meets another Thai man, who has fled for similar issue. They wish to fight against the corrupted Thai society but there are too many people in the system and the numbers keep increasing. They alone cannot possibly change anything when the majority still sticks to the old system. A hitman finds Jack back in Switzerland. A young woman, who in fact Jack's boss daughter, is helping him. Is she truly helping Jack or protecting her father? This movie grabs 10 awards.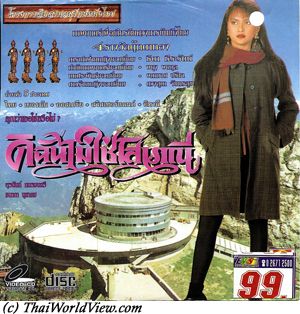 Year

: 1993



Thai title

:

ดิฉันไม่ใช่โสเภณี




English title

:



Rating

: 3/5


Director

: Payoong Payakul



Main actor

: Yuranan PamornMontri


Main actress

: Thida Thidarat



Buy now

:

It is about a young Thai lady leaving her country and going to Germany in order to find a husband through a wedding agency. It shows the harsh life of those ladies dreaming of a prince, the abuse of such wedding agency, the bad behavior of those foreigners wishing to "try" their wives before any wedding. This movie has got four Thai awards and was shot in five countries, i.e. Thailand, Germany, Italy, Switzerland and Austria. Thida Thidarat got the best actress award for this movie.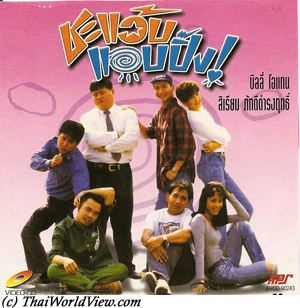 Year

: 1993



Thai title

:

ชะแว้บแอบปิ๊ง




English title

:



Rating

: 1/5


Director

:



Main actor

: Billy Ogan


Main actress

: Siriam Pakdeedamrongrit
The love story between two students is endangered by another young lady showing interest into the young man only to regain interest from her own boyfriend.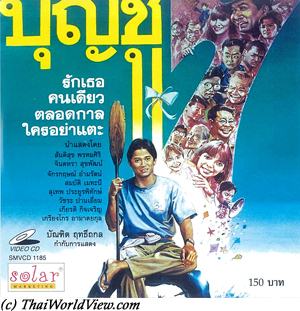 Year

: 1993



Thai title

:

บุญชู 7




English title

:



Rating

: 3/5


Director

: Bandit Ritthakol



Main actor

: Santisuk Promsiri,Sombat Methanee,Kiet Kijcharouen


Main actress

: Jintara Sookkapat
Boonchu and Mo want to marry but Boonchu's mother doesn't want him to go to Bangkok and Mo's elder sister doesn't want her to live in countryside. Boonchu and Mo want to live in an old house close to a river. Mo's elder sister Challenges Boonchu to clean the area in one month in order to get her wedding authorization.
---