Increase or decrease font size for easier reading : A+ A-
Year 1967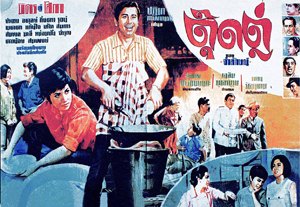 Year

: 1967



Thai title

:

ตุ๊ดตู่




English title

:



Rating

: 3/5


Director

:



Main actor

: Mitr Chaibancha,Daonoi Duangjai,Sukon Koewliam,Prachuap Ruekyamdee,Somkuan Krajangsat,Adul Dulyarat,Ruj Ronnapop,Tat Ekathat,Sompol Kongsuwan


Main actress

: Sopha Sataporn,Kingdao Daranee,Metta Roongrat,Kaenjai Meenakanit,Mom Chan Phuangwan,Malee Wetpraseri
Tut Tu / ตุ๊ดตู่ is a Thai movie released in year 1967 with Mitr Chaibancha and Sopha Sataporn. It is a lost movie in Thailand. Only a 2mn30s sequence is left. Other actors include Daonoi Duangjai, Malee, Malee Wetpraseri, Mom Chan Phuangwan, Kingdao Daranee, Prachuap Ruekyamdee, Sukon Koewliam, Somkuan Krajangsat, Adul Dulyarat, Metta Roongrat, Kaenjai Meenakanit, Ruj Ronnapop, ruffians Tat Ekathat (ทัต เอกทัต) and Sompol Kongsuwan. Sopha is called Tut Tu. Somebody asks for the hand of Tut Tu as a wedding procession (ขบวนแต่งงาน) is seen. She flees to Bangkok. The movie summary is still available thanks to some very old Thai stars magazines.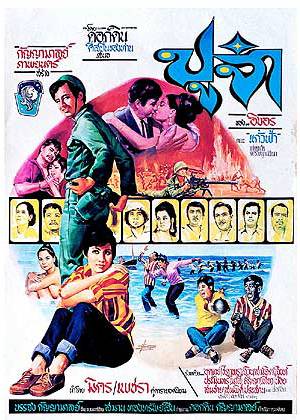 Year

: 1967



Thai title

:

ปูจ๋า




English title

:



Rating

: 3/5


Director

: Dokdin Kanyaman



Main actor

: Mitr Chaibancha,Adul Dulyarat,Prachuap Ruekyamdee,Sawin Sawangrat,Dokdin Kanyaman


Main actress

: Petchara Chaowarat,Chadaporn Wachirapranee,Orasa Isarangkul,Malee Wetpraseri,Somjit Sapsamruey
ปูจ๋า or Pu Ja is a 1967 Thai movie directed by Dokdin Kanyaman. 47 minutes only are left. Normally Thai 16mm movies from decade 1960s used to be made of 4 to 5 reels. One reel lasts around 40 minutes. There is no sound available for this movie as 16mm movies are always dubbed. So understanding the whole movie is quite difficult. Petchara Chaowarat (ปู) is a young lady. Her close friends are Dokdin Kanyaman and Orasa Isarangkul. Sawin Sawangrat, Petchara's father, is a fisherman. Petchara and Dokdin are caught in a military exercise including a beach landing. They meet Mitr Chaibancha, who is an officer. Petchara and Mitr appreciate each other. Mitr rescues a young lady who is about to be drowned. Later on Mitr and his friend Adul mingle (จู๋จี๋) with those two ladies (Chadaporn Wachirapranee and another veteran actress). Petchara, aware of this, is disappointed by Mitr. Petchara's blind grandmother is played by veteran actress Malee Wetpraseri. It is Petchara's birthday. Adul changes the content of a gift offered by Mitr. It is a trick to spoil love between Mitr and Petchara as it starts to emerge. He then offers a proper gift to Petchara. Sawin prevents both of them to fight and asks Petchara to go back home. It seems that Chadaporn is unhappy with Sawin and asks him to push Petchara away from Mitr. Following a fishing trip, Sawin falls in the sea during a storm. Petchara and Dokdin need to find a job and then work as coolie in a construction site. Police officer Adul looks for them as it is found that Petchara is a descendant of a rich family. Sawin isn't dead. it seems he will cause issue to Petchara but love with Mitr will of course succeed. In this 1967 period, Petchara Chaowarat had short haircut. As usual with Dokdin Kanyaman's movies, there is humour, action, romance and good feelings (happy ending).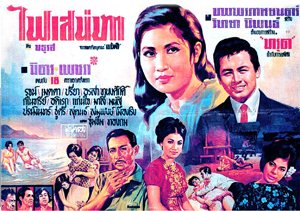 Year

: 1967



Thai title

:

ไฟเสน่หา




English title

:



Rating

: 3/5


Director

:



Main actor

: Mitr Chaibancha,Adinan Singhiran,Ruj Ronnapop,Sukon Koewliam,Sompong Phonmitr,Joomjim Khemlek,Preuhat Boonlong


Main actress

: Petchara Chaowarat,Metta Roongrat,Preeya Roongrueng,Kaenjai Meenakanit,Orasa Isarangkul,Chosri Misommon
Thai movie ไฟเสน่หา was released in year 1967. It features Mitr Chaibancha as main actor and Petchara Chaowarat as main actress. This movie is lost in Thailand and only a 13s sequence is left to be seen. During the short sequence Mitr and Petchara are seen on a raft. Veteran actor Adinan Singhiran can also be seen. On the movie poster, 18 Thai stars are announced, i.e. Mitr Chaibancha, Adinan Singhiran, Ruj Ronnapop, Sukon Koewliam, Sompong Phonmitr, Joomjim Khemlek, Preuhat Boonlong (สาหัส บุญหลง), Petchara Chaowarat, Metta Roongrat, Preeya Roongrueng, Kaenjai Meenakanit, Orasa Isarangkul, Chosri Misommon.



Year

: 1967



Thai title

:

ผู้ชนะสิบทิศ ภาค 2 ตอนบุเรงนองลั่นกลองรบ




English title

: The Conqueror of Ten Directions II



Rating

: 4/5


Director

: Neramit



Main actor

: Chaiya Suriyun,Chana Sriubon,Man Teeraphol


Main actress

: Pissamai Wilaisak,Metta Roongrat



Buy now

:

This part of the second part of the "The Conqueror of Ten Directions" trilogy. Sadet (จะเด็ด) starts to be also named as Buren Nong (บุเรงนอง), his future name as a King. Sadet (จะเด็ด)(Chaiya Suriyun) is now staying in the kingdom of Phrae. Prince Sopinya from the kingdom of Hongsawadee is coming for an official visit to the kingdom of Phrae. Katima (Metta Roongrat) is also in Phrae. She is doing sword street performances to make a little money as she lost her purse. Khairoo, head of Hongsawadee swordmen, wishes to buy Katima's sword and has arguments with her. A soldier helps Katima. Katima is dressed like a man. Sadet doesn't recognize Katima and befriends with her. Sadet still uses sweet words with various princesses. Arguments happen between Sadet and Sopinya. Sadet succeeds to have Khairoo judged for malversation causing Sopinya's ire. The king of Phrae uses Sadet as councillor. Sadet is called under the name of Wang. Following Sopinya's bad influence, the king of Phrae finally decides to arrest Sadet. Sopinya proposes to the king of Phrae an alliance against the kingdom of Taungoo. Princess Kusuma (กุสุมา)(Pissamai Wilaisak) tries to warn Sadet and finds Katima in Sadet's room. It is too late. Sadet is imprisoned. Mangtra's help is needed. Mangtra is now the king of Taungoo. Taungoo's army besieges Phrae but needs to retreat. Taungoo's army is swapped away as night time in their encampment. Hongsawadee henchmen brings troubles during the blocus and Sopinya convinces Kusuma to follow him. Sopinya takes advantage over Kusuma while she is sleeping. Meanwhile taking profit of the mess, Katima succeeds to free Sadet and the other prisoners following fierce fights. Mangtra is angry with Sadet and claims he is a traitor (ทรยศ) as he stayed with Phrae instead of Taungoo. He threatens to cut his head following the 40 000 soldiers, who died for nothing. Hopefully the old monk can interfere and saves Sadet offering his own head as a guarantee. Sadet is ordered to seize Phrae and is offered 60 000 soldiers but he only requests 20 000 soldiers. If he fails, his head will be cut. Sadet wins a first battle over a fort on the way to Phrae thanks to a better strategy. Learning that Kusuma has been sent to Hongsawadee, he leaves the army and decides to go there. Sadet gets the confidence of king of Hongsawadee while Sopinya is away. Kusuma still loves Sadet and wishes to die as Sopinya forced her. A fire is provoked in Hongsawadee by Sadet's henchmen. Sadet steals Sopinya's boat and takes back Kusuma with him. The second opus features an impressive performance by actor Chaya Suriyun. The movie continues to mix romance and historical characters.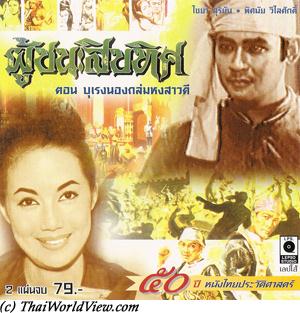 Year

: 1967



Thai title

:

ผู้ชนะสิบทิศภาคสมบูรณ์ บุเรงนองถล่มหงสาวดี




English title

: The Conqueror of Ten Directions III



Rating

: 4/5


Director

: Neramit



Main actor

: Chaiya Suriyun,Chana Sriubon,Man Teeraphol


Main actress

: Pissamai Wilaisak,Metta Roongrat



Buy now

:

This is the last opus of The Conqueror of Ten Directions trilogy. Sadet receives armors and award from Chantra, king of Taungoo kingdom. Chantra, Chantra's sister, still loves Sadet. Kusuma, Phrae kingdom princess, who also loves Sadet, hears everything and leaves for Phrae kingdom. Despite honors given, Mantra is still unhappy with Sadet, following the former military defeats but can do nothing against Sadet as he is seen as a soldier with many virtues (ทหารบารมี). Sadet comes back officially to Taungoo kingdom. The monk mentor protects Sadet as Mantra has still not decided what to with Sadet. Recently Mantra indulges in alcohol. The two men are angry against each other. The war is still ongoing between Hongsawadee and Taungoo kingdoms. Sadet decide to ordain (บวช) to wash his sins and mistakes. Chantra visits him before ordination. They declare their love towards each other once again. Chantra refuses that Sadet ordinates as the kingdom is on war. Sadet captures Khairoo, head of Hongsawadee swordmen. Then Sadet visits Kusuma in Phrae kingdom. Sadet wishes to take Kusuma to Taungoo kingdom. Sadet wants to have both ladies, Chantra and Kusuma, as wives. Khairoo, head of Hongsawadee swordmen, flees from jail and kills the monk, who was the mentor of Sadet and Mantra. Sadet decide to destroy Hongsawadee kingdom as retaliation and defeats their army. Sopinya, Hongsawadee kingdom prince, and Khairoo make an alliance with another warlord to fight Taungoo kingdom. Sadet captures the warlord. The warlord changes alliance and Hongsawadee city is definitively destroyed. Mantra defeats and kills Hongsawadee's king (พระเจ้าสการะวุตพี). Sopinya and Khairoo pay for their sins and are killed. Sadet is also loved by another lady called Katima, who is commoner. Unfortunately seeing that there is no way she can get Sadet's love for her alone, Katima gets suicide. Mantra finally renunciates to the kingdom and Sadet becomes the new king of the three unified kingdoms. The whole trilogy is more than 7 hours long. Even if the 3 VCDs are full, the original movies were in fact cut to fit the VCD format, which means 2h30mn maximum. What a pity Lepso company never releases them in DVD format!



Year

: 1967



Thai title

:

ตำหนักแดง




English title

:



Rating

: 3/5


Director

:



Main actor

: Mitr Chaibancha,Daonoi Duangjai,Sithao Petcharoen,Prachuap Ruekyamdee,Sukon Koewliam,Man Teeraphol,Tawan Siriwat,Somkuan Krajangsat


Main actress

: Petchara Chaowarat,Mom Chan Phuangwan,Preeya Roongrueng,Somjit Sapsamruey,Chadaporn Wachirapranee,Metta Roongrat,Malee Wetpraseri
ตำหนักแดง is a Thai movie released in year 1967. It features famous actors Mitr Chaibancha and Petchara Chaowarat. Other actors are Mom Chan Phuangwan, Daonoi Duangjai, Preeya Roongrueng, Somjit Sapsamruey, Malee Wetpraseri, Chadaporn Wachirapranee, Sithao Petcharoen, Prachuap Ruekyamdee as a policeman, Metta Roongrat, Sukon Koewliam, Man Teeraphol as a ruffian (คนร้าย), Tawan Siriwat. The movie is lost in Thailand but a remaining last extract lasting 13 minutes is still available. There is no movie summary available anymore. The sequence is in 16mm format and it still has a colorful picture. Both Metta and Chadaporn seem to be Man Teeraphol's mistresses. There is a spectacle of children without parents (เด็กกำพร้า). There is a nice dialog sequence between Mitr and Prachuap. It is unfortunately in mute state as 16mm movies require dubbing. Prachuap tries to stop Preeya using a gun to shoot somebody. Metta and Chadaporn end up fighting. It is difficult to understand a movie without the summary and only by watching mute short sequences but it is a chance to see another movie with Mitr and Petchara together.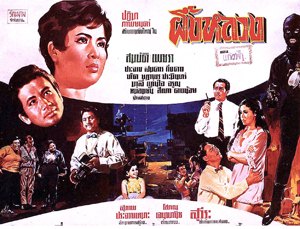 Year

: 1967



Thai title

:

ผึ้งหลวง




English title

:



Rating

: 3/5


Director

:



Main actor

: Sombat Methanee,Prachuap Ruekyamdee,Somkuan Krajangsat,Tat Ekathat,Daonoi Duangjai,Sithao Petcharoen


Main actress

: Petchara Chaowarat,Kingdao Daranee,Chadaporn Wachirapranee,Kaenjai Meenakanit,Malee Wetpraseri,Mom Chan Phuangwan
Thai movie ผึ้งหลวง was released in 1967. Main actors are Sombat Methanee and Petchara Chaowarat. It is a lost movie in Thailand. Thanks to a group of former dubbers performing with 16mm movies, an old reel with small parts of lost films was found in year 2013. Other actors / actress are Prachuap Ruekyamdee, Somkuan Krajangsat, Kingdao Daranee, Tat Ekathat, Chadaporn Wachirapranee, Malee Wetpraseri, Kaenjai Meenakanit. Only a sequence of 43 seconds is left. The movie summary is still available thanks to old Thai movies magazines. The movie looks like a Fantomas type / spy type. In year 1967, actress Petchara Chaowarat had short hair. Many second role sexy actresses (ดาวยั่ว) are featured. The radio song advertisement is still available and is ending by ดีจริงๆ(very good movie).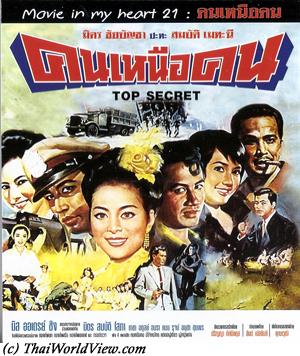 Year

: 1967



Thai title

:

คนเหนือคน




English title

: Top secret



Rating

: 3/5


Director

: Wichit Khunawut



Main actor

: Mitr Chaibancha,Sombat Methanee,Adul Dulyarat,Kecha Plianvithee,Boo Wibunnan,Choomporn Theppitak,Ruj Ronnapop,Man Teeraphol


Main actress

: Sopha Sataporn,Amara Asavananda



Buy now

:

A mysterious Dakota airplane drops a big parcel in the sea, containing in fact the ruffians leader (หัวหน้าใหม่) called Adamcha (Kecha Plianvithee). Meanwhile two Royal Thai airplanes intercept the plane forcing it to land at Don Meuang airport. Thai Army is then aware that a mysterious organisation is preparing plans to harm Thailand so Thai army chief asks his officers to do their best to protect Thailand, Buddhism and the King. Police inspector (สารวัตร) Chet (Mitr Chaibancha) needs to help also and to find an agent called double X. Double X is in fact a police woman called Chin Chin. Adul (Adul Dulyarat) steals some documents in governmental building. Amara (Amara Asavananda), a young lady, supports Adul as part of the organisation. The secret organisation (ผู้ก่อการร้าย) brings disorder in Thailand through bombs and Thai police seems unable to stop them. Chet follows Adamcha's car but gets captured when entering in Adamcha's house. The police chief asks another policeman to help, i.e. Chet's younger brother called Sombat (Sombat Methanee). Real actor names are used in this movie as anyway it was a 16mm movie with dubbing. During an evening party to celebrate their bad achievements, double X's team kidnaps Amara and asks for a ransom. Adul follows the police ladies and after being summoned by Chin Chin (Audrey Sing) regarding his treacherous behavior over Thailand, he accepts to change side. He works for the organisation because of his love for Amara. Sombat helps to release Amara and shoot some policemen (แสดงหนัง). Sombat is finally accepted in the secret organisation following a test. A bank attack turns to a fiasco as police was aware. Sopha (Sopha Sataporn), Sombat's love, is injured. It seems there is spy in the organisation. Sombat helps his brother Chet to flee. Chet is back to the house with full Police squad but Adamcha and his clique have already left. Chet succeeds to get the plan of their new retreat but the ruffians, seeing army soldiers, retreat to a well hidden place. Adul provides the location to the police but is identified as traitor. He is imprisoned and refuses any help from Amara, his former love. Police and army storm the hidden place of their organisation. Following various shootings and Adul's sacrifice, the secret organisation is vanquished. It is another nationalist 1960s movie with police and army protecting Thailand against external threats. The picture quality features many red and green lines (เส้นฝนตกมาก) as company Phanmitr has used the latest film reels available for this movie, which was very popular in 1960s. คนเหนือคน (Top Secret) is a 2h15mn movie. It is also features a few popular songs including a duo Sombat and Sopha.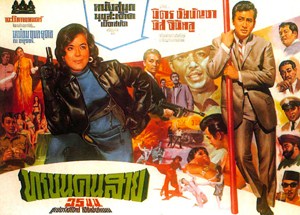 Year

: 1967



Thai title

:

ทรชนคนสวย




English title

:



Rating

: 3/5


Director

: Mom Ubon Yukol



Main actor

: Mitr Chaibancha,Ruj Ronnapop,Somkuan Krajangsat,Sukon Koewliam,Man Teeraphol,Adinan Singhiran


Main actress

: Orasa Isarangkul
ทรชนคนสวย is a Thai movie in 35mn format and lasting 2h20mn. It should even be longer as some parts of the film are missing. It seems it was never released in VCD or DVD format but only in VHS format. ทรชนคนสวย is a spy genre movie from 1960s. Such movies follow the popular trend traced by James Bond 007 films. ทรชนคนสวย still has a nice and colorful picture. Vichien, the boss of a secret organisation, is seen as a traitor and fired. A big amount of drugs worth 100M baht has disappeared. Pusit (Somkuan Krajangsat) is a military officer looking for it. Police is also looking for it. Vichien's best friend in the organisation kills him. Vichien's daughter Lin (มิสจิ้นหลู - นางฟ้า from Taiwan) is living in Hong Kong. She wishes to understand why her father was killed. Reung (Mitr Chaibancha), a former policeman, meets her in a hotel. Cheng (Man Teeraphol) contacts Reung to buy the plan guiding to the hidden drug versus a 20M bath price. As Cheng got only half of the money, he gets only half of the map! Suriyan (Ruj Ronnapop) is a policeman. Lin (น่ารัก) listens to Reung and spies his room (แอบฟังอยู่) but she gets discovered by him. She wants to buy the map also. Meanwhile Cheng discovers that sympathetic ink has been used for the map he just bought! Reung shall meet Lin in a nightclub located in Kowloon. She is singing there. Two songs are featured (ปากของคุณน่าจูบจังเลย). Reung and Ruj need to flee the nightclub as Cheng sent a bunch of ruffians there. Back to Bangkok, Reung loses a bet to a mysterious Indian guy wishing to get his clothes as the map is inside. Following a fighting in the casino, Reung flees wearing underwear only and riding a motorbike with Lin. Reung has many enemies. Ruffians try to get back the drugs worth 100M bath (ฝิ่น). Lin is going to Songkla and shall meet Reung there. Ruffians and police are on the way to Songkla also. Suda (Orasa Isarangkul) pretends a car failure to meet Reung. She is dangerous (ปีศาจ) and is working for the secret organisation (ถึงอาบคงไม่หายความร้อน / ยินดีเสมอครับ). Meanwhile Lin is drugged in the train by Lin's father former best friend. She is saved by Pusit. The opium is hidden under Vichien's grave. Overcoming danger and traps, Reung and Pusit succeeds to enter under the grave and release Lin. Ruffians flee by submarine but it is sunk by Thai army rapid boats. Reung and Lin get married. This movie is directed by Mom Ubon Yukol who is a Thai prince and father of famous Thai director Chatrichalerm Yukol.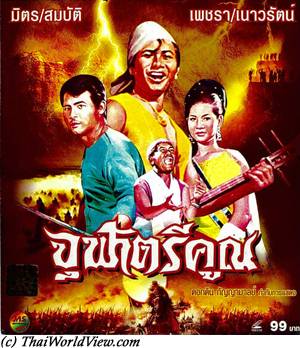 Year

: 1967



Thai title

:

จุฬาตรีคูณ




English title

:



Rating

: 3/5


Director

: Dokdin Kanyaman



Main actor

: Mitr Chaibancha,Sombat Methanee,Sawin Sawangrat,Prachuap Ruekyamdee


Main actress

: Petchara Chaowarat,Naowarat Watchara
This movie is based on a famous Thai poem. This movie is about the love between lady Daralai (ดาราราย) and a King named Ayarawat (อริยวรรต). Ayarawat has a brother called Katiya (ขัตติยะ). Ayarawat has seen a beautiful lady in his dreams and want to see her in real. They disguise as commoners to see ladies in Paransee (พาราณสี) kingdom. Indian clothes style and music remind a little bit of Bollywood movies. Ayarawat imitates a blind Brahmin (พราหมณ์) and is named as Wipha (วิพาหะ). An earthquake (แผ่นดินไหว) disturbs a sacred (บูชา) ceremony. Daralai (เจ้าหญิง) receives help from Wipha to avoid crowd stampede. She stays with the commoners until the royal guards find her back. Wipha requests kisses to recover his sight view. There is love between Daralai and Wipha but she is promised to another man already. Katiya meets also another princess called Apasara (อาภัสรา). Daralai loves Wipha. She finally discovered that he is a King of a rival kingdom. She has to choose between love and fidelity to her own kingdom. She doesn't like Ayarawat's behavior. Ayarawat (อริยวรรต) is captured by Paransee kingdom's guards but is freed by his brother. Ayarawat kidnaps Daralai but his brother is captured. Ayarawat is hot temper. He is ready to a war with Paransee kingdom if his brother is not freed. To avoid a war between the two kingdoms, Daralai declares she doesn't love Ayarawat anymore in order that Ayarawat agrees to exchange her with Katiya. Finally Katiya gets freed by princess Apasara but doesn't come back on time to prevent the exchange. Disappointed by Daralai, Ayarawat decides to marry to Princess Apasara. Daralai is back but learning that Ayarawat has a new queen, she leaves. Understanding his mistake, Ayarawat decides to invade Paransee kingdom to get back Daralai. Ayarawat is injured and died when looking for Daralai. They are both reunited in heaven. Katiya becomes the new king.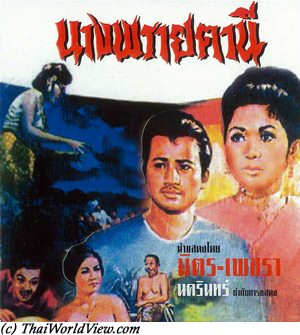 Year

: 1967



Thai title

:

นางพรายตานี




English title

:



Rating

: 3/5


Director

:



Main actor

: Mitr Chaibancha


Main actress

: Petchara Chaowarat
A spirit Nang Fa Thani (นางฟ้าตานี) has done mistakes in the Gods heaven, so she is condemned to stay on earthy world and to live in a banana plant tree. She is fond in love with a man called Thap. Thap previously loved a lady called Theva. Nang Fa Thani used artifacts to get Thap's love. Thap faces issues with a group of bad people. Those, believing that Nang Fa Thani hides a treasure inside the banana tree, decide to cut the tree causing the death of Nang Fa Thani. She then becomes a powerful ghost called นางพรายตานี, chasing and killing those who have cut the banana tree. She then wants to stay with Thap but it is not possible as she is a ghost. Seeing the interest of Theva into Thap, she threathens to kill all villagers. She finally accepts her death following a monk's mediation.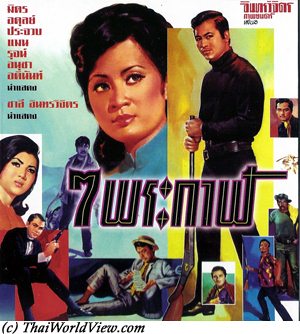 Year

: 1967



Thai title

:

7 พระกาฬ




English title

:



Rating

: 3/5


Director

:



Main actor

: Mitr Chaibancha,Adul Dulyarat,Prachuap Ruekyamdee,Ruj Ronnapop,Boo Wibunnan,Sukon Koewliam,Adinan Singhiran,Paen Pleumsachai


Main actress

: Petchara Chaowarat,Preeya Roongrueng,Kwanta Buapliensri



Buy now

:

Seven convicts (ผู้ต้องหา) are inside a van. Their van has a crash so they can successfully escape. They have all different characters, i. e. Dam Prasakorn (ดามพ์ ดัสกร) a car robber, Tong Bai (ทองใบ) a former traditional folk singer (พระเอกลิเก), Han Meuang Tong (หาญ เมืองทอง), Ai Meut (มืด ธรณี), Khom (คม) a tireless card player, Boonmee (บุญมี) a gunman (มือปืน), Phayak (พยัคฆ์). Police is chasing them so some of them are stealing motorbike, car or horse to flee away. Han Meuang Tong, son of a village headman (กำนันเหิน), is having issues with local mafia leader Saen (พ่อเลี้ยงแสน). Saen accuses Han Meuang to have killed his younger brother ten years ago. He wishes to take revenge and sends ruffians to kill him in his hotel. Paeng - 1960 cliche of small virtue lady featured with a cigarette - is supposed to seduce Han Meuang while Pol shall shoot him. It fails and Pol is captured by police thanks to Han Meuang and Thong Bai. Han Meuang's father is unhappy with his son (เสือร้าย) and wishes to kill him as he is now a convict (โจร). Soi (สร้อย), daughter of Saen, helps to hide Khom in her room and asks her father to recruit him. Sia (เสี่ยมังกร), another local mafia leader involved in illegal sawmills, wishes Han Meuang to join him but Saen's ruffians injure Han Meuang following a trap. Saen's ruffians terrorize the villagers to find where Han Meuang is hiding. His sister is even kidnapped. Han Meuang needs to fight back (สู้). A mysterious masked leader (นายอนันต์) reunited the seven fugitives (7 พระกาฬ) together and also all Saen / Sia ruffians. He needs them for a secret mission. They need to get a cargo of weapons to be sold illegally. But police is aware and tries to catch them. There is a police spy within the seven guys (มีหนอนบนไส้). A police inspector is captured to find who the spy is. It is Dam Prasakorn (กรมสืบราชการ). The police inspector (สารวัตร) finally succeeds to flee and it is discovered that three of the former fugitives are working for the police. Han Meuang, wishing to help Thailand, helps to release them. Traitors to Thailand (ทรยศขายชาติ) shall be stopped. Many fights and shootings are happening between the four men and the traitors. Police intervenes also. Ruffians are all killed and their leader's helicopter is shot down by Han Meuang. Finally Han Meuang is an undercover soldier (กองทัพ) so he reconciles with his father. There is moralist ending as Tong Bai also surrenders to police and gives back the money left in a suitcase by the ruffians. This movie includes a mix of action and comedy. it features a beautifully restored colorful picture and lasts 2h21mn. It reminds of 1954 "Seven Samurai" Japanese movie or 1960 "The Magnificent Seven" American movie. Another Thai movie named "7 พระกาฬ" was released in 1983.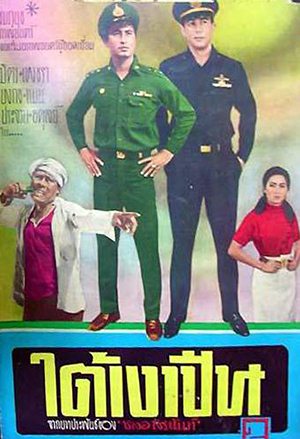 Year

: 1967



Thai title

:

ใต้เงาปืน




English title

:



Rating

: 3/5


Director

:



Main actor

: Mitr Chaibancha,Prachuap Ruekyamdee,Adul Dulyarat,Taksin Jampol,Lor Tok,Adinan Singhiran,Man Teeraphol


Main actress

: Petchara Chaowarat,Chadaporn Wachirapranee
Thai movie ใต้เงาปืน was released in year 1967. This movie features Mitr Chaibancha as main actor and Petchara Chaowarat as main actress. The movie is lost in Thailand but a twenty minutes sequence is left to be seen. Mitr Chaibancha is listening to the ruffians using a radio. A bomb is set on the railway tracks on the way of the train to Bangkok. Mitr (แทน ท่าม่วง) and Prachuap Ruekyamdee (ช่วง สีคิ้ว) are going to help and stop the train on time of course. Adul Dulyarat is ปลิว ปากน้ำโพ. Other actors and actresses include Lor Tok, Taksin Jampol, Adinan Singhiran, Chadaporn Wachirapranee, Man Teeraphol. The original poster in newspaper says that Juree Osiri and Sompong Phonmitr are dubbing the movie.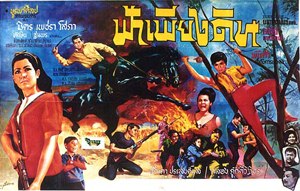 Year

: 1967



Thai title

:

ฟ้าเพียงดิน




English title

:



Rating

: 3/5


Director

: Phan Kam



Main actor

: Mitr Chaibancha,Choomporn Theppitak,Sawin Sawangrat,Adinan Singhira,Taksin Jampol,Sukon Koewliam


Main actress

: Petchara Chaowarat,Sopha Sataporn,Chadaporn Wachirapranee,Sisala Thongtara
Fa Phieng Din (ฟ้าเพียงดิน) is a 1967 Thai movie with Mitr Chaibancha, Petchara Chaowarat and Sopha Sataporn. Only a trailer of 3m35s is left. Other veteran actors playing in this Thai movie are Choomporn Theppitak, Adinan Singhira, Chadaporn Wachirapranee (playing the jealous lady as usual - นางอิจฉา). The trailer is short but enough to see a few fist fights with Mitr. It looks like a Thai western or western Tom Yum Thai movie. Chomphu's (Petchara Chaowarat) father has been killed so she changes her name to Sakira as the murderers are also looking for her expecting to get the heritage. Thewarat (Mitr Chaibancha) is always arguing with Chomphu. He even gets slapped by her the first time they met but when he wants to hit back, he is welcomed by fresh eggs thrown by Chomphu's friends. Director is famous veteran Phan Kam (พันคำ). In 1981 a remake was released with actress Supansa Nuengpirom. It seems to be based on the same story.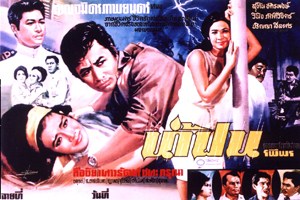 Year

: 1967



Thai title

:

น้ำฝน




English title

:



Rating

: 3/5


Director

:



Main actor

: Luechai Natnat,Lor Tok,Adul Dulyarat,Sor Asanajinda,Adinan Singhiran,Chana Sriubon


Main actress

: Naowarat Watchara,Chadaporn Wachirapranee,Yaowaret Nisakorn
Thai movie น้ำฝน was released in year 1967. It features main actor Luechai Natnat and main actress Naowarat Watchara. The movie is lost in Thailand but a 3mn30s trailer remains to be seen. Other actors are Lor Tok, Adul Dulyarat as a doctor, Sor Asanajinda, Chadaporn Wachirapranee, Yaowaret Nisakorn, Adinan Singhiran, Chana Sriubon as administrative officer and a new actress Karuna Yuwakorn (กรุณา). Luechai Natnat plays two roles. The picture is still colorful. It looks like a family drama.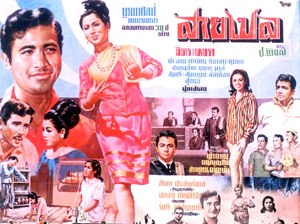 Year

: 1967



Thai title

:

สายเปล




English title

: Chalong Pukdeewichit



Rating

: 3/5


Director

:



Main actor

: Mitr Chaibancha,Sukon Koewliam,Prachuap Ruekyamdee,Choomporn Theppitak,Sompong Phonmitr,Lor Tok,Taksin Jampol,Surayut-Chaiyayut Vetchayan


Main actress

: Petchara Chaowarat,Malee Wetpraseri,Kingdao Daranee
Thai movie สายเปล was released in year 1967. It features main actor Mitr Chaibancha and main actress Petchara Chaowarat. Other actors are the mother Malee Wetpraseri, Sukon Koewliam, Prachuap Ruekyamdee, Choomporn Theppitak, Sompong Phonmitr, Lor Tok, Taksin Jampol. The family drama movie is lost in Thailand but a 4mn30s trailer remains to be seen. Mitr and Petchara are playing young and adult roles (through a trial). Mitr meets Petchara for the first time when she performs as a traditional dancer. They start to better know each other during Loy Krathong festival. Petchara can be seen taking care of a baby. It is not known who are the baby parents. There is also a sequence of Mitr as a lawyer is taking defense of Petchara. The story is the same as movie นี่หรือมนุษย์ (1982 remake of movie สายเปล). Petchara plays Boonleuang (บุญเรือน เกตุแก้ว). Mitr plays lawyer Cheut Ayakowit (เชิดชัย อัยโกวิทย์). สรายุทธ plays the prosecuting attorney Sak (ศักดิ์), son of Cheut and Boonleuang. อุไรวรรณ plays Saichai (สายใจ) stepchild (ลูกเลี้ยง) of Boonleuang. Malee plays the Cheut's mother (คุณหญิงแม่). This movie was shot in two weeks only. Surayut-Chaiyayut Vetchayan received a salary of 8000 baht to play in this movie.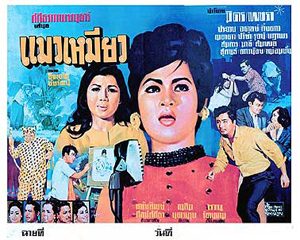 Year

: 1967



Thai title

:

แมวเหมียว




English title

:



Rating

: 3/5


Director

:



Main actor

: Mitr Chaibancha,Daonoi Duangjai,Adul Dulyarat,Sukon Koewliam,Prachuap Ruekyamdee,Ruj Ronnapop,Somkuan Krajangsat


Main actress

: Petchara Chaowarat,Malee Wetpraseri,Mom Chan Phuangwan,Preeya Roongrueng,Metta Roongrat,Kingdao Daranee,Chadaporn Wachirapranee



Buy now

:

Maew (Petchara Chaowarat) is orphan (เด็กกำพร้า). Beum (Daonoi Duangjai) is her close friend. Doctor Yot Kwan (Adul Dulyarat) wishes to become the father of Maew (อุปกรณ์เลีืยงลูก). The doctor's mother (Malee Wetpraseri) also agrees. The doctor suspects that Maew is his own daughter with another woman called Amon. Mom Chan Phuangwan and Sukon Koewliam are domestic helpers in the doctor's house. They are playing relief comic characters. Preeya Roongrueng (แม่ใหม่) is now married to the doctor. She has a son called Pongsak (Prachuap Ruekyamdee) and a daughter called Pla (Metta Roongrat). Kachen (Mitr Chaibancha), taxi driver being aggressed, is helped by Maew and Beum. Maew and Beum are not welcomed by Pla and her mother. The woman called Amon (Kingdao Daranee) is forced by ruffians. In front of the doctor, Preeya and Pla are polite but behind his back, they try everything to chase Maew and Beum from the house. Doctor Yot Kwan sees Amon in a taxi driven by Kachen. The doctor tries to prevent Amon to be beaten by her pimp called Mek. He gets some help from Kachen, who is then slightly injured. Thanks to his kindness, Kachen is authorized to come to the doctor's house whenever he wishes (ยินดีรันใช้). Pla and her mother continue to be hypocrites (หมั่นไส้ / ตอแหล) in front of the doctor and the grandmother. Saranee (Chadaporn Wachirapranee) uses Sarayut (Ruj Ronnapop) to seduce Pla. Somkuan Krajangsat is a policeman. The mother and daughter try to tease (แกล้ง) Maew by hiding jewelry under her bed. Phi Mek is close friend with Chadaporn. Their plan is to take pictures of Pla and Ruj in compromising situation and ask for money. Amon warns Maew. Amon warns also Pla but it is almost too late for Pla. Luckily Kachen arrives on time as Amon called the police. Kachen is a relative of Somkuan. Finally Amon dies in the arm of Maew as she refused to get any help believing she is bad person (ชั่ว). Preeya and Pla apologise for their behavior. The movie แมวเหมียว lasts 2h07mn.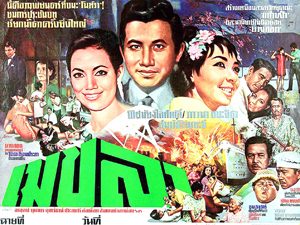 Year

: 1967



Thai title

:

เมขลา




English title

:



Rating

: 3/5


Director

: Cherd Songsri



Main actor

: Sombat Methanee,Adul Dulyarat,Choomporn Theppitak,Lor Tok,Sompong Phonmitr,Daonoi Duangjai


Main actress

: Pissamai Wilaisak,Pawana Chanajit,Mom Chan Phuangwan
Thai movie เมขลา was released in year 1967. It features Sombat Methanee as main actor and Pissamai Wilaisak as main actress. Director is Cherd Songsri. The movie is lost in Thailand but a sequence of 23 minutes is left to be seen. It is a drama movie. Other actors are Adul Dulyarat, Pawana Chanajit, Choomporn Theppitak, Lor Tok, Sompong Phonmitr, Daonoi Duangjai, Mom Chan Phuangwan. The summary is a below. A Japanese lady called Mitsuko (Pissamai Wilaisak) meets and loves a Thai man (Adul). He goes as a diplomat to Japan. They have a daughter called Mekala (Pawana Chanajit). Adul needs to go back to Thailand and bring Mekala also. Pissamai shall follow up later. Unfortunately Mitsuko gets irradiated by the nuclear bomb sent previously by USA on Japan. Her face is disfigured. When she finally arrives in Thailand, Mitsuko finds Adul has remarried and has another daughter. The new wife and her daughter keep trying defaming Mekala as they are jealous that Sombat (Sombat Methanee) is more interested in Mekala. Mitsuko is ashamed of her new appearance so doesn't dare showing up. The new daughter find evidences that the disfigured lady is in fact Mekala's mother and uses this information to humiliate Mekala. Mitsuko tries to reject the accusations and through an accident the new daughter loses her life. The new wife accuses Mitsuko to have killed her daughter. Truth is revealed during the following trial. Sompong Phonmitr and Choomporn Theppitak are playing lawyers. During the trial Sombat as witness is disclosing some truth that Mekala is the daughter of Mitsoko. Mitsuko is cleared and Adul hires the best surgeon to heal Mitsuko. Finally happiness is back as Adul and Mitsuko are back together. Sombat marries Mekala.



Year

: 1967



Thai title

:

เหนือเกล้า




English title

:



Rating

: 3/5


Director

:



Main actor

: Mitr Chaibancha,Chana Sriubon,Choomporn Theppitak,Somkuan Krajangsat,Lor Tok,Sukon Koewliam,Sompong Phonmitr,Adinan Singhiran,Dokdin Kanyaman,Preuhat Boonlong,Op Boonthit


Main actress

: Petchara Chaowarat,Somjit Sapsamruey,Kingdao Daranee,Orasa Isarangkul
Thai movie เหนือเกล้า was released in year 1967. It is in mute mode as the film is in 16mm format so requesting live dubbing. 1h33mn is left to be seen. It still has a colorful image but the film is partially damaged. Somjit (Somjit Sapsamruey) is working as food street vendor (แม่ค้า). Her husband (Somkuan Krajangsat) is often drunk and violent. They have three kids. They have always financial problems as the father drinks a lot. Years have passed and children have grown up. One of them is Mitr Chaibancha. The others are Chana Sriubon and Choomporn Theppitak. Sompong Phonmitr is head of Thai boxing training centre. Lor Tok is his assistant. One day as the drunkard father asks for money, he becomes violent again and Somjit has to protect herself with scissors. Through an accident, the father receives a fatal injury. Somjit ends up in jail. Mitr, Sompong and Lor Tok leave and look for job to find money to pay for Somjit's bail. Mitr is recruited as Thai boxer. A first match versus Adinan Singhiran happens. Petchara Chaowarat and Dokdin Kanyaman are part of spectators. Mitr finally wins the match despite being told to lose it as he needs money to help his mother. As the match maker refuses to pay, it ends up in another fighting. Preuhat Boonlong decides to hire the three men to working in an outdoor mine. They got troubles with two men in the mine. Fed up the three friends wish to quit the job but Preuhat Boonlong convinces them to stay. The mine is attacked. Mitr pushes back the aggressors but is injured so getting the sympathy from Petchara. The mother is finally released from prison. Kingdao recruits her as domestic helper. Her boyfriend is Choomporn. Finally the mother is also reunited with Mitr. Another attack happens on the mine and Mitr is accused of murder. It ends up to trial. Scolded by his mother, Chana finally gives information that Mitr is not guilty. Ruffians wishing to take revenge on Chana and try to shoot him. The mother interposes herself and gets shot. Mitr and his brothers catch the ruffians. Movie ends up with everybody around the mother's bed at hospital. 34 stars are announced on the movie poster!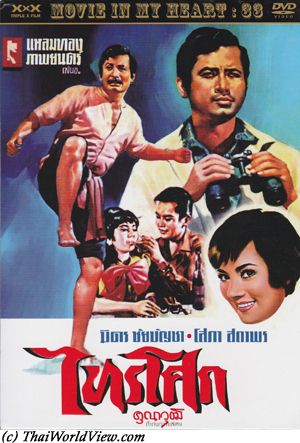 Year

: 1967



Thai title

:

ไทรโศก




English title

:



Rating

: 5/5


Director

: Wichit Khunawut



Main actor

: Mitr Chaibancha,Adul Dulyarat,Adinan Singhiran,Choomporn Theppitak


Main actress

: Boosara Narumit,Namgneun Boonnak,Marasri Bangchang,Sopha Sataporn
Thai movie ไทรโศก was released in year 1967. It is directed by Wichit Khunawut. It lasts 2h06mn. Yen (Boosara Narumit) is being raised since childhood by a stepfather but was never officially adopted. Bai (Mitr Chaibancha) is a dumb and a bit retarded adult (เด็กวัด) accompanying the monk during morning alms. Kitty (Adul Dulyarat) is the real son. Adinan Singhiran is helping for everything in Thorasok domain. The father is sick. Urai (Namgneun Boonnak) is pregnant with Kitty. Usa (Marasri Bangchang) is Urai's mother. Bai is named as ผีทะเล. Kitty is always upset with Yen. The father finally dies and the testament is opened. It is a shock for the family to learn that no money is given to Kitty if he doesn't marry Yen and have a child with her! The mother and Urai are upset. The mother prepares the wedding of Yen and Kitty to follow the testament. But it is a forged plan. They drunk Bai so that Bai enters in Yen's bedroom at nighttime. Yen becomes pregnant. Kitty goes to live with Urai in Bangkok. A child is born from Yen. The mother names it as Ying Yong and takes it to Bangkok to raise it. Meanwhile on countryside, some ruffians shot a couple and a baby is left behind. Yen decides to adopt and raise the baby. Many years have passed. Kittikorn, son of Urai and Kitty, tries to seduce Dao (Sopha Sataporn), Yong Yot's daughter. Ying Yong (also played by Mitr Chaibancha) is younger brother (น้อง) of Kittikorn. Kittikorn is insolent (ทะลึ่ง) and lazy. The daughter of Yen, called Srai Gnam (รักชนก จินดาวรรณ), is now a doctor. The man who killed the two parents many years ago is now released from jail. His son is Thep (Choomporn Theppitak). He spent 20 years in jail. He wishes to get revenge over Yong Yot who sent him to jail. Dao sees that Srai Gnam is wearing same pendant as her. Ying Yong and Dao are close together so Kittikorn realises he has no chance with Dao so his parents think about Srai Gnam who is a doctor. Thep befriends with Kittikorn. Ying Yong meets Bai but doesn't realize Bai is his father. Kitty wishes his son Kittikorn to marry the daughter of Yen. Yen refuses. Kitty loses his nerves so hits both Yen and Ngam Sai. Before Ying Yong can do anything, Bai intervenes and punches violently Kitty. Kitty becomes half paralyzed due his fall. Ngam Sai as doctor treats him. Ying Yong realises the kindness of Ngam Sai. The grandmother now wants to have Ying Yong to marry Ngam Sai. Urai cannot support this and tells the truth about Ying Yong to her son Kittikorn. She then quits Kitty and goes back to Bangkok. With the help of Kittikorn and Thep, the ruffians wish to storm Thorasok domain and gets the 200 000 baht stored there. Kittikorn wants them to kill Ying Yong also. Kittkorn hits Dao (หลานสาว Yong Yot) and kidnaps her. Meanwhile ruffians attack the house at nighttime (ถูกปล้น). Bai is killed by Kittikorn (ชาติชั่ว). Kitty is shot during the fighting and discloses the truth to Ying Yong before dying. Ngam Sai is identified as second daughter of Yong Yot. As it turns badly, Kittikorn escapes and wishes to flee with Dao. Dao shots Kittikorn and becomes crazy. Peace can finally happens in Srai Sok domain. Some mute sequences lasting 16 minutes haven't been released on the DVD. Maybe because the dubbing was missing for those parts? Maybe the VCD and DVD versions had to last the same time? Those sequences show the baby found by Adinan, Kitty having heated discussion with his mother and Adinan, Yen treated as a domestic helper by Kitty and Urai, Bai carrying big jar, Urai and Kitty showing their son to the mother, Kitty and her mother in front of the father's corpse, Kittikorn punching Ying Yong.
---