LOY KRATHONG
Increase or decrease font size for easier reading : A+ A-
Loy Krathong (วันลอยกระทง) is as old as Thai heritage and represents a close bond between Thai culture and water. The festival takes place on the full moon night of the twelfth lunar month when the water level is high and the climate is cooler. Participants ask water spirits to sail away their troubles in their krathongs, which are containers traditionally made from banana leaves and carrying offerings of incense, lotus flowers and small money.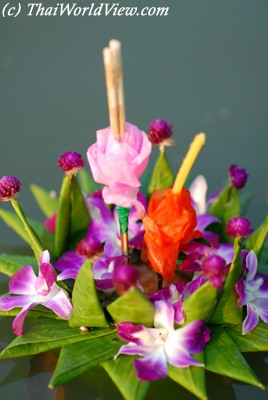 The festival of Loy Krathong is a time to pay our respects to the Goddess of Water by floating candles and joss-sticks.
Nowadays the base of the Krathong tends to be made from synthetic materials and, despite efforts to ban environmentally unfriendly floats, rivers and waterways are often covered with unsightly pieces of styrofoam in the next morning.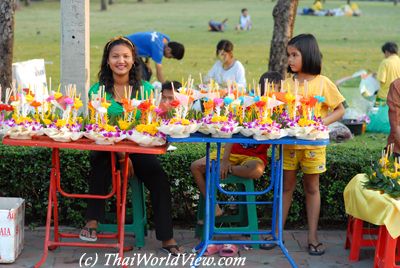 Traditionally Krathong were made of banana leaves, the bark of a banana tree or spider lily plants, into which would be placed offerings of food, betel nuts, flowers, candles, joss-sticks and coins.
In year 2006, more people had turned to krathongs made from natural materials. More than eight out of every 10 krathongs recovered were made from these materials. Just 19 per cent of collected krathongs were constructed of polystyrene foam. Nevertheless, those made from bread constituted a tiny proportion of all floats. The city said bread krathongs dissolved in waterways and provided food for aquatic life.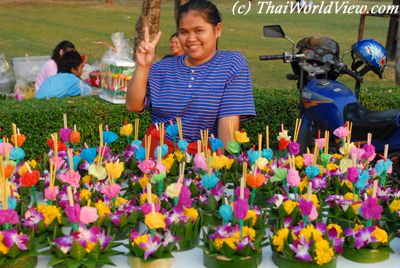 Many residents prepared krathong-making materials and food to sell at the Loy Krathong festival.
Nowadays, the ritual of Loy Krathong is really quite simple. Krathong contains usually a candle, three joss sticks, some flowers and coins. Some even prefer not to include coins because of the recent trend of youngsters raiding the floats for pennies.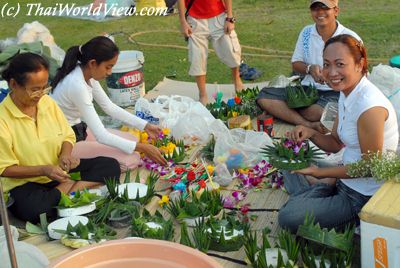 In

year 2006

, a city hall campaign to encourage families to float just one krathong each into Bangkok's waterways. City officials collected slightly more than one million krathongs from waterways.
They hope to sell their value-added Krathong at 30 baht a piece.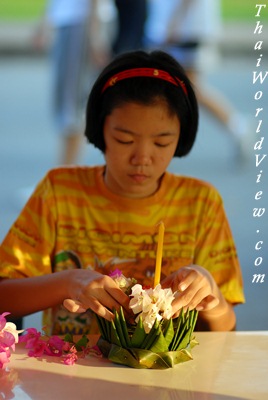 This young lady is cutting banana leaves to make Krathong for sale.
Loy Krathong festival is believed to be Brahmin in origin and was originally an occasion for people to apologise to the goddess of water for having used and sometimes polluted her.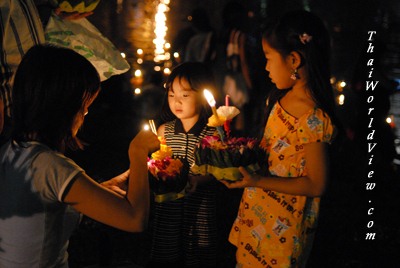 Officials push for enviromentally friendly krathong, made from the leaves of rubber plants.
Loy Krathong is traditionally performed on the full moon night of the twelfth lunar month, which usually falls on some day in November. The floating of a Krathong made a banana leaf is intended to float away ill fortune as well as to express apologies to Khongkha or Ganga, the River Goddess.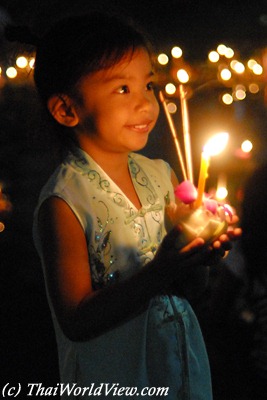 When the time comes to float the Krathong, everyone has got a beautiful Krathong with candles, coins, incense sticks, then lits the candles together and prays for good luck, floats the Krathong on the water, meant to fly grief and ill fortune away.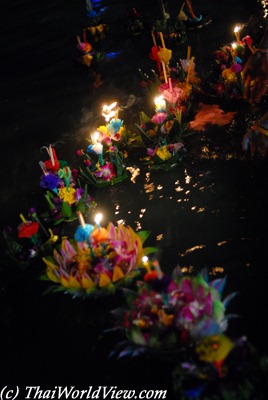 Loy Krathong, the tradition of setting lotus-shaped, banana-leaf floats with flickering candles and joss sticks adrift on rivers, is now one of Thailand's best-known festivals. It's also known as the Festival of Light.
Other famous places to celebrate Loy Krathong in Thailand are Sukhothai, Tak, Ayutthaya and Chiang Mai.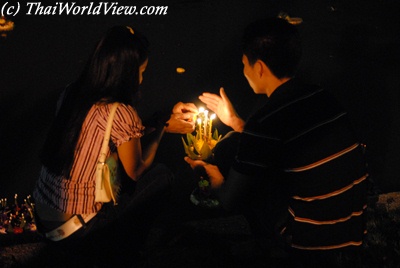 Couples can get an insight into the future of their relationships by watching whether their krathongs float together or drift apart.
The Loi Krathong Festival is celebrated nationwide in Thailand, especially where there are rivers, canals or sources of water, with different unique characteristics.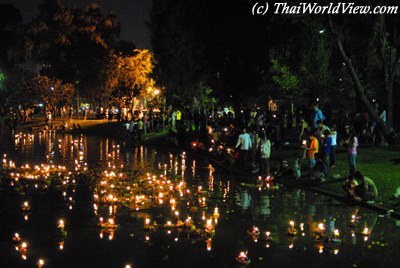 Loy Krathong in contemporary Thailand seems far removed from the original concept of quiet contemplation and reflection, but judging by the huge crowds lining river banks, sea shores and even swimming pool patios year after year, no-one seems to mind much.
In Bangkok, 18 public parks are open to revellers until midnight where people are seen carrying a krathongs of every size and shape. Fireworks are forbidden.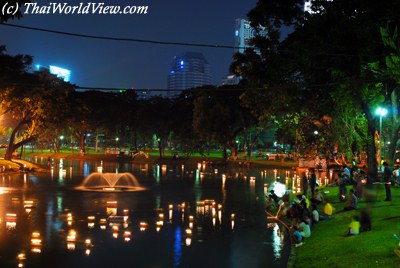 In

year 2006

, Authorities warned organisers against including sexually suggestive dances in events to celebrate the upcoming Loy Krathong Festival. As the Loy Krathong Festival is a beautiful part of Thai culture, Culture Ministry hope all relevant parties will hold appropriate activities for this festival. He was referring to ongoing moves to stop scantily clad young women from dancing erotically in public places. Widely dubbed "coyote dancing", this sexually suggestive dancing began in pubs but has recently spread to public events.
That year there were no Coyote dance in Pattaya Loi Krathong Festival and the festival was complying with tradition!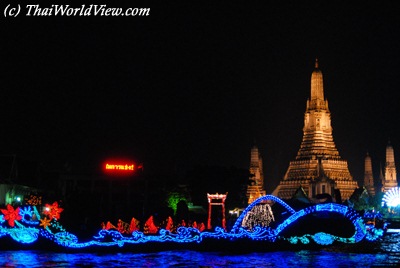 For the Loi Krathong Festival 2006, the Tourism Authority of Thailand has joint with Educational Institution and Thai Boat Association to present the Electric Float Procession from Taksin Bridge to Rama VIII Bridge and the 12 lighten up buildings and historical sites along Chao Praya River.
---
---
comments powered by

Disqus
---